Colombia is one of the most beautiful and diverse destinations in South America. After suffering from a dark and violent past, it is now emerging as an up-and-coming vacation spot for travelers. Some of the most dangerous cities in Colombia have transformed into safe and beautiful spots even for solo travelers. This list of the best places to visit in Colombia can help you plan an incredible trip.
The gateway to South America is on the mend after decades of turmoil and violence. It has emerged as a success story with a growing economy and a rich, diverse culture that is kept alive and kicking thanks to its warm, coffee-loving people.
After spending several months traveling to the best places to visit in Colombia, I've put together this detailed travel guide and important tips to know before visiting this stunning country.
The cities listed below are not in any order of preference. Colombia has so much to offer, so it's up to you to decide what to include depending on the duration of your trip.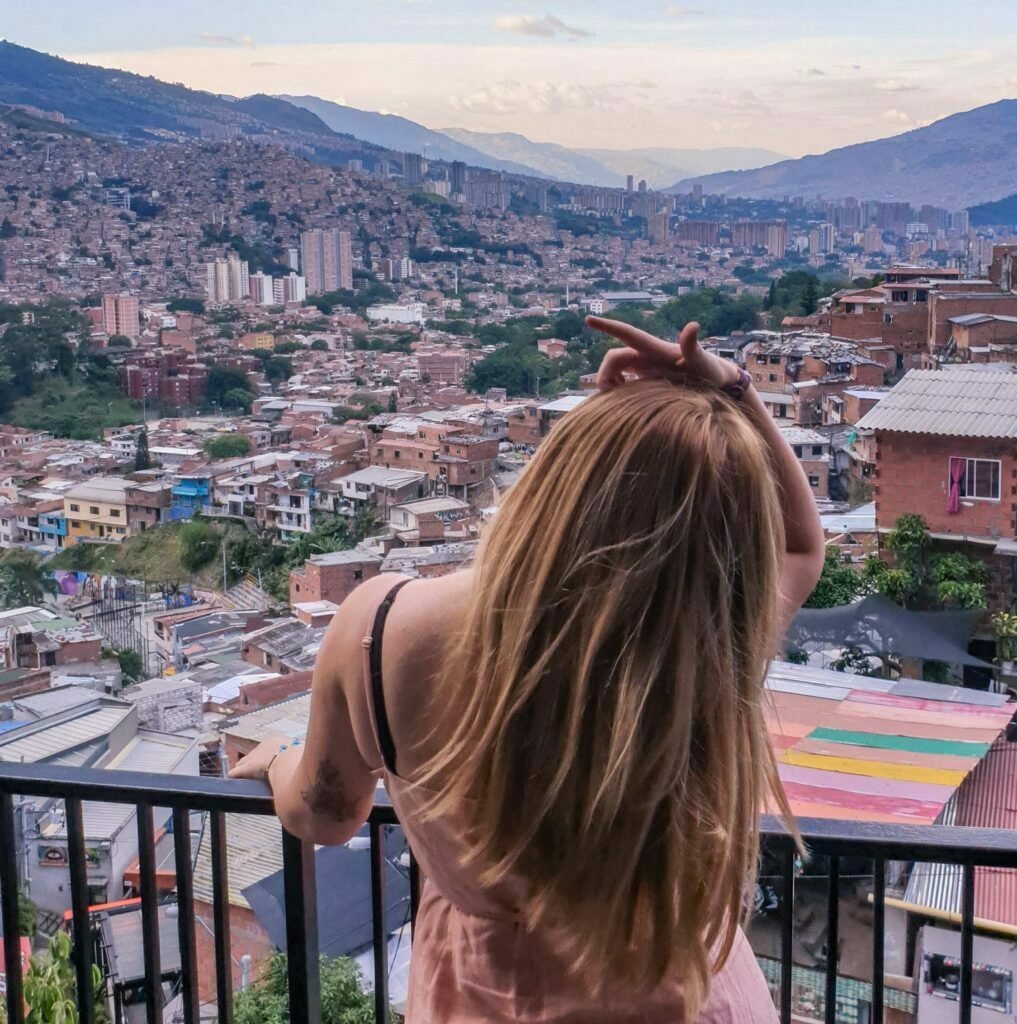 Top Major Cities To Visit In Colombia
BOGOTA
The Athens of South America is also its capital and one of the best cities in Colombia. The bustling city sits high atop the Andes at an impressive 8,530 feet and is home to museums, art galleries, and well-preserved colonial houses.
68 indigenous groups reside in this ever-evolving metropolis where modern buildings coexist alongside charming, old neighborhoods like La Candelaria. There is an abundance of historic landmarks that offer a window into the past. Museums such as the Museo del Oro is a must-visit and an essential part of any Bogota travel itinerary.
Needless to say, the city caters to foodies, nature lovers, and art enthusiasts. There is definitely something for everyone here and many attractions to look forward to including the breathtaking views in Cerro de Monserrate.
Don't miss out on the famous La Candelaria area where you can spot impressive graffiti and street art. In fact, graffiti is legal in Colombia, so if you're a street art lover like myself, you will love roaming around these colorful streets.
Bogota Travel Tips:
Bogota is a great place to start your trip. Most international flights fly into the capital, so I recommend starting off in Bogota and staying for 2 or 3 nights. You can easily tour the top sights in one condensed day or you can choose to stay longer to explore even more.

Top places to visit in Bogota:
Monserrate, La Candelaria, Bolivar Square, Museo Botero, Gold Museum, Usaquén Flea Market

Where to stay in Bogota:
Mid-range: Hotel bh Bicentenario
Luxury: Four Seasons Hotel Bogotá
CARTAGENA
Travelers craving a slice of Caribbean paradise must include this gem of a city in their Colombia travel itinerary. The weather here is hot and humid and invites you to unwind and soak up the tropical sun while sipping on your favorite cocktail.
Andalusian-style palaces and a well-preserved historic center complete with Spanish military architecture are shielded by an impressive wall that was designed to keep enemies at bay. The UNESCO World Heritage site is one of the best places to visit in Colombia and home to narrow cobblestone streets lined with cheerful yellow houses and beautiful churches as well as hotels and restaurants.
Beach lovers should definitely include Playa Blanca in their Cartagena travel plans. The pristine beach is easily accessible and offers more than just sun, sea, and sand. Visitors can rent a jet ski or embark on a boat trip to Rosario, some of the best Colombia Islands, where they can explore the stunning Caribbean beaches and mangrove tunnels.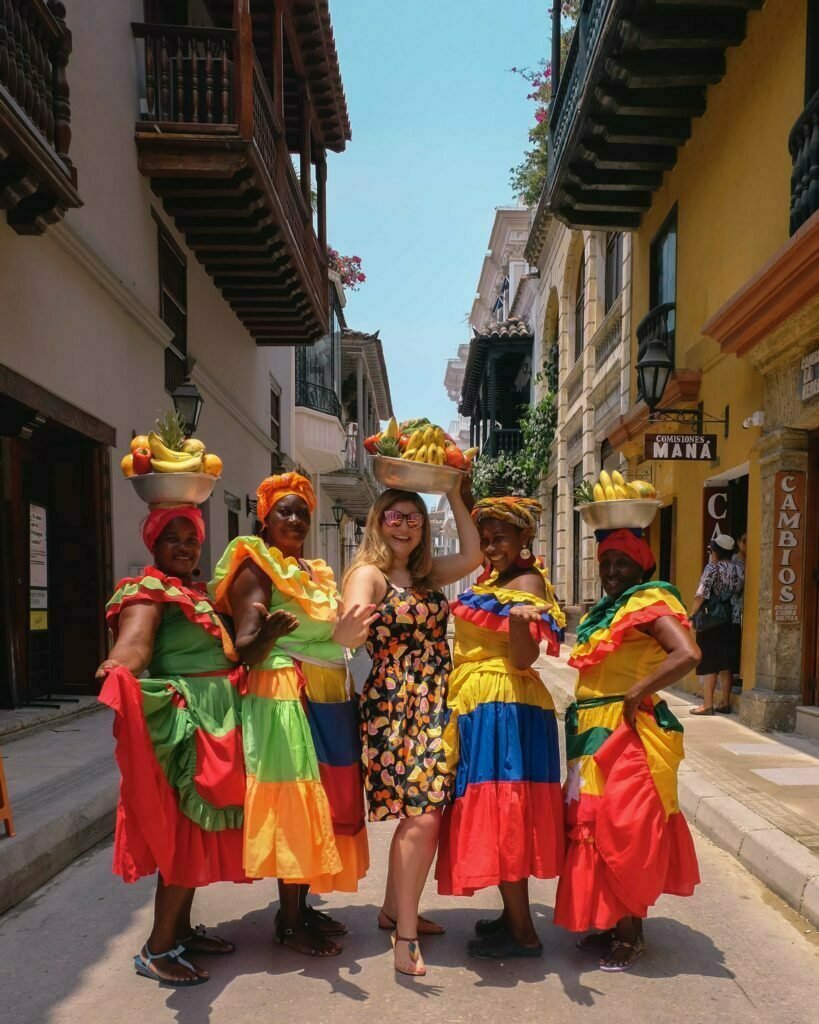 Set your expectations before visiting Cartagena:
Cartagena has gained so much popularity recently, that you could easily feel a little bit claustrophobic with the number of tourists in the walled city. You won't really get a taste of the local culture here, because most things have become so commercialized for tourists.
For example: the women in traditional colorful dresses that carry the fruits on their head (Palenqueras) will approach you on every street to ask you for payment to take a picture with them.
Some travelers are flying directly in and out of the city without visiting other places in Colombia. I don't recommend doing this, because Colombia is so much more than Cartagena. In fact, you can walk the whole area of the walled city in half a day. It is without a doubt a very charming part of the country and you shouldn't miss out on it, but you will get more of a local experience in other cities.
Insider tip: Centenario Park is located right outside the walled city. You can spot monkeys, sloths, iguanas, and beautiful birds all over the park. If you can't see the animals, walk up to one of the park rangers and tip him a few pesos. He will walk around with you and show you all the animals on the trees.
Top places to visit in Cartagena:
Castillo de San Felipe de Barajas, Rosario Islands, Playa Blanca, Centenario Park

Where to stay in Cartagena:
Budget: Hostal 1811
Charming boutique hotel: Ananda Hotel Boutique – Hoteles Cosmos
Luxury: Hotel Capilla del Mar
MEDELLIN
The City of Eternal Spring (one of my personal favorite places to visit in Colombia) has undergone a renaissance on all fronts and is now one of the best places to go in Colombia. No trip is complete without exploring a city that was once solely synonymous with violence, murder, and Pablo Escobar.
Medellin offers free walking tours where you can feast your eyes on the vibrant graffiti and treat your taste buds to delicious empanadas along the way. Comuna 13 offers a glimpse into the healing community where fresh food markets and dazzling murals adorn the walls and buildings.
Cable cars offer a different perspective and more panoramic views of this valley-based city and they can drop you off in Santo Domingo where more eye-catching street art and delicious food awaits you.
Foodies must include El Poblado in their Medellin travel itinerary. This lovely district or commune boasts an impressive selection of high-end restaurants run by Michelin Star chefs and trendy boutiques as well as coffee shops that serve the best cup of joe money can buy.
Medellin Travel Tips:
1. Don't miss the free walking tour in Comuna 13. This district was once one of the most violent cities in the world. It has now transformed into street art heaven. The walking tour ends on a cute little rooftop cafe with panoramic views of the city and a quick salsa class.
2. Cable Cars in Medellin are used as a regular transportation method for locals who live on the hills and mountains around the city. You can access them with a metro card. Take the cable car all the way up to Santo Domingo in the afternoon. That way, you can enjoy the best sunset in Medellin from the top. Warning: this is quite a dangerous neighborhood, so don't wander too far from the cable car area.
3. To learn about the history and dark past of Medellin, I recommend a visit to Museo Casa de la Memoria.
4. Plaza Botero is in the old quarter of Medellin. It's like an open-air museum for world-renowned Colombian artist Fernando Botero. You can see several of his famous statues in the center. The surrounding area is a market for locals, which is a great place to try some of the local restaurants.
5. If you have some time, I recommend visiting Explora Park. It's an impressive science museum with a nice aquarium and lots of interactive science games.
Best places to visit in Medellin, Colombia:
Comuna 13, Plaza Botero, Museo Casa de la Memoria, Museum of Antioquia, Park Arvi, Explora Park, El Poblado

Where to Stay in Medellin:
– El Poblado is the most touristy town in Medellin. Most travelers stay there because it has some great accommodation options, restaurants, cafes, bars, and nightclubs. However, you will see more foreigners than locals here.
– Laureles is another great area to stay if you want more of a local feel. It's cheaper than Poblado and still has restaurants and bars. They are catered more to locals than foreigners (which I love!).

Budget: Los Patios Hostel
Mid-range: The Click Clack Hotel Medellín
Luxury: Medellin Marriott Hotel
CALI
The Rumba Capital is a magnet for Salsa lovers and a city with many layers and influences. Many locals here have African roots and it shows in the exotic dishes on offer at La Alameda. The city's central market allows you to treat your taste buds to tamales as well as deep-fried bites made of plantain and stuffed with sizzling hot white cheese.
Cali offers cat lovers a treat in the form of a riverside park. Travelers can sample more delicious street food and take pictures of the various cat sculptures on display. Barrio San Antonio is lined with well-preserved Spanish colonial houses. It is a great place to unwind and indulge in craft beer before touring the city by bike.
Best Beach Towns & Islands To Visit In Colombia
SANTA MARTA
Santa Marta is a charming little city and a great starting point for your trips to Tayrona National Park or La Ciudad Perdida (The Lost City).
The region is home to organic coffee farms and a nature reserve where jaguars, brocket deer, and otters roam freely under the emerald green foliage. There is no shortage of pristine beaches either, and this includes El Rodadero where visitors can sample locally brewed rum and listen to some live music while basking under the Caribbean sun.
How to get from Cartagena to Santa Marta:
The bus ride takes about 5 hours from Cartagena to Santa Marta with 2 or 3 rest stops. The most commonly known bus companies are Berlinas and MarSol with similar pricing between $12 to $14. I booked my bus ride through my hostel and they picked me up directly from my hostel the next morning.
Santa Marta Travel Tips:
It's good to use Santa Marta as a base to visit the famous places in Colombia such as Parque Tayrona, Ciudad Perdida, Minca, and Taganga.

Where to Stay in Santa Marta:
Budget: República Hostel Santa Marta
Mid-range: Casa de Leda, a Kali Hotel

TAYRONA NATIONAL PARK
Parque Tayrona invites you to explore the vast jungle terrain where towering palm trees, colorful orchids, and fruit-bearing trees provide a sanctuary for animals like squirrels and monkeys as well as exotic birds and iguanas.
Tayrona has earned a prime spot in many Colombia South America travel guides and boasts more than 14 beaches including the hammock haven known as Cabo San Juan. The park is home to more than 350 bird species including white eagles and rainbow billed toucans, making it a popular bird-watching destination.
Tayrona has its fair share of golden beaches and some are more touristy than others.  Travelers can camp or simply soak up the sun in Bahia Concha or capture the tropical sunset with their camera in Playa La Piscina.
Tayrona Park Travel Tips:
1. There are several local buses that go from Santa Marta to Tayrona. You can arrange one easily through your hotel.
2. The park opens from 8 AM to 5 PM, so if you're not spending the night in the park, you have to make sure you're back at the main entrance before 5 PM to catch the buses going back to Santa Marta.
3. Plan to spend at least 1 or 2 nights in the Park to really enjoy the experience.
4. Another option is to go horseback riding through the jungle to reach the main beach. Once you enter the park, you will see some locals with horses and you can negotiate the price with them.
My experience:
I did a day trip because I was limited with my time there and it was a big mistake. The walk through the jungle to reach the most famous beach area takes 2-3 hours. Then, you have to walk the same way to go back to the entrance. That's why I decided to go horseback riding on the way back. Thankfully, I know how to ride, because we passed through some very narrow pathways with the horse and the guy that was leading the way was speeding in the jungle. If you never went horseback riding, I don't recommend trying it here for the first time!
Where to stay in Parque Tayrona:
Camping options are available around the main beach. You don't have to book in advance for these. Here are some other options:
Budget: The Journey Hostel
Mid-range: Villa Maria Tayrona
SAN ANDRES & PROVIDENCIA
400 miles northwest of Colombia, the postcard-perfect islands of San Andres and Providencia offer visitors the chance to explore the Afro-Caribbean vibes that are unique to this region.
Providencia is a popular snorkeling and diving destination with plenty of tranquil beaches to choose from. The island is sprinkled with well-preserved colonial houses and small charming restaurants that serve an array of fresh seafood every day. Don't miss a visit to the famous island of Cajo Cangrejo.
Downtown San Andres is a magnet for shoppers thanks to its duty-free stores where visitors can indulge in a bit of retail therapy before exploring the island via golf cart. Island highlights include the towns of La Loma and San Luis as well as the pirate-themed Morgan's Cave.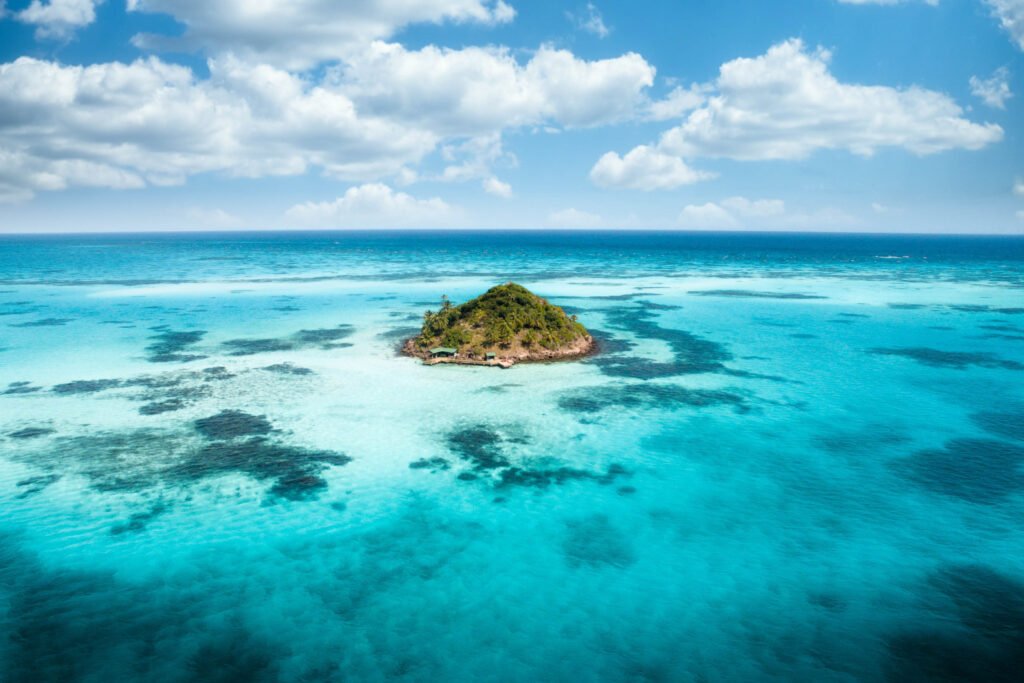 Where to Stay in San Andres:
República Hostel San Andres
PALOMINO
Colombia has many hidden gems and one of them happens to be Palomino. This sleepy fishing town boasts a pristine beach that attracts surfers, seafood fans as well as tubing enthusiasts.
Here, the lively Sierra Nevada de Santa Marta jungle and its river flirt with the turquoise waters of the Caribbean. Palomino is home to incredible tropical sunsets and great barracudas. It is known for its hostels and strategic location for those who want to explore La Guajira and the northern Caribbean deserts.
Where to Stay in Palomino:
Budget: Finca Escondida
Mid-range: La Jorará
Luxury: Makao
Where To Go In Colombia For Nature & Adventure Lovers
CIUDAD PERDIDA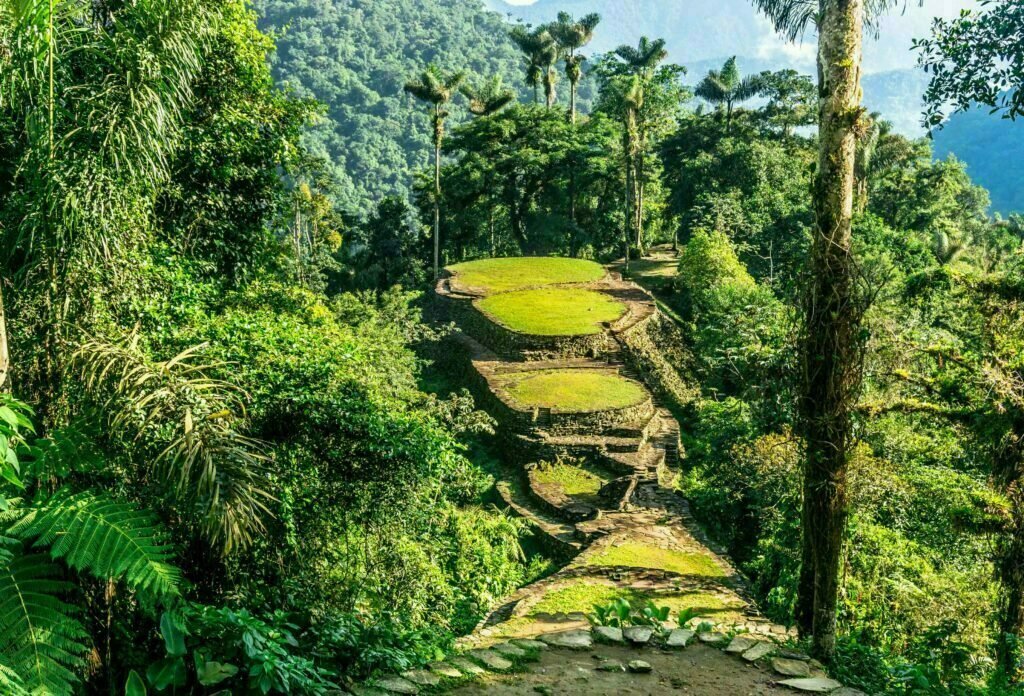 The Sierra Nevada mountains harbor a hidden gem in the name of Ciudad Perdida or Teyuna. Hiking to this once lost city takes you through an Indiana Jones-esque adventure deep in the jungle terrain.
The 27-mile hike to the ancient ruins involves climbing more than 1200 steps and offers stunning views of the mountain range that was once home to the mysterious Tairona Civilization. The treasures left behind by the Tairona are on display at the local Gold Museum in Santa Marta.
GUATAPE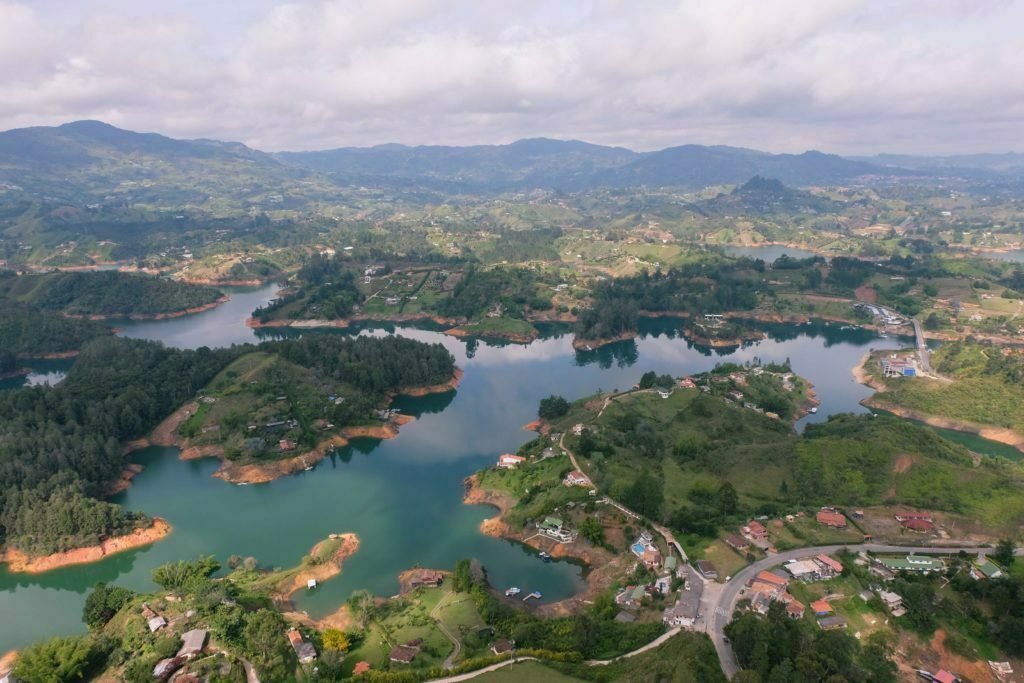 They say good things come in small packages. Guatape is the sole definition of a quaint, technicolor town that is best known for Piedra del Peñol. The towering monolith of a rock offers panoramic views of the artificial lake. Visitors can go on a leisurely boat ride to learn more about the history of the region.
The cobblestone street known as La Calle del Recuerdo showcases the town's love and dedication for zocalos. These fresco-like panels add a touch of personality to each building. They are used by the locals to advertise things like bakeries and sewing shops. Hiking and trekking through the emerald green hills allow you to explore the forest reserves and hidden waterfalls.
Guatape Travel Tips:
You can go to Guatape from Medellin as a day trip or decide to stay a couple of nights. It's very easy to go back and forth with the local buses.
CANO CRISTALES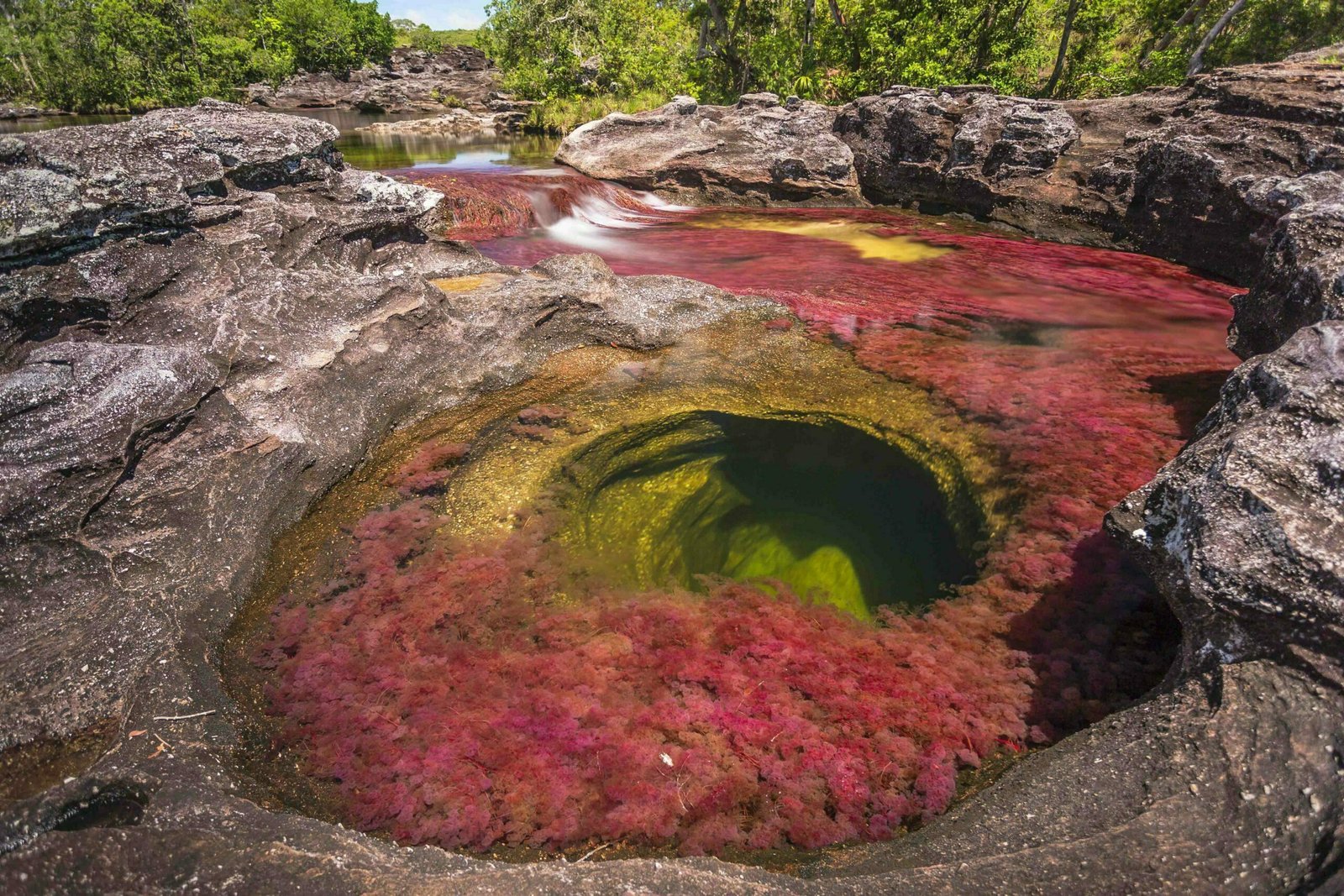 Parque Nacional Natural Sierra de La Macarena is a must-visit if you are in Colombia between June and November. The park is home to The River of Five Colors. There is a natural phenomenon that paints the riverbed in an array of rainbow colors.
Caño Cristales is remarkable to witness and is definitely worth the hike. The area looks like a real-life painting and deserves to be crowned as one of the most beautiful places to visit in Colombia. La Macarena's national park is home to more than 400 bird species. It boasts a rich and diverse ecosystem where savannahs and rainforests create a haven for cougars, iguanas, monkeys, and other native Colombian wildlife species.
AMAZONAS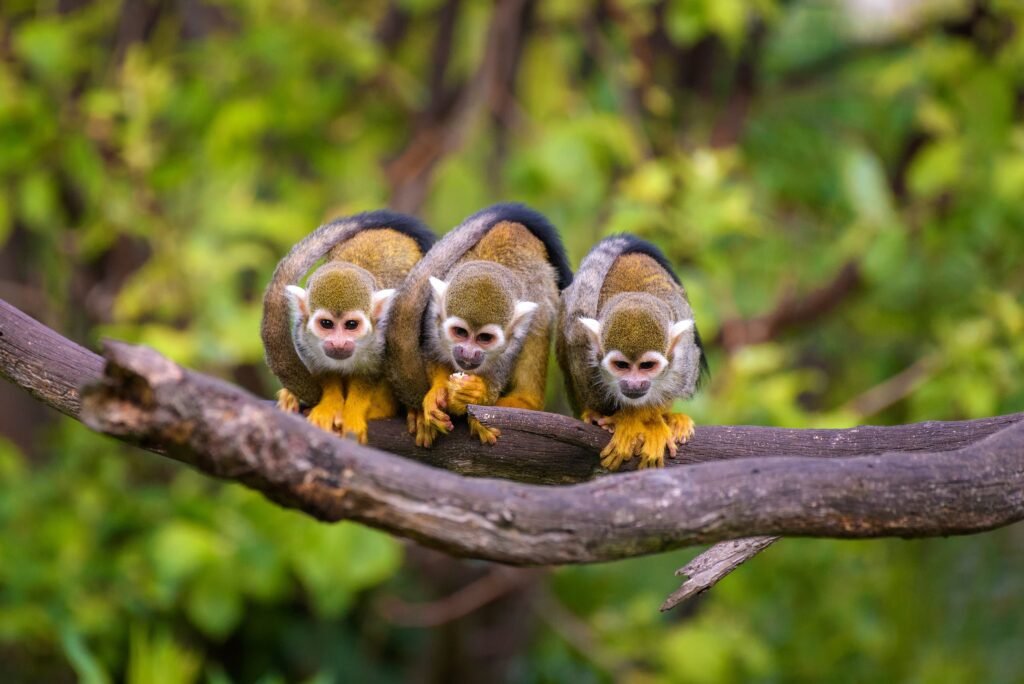 Very few places on earth can rival the vibrant Amazon rainforest and its untamed river. The tropical gateway to the lungs of the earth is none other than Leticia.
The city is a tourism and commercial hub. Visitors can treat their taste buds to freshly caught pirarucu fish before exploring the surrounding nature reservations and meeting the indigenous people who sell handcrafted souvenirs while sharing stories about their culture and beliefs. There is no shortage of activities here including tree climbing, kayaking, and bird watching.
Isla de Los Micos is one of many Colombian tourist attractions in the region and home to more than 5000 squirrel monkeys. Puerto Nariño is not to be missed either. This ecological community is traffic-free and more serene compared to Leticia. It is a great place to witness great ecotourism initiatives unfold in real-time.
Where to Stay in Amazonas:
Palmayacu – Refugio Amazónico
La Ceiba, Amazonas
COFFEE TRIANGLE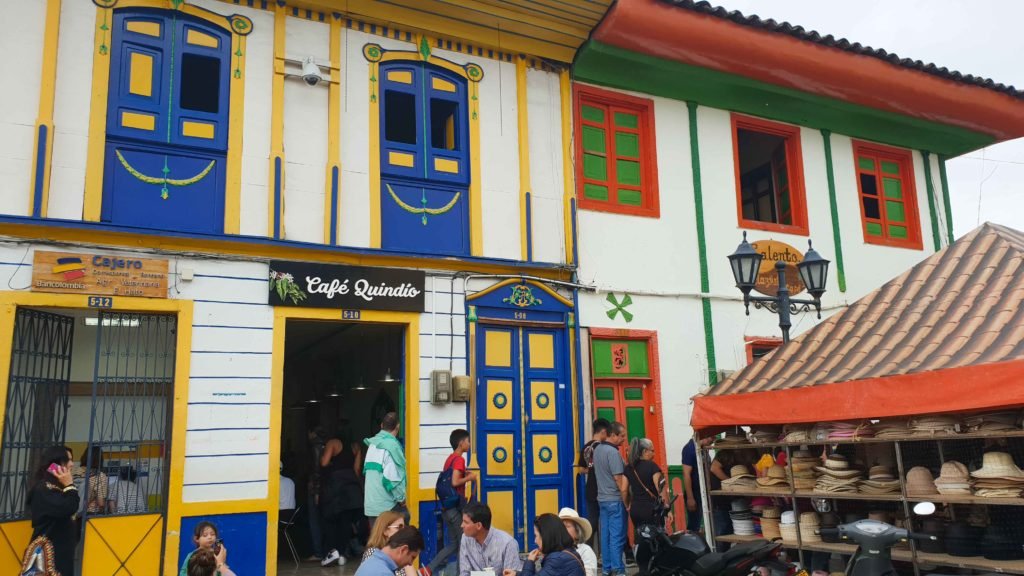 You can't leave Colombia without having the best coffee in the world! Nothing says Colombia like the famous Coffee Triangle in the central Andes. The fertile volcanic soil and a cool, wet climate give birth to a sea of ripe red berries during harvest season.
It's called the Coffee Triangle, because it's made up of 3 neighboring cities: Pereira, Armenia, and Manizales.
Coffee lovers unsure about what to do in Colombia will discover that this region is not to be missed. Family-owned farms offer visitors a chance to sample the best coffee while learning more about the history of these flavorful beans. Exploring the regions of Risaralda, Caldas, and Quindío on horseback is a popular option. This evergreen landscape is also home to a charming village called Salento.
Coffee Triangle Travel Tips:
1. Stay in Salento or Pereira to explore the area. You can use either city as a base to take tours and also visit Cocora Valley.

2. If you're a coffee lover like me, don't miss out on a coffee tasting tour. I recommend a visit to Hacienda Bruselas with colombiancoffeeadventures.com
COCORA VALLEY
Home to Colombia's national tree – the tallest wax palm trees in the world. White cotton candy clouds merge with the steep emerald hills of the Andes, creating the perfect backdrop for hiking and picnics. It's one of the most impressive places to visit in Colombia.
The surreal 200-foot trees are located in Los Nevados National Natural Park. An abundance of rivers and creeks help irrigate the neighboring farmlands and provide much-needed water to villages and cities.
Cocora Valley Travel Tips:
You can visit Cocora Valley as part of your Coffee Triangle trip. Read my detailed guide on visiting Cocora Valley with lots of recommendations on where to stay.
Off The Beaten Path Places To Visit In Colombia
LAS LAJAS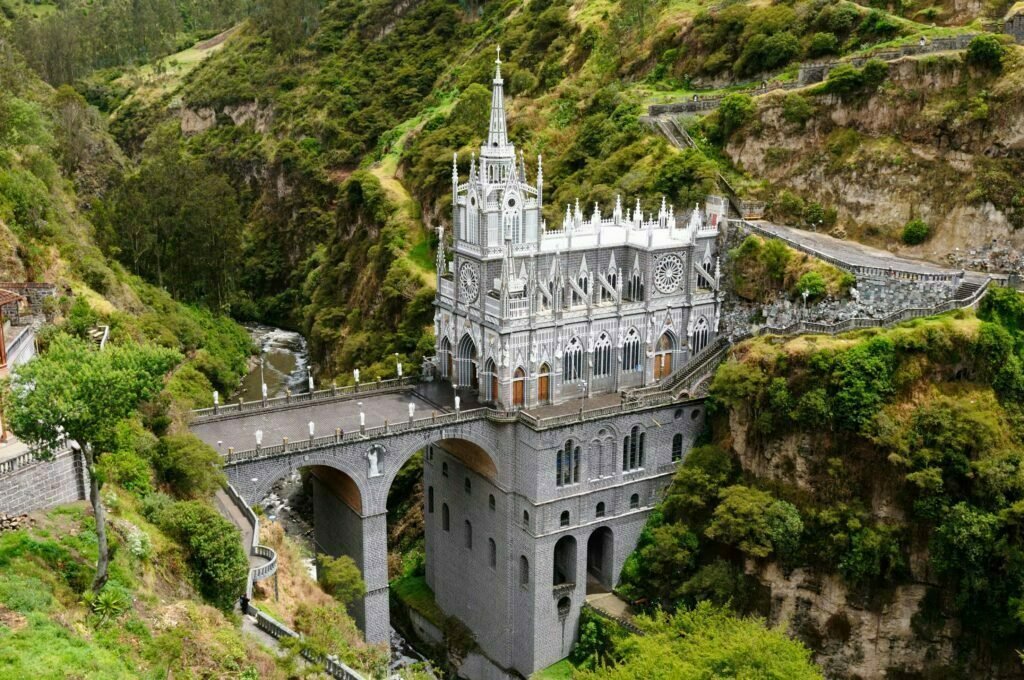 The river canyon near Ipiales harbors a stunning gothic cathedral that took decades to build. The history of this sanctuary is rooted in legend and dates back to 1754. Many tourists and pilgrims flock to the site where a number of miracles supposedly took place.
The fairytale location of La Lajas offers panoramic views of the Guitara Rivera and the surrounding canyon. The interior of the cathedral is just as impressive. It features an exposed back wall where a woman and her daughter reportedly spotted an image of the Virgin Mary all those centuries ago.
SALT CATHEDRAL OF ZIPAQUIRA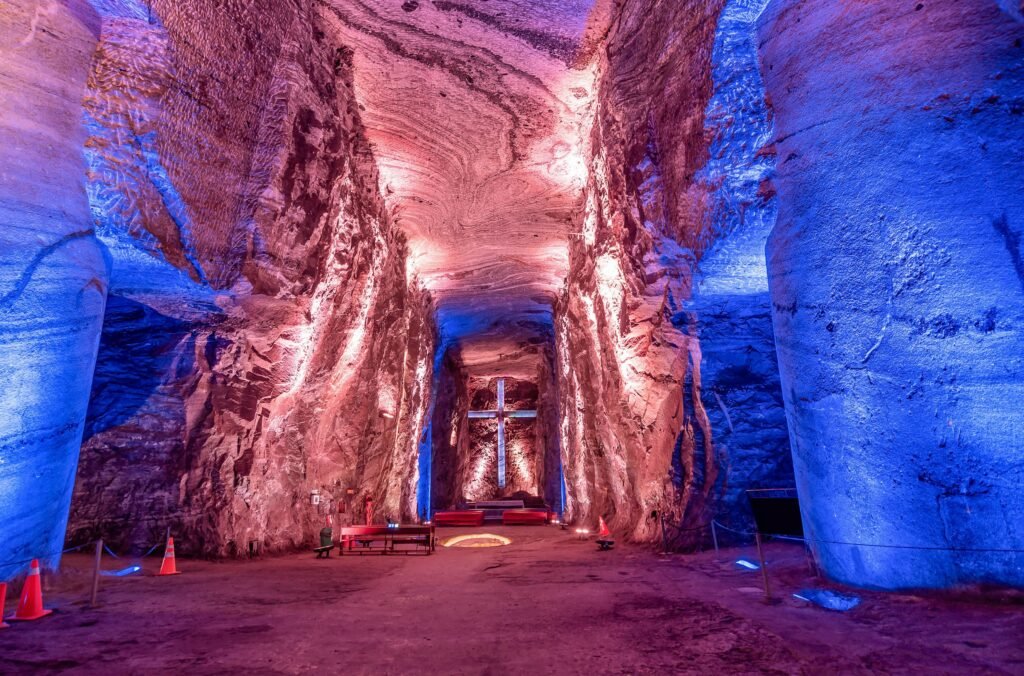 Experiencing the best of Colombia takes on a whole new meaning when it comes to this remarkable underground cathedral. Just northeast of Bogota, the fully functioning place of worship welcomes around 600,000 visitors every year, and for good reason. A series of underground tunnels allow your anticipation to build as you finally reach the subterranean marvel.
Purple lights help illuminate the basilica dome. The hanging cross once belonged to the miners who helped build the original sanctuary back in the 1950s. Almost everything in this place is carved out of the surrounding salt rock including the basilica and the intricately carved statues.
It's located around 2 hours away from Bogota. You can take a tour, local bus or train to reach the cathedral.
LA GUAJIRA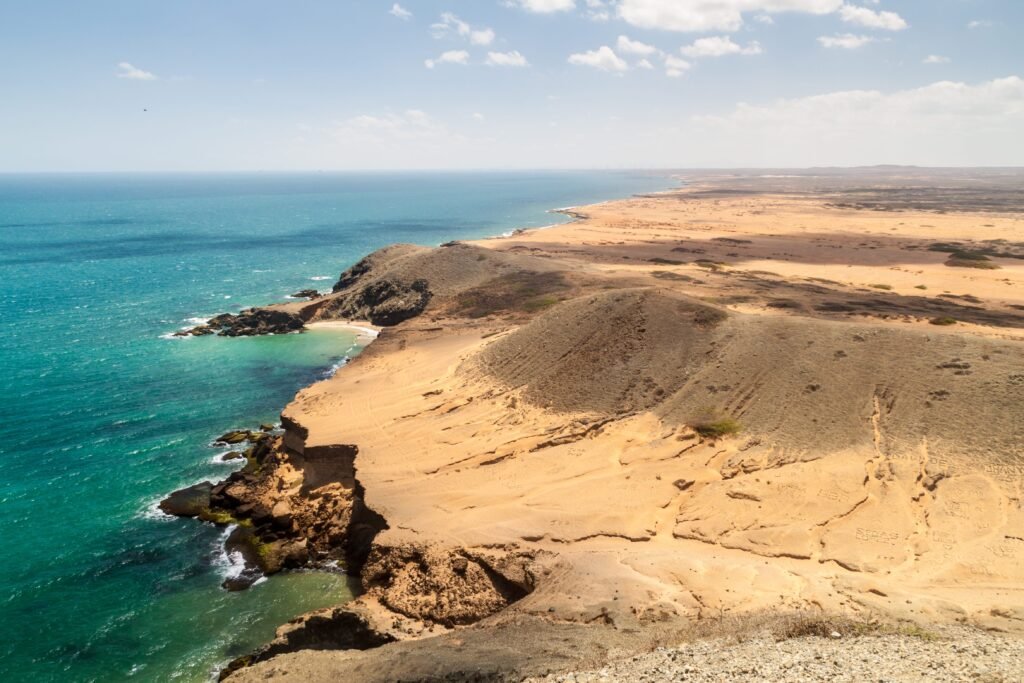 The land of desert dunes and pink flamingos offers a change of scenery and a chance to support the Wayuu tribe by purchasing their handmade goods while learning more about their resistance to the occupation.
La Guajira is a popular kite-surfing destination and home to a Flamingo sanctuary where visitors can go on boat trips across four lagoons. It is also home to Maciura National Park and Punta Gallinas, the northernmost point on the continent where sand dunes and mangroves paint a surreal landscape that is unlike any other region in Colombia.
Best Places to Visit In Colombia: Travel Map
Things to Know Before Your Trip
Is Colombia Safe to Travel to?
The birthplace of Shakira has plenty to offer in terms of landscapes and activities but there are certain things that every tourist should know before making the trip. For example, is it safe to travel to Colombia? This question in particular may have crossed the minds of many who are familiar with the country's dark history.
The 2016 peace treaty between the government and the Revolutionary Armed Forces in the country has definitely opened the door for a safer Colombia. However, street crime and pickpocketing remain an issue, and so travelers need to be vigilant especially when traveling on their own. Colombia safety guidelines issued by a number of countries including the U.S and the U.K offer regular updates concerning border areas and other regions that are marked as unsafe for tourists.
If you read some of the travel warnings you might be put off from visiting the country, but my advice is totally different.
Yes, there is a lot of petty crime in Colombia especially targeting tourists at night. This doesn't mean you shouldn't travel there. If you take some precautions and read about the common scams, you'll be fine. Some people who never visited can assume the worst like you're going to get kidnapped or killed. That's not something you should be afraid of. Just remember that Colombia's dark past has created some bad media and given it this reputation.
As a solo female traveler, I spent 2 months visiting so many different cities, using public transportation and roaming around by myself with no issues at all. Having said that, it doesn't mean you shouldn't take extra precautions during your Colombia vacation.
Colombia has a bad reputation for violence and drug trafficking. It suffered a lot during the 90s because of the cartels, but it has come such a long way since then. As long as you are careful and informed, you can enjoy a very safe trip to Colombia.
Travelers are advised not to wear anything flashy or valuable such as expensive watches and jewelry. This is basic common sense and can be applied to other countries as well. Wandering off the grid is also not recommended, and neither is accepting cigarettes or drinks from strangers.
The safest cities in Colombia are definitely worth the trip. There is no shortage of sun toasted beaches and lush green forests to choose from. A trip to Colombia is also not complete without dipping your toes in the sapphire waters of the Caribbean and going on a coffee tasting tour in the Andes mountains.
Colombia Travel Safety Tips
1. Every city in Colombia is different. The cities that are filled with lots of tourists are relatively safer than others. Cartagena is a hot spot for international tourists, so no matter what time you go out, you're always surrounded by other travelers and you don't stand out from the crowd. Bogota, for example, is a different story. It's a huge city and most of the time you are surrounded by locals. It's easier for pickpockets to spot the tourists.
2. Don't walk around with an expensive camera. You can still carry it with you in a bag or backpack, just don't flash it around visibly so you don't become a target.
3. Don't stand on busy streets with a smartphone in your hand. You will be an easy target for people on scooters to snatch your phone. If you're using Google Maps to navigate, just look up the directions and then put your phone away somewhere safe and not easily accessible.
4. Use a cross bag with a zipper. Make sure to wear it around your neck and put your hand on it for extra safety when walking in crowded areas.
5. Take Uber or other transportation apps instead of public taxis. It's safer and more cost-efficient because some of the taxi drivers will try to overcharge you as a tourist.
6. Don't walk too much after dark. If you're out having drinks, it's better to take a taxi home even if your hotel is nearby.
7. Take extra precautions in bars and clubs. This is going to sound like some very basic advice, but don't accept drinks from strangers. There have been several cases of people getting drugged in clubs and waking up in their hotel without their cash or cameras. A common scam is that some men are approached by beautiful local women who pretend to party with them and spike their drinks to steal their cash.
8. Don't carry too much cash or official documents. Most places accept credit cards anyway.
9. Worst-case scenario: if someone does try to mug you, do not fight it. Give him whatever he wants and let him leave. If you try to fight, it can get violent and you will get hurt. A lot of times these guys have their friends waiting around behind the corner, so you can be outnumbered.
Here are 32 common travel scams in Colombia and how to avoid them.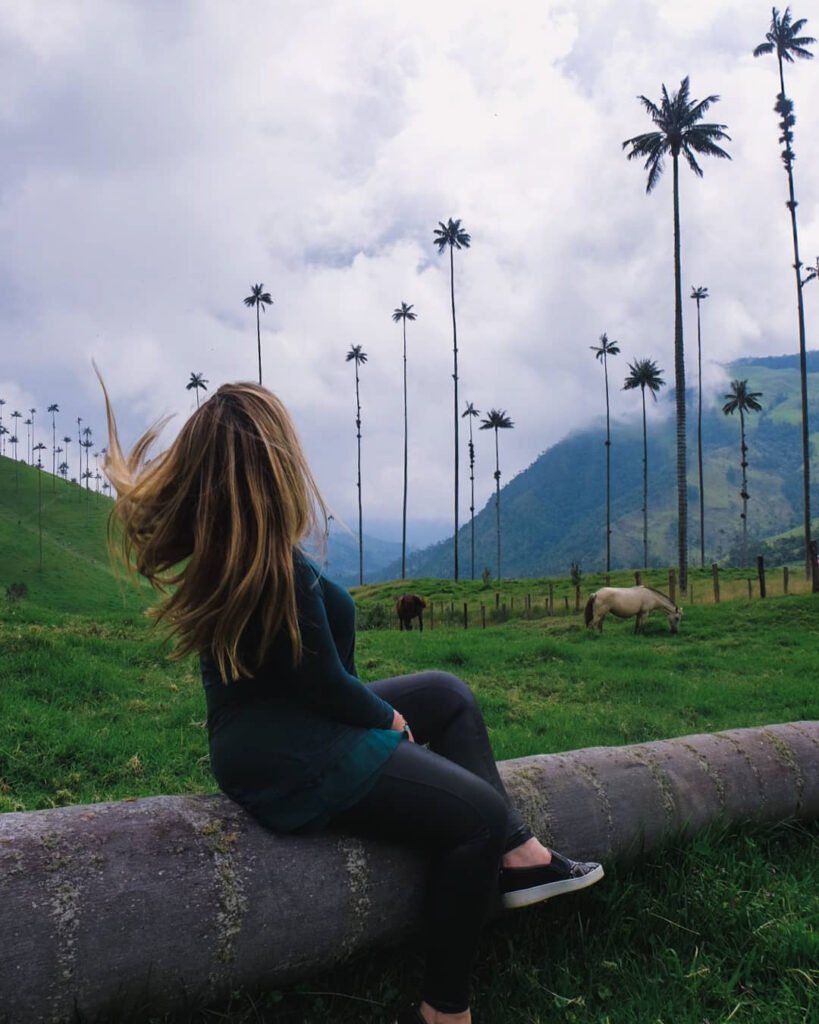 Best Time to Visit Colombia
Colombia is very diverse and the weather varies throughout the country. The best time to go to Colombia depends on the region you intend to visit. Being neighbors with the equator has blessed the country with different microclimates. For example, the Amazon region is hot and humid compared to the colder climate in Bogota.
Colombia is known for its tropical climate, so the ideal time to visit the country is typically between December and March. This is also peak tourist season and a surge in prices occurs as a result. However, less rainfall makes it possible to take part in many outdoor activities such as trekking and whale watching.
Colombia Vaccinations
There are no mandatory vaccinations you need to take before visiting Colombia. If you want to be extra cautious, you can decide whether or not to take them depending on the nature of your trip. Here's a great resource to help you decide: Colombia CDC recommendations.
For travelers interested in visiting the Amazon region including Sierra Nevada de Santa Marta National Park and Tayrona National Park vaccination against yellow fever is recommended. Travelers are advised to get this vaccine ten days before visiting any of the country's Amazon reserves.
Hepatitis A and Typhoid fever vaccines are not mandatory, and neither are Malaria pills, but they are recommended by the CDC depending on the areas you will be visiting.
I personally did not take any vaccinations or malaria pills and I was fine throughout my trip. If you choose not to take any vaccinations, just be cautious not to drink tap water, pay extra attention to hygiene when eating street food, and get a good bug spray for outdoor activities.
Frequently Asked Questions About Visiting Colombia:
What is the most visited place in Colombia?
The most visited places in Colombia are Bogota, Medellin, Cartagena, Tayrona Park, and Santa Marta.
What should I see in Colombia?
The best places to see in Colombia are:
1. Cartagena
2. Medellin
3. Cocora Valley
4. The Coffee Triangle
5. Tayrona Park
6. San Andres Island
7. Playa Blanca & Rosario Islands
8. Caño Cristales
9. Guatape
10. The Amazon Jungle
Is it safe to vacation in Colombia?
Yes, it is safe to vacation in Colombia if you take the right precautions. Leave your valuable belongings at home and always research the city you're visiting for safety tips. When it's dark, it's best to take a taxi back to your hotel instead of walking.
What is the nicest city in Colombia?
The nicest cities in Colombia to visit are:
1. Medellin
2. Cartagena
3. Guatape
4. Salento