Playa Blanca in Cartagena is a perfect Caribbean getaway in Colombia. With clear turquoise waters, white sand, palm trees, and delicious fresh seafood, it's a stunning destination for beach lovers. Not only is it beautiful, but it's also easily accessible from Cartagena's Walled City. Not to mention that it's also super affordable for travelers on a budget. There's a reason why Playa Blanca is one of the most famous islands in Colombia.
Where is Playa Blanca, Colombia?

A lot of travelers think that Playa Blanca is in Cartagena, but it is in fact located on Isla Baru – a stunning island only 45-minutes away from the famous Old City of Cartagena.
You can hear "Playa Blanca" and "Isla Baru" used interchangeably, but technically speaking Playa Blanca is actually only a part of Isla Baru. It's a long stretched beach on the most beautiful coast of the island.
How to Get to Playa Blanca from Cartagena
You have so many different ways of getting to Playa Blanca from Cartagena. Most of them take approximately the same amount of time, but the cost can vary depending on how many people are in your group.
In recent years, a bridge was built between Cartagena and Playa Blanca, so you can actually get there by car.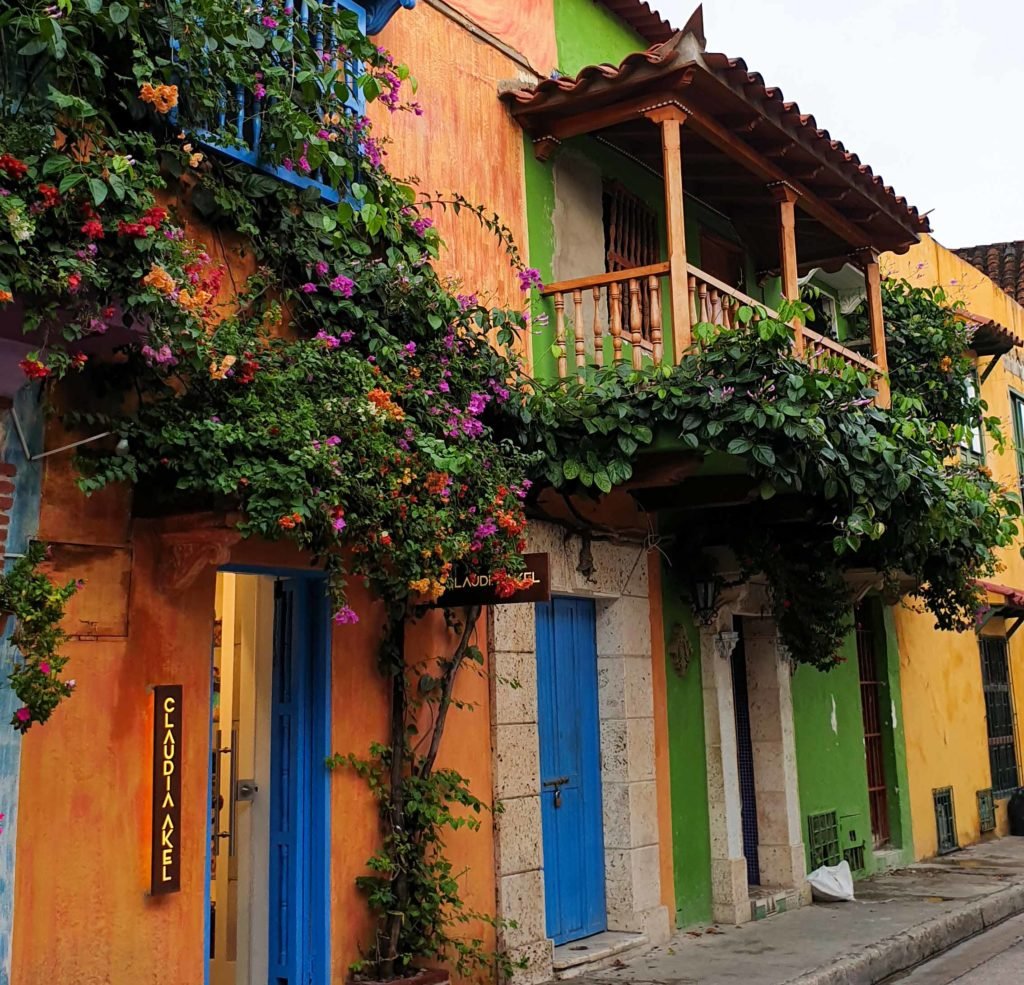 Option 1: Cartagena to Playa Blanca by Taxi
This is the most expensive option, but if you're a group of 4 or 5 people and you split the cost it is very affordable and sometimes cheaper than other options. You can easily find a taxi through your hotel or on the street. Make sure to negotiate a lot to get the best price. Taxi drivers try to take advantage of tourists especially if you are a bigger group.
Travel time: 45 minutes
Cost: 60,000 – 100,000 COP ($17 to $28) each way depending on your negotiation skills.
Option 2: Shuttle to Playa Blanca
There's a shuttle bus to Playa Blanca with 3 different departure times per day: 08:30 / 12:00 / 17:00 and 3 different return times: 10:30 / 15:00 / 20:30.
If you purchase a return ticket, you can return at any time (even a few days later if you choose to stay overnight on the island). The buses are comfortable, punctual and air-conditioned. You can book through the company directly by email/phone or ask your hostel to book it for you. They will send you more info about departure locations.
This is the top company for Playa Blanca shuttle buses: Mamallena
Travel time: 45 minutes
Cost: 50,000 COP ($14.5) return
Option 3: Speedboat to Playa Blanca
Do you want to enjoy the beautiful views on the way? Then you can take a speedboat from the center of Cartagena. The boats leave from the dock, which is right outside the Walled City. You don't need to book tickets ahead of time. Just show up to this area and you will already be approached by several tour company reps offering you tickets. Just like everything else, you can negotiate the ticket prices on the spot and hop on of the boats.
If you get seasick, this option might not be the best for you. The speedboats are overpacked and the waves can get a bit rough depending on weather conditions. You might also have to wait a little bit until your boat is fully packed before departure.
Returning to Cartagena by speedboat: you can get a cheaper return if you wait till the afternoon and negotiate with the guys on the boats along the coast.
Travel time: 1 hour
Cost: 60,000 COP ($17) each way after negotiation
Option 4: Bus + Moto Taxi (budget option)
The cheapest option is to start by a public bus which will drop you as close as possible to the area where you can take the moto-taxis. Take the bus heading to Pasacaballos and let the driver know you are going to Playa Blanca. He will stop in a place where you'll have a group of guys standing around with their scooters. You can then negotiate with them to drive you to the coast.
The bus ride is long and does so many stops on the way, so if you're tight on time, this is not a good option. If you have luggage with you, you can get an extra moto-taxi to drive with your luggage. I recommend avoiding big pieces of luggage because it might not be possible to carry them on the scooters.
Travel time: 2+ hours
Cost: 2,000 COP (bus) + approximately 10,000 COP (moto-taxi) = 12,000 COP $3.4) each way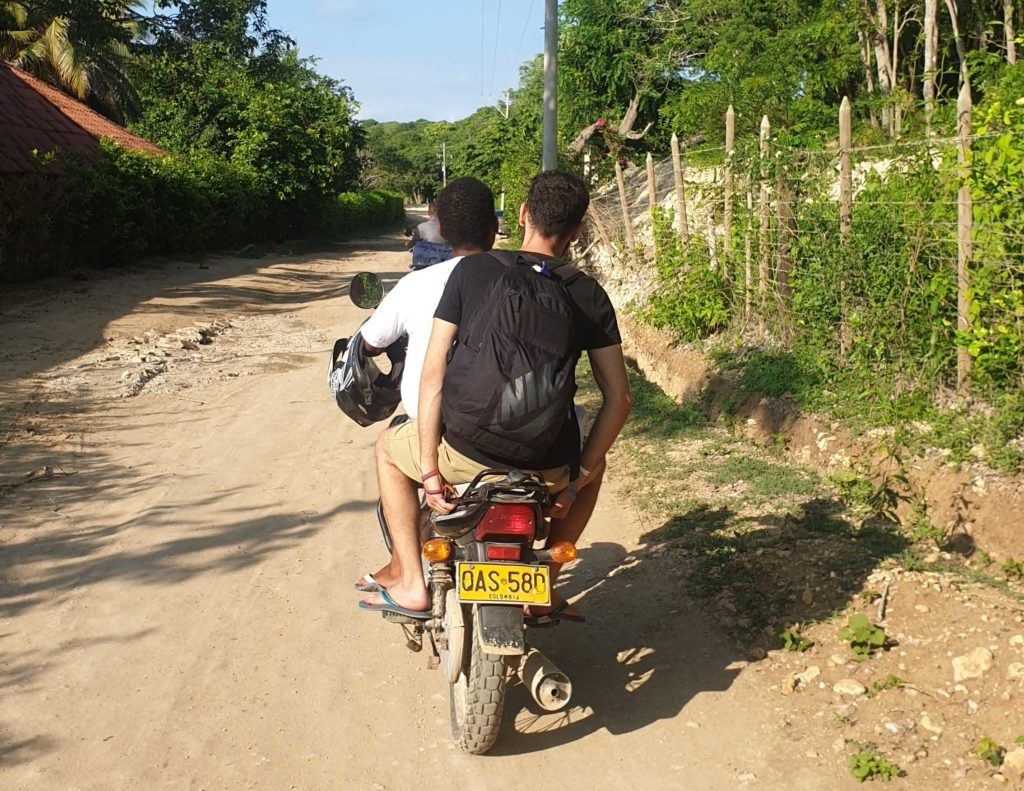 Option 5: Day Trips to Playa Blanca (Organized Tours)
Lots of day trips are available to the islands through several tour companies. They typically leave around 8 AM and return around 4 PM. Day trips are around $35 per person including lunch. 
When to Visit Playa Blanca
The great news is you can visit Playa Blanca at any time of the year. The temperature is always warm but depending on which month you're visiting, you might experience some rain. The driest months are January to March and the wettest month is October. More info about Playa Blanca travel weather here.
Related article: Ultimate Guide to the Best Beaches in Cartagena
Day Trip to Playa Blanca or Stay Overnight?
Because of it's proximity to Cartagena, you can either do a day trip to Playa or choose to stay overnight on the island. The only time I would recommend doing a day trip is if you are really tight on time.
I highly recommend staying at least a night or two at Playa Blanca to properly enjoy the beach. I say this because day trips to this island have been extremely popular lately.
Between the hours of 10 AM to 3:30 PM the beach is overcrowded with tourists that are just spending the day there. In fact, it's not just the tourists you should be worried about, it's also the vendors trying to sell you anything from bracelets to massages. Even if you're sitting in a restaurant or the beach beds in your hostel, you will have vendors come up to you.
Playa Blanca felt like a totally different place as soon as the clock hit 4 PM. It was so quiet, peaceful, and relaxing. The big crowds leave just in time for the pink sunsets. It was a very good decision to spend a couple of nights there to enjoy the beach without the crowds.
Related article: Tulum vs Cancun – Which One To Visit?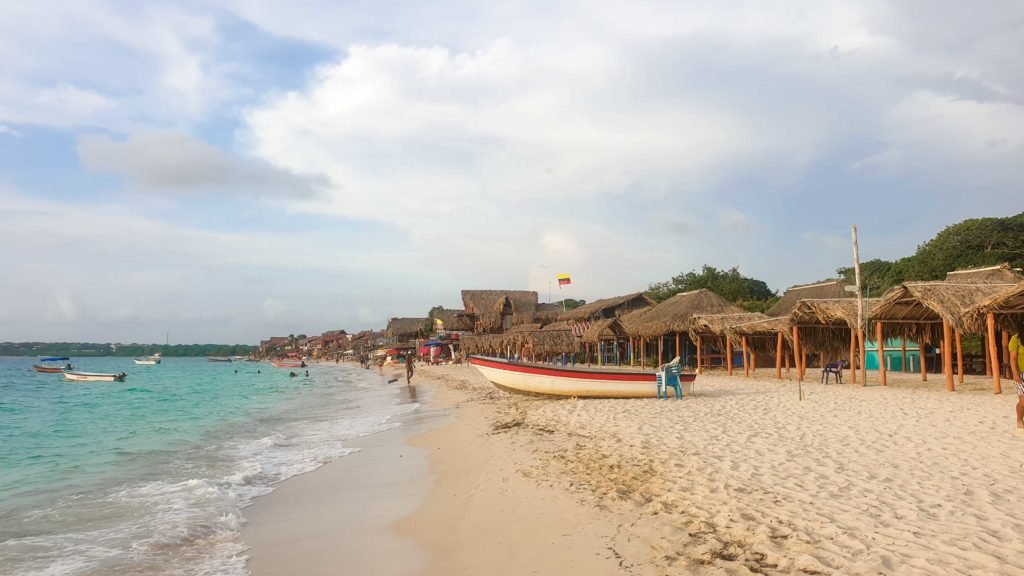 Related article: Cocora Valley Colombia – The World's Tallest Palm Trees
Things to do in Playa Blanca Cartagena
The best thing to do of course is to lie around and enjoy a cocktail on the beach. If you prefer some adventure, there are lots of fun and affordable activities you can enjoy.
1. Water activities in Isla Baru
You will find plenty of water activities for all ages along the coast. Jetskiing is the most common one, but if you want something for a group or family, you can try the banana boat ride or kayaking.
You don't need to pre-book anything. The best way to find a good price is to negotiate with the guys driving around the jetskis. You will probably be approached by so many of them anyway.
Jetski cost: around 70,000 COP ($20) for 20 min (you can negotiate to take it up to 30 min)
2. Plankton Tour
This is a one of a kind activity that you can do only in 7 destinations around the world (one of them being Thailand).
Planktons are small/microscopic organisms that kind of look like shrimps. They are actually very important in the underwater ecosystem because they're at the top of the food chain. Unlike other underwater creatures, plankton can't swim against the current. Instead, they just drift around in the water and let the currents and tides decide where they go. What's even more special about them? They glow in the dark!
Playa Blanca is famous for having an abundance of plankton. Why do they glow in the dark? It's because they shine when they are disturbed by the waves or movement. The tour will take you on a 20-minute boat road and stop in an area where you can swim with the planktons. You will see a bright blue glow all around you! It's a very interesting and fun experience to try.
You don't need to pre-book the tour. There are loads of vendors selling this tour around the coast and you can get on one of them on the same day.
Plankton tour cost: 40,000 COP ($12)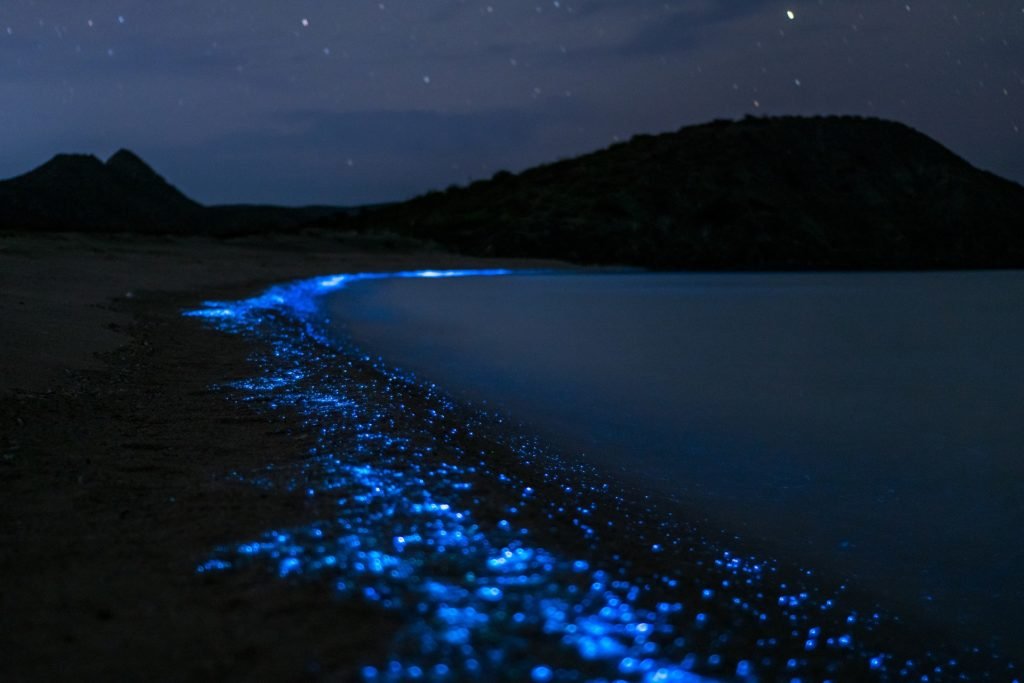 3. Enjoy the food
As you can imagine, the seafood here is exceptional. There are different menus and specials depending on the catch of the day. You can enjoy a nice meal for 35,000 COP ($10) per person. Loads of restaurants are available on the beach and a lot of them are part of the hostels.
Important note: A lot of the restaurants close at 3 PM, which is the time that all the tour boats leave. Dinner-time has much more limited options vs. lunch.
3. Rosario Islands Boat Tour (Islas del Rosario)
I highly recommend going on this island hopping tour. The Rosario Islands are absolutely stunning. The waters are even more turquoise than Playa Blanca. Depending on your tour, you can experience some spots that have very few tourists around.
The tour I took (which I negotiated on the spot along the coast) was on a small boat with about 15 people. It included: snorkeling in 3 different spots, visiting some remote white-sand islands and beaches, and a stop at a stunning spot where we enjoyed swimming for around 2 hours.
Some of the interesting things we saw on the tour: Pablo Escobar's summer house (deserted at the moment), his small sunken plane underwater right outside of his house (we snorkeled here to see the plane), and we also passed through some beautiful mangroves.
There are several different types of tours to the Rosario Islands, so before booking, make sure to ask about the exact stops.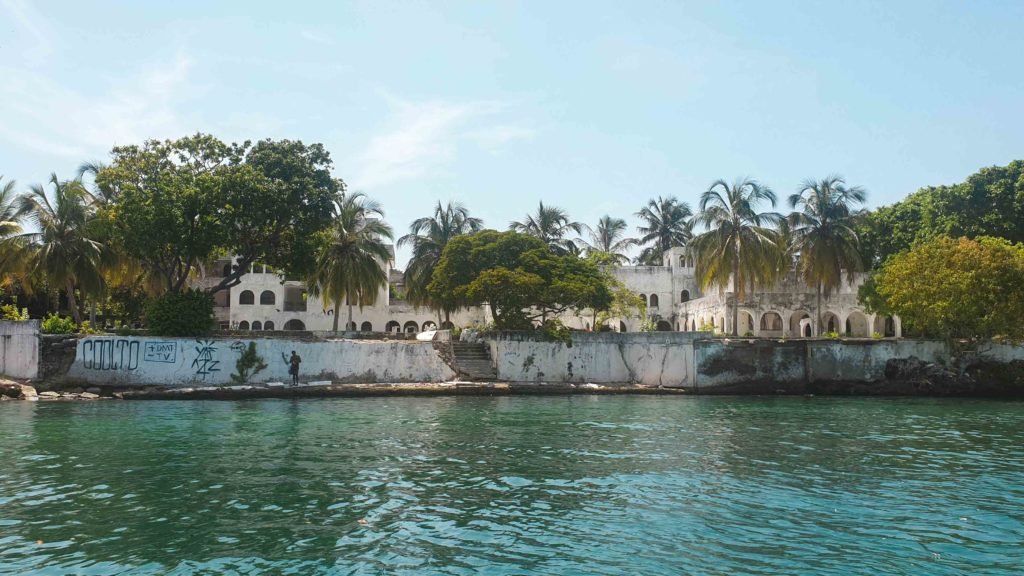 3. Get a massage on the beach
Do you like massages as much as I do? In Playa Blanca, you will easily be tempted to get a massage. As you are tanning alone the coast, you will have so many local ladies pass by offering massages. You don't even have to move from your spot! They start massaging your right away and try to negotiate a deal.
You can get as little as 30 min up to 1.5 hours. The price highly depends not just on your negotiation skills, but also the time of day. Between the hours of 11 AM to 3 PM, it's harder to negotiate because all the tour boats are still there and the island is overcrowded. After 3 PM, only the people staying overnight are on the island, so you can get a better price.
A 30-minute massage costs around 35,000 COP ($10), but you can get a better deal if you get a 1-hour massage or if you are more than 1 person.
Funny incident: the girl who was massaging me started to braid my hair during the massage. After she finished, she asked for an extra 35,000 COP ($10) for the 2 simple braids! I started laughing and told her that I never asked for this. She immediately said "OK  20,000 ($6). In the end, I offered her 10,000 COP and she happily accepted. 
Related article: 1 Week Colombia Itinerary
Things to Know Before Visiting Playa Blanca Colombia
1. Negotiate!
If you read this article, you'll quickly understand that negotiation is key in this area. Everything from tours, water sports, transport, and even massages have inflated prices for tourists. I know it doesn't come naturally to a lot of people, but sometimes you have to do it especially in more developing countries.
As much as I love supporting the locals in my travels, I still don't want to pay 6 or 7 times the normal price. If you have a Spanish-speaking friend in the group or if you get to know some locals, it's better if they negotiate in Spanish.
2. You probably won't have electricity during the day
The island doesn't have the right amount of infrastructure to support the mass tourism coming its way. Most of the electricity in Playa Blanca is supplied through private generators. Each restaurant or hostel gets its electricity either from a private or shared generator.
To conserve this energy and bring down the cost of the generators, most hostels turn on the electricity after 6 PM.
Of course, this highly depends on where you're staying. You do have some accommodation options that have 24-hour electricity. But, the majority of the budget hostels or cabanas that are on the main stretch of the beach mostly don't have electricity before 6 PM.
3. Air-Conditioning is rare
Playa Blanca's weather is super hot and humid. If you're like me and can't sleep without AC in the heat, then it will not be an easy task to find a place to stay with AC. I'm not very picky when it comes to where I'm sleeping, but I just simply can't fall asleep in the heat.
When I was booking my hostel, I only found 1 option with AC on the whole coast. Yes, fans are normally provided, but after a very warm day under the sun, the fans are just not enough.
4. Limited supply of water (and no hot water)
Depending on where you're staying, you might be given a daily quota to use freshwater. 5-minutes is normally the maximum amount of time you'll have to shower. For guys, it's easier, but for people like me who have long hair, this could be a challenge (a funny one!).
Oh and remember that wonderful thing called "hot water"? You need to forget its existence in Playa Blanca or anywhere on Isla Baru. Unless you're staying at one of the super expensive luxury hotels, you will not have any hot water.
5. Read the details before booking a hotel or cabana
It is absolutely essential that you read the fine print before booking your accommodation. No matter what hotel booking platform you're using, make sure you read about the electricity, water, and exact location (and how to get there). This is the kind of destination that doesn't have all the basic necessities we usually find in hotels. The last thing you want is to show up and be negatively surprised.
Funny experience: I spent a total of 4 nights on Isla Baru: 3 of them in a remote hotel and 1 on Playa Blanca. I was with a group of friends and it was a very spontaneous decision. We literally booked our hotel the night before we were going to Isla Baru. The next day, we hopped in our taxi and started driving. When I looked at my Google maps, I realized the road ends in the middle of nowhere and the taxi wouldn't be able to drive us all the way to the hotel.

We knew our hotel was remote, but we completely ignored the details (that essential piece of info in small letters that we never read) when we were booking. The taxi had to drop us in the middle of nowhere, where we found some guys that had scooters (moto-taxis). They had to drive us to a small port where we negotiated a deal to hop on a boat ride. So, instead of driving directly to our hotel, we had to take 3 different modes of transport to get there! It was still super fun and we laughed a lot, but we were definitely very surprised.

Don't worry, if your hotel is on the main beach of Playa Blanca, you will definitely not have this problem. You can reach it very easily by car. 
6. There is an extra charge if you want to pay by credit card
Most places do not accept credit cards and, if they do, they charge you 10% to 20% more for paying by card. When you book your hostel, read about their payment policies. Some of them only accept cash.
Also, don't expect to find any exchanges in Playa Blanca. Make sure you have enough Colombian Pesos before your trip. Some of the hostels will offer an exchange service, but the rates are ridiculous.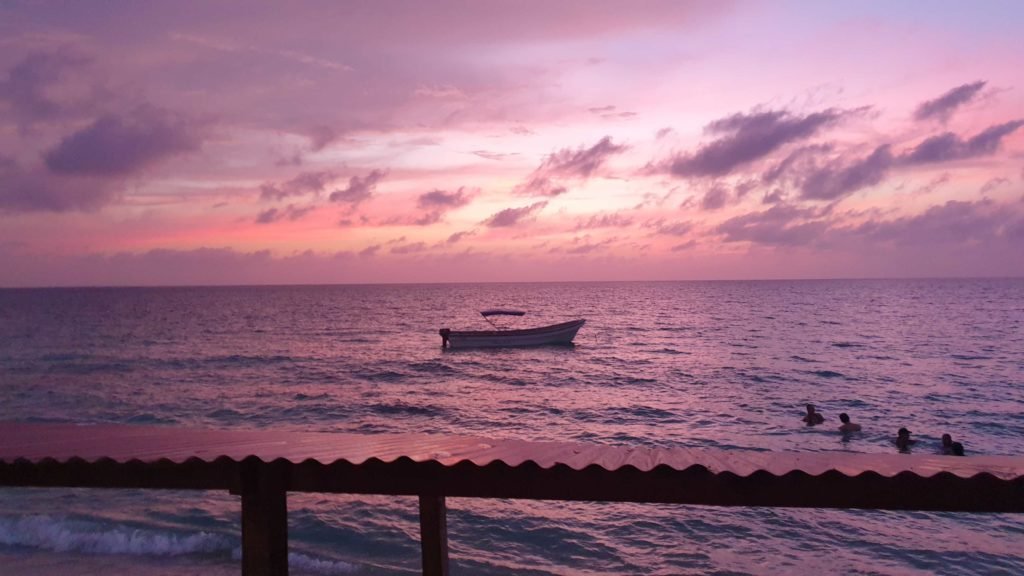 7. Don't stress and enjoy the island life!
Ok, so I mentioned all of these points here simply to set your expectations before arriving to Playa Blanca. Don't stress over them and just try to enjoy the simple island life. You will probably spend only a couple of nights on the islands, so it's ok if there are some things missing that you're normally used to having.
8. Accommodation is either super basic or super luxurious
You will either sleep in a basic wooden cabana or a super luxurious hotel. It's rare to find something in between. In my opinion, it's nice to live the basic beach life for a few days, so staying in a cabana is fun!
It's important to know that on the main coast of Playa Blanca, you will not find luxury hotels. The more upscale hotels are nearby but not on the main beach.
9. WIFI can be tricky
Even if your hostel says they have WIFI, it doesn't mean it will be working properly. Remember you are on a remote island, so even getting a 3G connection on your phone could be tricky. You can still connect on some parts of the island.
Where to Stay in Playa Blanca – Budget & Hostels
All of these budget hostels in Playa Blanca are on the main beach.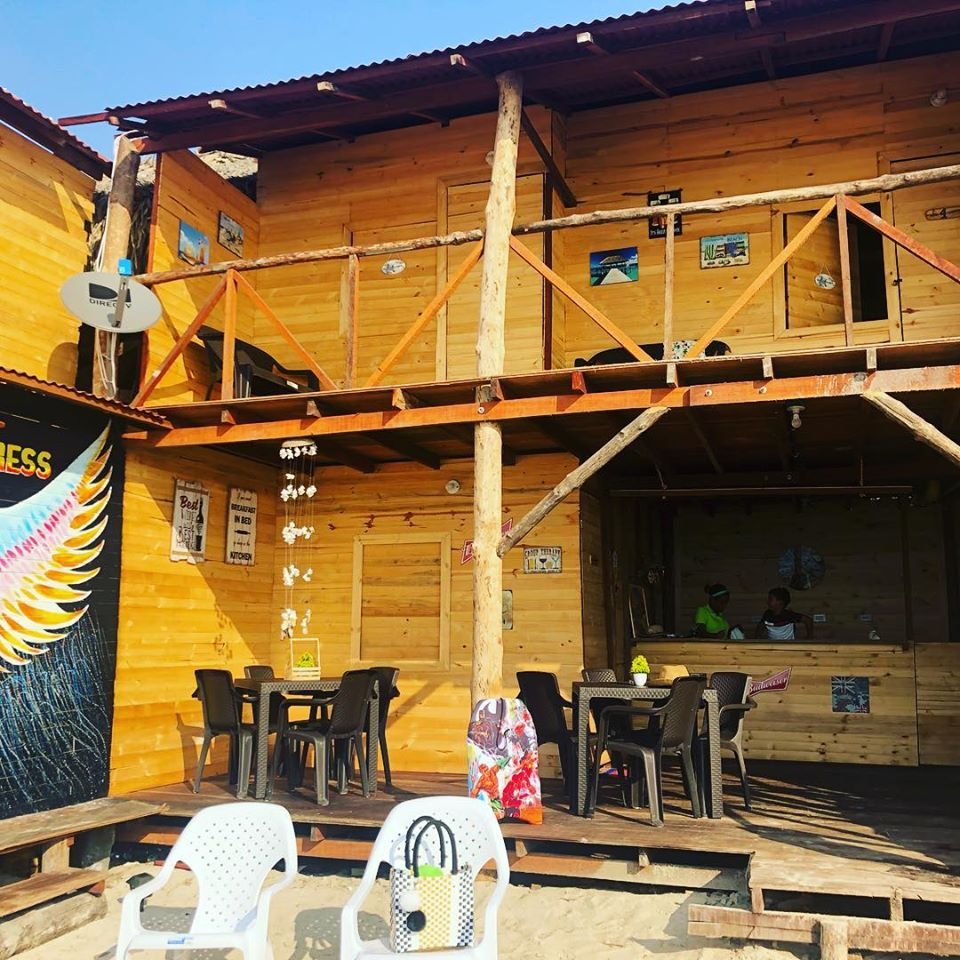 This is where I stayed and I recommend booking this specific room: Deluxe Double Room with Sea View and Air Conditioning
My room had AC, a private bathroom and it was on the ground floor. What I loved was the cute little balcony with the hammock. It was the perfect place to watch the pink sunset. The staff are also very nice and friendly.
Prices starting at: $56 USD per night
Important notes: electricity was available after 6 PM, the AC is good but there are holes in the wooden cabin so the room was not very cold and there is a 10% extra charge to pay by credit card.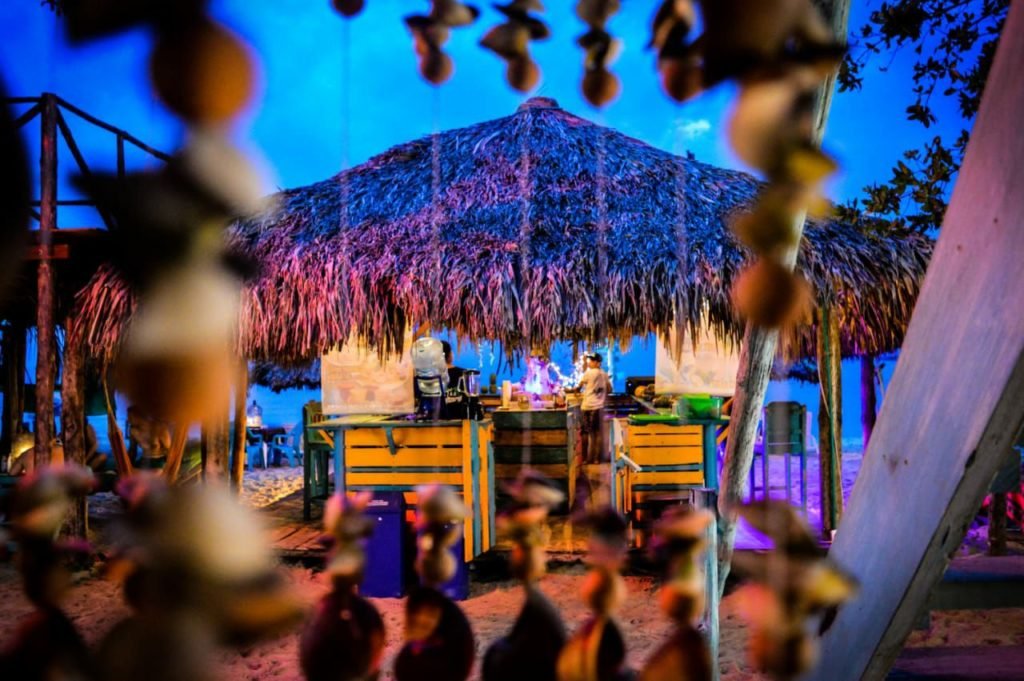 This hostel is also on the main beach of Playa Blanca. The rooms come with balconies overlooking the sea. There's room service, a la cart breakfast ($3), free wifi, and a tour desk available.
Prices starting at: $37 USD per night
Important notes: the bathrooms are shared, there's no AC but fans are available, limited water supply, and electricity after 6 PM.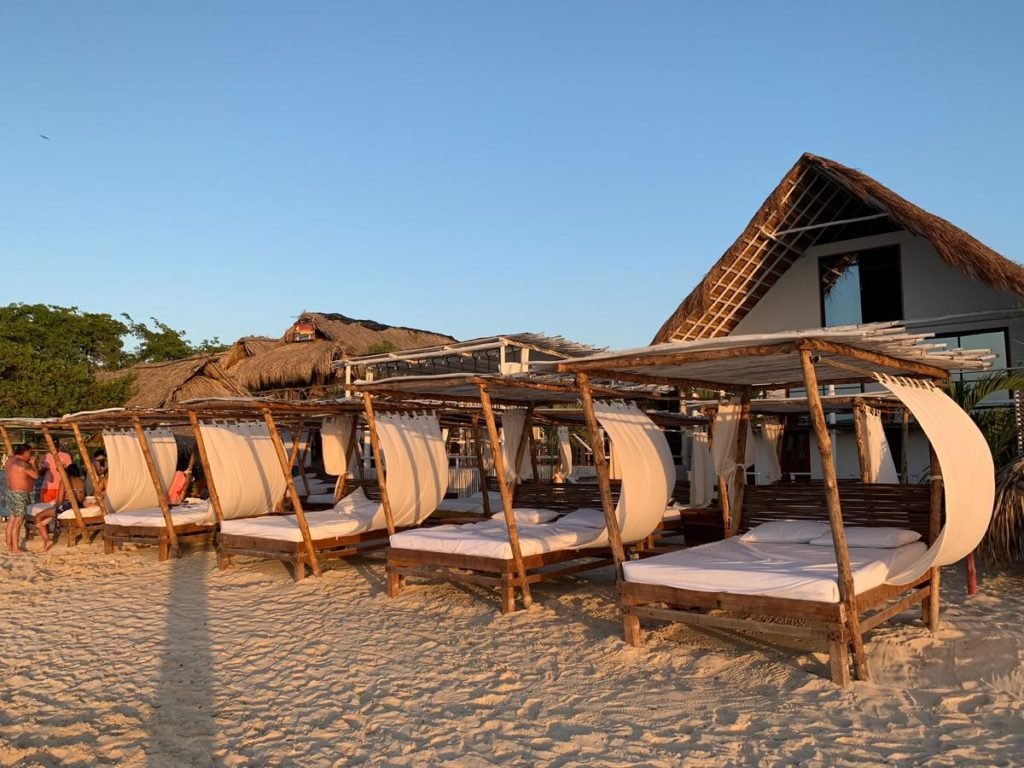 You can book both private rooms or dorm rooms here. Some of the private rooms have their own bathrooms and balconies with sea views.
Prices starting at: $20 USD for dorms or $63 USD for private rooms
Important notes: breakfast is included, no issues with electricity or water, and there's no AC but fans are available.
Where to Stay in Isla Baru – Luxury Hotels
Important note: these luxury hotels are NOT on the main beach of Playa Blanca. They are on Isla Baru, but further away from the main coast. You can reach them by boat. These resorts are more secluded, but you can still visit Playa Blanca.
A very cute eco-lodge with a private beach, open space patios, and hammocks. It's perfect for a more quiet getaway for couples. It's located in front of Barbacoa Beach, just a 10-minute drive from Playa Blanca Beach.
Prices starting at: $170 per night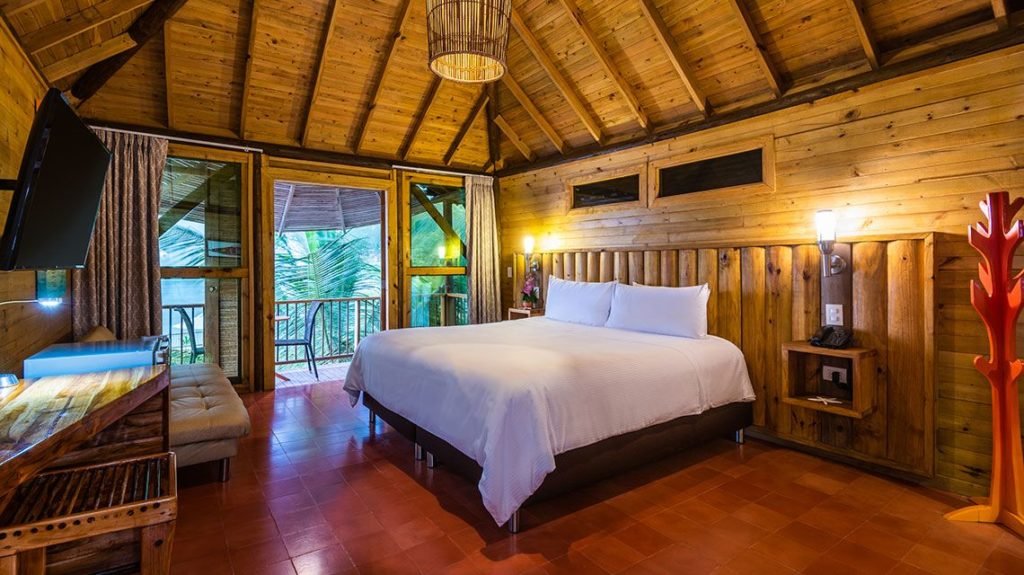 This all-inclusive hotel (breakfast, lunch, and dinner included) is located inside the Rosario Islands National Park. There's a gorgeous pool, spa with great massages, Air-conditioned rooms, and free toiletries.
Prices starting at: $365 per night (2 people with all meals included)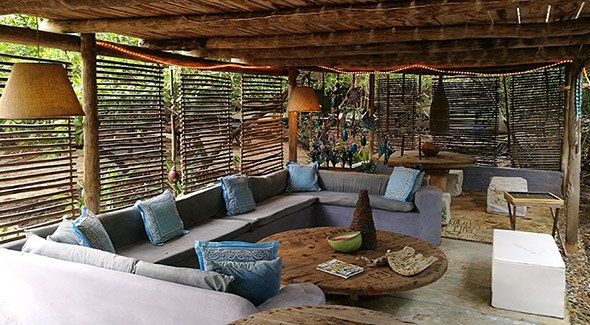 A rustic-style eco-lodge with beautiful balconies and patios overlooking the sea. The rooms are stylish with AC, private bathrooms, a pool, and great views. This is an excellent option for a quiet private getaway.
Prices starting at: $180 per night (breakfast included)
What to Pack for Playa Blanca Colombia

Mosquito Repellent – I'm writing about this first because it is the most essential item you will need in Playa Blanca. You can just imagine how many mosquitos you will encounter.
Chemical Free Sunscreen – if you're going snorkeling, one of the most harmful things you could do to the corals is wear regular sunscreen. Make sure you get a reef-safe sunscreen before any snorkeling trip.
Bathing Suits & Bikinis – I don't know about you, but I always pack more than one bikini when I'm going to beach destinations. These are some affordable and stylish bikinis you can buy on Amazon for under $30:

Sundresses – You don't need to wear anything else on the island. Pack a couple of both short and long dresses and you're good to go! These dresses are under $30 on Amazon:

Travel Towel – You can use the towels from your hostel, but it's better to pack your own quick-drying travel towels.
Swimming Shoes – The sand is normally very soft in Playa Blanca, but there are some rocks and pebbles that could be painful to step on. Swimming shoes are perfect to avoid this.
Sandals & Flip-Flops – It's best to choose a travel sandal that's not only stylish but comfortable.
Dry Bags – You can find these online in all shapes and sizes. They're great to protect your electronics, especially during boat rides. You just throw in all your stuff and seal them in case it gets wet or falls in the water.

Disclaimer: Some of the links in this article are affiliate links, which means I make a small commission from bookings with absolutely no extra cost to you.