Planning your next beach vacation? One of the first things we think of after booking a beach getaway is what to wear and what to pack. After traveling to so many islands and summer destinations, I put together my favorite beach vacation must-haves & packing list.
I usually pack lots of colorful travel outfits, several swimsuits, cute beach accessories that look great in photos, beauty products to protect my skin, and of course water-resistant products for boat rides and the beach.
Beach Vacation Must Haves: Beauty Products
Protecting your skin is the most important part of a travel beauty routine. A lot of people neglect wearing sunscreen, but it should be an essential part of your daily routine (not just for the beach).
Choose a tanning oil that also has SPF protection.
If you've never tried this, then it is a game-changer when it comes to after-sun care. Aloe Vera has soothing and moisturizing qualities and you can use it for both your face and body. If you get sunburned, put the Aloe Vera Gel in the fridge before application. It will feel so good after a long day at the beach.
Don't forget to protect your lips, especially if you're sitting in the sun all day. Using an SPF Lip Balm will prevent dryness and chapping.
Choose one that is long-lasting or waterproof. Bright Lipstick will make your lips pop and looks amazing in photos.
When it's super hot and you can't wear foundation, tinted moisturizer gives you great cover-up and SPF protection.
Yes, they exist and they are so useful for hot and humid days.
Mascara is a great way to brighten up your eyes even if you're not wearing any other makeup.
Travel-sized makeup kits are perfect if you want to pack light.
Beach destinations are normally so humid and sitting in the sun all day or swimming can result in very dry hair. Argan Oil can be applied at the beach or as a leave-in treatment after showering. You can also use it for your skin and nails.
When I say instant, I mean instant. This nail polish remover has a round sponge in the bottle. You can just stick your nail inside, twist it around and poof the nail polish comes off instantly. You also don't have to worry about carrying a regular/liquid polish remover.

Must-Have Beach Outfits:
Maxi dresses can be worn day and night with the right accessories. Choose colors that look good on the beach or for a night out.
Pack as many as you can, because sundresses really don't take up much space in your luggage.
Rompers look so good on the beach and give you the comfort of wearing shorts in case you want to go on a few adventures.
Great to throw on over your bathing suit.
Mix and match the same long skirt with different tops.
To wear over jeans or shorts.
This is another option that you can wear both at the beach or for a night out.

Beach Vacation Packing List: Stylish Beach Accessories
A great way to protect your face and cool off during really hot days.
I'm obsessed with cover-ups that have colorful pom poms. They also look amazing in photos.
Because everyone needs that Instagram-worthy photo with a huge unicorn!
These are super cute if you want to enjoy drinks in the pool.
Choose one that can double as a shopping bag.
My favorites are pink mirror sunglasses that match with everything.

Beach Vacation Packing List: Swimsuits
I usually pack at least two. I love two-pieces that have padded tops for extra support.
Great to have if you want to go snorkeling or diving.
These are so in style and are perfect if you need more cover-up during adventures.

Beach Must Haves: Shoes & Sandals
I live in my sandals when I travel. Try to wear them before you travel to make sure they are comfortable enough to stay on your feet all day.
Choose ones that don't make your feet slip when they get wet.
I can't live without my swimming shoes, especially when I'm chasing waterfalls or going to rocky beaches. Swimming shoes protect your fit and prevent slipping.

Beach Must Haves: Water Resistant
Never take your electronics (especially your expensive cameras) on beach or boat trips without a dry bag. I have dry bags in different sizes, but I recommend the medium ones that can usually fit everything inside and are not bulky to carry.
This is great if you want to keep your phone around your neck. I actually even went swimming with one of these and my phone was completely dry. Just to be safe, I don't recommend staying in the water with it for a long period of time.

Beach Vacation Packing List: Electronics
For underwater photography.
For swimming or other water activities.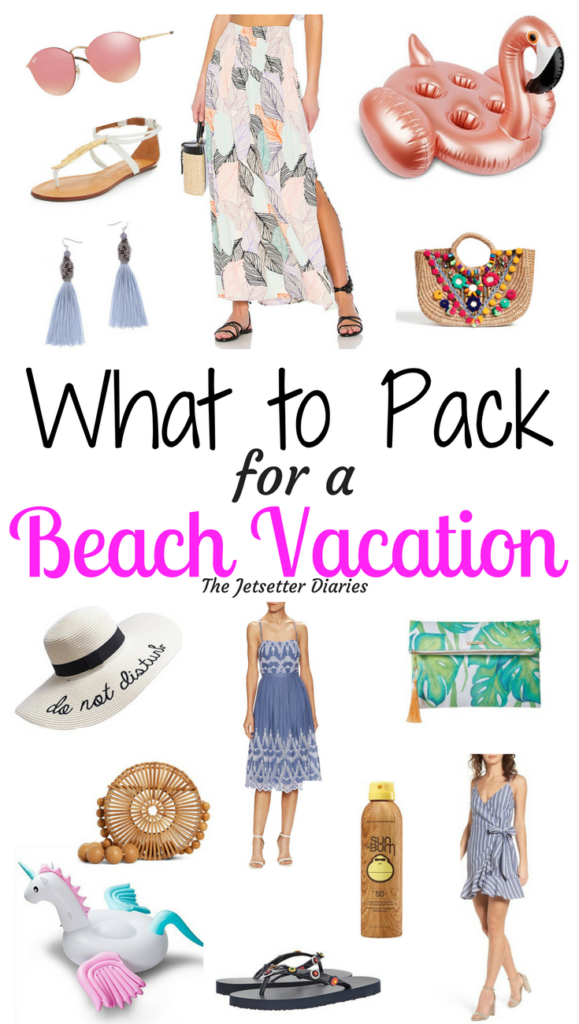 Disclaimer: This post contains affiliate links and I make a small commission from sales with absolutely no extra cost to you.