Tulum vs Cancun – which one to visit? A question worth asking if you're planning on visiting the Yucatan Peninsula. The region offers its visitors a refreshing cocktail of sun, sand, and UNESCO World Heritage Sites that are definitely worth the trip. Cancun in particular is popular amongst the spring break crowd thanks to its vibrant nightlife and all-inclusive resorts. Tulum also attracts its fair share of tourists who flock over to this Caribbean-flavored slice of paradise to escape the mundane routines of daily life.
Where Is Tulum, Mexico?
Tulum is located in the state of Quintana Roo on the east coast of Mexico. The city is part of the Riviera Maya which includes Playa del Carmen and Puerto Morelos.
How to Get to Cancun and Tulum
The best beaches in Riviera Maya are a flight away thanks to Cancun Airport. The airport has an international terminal that welcomes flights from all over the world including Europe and North America. The airport serves Cancun and Tulum, especially since the former does not have an airport of its own. Mexico airport offers several flights per day to Cancun as well. It takes around 2 hours to reach Cancun by plane from the capital. You can find several cheap flights to Mexico with these top flight search engines.
The travel distance from Tulum to Cancun is approximately 80 miles. Cancun Airport provides transportation to Tulum in the form of small buses that can accommodate up to 10 passengers. The buses drop passengers off at their respective hotels. Booking these buses in advance is highly recommended, especially during peak season.
Traveling to Tulum is also possible thanks to the ADO buses that are parked outside the terminal. The buses are large, airconditioned, and have wireless internet onboard. They are a great way to travel down the scenic Route 307 highway. Another option is to rent a car and drive all the way to Cancun Hotel Zone. There are several reputable car rental agencies located inside the airport. They are authorized car rentals that cater to every budget.
Tourists arriving via Cozumel Airport can take a taxi to the ferry terminal followed by a 20-minute ferry ride onboard the fast Ultramar Ferry to Playa del Carmen where they can hop onboard an ADO bus heading for Tulum.
Tulum vs Cancun Beaches: Does Cancun or Tulum Have Better Beaches?
The powdered sugar sand and tranquil blue waters of the Caribbean are the epitomai of escapism. Beaches in general, whether in Cancun or Riviera Maya, are in abundance. Visitors have their pick of the best stretches of sand and water activities that include parasailing and surfing. However, the best time to soak up the sun in this Mexican paradise is also the busiest.
The touristy nature of Cancun has its advantages, but the city turns into party central, especially during spring break. Finding a quiet spot on the beach becomes a challenge. The shoreline turns into an endless sea of beach chairs and umbrellas during peak season and the odds of having the beach all to yourself are extremely low.
Tulum, fortunately, does not suffer from the same problem. Beaches like Playa Paraiso and Playa las Palmas are serene and ideal for bookworms and those in search of a more laid-back vibe. Playa Paraiso for example has a beach club where guests can order ceviche and cold drinks from the comfort of their lounge chairs. Playa Ruinas is another great example of why Tulum has better beaches. The beach is perfectly framed by majestic Mayan ruins and is only accessible via a staircase that is connected directly to this seaside archaeological site. Privacy can also be found in abundance in the non-touristy shores of Tulum.  
Related article: Best Colombia Islands To Visit
Tulum vs Cancun: Does Tulum or Cancun Have Better Nightlife?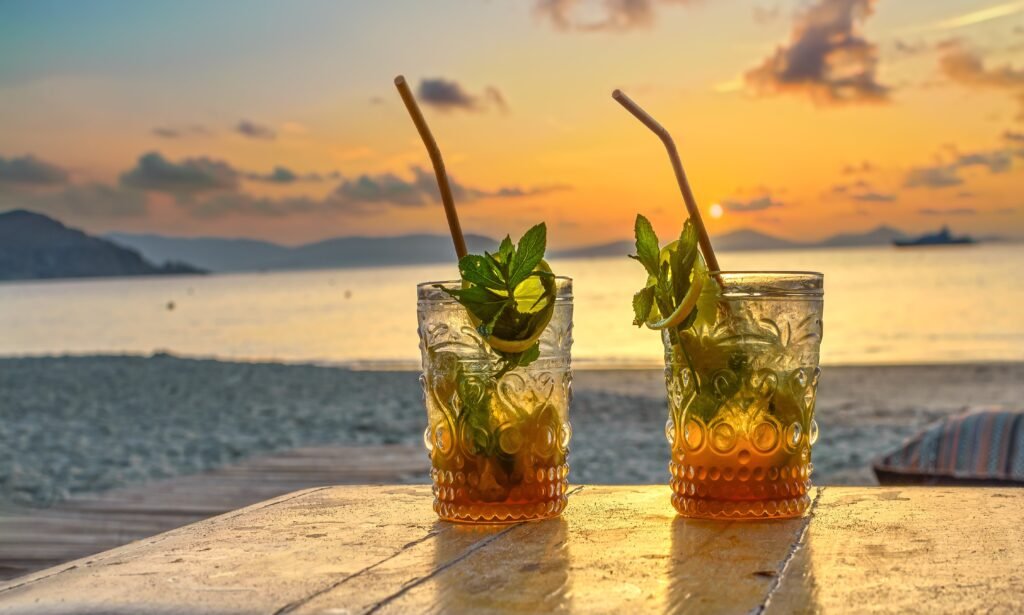 Just because Tulum is laidback does not mean that it lacks the necessary ingredients for a memorable nightlife. Fewer crowds in restaurants and clubs mean less time spent ordering drinks and waiting outside the entrance for hours on end. Tulum has an array of trendy bars and clubs that were tailormade for dancing and good company. Tulum Centro for example is home to several rooftop bars that play live music and serve tacos and mojitos at an affordable price. The Beach Zone offers more high-end options for those willing to splurge on food and drinks such as Gitano and Casa Jaguar.
Parties are not exclusive to Cancun either. There are plenty of places where visitors can put their salsa dancing skills to the test or ask the DJ to play their favorite pop song. The Papaya Playa Project for instance hosts a Full Moon bash every month where international DJs and artists are invited to light the dancefloor on fire. So, in a battle that involves Tulum vs Cancun, Cancun wins the prize for better nightlife thanks to its jungle-inspired rooftop bars and lively yet elegant party scene.
Tulum vs Cancun: Which One Is More Expensive?
Is Tulum expensive? Yes, it is. Tulum is a haven for digital nomads who are in desperate need of a break from the hustle and bustle of Cancun. The charming city is a magnet for yoga lovers and vacationers who appreciate the tropical aesthetic and the lulling sound of waves as they gently caress the shore.
There is nothing like waking up every morning to the priceless scenery and fresh salty air. Unfortunately, everything comes with a price tag in Tulum. This includes accommodation, food, and drinks as well as souvenirs. The city has become a celebrity hotspot and a go-to vacation destination for many affluent tourists. Upscale boutique hotels, bars, and restaurants overlooking the beach are therefore much pricier when compared to Cancun.  
When comparing Tulum vs Cancun, it is important to know that the former is not as developed as the latter. Cancun is filled to the brim with resorts and high-rise buildings. The city has more than 100,000 hotel rooms and its Hotel Zone has countless food establishments that cater to all types of budgets.
Things To Do In Tulum, Mexico
Watch a Tulum Sunset at a Swanky Beach Club
Reclining on the beach under the shade of a palm tree after an exhausting day of traveling is what beach clubs were made for. The pristine beaches of Tulum are lined with private clubs that serve cool cocktails and delicious food, for a price of course. Beach clubs like Ziggy's for example keep things fresh by planning activities for their guests all week long. From wine tasting to Spanish flamenco nights, they definitely have something for everyone. Family-friendly clubs also exist to keep the young ones active and busy on the beach.
Dive into the Refreshing Waters of a Cenote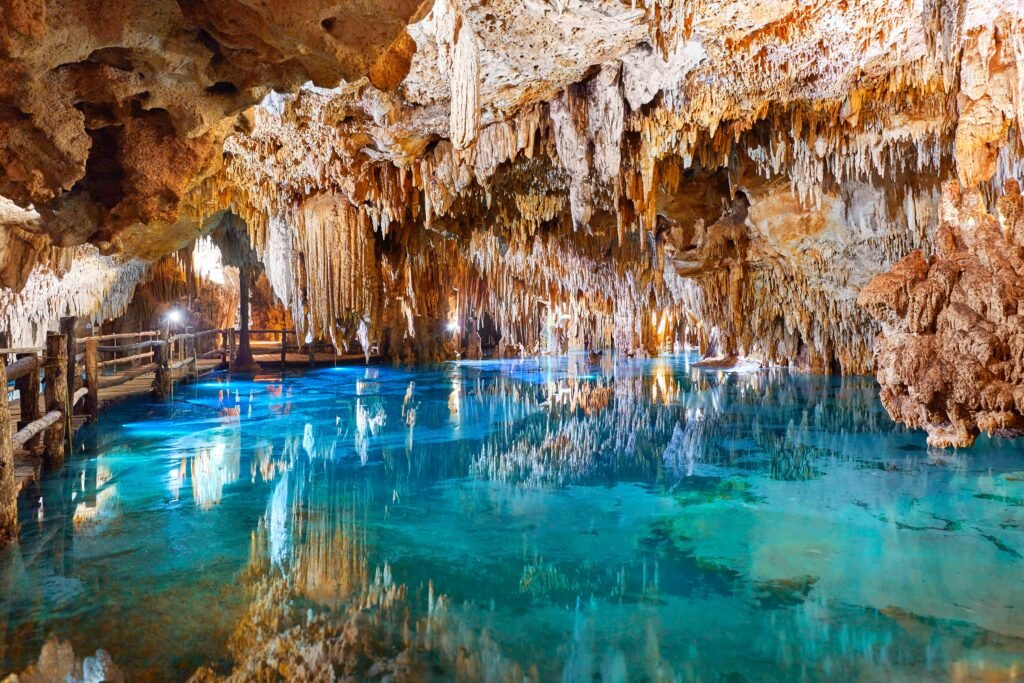 These underground pools were once revered by the Mayans who viewed them as gateways to the underworld. Nowadays, the cenotes are a popular swimming and diving destination. Tulum has its fair share of cenotes where visitors can cool off and enjoy the crystal-clear waters. Grand Cenote and Dos Ojos are two of the most visited pools in the area and are best enjoyed in the early hours of the morning or an hour or so before closing time.
Explore the Tulum Ruins
The sun-kissed landscape at El Castillo is made up of ancient Mayan ruins framed by the cerulean waters of the Caribbean. The ruins are located east of downtown Tulum where a seaport was once used by the locals to trade goods like cotton and cocoa beans. The Muyil Archaeological Site near the Sian Ka'an Biosphere Reserve is also a must-visit.
Visit the Sian Ka'an Biosphere Reserve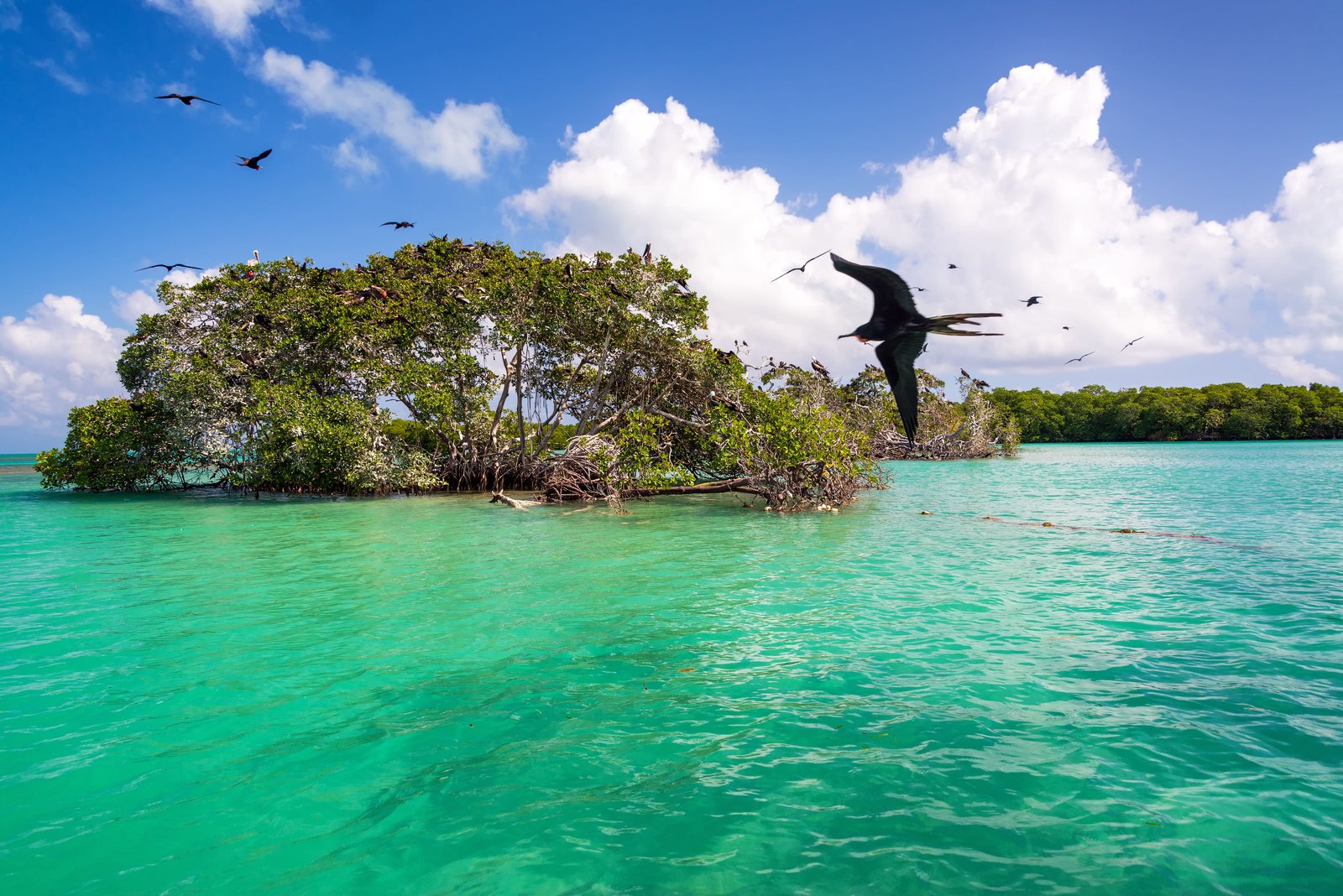 Guided tours of the untamed wildlife at the reserve offer front-row seats to the complex and precious ecosystem in Tulum. The reserve is made up of 1.3 million acres inhabited by rare animals such as manatees, pumas, toucans, and 90 species of native bees. Visitors can explore the Mesoamerican Reef and go on a boat tour down the canal. Birdwatching and fly fishing are also popular activities within the reserve.
Things To Do In Cancun
Cancun is synonymous with spring break, there is no question about it. The resort city has something for everyone and is famous for being the life of the party, so to speak. It is simply not possible to run out of fun things to do during a trip to Cancun.
Soak up the Caribbean Sun at the Beach
The Hotel Zone in Cancun is home to the best beaches in the city. Playa Delfines is one of the most popular beaches that attracts tourists thanks to its fine stretch of sand and free palapas. Chac Mool Beach is ideal for diving and snorkeling while Playa Marlin is more of a chill beach where visitors can rent a sunbed and umbrella for the day. The beaches are wider and free of seaweed. So for example, if one was to compare Playa del Carmen vs Cancun in terms of beaches, then Cancun would definitely earn brownie points for its clean shores.
Spend the Night Club Hopping
Cancun is mostly renowned for its party atmosphere that attracts millions of tourists per year. Herds of college students and vacationers flock over to the city to attend pool parties, concerts, and beachside weddings. The jewel in the clubbing crown of Cancun is none other than Congo Bongo where international DJs and world-famous pop stars make appearances on the regular.
Tour Historic Sites & Mayan Ruins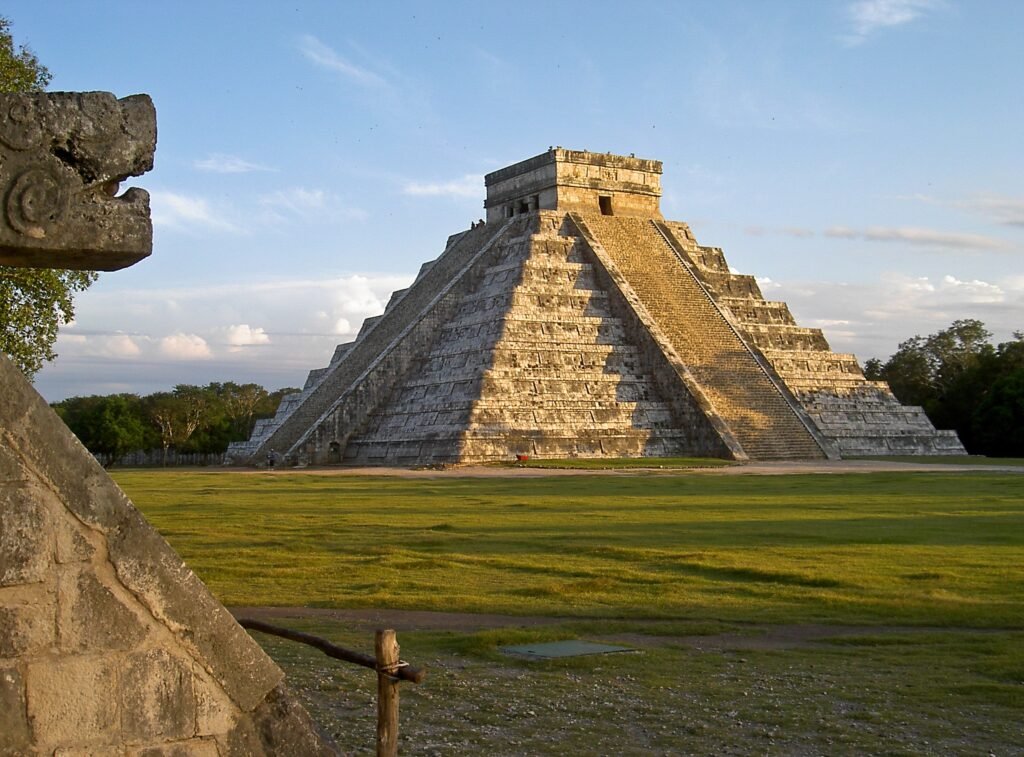 The Mayan Museum of Cancun houses precious artifacts that were unearthed at the Chichen Itza archaeological site. The museum is made up of three exhibition halls where hundreds of relics are on display. The San Miguelito Ruins are within walking distance of the museum. Cancun also has an underwater museum that was designed with the corals and marine life in mind. Visitors can explore the museum either by snorkeling, diving or riding a glass-bottom boat.
Shop for Souvenirs at Mercado 28
The downtown flea market is packed with stalls that sell souvenirs and handmade leather goods. It's the ideal place to master the art of haggling. Mercado 28 also has a food hall where visitors can sample all kinds of cuisines at a reasonable price.
Spend a day or two at Bacalar Lagoon also known as the Maldives of Mexico. You can rent a car or take a bus from Tulum town. The drive is around 2.5 hours and you can find great and affordable accommodation in Bacalar.
All-Inclusive Hotels In Tulum
Tulum is home to the best boutique hotels, but it also has some of the most luxurious resorts that were tailormade for relaxation. The main Tulum hotel zone area doesn't have many all-inclusive hotel options, so you can book a hotel around Akumal which is cheaper, less crowded and only a 20-min drive to Tulum.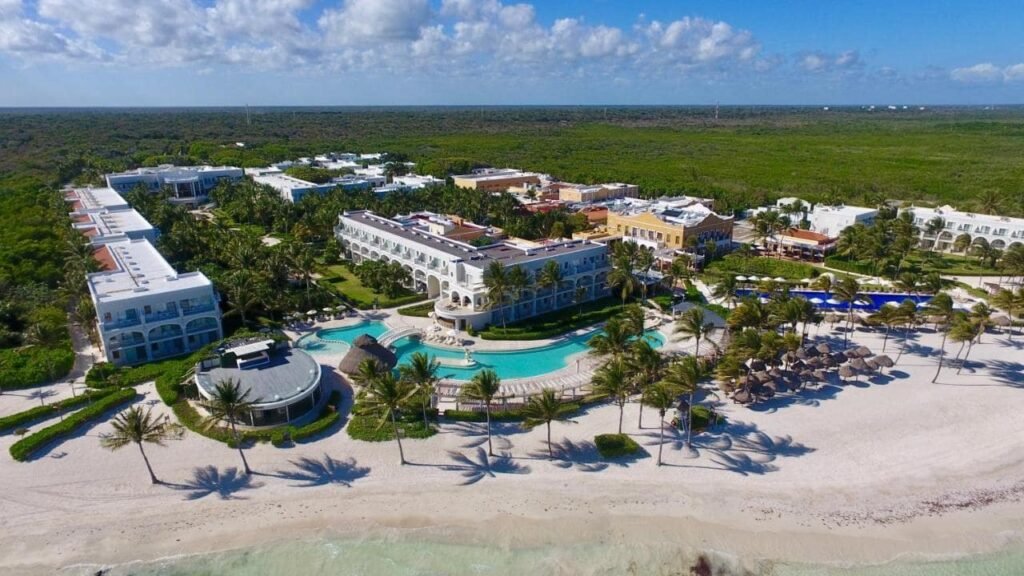 This all-inclusive resort is pet-friendly and provides complimentary access to the Riviera Maya Golf Club and the El Camaleon Mayakoba Golf Course. It also caters to families and has a kids club to help keep the young ones busy during the day. The hotel offers many on-site activities that are guaranteed to keep boredom at bay.
Prices starting at: $387/night
Bahia Principe is a chain of hotels and resorts that offers 4 different all-inclusive properties in Riviera Maya. The Bahia Principe Luxury Sian Ka'an is an adults-only resort that offers its guests a wealth of amenities including gourmet dining, a 24-hour snack bar, and access to the neighboring resorts: Bahia Principe Luxury Akumal, Bahia Principe Grand Tulum, and Bahia Principe Grand Coba.
Note: this resort is located around a 20-min drive from Tulum.
Prices starting at: $227/night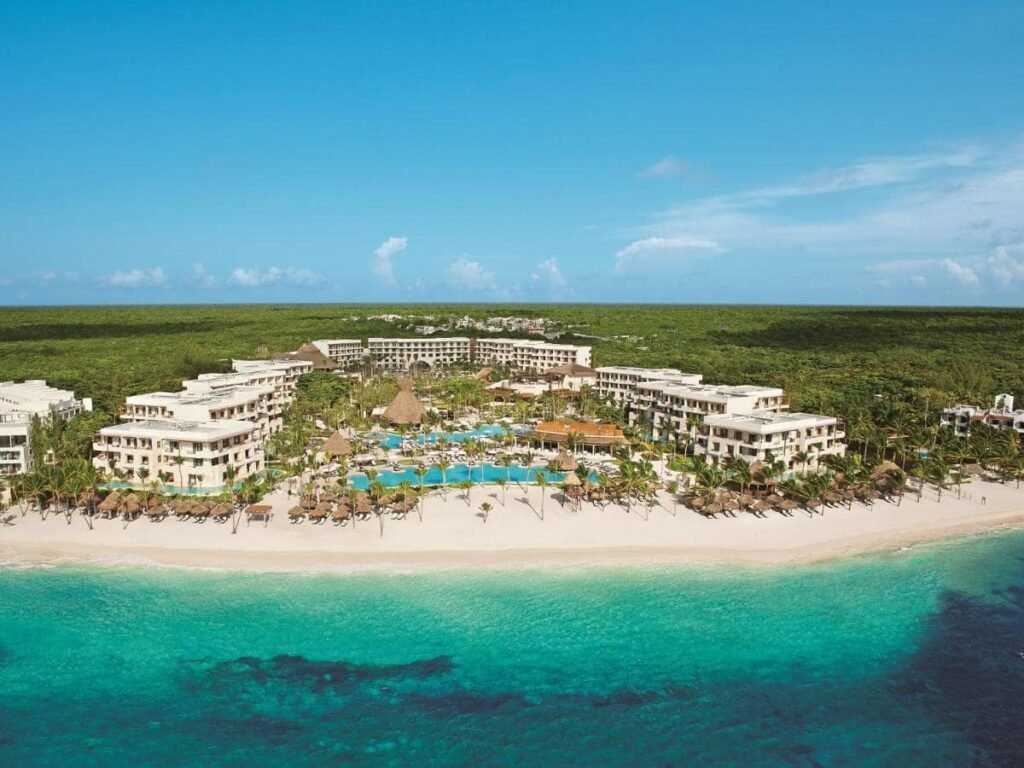 The adults-only boutique hotel is all about wellness and personalized relaxation. The spacious suites have stunning tropical views and hot tubs. Secrets Akumal is located around a 25-min drive from downtown Tulum.
Prices starting at: $225/night
All-Inclusive Resorts in Cancun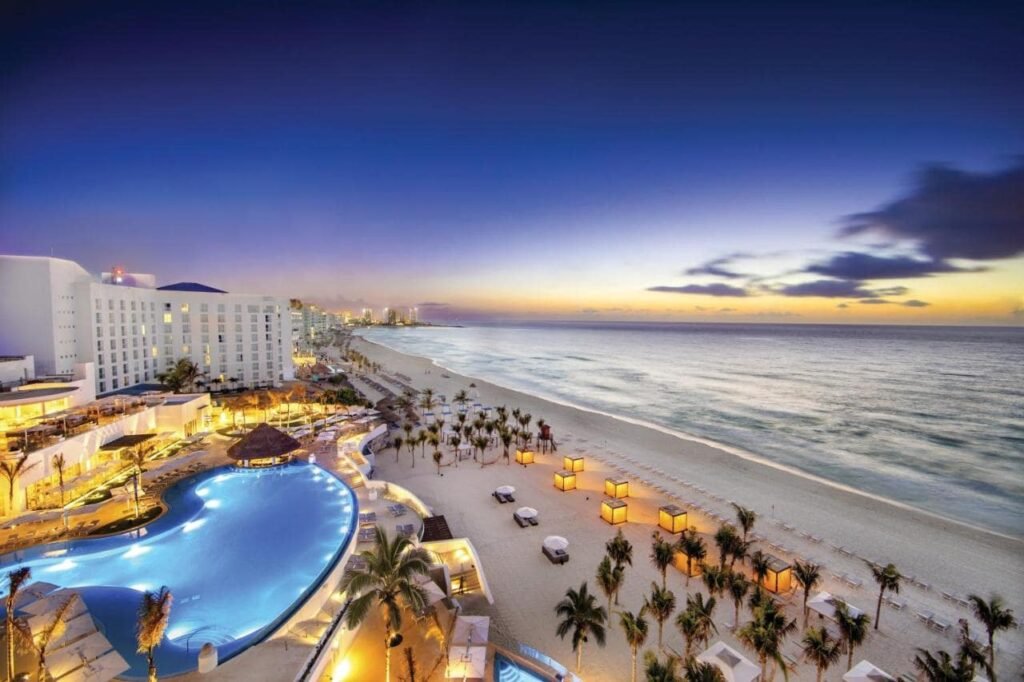 An all-inclusive stay at Le Blanc in Cancun includes complimentary butler service, hydrotherapy sessions to reinvigorate the body, and 24-hour in-room dining.
Prices starting at: $410/night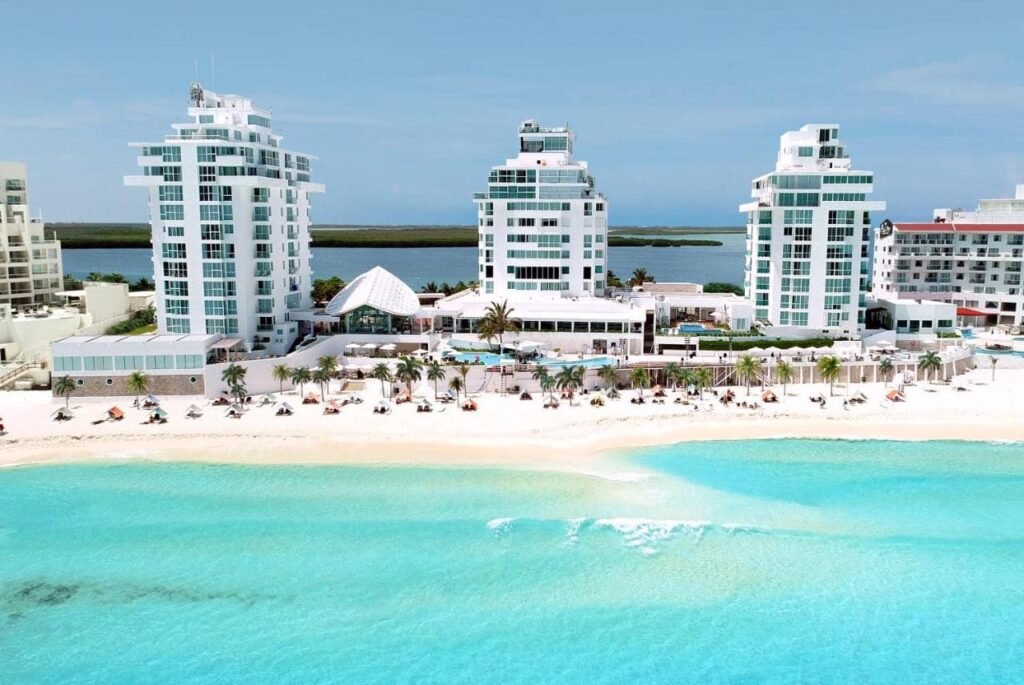 Experience gastronomic cuisine at one of their two specialty restaurants or their international buffet. The rooms have minimalist and modern decor, concierge service, room service, Apple TV, and even a tanning and sunscreen menu.
Prices starting at: $260/night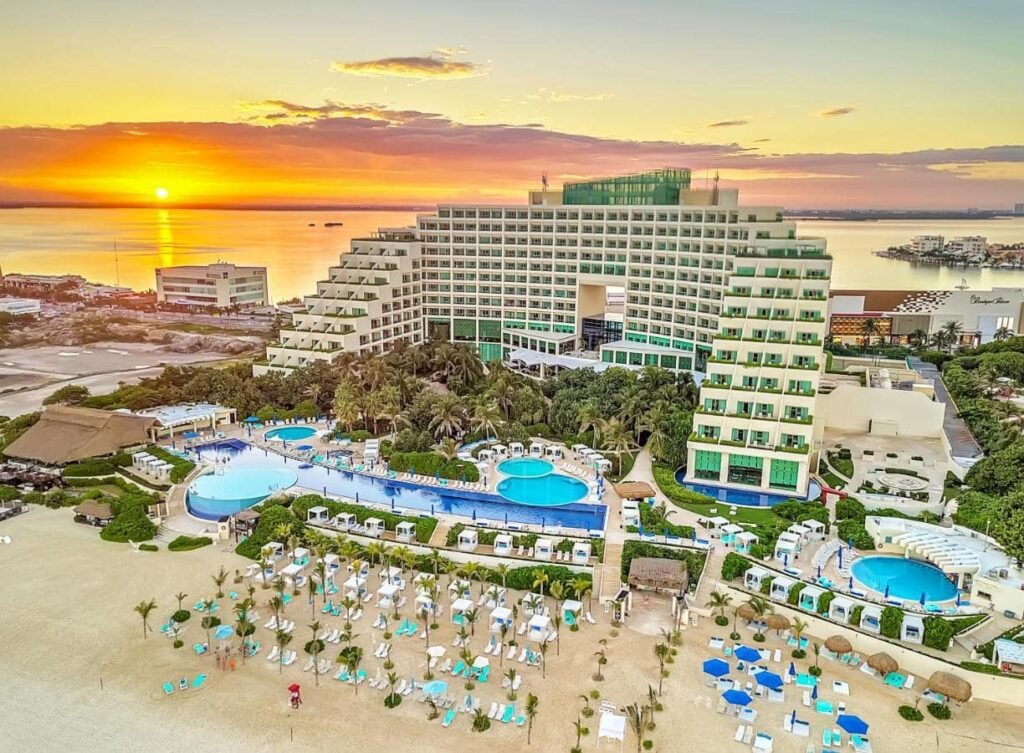 The all-inclusive Live Aqua Beach Resort is located in the heart of the Hotel Zone and has seven swimming pools with different temperature settings. It also has two bars and eight restaurants that serve a wide variety of cuisines.
Prices starting at: $390/night
Frequently Asked Questions
Is Tulum in Cancun?
No, Tulum is not in Cancun. There is a reason why comparisons are made between Tulum vs Cancun. They are two different cities with two completely different vibes. Cancun is approximately two hours away from Tulum.
Is Tulum Better than Cancun?
This solely depends on the person and his or her expectations when it comes to accommodation and entertainment. Some people find Tulum boring when compared to Cancun while others are attracted to its laid-back vibe and serene beaches. At the end of the day, each person has his or her own preference when it comes to vacationing on the Caribbean coast of Mexico.
Is Tulum Safer than Cancun?
Both Tulum and Cancun are equally safe while taking basic precautions. The U.S Department of State advises travelers to exercise normal precautions when traveling to the Yucatan, which means that both cities are safe. However, one should always use common sense and avoid isolated areas, especially at night.
What is the difference between Cancun and Tulum Mexico?
Cancun is a resort city that is constantly buzzing with youthful energy and pumping dance music. It was built for mass tourism as evident by the incredible number of hotel chains that are available for booking in its Hotel Zone. Tulum is still considered off the beaten track compared to Cancun. It is also not overrun by tourists and its beaches and boutique hotels still have that mysterious charm about them.
Is Tulum Still Worth Visiting?
When comparing Tulum vs Cancun, it's easy to see why both cities are popular getaway destinations. Yes, Tulum is definitely worth a visit, especially for travelers in search of privacy and a bohemian vibe.