Guatape is one of the most gorgeous places to visit in Colombia. It's famous for Piedra Del Peñol de Guatape – one of the largest rocks in the world standing at 2,100 meters high. Tourists climb to the top to see the breathtaking panoramic views of the area. Getting from Medellin to Guatape is simple and affordable.
Many people don't realize this when they visit Guatapé, but the lakes are actually artificial. In the 1970s, the government decided to flood the area to create a hydroelectric dam. Not only does this power around 40% of Colombia's electricity, but it also creates some of the most spectacular views in the country.
After spending over 2 months in Colombia, I can safely say that this was one of my favorite locations that I visited. I decided to spend one night in a very cute glamping spot called Bosko Guatape and it made my trip even more special.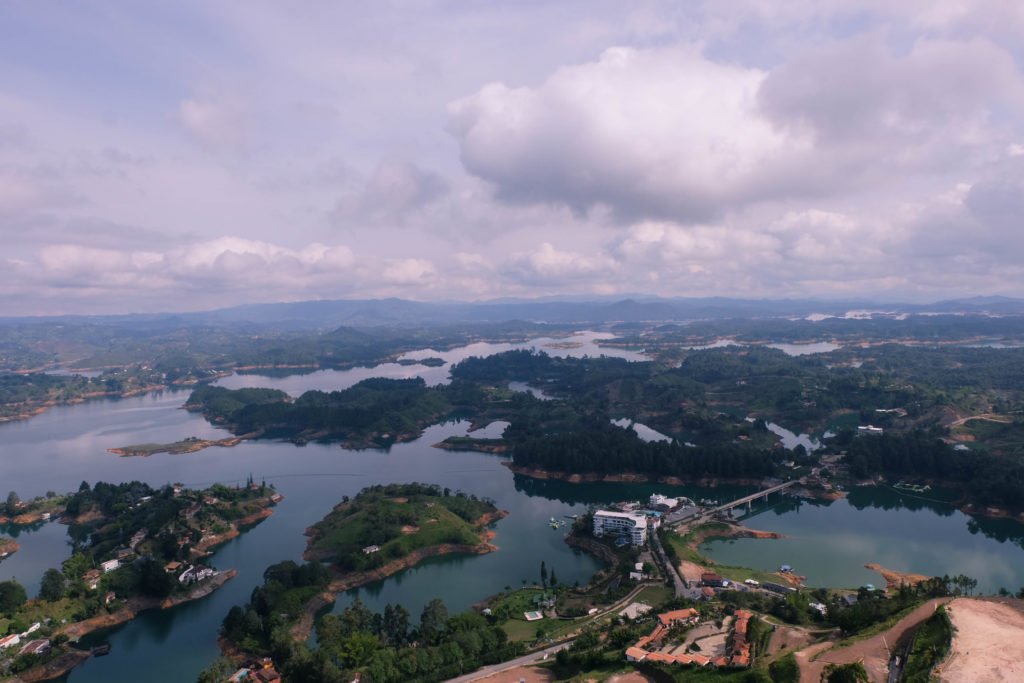 Visit Guatape from Medellin
Where is Guatape Colombia?
Guatape is only a 2-hour drive from Medellin just 74 kilometers away.  It's located in Antioquia in the central part of Colombia, surrounded by lush green mountains and beautiful scenery.
You can do a day trip to Guatape or spend the night in this stunning Colombian resort town.
How to Get from Medellin to Guatape
You are based in Medellin and you are planning to go to Guatape for a day trip? Let's check the options:
1. Medellin To Guatape Day Trip by Bus
This is the best and most affordable option to get to Guatapé from Medellin. There are small buses every 20-minutes between 6 AM and 7 PM.
Head to Terminal Del Norte Medellin at any time and you can purchase your Guatape bus tickets on the spot. You don't need to pre-book tickets online, because this is a very common bus route and you can just hop on the next available bus.
Sotrasanvicente is the most popular bus company. You can easily find their booth in the bus terminal.
The bus makes several stops around Guatape. Contact your hotel to see where is the best stop to get off and simply tell your driver beforehand to drop you there.
Cost: 13,500 COP ($4)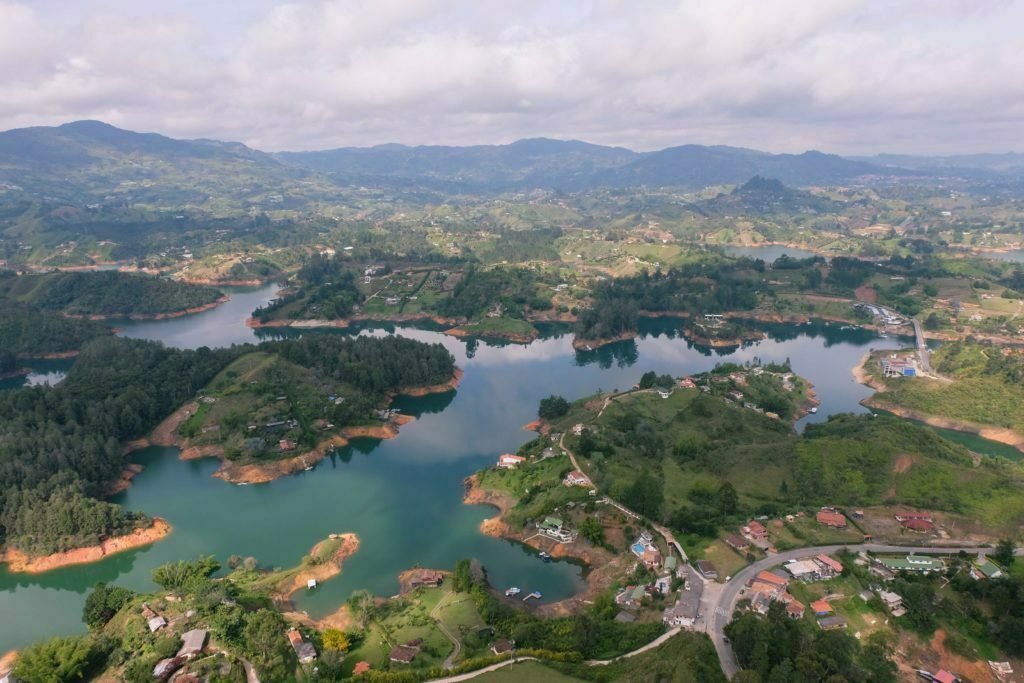 2. Medellin to Guatapé by Taxi
If you want a more private option or if you're a group of friends, you can take a taxi from Medellin to Guatape. You can negotiate with a local taxi driver to take you for around $40 to $50.
Cost: 140,000 COP ($42)
3. The way back: Guatape To Medellin
The best way back from Guatape to Medellin is by the same buses. Depending on where you're staying, you can ask your hostel to get you a tuk-tuk to the bus area. You'll see several small vans parked next to each other. There are buses available all the time. As soon as they fill up (which is very quickly), they make their way from Guatape to Medellin. You can pay the driver and hop on any one of them.
Related travel guide: Where To Stay In Medellin
Guatape Weather
The weather in Guatape is quite similar throughout the year, with some months having more chance of rain than others. The temperatures are around 25 degrees Celcius or 77 degrees Fahrenheit during the day, but it could get a bit chilly at night. It's best to have a jacket if you're staying overnight in Guatape.
The rainier months are between April to November, with October being the rainiest. The driest months are January & February. Even if it's raining, the temperatures are warm, so you can still visit Guatape any time of the year.
Related article: Valle Del Cocora Colombia Travel Guide
Top Things to Do in Guatape For a Day Trip
1. Climb Piedra Del Peñol – El Peñón de Guatapé
Climbing to the top of Piedra Del Penol (also known as the Guatape Rock) is the most famous activity in Guatape. The views from the top are some of the most stunning in the world.
Even if you hate climbing stairs as much as I do, you absolutely have to go to the top. The landscapes are so pretty that the town literally looks like a painting.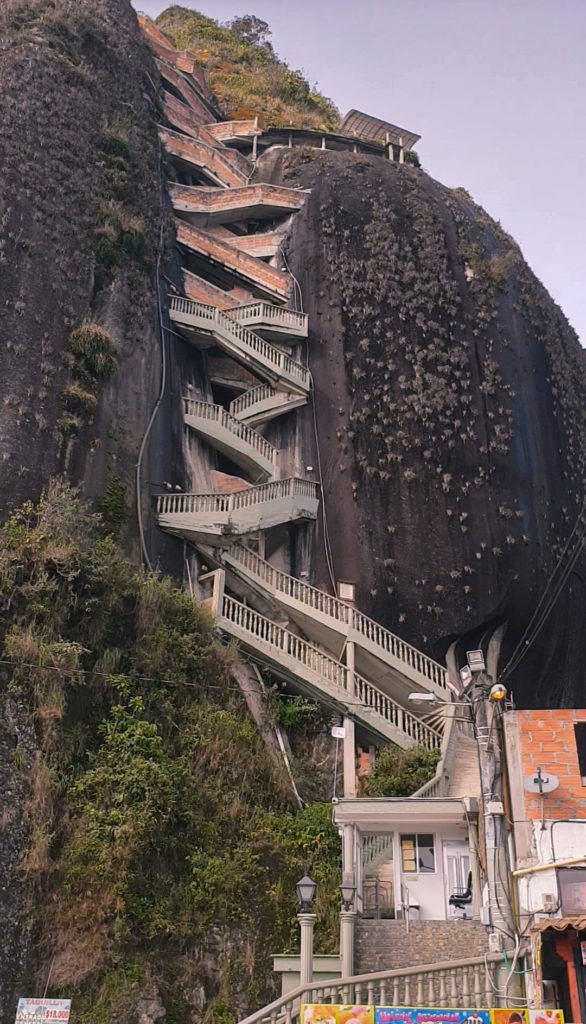 How many steps to Guatape?
You have to climb 740 steps to the top of Guatape rock. Yes, it sounds intense, but trust me it's well worth the effort.
The fun part is that the steps are actually marked, so every time you finish 50 stairs, you can see your progress. The views are already so beautiful even after just 100 stairs, so you can stop and take a break when you're tired. It took me about 45 minutes to get to the top with several breaks along the way.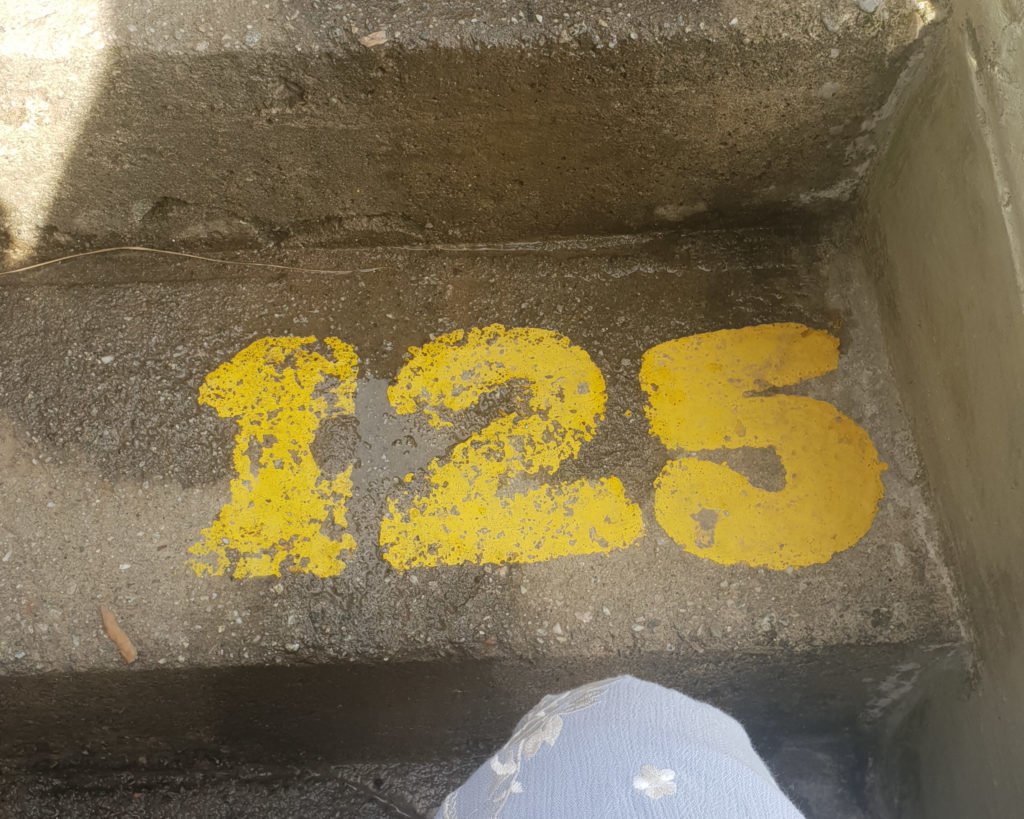 How to get to Piedra Del Peñol:
You don't need a Guatape tour to climb the rock, because it's so easy to go there yourself. Just ask your hostel for a tuk-tuk that will drop you right at the entrance. Just make sure you agree on the tuk-tuk price beforehand. On the way back, you can see several tuk-tuks at the bottom of the rock to take you back. It should cost less than 10,000 COP each way.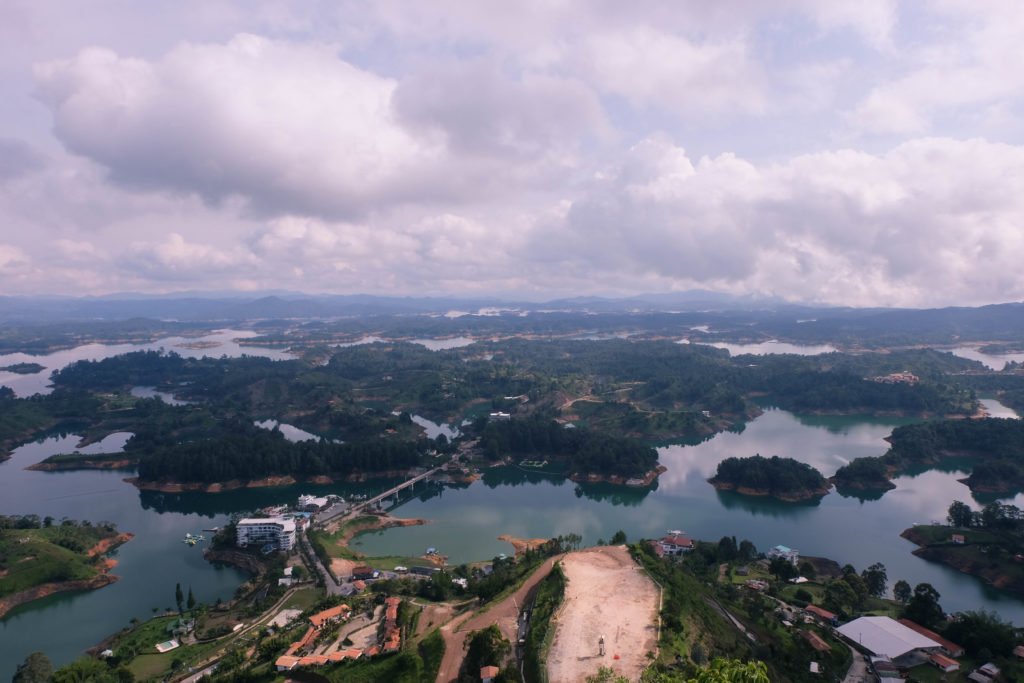 Tips for visiting Piedra Del Peñol:
a) Get there when it opens at 8 AM – I know this sounds early, but if you get there at the opening time, there is absolutely no one else there. You can climb at your own pace and enjoy the views at the top all to yourself.
b) Food and drink – there are several kiosks both at the entrance and at the top to buy refreshments. You can enjoy a cold drink or a coffee once you finish your climb. There are also several tables and chairs to sit and enjoy the views. Just like any other tourist spot, the drinks are overpriced but still super affordable.
Piedra Del Penol opening hours: 8 AM to 6 PM
Piedra Del Penol entrance fee: 18,000 COP ($6)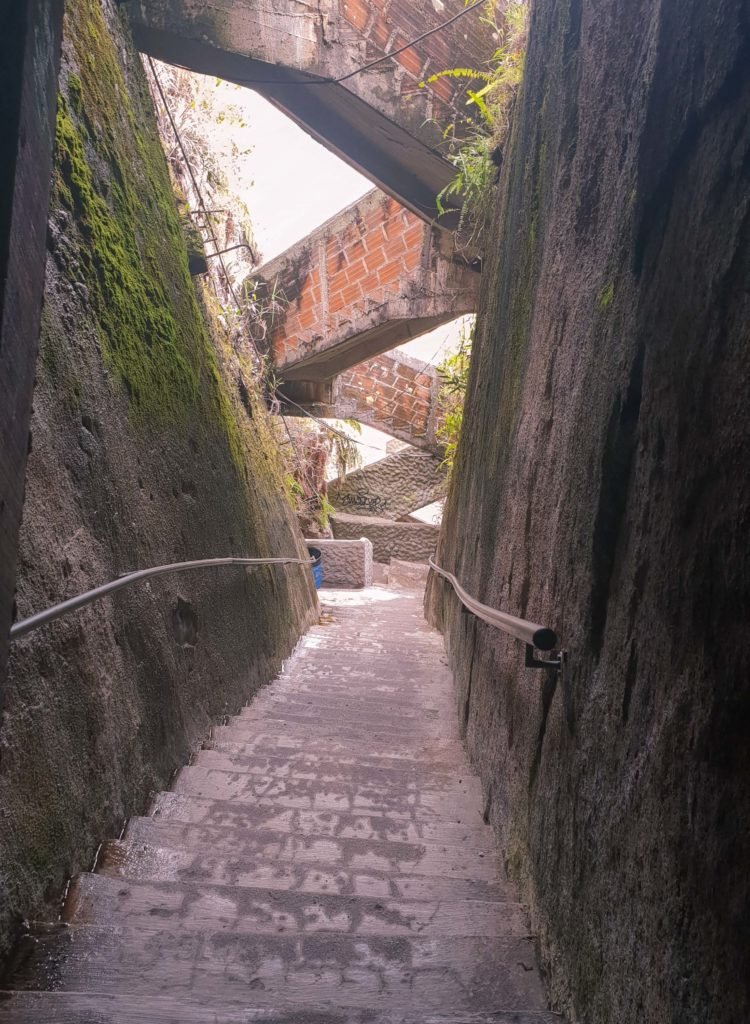 Related article: Colombia's Most Famous Beach Destination – Playa Blanca
Enjoy the Activities on Laguna de Guatape
If you're looking for more of an adventure, you can enjoy several water activities in Guatape. You can go kayaking on the lake for around 40,000 COP
2. Go kayaking on the lake
You can rent the kayaks for as little as 1 hour (15,000 COP) or for a full day (40,000 COP) between 9 AM to 6 PM.
Guatape Kayak tours: The top company is Colombia Getaway and you can get in touch with them directly to book your tour
3. Take a boat or jetski
Several boat tours are available on the lake. You can easily find booking info from your hostel or the center of town. Some of the boat tours stop at Pablo Escobar's La Manuella house where you can go inside and spend about an hour. Costs vary depending on the tour you choose but get ready to negotiate.
4. Visit Guatape's Colorful Centre
The center of Guatape is so colorful with beautiful houses and architecture. It's great to get lost on the small streets and enjoy some of the local food and drinks.
Guatape town is not only super photogenic, but it's also a great opportunity to experience the local culture. There are cute little cafes everywhere where you can see locals enjoying a fresh cup of Colombian coffee.
Where to Stay in Guatape
Finally after climbing El Peñón, walking in the colorful town, and enjoying the tours around the lake it's time to come back to Medellin. You realize that one day isn't enough and you don't want to rush so: where to sleep in Guatape?
Bosko Guatape Glamping: Luxury Romantic Experience
I spent one night at the most stunning glamping site called Bosko. I can't recommend this spot enough! It's as luxurious as a 5-star hotel with individual "mushrooms" or huts overlooking the most gorgeous scenery. Check Bosko Guatape Glamping rates here.
Each hut is equipped with amazing facilities including a huge and super comfortable bed, coffee machine, mini bar, a private terrace overlooking a lake, and best of all an outdoor shower. The huts are so stylish and beautifully decorated with a very cozy feel.
The whole property is amazing, with an amazing restaurant overlooking the surrounding areas. You can watch the sunset with views of Piedra Del Penol in the background.
They offer several activities around the area along with room service and amazing massages. It's the perfect romantic getaway!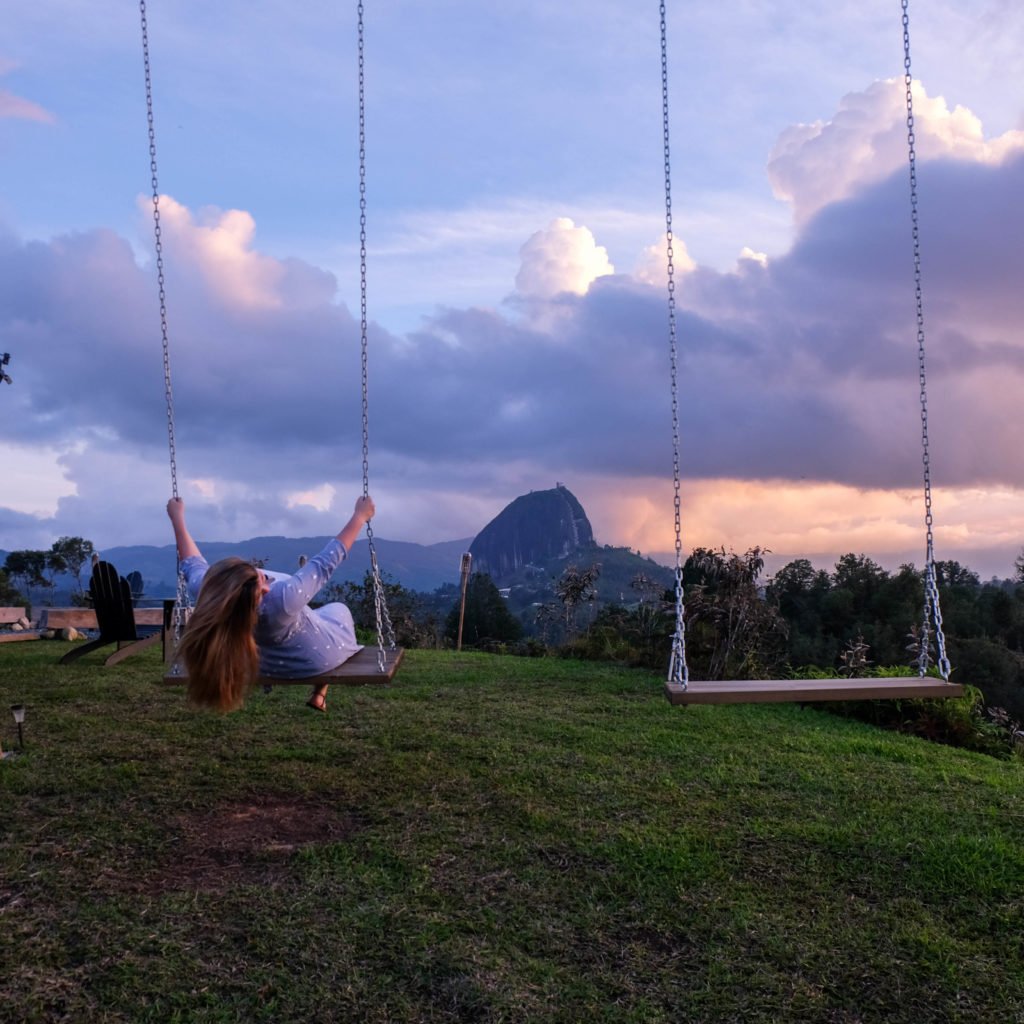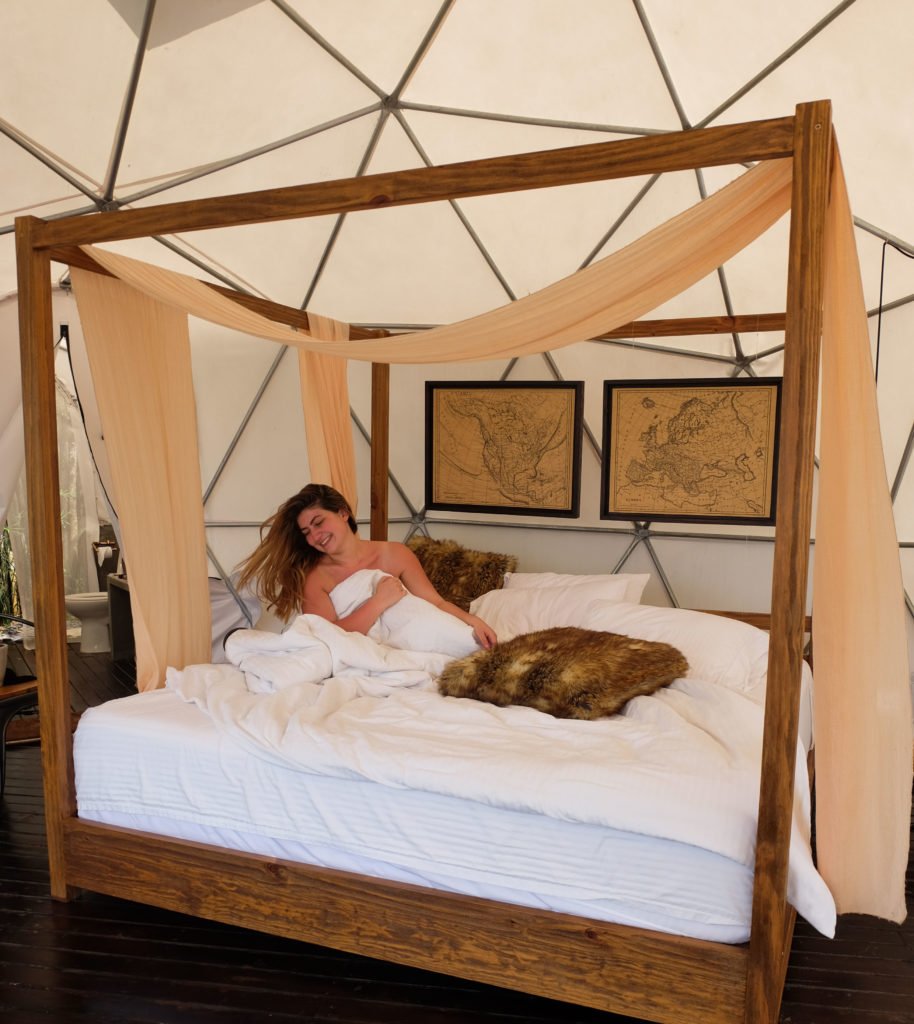 Price per night: starting at $238 including breakfast
Book your stay at Bosko here
Affordable Places to Stay in Guatape
If you're looking at more affordable hostels in Guatape, there are some amazing places to stay for as little as $25 per night. Here are some recommendations: Galeria Guatape Hostel, Oak Tree house, Serendipity Hospedaje Boutique, Villa El Oasis Guatape Lake, The Lake Hotel.
Book your affordable hostels in Guatape here