If only I had a dime for every time someone asked me how to afford travel every month. I hate to break it to you, but there isn't one magical answer that I can give you. I can, however, help you with lots of tips on how to save money to travel and plan your trips like a total pro, along with some insights on how I travel this frequently.
Before I get into how I afford to travel, I will tell you this: to all those who have a true passion for travel, there is always a way to see the world. No matter how many things you're juggling in your daily life, with the correct planning and tricks you can find the time and finances to see all those destinations on your bucket list.
Personally, I have dedicated most of my life to pursuing my passion for travel and have turned it into my lifestyle. My life looks glamorous on the outside, but there is so much hard work and dedication behind the scenes that most people don't know about.
Dedicating your life to travel or quitting your job and selling all your belongings to see the world is definitely not for everyone, so I have divided this article into 2 main parts:
1) Travel tips and tricks for those who have a busy lifestyle or a full-time job 2) Insight into my lifestyle as a full-time travel blogger and how I make money traveling the world.
Travel planning tips that can help you save money and travel more often: 
Step 1: How to save money to travel
Before I quit my job and became a travel blogger, I was still able to afford to travel every 2 to 3 months. Here are some of the tactics I used:
A) Budgeting: I can't stress this enough… If you want to save money, then you need to know where and how you spend most of your income. To do that, I highly recommend downloading a budgeting app on your phone and entering every little thing you spend on (even things like coffee or parking). All these apps give you a summary at the end of the month of where you're spending your money. This is when you can pick and choose where you can cut down and start a travel fund with the money you're saving. You will be surprised at how much the little things cost and how much you can save just by making small changes.
B) Put aside a percentage of your monthly income: this amount would be different for everyone, but in my case, I was able to put aside 10% per month into a different account and wouldn't touch it no matter what unless it was travel related.
C) Credit cards that offer free miles: No matter where you're located, there are several banks or credit card companies that offer cards where you can gather credit card miles with every dollar you spend. The best way to get lots of miles is to spend only on these cards and pay 100% of the balance at the end of the month, so you don't pile up on debt.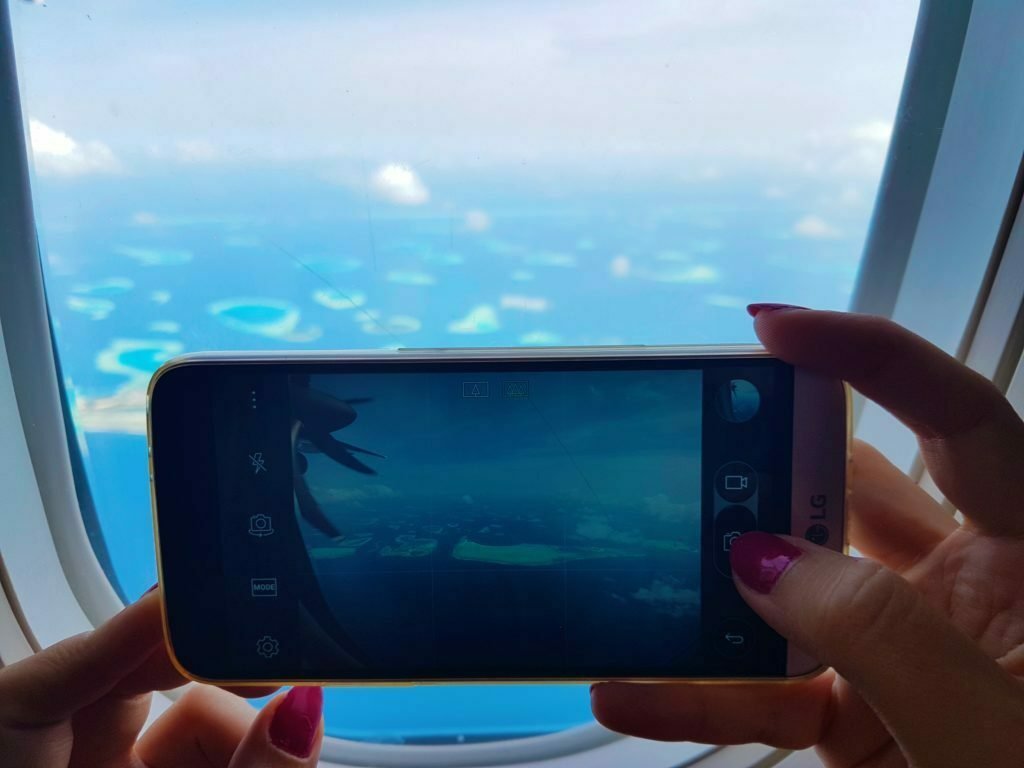 Step 2: How to find the great flight deals (or the best ways to move around)
Head over to one of the best flight search engines to start searching for great deals:
Tip #1: Choosing the cheapest destinations you can fly to during a certain month
Go to Skyscanner.com and enter: your home city in the "from" section, then enter "Everywhere" in the "To" section. Don't enter specific dates and click on "whole month" and choose the month you want to travel. This will show you all the cheapest cities you can fly to during a given month. Use this as your research tool to determine where to go next. Then, head to Momondo (which searches literally all sites out there and is usually the cheapest) and search for the specific destination you have chosen. Momondo will then re-direct you to the cheapest booking site, where you can purchase your ticket.
Tip #2: Don't get over-charged for searching the same flight more than once
A lot of search engines remember what you've searched before and might increase the prices of the tickets you have searched several times. The best way to overcome this is by clearing the cache/cookies on your browser. You can also ask a friend to search the same flight for you, just to compare prices before booking.
Tip #3: Size does matter with airports
Generally, the bigger the airport, the cheaper the flights. So if you live near a smaller airport, it might not always be the best choice. Click on the checkbox in your flight search that says "search nearby airports" to see which airports are cheaper.
Tip #4: Multiple destination tickets
Are you flying into one country and leaving from a different one? Never buy 2 separate tickets. Just use the "Multiple Destination" option for this and you can save anywhere between 10% to sometimes 40% vs. booking separate tickets.
Tip #5: Don't avoid long layovers. Take advantage of them!
The first instinct for anyone searching for flights is to avoid long layovers. For me, it's the complete opposite. I love having the chance to see a new city or country on the way to my final destination. Just embrace the long layover and instead of spending the extra money on a shorter journey, spend the money to discover a new city.
Tip #6: Use budget airlines whenever possible
I have bought tickets cheaper than a bus or taxi ride by using budget airlines. I must warn you though that what you see is not what you get when it comes to the prices. You will have to pay extra for every single thing such as: choosing your seats, in-flight entertainment, meals, and luggage.
Tip #7: Join the major airline loyalty programs
I would advise you to try to stick to 2 or 3 major loyalty programs as much as possible to gather the most miles. Look for other opportunities as well to add even more free miles, such as duty-free or in-flight purchases. A lot of airlines also do crazy offers during the low season like 50% off on the miles you need to travel to certain destinations.
Tip #8: Use Google flight search for research
Want to know which days a week a certain airline flies to your chosen destination? Want to know to which cities you can fly to direct? Just head to Google and search for example: "direct flights from New York" or "direct flights from Paris to Los Angeles" and here's what Google shows you:
Tip #8: Flying is not always the best option
If you have a little extra time on your hands, then other means of transport can give you a more fun and adventurous option of moving around. Most of the time it's confusing to find the best way to get from point A to point B in a foreign country. Here's the solution to all those problems: Rome2Rio.com. Just enter where you want to go and it searches all possible options along with the approximate cost for each one including: buses, trains, boats, flights, taxis, Uber and ride-sharing.
Related Article: How to Take Amazing Photos of Yourself
Step 3: How to find affordable accommodation
Free accommodation
If you don't mind staying at a complete stranger's house (which can end up being such a fun experience) then use these sites that can find you free hosting: couchsurfing.com, bewelcome.org, staydu.com
Volunteering or Work Exchange
There are endless opportunities to volunteer abroad in return for free shelter and meals. You can choose to teach English, help out in poor communities, build houses, volunteer in animal sanctuaries or even use your own set of special skills such as design or web development/coding. Here are some great sites to find cool opportunities: workingtraveller.com, workaway.info
If you're traveling in a group or want to live like a local, then apartments can be a great option. You can find loads of options on Airbnb and can even choose to stay in a private or shared room. All my experiences staying in an Airbnb apartment have been amazing and the hosts were super helpful.
Hostels
I'm not much of a hostel person myself, because I do like to have my private bedroom. When I did decide to stay in hostels, I had an absolute blast, because I met so many people from around the world. If you want more privacy you can book a private room in a hostel for an extra cost, but still get to enjoy the fun hostel life. Some great booking sites are: Booking.com, hostels.com
Hotels
I use 2 websites to book my hotels: Expedia and Booking.com. The advantage of using Expedia is that you can collect points which you can later use to get free nights. The advantage of using Booking.com is that you get upgraded to a "Booking Genius" after booking only a few times, which opens up a special 10% off several hotels for your future bookings.
Unique accommodation doesn't have to cost a lot. I stayed in this really cool floating apartment on the Danube in Serbia for less than $40 per night: Arkabarka floating apartments.
Step 4: Tips and tricks on finding affordable tours and meals
Tip #1: Free walking tours
I absolutely love going on free walking tours in new cities. It's the best way to see all the highlights in a few hours and get a quick history/cultural lesson on the country you're visiting. All major cities offer these free walking tours, where you only need to tip your tour guide at the end of the tour. Search for them online to find the meeting points or ask your hotel/hostel reception for more info.
Tip #2: Negotiate in developing countries
This isn't a tactic I love, but I do use it in developing countries. If you're trying to book a tour on the spot, most of the sales people will try to get as much money as they can from you. Negotiate to get a discount and you'll be shocked at how little the tour will actually cost you. Ask for a 50% off and settle for 20% to 30% off.
Tip #3: Sharing is caring
Did you meet interesting people during your travels? Suggest sharing a tour together to get group rates.
Tip #4: Booking tours online
If you must pre-book your tours online, there's a great company called Get Your Guide. You can filter the tours according to price, # of days, and departure dates.
Tip #5: Eat like a local
Want to have the best food ever and not overspend? Then eat where the locals eat. If you see a restaurant full of tourists, run for your life! This is probably a tourist trap that will offer you mediocre food at most and charge you double for it. Ask some of the locals for restaurant or street food recommendations.
Tip #6: Hop-on Hop-off bus tours
A great way to see a city is by taking a scenic hop-on hop-off bus tour. Purchase your tickets from any of the buses and enjoy the ride by learning about the history of all the landmarks as you drive past. You can choose to get off at any stop to explore it further and hop on the next bus according to their timetable.
How I afford to travel as a travel blogger
So what does a travel blogger do to get paid to travel the world? I work countless hours, I'm glued to my social media accounts, I do so much research and writing daily, stay updated on travel news, manage the business side which includes approaching brands, replying to tons of emails, managing my website, photography, video editing and last but not least, staying engaged with a community of over 150,000 followers.
Piece of cake right? The truth is, when I started The Jetsetter Diaries, I had no idea how to do any of these things! I taught myself everything through online tutorials, support groups, interacting with other bloggers, trial and error, and many sleepless nights.
Travel blogging looks so much fun and it definitely is the best job in the world in my opinion, but it takes a long time before you establish yourself and know what you're doing. It took a year and a half for me to first start monetizing from my blog. Becoming a full-time travel blogger requires A LOT of dedication and a deep passion for travel in order to survive the tough times and instability that come with the package.
The different ways I get paid to travel the world:
1. Brand marketing
Building a large community of followers means that brands can utilize your blog to market their products. These brands include anything from fashion, beauty, airlines, hotels, tour companies or tourism boards. The best way to explain this is: if a brand wants to put an ad in a magazine that reaches 150,000 readers in the niche of luxury and adventure travel from the ages of 20 to 34, wouldn't they pay the magazine? Same thing applies to the followers that I have built over the years on The Jetsetter Diaries.
2. Affiliate links
Affiliate links are used on my website where I make a small commission from every sale that is generated from The Jetsetter Diaries. For example: If you click on the Booking.com banner on my website and book a hotel, then I get a percentage of the profit from this sale. In order to make a proper income from this, your website needs to have a good amount of traffic and readers who visit your blog regularly. Here's an example of a blog post with affiliate links: Budget Water Villas In The Maldives
3. Social media campaigns
The Jetsetter Diaries is on several social media channels including Instagram, Facebook, Twitter, Pinterest, Snapchat, and YouTube. After gaining a strong follower base, I get approached by different brands to post or mention them in my travel content on these different channels and I charge a fee for each one.
4. Press trips
Tourism boards of different cities or countries organize press trips, where they invite media and bloggers to go on a trip and promote the destination through their publications, social media channels, and blogs. Here is an example of a press trip I worked on with the Vienna Tourism Board
5. Content creation
After teaching myself creative writing, photography and video editing, I offer quality content to the different brands, hotels, and airlines that I work with. This can include anything from luxury hotel reviews, travel articles, airline reviews, high-quality photos, and videos. Here's an example of a luxury hotel review in the Maldives: Shangri-La's Villingili Resort and Spa.
6. Social media management and marketing strategy
As an extra source of income, I love working on marketing strategy and social media management, especially for start-ups and up-and-coming brands in the travel or fashion industry.
So there you have it. My secrets are all out! For more info visit The Jetsetter Diaries "About me" page.