Bali is known for its lush, green jungles, crystal clear waters, and vibrant culture. It's a paradise for travelers, offering an array of activities from surfing to yoga to sightseeing. After spending extensive time on the island, I've put together this extensive guide to help you figure out where to stay in Bali.
Whether you're looking for luxury accommodations or budget-friendly options, this guide will help you determine the best areas and places to stay in Bali for first-time visitors. We'll cover the pros and cons of staying in different areas as well as several accommodation options for every budget.
Best Areas To Stay in Bali
When planning your first trip to the island, one of the biggest decisions you have to make is where to stay in Bali. With so many amazing areas to choose from, each offering its own unique charm and experiences, it can be a fun challenge to pick the perfect place for your stay in Bali. Here are the best areas to stay in Bali:
Best Places to Stay in Bali
1. Ubud – for serenity, stunning nature, and peaceful getaways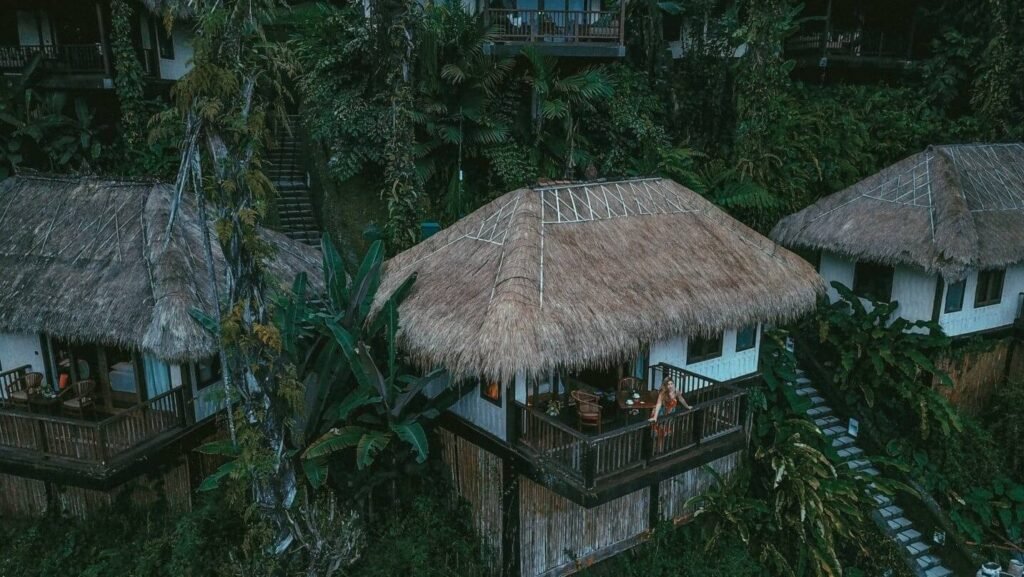 Ubud is by far one of the most beautiful places I've visited in my travels. It's also the cultural hub of Bali with so many artists and local craftsmen. It's the kind of place that will give you a sense of serenity like no other.
In Ubud, you will come across endless rice fields, monkeys, temples, waterfalls, and volcanoes. You'll see locals dressed in their colorful prayer clothes with baskets on their heads which are offerings to their Gods.  They are the friendliest and kindest locals you can ever meet.
My advice is to rent a scooter and get lost in the area. Don't just stick to the main tourist areas, but just take a map and chase some of the lesser-known waterfalls and temples.
Pros: one of the most peaceful places you can visit, rice fields, temples, monkeys, waterfalls, kind locals
Cons: 2 hours away from the beach areas, not much to do at night
Best Places to Stay in Ubud
Luxury: Bisma Eight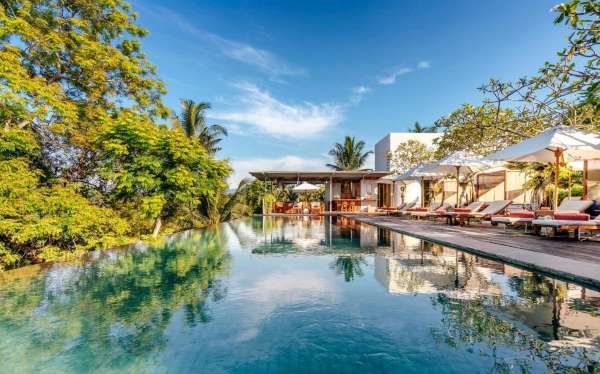 Mid-Range: Kastara Resort
Budget: Jiwa's House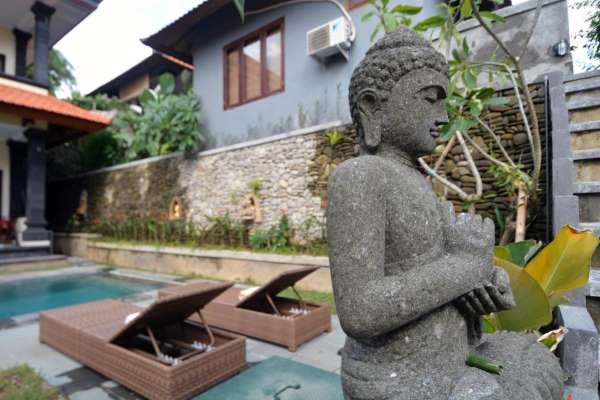 2. Seminyak – best area in Bali for sunset bars, luxury restaurants, and shopping
Seminyak is a great area to be based in because it's very central and has great beaches, some of the best restaurants in Bali, beautiful sunset beach bars, and loads of accommodations options ranging from budget to luxury. It also has an amazing shopping area with very hip boutiques selling everything from typical souvenirs to trendy clothing, accessories, and beachwear.
Pros: the perfect place for affordable luxury accommodation, amazing bars & restaurants, great shopping
Cons: a bit overcrowded, pricier than other cities in Bali, very commercialized
Best Places to Stay in Seminyak
Luxury: The Kayana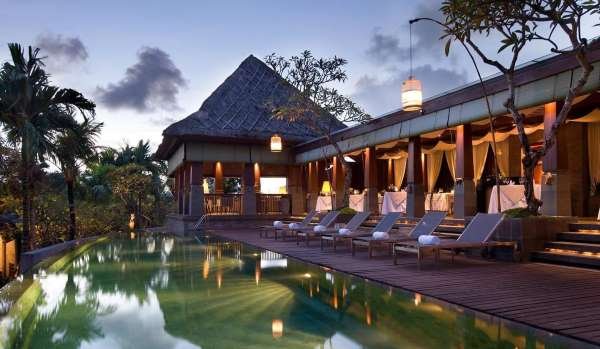 Mid-Range: Le Jardin Villas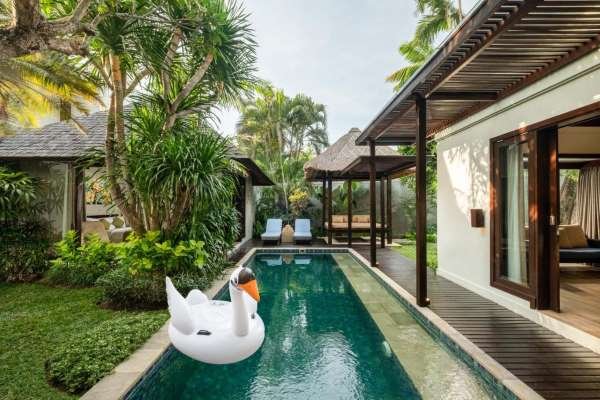 Budget: Moson Villa Legian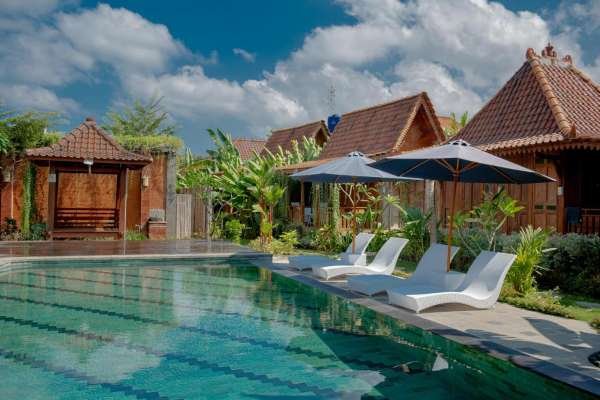 3. Canggu – best area to stay in Bali for laid-back boho-chic beach lovers
Canggu is one of my favorite places to stay in Bali and a digital nomad paradise. This charming coastal town home to the famous Echo Beach keeps you close to all the hustle and bustle of Seminyak but far enough that visitors can find their own little slice of paradise. Here, you'll find Balinese-style villas with private pools, lush rice paddies, and endless opportunities for yoga and surfing. There are also plenty of dog-friendly spots to hang out in one of the many street-side cafes in Canggu.
Pros: stunning views of rice fields, private pool villas, great cafes & restaurants
Cons: As Canggu has become more and more popular, traffic jams have become quite hectic
Best Places to Stay in Canggu
Luxury: Blossom Eco Lux
Mid-Range: Amandaya
Budget: Omorich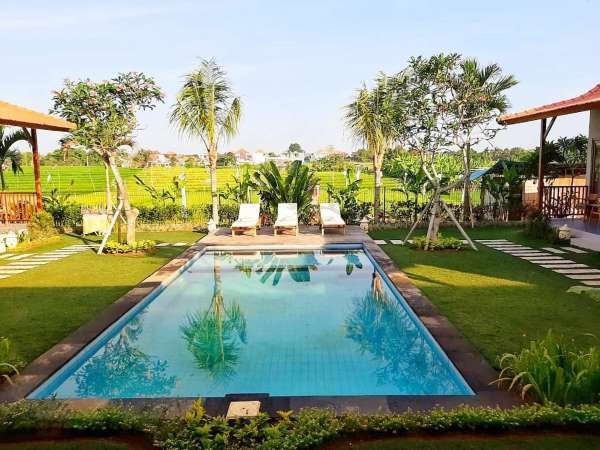 4. Uluwatu – best place in Bali for upscale clifftop resorts and beach clubs
This area is famous for the Uluwatu clifftop temple and has several luxury resorts and beautiful beaches. It is much calmer than other Bali towns and is perfect for spending a night or two.
Positives: Amazing luxury resorts with views of the Indian Ocean, great beaches, peace, and serenity
Negatives: secluded and an hour's drive from the main area in Seminyak, pricier than other areas
Where to Stay in Uluwatu Bali
Luxury: Anantara Uluwatu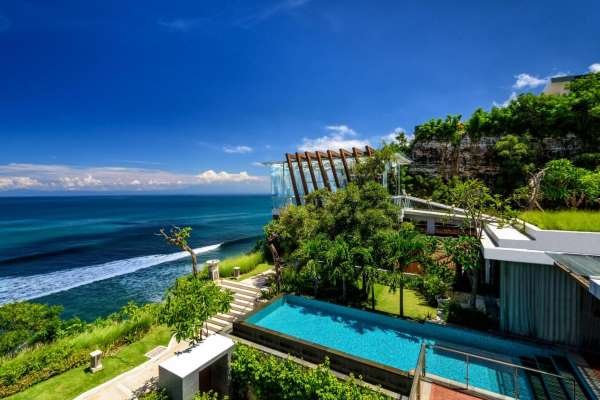 Mid-Range: Ikigai Resort
Budget: La Kreyol Uluwatu
5. Kuta – best place to stay in Bali for surfers & party lovers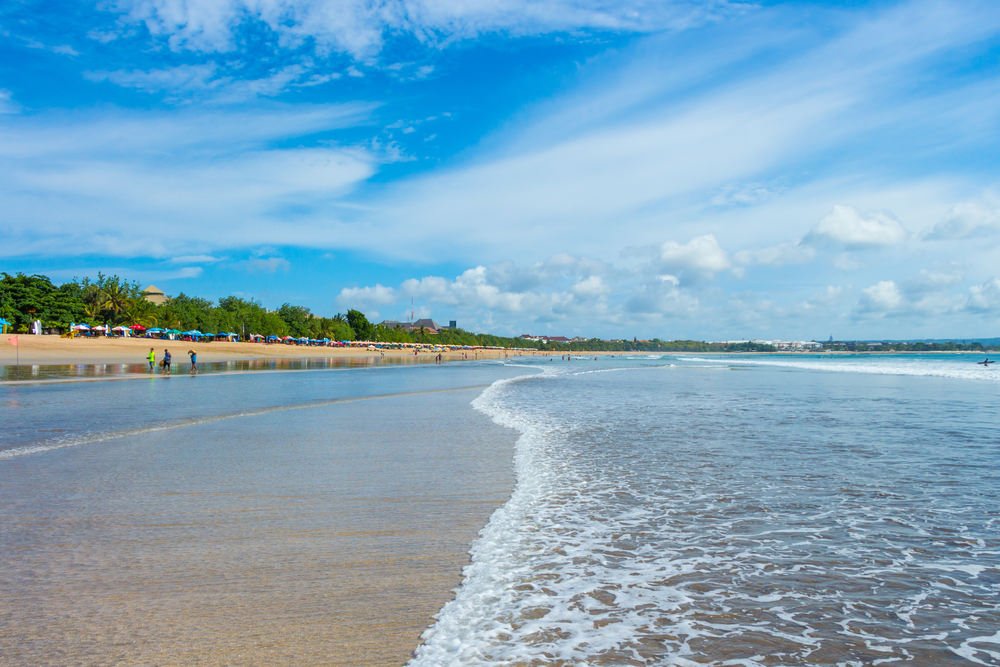 Kuta has become the most popular beach area in Bali and one of the first parts of the island that started development for mass tourism. The area is especially famous for surfing, with several long stretches of beaches and perfect waves year-round. It's also heaven for party lovers because it's filled with lots of bars, clubs, and beach clubs that throw amazing parties.
Positives: great place for surfing, partying, and finding affordable backpacker-style accommodation
Negatives: overcrowded with tourists, lots of construction, and beaches have become quite polluted
Where to Stay in Kuta Bali
Luxury: Anvaya Resort
Mid-Range: Amnaya Kuta
Budget: Yello Kuta
6. Nusa Dua – for family getaways and water sports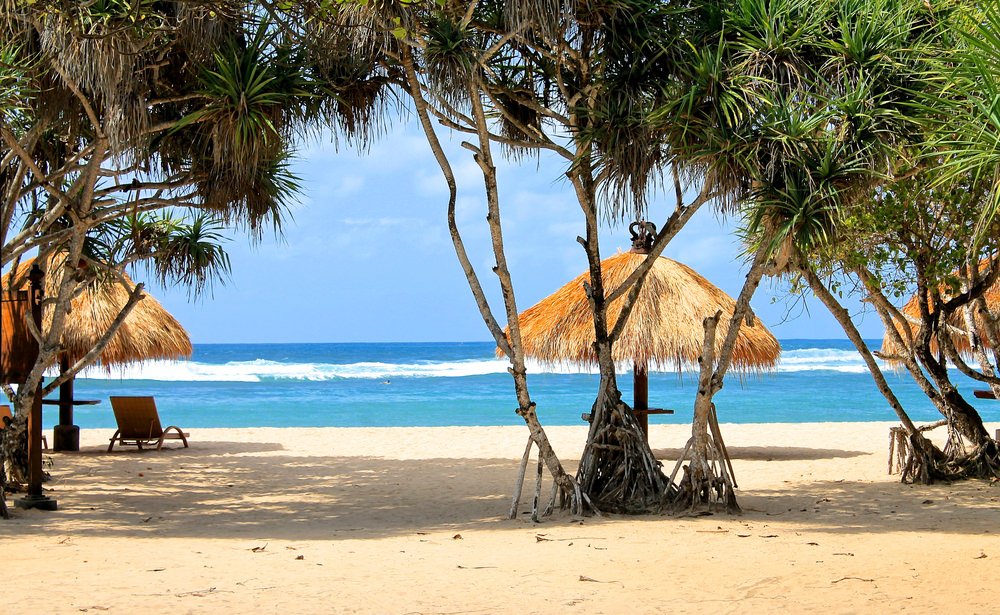 Nusa Dua is the perfect place for a family getaway with loads of all-inclusive resorts. It's also one of the best regions of Bali for water sports and activities, such as diving, snorkeling, and parasailing.
Positives: a great family spot and perfect for water sports lovers
Negatives: far from the main areas in Bali and more difficult
Best Places to Stay in Nusa Dua
Luxury: Kayumanis
Mid-Range: Melia Bali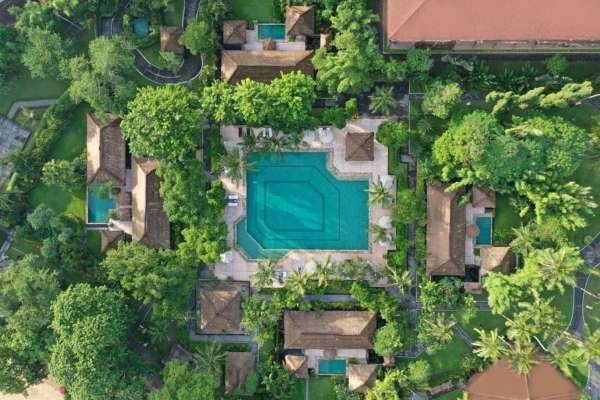 Budget: Green D'Mel
7. North Bali – for a quiet escape surrounded by stunning natural landscapes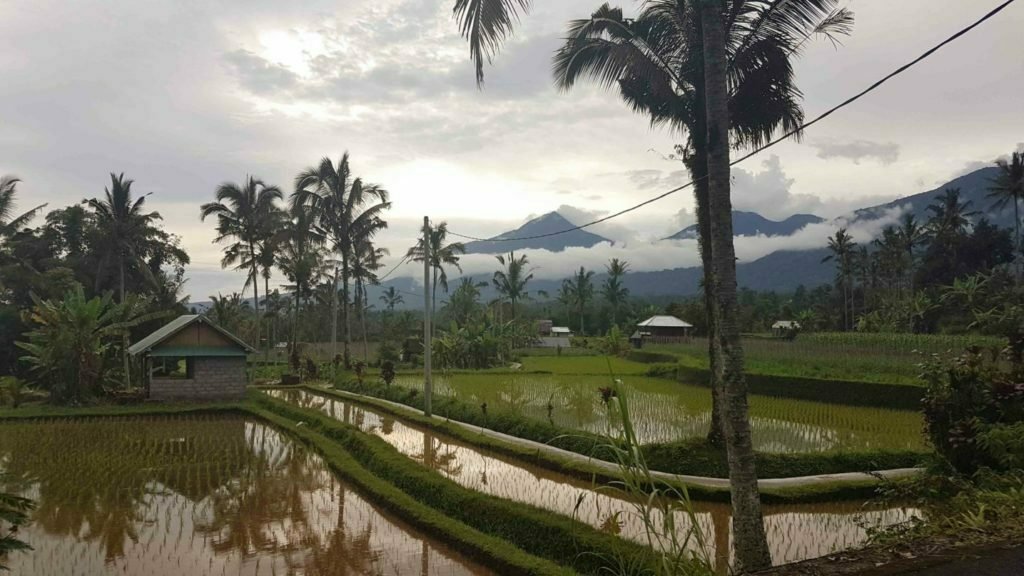 If you're looking to discover the less touristy areas of Bali, then North Bali is heavenly. The most beautiful waterfalls, rice fields, and volcano views are actually in North Bali. The locals are even nicer in this region and there are really affordable hotels with private pools. I highly recommend staying in Munduk and visiting Sekumpul Waterfall.
Positives: Untouched nature, friendly locals, little to no tourists
Negatives: Far away from everything else
8. Sanur – best place to stay in Bali for a relaxing beach getaway
Sanur has some very relaxing beaches that are great for families. There isn't much to do in the area other than hanging out in your beach resort. The town itself is pretty small, but you can still find lots of spas and restaurants.
Positives: Relaxing atmosphere
Negatives: Not much to do other than laying on the beach
How Many Days to Spend in Bali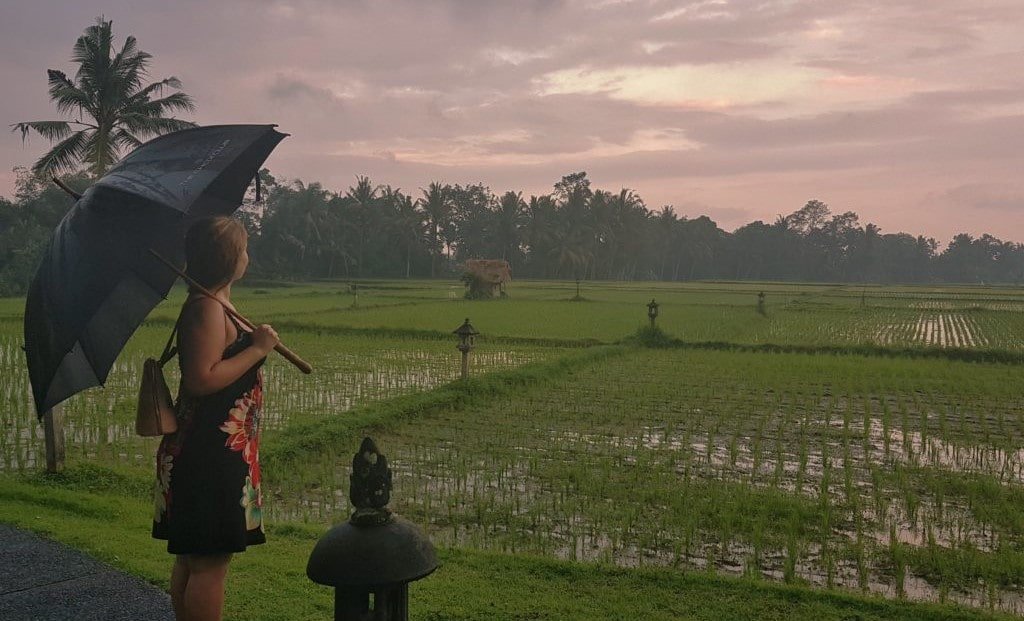 Spend 4 to 5 nights in either Seminyak or Canggu, followed by 3 to 4 nights in Ubud.
Seminyak & Canggu are located right next to each other and from these 2 areas, you can visit Kuta, Uluwatu, and Nusa Dua.
Ubud is quite far from everything else, so it's best to spend a few nights there instead of just doing a day trip, because there is so much to see and do in the area. The best waterfalls and the most stunning temples are closer to Ubud, so it would be easier to base yourself there to discover other areas on your Bali trip.
North Bali is great if you have more than 10 days in Bali and have the time to spend at least 2 nights there. It usually takes around 2-3 hours to get there from either Ubud or Canggu/Seminyak.
---
Affordable Hotels In Bali
The next big decision on where to stay in Bali is choosing a hotel, but don't worry I've done the research for you and I've put together the best hotels to stay in Bali with a private pool for under $150 a night.

You can travel to Bali on a budget and take advantage of the affordable accommodation options. Enjoy luxury hotels in Bali with stunning views without paying the high rates in other destinations.
---
Where To Go in Bali
Top Bali Temples: Tannah Lot, Uluwatu, Saraswati (Ubud), Purah Besakih (The Mother Temple), Ulun Danu Beratan, Tirta Empul Temple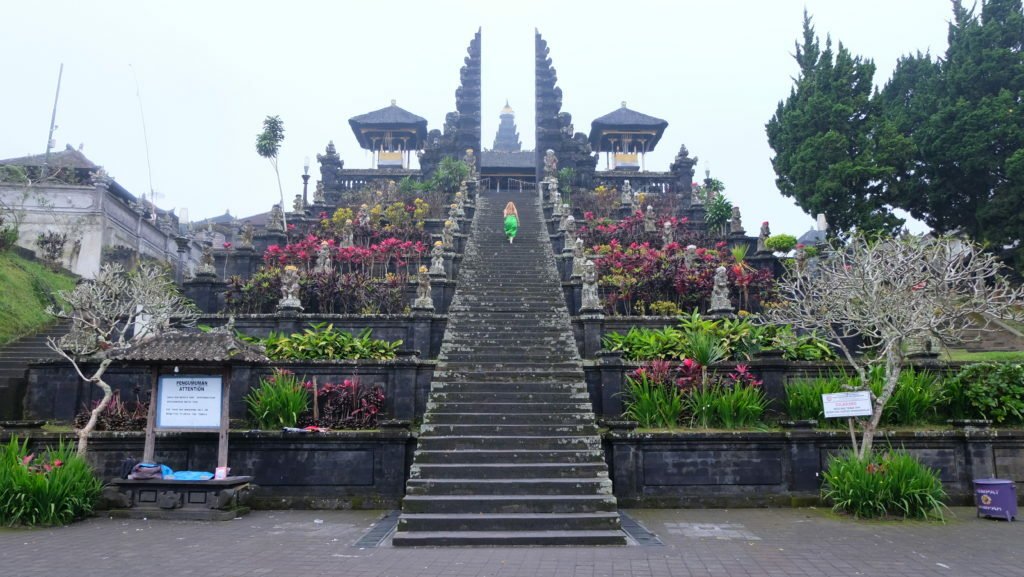 Most Beautiful Rice Fields: Tegallalang Rice Fields Ubud, panoramic views from Mahagiri Restaurant, Jatiluwih, Belimbing
Top Waterfalls in Bali: Tegenungan (Ubud), Secret Waterfall (Tukad Cepung), Aling Aling, Gitgit, Sekumpul
Yoga classes: The Yoga Barn, Radiantly Alive (try the swing yoga here), Seminyak Yoga Shala
Shopping Areas in Bali: Seminyak is great for trendy boutiques and stylish finds. Ubud Market has an amazing selection of local arts and crafts, souvenirs, and cheap finds for clothing and accessories.
Monkey Forest Bali
Get ready to be surrounded by hundreds of adorable monkeys! You do however need to be very careful because these little cuties are very cheeky and can get quite aggressive if provoked.
Here's a quick monkey forest survival guide:
a) Remove all food and drink from your bag
b) Don't touch the monkeys
c) Don't look them in the eye
d) If you see them fighting don't get close to them
e) If they sit on you there is a slight chance they might pee (it happened to me!), so go with an open mind and enjoy!
2023 update: you are no longer allowed to feed the monkeys inside. The number of monkeys you can see is significantly lower than before. If you're looking for that perfect photo with a monkey on your shoulder, it is not even more difficult to get it. Because the food supply is now much lower, monkeys have become quite aggressive. Enter the forest with caution and follow all the rules to stay safe. 
Volcano trekking in Bali: Watching the sunrise from Mount Batur is an incredible experience. The hike will take approximately 2 hours uphill and another 2.5 hours downhill, but it's well worth it. You will also have to wake up in the middle of the night at 2 AM to start your journey and catch the sunrise on time. It's best to book a tour ahead of time.
Top beaches in Bali: Kuta, Canggu, Nusa Dua, Sanur, Seminyak, Jimbaran, Benoa Beach (for water sports)
Bali Beach Clubs: Potato Head Beach Club, Finn's Beach Club, Sundays Beach Club, Kudeta, The Lawn
Bali Swing
There are 2 spots where you can ride a swing with epic views in the background and both are located quite close to each other in Ubud.
There's one located in an Airbnb property called Zen Hideaway and you will have to message them directly to make sure you can pay a visit on your chosen day, because if the property is booked, they don't allow outsiders to come inside just for the swing. The other one is called Bali Swing and there's a small entrance fee of $2 plus a $20 fee to try 3 different swings. It's quite pricey, but definitely a cool experience.
2023 update: there are now swings pretty much everywhere in Bali, including the Tegelalang Rice Terraces (several swings) and a really nice one in Tegenungan Waterfall.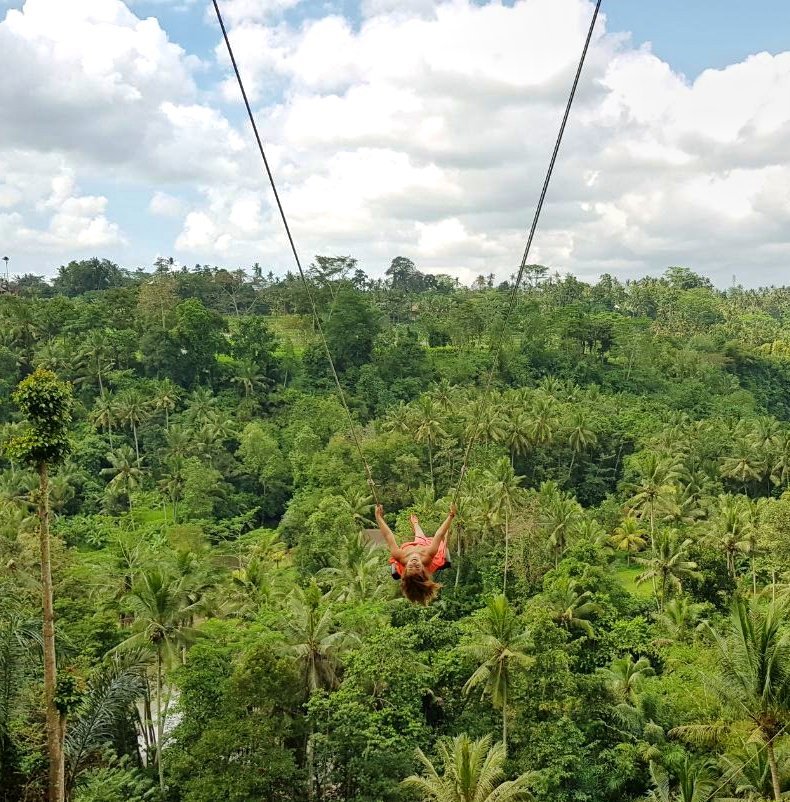 ---
When to Visit Bali
Bali has warm weather year-round with 2 main seasons, the dry season (April to September) and the wet season (October to March). During the wet season, it rains almost every day, but usually for a couple of hours, after which everything looks even greener. It does, however, get very hot and humid as well.
Avoid a trip to Bali in February, because it rains heavily every day and it can ruin some of your outdoor activities.
The high season is July/August which is the peak of the dry season, but the island gets extremely overcrowded and hotel prices surge pretty high compared to other months. The best time to visit Bali is in the months of May, June, and September when you can enjoy the beautiful weather without the crowds.
Bali Food Guide
Bali breakfast spots & cafes: Revolver, Sea Circus, Nalu Bowls, Bali Bowls, Strawberry Fields, Milk & Madu, Livingstone, The Loft
Bali's Best Lunch Spots: Nook, Peloton Supershop (Vegan), La Finca, Deus Ex Machina, Betelnut, The Bistrot, Sari Organik, Cafe Pomegranate
Top dinner restaurants in Bali: Mamasan, Bambu, Merah Putih, Sardine, Ginger Moon, Motel Mexicola (book in advance for these popular dinner spots)
Sunset bars: Watch the sunset in Bali from these trendy bars: La Laguna, Woobar, Old Man's, Rock Bar, Single Fin, and Seminyak Beach (several beach bars with bean bags).
Others: Tukies Ice Cream shop in Ubud for the best coconut ice cream, Anomali Coffee for coffee blends from all over Indonesia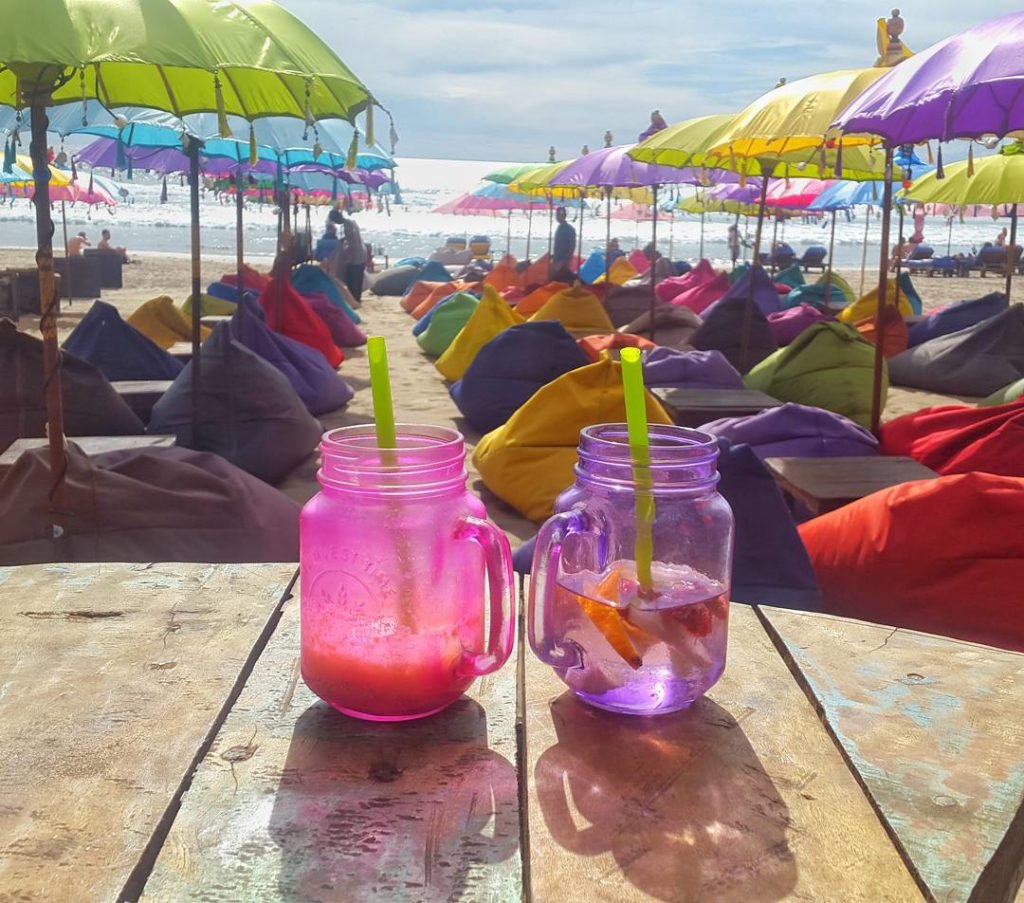 Is Bali Safe to Visit?
I've traveled alone all over Bali and I never felt unsafe. The Balinese are very kind and helpful in case you face any issues during your trip. As the island has become more popular over the last few years, there are some people trying to take advantage of tourists. You can easily avoid these common tourist traps by being aware of them.
Make sure to exchange your money only in "authorized" money exchanges that have cameras installed inside, because there are loads of unauthorized places that can scam you right in from of your eyes. The exchanges all look similar, but authorized ones have cameras and will always give you a receipt.
There is a very popular money scam in Bali, where the person in the exchange would be counting your money in front of you, but secretly throwing a few bills into their drawer. They do it so fast that you cannot see it.
It has happened to me before and thankfully I realized what they had done right after I left. I came back to the exchange and demanded my money back. After half an hour of arguing, I dialed the police number on my phone and they were so scared that they gave me my money back.
What to do in case you get scammed on your Bali trip: take a local with you back to the money exchange. It could be a driver or someone from your hotel that can speak the language. Demand to get your money back and tell them that you will call the police. In case this doesn't work, you can file a report at the station.
Bali Travel Tips
Currency: The main currency in Bali is the Indonesian Rupees (IDR) and it's best to always have cash with you because lots of places don't accept credit cards (mainly in the markets). More upscale restaurants and boutiques do accept credit cards, but a lot of them might charge you a 3% fee for paying with your card. You don't need to carry a lot of cash while travelling to Bali. There are loads of ATMs on almost every street. You can also find them in most 24-hour supermarkets.
Language: Indonesian is the main language in Bali, but lots of people speak English in tourist areas. It's generally very easy to communicate with the locals, especially because they are so welcoming and helpful.
Transportation
Motorbikes and Scooters
Bali is a very crowded island and traffic jams are unbearable sometimes. The best and most affordable way to get around is on the back of a scooter. There are several transportation apps that you can download and the best ones are: Go-Jek and Grab. Both of these have the option of ordering a scooter. The driver will arrive and give you a helmet to wear. Rides normally cost around only 1$!
You can also rent a scooter if you feel confident enough to drive in the madness. Scooter rentals cost 50,000 IDR ($3.3).
Taxis in Bali
There are 3 different types of taxis:
a) Local taxi drivers: these are drivers that you can find pretty much on every crowded street. They will try to charge you a very overpriced fixed fee, which you can negotiate most of the time. do not like the transportation ap
b) Transportation apps: Go-Jek and Grab both have taxi options, but local taxi drivers do not like the online apps and have banned them in a lot of areas such as central Canggu or Seminyak. The online apps are so much cheaper (usually 1/3 of the price), so you might see signs in different places saying "No Grab or Go-Jek". You can still try ordering the taxi but the driver might call you and tell you to avoid looking at your phone when he's picking you up so that the local drivers don't notice what you're doing.
Some of the drivers might call you and ask for an additional fee (on top of the rate you see on your phone). If they do that, cancel your ride and order a different car.
c) Metered taxis: these are blue cars that you can find on the street with the name "Bluebird". Just make sure the drivers turn on the meter because a lot of them will try to ask for a fixed price which is usually much more than what you would pay for a metered fare.
Frequently Asked Questions:
Where is the best area to stay in Bali?
The best areas to stay in Bali are: Ubud, Seminyak, Canggu, Uluwatu, and Kuta. It's best to divide your time and stay a few nights in the top 2 to 3 areas to visit the most beautiful places in Bali.
What is the safest place to stay in Bali?
Uluwatu, Sanur, and Ubud are the safest places to stay in Bali. The more touristy Bali towns like Kuta, Seminyak & Canggu are less safe mainly because of petty crimes and theft.