Medellin is the very definition of a success story, having undergone a renaissance that transformed this once infamous city into one of the most coveted destinations in South America and one of the best places to visit in Colombia. The City of Eternal Spring is home to a thriving community of expats and eclectic neighborhoods that offer affordable housing, and the best amenities money can buy.
There are several options to choose from including cozy boutique hotels that make you feel right at home, and furnished apartments that combine comfort with luxury. Choosing where to stay in Medellin can be a time-consuming task, especially for first-time visitors. Fortunately, neighborhoods like El Poblado, Laureles, and Envigado offer the cream of the crop when it comes to shopping, entertainment as well as accommodation.
Where to Stay in El Poblado, Medellin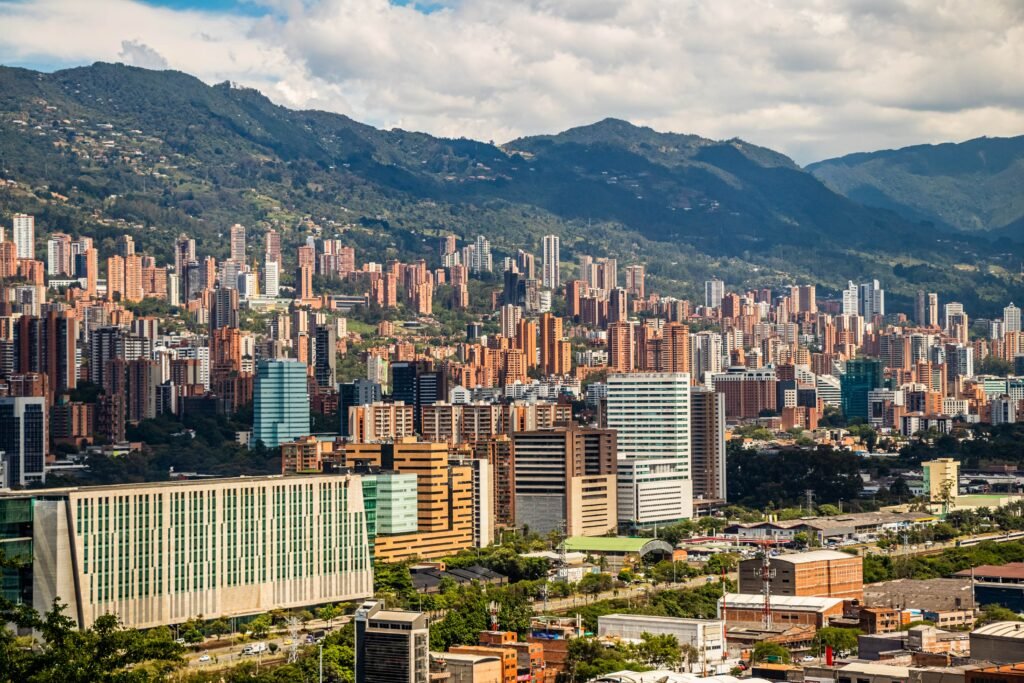 El Poblado is one of the best neighborhoods in Medellin Colombia, and for good reason. The affluent district is a shopping haven with a cocktail of American and local brands that cater to visitors of all tastes and budgets. The winding streets are lined with trendy bars and gourmet shops as well as vibrant street art and lush green gardens.
Parque Lleras is famous for its bars and clubs where people gather around to watch football matches and dance the night away. A variety of attractions are scattered throughout the neighborhood including Medellin's Museum of Modern Art and El Castillo Museum and Gardens.  
Many expats and tourists think of El Poblado as their safe home base where they can relax and unwind after a long day of exploring other Medellin neighborhoods. The area is home to high-rise buildings that offer panoramic views of the valley as well as charming low-rise condo hotels and apartments that are furnished to perfection.
There are many factors that come into play when choosing where to stay in El Poblado, Medellin. Amenities such as elevators and air conditioners for example can be high on a visitor's list of requirements. A fast internet connection can make a world of difference to digital nomads and students. Finding a property that offers all of the above amenities and more is possible thanks to Casacol.
El Poblado Apartments for Rent
An expat magnet like El Poblado has no shortage of Medellin rentals. From cheap hostels to chic penthouses, the city has something for everyone. Rentals can be a welcome change from small hotel rooms or crowded hostels. They offer more living space and are equipped with kitchens that allow guests to cook homemade meals. They are also ideal for those planning on staying in the country for business or for leisure. Casacol offers several housing options including serviced apartments or condo hotels as well as premium and opulent units that are within walking distance from the best shopping malls, restaurants, and parks in town.
If you Google the words luxury hotel Medellin, Soul Apartahotel will immediately pop up in your search. Each of the 80 units at this premium property was meticulously designed with the customer's comfort and safety in mind. The building offers a wealth of amenities including 24/7 security and a restaurant on the ground floor that serves freshly brewed coffee in the mornings and nutritious food to help you start your day.
Soul apartments have fully equipped kitchens, air-conditioners, fiber optic internet, and a balcony so you can enjoy the pleasant Medellin weather all year round. The building is equipped with a gym, a rooftop pool, and a steam room. Parking space is also available for car owners. All of the above facilities are accompanied by top-notch housekeeping and impeccable customer service.  
Loma Verde takes apartments for rent in Medellin Colombia to a whole new level. The condo-hotel offers luxurious accommodation in the form of one-bedroom and two-bedroom units. Each unit has its own fully equipped kitchen and a smart TV where you can watch your favorite Netflix shows. Guests can relax in the lush green courtyard or take a dip in the outdoor pool. Loma Verde successfully combines impeccable form with functional facilities that cater to guests who are in search of a home away from home.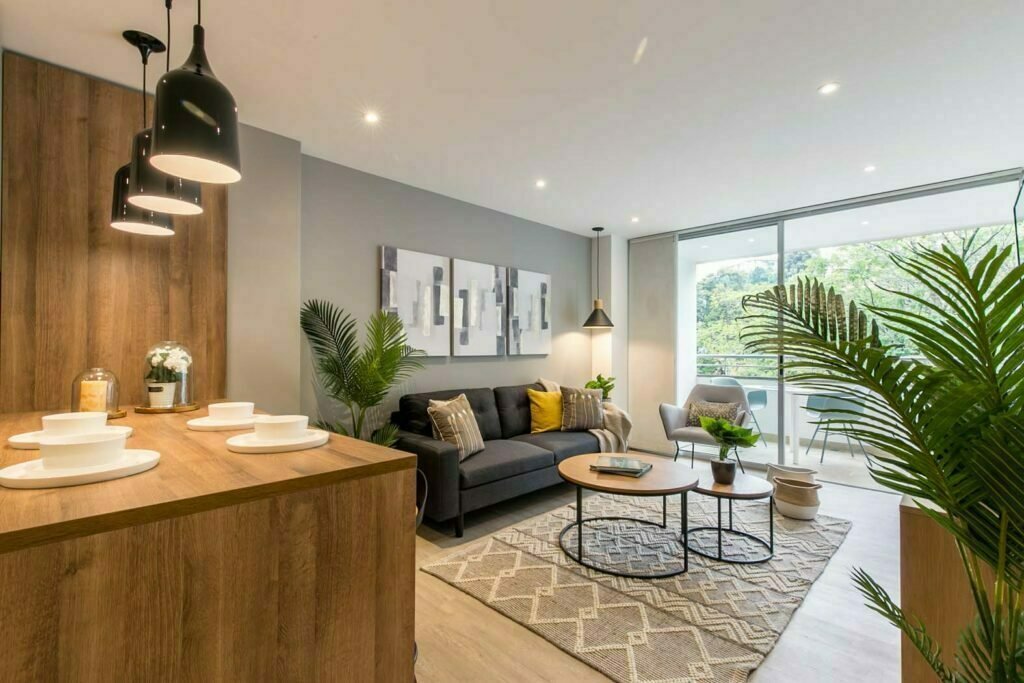 Provenza Life offers deluxe living spaces painted in warm earthy tones, tasteful furniture, and panoramic views of the city. The newly remodeled units are bright and airy with an open kitchen stocked with all the necessary utensils and appliances. Each unit has its own distinctive style and wall art not to mention a wealth of amenities. Both one-bedroom and two-bedroom apartments are available for rent. Free parking and 24/7 security are also part of this wholesome Provenza Life package.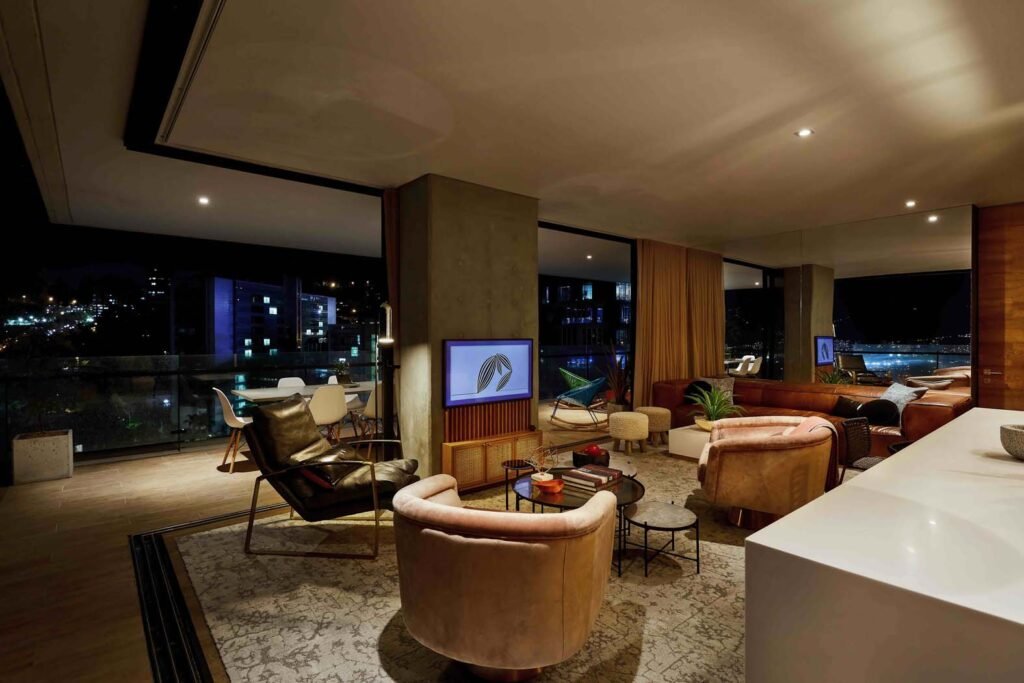 This unique architectural gem is hard to miss thanks to its modern cubic design and floor-to-ceiling windows. This property offers short-term accommodation in the form of stylish studios and 1–3-bedroom apartments all equipped with state-of-the-art facilities. The Sky Lounge on the 22nd floor features a stunning infinity pool overlooking the valley and its surrounding mountains. The building is equipped with a full gym, jacuzzi and has 24-hour security. It is also one of the most in-demand and highly rated properties in the area.
Related travel guide: Best Islands in Colombia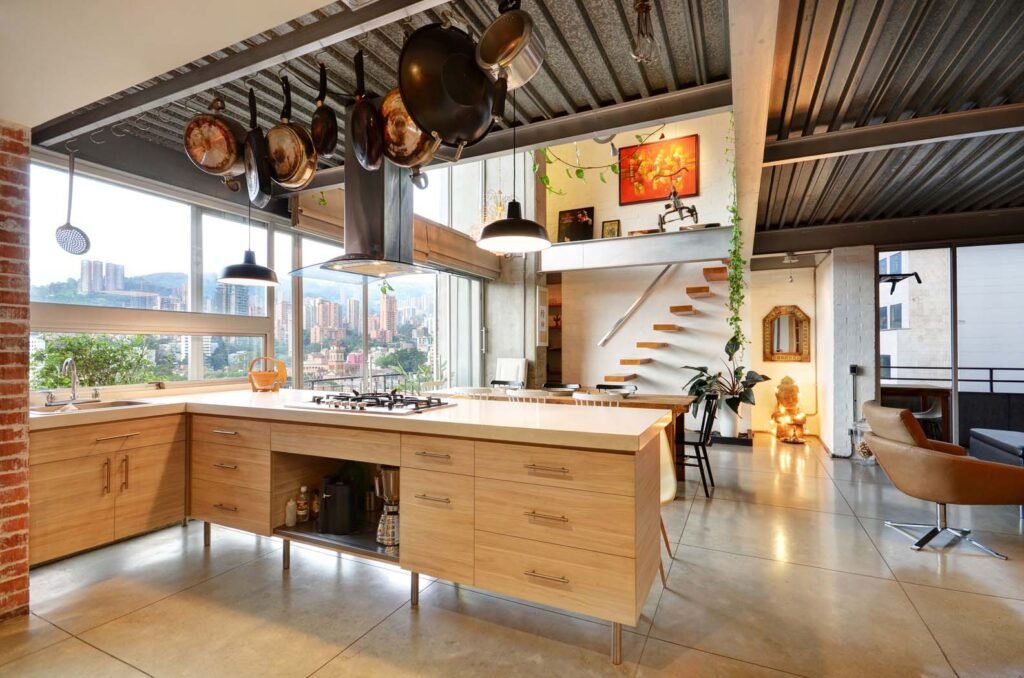 knowing where to stay in Medellin, especially when traveling with family or friends who need their privacy, and their individual rooms can make a world of difference to your trip. Fortunately, Casacol offers spacious duplexes and penthouses that can accommodate up to 7 people. Most of the high-end units are equipped with smart home technology and automated lighting in addition to walk-in closets, outdoor kitchens, and a TV in every room. The lavishly decorated 3-floor penthouses offer plenty of privacy and an abundance of outdoor and indoor lounging spaces.
El Poblado Boutique Hotels
The best hotels in Medellin are located in El Poblado, and for good reason. The neighborhood is a magnet for students, expats, and tourists who are attracted to its fantastic restaurants, vibrant nightlife, and professional coworking spaces that are tailor-made for freelancers and digital nomads.
Serviced apartments, deluxe penthouses, and duplexes like the ones mentioned above make this area the top choice for many first-time visitors as well. The demand for affordable accommodation is on the rise in Medellin, which is why Casacol has added new members to its growing family – two lovely boutique hotels that reflect the spirit of the city and its captivating nature.
The best thing about boutique hotels is that they are smaller than regular chain hotels with a cozy, intimate vibe that can be a welcome change from crowded lobbies and busy breakfast buffets. Staying in a boutique hotel for the first time will make you feel like you've discovered a hidden gem that you prefer not to share with anyone else.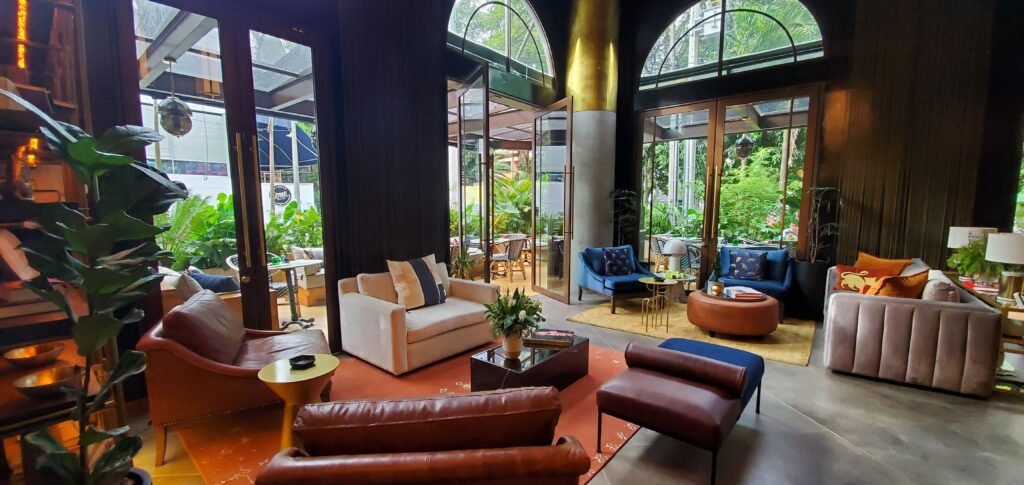 The Five-star Marquee hotel feels grand and glamourous yet homely at the same time.  The lobby has an old-timey feel with a glitzy cocktail of copper, orange, and gold that complement the elegant marble floors. There are 42 rooms in total and 2 luxury penthouse suites to choose from. Amenities include filtered water, automatic blackout curtains, and central air-conditioning. 
The Deluxe King suite is fitted with its very own jacuzzi that will make any guest feel like royalty. Groups of 4 can enjoy panoramic views and plenty of space by booking the 2-bedroom penthouse suite.  This fabulous boutique hotel has a rooftop pool with a jacuzzi where guests can watch the sun paint the sky in shades of orange and red before disappearing behind the mountains.
Guests can also treat their tastebuds to the best Italian cuisine at Abbiocco by Carmen. The restaurant serves dishes made with organically and locally sourced ingredients as well as responsibly caught seafood.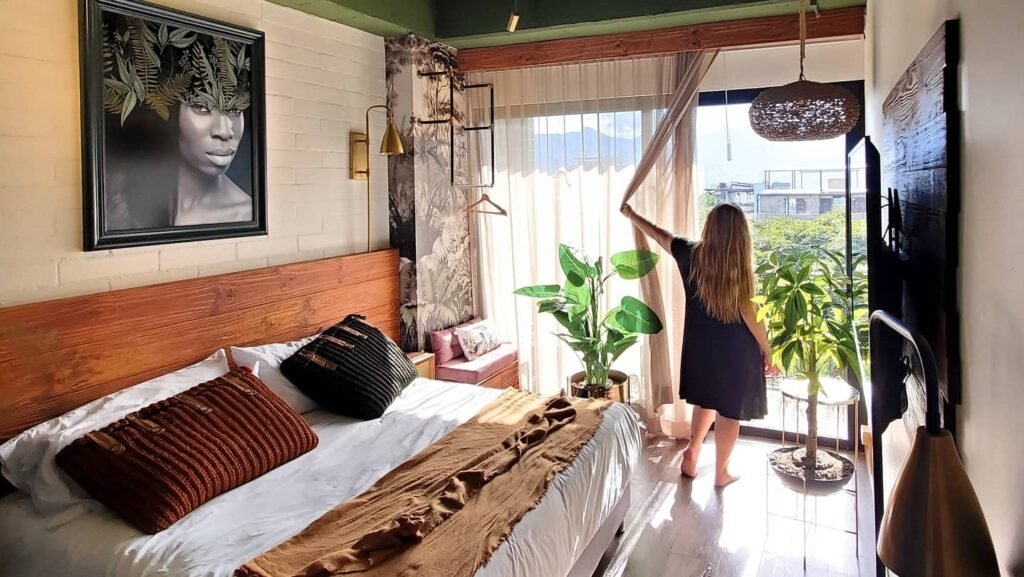 Celestino blends in beautifully with its surrounding ecosystem. The hotel is embraced by lush green foliage from the outside, adding a layer of intimacy and privacy to the building.
Several shades of green dominate the walls, rooms, and hallways of the Celestino. There are 22 rooms in total furnished with plush king-size beds and fitted with standard amenities including a flat-screen television.  
The deluxe rooms come with a balcony where guests can spend their afternoon bird watching or relaxing after a morning walking tour of the city. Sunrise lovers can book a mountain view room or spend a lazy evening lounging on the sundeck. Brunch is served every day at Azul Selva in the lobby. Celestino is within walking distance from both Park Lleras and El Poblado Park.
Where to Stay in Laureles Medellin
Laureles is another great neighborhood located northwest of El Poblado. It has a wide selection of the best apartments in Medellin Colombia. Laureles is extremely pedestrian-friendly with charming sidewalks shaded by palm trees and giant guayacan trees. It is also home to not one, but two lush green parks that contribute to the fabulously temperate weather this region is known for. 
Laureles has a mellow vibe and is considered less commercial when compared to El Poblado. Family-owned eateries are available at every corner alongside supermarkets, bakeries, yoga studios, gyms, and salsa clubs.  The neighborhood is self-sufficient and bike-friendly as well. Visitors who prefer to explore Laureles by bike can take advantage of the public bicycle sharing system that has become widely popular in Medellin.  La Se Tenta and La Treinta are the two main party streets in the area, and they are lined with an assortment of popular Colombian restaurants such as Mondongos and disco clubs like Oye Bonita.
First-time visitors who are unsure about where to stay in Medellin will fall in love with Laureles and its calm residential streets. The neighborhood has no shortage of outdoor activities including coffee tours and guided bike tours. Museum-lovers can spend an afternoon exploring Fundación Aburrá – a small heritage museum that houses a collection of pre-Hispanic and religious artifacts where visitors can learn more about the indigenous culture.
This neighborhood alongside El Poblado and Envigado offers budget-friendly accommodation in the form of hostels and affordable furnished apartments as well as high-end penthouses and lofts that are fitted with state-of-the-art amenities and 24-hour security. Like a chocolate box filled with an assortment of sweets that cater to all tastes, Laureles is where travelers will come across eco-friendly hotels, studio apartments, and modern units that take luxury to a whole new level. It is also a popular destination for many returning visitors who have visited the city more than once and consider Laureles to be the best area of Medellin to stay in.
Apartments for Rent in Laureles Medellin
Location is everything, especially when it comes to staying long-term in a city like Medellin. Conquistadores is the coveted eastern part of Laureles thanks to its strategic location and nearby river parks. It is also home to the best accommodation in the neighborhood with calming views of the evergreen gardens below and a wide variety of restaurants, cafes, and grocery stores to choose from.
Unicentro, the main shopping mall in the area, has a food court, a cinema as well a play area for kids. The mall is right across from Pontifical Bolivarian University, so the area is constantly bustling with students and tourists. Casacol owns two properties in Conquistadores: Laureles Factory Lofts and Moderatto Laureles.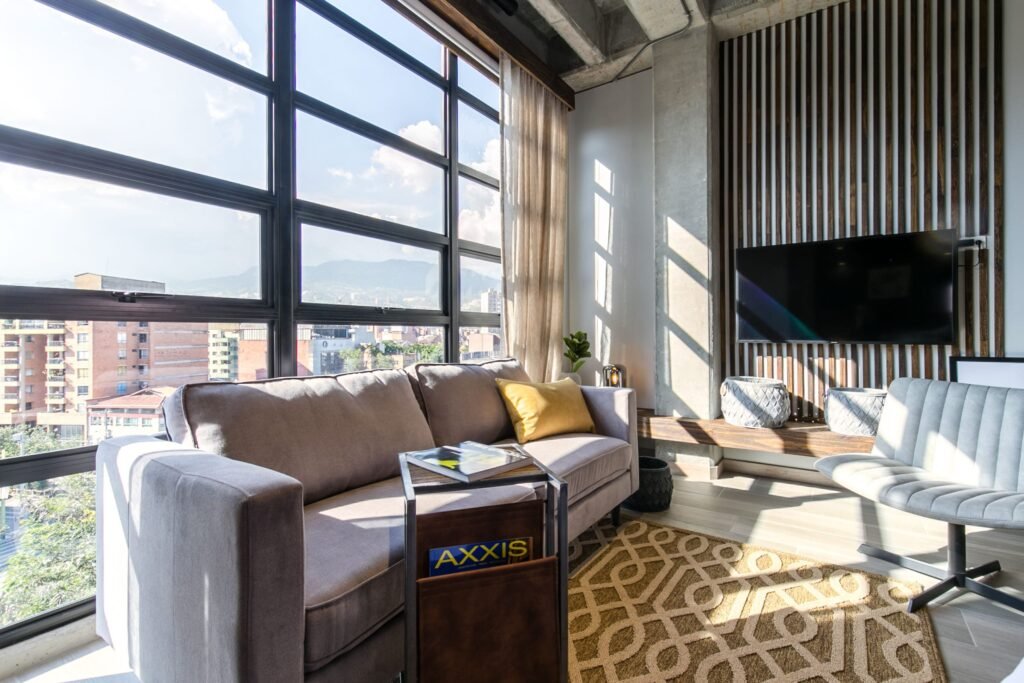 Laureles Factory Lofts offers 25 immaculately furnished loft studios with high ceilings and wide windows overlooking the tree-shaded streets of Conquistadores. Each room was designed to accommodate two people and is fitted with all the essential amenities needed for a comfortable stay. This includes a fully equipped kitchenette with a coffee maker and fiber optic internet.
Coworking spaces are also available on the second floor for an additional price. Laureles Factory Lofts makes the best area of Medellin to stay in feel like a second home thanks to its concierge service and 24-hour reception desk.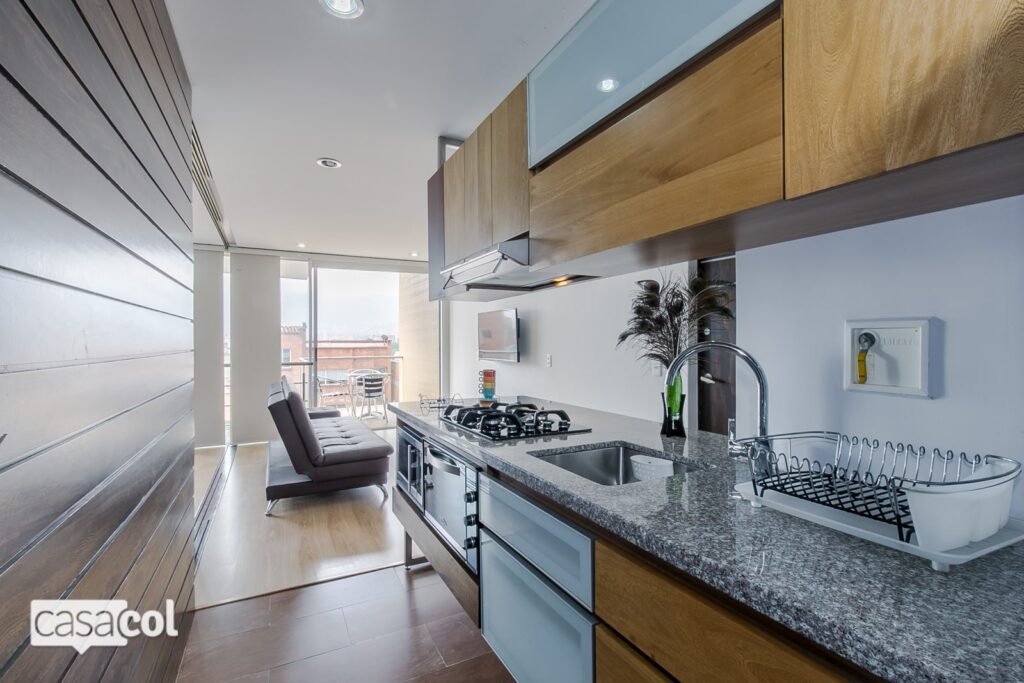 Moderatto is also a no-brainer answer to the -where to stay in Medellin- question. The building offers budget-friendly furnished rental apartments including stylish studios and 1- and 2-bedroom units. The rooms were designed with short-term and long-term accommodation in mind and therefore have fully equipped kitchens and all the essential amenities under one roof. Guests can get their daily dose of exercise at the in-house gym or sip on a cool drink on the rooftop deck.
Where to Stay in Envigado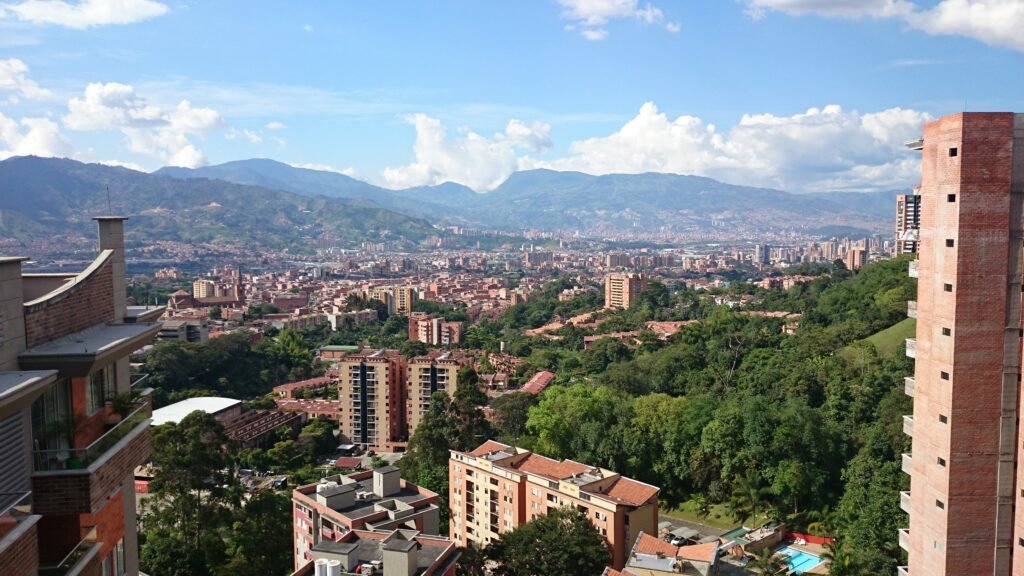 Envigado is a precious gem of a town – charming and lowkey with a different vibe compared to the metropolitan streets of El Poblado. It is also a popular hiking destination and home to the Colombian Immersion Spanish School, making it a magnet for foreign students who flock over to the region to learn the language.
The town is packed with attractions and has no shortage of things to do. Parque Envigado is where outdoor concerts and public events are held all year round. Elderly locals can be seen playing chess while street performers play guitar in the background. There are several must-visit coffee shops that serve international beer and freshly brewed coffee served with empanadas such as Cocolatte Café and Café de Otraparte.
Envigado is made up of 38 neighborhoods located on different terrain. Some barrios are near the Medellin River while other barrios call the mountains their home. Much like El Poblado and Laureles, Envigado has become a popular destination for expats who want to live or study in this lovely region.  
Disclaimer: This post is in partnership with Casacol, but as always all opinions are my own.