Colombia boasts a rich and diverse ecosystem scattered across tropical forests, savannahs, lush green valleys, snow-capped mountains, and postcard-perfect islands. The country has a remarkable topography compared to its neighbors and was blessed with two distinct coastlines instead of one.
The Caribbean side alone is home to more than 70 Colombian islands including San Andres and Santa Cruz del Islote. The islands and their surrounding marine life invite travelers to explore and learn about the colonial history of the country and the impact these colonies had on the food, culture, and people who inhabit these islands.
Colombian Islands in the Caribbean
Nothing says getaway like the Caribbean Sea and its chain of Colombia islands that are a boat ride away from Cartagena. Locals still share stories about pirates and hidden treasures that are supposedly stashed away in the limestone cave in San Andres. The sea is a snorkeling and diving haven and boasts an underwater graveyard filled with pirate and navy ships that date back to the Anglo-Spanish wars. It is also home to manta rays, turtles, and countless schools of fish of all shapes, colors, and sizes. The blissful beaches with their powdered sugar sands and palm trees are the perfect antidote for stress and bring new meaning to the word escapism.
San Andres Island Colombia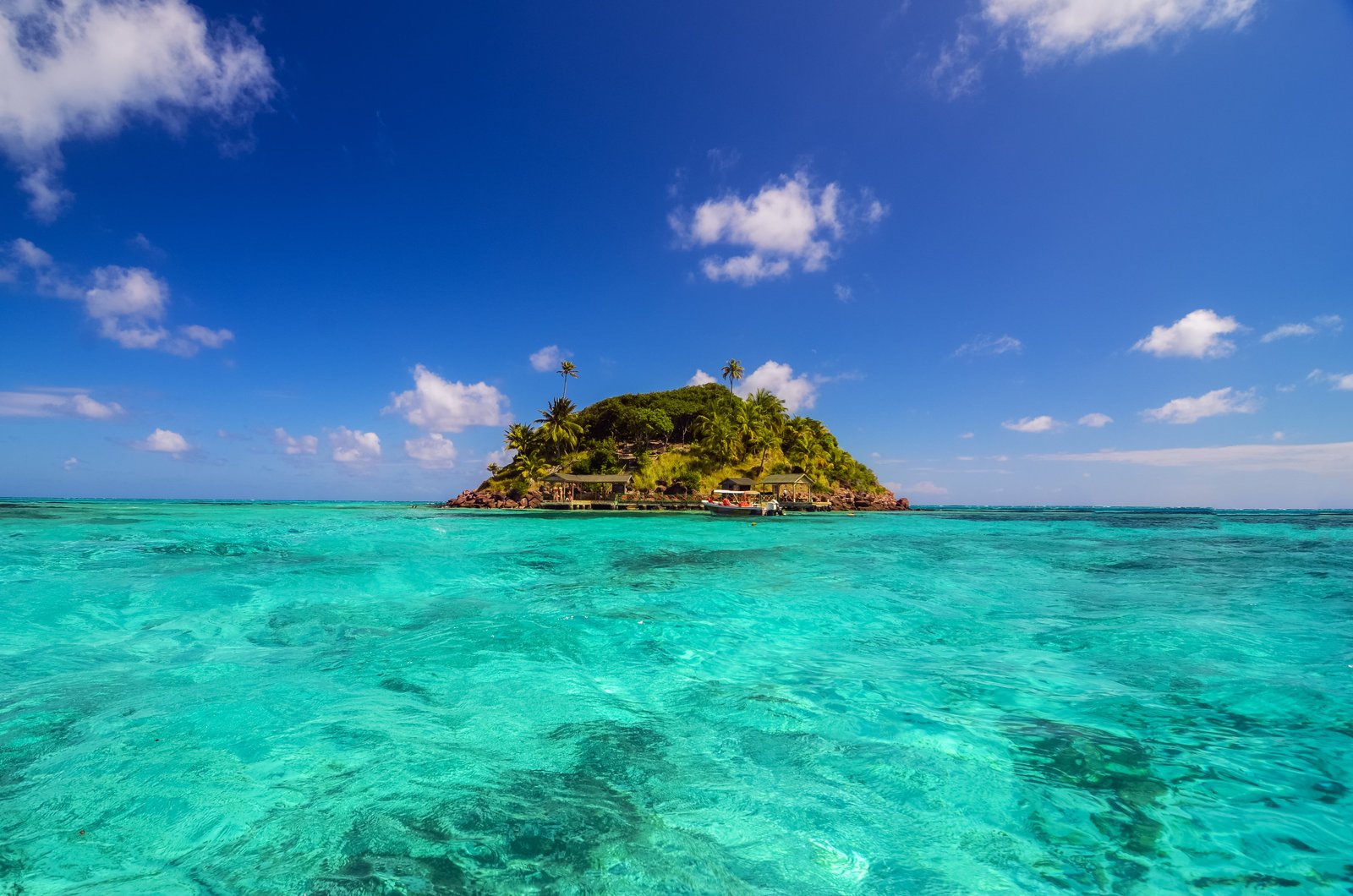 The award-winning island has earned its title as South America's Leading Beach Destination. Its famous Sea of Seven Colors with its dazzling hues of sapphire and turquoise blue waters is home to the UNESCO-protected Seaflower Biosphere Reserve. The eastern side of the island offers an abundance of white sandy beaches and a wealth of in-land and water activities, including kitesurfing and jet skiing.
Visitors flock over to San Andres to scuba dive among the precious corals and explore the mangrove forest at Old Point Mangle Regional Park. The coastline has no shortage of hotels, bars, and restaurants run by locals who speak both Spanish and Caribbean English.  San Andres is a boat ride away from Johnny Cay – a small island where visitors can sip on coconuts and feast on fried fish while listening to reggae music.
Related article: Tulum vs Cancun – Which One To Visit?
Providencia and Santa Catalina Island Colombia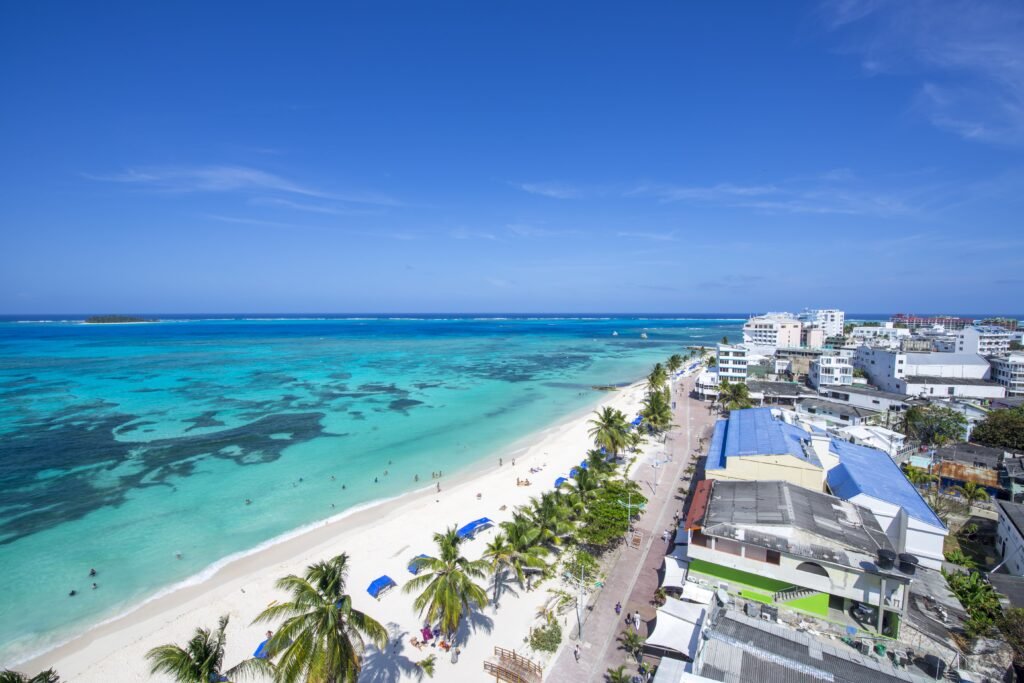 Providencia is one of the best islands in Colombia. Its remoteness and laid-back atmosphere are complemented by its calm ocean waters and secluded beaches. The island is home to 7 charming villages and around 5000 residents with mixed African, French, and Spanish heritage. The friendly locals live in pastel-colored houses and grow watermelons, sweet potatoes, and plantains in the island's fertile soil.
The Old Providence McBean Lagoon National Park is a diving haven thanks to its cocktail of blue-green coral formations and starfish constellations that adorn its seabed. A floating bridge connects Providencia to its neighbor, Santa Catalina. The peaceful island houses colonial-era ruins and several restaurants where travelers can sample authentic Caribbean cuisine including seafood stews and cassava cakes.
Related Post: Top Things To Do In Colombia
Cartagena Islands
Cartagena is the gateway to many Colombian islands in the Caribbean. Many travelers end up booking day trips to nearby Tierra Bomba and Cholon islands, as well as the Archipelago of San Bernardo. The tropical waters are sprinkled with both private and public islands that feature sun-kissed beaches and more than enough activities and attractions to keep boredom at bay.
Rosario Islands Colombia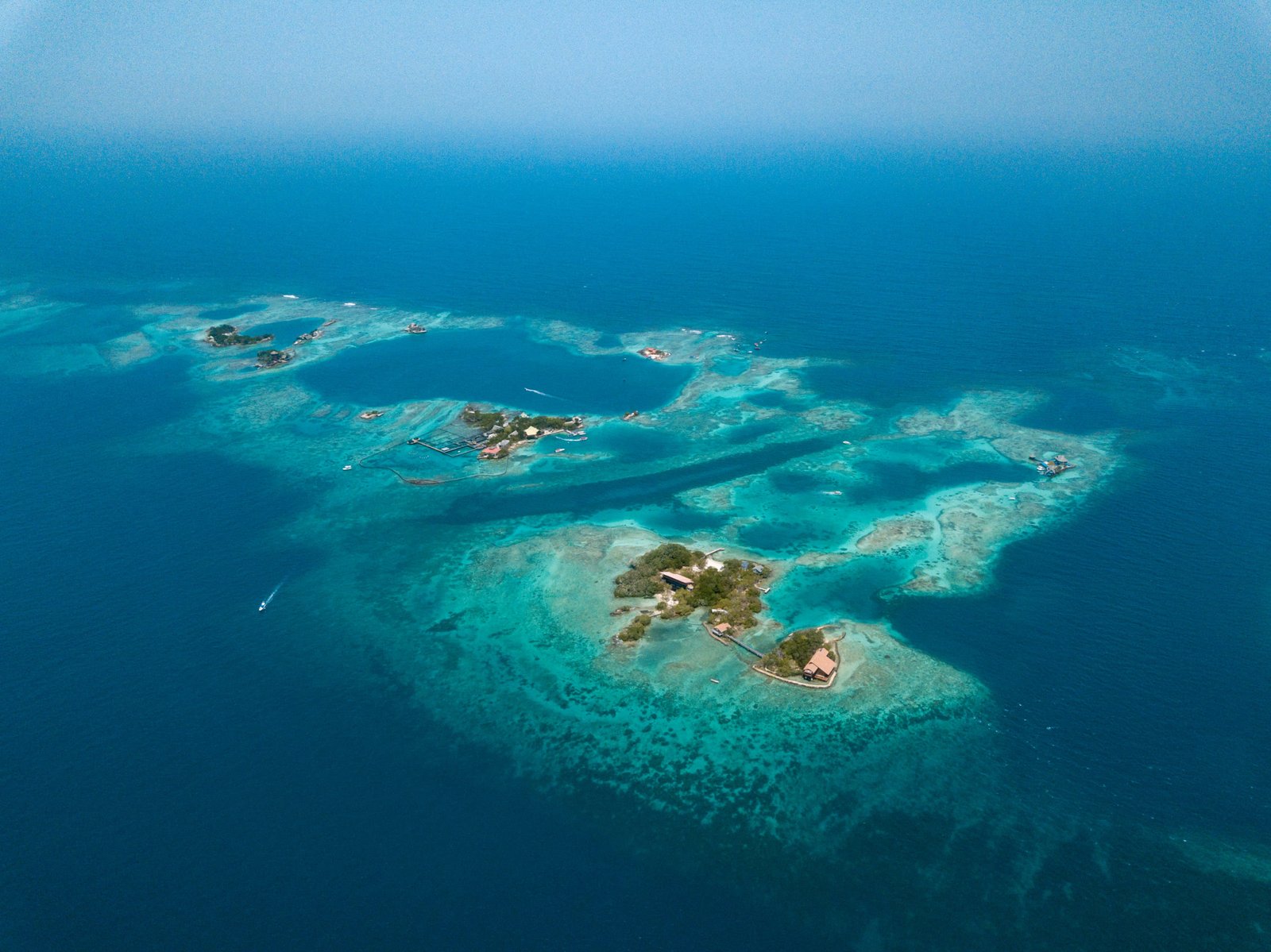 This chain of 27 islands offers Instagram-worthy sunsets and luxurious accommodation in the form of resort hotels and Caribbean chic cabanas. There are several privately owned islands in this archipelago where guests can stay the night, such as Isla Pelicano and Isla Matamba. Isla Grande is the largest of all the islands and home to many budget-friendly hostels.
Playa Libre is the go-to beach on the island. The small stretch of sand is ideal for an afternoon of suntanning and relaxation. The Rosario Islands Oceanarium is a must-visit for dolphin lovers. The Oceanarium, which also doubles as a conservation center is on the island of San Martín de Pajarales. The islands are very close to Baru and are approximately 29 miles away from Santa Cruz del Islote.  
Cholon Colombia
Cholon is constantly buzzing with youthful energy. Located on the island of Baru, this small peninsula is a 45-minute boat ride from Cartagena. Cholon is a magnet for tourists in search of a fun-filled day trip and a coveted weekend destination for many locals as well. The young population that frequents this party-centric cape spends the day dancing and drinking while sharing meals with friends and family. The shacks lining the beach sell barbecued lobster, coconuts as well as pina coladas. Many boat parties take place within the aquamarine waters of the inlet. The boats are usually chartered and can accommodate large groups of people.
Tierra Bomba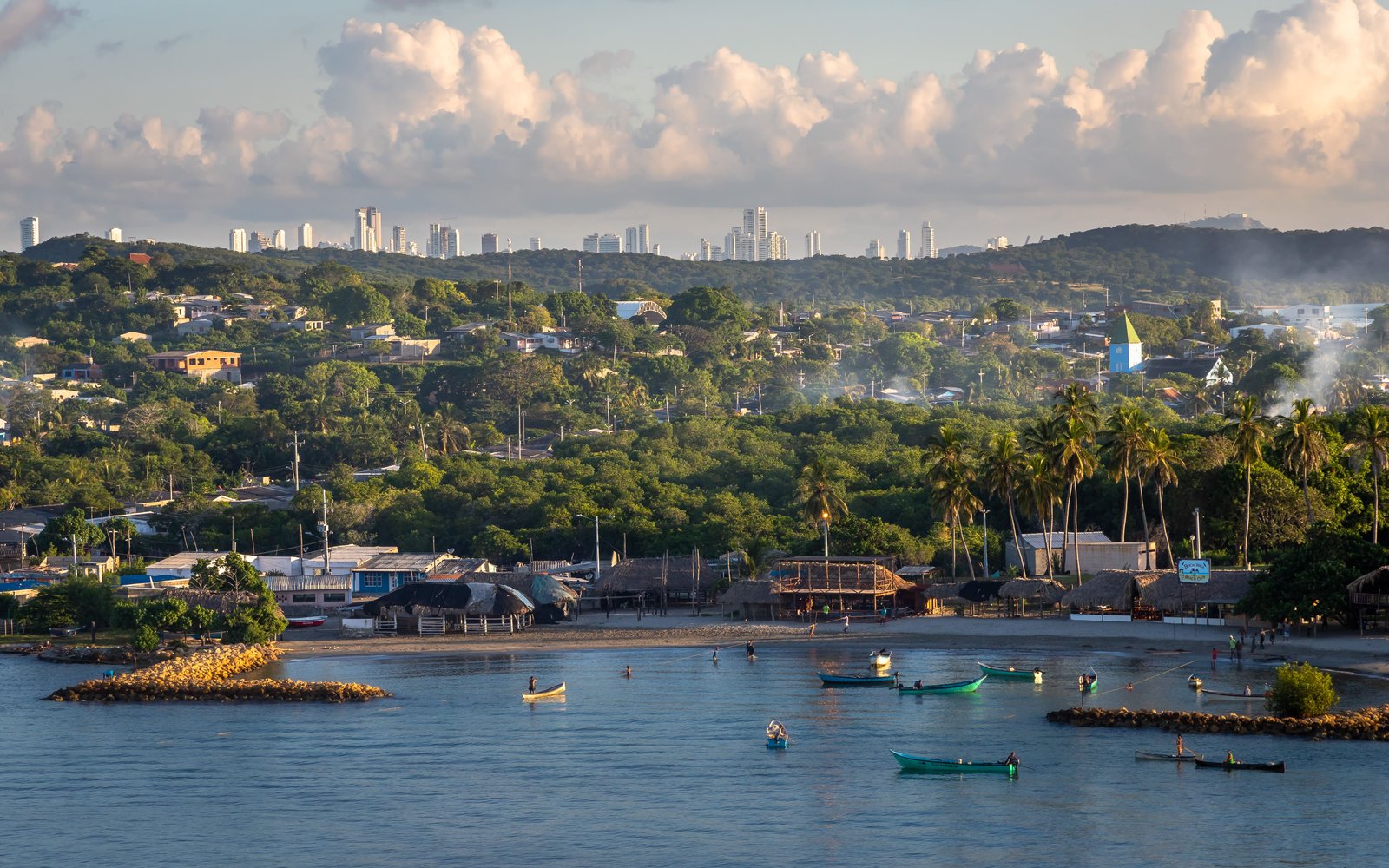 Travelers can easily view the skyline of Cartagena from the carefree beaches of Tierra Bomba. It takes around 15 minutes to reach the island by boat. Tourists flock over to this slice of paradise to spend the day at the many private beach clubs where beach beds and cool drinks provide a welcome escape from the heat of Cartagena. There are several hotels on the island where visitors can stay the night, including Fenix Beach and Blue Apple Beach. History buffs can stop by the town of Bocachica to explore the Spanish colonial fortress that was once the shield that protected Cartagena from the British.
Related Post: Where To Stay In Medellin
Archipelago of San Bernardo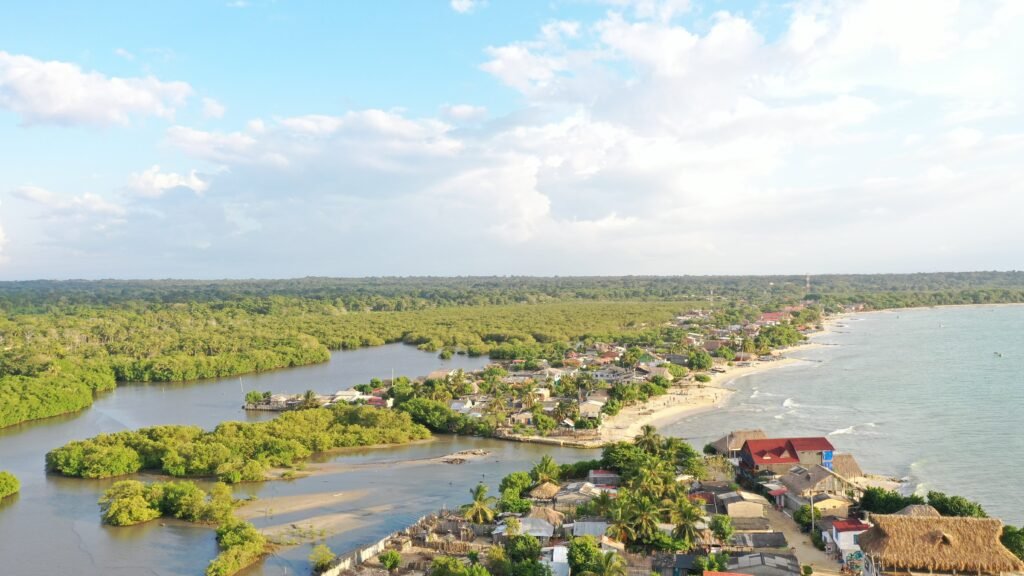 The ten beautiful islands that form this archipelago are located off the Colombian coast in the Gulf of Marrosquillo. They are around two hours away by speed boat from Cartagena. Isla Mucura, Tintipan, and Santa Cruz del Islote are the three main tourist magnets in this corner of the Caribbean.
The shallow turquoise waters of Isla Mucura are ideal for swimming and snorkeling. Tintipan is serene and not as touristy as the other Colombian islands in the area. The mangroves near the island are rich with bioluminescent plankton that paint the water in stunning shades of neon blue at night. This blue beach phenomenon looks even more stunning under the full moon.
Santa Cruz del Islote is one of the most famous man-made islands in Colombia and is easy to spot from any passing ferry or speed boat thanks to its tin-roofed houses. Located between Mucura and Tintipan, the island is approximately the size of two soccer fields and is famous for being the most densely populated island on this planet.
Santa Cruz Island is divided into 10 neighborhoods and is home to around 1,200 people. The island was originally built on a foundation of corals, coconut shells, and tree trunks. And even though it does not have a beach like the other Colombia islands it is equally fascinating, nonetheless. The locals here make a living out of tourism and fishing.  They offer walking tours to visitors who are interested in learning more about the history of Santa Cruz. They also have an aquarium that doubles as a conservation center for sea turtles and other marine creatures.
Isla Baru and Playa Blanca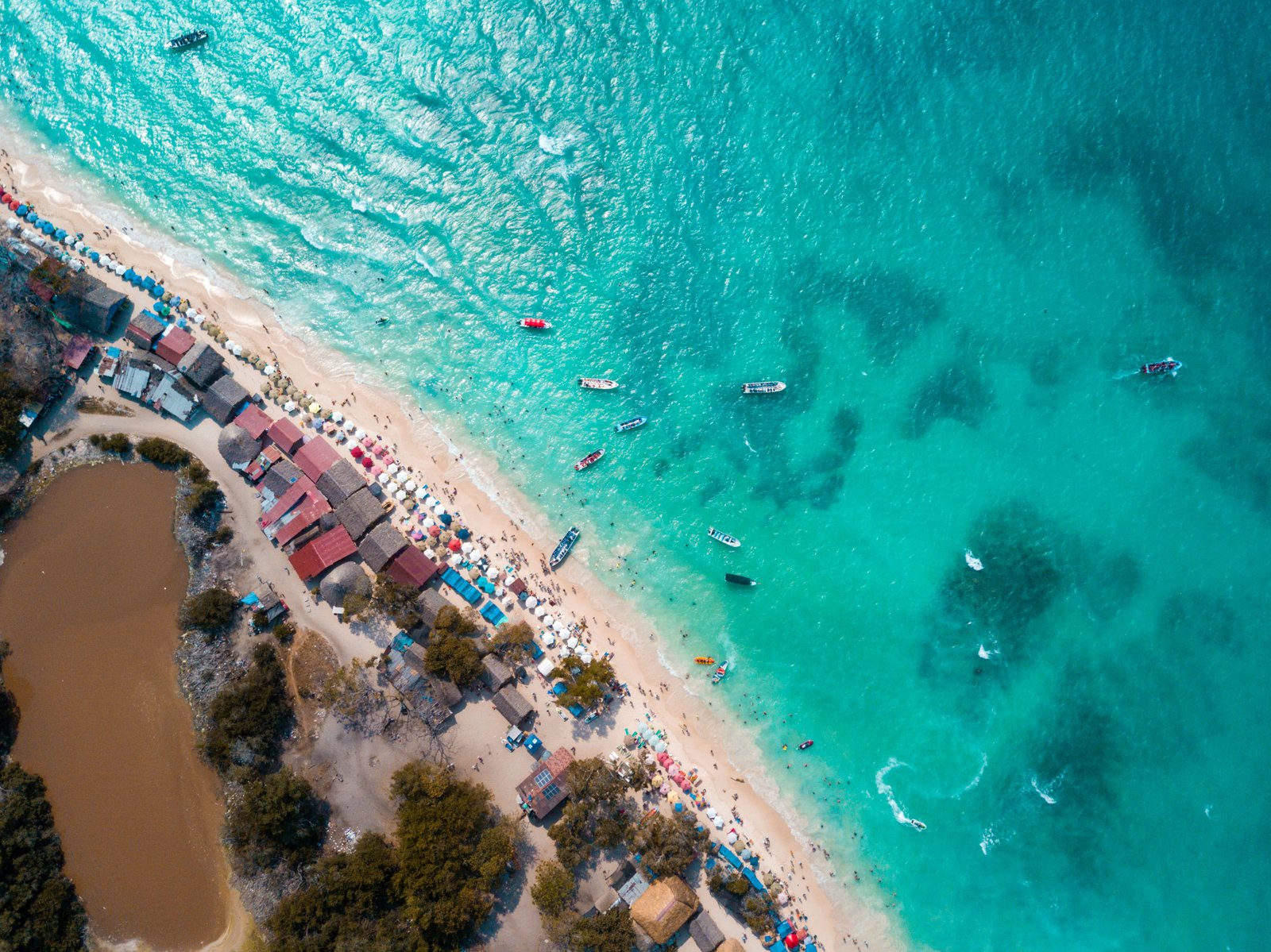 Isla Baru is a popular beach and bird-watching destination thanks to Playa Blanca and the National Aviary of Colombia. The blissful beach is best enjoyed after 4 pm since it becomes crowded during peak hours, especially on weekends. The beach and its azure waters were made for kitesurfing and snorkeling and offer breathtaking views during sunset. Mangrove swamps attract plenty of wildlife, including birds. There are 190 indigenous bird species inside the Aviary and three unique ecosystems that are home to flamingos, macaws, storks, owls, vultures, and the Condor of the Andes.
Isla Fuerte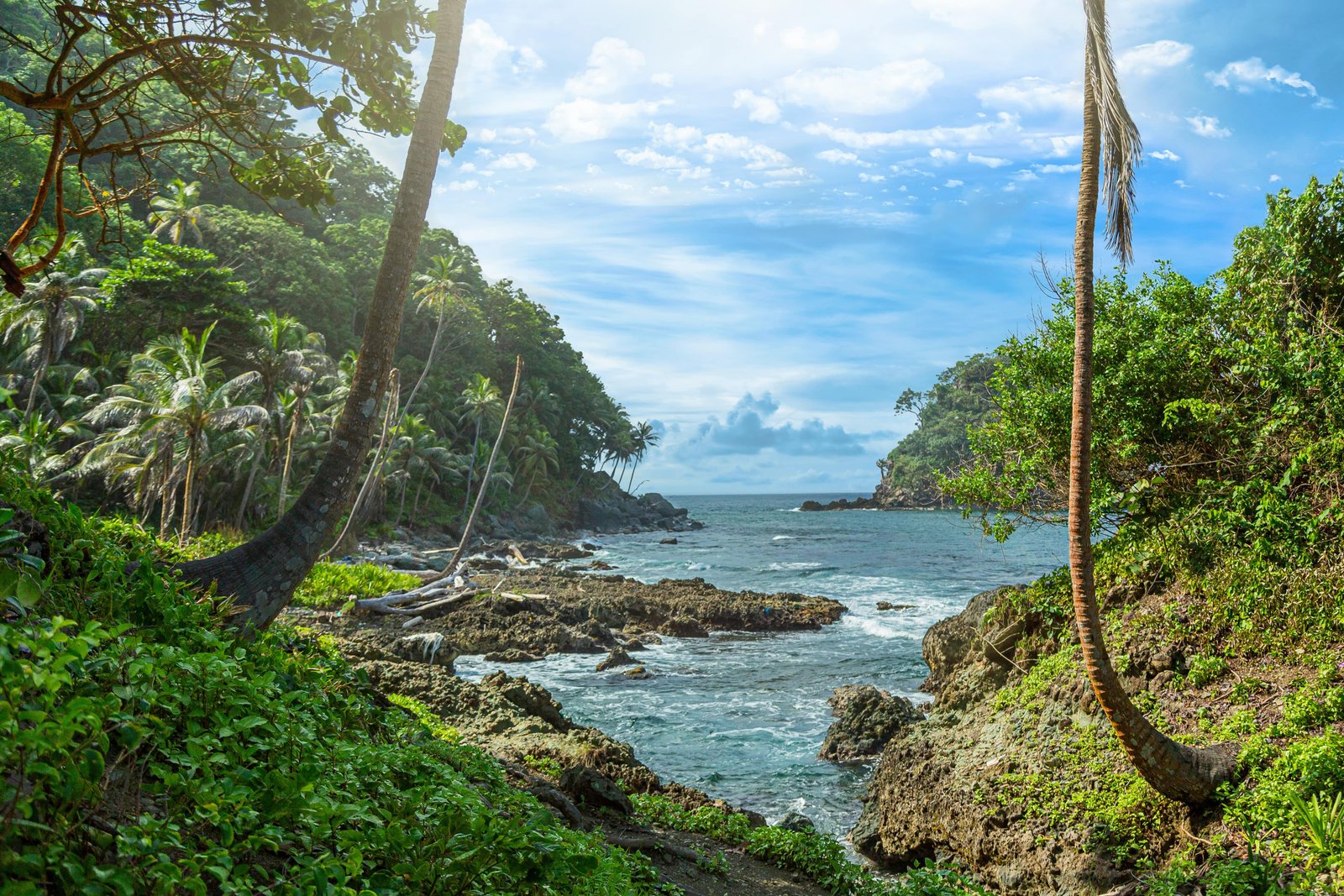 This tiny egg-shaped island is one of the most serene getaway spots near the coast of Colombia. This semi-hidden gem is incredibly tranquil compared to San Andres. Palm trees and mangrove forests are not the chief attraction here and neither is the coral paradise surrounding the island. Fuerte Island has a fascinating family of trees. Its 2500-year-old ceiba tree and its trademark strangling ficus tree are revered by all islanders, young and old. There are several coconut plantations scattered around the island and one of them features a limestone cave named after Captain Henry Morgan- a famous pirate who allegedly buried his treasures in several locations around the Caribbean. Fuerte Island is a 45-minute boat ride away from Cartagena.
Related Post: Cocora Valley Colombia
Colombia Islands on the Pacific Coast
The Caribbean might have the lion's share of Colombia islands, but it certainly does not have a monopoly on them. The Pacific side is home to two paradise islands off the coast of South America. Each island has its unique history, ecosystem, and topography that sets it apart from the other islands of the Pacific Ocean.
Malpelo Island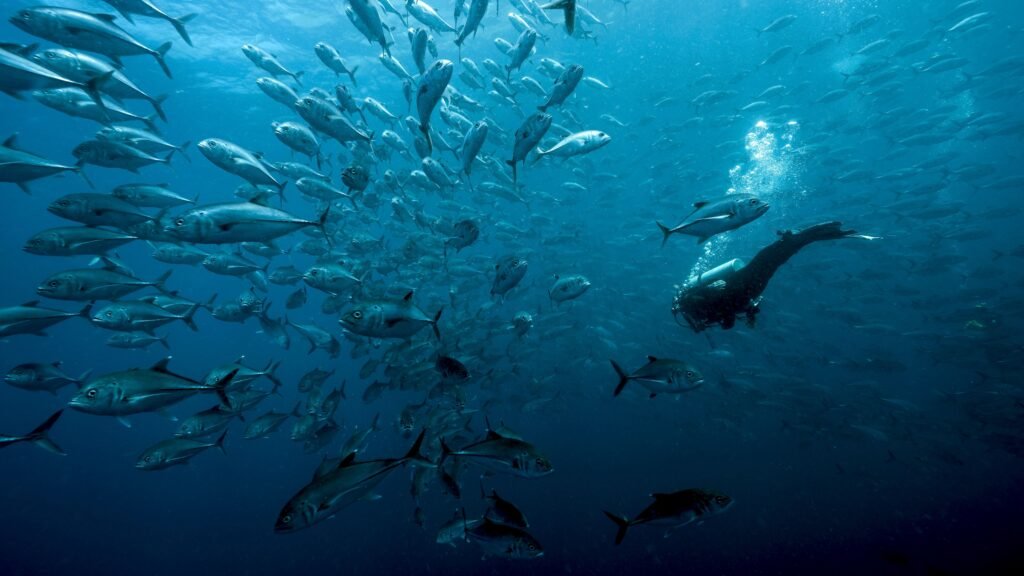 Malpelo Island and its surrounding ocean-blue waters are inhabited by several endangered species. The area is a UNESCO Heritage Site and a safe habitat for masked booby birds who form colonies and build nests atop its jagged rocks. Underwater caves offer a refuge for all kinds of sharks, including hammerheads and whale sharks. The unique seascape attracts professional divers from all over the world who flock over to swim with the massive shark population and schools of tuna who call this stunning no-fishing zone their home. The crystal-clear water combined with the vibrant ocean life makes Malpelo the ideal destination for underwater photography.
Gorgona Island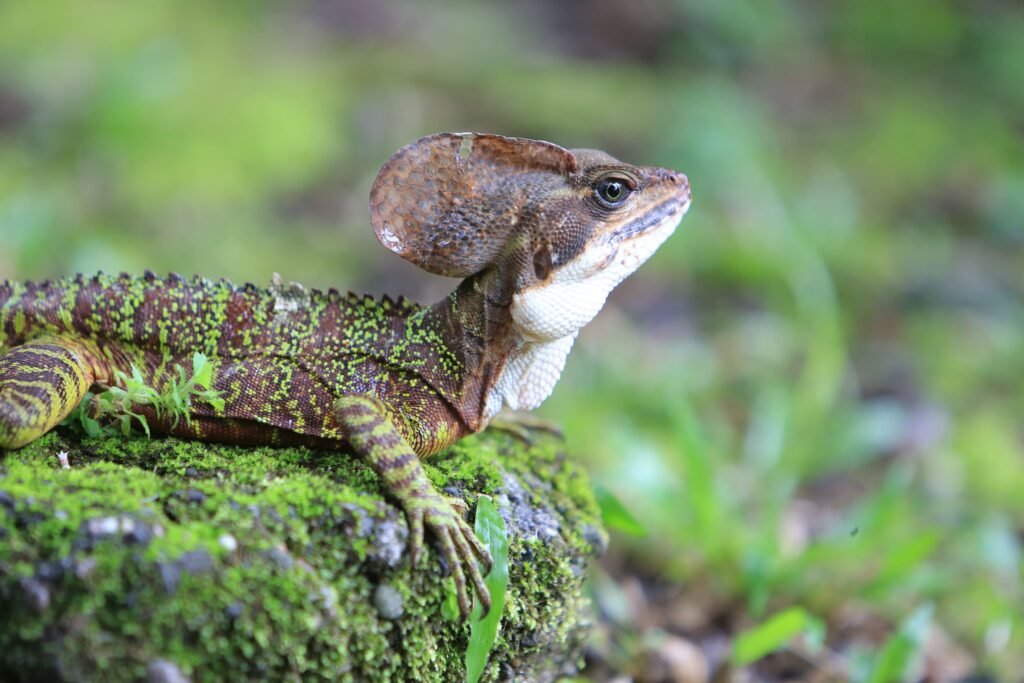 Adventure seekers will love Gorgona Island and its Indiana Jones vibes. The national park was once home to an infamous Alcatraz-like prison that housed dangerous inmates. The prison is now abandoned and in ruins, invaded by monkeys and geckos and reclaimed by the surrounding foliage. Gorgona was named after the Gorgon – a mythical creature with hair made of venomous snakes. Hikers are therefore instructed to wear gumboots while hiking the three main trails on the island. Gorgona is a magnet for humpback whales who use the island as a shield against the heavy ocean waves, especially during mating season.
Colombian Islands in the Amazon
The Colombian coast is just the tip of the iceberg when it comes to unforgettable adventures and breathtaking scenery. The country shares the Amazon with nine other countries, including the river itself where Isla de Los Micos is located.
Isla de Los Micos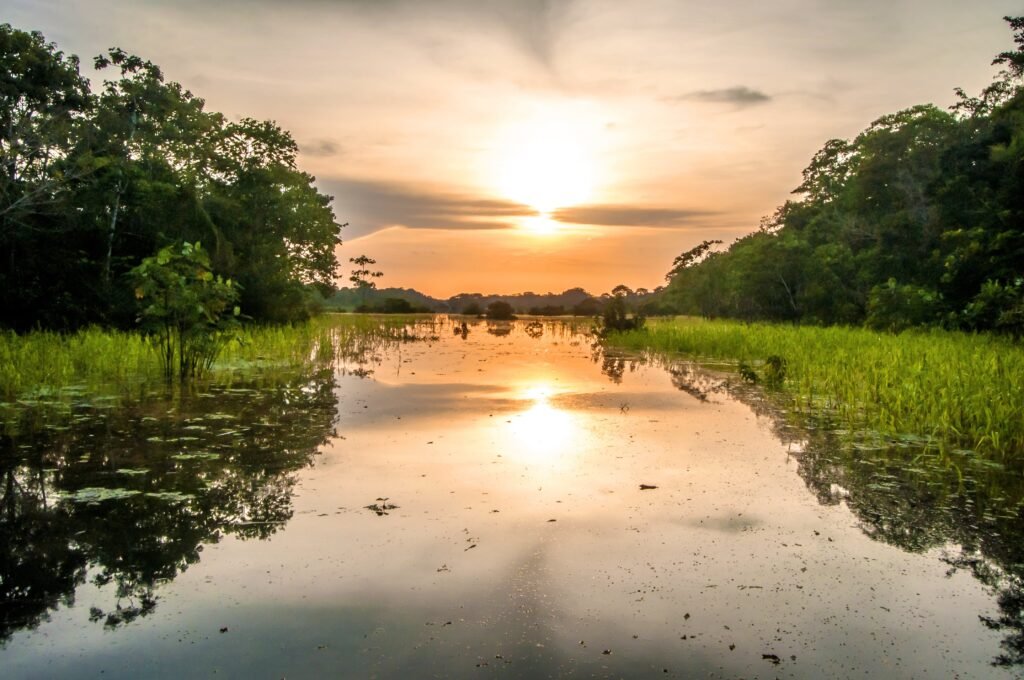 Southern Colombia offers something for everyone. Its mahogany and acacia trees were made for climbing and its Amazon River is the ideal destination for kayaking and dolphin watching. Isla de Los Micos, also known as Monkey Island, is 45 minutes away by boat from Leticia, the Colombian capital city of the Amazon.
The island is home to around 5,000 energetic squirrel monkeys whose favorite snack is none other than bananas. The small creatures can be seen swinging from tree branches and hopping from one tourist to the other. They are far from shy and will often screech and fight over food. Monkeys are not the only attraction on this river island. Visitors are offered a front-row seat for rubber tapping – a sustainable technique used to extract rubber from the Amazon trees.
Isla de la Corota (Lake Island)
Corota Island is different from the rest of the coastal Colombia islands on this list. It does not exist on the coast or within the flowing waters of the Amazon River. The island sits at an altitude of 2820 meters above sea level and is the smallest reserve in the country. Corota is surrounded by the waters of La Cocha Lagoon and has a distinct oval shape. The small stretch of lush green forest is revered by the indigenous community who view the island as a source of energy.
The island even has a chapel that pilgrims visit during the Virgin of Lourdes Festival. Due to its elevation, Corota offers spectacular views of the cloud forest surrounding the lake. It is also a haven for many birds and mammals and has three hiking trails that allow visitors to explore the dense forest on foot. Isla de La Corota is somewhat off the beaten track and requires a bus ride from the city of Pasto followed by a short boat ride to reach its shores.   
Frequently Asked Questions:
How many islands does Colombia have?
Colombia has 74 islands most of which are located on the Caribbean coast of the country. The Rosario archipelago alone has over 30 of Colombia's islands.
What is the most beautiful island in Colombia?
The most beautiful island in Colombia is San Andres. It's also the most visited island in the country famous for its crystal clear waters.