Planning a trip to Southern California and its famous national park is easy once you figure out where to stay in Death Valley. The region is best known for its unforgiving temperature and arid desert landscape where Star Wars was once filmed. Death Valley, however, is far from dead. Its mountains and wildflower fields are home to many species of birds and mammals that have adapted to the harsh environment.  
Here, golden sand dunes exist alongside mining ghost towns where visitors can learn more about the history and geology of each region. Lovers of the great outdoors will have a blast exploring the national park and its many hiking trails. There are so many activities to partake in including camping, off-roading, and bird watching. There are also so many accommodation options to choose from including The Oasis Hotel in Death Valley and Stovepipe Wells Village.
Where to Stay in Death Valley
Death Valley California was once a thriving mining community where saloons and train stations constantly buzzed with life. Many towns were built to accommodate the growing population in the area as people flocked from all over the country to take part in the Gold Rush of 1849. Some of these towns are still alive and kicking, so to speak, and have managed to attract visitors due to their well-preserved saloons and old-world charm. The park and its haunting ghost towns offer a great weekend getaway for those seeking a slice of solitude or an oasis of serenity, away from the hustle and bustle of the city.
Best Hotels in Death Valley
Hospitality takes on many forms in Death Valley. The region is famous for its top-rated hotels where visitors can relax and unwind after spending the day in the arms of the Mojave wilderness. There is a hotel for every budget including family-owned bed and breakfasts and cozy resorts such as the Panamint Spring Resort. Planning a trip is therefore not complete without knowing where to stay in Death Valley.
The Oasis at Death Valley
It's hard to imagine an oasis within the sun-kissed grounds of Death Valley but it does indeed exist. The Oasis hotel in Death Valley offers a refugee from the great outdoors in the form of a newly refurbished resort surrounded by palm trees that gently sway in the breeze. The Spanish Colonial slice of escapism is known for its Furnace Creek Ranch and its swimming pools where guests can soak up the warmth of the naturally heated spring water with a cocktail in hand. The historic resort has witnessed the rise and fall of the mining industry and is an AAA four-diamond resort that promises a memorable stay from mid-October until mid-May.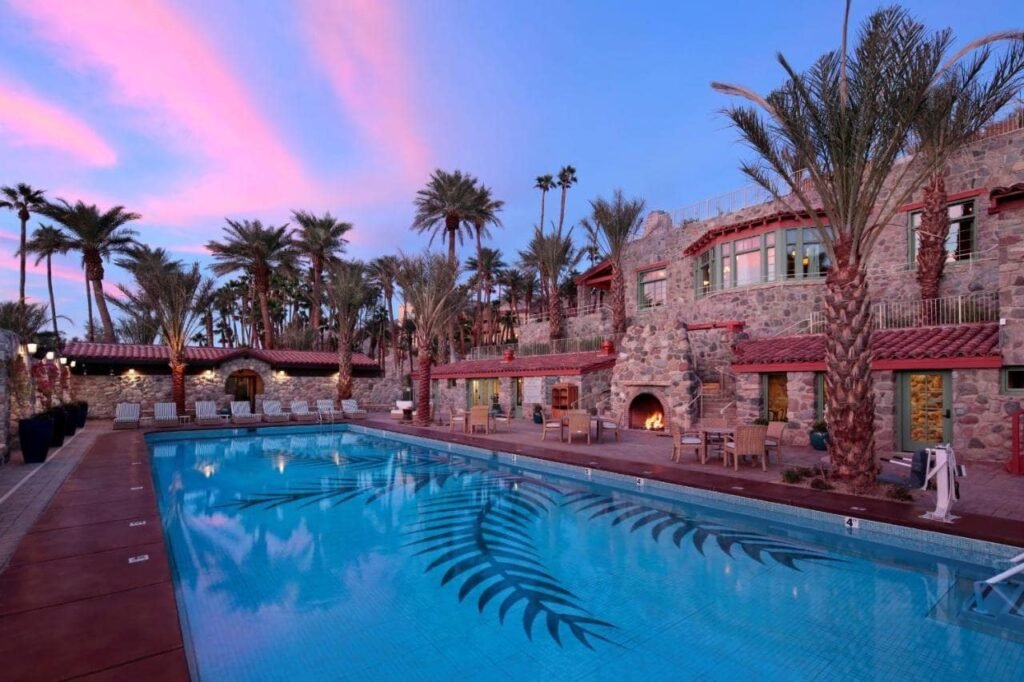 The Inn is one of the best Death Valley hotels, and for good reason. There are 60 rooms available for booking within the hotel itself in addition to 20 one-bedroom cottages that take coziness to a whole new level. Guests in need of some pampering can check out the new Tranquility Spa where an array of treatments are available including aromatherapy and hot stone massages. The Inn also has a sauna, a fitness center for guests who like to stay in shape, and a poolside café where guests can order their favorite drink while taking in the scenery.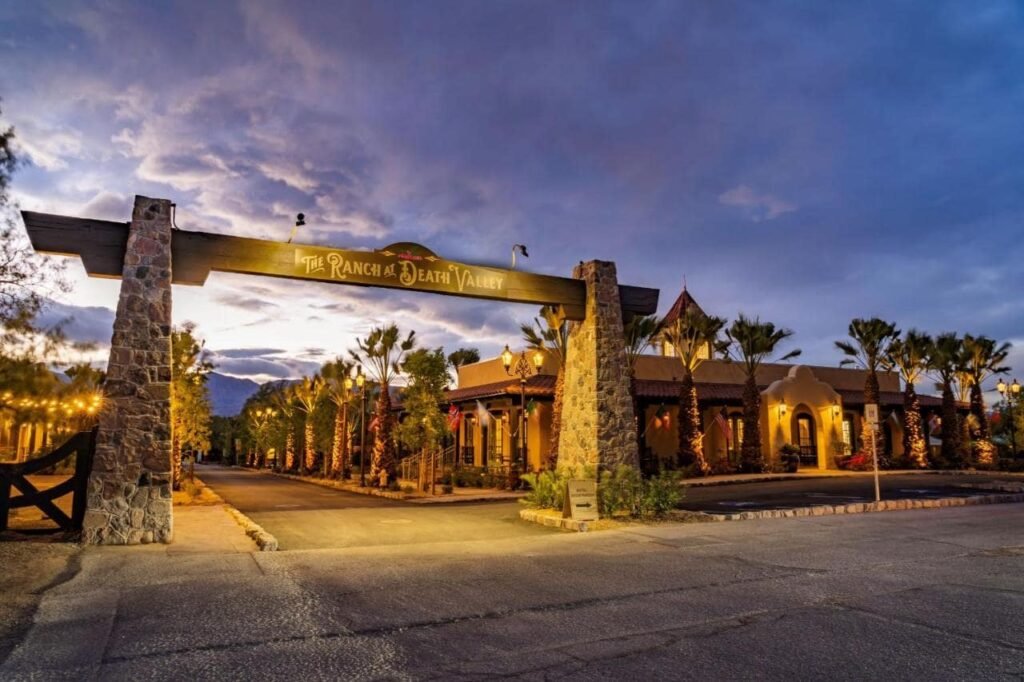 Families and large groups in search of Death Valley lodging and activities to keep everyone busy will love Furnace Creek Ranch. The 224-room hotel features a freshwater swimming pool, a tennis and basketball court in addition to a golf course where guests can practice their swing. Horse-riding is also available thanks to the Furnace Creek Stables. Furnace Creek is also home to the Borax Museum where visitors can learn all about the history of The Oasis. The best thing about Furnace Creek Ranch is that it's open all year round and has its very own Visitor Center which provides more information about the valley and its fascinating geology.
Stovepipe Wells Village
The spirit of the American West is kept alive thanks to places like Stovepipe Wells Village. The 90-year-old hotel is one of the best and unique places to stay in Death Valley. It still has that old-timey feel thanks to its famous Badwater Saloon that takes you back in time to the Gold Rush era. The saloon offers locally crafted beer in addition to many western spirits and the hotel itself has been newly renovated and features a business center and a special area for RVs and camping enthusiasts. The RV Park has 14 full hook-up sites that guests can book for a small fee. Guests who choose to stay in their RV can access the pool for free.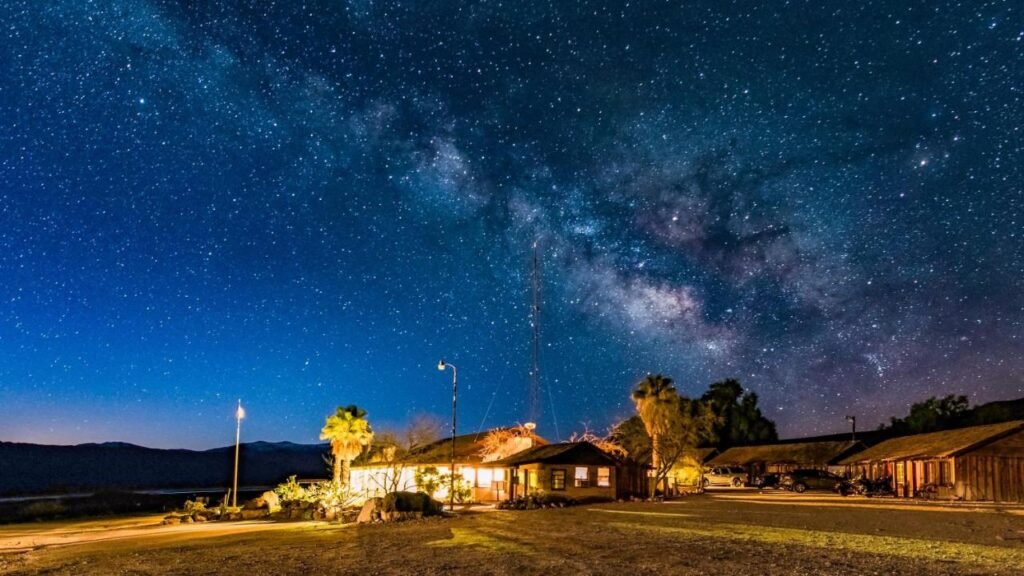 The resort is located in Panamint Valley and features several accommodation options including 14 motel rooms, tent cabins in addition to RV and camping services. The resort also features a restaurant and bar where guests can grab a bite to eat. Panamint Springs offers spectacular views of the sand dunes and the majestic mountain range that towers over Death Valley. The best thing about the hotel is its proximity to Star Wars Canyon and Father Crawley Overlook where visitors can take amazing pictures of the tranquil valley below. The campgrounds at the family-owned resort are incredibly rustic and inviting and perfect for stargazing.
Death Valley National Park Camping
Choosing where to stay in Death Valley, especially when it comes to camping depends on your itinerary. Some camping sites cater to overnight stays while others are ideal for a picnic or a quick break. The valley has more than 700 campsites that are scattered across the vast desert terrain. Most of these camping sites are open from late fall up until early spring.
Sunset Campground for example is ideal for RVs and is right across the street from The Ranch in Death Valley.  Both Furnace Creek and Stovepipe Wells have their own campsites too. Badwater Basin is one of the most popular camping sites thanks to its trademark salt flats and panoramic views.  Visitors craving a slice of privacy can camp out in the Mesquite Spring Campground. Located at the edge of the desert, this quaint site is elevated so the weather is cooler, and the views are spectacular.
Discover other amazing getaways in the US: Clearwater Beach Florida
Where to Stay Near Death Valley
A trip to South California is not complete without staying at one of the top-notch hotels near Death Valley. The region is home to many memorable towns and charming villages that cater to adventure seekers and nature enthusiasts alike. The park's strategic location between Nevada and California makes it easy to reach from both sides.
The road is full of surprises and hidden gems in addition to a variety of Death Valley accommodation options where visitors can get a taste of the old west. Towns like Beatty in Nevada are a must-visit and so is the famous Crowbar café and saloon in Shoshone. Visitors who are still unsure about where to stay in Death Valley can easily book a room at any of the hotels below to relax and recharge before putting on their hiking boots to explore the largest national park in the lower 48 states.
Best Places to stay near Death Valley: East of the National Park
Beatty, Nevada
The Oasis may be the best place to stay in Death Valley in terms of amenities and serene vibes, but Beatty Nevada also deserves a shoutout thanks to its strategic location and attractions. The town is 45 minutes away by car and was once nicknamed the Chicago of Nevada. Beatty is a treasure trove of ghost towns and old mining spots that are a must-visit during your trip.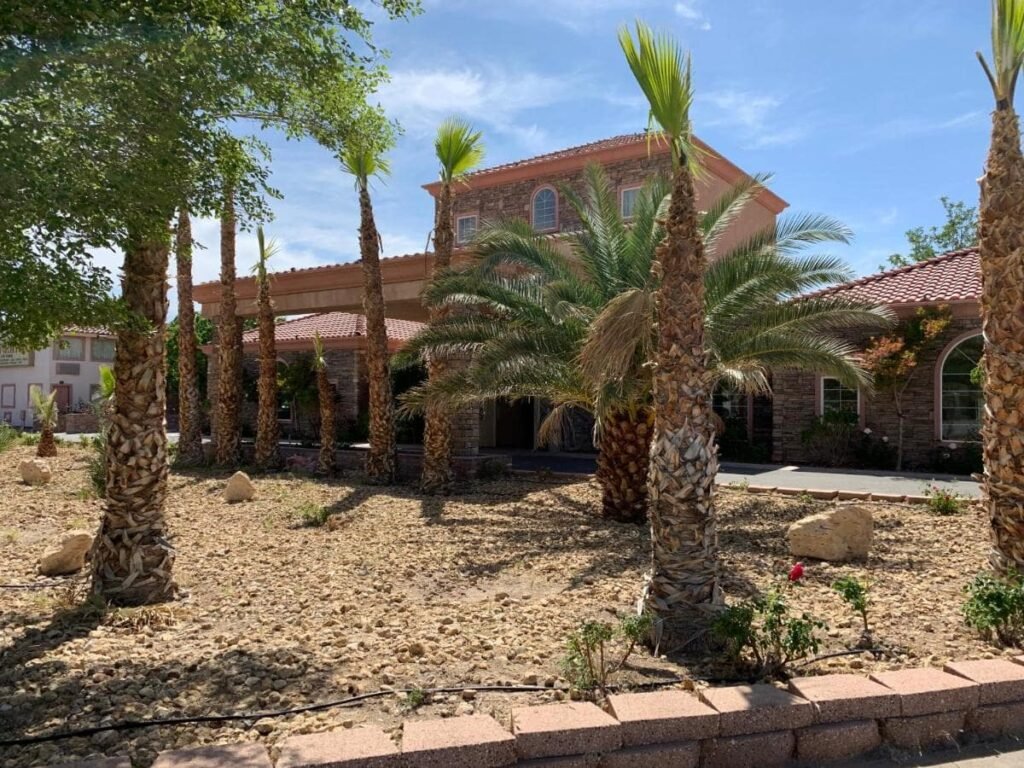 The 60-room inn is within walking distance to the best attractions in Beatty including the Sourdough Saloon. Its location is more than ideal for guests traveling via Highway 95. The inn offers its guests many amenities including a spa and jacuzzi in addition to a swimming pool and high-speed internet too.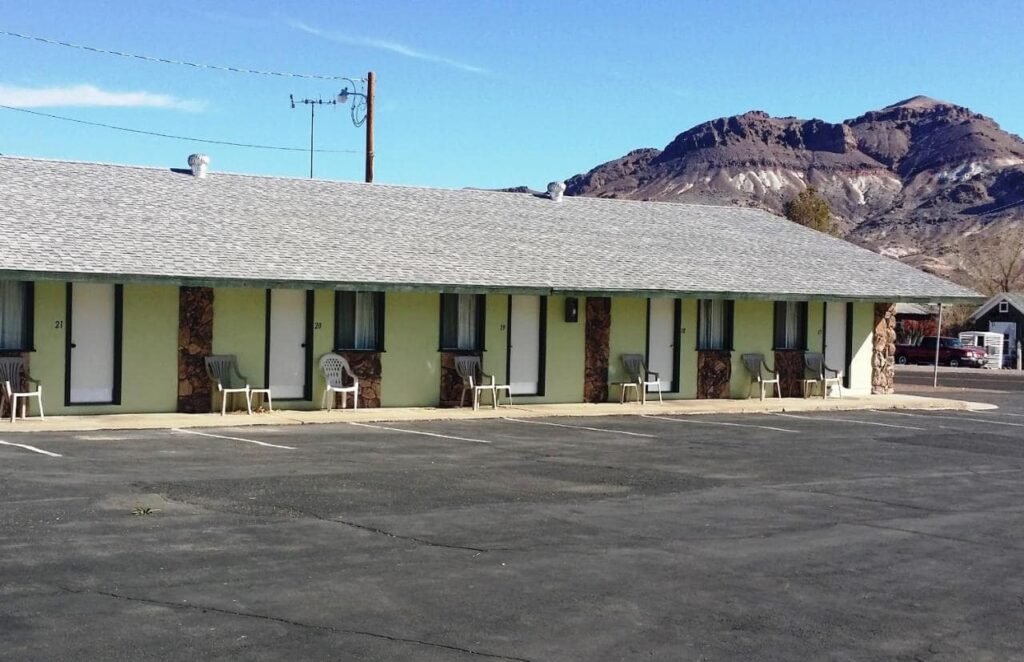 The family-owned motel is incredibly practical due to its proximity to Highway 95 and State Route 374. It sits right at the edge of the national park and is incredibly budget-friendly. Guests with pets can invite their canine or feline friends along for the ride and book one of the pet-friendly rooms at El Portal.
Other Destinations in the US: Things To Do In Cape May, NJ
Pahrump, Nevada
Pahrump is a 1.5-hour drive from the park and is known for its casino hotels and RV parks. The town is a popular off-roading destination thanks to its adrenaline-pumping tracks. It's also home to the Mountain Falls Golf Club and the quirky Coffinwood shop that sells coffin-shaped trinkets and souvenirs.
Pet owners who enjoy traveling with their dogs and are wondering where to stay in Death Valley can easily book a hotel at the Best Western Pahrump thanks to its pet-friendly rooms and wonderful amenities. The hotel has two swimming pools in addition to a business center and is 2 miles away from the only winery in Nevada.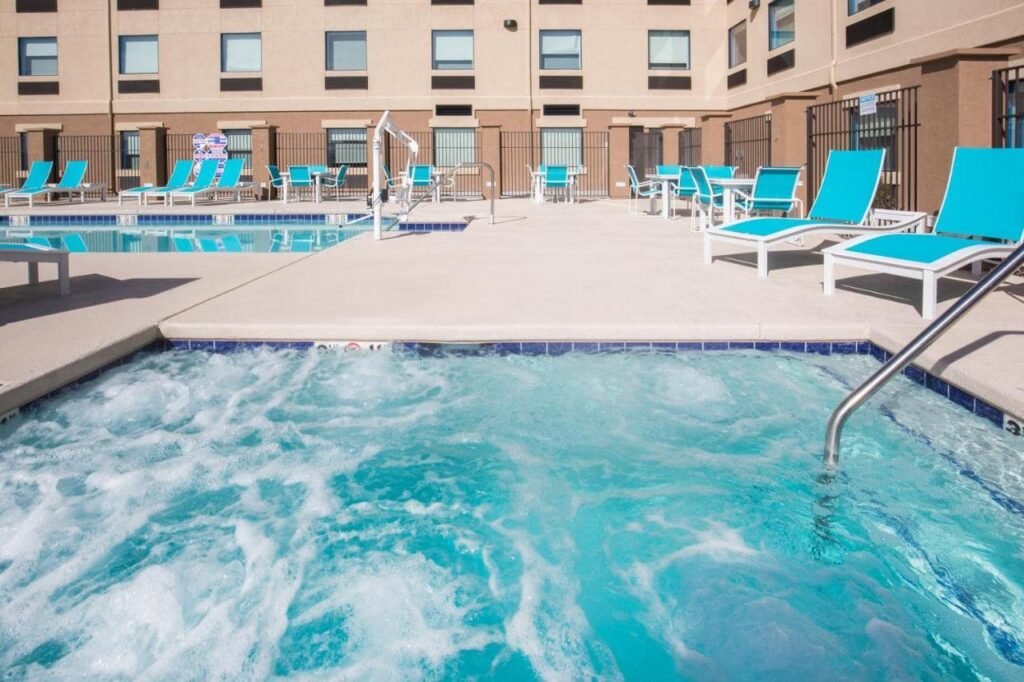 The award-winning Holiday Inn Express and Suites is a 104-room hotel where kids can enjoy free meals and pets are allowed to keep their owners' company. Breakfast is complimentary and the hotel itself is within walking distance of the Gold Town Casino. The hotel features a gym, swimming, and a business center and has an excellent location with many restaurants and a gas station all within walking distance of the hotel.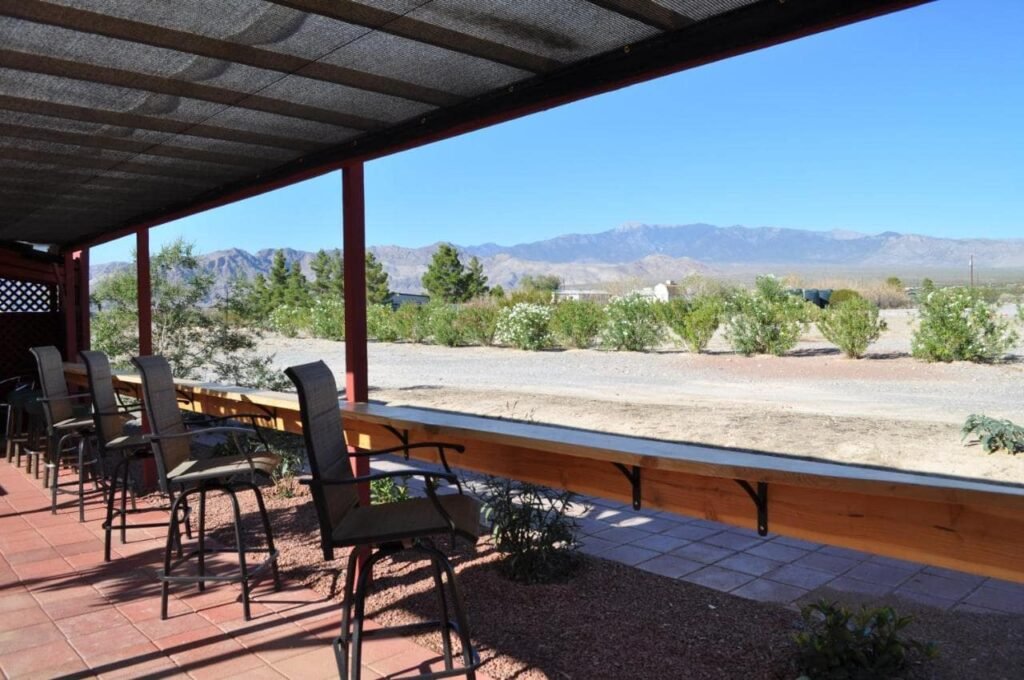 The K7 is another charming bed and breakfast that is not too far away from the heart of Pahrump. The rooms at this B&B are fitted with basic amenities including a coffeemaker, fridge, and microwave for heating meals. Breakfast is not complimentary, but the rooms are spacious enough and can accommodate large families and groups.
Explore other amazing destinations in the US: Jackson Hole
Shoshone, California
Shoshone is 1 hour away from Death Valley National Park and is best known for its Crowbar Saloon and annual festival where people gather around in their period costumes to celebrate the spirit of the old west. Shoshone offers its visitors a window into the past thanks to its museum which contains an impressive collection of mining era relics.
The 17-room inn is located in the center of Shoshone Village, within walking distance of the museum and the famous Crowbar Saloon where guests can grab a bite to eat. Those interested in staying for a week or more near-Death Valley can book a room with a kitchenette. The Whiffle Tree Bungalow is also tailormade for extended stays and has a full kitchen where guests can cook meals during their stay.
Places to stay near Death Valley: South of the National Park
Tecopa, California
Tecopa is a 1.5-hour drive from the park and one of the most understated towns in the area. The charming little town has a thriving food scene and incredibly soothing hot springs that allow visitors to pamper their bodies by soaking them in mineral water. The culinary scene in Tecopa features many food establishments that have a warm roadhouse vibe including Tecopa Brewing Co. and BBQ restaurant as well as Steaks and Beer restaurant.
The Delight's Hot Springs Resort is synonymous with relaxation thanks to its private bathhouses and spring-fed swimming pool. Guests can purchase a day pass or a night pass depending on their itinerary. Death Valley accommodation at the resort is available in the form of cottages, motel rooms, cabins, mobile homes, and even a 3-bedroom house that caters to large families.
Quirky Villa Anita is unlike any other hotel in the area. What was originally a miner's cabin is now a creative space run by artists who invite guests to destress and disconnect from the outside world. Villa Anita is pet-friendly and serves farm-to-table meals. Each room has a different theme and a vibe of its own.
Related Post: Visit Lake Placid, NY
Places to stay near Death Valley: West of the National Park
Lone Pine, California
Lone Pine is known as the gateway to the Eastern Sierras and is a 2-hour drive from Death Valley. The town and its surrounding landscapes were featured in more than 300 movies and shows including Iron Man and Man of Steel. Nowadays, the town is synonymous with trout fishing and for its proximity to Alabama Hills where visitors can catch the best sunrise while in town.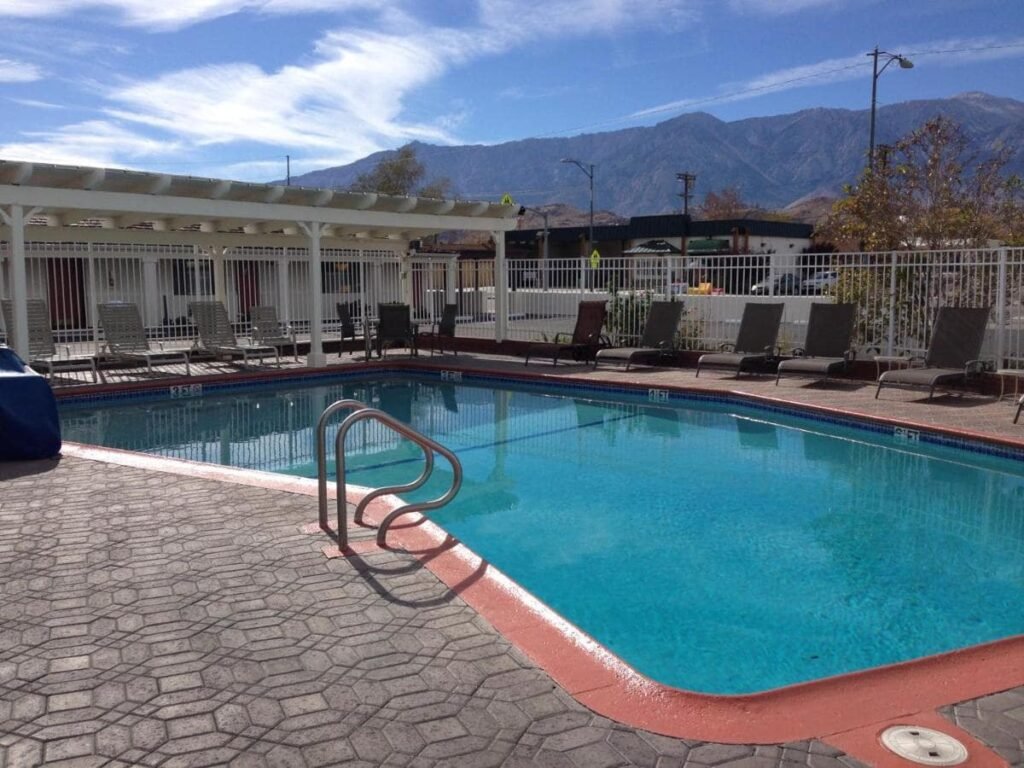 The old-fashioned motel was originally built to accommodate the growing number of movies that were shot in the area all those decades ago. Dow Villa has a retro feel and is right next to Highway 395. It offers pet-friendly accommodation and features a 24-hour hot tub and outdoor pool.
Ridgecrest, California
The breathtaking 2.5-hour ride to Ridgecrest and its surrounding mountain ranges should be on everyone's bucket list. The town is known for being the gateway to many sites and attractions including the Coso Rock Art District and the Maturango Museum. Ridgecrest is also known for its spring wildflower tours and hiking-worthy Rademacher Hills.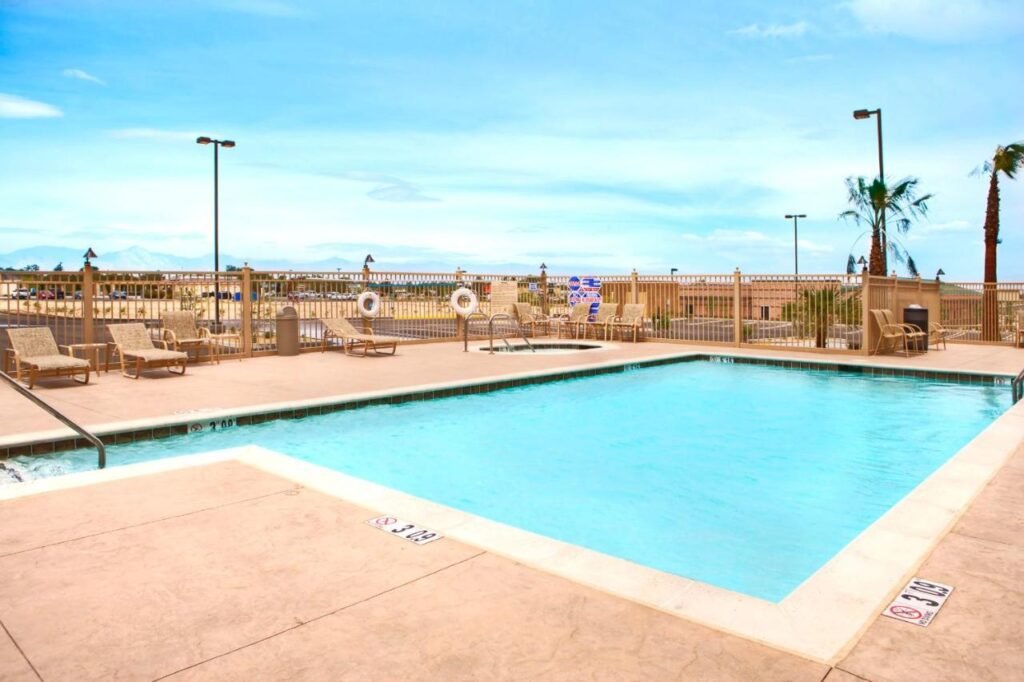 The Hamptons Inn in Ridgecrest offers its guests complimentary breakfast and a wealth of international and local cuisines including Mexican and Japanese food. The inn is made up of 93 guest rooms and suites catering to both small and large groups of people.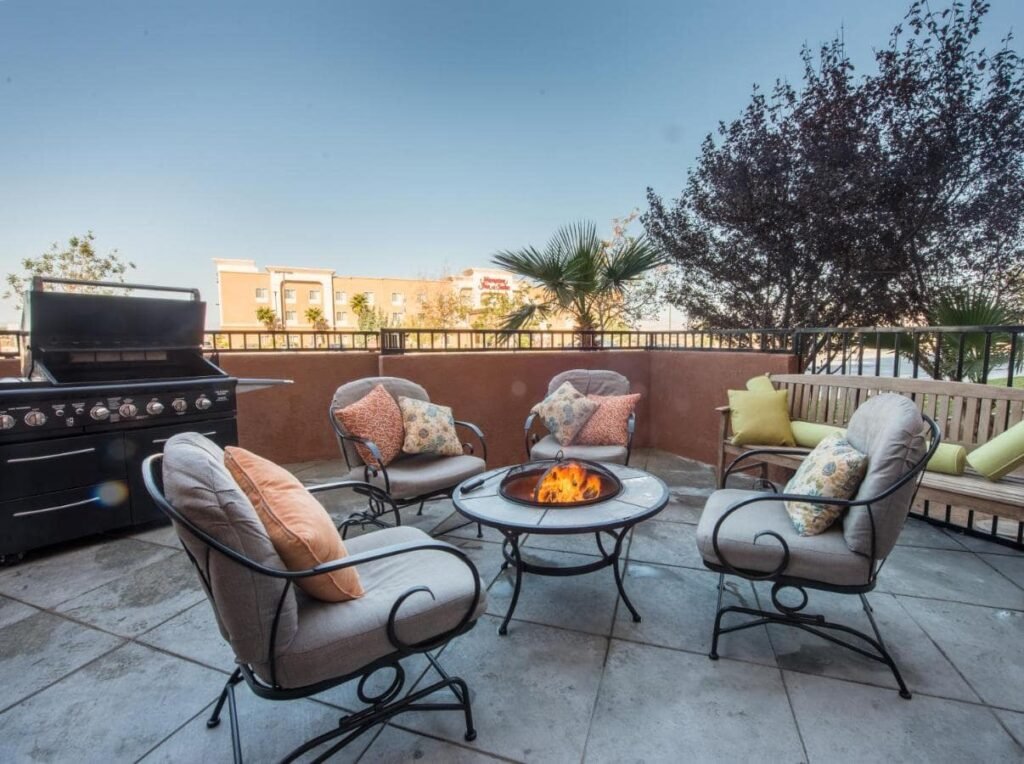 SpringHill Suites by Marriott is a modern hotel that offers its guests a wealth of amenities including a kitchenette with a microwave and air conditioning in every room. The China Lake Golf Course is located within the property. SpringHill Suites features a fitness center, an outdoor pool, and complimentary parking for all its guests.