There is a reason why Cape May New Jersey was once crowned as Queen of the Seaside Resorts.  The town is a safe harbor for migratory birds who seek shelter in its salt marshes and quaint beaches. It's also a treasure trove of well-preserved Victorian buildings that make Cape May feel like an open-air museum where visitors can learn about the rich history of the town while making everlasting seaside memories. It's hard to run out of fun things to do in Cape May.
The town is sprinkled with a joyous confetti of attractions including adrenaline-pumping water parks and an open-air living history museum that transports you back in time to the era of horse carriages and newly built railroads. It has all the hallmarks of an all-American getaway, and then some.
Cape May, New Jersey is a picturesque seaside town that offers a wide range of activities for visitors. From the stunning beaches to the charming Victorian architecture, there is something for everyone to enjoy. To make your trip even more enjoyable, consider using Airbrook as your transportation provider. They offer reliable and budget-friendly car and limo services, making it easy for you to explore all that Cape May has to offer. Whether you're looking to take a leisurely stroll on the beach, visit the lighthouse, or explore the town's many shops and restaurants, Airbrook has you covered. With their professional and courteous drivers, you'll be able to sit back, relax and enjoy the ride while they take you to your destination safely.
Fun Things to Do in Cape May, NJ
Enjoy the Sandy Beaches
Nothing says summer quite like a fun-filled day at the beach. It's one of many Cape May activities that the whole family can partake in. The coastline boasts amazing beaches like Higbee Beach which is a popular bird-watching destination and a place where privacy is in abundance. Sunset Beach is another great option for families who can enjoy a scrumptious crabcake sandwich from the Sunset Grill while collecting Cape May Diamonds from the pristine shore. Fans of kite flying and hermit crab races can head over to Wildwood Beach which hosts a variety of contests every year.
Go On a Dolphin & Whale Watching Cruise
The best thing to do in Cape May is to soak up the sun and take advantage of everything the ocean has to offer. This includes going on a dolphin and whale-watching cruise to learn more about these majestic mammals. Cape May Whale Watcher offers three-hour tours of the bay, and the Whale Watcher Research Center organizes its own tours as well. Visitors can hop on board the American Star and embark on a fun journey guided by marine biologists who are experts in their field.
Take an Underground Railroad Trolley Tour
It's impossible to create a guide about things to do in New Jersey without mentioning the underground railroad trolley tours. These tours aim to entertain and educate visitors about the long and rich history of Cape May and the vital role it played in the early 1850s. There are several tours to choose from including guided tours of the historic district and its many wood-framed buildings that were once used as safe houses by the slaves. Fans of haunted stories can hop onboard the Ghosts of Cape May Trolley to learn all about the spirits that still haunt the seaside town.
Go Bird Watching at Cape May Bird Observatory
Bird watching is one of the most common Cape May activities, putting New Jersey on every birder's map. The town was voted the World's Best Destination for Birding by the National Geographic Society, and for good reason. Cape May turns into a songbird paradise during spring and fall. Bird species of every color and size flock to its salt marshes and forests where walking tours are regularly organized by the observatory.
Go on a Winery or Distillery Tour
There are so many fun things to do in Cape May once you've had your fill of sun and sand for the day. The region is home to many family-owned wineries and distilleries that sell flavorsome beverages and offer tasting tours like the Hawk Haven Winery. The charming establishment has a wine bar where visitors can sample their wine collection paired with a snack of their choice. Cape May Winery offers its own tasting tours as well not to mention tasty tapas from their kitchen. These two wineries are just the tip of the iceberg when it comes to the Cape May Booze Trail.
Enjoy The Water Slides at Morey's Piers and Beachfront Waterparks
Water parks are one of the most visited New Jersey attractions, especially during summer. Morey's Piers in particular is a group of beachfront waterparks that take adventure to the next level. There are more than 100 rides to choose from including carrousels and a giant Ferris wheel where visitors can enjoy a hearty breakfast paired with a spectacular view of the ocean below.
Take a Free Tour with Curious Cape May
Nothing beats walking in the footsteps of the locals who once built the town from scratch. Curious Cape May is a company that offers bike tours to promote a healthy lifestyle while sharing old tales of the city. They also have a mobile app that visitors can download for free. The Sidewalk app allows visitors to embark on their very own 60–90-minute walking tour of Cape May.  
Go On a Private Carriage Tour with Cape May Carriage Company
Tired of walking? If the answer is yes, then one of the best things to do in Cape May is to hire a horse-drawn carriage via the Cape May Carriage Company. The best thing about these tours is that they take you sightseeing the old-fashioned way. Visitors have a choice between a small-sized carriage or a large wagonette. They also have a special Cinderella carriage that is only available on certain occasions.
Salt Marsh Safari
No visit to New Jersey is complete without visiting the bird magnets of the area. These magnets are none other than the salt marshes of Cape May and the best way to explore them is via pontoon boats. The Wetland Institute offers eco-cruises onboard The Skimmer where visitors can learn all about the ecosystem of Cape May. The salt marshes are home to a colorful population of fish and bird species that attract bird watchers from all over the world.
Spring Shorebird and Horseshoe Crab Festival
New Jersey witnesses quite the natural phenomena every year. This phenomenon is one of the most popular Cape May attractions that occurs every spring when the city welcomes thousands of shorebirds who flock to its warm beaches and horseshoe crabs emerge from the ocean to lay their eggs in the sand. The Wetland Institute organizes all kinds of fun conservation events in celebration.  All these events take place during the Spring Shorebird and Horseshoe Crab Festival.
Discover other fun destinations nearby: Visit Lake Placid, NY
Best Attractions and Activities in Cape May
Cape May's Historic District
A guide about the best things to do in Cape May is not complete without mentioning its wonderful historic district where visitors can feast their eyes on the cream of the crop in terms of Victorian-era architecture. All the buildings in the area are incredibly well preserved and offer a window into the 1800s when the concept of leisure and ocean getaways was still in its early stages.
Cape May Point State Park
The park is one of many Cape May attractions that cater to nature and hiking enthusiasts alike. Three distinct trails wind through the park. The Red Trail leads to ponds and marshes with platforms that visitors can climb onto to watch all kinds of birds including ducks and ospreys. The Blue Trail leads to the ocean where visitors can take a longer hike along the beach. The best thing about Cape May Point State Park is that it's open to the public from dusk till dawn.
Cape May Lighthouse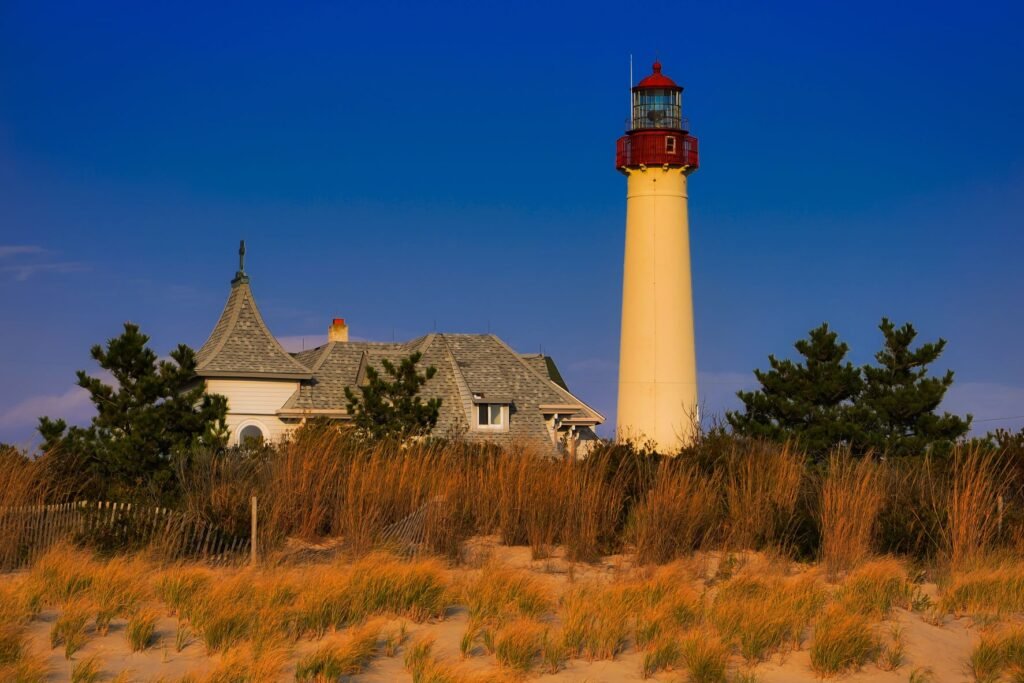 Many coastal towns have a lighthouse that can be easily spotted from all directions and Cape May is no exception. Its lighthouse was built in 1859 and offers breathtaking views of the Atlantic Ocean. Visitors can easily capture Instagram-worthy shots from the gallery and learn more about the history of its keepers via the interactive panels surrounding the tower.
Cape May Harbor
There are so many fun things to do in New Jersey where fishing is more of a lifestyle than a hobby. People in Cape May love to fish and visitors can experience the joys of fishing firsthand by embarking on a fishing voyage on board one of the party boats that are usually docked in the harbor. The harbor is also a great place to dine on seafood while watching boats sail in and out of the canal.
Historic Cold Spring Village
The village transports its visitors back in time to a laidback era where everything was locally crafted and made from scratch. Historic Cold Spring Village is one of the best places to visit in Cape May, especially for history buffs who want to learn more about what living in South Jersey was like during the homespun period.
Performances at The East Lynne Theater Company
Theater lovers can check out the East Lynne Theater Company which is one of the top places in the country when it comes to classic and contemporary plays. The theater has been around since 1980 and is known for its phenomenal productions of plays like The Rainmaker and Sherlock Holmes. The theatre is a nonprofit and sells affordable tickets while delivering top-notch performances.
Cape May County Park and Zoo
Visiting the zoo is one of the best things to do in Cape May. The zoo is home to a wide variety of animals including alpacas, African lions, cheetahs, and giraffes. It also offers educational programs for children while actively working on the conservation of animals such as bisons and marginated turtles. Entrance is free but private guided tours are available for a fee. The park has an outdoor fitness center and several bike paths that connect it to the other parts of town.
Fire Control Tower No. 23
During World War II, many fire towers were built along the coastline to keep an eye on enemies and fire batteries at their ships. Fire Control Tower 23 is the last standing building of its kind in Cape May. Its Wall of Honor pays homage to the local soldiers who served their country during the war. The sixth floor has a spotting gallery where local guides are more than happy to answer questions about the historical significance of the tower.
Emlen Physick Estate
Built by famed architect Frank Furness, this gem of a Victorian mansion was considered Avant Garde when it was first built in 1879. Nowadays, the Emlen Physick Estate is a house museum where visitors can learn more about the history of the Physick family while taking a tour of the property.
Nature Center of Cape May
The Nature Center of Cape May is a great place for kids to learn more about the environment of New Jersey. The center houses three classrooms and lush green gardens each with a different theme. The center organizes trips to the beach and summer nature day camps where children can learn about birds and insects. Visitors can check out the calendar of events for more information about its monthly activities.
SS Atlantus
Delaware Bay is home to what was once a World War-era ship made entirely out of concrete. The SS Atlantus was used to transport soldiers from France to the United States after the war and was then used to ship coal to New England.  Years later, it collided with a sandbar in Delaware Bay where the ocean tore away at the concrete, leaving behind a decayed structure that can be easily spotted from Sunset Beach. A summer trip to Cape May is not complete without witnessing the evening flag-lowering ceremony that takes place at this beach.
Cool Museums in Cape May
Cape May might be a small town, but it has three of the coolest museums in New Jersey. Each museum is a love letter to Cape May, shedding light on its vital role in the war, the Underground Railroad, and its Victorian identity that is still celebrated to this very day.  
The NAS Museum was originally a World War II-era hangar where soldiers learned how to fly dive-bombers using targets placed near Delaware Bay. Nowadays, the hangar houses an aviation museum where airplanes and other war memorabilia are on display. The museum offers guided tours and hosts special events including weddings and military reunions.
Harriet Tubman Museum
The newly opened Harriet Tubman Museum pays tribute to the antislavery activist who once lived in Cape May in the early 1850s. Back then, the town was a refuge for slaves who resided on the same street. The museum tells the story of her life and activism throughout the years and is a great place to learn more about the African American community that once lived and thrived in Cape May.
Museum of Cape May County
This gem of a museum is home to an amazing genealogical library and a wide collection of historical artifacts including handmade items made by Native Americans and embroidery samplers dating back to the early 1800s.  Each wing has its own theme including a room dedicated to Victorian-era decorations. The museum hosts special events, offers guided tours and its library is a dream come true for many history buffs.
Shopping in Cape May
Washington Street Mall is where visitors can find some of the best shops in town. The outdoor mall is lined with charming little boutiques and novelty shops as well as pubs and restaurants. Tailormade for pedestrians, the mall offers something for everyone. West End Garage is also worth a visit. The mall is both an antique and thrift shop where tourists can buy souvenirs for their friends and loved ones.  Antique lovers can bag a bargain at Out of the Past Antiques while art lovers can grab a watercolor painting from Patricia Rainey Studios located on Emerson Avenue.
The Best Food and Dining in Cape May
Cape May is a seaside getaway and a foodie haven where local delicacies are cooked to perfection and where visitors can enjoy their breakfast or dinner while listening to the soothing sound of ocean waves and songbirds in the distance. In Cape May, food is a way to show off the town's culinary delights and local produce. Dining, be it indoors or outdoors, offers a satisfying feast for all the senses.
Beach Plum Farm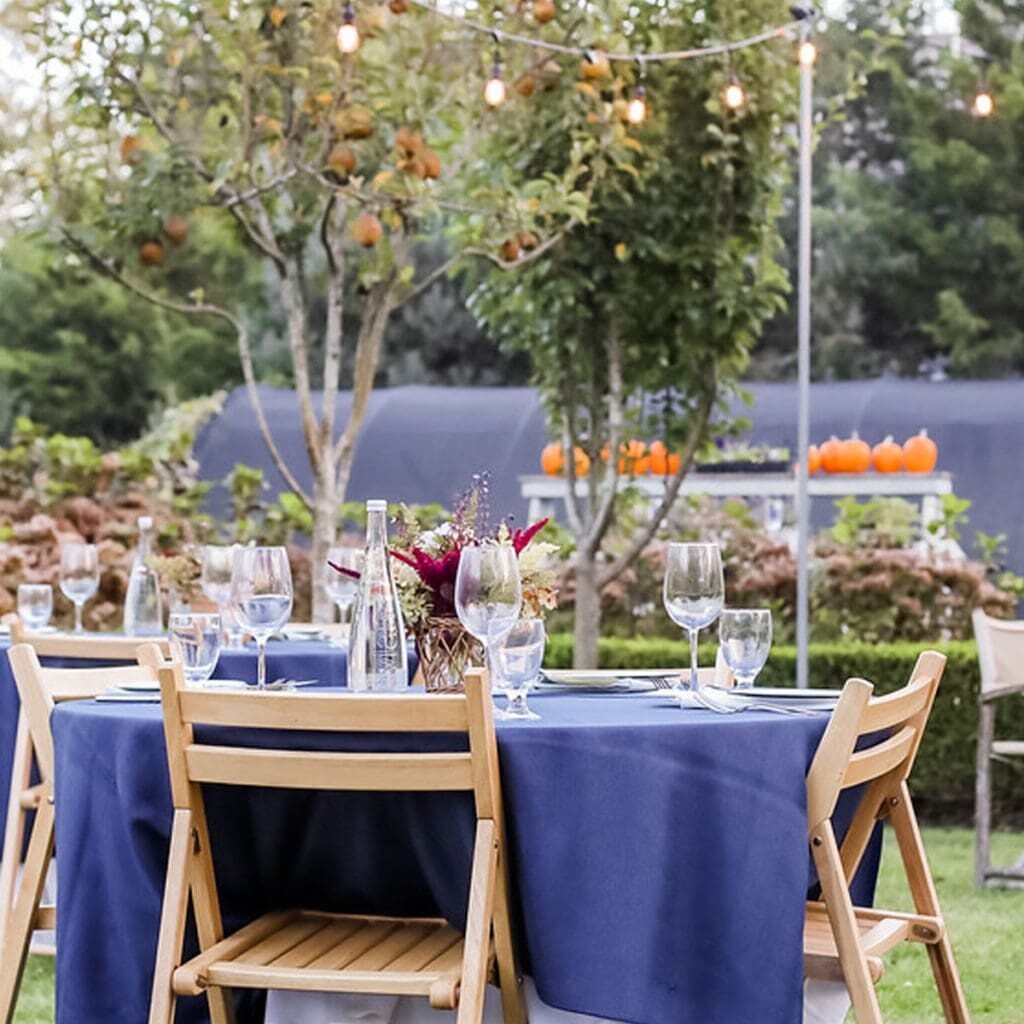 Beach Plum Farm is a market, kitchen, and cottage getaway all rolled into one. The farm kitchen changes up its menu depending on the season and serves a variety of delectable dishes that cater to all tastes. Breakfast and lunch are served outdoors but they also organize themed dinners using organic produce and fresh herbs straight from their gardens.
Fins Bar & Grille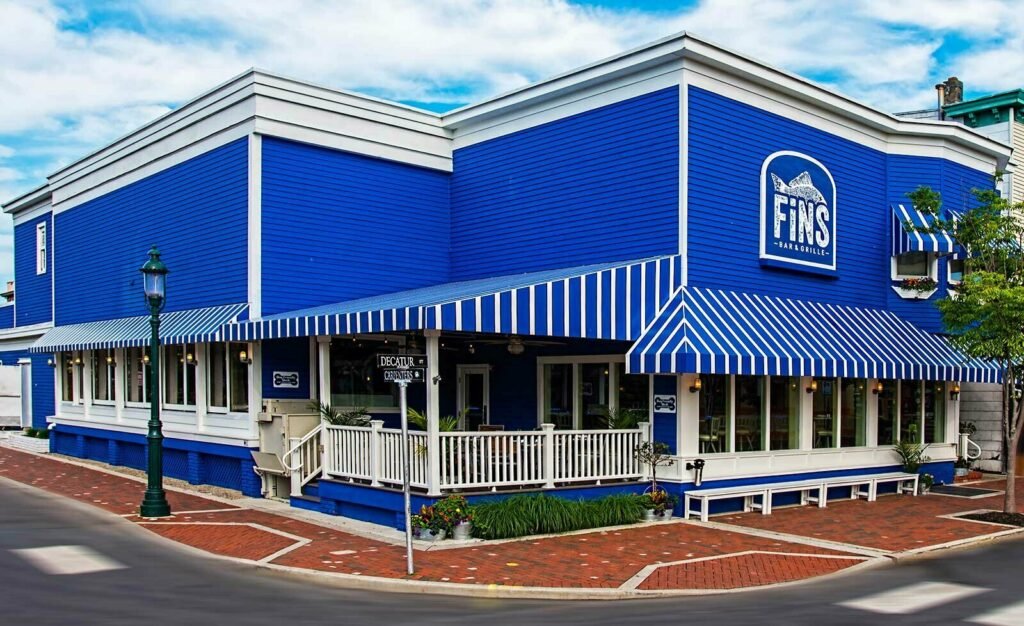 Located on Washington Street, this bar and grill is one of the best restaurants when it comes to fresh seafood and cocktails. Fins Bar and Grille serves lunch and dinner with Happy Hour in between. Visitors can enjoy their meal indoors in full view of the saltwater aquarium or outdoors on the dog-friendly deck.
The award-winning bar and grill is known for its panoramic ocean views and signature drinks. It serves breakfast, lunch, and dinner and has a rooftop bar where diners can listen to live music and enjoy the scenery with a locally crafted beer in hand.
Where to Stay in Cape May
There is a reason why Cape May attracts around 10 million visitors every year. The city offers a wealth of accommodation in the form of hotels, bed and breakfasts, cozy cottages, and condo apartments too.
Queen Victoria B&B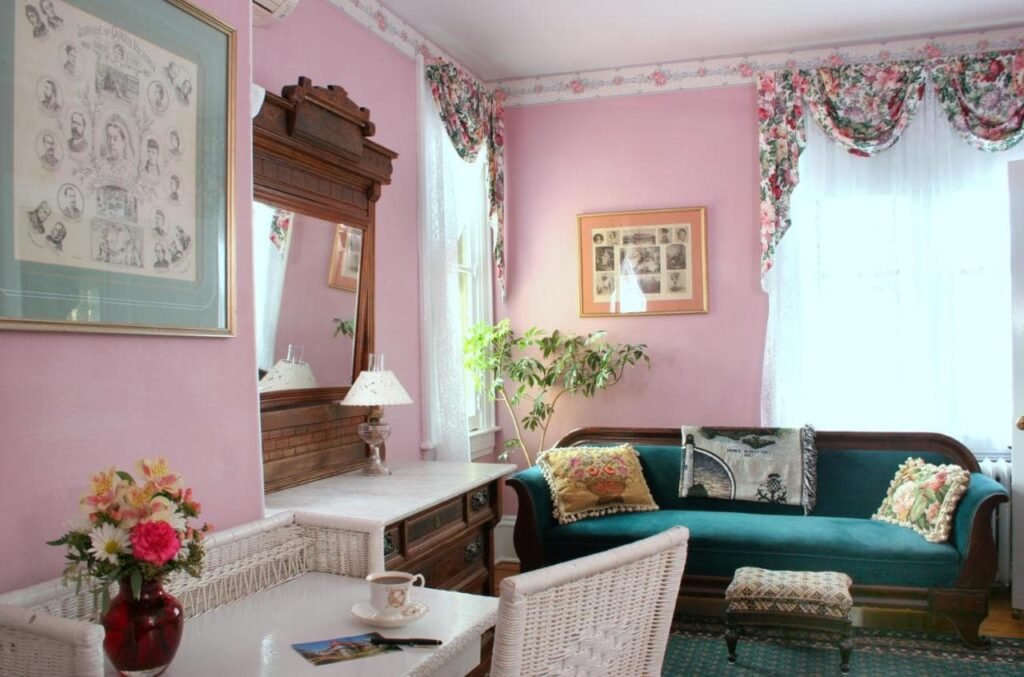 The award-winning Queen Victoria is a luxurious B&B that embraces the spirit of the Victorian era. Prices starting at $150/night.
Carroll Villa Hotel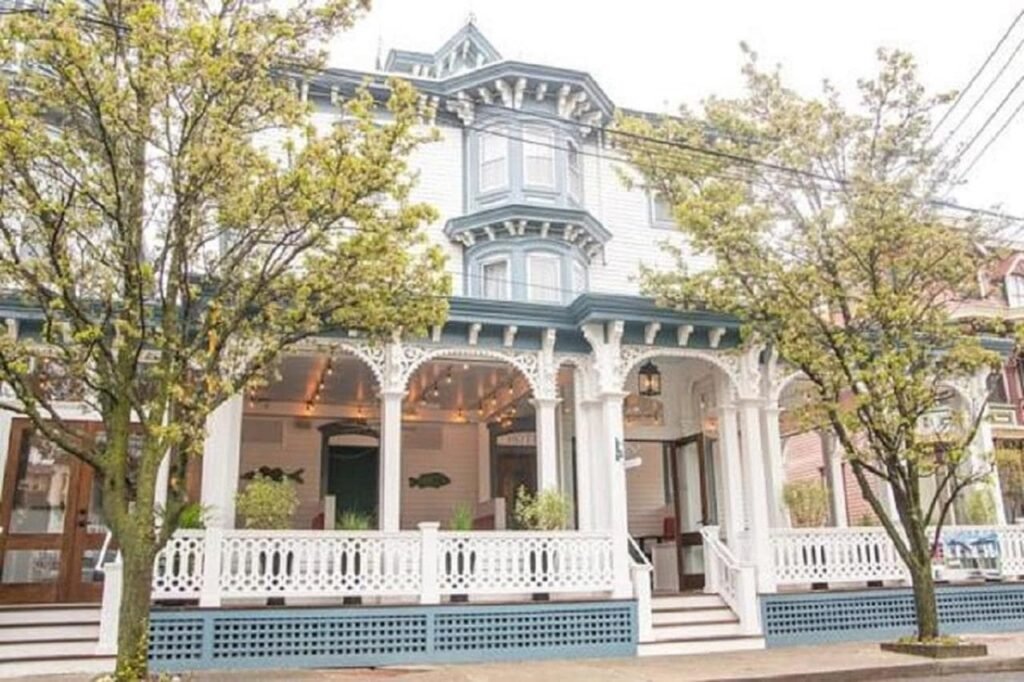 Carroll Villa Hotel is another great option for families and is known for its famous Mad Batter Restaurant. Prices starting at $250/night.
Angel of the Sea Bed and Breakfast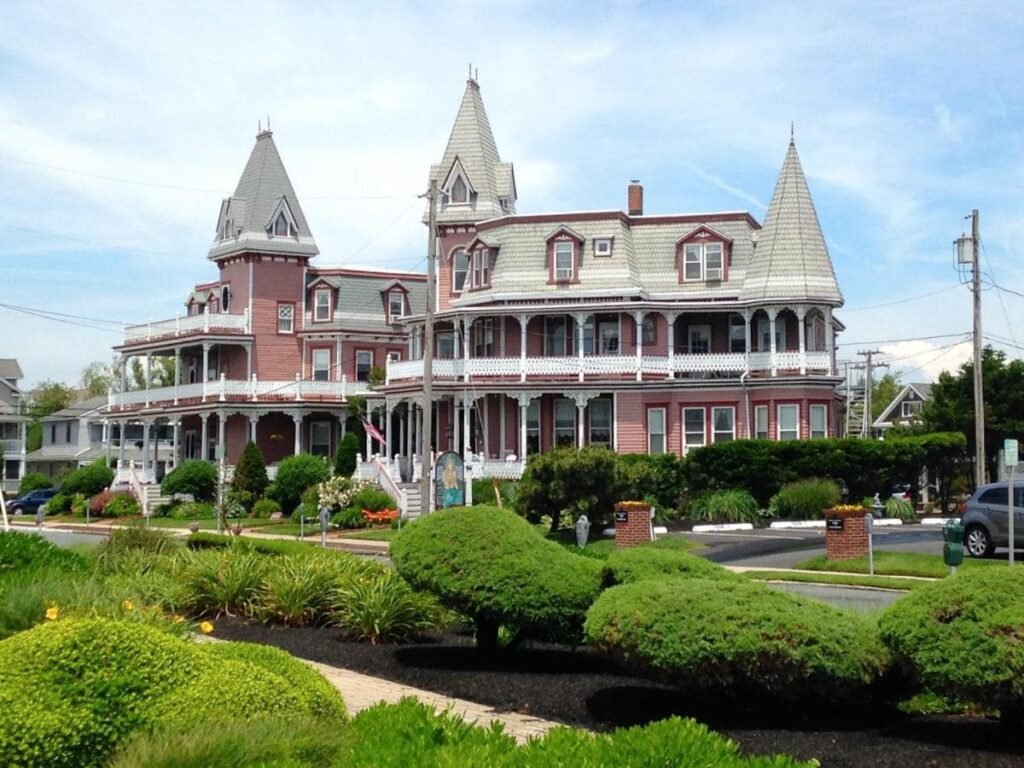 Enjoy gourmet breakfast, tea time, and cheese & wine at the beautiful Angel of the Sea B&B built in the 1850s. Prices starting at $200/night.
Casablanca Hotel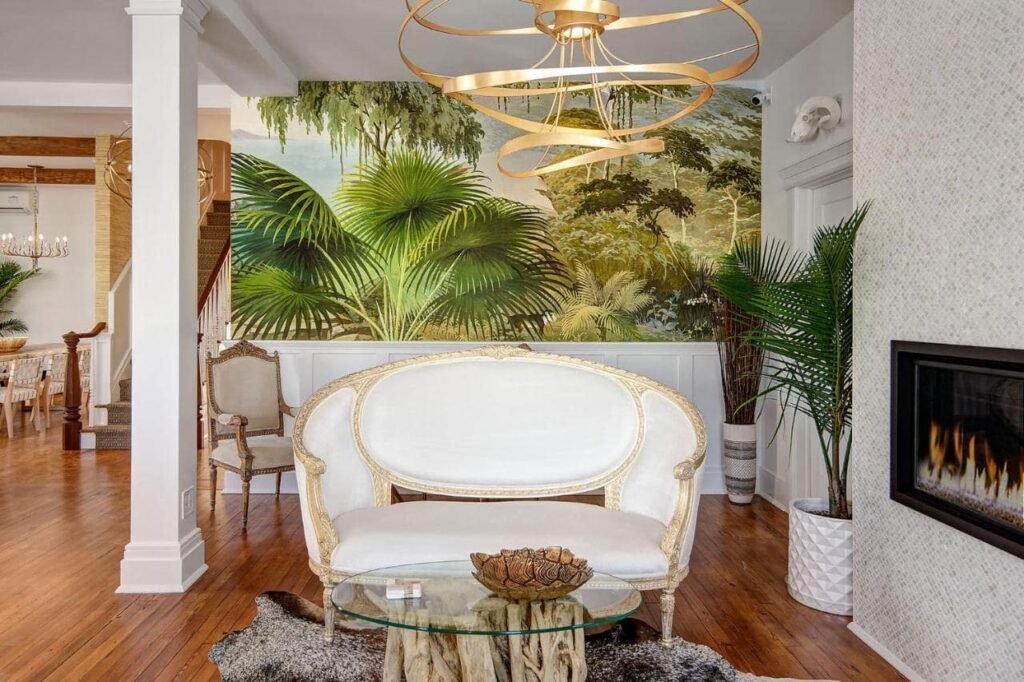 Casablanca is a luxurious & stylish B&B with elegant decor and super comfy rooms. Prices starting at $350/night.