Escapism takes on a whole new meaning in Jackson Hole- a valley known for its authentic cowboy spirit, breathtaking vistas, and luxurious accommodation. Snow-capped mountains, evergreen pine trees, and free-roaming elk are just the tip of the iceberg when it comes to this wildlife haven. Set in the rugged Teton mountain range, the valley is a doorway to Yellowstone and Teton National Parks. Both parks offer an abundance of outdoor activities that are guaranteed to keep boredom at bay.
There is a reason why Jackson Hole is a coveted destination for families and adventure seekers of all ages. Winter turns the mountain into a skiing paradise where visitors can spend the day putting their skills to the test, and summer with its clear blue skies and warm weather provides the perfect ambiance for camping and hiking. The valley is also home to Jackson– a charming town that offers a taste of the Old West where visitors can sip on a glass of Wyoming whiskey, treat their taste buds to candied bacon, and listen to live country music- all under one roof.
Best Jackson Hole Luxury Home Rentals
Finding a luxury property in Jackson Hole is as easy as spotting an elk at the National Elk Refuge thanks to The Clear Creek Group. Their exclusive properties were designed with comfort and privacy in mind, thus providing guests with a home away from home. Somewhere where they can relax and unwind with their family or tight-knit group of friends. Their Jackson Hole vacation rentals have an exceptional concierge service that creates memorable outings and itineraries and takes care of the minor details, allowing guests to take full advantage of their vacation time.
There are so many accommodation options to choose from, including one-bedroom penthouses, enchanting cabins, and six-bedroom villas. Each property has its unique style, carefully curated art collection, and cozy furniture that reflect the spirit of Jackson Hole and its untamed wilderness. The rentals are also in the best neighborhoods in town and offer panoramic views all year-round.  
6-Bedroom Luxury Vacation Rentals in Jackson Hole
The houses for rent in Jackson Hole Wyoming were tailormade for vacations, allowing guests to create memorable moments no matter the season. Large 6-bedroom properties are a great option for Jackson Hole large group lodging and fun family reunions. Building pillow forts, hosting movie marathons, or gathering around the large dining table to play board games can all happen simultaneously in a large villa where space and privacy are in abundance.
The Clear Creek Group has two upscale properties that can comfortably accommodate up to 14 people: the Above It All luxury villa brings new meaning to the words 'countryside chic' and Cirque View Homestead is the perfect marriage between form and function.
The Above It All property exudes warmth and opulence and is one of the best Wyoming vacation rentals in terms of privacy, location, and size. Located in the heart of Jackson Hole, the villa is equipped with all the necessary amenities including a fitted kitchen, a wood-burning fireplace, and an in-home theatre that can accommodate up to 10 people. There are 6 bedrooms in total that offer spectacular views of the Tetons and the Gros Ventre Mountains. The deck and game room allow for fun-filled gatherings where guests can play chess or use the Celestron Nexstar telescope to observe the star-studded midnight sky.
Cirque View is one of the most exclusive Jackson Hole home rentals on the market. The property is a harmonious marriage between modern and lavish and is located in the Shooting Star Private Golf and Alpine Community in Teton Village. The 6-bedroom suites are painted in neutral shades that complement the warm wooden floors and furnishings. The wide windows allow sunlight to stream into the bright and airy great room that is attached to a cozy kitchen and a contemporary dining area. Outside, the terrace invites guests to soak up the warmth of summer or roast marshmallows on the fire pit before relaxing in the hot tub.
Related Post: Visit Clearwater Beach, Florida
5-Bedroom Luxury Rentals in Jackson Hole
Nothing says opulence like the Clear Creek Group Jackson Hole home rentals, especially the villas and cabins that are nestled within the most exclusive neighborhoods in town. The 5-bedroom properties were designed to meet the vacation needs of guests young and old. They are also 20 minutes away from downtown Jackson by car and not too far from Grand Teton National Park. The Jackson Hole Golf and Tennis neighborhood is home to the All Spruced Up Villa while the Four Pines 05 Rustic Cabin is located in the Shooting Star development.
The All Spruced Up villa oozes warmth and comfort from every corner. The walls and furniture are painted in soothing shades of chocolate brown and mocha that will make guests feel right at home, especially in the great room. The high cathedral ceiling and stacked stone fireplace invite guests to drink hot chocolate in winter while snowflakes cover the backyard with layers of fresh white powder. Each bedroom has an intricately carved door depicting a wild Wyoming animal, a walk-in closet, and a king-size bed. The villa is also equipped with a professional-grade kitchen and a spacious garage that can accommodate up to 3 cars.
Four Pines is one of the most charming luxury cabins in Jackson Hole Wyoming. The living room leaves quite the impression with its exposed stonework and reclaimed timber that adorns its walls. A combination of rustic and modern furniture adds to that home away from home feel that is a hallmark of all the Jackson Hole Luxury Rentals belonging to the Clear Creek Group. The five bedrooms can accommodate up to 12 guests including the bunk room where kid sleepovers are twice as fun. The cabin has a professional-grade kitchen for cooking homemade meals, an outdoor hot tub, and an attached garage.
Explore other destinations: Top Things To Do In Cape May, New Jersey
4-Bedroom Luxury Villas in Jackson Hole
Yellowstone and Teton National Parks attract millions of visitors per year. Visitors who prefer to stay somewhere where there is easy access to ski-related facilities. Knowing where to stay in Jackson Hole during ski season is a must. Caldera House is conveniently located slope-side at the valley's most popular mountain resort. It is most definitely a solid option alongside Aspenglow House, which is also located within walking distance to a public cross-country track. Both properties were designed with large groups in mind and are within walking distance to the best facilities in town.  
Caldera House invites guests to unwind in its infinity pool or soak up the warmth of its wood-burning fireplace after a day out on the sugar-white slopes. The 4-bedroom suites at this intimate boutique hotel were furnished to perfection by award-winning design studios using high-end European pieces and locally crafted furniture. Each suite has its very own Boffi kitchen where guests can cook meals and have lunch or dinner in the equally stylish dining area.
The suite can accommodate up to 12 people and features a wealth of amenities including a private hot tub, a soundproof media room, a laundry room, and last but not least, a cozy balcony where guests can grill burgers while enjoying the mountain views in the background.
The 4-bedroom retreat is sleek and sophisticated and has a very distinctive style, much like the other Jackson Hole luxury rentals on this list. Polished concrete floors blend seamlessly with the sunlit walls in the living area. The professional-grade kitchen is simple and practical, with a wide window overlooking the lush green landscape outside. Guests can huddle around the double-sided fireplace during winter or admire the Tetons while sitting on the double chairlift in the guest wing. Aspenglow has heated floors, auto-lights in every room, and a wealth of features that will make its guests feel right at home.
3-Bedroom and 2-Bedroom Jackson Hole Luxury Rentals
Visitors in search of smaller cabins for rent in Jackson Hole have three deluxe options to choose from. The properties are spacious, intimate, and equipped with state-of-the-art amenities. They are also lavishly decorated with statement pieces and eye-catching art that portray the vibrant wildlife outside the hospitable cabin walls. The 2-bedroom Grizzly Wulff Cabin can accommodate up to six people while Fish Creek Lodge and the mountain-chic Gold and Tennis Cabin were designed to accommodate up to 8 guests.
This Jackson Hole gem of a cabin is located at the base of its most popular mountain resort. Surrounded by tall aspen trees and a lazy creek, the lodge looks like a painting come to life. The interior of the cabin is decorated with a blend of rustic and modern furnishings with floor-to-ceiling windows that offer guests panoramic views of the Teton Range. Fish Creek is big on privacy and amenities with a grandmaster bedroom on the first floor overlooking the Gros Ventre Range and a spacious barbecue-worthy patio with a hot tub in one corner and a gas grill in the other.
The 3-bedroom cabin is one of the best Jackson Hole luxury rentals in town. Guests will immediately rush to the panoramic windows of the great room to feast their eyes on the majestic Tetons in the distance before taking in the plush furniture in front of the flagstone wood fireplace. The cabin features a full kitchen and a nearby dining table overlooking a cozy front porch where guests can relax in the sheepskin-covered chairs. The landing is occupied by a built-in desk and two armchairs underneath an inviting peaked roof. There are two guest bedrooms on the upper floor and one elegantly decorated room on the main floor.
This charming two-bedroom cabin is nestled within the private Tucker Ranch of Wilson and surrounded by breathtaking nature and awe-inspiring mountain views framed by picture windows. The great room is dominated by a grand stone fireplace facing a symmetrical seating area. A breakfast bar with four saddle stools is attached to a rustic kitchen where guests can cook meals during their stay.
The symmetrical design of the cabin is evident in the layout of the two master bedrooms that feature a king bed and access to the sunny patio outside. Guests in need of more space to sleep or simply lounge during the day can take full advantage of the sofa and bunk beds located upstairs in the fun loft. The wild west theme and cathedral ceiling make Grizzly Wulff one of the most memorable and enchanting Jackson Hole rentals in town.
Related Post: Weekend Getaway in Lake Placid
1-Bedroom Jackson Hole Luxury Vacation Rentals
The valley is a gateway to two stunning national parks that offer year-round outdoor activities. Snow turns the mountains into a winter wonderland that attracts professional and amateur skiers of all ages as well as families who flock over to the parks to capture the stunning landscape and equally fascinating wildlife with their cameras.
Many visitors choose to stay overnight in the valley where several Jackson Hole luxury rentals are waiting for their next guest to arrive. Glenwood happens to have the best condos in town. These condos or penthouses were tailormade for vacationers who prefer to stay in the heart of the valley right across from all the ski-slope action and within walking distance to all the buzzing bars and restaurants in Jackson.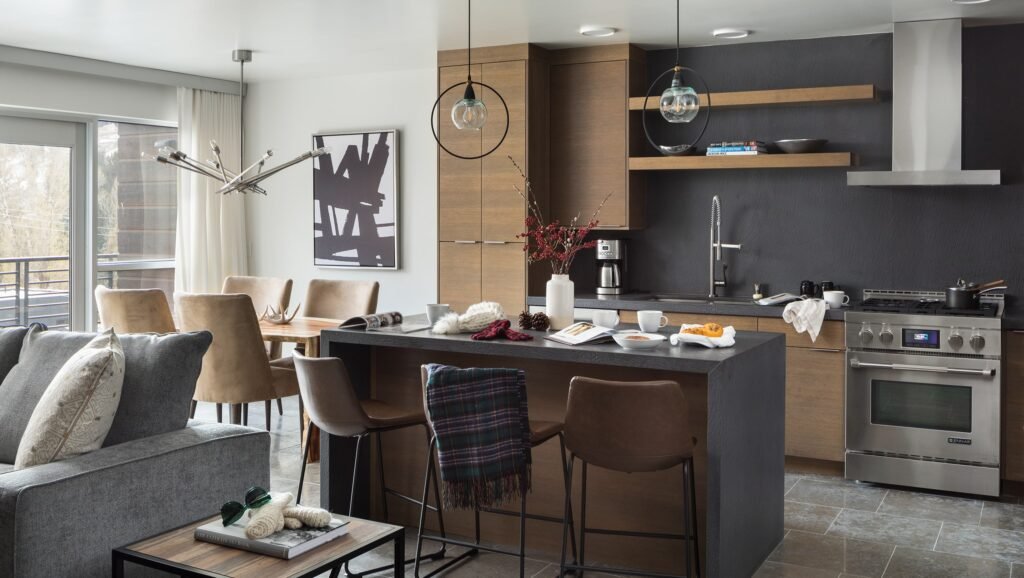 The private penthouse is one of nine Jackson Hole condos for rent and is strategically located a block away from all the wonderful indoor entertainment venues in town. The fourth-floor property has an open layout with the kitchen a few feet away from the homey living room and a modern fireplace.
The kitchen is fitted with high-end Jenn-Air appliances and a stone-topped island where guests can enjoy breakfast while taking in the views outside the patio doors. The penthouse also has a central air-con, a feature that is hard to find in other Jackson Hole luxury rentals in the area. Finally, the bright and airy master sweet is attached to an oversize master bathroom complete with a deep soaking tub and a double vanity.