Clearwater Beach Florida is home to sun-kissed beaches, tropical nature reserves, and pirate-themed cruises that are guaranteed to entertain the whole family. This slice of summertime paradise offers something for everyone, from pristine beaches to water parks and educational museums that successfully combine fun with knowledge.
The coastal city boasts a bustling boardwalk overlooking the Gulf of Mexico where visitors can hop on board a catamaran or a pirate boat to watch dolphins and turtles in their natural habitat. The award-winning beaches offer their fair share of fun-filled activities and private cabanas where visitors can relax and enjoy a cool sunset drink with their loved ones.
Clearwater Beach Florida is also home to the best resorts that were designed with the guest's comfort and needs in mind. Most of these resorts are within walking distance from the best bars and restaurants in town.
Top Things to Do in Clearwater Beach, Florida
No Florida vacation itinerary is complete without a trip to Clearwater Beach FL. The region attracts all kinds of migratory birds that nest in its salt marshes and wetlands, especially during spring. Clearwater is one of the top warm winter destinations in the US. It's for snorkeling, kayaking, and dolphin watching.
Clearwater is also a short ride away from the most beautiful islands in the area including Honeymoon Island and Caladesi Island.  It is also an incredibly family-friendly city where kids can learn all about diversity and endangered species at places like the Florida Aquarium and Caladesi Island State Park. This ultimate travel guide is enough proof that Clearwater Beach Florida is your go-to destination for creating unforgettable memories while getting a much-needed dose of vitamin sea.
Swimming at Clearwater Beach FL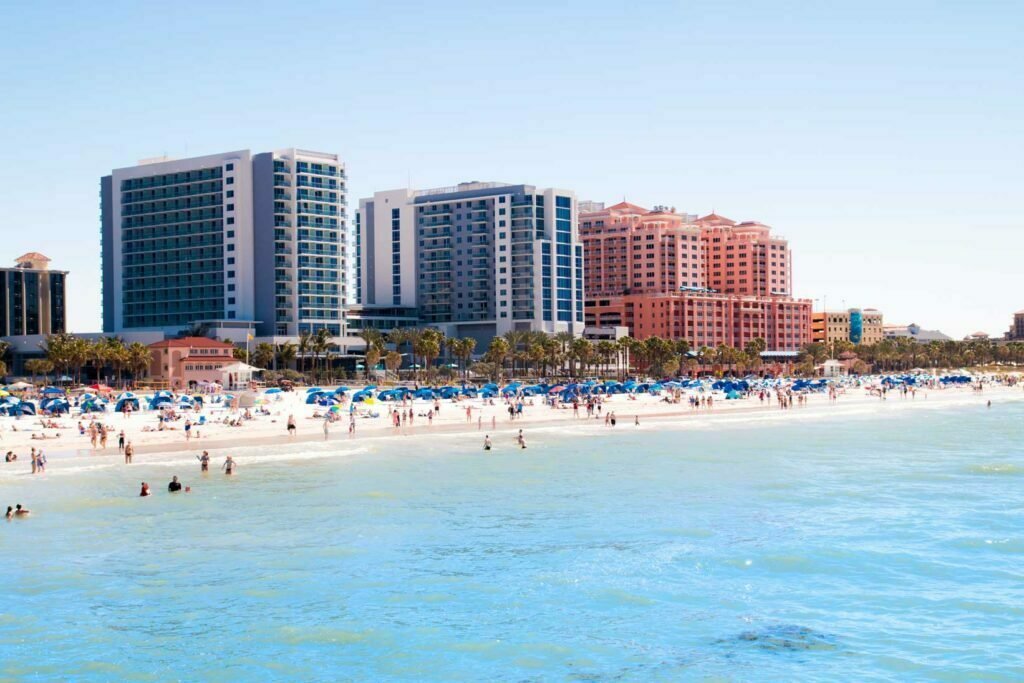 Clearwater Beach is known for its mellow waters and award-winning stretch of golden sand that gives powdered sugar a run for its money. The beach attracts visitors of all ages who turn the pristine coastline into their very own playground where they can build sandcastles and swim in the shallow waters until sunset. The beach is sprinkled with umbrellas and shaded cabanas that are available for rent throughout the day. Overlooking the beach are some of the best resorts and restaurants where visitors can rest and refuel in preparation for a new day filled with fun water activities like surfing and parasailing.
Visit the Clearwater Beach Marine Aquarium
The Marine Aquarium at Clearwater Beach Florida offers visitors a window into the precious aquatic life that inhabits the warm waters of the Gulf of Mexico. The aquarium is a treasure trove of knowledge and home to many rescued dolphins who live in their own enclosure. It also houses rescued otters, pelicans, and sea turtles.
Moreover, the aquarium offers educational programs tailormade for children and boat tours like the Sea Life Safari Tour and the Wildlife Boat Tour. Visitors can spend around 2 to 3 hours touring the many exhibits including the immersive Legends from the Deep exhibit that was designed to spread awareness about the marine environment and its endangered creatures.  
Take a walk along Pier 60 Clearwater Beach
No trip to Clearwater Beach FL is complete without taking a stroll down Pier 60. The pier is famous for its sunset fair that takes place every day from 6 to 9 pm. The fair turns the pier into an entertainment hub where street performers such as magicians take center stage.
Visitors can purchase souvenirs and other little trinkets from the many vendors who set up shop beneath the six pavilions lining the pier. Fishing enthusiasts can purchase bait to catch snappers and Spanish mackerel from the bait house before setting up their gear for the day. Pier 60 offers amazing sunset views and has a playground that will keep the little ones entertained while the rest of the family enjoys the vibrant atmosphere.
Discover other cool destinations in the US: Things To Do In Cape May, NJ
Dolphin Watching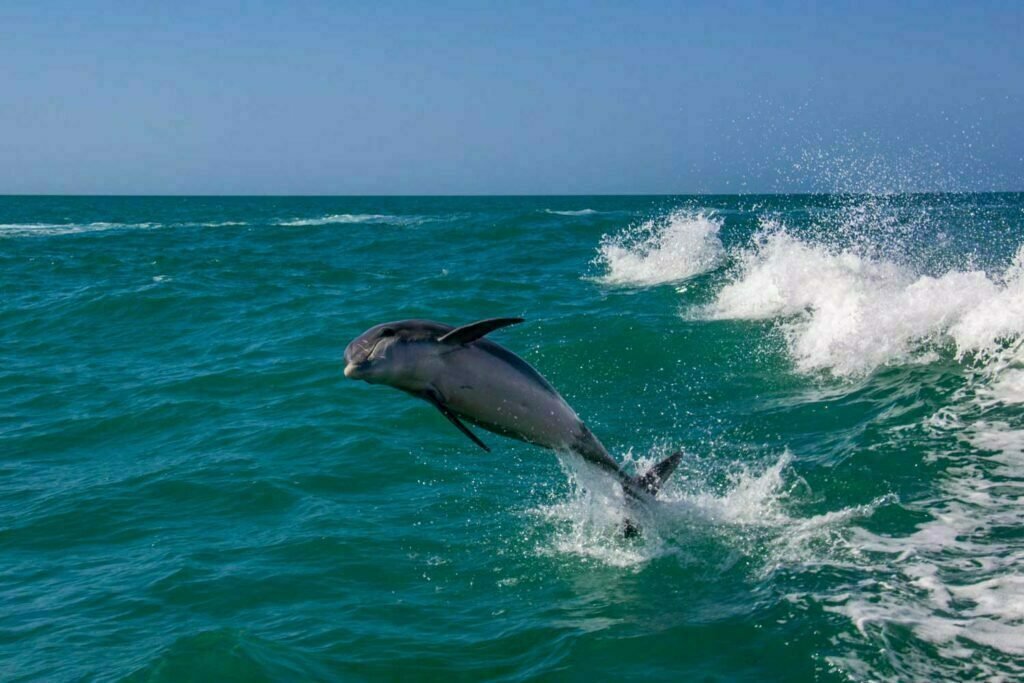 The Gulf of Mexico is home to many pods of dolphins who are drawn to its warm temperature and calm waters, which makes Clearwater Beach FL the ultimate destination for dolphin lovers. These cruises were tailormade for dolphin watching and therefore sail in areas that are frequently visited by these gentle creatures. Visitors have their pick from several cruise companies that offer fun excursions and amazing sunset views onboard their spacious boats.
Caribbean Party on the Calypso Queen
The Calypso Queen is one of the most unique cruise ships you'll ever come across at Clearwater Harbor. The boat is made up of three levels, allowing its guests to soak up the sun and take panoramic views of the gulf and the lively shores of Clearwater Beach. The cruise ship is decked out in a cocktail of blue, yellow, and green and has an upbeat Caribbean theme complete with two full-service bars and complimentary drinks.
Get an adrenaline rush at Busch Gardens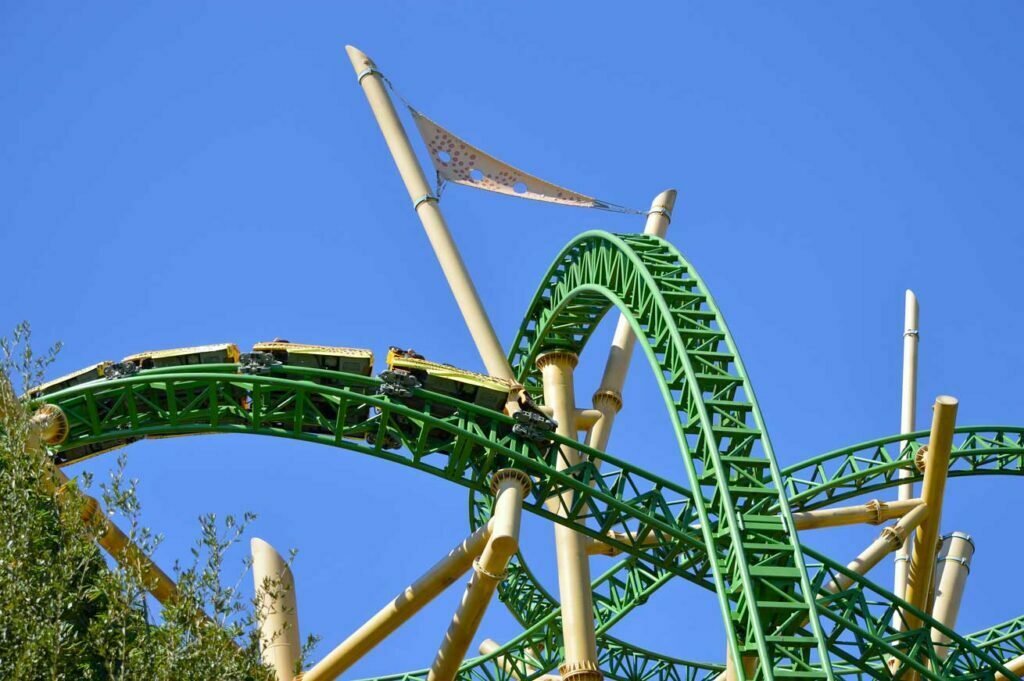 Busch Gardens offers the perfect combination of thrills and leisurely train rides that cater to animal lovers and adventure seekers alike. The theme park is home to more than 200 animals and has its very own 65-acre Serengeti Plain where giraffes and zebras are free to roam. The Park offers several rides including an inverted rollercoaster and a rafting expedition down the Congo River Rapids.
Go on a helicopter tour of the best Clearwater beaches
Speaking of adrenaline, no visit to Clearwater Beach Florida is complete without a helicopter tour. The tour takes off from Clearwater Airpark and offers panoramic views of the Dunedin Causeway as well as Honeymoon Island. The tour is almost 15 minutes long and flies over other landmarks in the area including Caladesi Island and Clearwater Beach FL.
Visit Sand Key Park
Sand Key Park is conveniently divided into two main areas. The beach area has private cabanas and bathhouses, and the park has picnic tables as well as grills where visitors can enjoy an oceanside meal of their choosing. Families can take advantage of the playground in the vicinity to keep their little ones entertained. There is also a dog park to keep your canine friends busy and viewing benches where you can watch horned owls and spoonbills fly over the salt marshes in the area.
Admire the views at Moccasin Lake Nature Park
This beautiful nature reserve is one of the most serene locations in Clearwater Beach Florida. The reserve stretches over 51 acres of land and is home to a wide variety of animals including gofers and raccoons. The reserve is home to many rescued birds of prey who are housed inside a mini zoo. There are many trails and boardwalks that cut through the lush green oak forest where visitors are invited to learn more about the reserve and its precious ecosystem.
Visit the largest water park in Tampa: Adventure Island Water Park
Adventure Island offers endless hours of fun for the whole family. The Park has something for everyone including a 70-foot drop water slide known as Vanish Point and a wave pool where kids can ride some gentle waves in full view of their parents. The Rambling Bayou allows visitors to experience the sights and sounds of a tropical rainforest from the comfort of their own floats.
See the penguins at The Florida Aquarium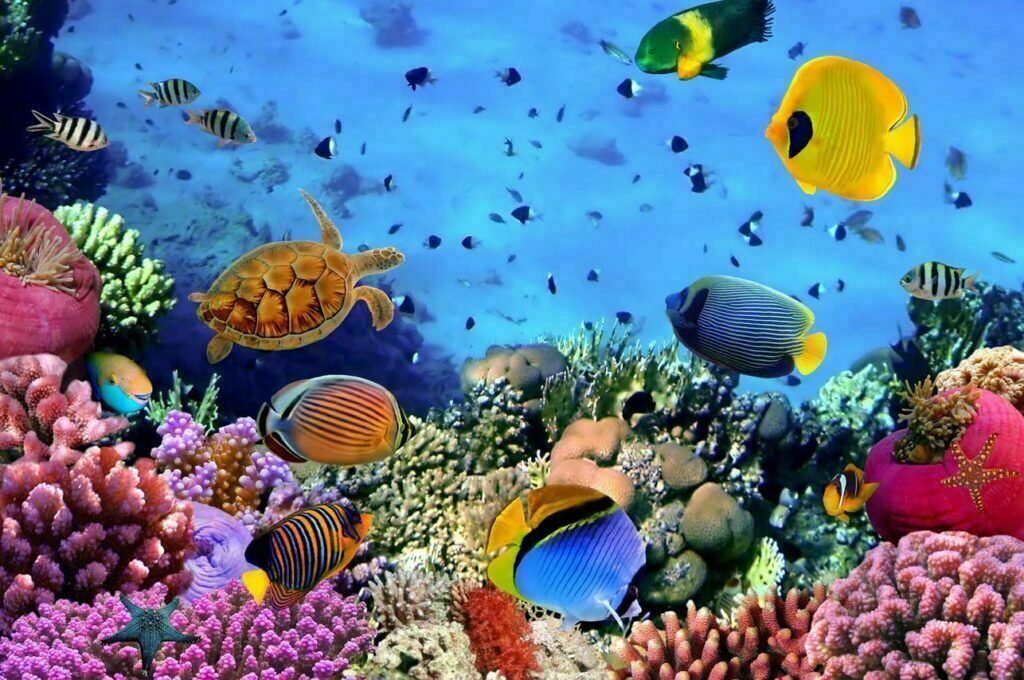 The aquariums at Clearwater Beach Florida provide excellent educational experiences to all family members no matter their ages. The Florida Aquarium in specific offers visitors a chance to learn more about South African Penguins via a backstage pass that allows them to spend up to 30 minutes with these endangered species. An in-house biologist will accompany them throughout this amazing experience to educate them about penguins and their feeding habits.
Go on a themed cruise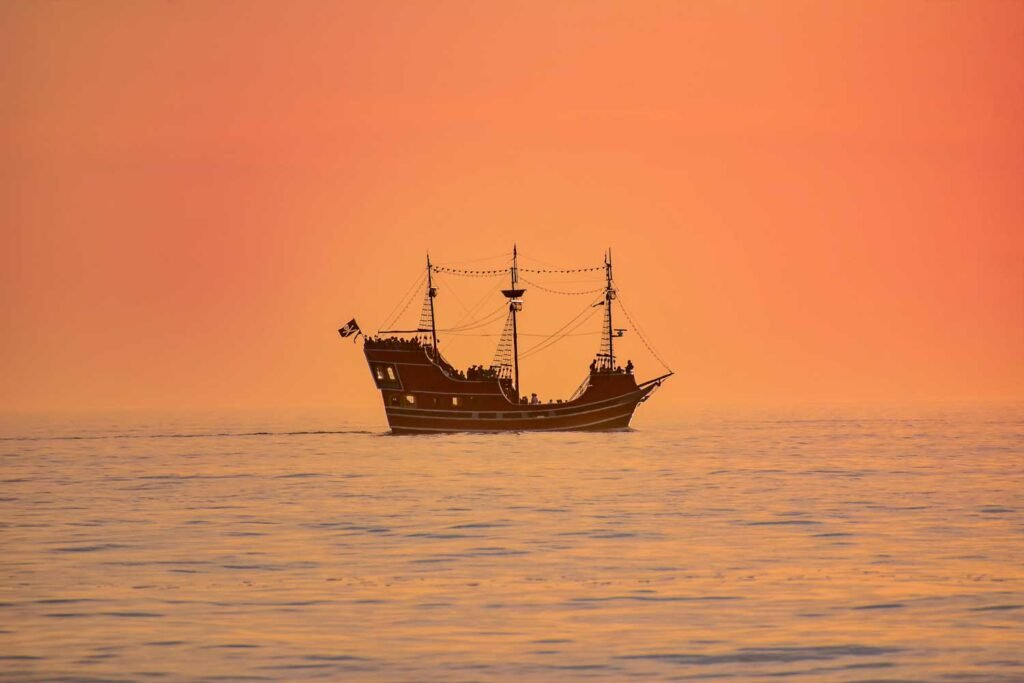 Once upon a time, pirates or buccaneers used to roam the Gulf of Mexico in search of cargo ships to plunder. The pirates may have vanished with time, but their stories remain alive in Clearwater Beach Tampa. Nowadays, there are pirate-themed cruises that visitors can easily book with a press of a button. There are cruises that were tailormade for the whole family complete with pirate costumes and a fun treasure hunt that is guaranteed to keep everyone entertained until the ship returns to the harbor.
Live the romance at Honeymoon Island State Park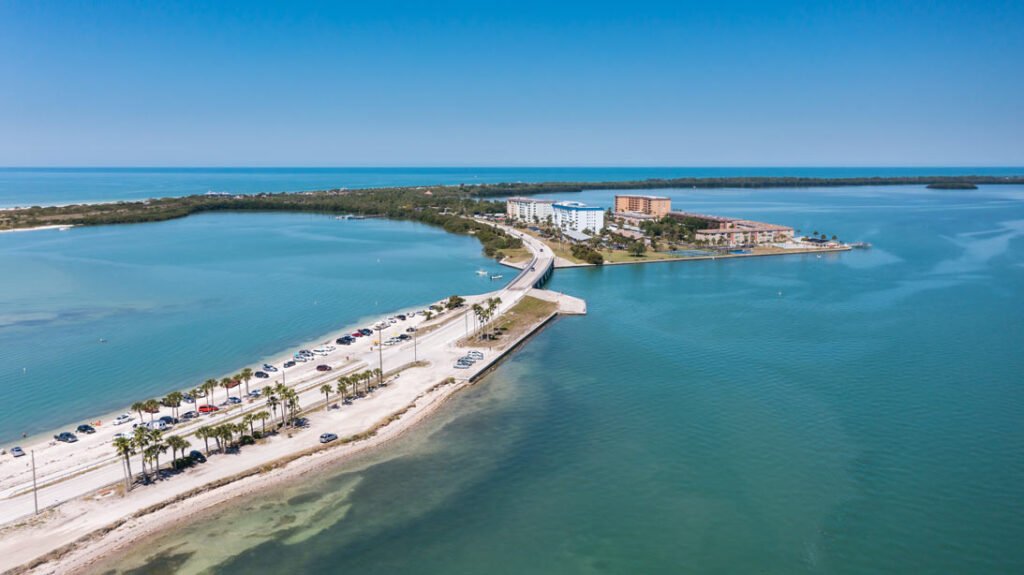 Honeymoon Island was once a destination for honeymooners who spent their vacation in charming cottages overlooking the sparkling blue waters of the gulf. The island is no longer a honeymoon destination, but couples still flock over to its beachside pavilion to celebrate their wedding among family and friends. The island is famous for its unspoiled beach and Osprey Trail. The trail cuts through a lush green slash pine forest where visitors will surely encounter the occasional tortoise or gofer along the way.
See the Mangrove Forests at Caladesi Island State Park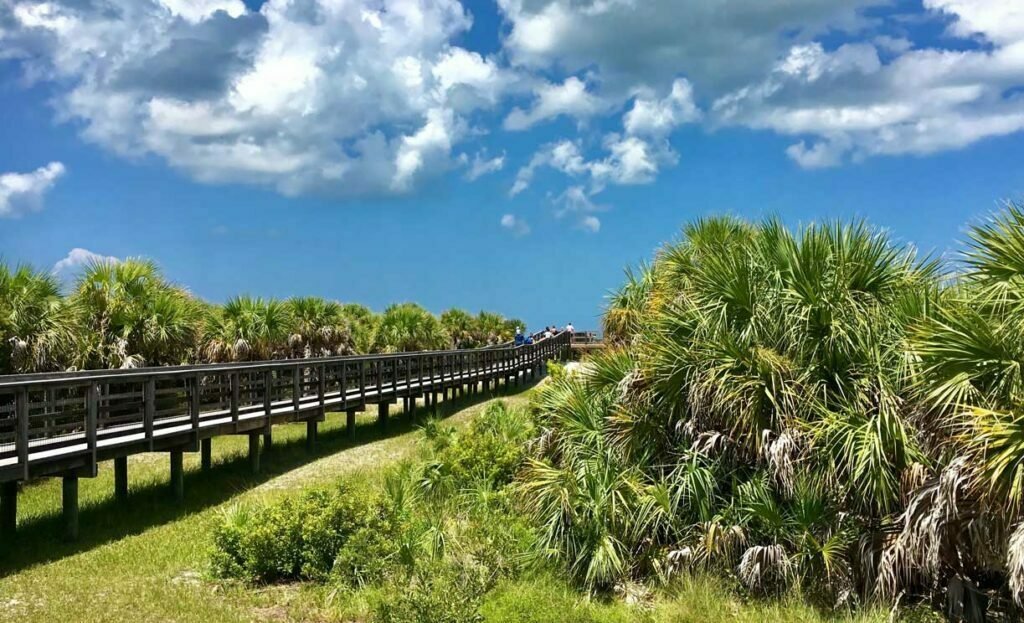 The mangrove forests at Caladesi Island are a ferry ride away from Honeymoon Island. The island is known for its unspoiled beach where sand dunes harbor all kinds of crustaceans and seashells of all colors and sizes. The live oaks upland is home to ospreys who build their nests on tree branches. Visitors can rent a kayak to explore the park and its precious mangroves that attract all kinds of sea creatures such as turtles and a wide variety of fish. Caladesi Island is a fishing and shelling destination where visitors can dine on grilled seafood and capture amazing pictures of the orange sunset before hopping on a ferry back to Clearwater Beach FL.
Visit the Florida Botanical Gardens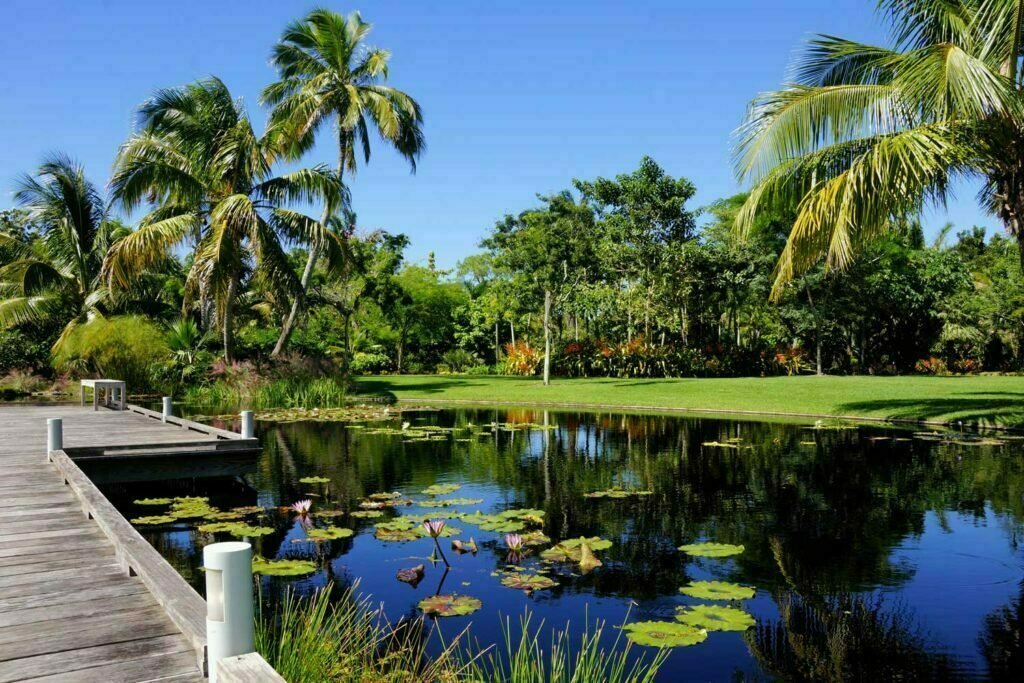 The humid Clearwater Beach weather is one of the reasons why so many plants and flowers flourish and bloom within its parks and gardens. The Florida Botanical Gardens are made up of 100 acres divided into smaller areas each with a different theme. The Cottage Garden houses perennial flowers that paint the landscape in a rainbow of colors. The Herb Garden is home to everyday herbs that are used around the kitchen. Visitors taking a stroll down the pathways at the park will also encounter a butterfly reserve in addition to protected wetlands. Everything is carefully labeled to help visitors identify them.
Enjoy family-friendly activities in Tampa
Planning a travel itinerary for Clearwater Beach Florida and Tampa as a whole is not that hard once you figure out where to go. The city itself has no shortage of family-friendly excursions that will help you create unforgettable memories during your summer or spring vacation. You can begin your journey by visiting Glazer's Children's Museum where children can pretend to be farmers, pilots, or even doctors for the day.
The Museum of Science and Industry is a great educational hub where they can join other children in solving brain puzzles and building robots. Big Cats Rescue is also a great place for them to learn more about rescued animals such as jaguars and leopards. Fans of Jurassic Park will love Dinosaur World where they can pose for pictures next to their favorite prehistoric creatures and learn fun facts about them. Finally, the Bits-n-Pieces Puppet Theatre offers a treat for the imagination in the form of educational shows featuring big and small puppets who act out classic educational tales to entertain preschoolers and third graders too.
Related Post: Weekend Getaways from NYC: Lake Placid
Best Beaches Around Clearwater
Clearwater Beach FL is just the tip of the iceberg when it comes to pristine beaches in Pinellas County. The coastline is home to both serene and bustling beaches. Each beach has its own vibe and amenities. A quick online search about pink sand Clearwater Beach Florida will show you how this city's beaches rival the ones in the Bahamas.
Fort De Soto Park has many facilities including a dog park, fishing piers, and snack bars that sell drinks and hot dogs. Visitors can rent kayaks or bikes to tour the park or simply take a stroll down the sand bar where they can collect sand dollars and seashells.
Madeira Beach is synonymous with seafood and turtle season that begins in May and ends in October. Visitors can rent jet skis or hop on board a charter boat with their fishing gear in tow to catch fish and capture the sunset with their cameras. The beach has restrooms and showers where beachgoers can rinse off the salt and sands before heading off to the nearest seafood restaurant to enjoy a meal with their loved ones.  
Redington Shores is another quaint beach where the waves are high enough for body surfing but not too high for jet skis or paddle boats.  The coastline here is more laidback and less touristy compared to the bustling beaches of Clearwater Beach Florida.  
Pass-a-Grille Beach is also a tranquil beach with white sugary sands and seashells where visitors can rent umbrellas and chairs for a small fee. The beach belongs to a historic part of town where old seaside cottages exist alongside trendy shops and restaurants. Visitors can take a stroll down the boardwalk where the occasional dolphin can be spotted swimming closer to the shore.
Bellair Beach is another gem of a beach that is located in an upscale neighborhood in Pinellas County. The beach is incredibly peaceful and spacious not to mention private compared to its neighbors. The beach is right across from a residential area so there are very few restaurants and cafes to choose from. However, the beach is well maintained and has clean bathrooms and picnic tables where visitors can enjoy a sunset meal or a slice of solitude if needed.
Where To Stay in Clearwater Beach
The pristine coastline is home to many top-notch Clearwater Beach Hotels where guests can relax and unwind after a long day of sun, sand, and fun.
The Hilton Clearwater Beach is one of the best Clearwater Beach Resorts in town. Each of its Harbor View rooms has a small balcony where guests can enjoy their morning coffee before heading out to the fabulous pool area where they can rent a cabana for the day. Beach games such as Tiki Toss and Ladder Ball make for an entertaining afternoon at the beach. The hotel is fitted with many amenities including a business center, a spa in addition to a salon service.
The Wyndham Grand has bright and airy rooms that mirror the calm and hospitable atmosphere right outside its walls. The hotel has direct beach access in addition to an outdoor pool and a jacuzzi. Guests can join the weekend yoga classes that take place next to the pool or spend an afternoon getting pampered at the spa. For dinner, guests can dine on freshly caught fish and other excellent dishes prepared using locally sourced ingredients.
The Holiday Inn is a Mediterranean-style hotel with a pool deck overlooking the gulf. The hotel has many amenities including a fitness center, a full-service salon, and a game room where guests can play all kinds of fun arcade games. Most rooms have access to a balcony where guests can enjoy free Wi-Fi during their stay. Guests and their little ones can each swim in their respective pools while soaking up the sun and the panoramic views of the harbor. The only downside is the lack of direct beach access. Guests can either walk or hop on a trolley in order to get to the beach.
 The Hyatt Clearwater Beach resort is a luxury hotel located on Beach Walk within walking distance from the best oceanside attractions in town. Its suites are incredibly spacious and tailormade for a long and comfortable stay and are therefore equipped with a full kitchen complete with a stove, microwave, and dishwasher. The 16th floor Sky Terrace has a hot tub where guests can enjoy breathtaking views of the gulf. Poolside cabanas are on offer on the 8thfloor pool deck, and the fitness center is open 24/7.
Best Clearwater Beach Restaurants
First on the menu is none other than Frenchy's Clearwater Beach, which is famous for its signature grouper sandwich. The restaurant has an overall Caribbean vibe complete with live music and a tropical bar with multicolored chairs where visitors can order popular drinks like the Rum Runner.
Island Way Grill caters to sushi lovers and fans of Japanese cuisine. The seafood restaurant serves freshly caught lobster and crab in addition to the catch of the day. Diners can sit outside on the outdoor patio which offers prime views of the beach. They can also order their favorite southern foods such including deviled eggs and rib-eyed steaks.
Pizza lovers can treat their taste buds to Italian food at Cristino's Coal Oven Pizza. The restaurant is mostly known for its delicious pizza pies, which are topped with mozzarella cheese and sprinkled with fresh basil. It also serves tasty seafood pasta dishes and fresh bruschetta.
In the mood for a wholesome all-American breakfast? Then head over to Lenny's Restaurant to get your fill of fluffy pancakes topped with your choice of maple syrup or chocolate. The restaurant's menu is filled with classic diner foods such as cheeseburgers, and crispy fried chicken served with a generous helping of mashed potatoes. Lenny's is hands down one of the best restaurants in Clearwater Beach.
Best Bars in Clearwater Beach
Your stay at Clearwater Beach Florida is not complete without a round of barhopping. The town is filled to the brim with all kinds of lively bars including Jimmy B's Beach Bar. The award-winning bar offers free sunset drinks during the golden hour and has a live band that plays covers of classic rock songs all night.
Crabby's Bar and Grill is another great bar located in Beach Walk where visitors can enjoy a drink or two while listening to live music. The bar also doubles as a restaurant that serves breakfast, lunch, and dinner.
Last but not least is The Shipwreck – an old dive bar that still attracts locals and tourists by the dozen. The bar has a nautical theme that makes you feel like you're on a boat out in the ocean. Happy Hour is between 1 pm and 3 am. The bar has pool tables where visitors can play a round or two while sipping on specialty drinks like the Twisted Sizzler or their signature Duck Drink.
When To Visit Clearwater Beach
Clearwater Beach Florida enjoys warm weather all year round. The best time to visit is typically between October and December when the humidity is low, and the beaches are not as crowded. Autumn is a season filled with so many festivals and Christmas-themed events that celebrate the local traditions of this charming beach town. Visiting Clearwater Beach FL is also recommended during spring when the flowers are in full bloom and the trees become a haven for all kinds of migratory birds.
Frequently Asked Questions
Is Clearwater Beach a nice beach?
Yes. Clearwater Beach Florida is an award-winning beach that attracts more than 2 million visitors a year due to its well-maintained shoreline. The beach is raked every day and is therefore incredibly clean. Lifeguards are also available all year round.
What is Clearwater Beach known for?
Clearwater Beach is best known for its fine white sands and its proximity to several islands and nature reserves such as Honeymoon Island. The beach is a popular fishing, surfing, and kayaking destination not to mention a magnet for all kinds of wildlife including dolphins and sea turtles. Clearwater Beach FL and its harbor offer entertaining themed cruises that cater to the whole family.
Is it safe to swim at Clearwater Beach Florida?
Yes. Swimming at Clearwater Beach is safe as long as visitors abide by the rules and keep an occasional eye on the flags located above the lifeguard towers. These flags change color according to the hazards present in the water. Visitors are also instructed to swim within the safe bathing limits at all times. Clearwater Beach red tide updates are available online if needed.
Is Clearwater Florida Expensive?
This depends on where you plan on staying and the number of people you plan on traveling with. Generally speaking, Clearwater Florida is more expensive than Tampa, especially during peak season. You also need to factor in accommodation expenses in addition to cruises and parking if you plan on traveling by car.
What is there to do in Clearwater Florida for free?
Pier 60 offers free entertainment for all its visitors for three hours straight every day. There are also several parks that anyone can enter for free including Florida Botanical Gardens and Sand Key Park. Many parks have picnic tables where you can grill fish or meat at your own leisure before taking a sunset stroll down the beach. You can also collect seashells or grab your beach chair and read a book while soaking up the tropical sun.
Where is Clearwater Beach?
Clearwater Beach is located on Florida's West Coast in Pinellas County. The city of Clearwater itself is divided into a residential area and a resort area where many chain hotels and restaurants are located. Clearwater Harbor in the Gulf of Mexico is home to many boats and cruise ships including pirate and Caribbean-themed cruises that offer highly entertaining excursions.
Is Clearwater Beach open?
Yes. The best thing about the beach is that it is open all year. Some people prefer to swim under the moonlight when the beach is more private and serene, especially since the beach is open to the public 24/7 no matter the season.
Where to park at Clearwater beach?
There are plenty of parking lots to choose from including public parking spaces where visitors can park for a fee. Many chain hotels and resorts by the ocean offer paid parking spots as well. They are typically more expensive than metered lots but can be more convenient for families who need easier and faster access to the beach.