Peru is one of those unique countries that has something of interest for everyone. This stunning country has everything to offer from vast landscapes like Rainbow Mountain, deserts, amazing food, and the most impressive historic sites in the world. Peru was my dream destination for so long. When I started planning my trip, I wanted to make sure I visit every beautiful corner in the county.
Another major item on my bucket list was visiting Salar De Uyuni in Bolivia (the largest salt flats in the world). Visiting Peru and Bolivia in one trip is quite convenient because you can cross the border easily without flying. After spending 3 weeks traveling in Colombia, I started my journey in Lima, Peru.
I decided that the best way to explore Peru and Bolivia is by bus with Peru Hop. I've put together the ultimate 3-week Peru Bolivia itinerary.
Peru Hop Review
PeruHop offers several hop-on-hop-off bus journeys that you can customize depending on the duration of your trip. The concept is that you can hop off the bus in any of the locations on your journey and stay as many nights as you want in each city. There are daily buses that pass through each city every day, so you can choose to hop back on a bus whenever you want to move to your next destination.
Check out the different Peru Hop bus routes here: Peru Hop Routes
Why I chose to travel by bus on Peru Hop
1. I found the perfect itinerary I was looking for on Peru Hop. My journey started in Lima with several stops all the way down to Puno. I then crossed the border into Bolivia with Bolivia Hop. After my trip to Salar De Uyuni, I crossed the border again back to Peru and ended my trip in Cusco to visit Machu Picchu.
2. Comfortable buses: In my 3-week journey I spent over 100 hours on buses. The Peru Hop bus seats are very comfortable with reclining chairs, USB ports to charge your phone, TVs, AC, and large windows to enjoy the beautiful views. The overnight buses are even more comfortable because the chairs recline even further, blankets are provided and they even play movies on-board. I was able to fall asleep so easily and all of the rides were very smooth.
3. Online booking system to personalize your own trip: As soon as you book your trip, you are given a username and password to log in and customize your journey. You can change the dates and pick up locations as you please. This is very convenient if you have multiple stops and want to have control of your trip. Changes can be made even when you are on your trip.
4. The tour guides: All of the tour guides we had were so friendly, helpful, and spoke great English.
5. Affordable day tours: Every morning our tour guide would announce the day tours available in the city we're visiting. All of the tours were so affordable (between $10 to $20) and I ended up visiting amazing places that were not originally in my travel plans.
6. Accommodation: The tour guides can help you book affordable accommodation in each city. They go around asking every passenger if they need help with bookings and offer several discounted options in each city.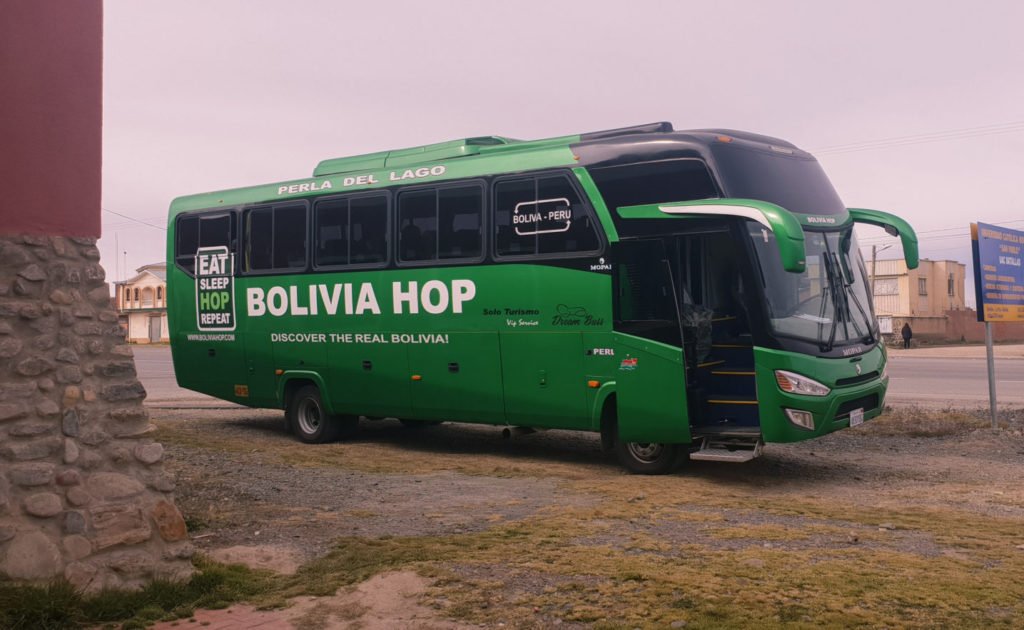 3-Week Peru & Bolivia Bus Tour With Peru Hop
Day 1: Lima
Most international flights fly into the capital city of Lima, which is a great starting point for your Peru trip. The most popular area to stay in is Miraflores. My time in Lima was quite short, but I would recommend staying for 1 or 2 nights. Check out the best places to stay in Lima.
Top things to do in Lima: Plaza Mayor, Free Walking Tour,  Water Fountain Park (Circuito Magico del Agua), paragliding on the coast, Palomino Islands Cruise and Swimming with Sea Lions, visit the Barranco district, see the pre-Incan ruins of Huaca Pucllana.
Where to stay in Lima: The Lighthouse Bed and Breakfast starting $30/night
Day 2-3: Paracas
Paracas is a tiny city 4 hours from Lima. You can actually walk all over town in about 5 minutes. One night is more than enough to visit the 2 main attractions there.
My favorite tour there was the boat trip to the Ballestas Islands where you can spot hundreds of sea lions and pelicans. If you're lucky you can also see some penguins and dolphins. The Ballestas Islands tours start at 10 AM and last 2 hours. Arrive in Paracas and go straight out to the Ballestas Tour. After that, you can get on a tour of the Paracas National Reserve to see incredible desert landscapes and beaches.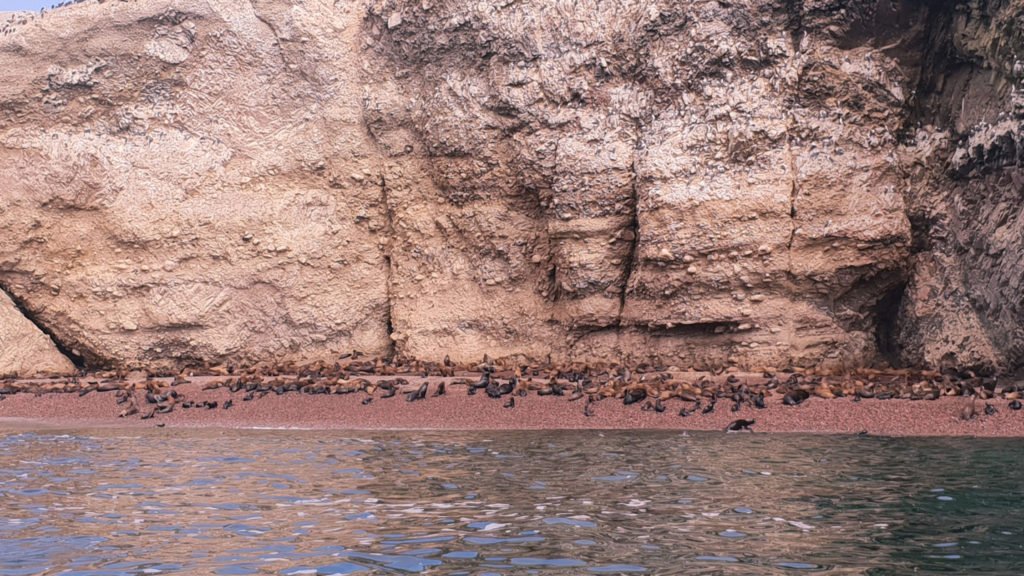 Both of these can be done in one day, so there's no need to stay in Paracas for more than 1 night.
Top things to do in Paracas: Boat tour to the Ballestas Islands, Paracas National Reserve Tour
Where to stay in Paracas: Aquamarine Paracas Beach Hostal starting $30/night
Lima to Paracas bus: 4 hours
Peru Hop timings: Depart Lima at 6 AM and arrive in Paracas at 10 AM (you can go straight to the boat tour)
Peru Hop tip: The Paracas National Reserve Tour is included for free with your Peru Hop pass
Related article: Playa Blanca – Colombia's Beach Paradise
Day 4-5: Huacachina
Huacachina is a very small desert oasis only a short 1-hour drive away from Paracas. The whole town is made for tourists, so expect to see lots of hotels, hostels, and restaurants.
It's best to stay there for 1 night because there's only 1 tour to do: Dune buggies and sandboarding in Huacachina. I must warn you, this is a little scary at first. The tour starts with a crazy ride in a 4×4 dune buggy (with a driver). They drive really fast and you will go down some really steep dunes. After about a 15-minute ride, they will stop at one of the highest points in the desert and hand you snowboards. You will then sit face down on the snowboard and slide down the dunes.
I was extremely scared to try sandboarding in Huacachina, but I am so glad I did. It was one of my favorite activities during my Peru trip. It is really so much fun, so even if you're scared you should definitely give it a shot.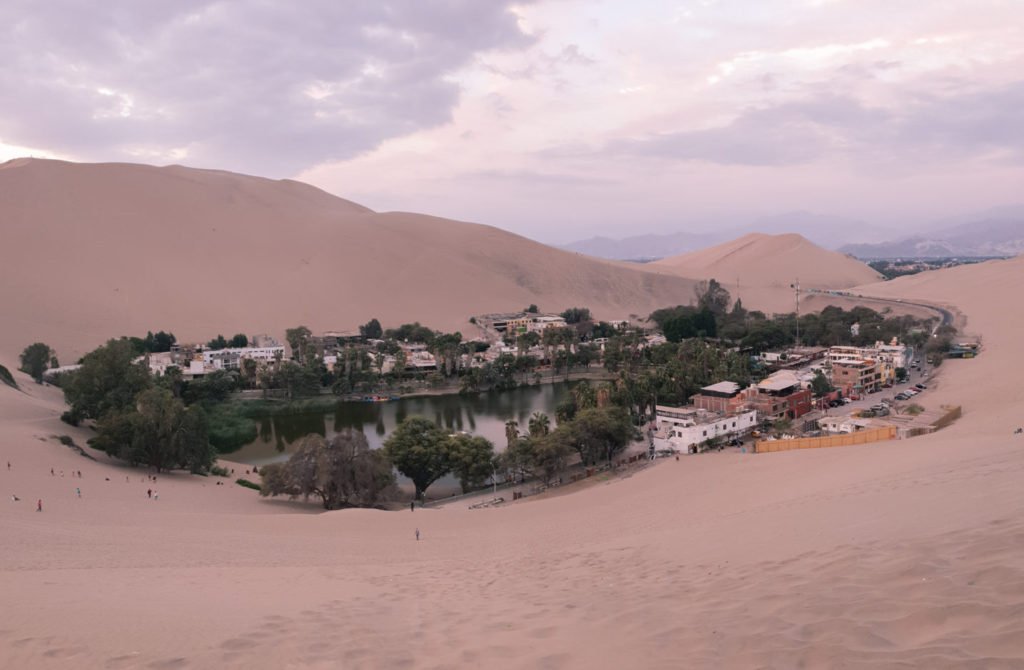 Top things to do in Huacachina: Dune buggies and sandboarding in Huacachina
Where to stay in Huacachina: Hotel El Huacachinero starting $55/night
Paracas to Huacachina bus: 1 hour & 15 minutes
Peru Hop timings: Depart Paracas at 1 PM and arrive in Huacachina at 2:15 PM
Day 6-7: Nazca & Arequipa (overnight bus)
The Peru Hop buses leave Huacachina at 1 PM with a long journey ahead to Arequipa in an overnight bus. What makes this journey exciting is the stop at Nazca to view the mysterious Nazca Lines. These lines are giant geoglyphs in the middle of the Naza Desert. Legend has it that aliens or giants created them because scientists still haven't figured out how they were created.
Arequipa is the second-largest city in Peru. It's a great place to get lost in the beautiful streets of the old town. Massive volcanoes can be seen from all around the city. It is also the starting point of the Colca Canyon Tours. The canyon is one of the deepest in the world, where you can spot giant Andean condors. There are several types of tours available, depending on your fitness level: Colca Canyon tour options.
Top things to do in Nazca: Nazca Flights
Top things to do in Arequipa: Visit the Alpaca Farm, Santa Catalina Monastery, Plaza de Armas Arequipa, Colca Canyon Tours
Where to stay in Arequipa: Casa Andina Select Arequipa Plaza starting $119/night
Huacachina to Arequipa bus: 15 hours (overnight bus)
Peru Hop timings: Depart Huacachina 1 PM and arrive in Arequipa at 5:30 AM (the next day)
Peru Hop recommendations: if you want to do a day tour to Colca Canyon, make sure to stay at least 2 nights in Arequipa.
Day 8-9: Puno & Uros Islands
Puno is situated in the South of Peru on Lake Titicaca, which is the highest navigable lake in the world. If you're looking to visit Lake Titicaca (which I highly recommend), then Puno is the best stop. I didn't go with high expectations to Lake Titicaca, but my tour to the Uros Islands was really impressive.
The Uros Islands are actually man-made islands by the indigenous people of Peru and Bolivia (called Uru). There are now over 120 of these small islands. It was so interesting to visit these tribes and learn about their traditional lifestyle. The locals opened up their homes to us and showed us how they construct the islands with dried totora reeds. Some of the larger islands have 10 families living together, but the smaller ones have only 2 to 3 families.
Altitude warning: Puno is the highest altitude you will be visiting on this trip: 12,500 feet or 3,800 meters high. If you're on a bus journey, the altitude sickness will be less severe because you will be driving up slowly vs. just flying in from a much lower altitude. It's also quite cold and depending on the season it could be rainy. Make sure to have a thick sweater and raincoat.
Altitude sickness tips: Coca leaves are very helpful and they can be found everywhere in the markets. The most effective way to use them is to put around 10 leaves in your mouth, chew them a little bit, then keep them in your cheek for at least 30 min. If you feel your cheek is getting numb, then it's working! A simpler way is to drink Coca Tea. There are also so many different kinds of candy and chewing gums sold in supermarkets, but I found those to be less effective than the actual leaves.
Top things to do in Puno: Lake Titicaca Tour (Uros Islands), Catedral de Puno, Taquile Island, visit the captivating Sillustani burial towers, kayak on Lake Titicaca
Where to stay in Puno: Casa Andina Premium Puno (amazing views of Lake Titicaca) starting $128
Arequipa to Puno bus: 7 hours
Peru Hop timings: Depart Arequipa at 5:45 AM and arrive at Puno at 1 PM
Peru Hop tips: If you're feeling adventurous and you don't mind the cold, you can stay with the Uros tribes on one of their islands. You can book this directly on the bus with one of the Peru Hop tour guides.
Day 10-11: Copacabana (Peru to Bolivia Border Crossing)
Copacabana is a small town right next to the Peru/Bolivia border on the Bolivian side. If you are on the same journey as mine, you will be passing through Copacabana twice, so you can skip staying there overnight. I decided to stay for 1 night mainly to relax before my adventures in Bolivia.
Border Crossing: It was quite simple to cross the border between Peru and Bolivia. Our Peru Hop bus stopped at the border and we all had to get off, take our luggage and walk across to the Bolivian side.
There is a small passport control office and we all waiting in line to get our passports stamped. If you need a visa to Bolivia, there's a small office right next door where you can print your documents. Check the Bolivia Visa Requirement here.
After everyone got their passports stamped, we all hopped on a new bus on the Bolivian side to head to Copacabana.
Top things to do in Copacabana: Climb El Calvario hill at sunset for panoramic views of Lake Titicaca, visit Isla del Sol (it's best to book this tour on the bus if you want to do a short and quick day trip).
Where to stay in Copacabana: Hostal Piedra Andina (great value for money – exceptional sunset views and the kindest staff) starting $25/night
Puno to Copacabana bus: 5 hours
Peru Hop timings: Depart Puno at 8:30 AM and arrive at Copacabana at 1:30 PM
Peru Hop tips: Crossing the border with Peru Hop was very convenient. I needed a visa with my US passport and the guide made sure to stay with me until I printed all my documents and got my visa.
Day 12-13: La Paz, Bolivia
La Paz is the highest capital city in the world at an altitude of 12,000 feet or 3,600 meters. It's quite a large city with lots of areas to walk around and explore the local culture. I felt that La Paz was much less touristy than most of the places I visited in Peru.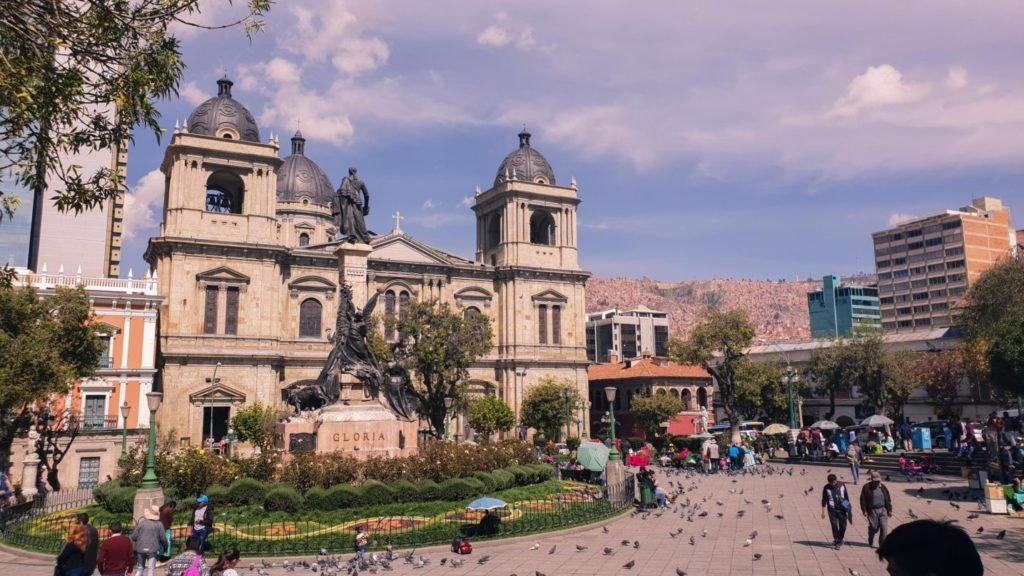 The most unique area to walk around is the Witch Market. Apart from the typical souvenirs shops, you can find the strangest things you'll see in your life. Witches wearing big hats sell dried llama fetuses for good luck (yes they are real llamas!!). They are said to bring good luck and prosperity and are buried under most new buildings as an offering to the goddess Pachamama.
That's not the only strange thing you will see in the witch market. There are dried frogs, snakes, turtles, and loads of "special remedies" that can be used as aphrodisiacs or even to find love! You can spot the witch doctors all over the market and they offer different services like magic spells and fortune-telling.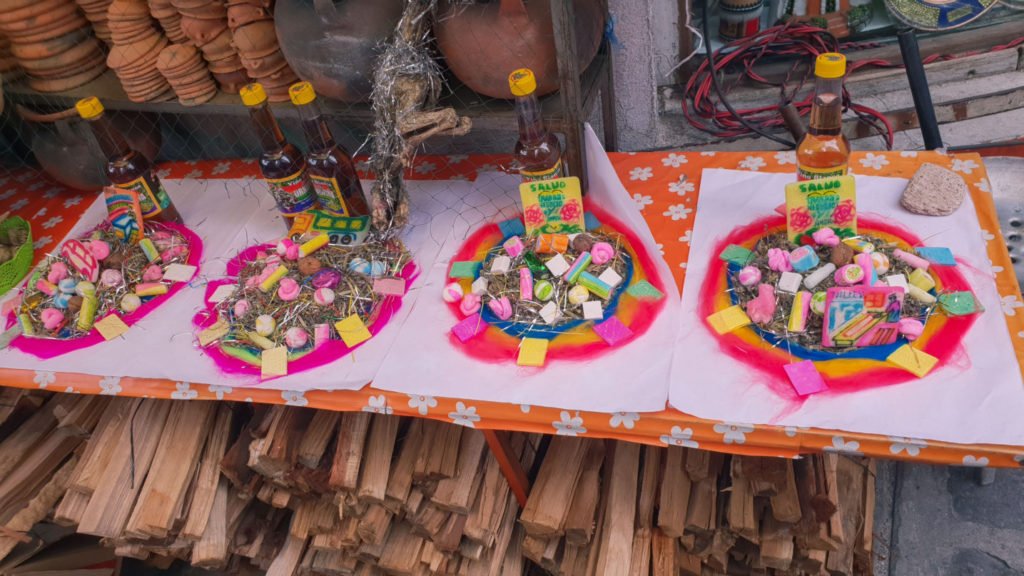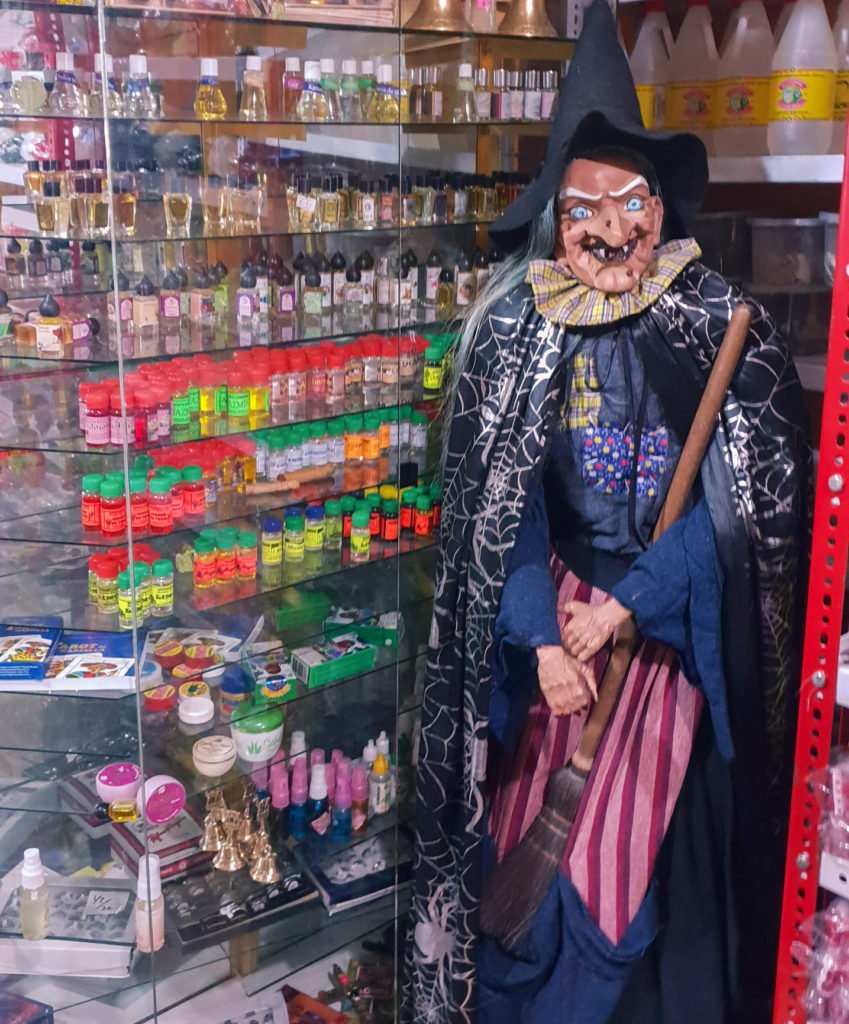 Top things to do in La Paz: Witch Market, Coca Museum, ride to new cable cars for spectacular views of the city (Teleferico), cycle the famous Death Road (considered one of the most dangerous in the world)
Where to stay in La Paz: Loki Boutique La Paz (huge rooms and central location) starting $33/night
Copacabana to La Paz bus: 4.5 hours
Peru Hop timings: Depart Copacabana at 6 PM and arrive to La Paz at 10:30 PM
Day 14-17: Salar De Uyuni – Bolivia
Salar De Uyuni are the largest salt flats in the world. This was one of my favorite travel experiences of all time. I saw landscapes, colors, and stunning views that I have never seen in my life. It is definitely a must if you are visiting Bolivia. You will need to dedicate 4 nights to visit the salt flats (including 2 nights for overnight buses).
There are several tour options for Salar De Uyuni: a) Day Trips (this is not enough to truly see everything it has to offer) b) One-night trip c) 2 night, 3-day trip which is the most popular one (and the one I chose to take) which is around $200 depending on which company you book with. This includes tours, all meals, and accommodation.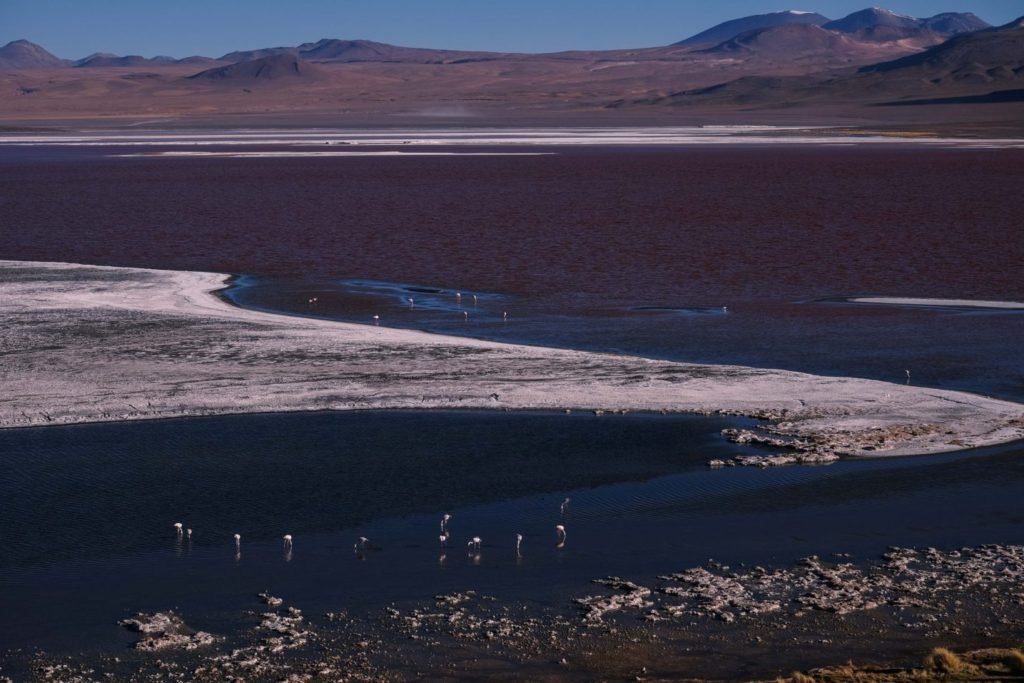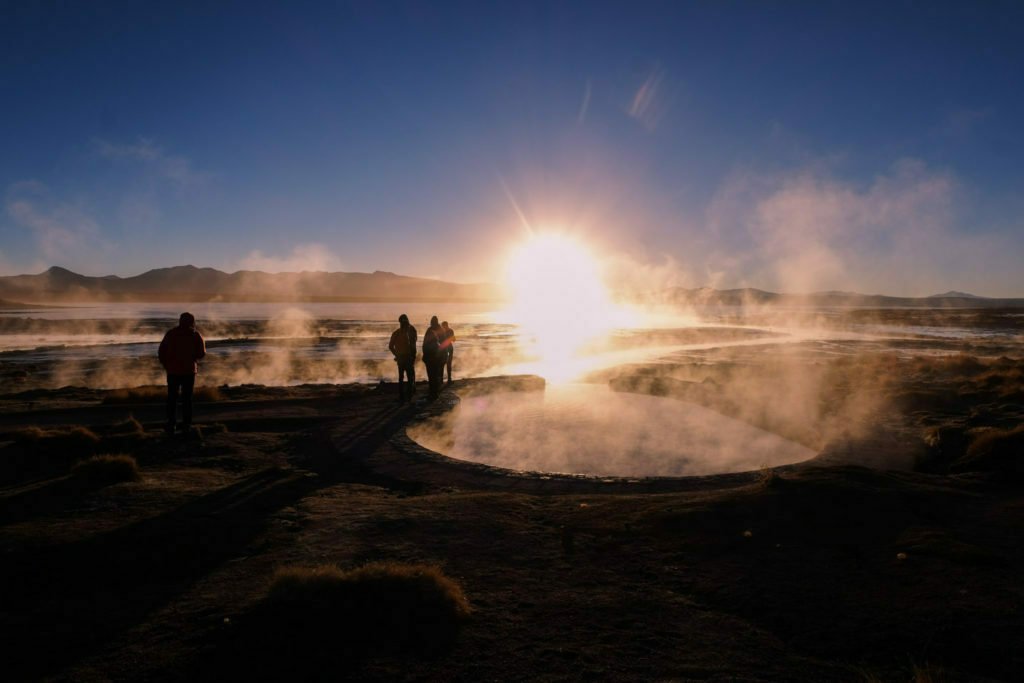 Top things to see in Salar De Uyuni: salt flats, train cemetery, Laguna Colorada, Laguna Verde, Termas de Polques
Essential tips: This tour is not for the faint-hearted. You will spend 80% of the time in buses and jeeps. The most challenging part of it all is the sleeping conditions. Temperatures are freezing cold at night and you will be spending 1 night in a salt hotel and 1 night in a very basic shared dorm room. Both of these have no heat and on the second night, there will be no electricity after 10 pm (and no hot water!).
I can't begin to explain how cold it was to sleep at night. Bring lots of warm clothes (layers are key!), long socks and a sleeping bag (just to throw over the blankets to stay warmer).
If you have the budget for it, there are more high-end hotels you can stay in Salar De Uyuni. This will add at least $200 to $300 to your tour prices, so it's up to you if you want to spend more and sleep in a more comfortable setting.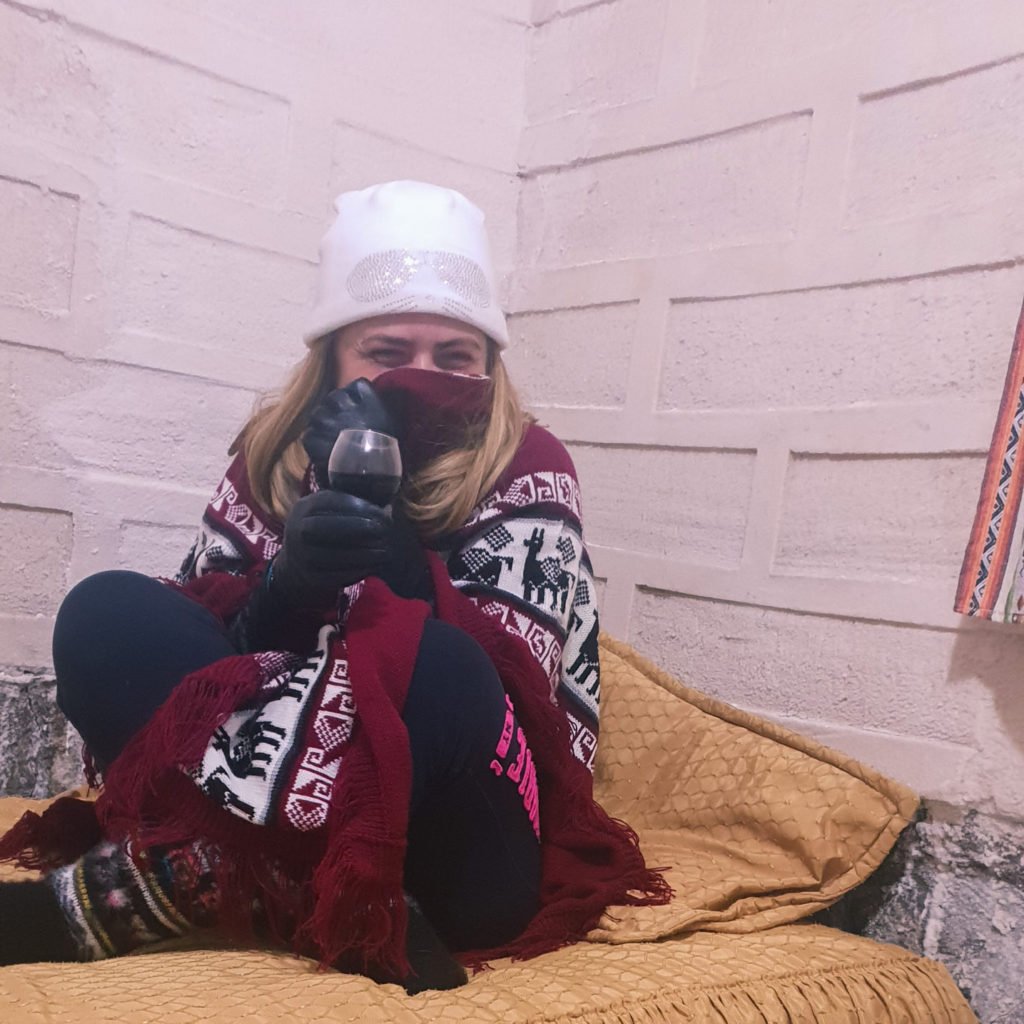 How to get from La Paz to Uyuni
The best way is to take an overnight bus from La Paz to Uyuni. It's 10 hours but most of the VIP buses have fully reclining chairs and meals served onboard. They leave La Paz around 8 PM and arrive at Uyuni at 6 AM. All the Salar De Uyuni tours start at around 9 AM, so this gives you enough time to freshen up and buy some groceries.
The bus company I used was Todo Tourismo. It's the most expensive option (around $35 each way), but it's very safe and really comfortable. You want to make sure to choose a good option, so you arrive at Uyuni fresh and ready for the adventures.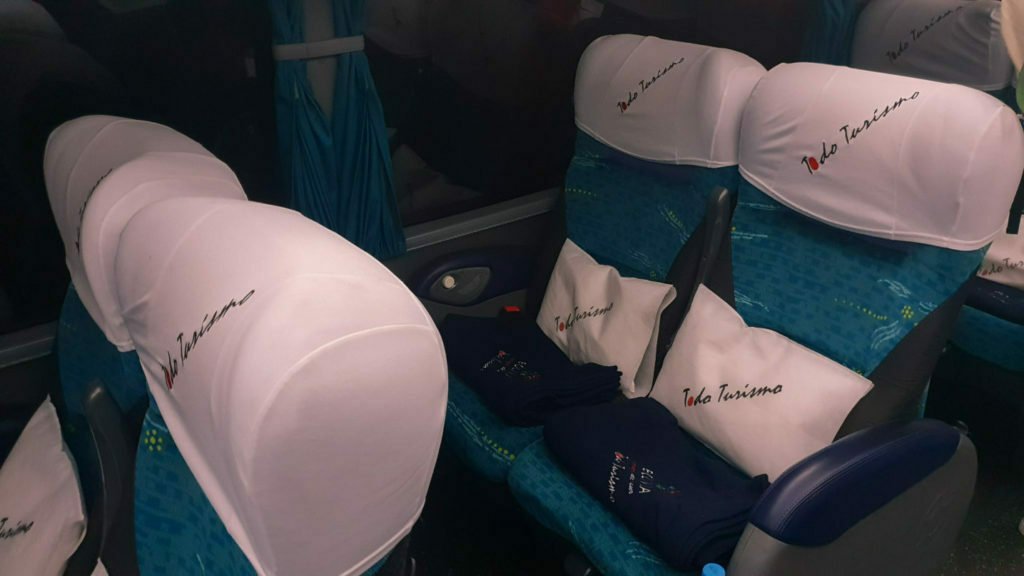 Day 18-19: La Paz – Copacabana – Cusco (24 Hr Journey)
This is the longest bus journey in the whole trip. The Peru Hop buses leave La Paz at 7:30 AM and arrive to Copacabana at 11:30 AM. You will have to wait in Copacabana for 5.5 hours. The next bus leaves Copacabana at 5 PM to cross the border back into Peru and continue the journey in an overnight bus. You will arrive in Cusco at 6 AM.
If you want to break up this journey into 2, you can choose to stay 1 night in Copacabana. I personally felt extremely tired after this part of the trip, so if you want to arrive in Cusco relaxed, it's best to stay in Copacabana for a night.
Day 20 – 22: Cusco & Machu Picchu
Cusco is the most beautiful and charming city I visited during this trip. It's also the starting point for the most exciting sites in Peru: Machu Picchu, Sacred Valley, and Palccoyo Rainbow Mountain. The main square is called Plaza De Armas and you'll find everything there from shops, cafes, restaurants, tour companies to bars and clubs.
Top things to do in Cusco: Plaza De Armas, San Pedro Market,  Koricancha (The Golden Temple of the Sun), San Blas, Enjoy panoramic views of Cusco from Limbus Resto Bar
Where to stay in Cusco: Wake Up Cusco (great value for money, good location, and a very kind owner) starting $25/night (if it gets cold at night you can rent a heater from the reception for a very small fee)
Here's another great itinerary for 10 days in Peru. 
Top Trips from Cusco
1) Machu Picchu:
Machu Picchu is one of the most impressive historical sites in the world. It's a 15th century Inca citadel that was discovered internationally not too long ago in 1911.
Cusco is the starting point for most Mach Picchu trips. It's important to know that no matter how you choose to get to Machu Picchu, it will be expensive. Be prepared to spend at least $200 to $250 even if you are just going on a day trip. It is definitely worth it though!
Where to stay in Machu Picchu: Casa Andina Standard Machu Picchu (amazing location facing the train station and bus stop) starting $122/night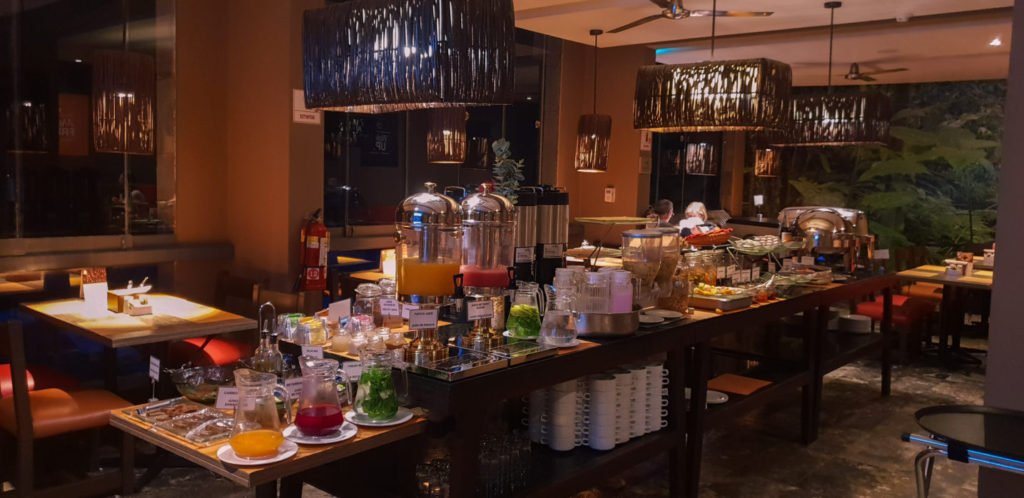 Important Information about Machu Picchu
a) Machu Picchu Tickets:
You will need to pre-purchase your Machu Picchu entrance tickets online. There's a limited number of people that can enter the site per day, so depending on the season, tickets might get sold out. Tickets cost around $45 per person. When you're booking your ticket, you have to choose a visiting time (starting 6 AM which is the earliest). You cannot enter the site before the time stated on your ticket. Make sure to print them before you go.
This is the official booking site for your tickets. Tickets are non-refundable and non-transferable. Your passport is required to enter and they will check the names on the tickets at the entrance.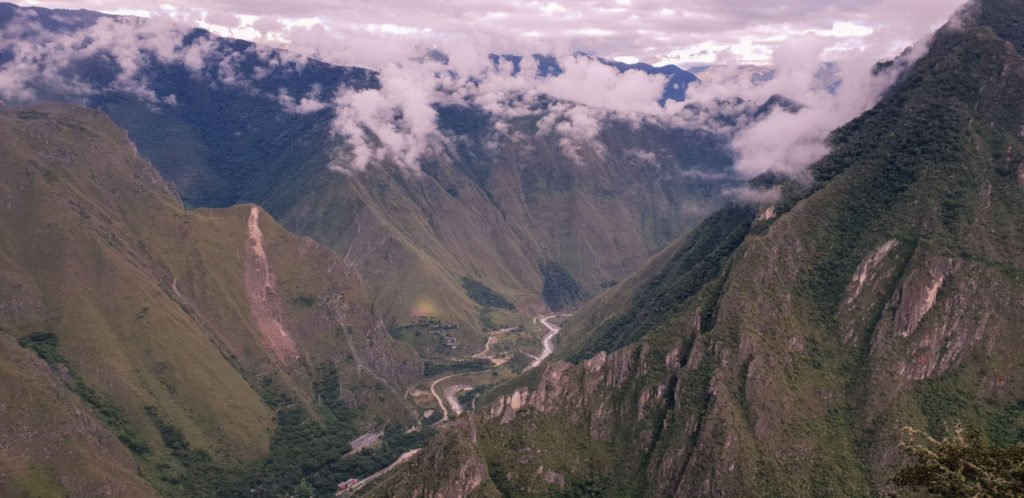 b) How to get to Machu Picchu from Cusco:
By train – this is the most expensive but the fastest and most comfortable way. Ticket prices start at around $65 to $100 each way. The train journey from Cusco to Aguas Calientes takes around 3.5 hours. Even the cheapest trains are still great with large glass panoramic windows where you can enjoy the beautiful views on the way.
After getting to Aguas Calientes, you will need to purchase bus tickets to take you from the city center to Machu Picchu ($12 each way). The earliest buses leave at 5:30 AM and Machu Picchu opens at 6 AM. To enter at that time, you will need to purchase a 6 AM ticket.
Trekking/Hiking: this is the most challenging yet gratifying way to get to Machu Picchu. There are different trek options all with stunning views along the way:
1) Inca Trail (moderate difficulty) Prices range from $500 to $700 – the most popular option which takes 3 nights and 4 days. Only 500 permits are issued per day, so you have to book well in advance. 2) Salkantay Trek (challenging) Prices range from $200 to $350 – this is considered the most beautiful trek but also much more difficult. The good news is there are no limits to the number of permits per day, so you can book only a few days in advance. 3) Inca Jungle Trek (easy) Prices range from $120 to $300 – this is not a typical trek. It actually combines cycling, rafting, and even ziplining.
By bus/minivan – this could be the cheapest way to get there but also the least convenient. You will have to take a bus to Santa Maria and trek from there. I don't recommend this route at all unless you are really on a tight budget.
During my trip to Peru, I discovered that there are actually 2 different Rainbow mountain locations. There's the famous one which is overpacked with tourists and there's another one called Tres Rainbows that actually has 3 different rainbow mountains you can see from the same viewpoint. If you want to skip the crowds and enjoy even nicer views, I would highly recommend Tres Rainbows.
The trek for the normal rainbow mountain is 2 hours uphill, whereas it's only 20 minutes for Tres Rainbows. With the high altitude (above 3,000 meters) trekking is way more difficult, so keep that in mind when you're deciding which one to choose.