Palccoyo Rainbow Mountain is one of the most beautiful undiscovered tours in Peru. Ever since the Rainbow Mountain in Vinicunca (or Winikunka/Montaña de Siete Colores) became popular a few years back, most tourists flock there without realizing that there's an even better alternative.
When I was doing my research about the best tours to book in Peru, I decided I would visit the usual Rainbow Mountain that everyone goes to. Thankfully, I met some locals during my trip to Cusco. They told me about Palccoyo Mountain and I immediately decided to change my tour.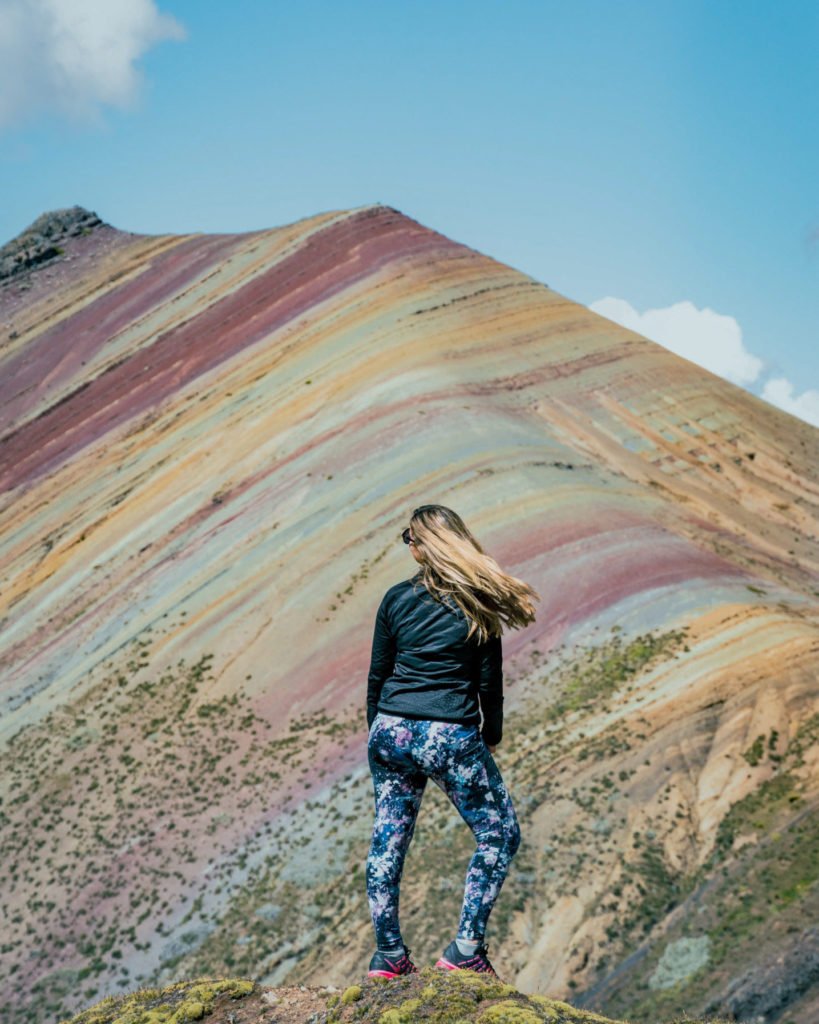 Why You Should Visit Palccoyo Rainbow Mountain vs. Vinicuna
1. The limited number of tourists in Palccoyo:
The Palccoyo tour in Cusco is known as the Alternative Rainbow Mountain tour, because it is yet to be populated with mass tourism. When we arrived, I was surprised to see only 4 other cars parked at the entrance. During most of the hike, we were completely alone surrounded by stunning scenery. It was so quiet that we really got to enjoy every second.
The best part of it all was that when we got to the top, we had the perfect view of the 3 Rainbow Mountains all to ourselves! We spent a good one hour taking photos without anyone else in sight.
The popular Rainbow Mountain in Vinicunca is so crowded these days. Huge groups of tourists go there every single day. It's a challenge to really enjoy the scenery without bumping into tour groups taking hundreds of photos.
2. You can view THREE Rainbow Mountains in one location:
Why see one Rainbow Mountian when you can view three in the same location? I'm surprised that the other location is more popular than Palccoyo.
Not only can you see three in the same spot, but the surrounding mountains are covered in different tones of red and pink. It was one of the most stunning locations I have visited in the world.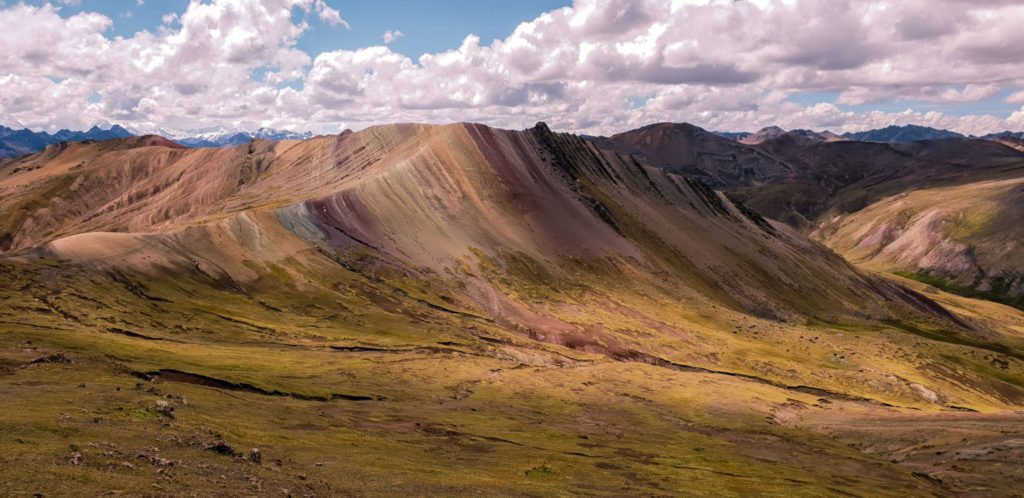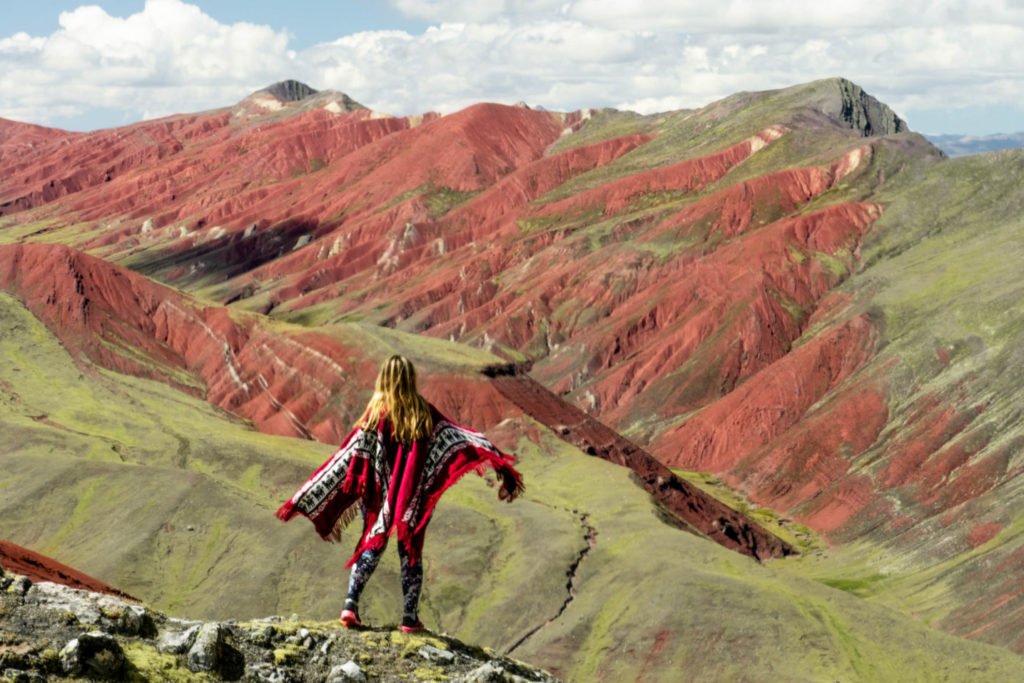 3. The hike in Palccoyo is so much easier:
To get to the famous Rainbow Mountain, you need to hike up more than 2 hours at an altitude of over 17,060 feet or 5,200 meters. If you've never experienced altitude sickness before, trust me, it will completely take over you. Hiking at those altitudes feels like you're carrying the weight of the world on your shoulders.
At Palccoyo Rainbow Mountain, the hike is super easy and it's only 20 minutes. The highest altitude there is quite similar at 16404 feet or 5,000 meters. However, because the hike is much easier, you will get to enjoy it instead of struggling to go uphill for 2 hours.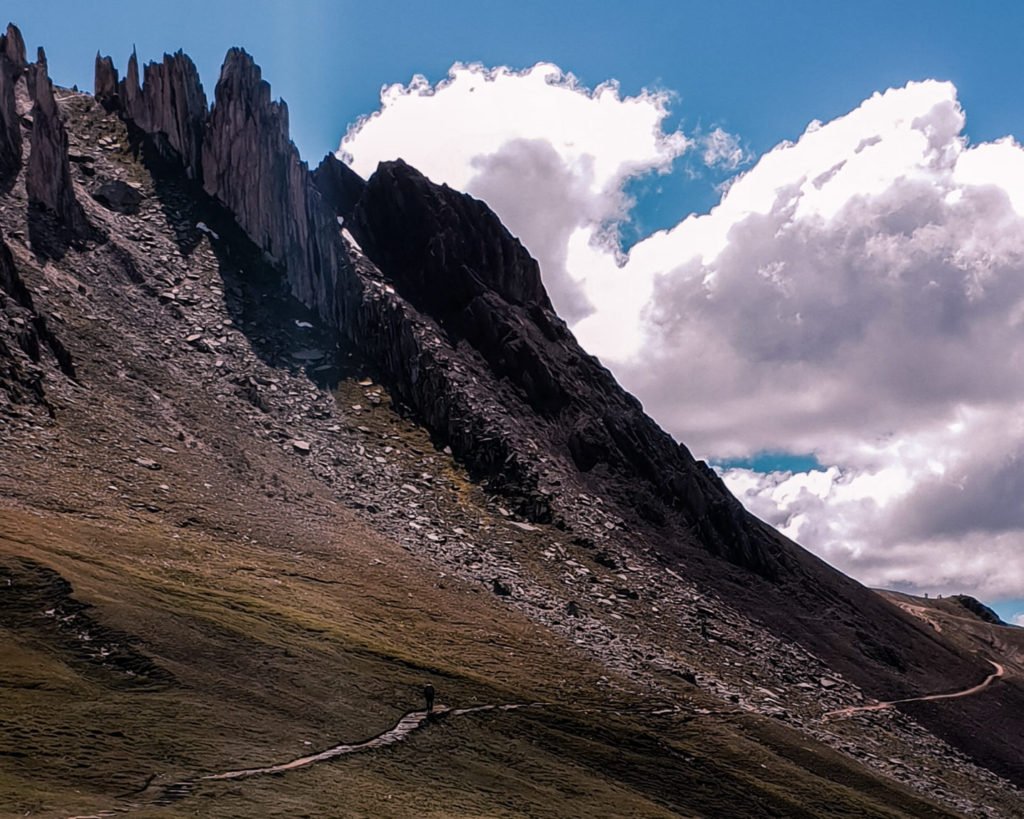 4. The scenic drive from Cusco to Palccoyo:
The drive takes around 3.5 hours with a breakfast stop on the way. Because the Rainbow Mountain tours start so early (around 4 AM), I was keen to sleep most of the way. The scenery was so beautiful that I couldn't close my eyes even for a second.
We drove through the cutest villages and spectacular mountain ranges. We came to a point where we saw hundreds of Alpacas roaming freely and even crossing the road several times. The long drive felt like a short one with everything we were witnessing around us.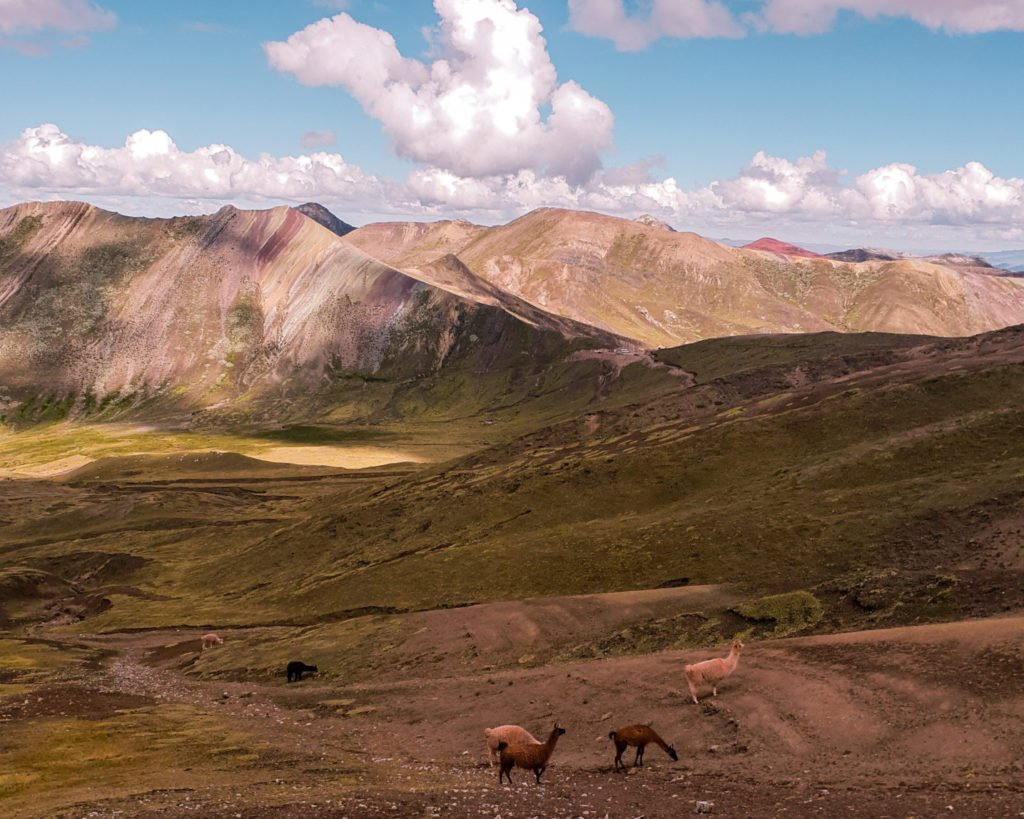 Book your Palccoyo Rainbow Mountain Tour
There are now quite a few companies that offer day trips from Cusco to Palccoyo. I recommend booking in advance so that the tour company picks you up from your hotel:
Note: Palccoyo is also known as the Tres Rainbows Mountain tour.
Tips for hiking in high altitudes in Peru:
1. Coca leaves: There's a good reason why all the locals in Peru consume so much Coca leaves. There are so many different versions of it these days including chewing gum and candies. In my opinion, the best way is to have them in their purest form. Either to chew them and keep them in your mouth for around 30 minutes or drink them as tea.
You can purchase them anywhere in the markets. There are old ladies selling them in large bags on every single street in Cusco. I recommend keeping some in your bag in case of emergencies. They were really helpful for me on my trip.
2. Stay hydrated: It's easy to forget to drink enough water, especially if you're feeling nauseous because of the altitude. Make sure to drink a big bottle of water especially during the hike.
3. Ginger: Ginger candies are also a great option to help with nausea and an upset stomach.
4. Take it slow: If you're flying from a sea-level destination straight to Cusco, I would advise you to stay there at least 2 days before you venture out to higher altitudes. Give your body time to adjust slowly before climbing Rainbow Mountain.
5. Rose Water: This was something I discovered through one of the other travelers with me on the trip. You can purchase a small bottle of rose water from any pharmacy. Put a few drops in your hands, rub them together and smell the rose water every couple of minutes.