Speaking of dream destinations, the choice between Bora Bora vs Maldives as a holiday option is a predicament that everybody has to face when it comes to a once-in-a-lifetime beach getaway.
Both Bora Bora and the Maldives are captivating and equally dream-worthy spots: stunning, emerald blue waters, calm beaches, and overwater bungalows though they are located two oceans apart. Bora Bora is a quaint volcanic island in the South Pacific Ocean while The Maldives is an archipelago of coral islands that spans the equator along the Indian Ocean. If you are checking out which one is better, here is an utmost guide that will help you decide a little easier.
Maldives vs Bora Bora: Best Times to Visit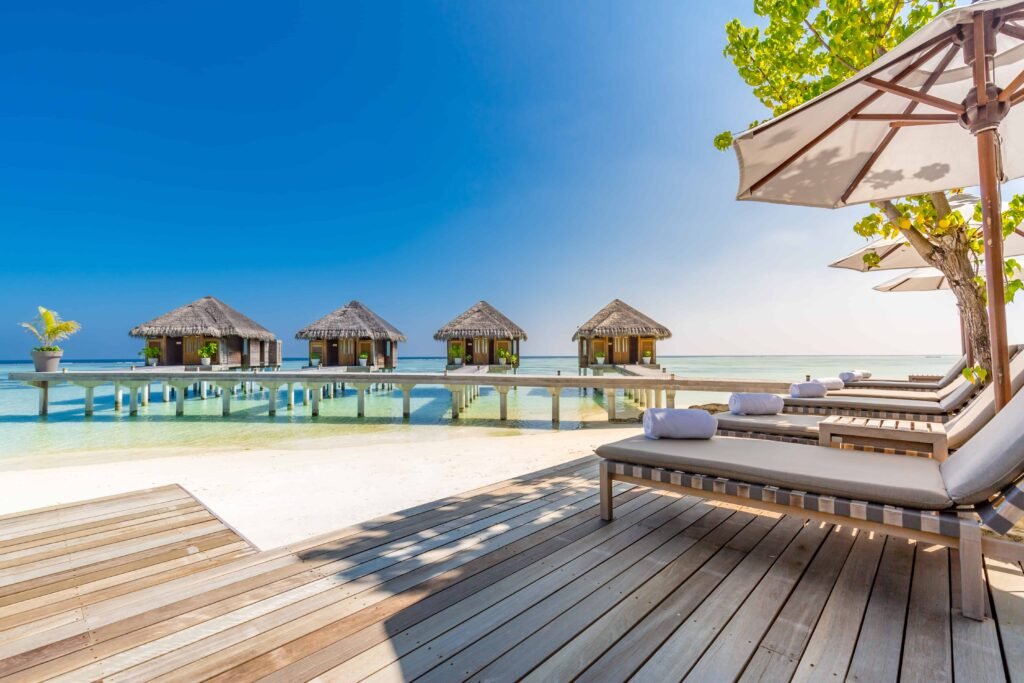 Meaning "firstborn" in the Polynesian language, Bora Bora in the South Sea is on top of every traveler's bucket list when it comes to unrivaled beauty. The best time to go there is during the months of November to April when the temperature is milder because it is summer in the Southern Hemisphere during these months.
Perched on either side of the equator with an impeccable landscape, the islands of Maldives are endowed with a warm climate throughout the year. A playground for European sun seekers, the best time to spend your holiday is between the months of December to March when it is the monsoon season.
Related Post: Best Colombia Islands to Visit
Best Time to Visit The Maldives
With its powdery-white sand beaches and guaranteed sunshine all year round, the island of Maldives is a great destination to visit year-round. But it reveals its best weather starting the month of December until March when there will be a lot of sunshine. Holiday seekers can expect less rain, blue skies, and low humidity. However, hotel accommodation prices hike up during Christmas and New Year, and sometimes resorts will require a five-day minimum stay.
Best Time to Visit Bora Bora
A luxury island spot where globetrotters' dreams are made of, Bora Bora with its blue lagoon and the majestic mountain at its backdrop, is the personification of tropical nirvana. The best time to explore this South Pacific gem is during the dry season between November to April when you can enjoy sunny weather by the Bora Bora beach. Clear, blue skies and fine weather await you as you explore the island or go for a beach-hopping adventure.
Maldives vs  Bora Bora Cost: Which One Is More Expensive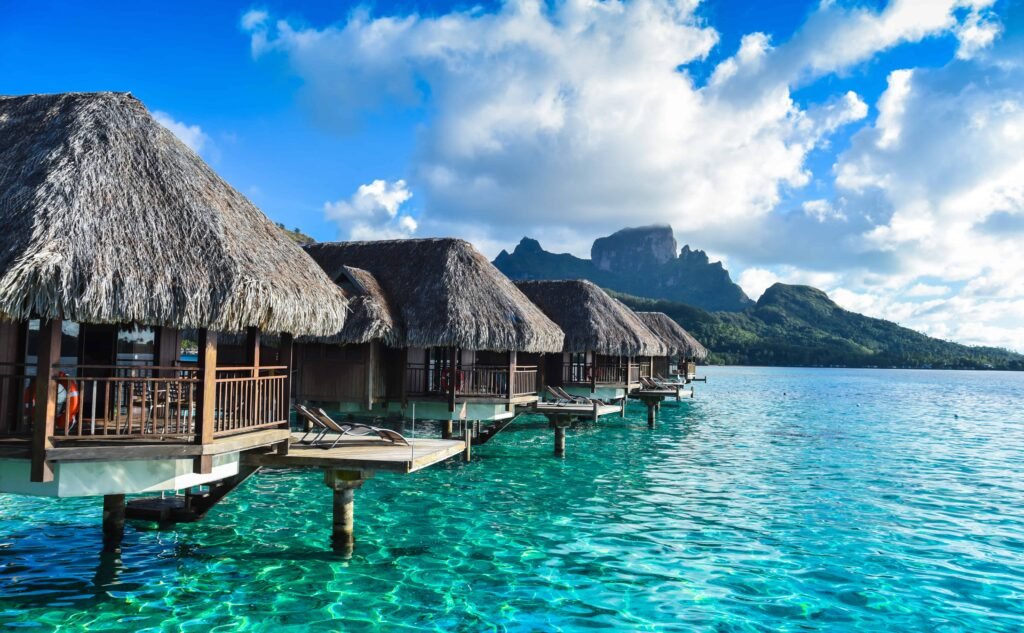 Whether we are talking about cash, points, or miles, both of these island destinations are expensive. But Maldives prices are way more affordable when it comes to accommodation because the overwater bungalows have several different price points. In Bora Bora, however, you have to spend a little bit to get the best overwater villa experience, the price of which is around US$800-US$1,500 a night.
Then there is also the travel time to consider wherein you can spend more of your time unwinding and less of the time spent on the plane. They include further travel time from the international airport as well. In order to get to Bora Bora, you have to arrive at Papeete International Airport in Tahiti and then fly on a short domestic flight on a local airline. When you arrive in The Maldives, you have to take a seaplane or a speedboat to your chosen resort at an additional cost.
Where to Go on a Honeymoon: Bora Bora or The Maldives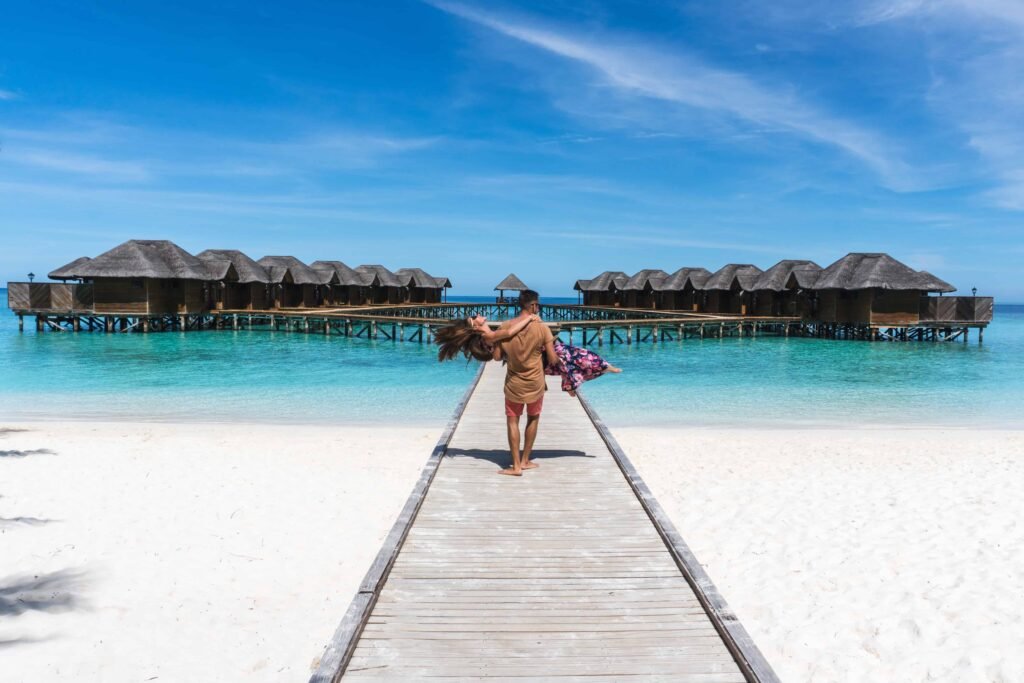 If you're trying to decide between Bora Bora or the Maldives for your honeymoon, there are a few factors to consider.
Privacy is the key when you're on a honeymoon. Private villas in The Maldives are designed with the utmost privacy in mind so you can spend your holiday in total isolation if you choose to. In Bora Bora, overwater bungalows are outlined closer to each other so you might have a little less privacy depending on the hotel you choose.
Both destinations offer special honeymoon packages, but you can find more affordable deals in the Maldives. Another factor to consider is your flight time depending on where you are flying out from.
If you want to splurge on a once-in-a-lifetime honeymoon, then Bora Bora can be a great option. If you want an equally stunning destination that's a little more affordable, then the Maldives could be right for you.
Getting to The Maldives and French Polynesia
When making a choice as to which of these two high-end getaways to go to, another thing to consider is the way to get there, but that depends on where you live.
How to Travel to The Maldives
If you're from North America, the most popular way is a 12-hour flight to Dubai followed by a 4 ½-hour flight to The Maldives. You can also take a 15-hour flight to Hong Kong and then another 5-hour direct flight to The Maldives. Travel time to this island from the US is not only far but it can also be tough to get to.
For those traveling from Europe, Africa, and Asia, The Maldives makes sense if you're coming from these parts of the globe. There are direct flights to Male which is the capital of Maldives.
How to Travel to Bora Bora
Whether you are traveling from North America or Europe, you can stop in California, either in San Francisco or Los Angeles then take an 8-hour direct flight to Tahiti. There is a minor setback though because all flights arrive in Tahiti at night so you might have to spend the night in Papeete. Once you've arrived, the best way to get to Bora Bora is a domestic flight via Air Tahiti.
Bora Bora vs Maldives: Hotels and Resorts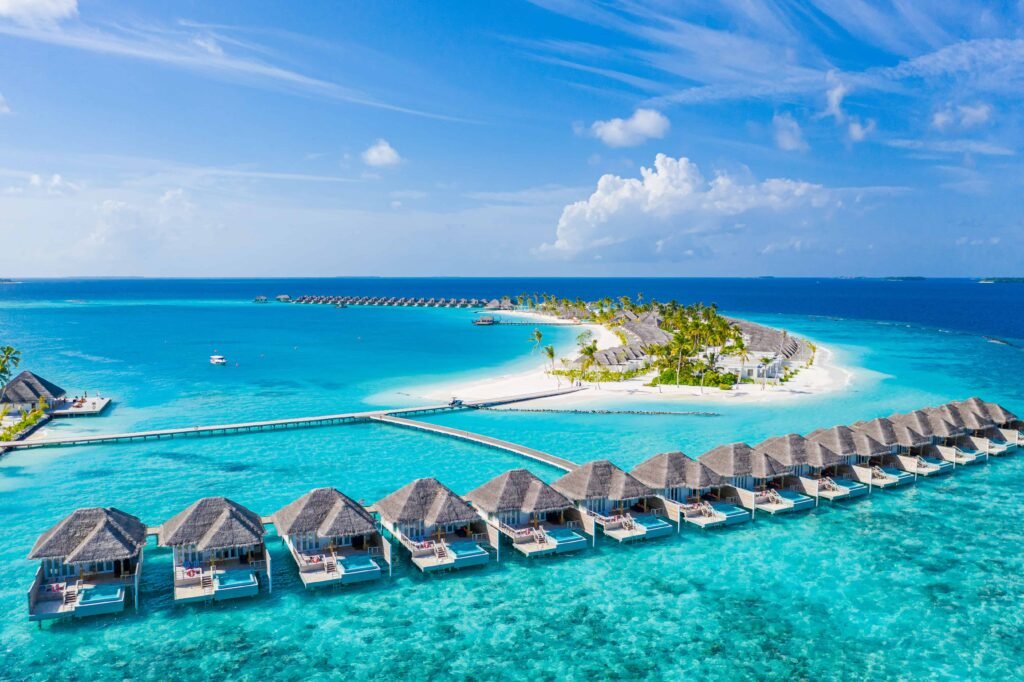 Bora Bora getaways are known for their high-end resorts with prices that start from US$300 per night. If you want to stay in one of the overwater villas, you have to pay between US$800 to US$1,500 and there are not too many choices when it comes to budget hotels. In The Maldives, there are more affordable options available. The cheapest overwater villas in the Maldives start at US$500 per night.
More Interesting Topics:
All-Inclusive Resorts In The Maldives
Located just off the coast of Sri Lanka, vacationing in The Maldives is the perfect spot including its resorts which are built with magnificent designs. Whether you opt for a family-friendly resort or an adult overwater bungalow, looking for the best places to stay in the Maldives is not a problem.
One & Only Reethi Rah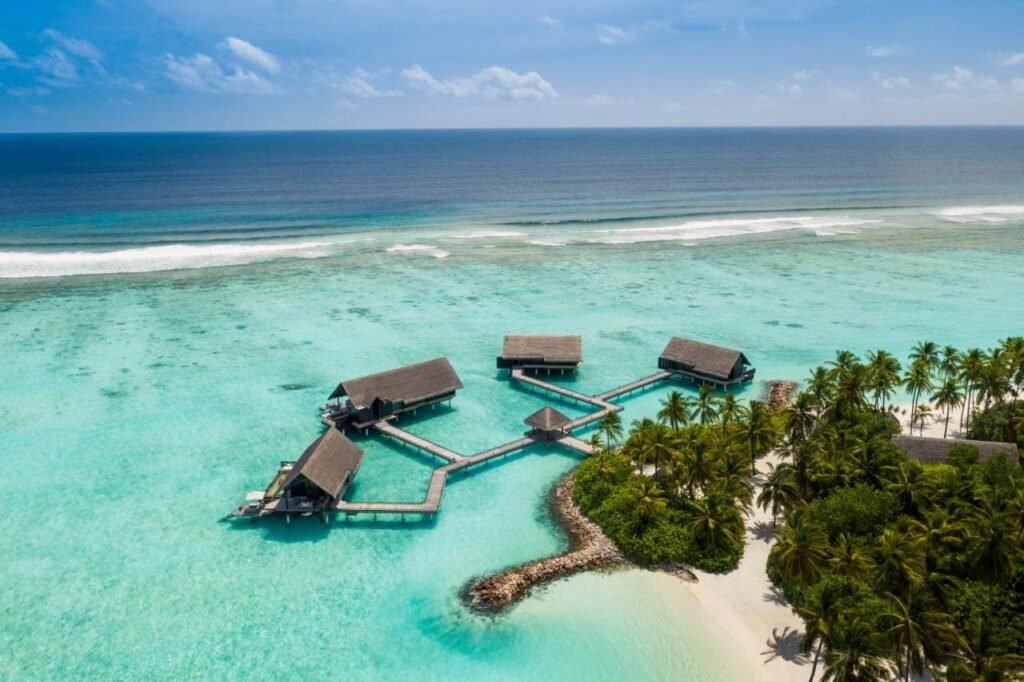 A gastronomic paradise, One & Only Reethi Rah has 8 cafes and restaurants. You can enjoy Japanese cuisine for one night and then indulge in a steak the next. There are different international cuisines to choose from or maybe you can have your meal al fresco in Maldives' lush landscape.
COMO Maalifushi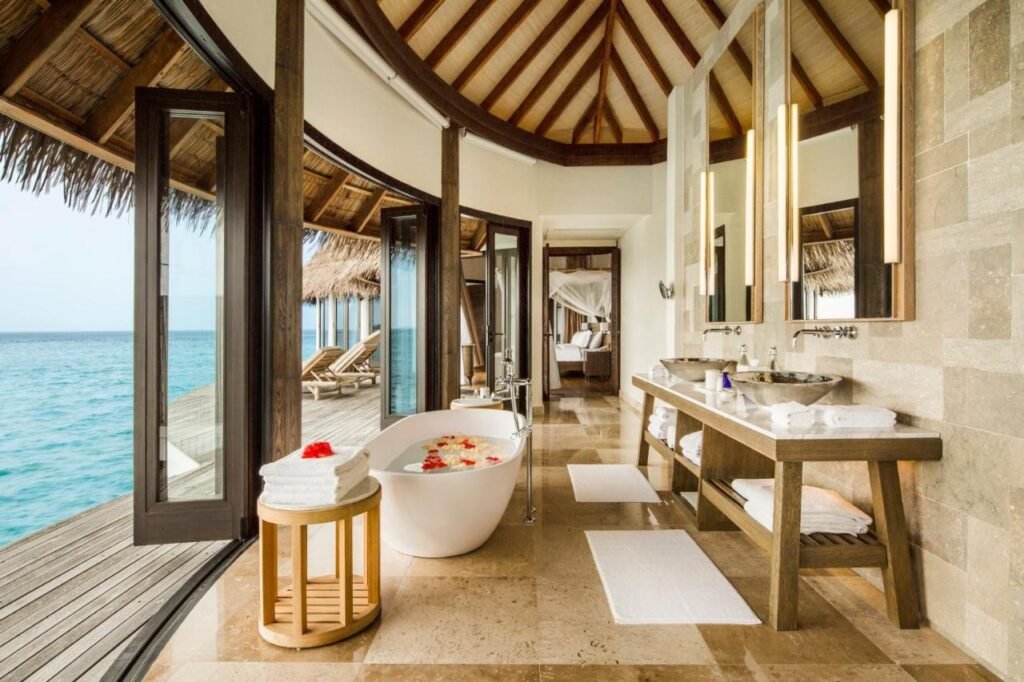 Situated in Tha'a Atoll, COMO Maalifushi is a resort that spoils you with Holistic wellness. This hotel helps you loosen up and recharge with spa treatments in an overwater room or you can do yoga at their open-air pavilion. COMO Maalifushi is also committed to having a healthy menu in its restaurant.
Jumeirah Maldives Olahali Island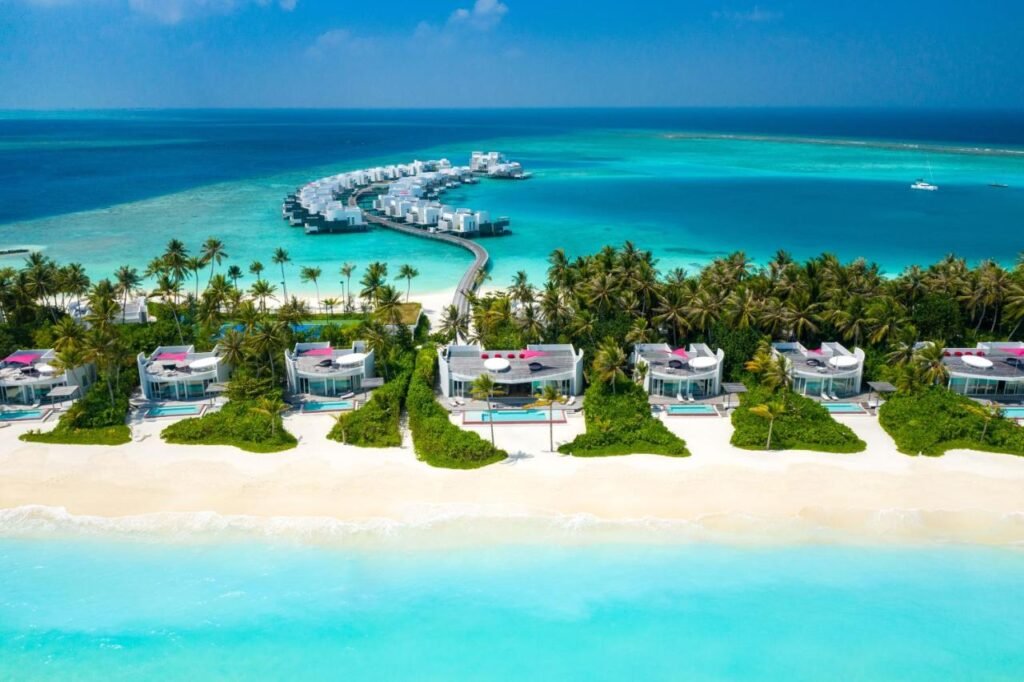 Convenient either through a speed boat or a seaplane ride from the airport, Jumeirah Maldives Olahali Island is an all-villa resort with a unique design. It has an infinity pool and a rooftop terrace within each accommodation. There is a kids' club for children with a water park on the beach.
All-Inclusive Resorts In Bora Bora
Lying close northwest of Tahiti in French Polynesia, this quaint island in the South Pacific is encompassed by golden sand islets and a clear blue lagoon. This attraction is what makes Bora Bora one of the most sought-after getaways in the world. Most of the accommodations are overwater bungalows, each offering something from the others which we will discuss below.
Four Seasons Resort Bora Bora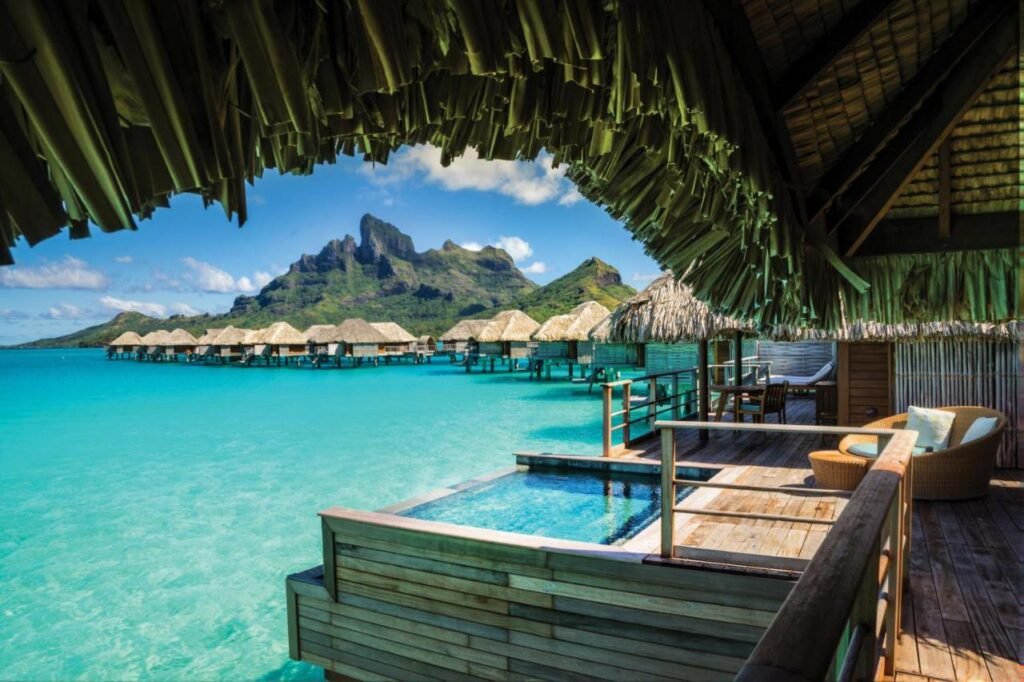 A resort that is the definition of luxury, Four Seasons Resort Bora Bora is a cluster of overwater villas done in contemporary design with thatched roofs and glass floors. All the bungalows here are installed with state-of-the-art amenities, some have infinity pools facing the lagoon.
Conrad Bora Bora Nui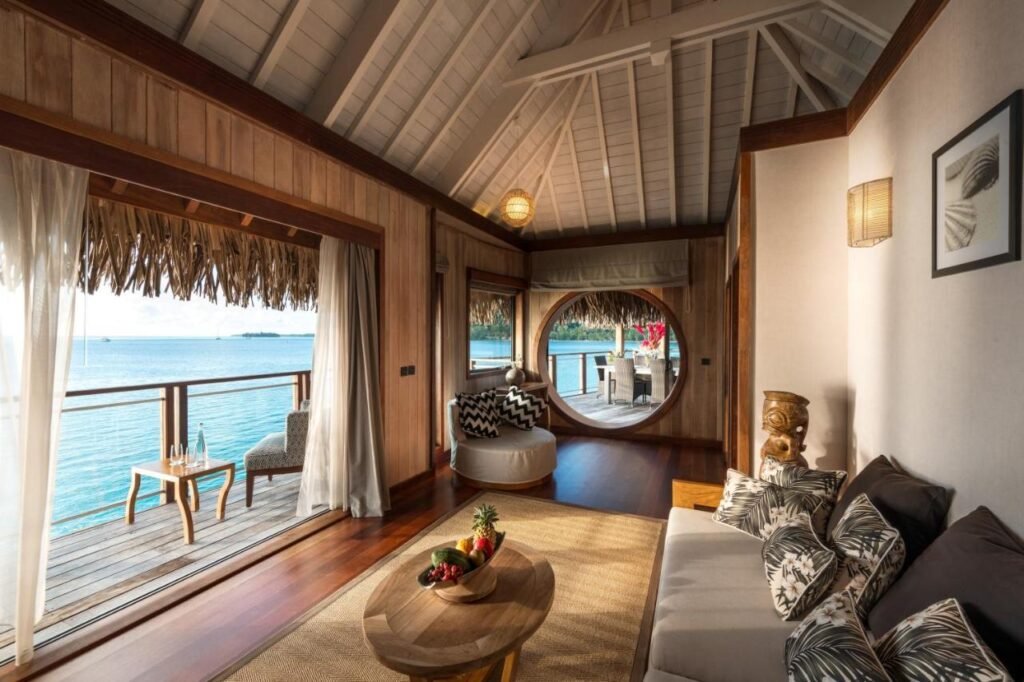 Situated at an exclusive black lava rock formation and the beautiful cove of white sands at Motu To'opua, Conrad Bora Bora Nui highlights overwater villas on a lagoon. Here, guests can enjoy using the infinity pool, pamper themselves at a private spa, or indulge in fine cuisine in one of the resort's four restaurants.
Royal Bora Bora (affordable luxury option)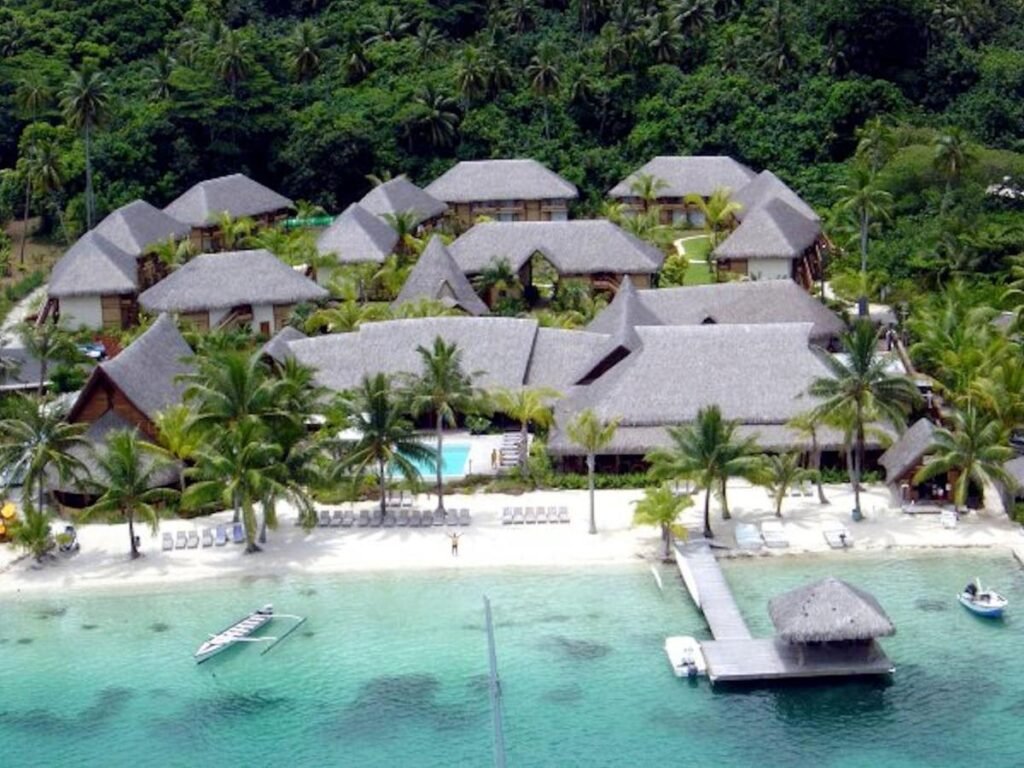 Situated at the southern end of Bora Bora that faces Motu Pua Un Uta, Royal Bora Bora is a small resort offering 10 villas built on a mountainside with rooms facing the resort's garden. Royal Bora Bora offers beautiful accommodation with a pool at the beachfront. Its main restaurant offers the best of Polynesian and international cuisines. What's interesting about Royal Bora Bora is that this resort is just a 15-minute drive from Vaitape, the main town where most of the island's major attractions are situated.
Bora Bora vs The Maldives: Activities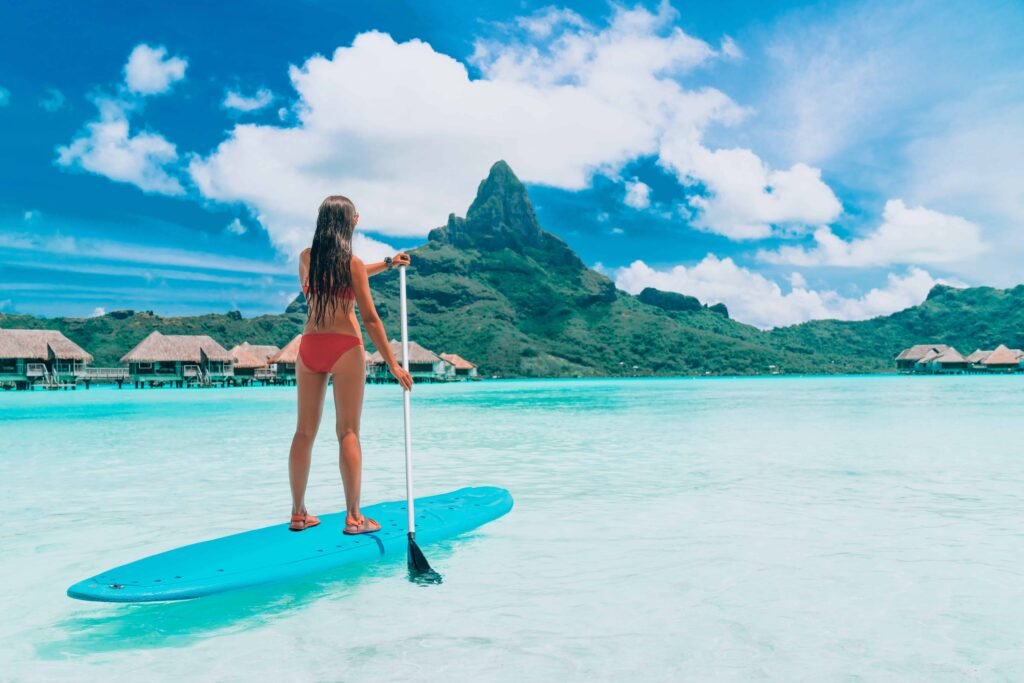 When it comes to activities, Bora Bora or The Maldives offer almost the same set, after all the goal of going to these high-end island destinations is to enjoy your vacation and relax for a few days. However, some of the activities are costly in both locations.
Things To Do In Maldives
Popular in the world as the total package for an excellent holiday and honeymoon destination, Maldives has a lot to offer other than relaxation.
Snorkeling of course is one of the most popular things to do when you're vacationing on the best islands in the Maldives. Its marine life extends to a different stage where you will witness an incredible array of corals and fishes.
Diving is also a must-do thing here if you have a license. However, you can still explore its marine life within 12 meters deep even if you don't have a license.
If you're not afraid of heights, parasailing is also a delightful thing to do in the Maldives. Nothing beats seeing the island from above. You can surf as well, or try stand-up paddle which are both great options.
Visit a spa to pamper yourself while the masseurs gently rub your body aches and pains away. Enjoy a romantic dinner by the deck of your overwater villa and what a better way indeed.
Things To Do In Bora Bora 
Tailor-made for adventure, water sports, and honeymoons, Bora Bora and its nearby islands are imbued with beauty. As soon as you arrive at this slice of paradise, the lure to chill in your overwater villa is enticing, with a short dip at the lagoon but you know there are other things that you can do on this island of French Polynesia. There is a huge variety of mouth-watery food in Bora Bora. Don't leave without carrying out at least one or two of the activities you can do in Bora Bora.
It's not only beachcombing and swimming in Bora Bora. There are activities beyond water sports here. You can snorkel with sharks and stingrays or go for a biking adventure around the island. Pedal your way along the cemented coastal road of the island as you pass by little fishing communities and ancient Polynesian temples, or just soak in the incredible landscape at different observation angles.
Chill at the beach, or join a Bora Bora jeep tour, why not? On this guided ride, you will bounce and bump in the jeep as it goes around the volcanic island, stopping by occasionally to admire the exotic flowers and fruit trees of Bora Bora.
Conclusion: The Maldives vs Bora Bora Comparison
There you have it! A comparison of the Maldives vs. Bora Bora. Both destinations offer luxury resorts, clear blue waters, and stunning scenery; however, they each have their own unique vibe. Ultimately, the decision of which destination to choose comes down to personal preference. Whichever destination you choose, we hope you have a wonderful time!
FAQs: Difference Between Maldives & Bora Bora 
At the end of the day, when asked about the difference between vacationing in The Maldives and Bora Bora getaways it is hard to answer. Both are stunning with azure waters, and overwater villas and have one of the most amazing beaches in the world. Yet, they do have different vibes and to answer this tough question a little bit easier, here are frequently asked questions to consider.
Where Is The Maldives located?
The smallest country in Asia, The Maldives is an archipelago of nearly 1200 small islands in the Indian Ocean. It's located southwest of India and Sri Lanka, and it's known for its clear blue waters, sandy beaches, lush vegetation, and luxury resorts.
How Much Is A Trip To Bora Bora?
Bora Bora vacation costs will depend on your length of stay and type of accommodation, but since Bora Bora is quite remote it will cost quite a few dollars to get there. The average cost for one week in Bora Bora is around $5, 718 per couple.
What Country Is Bora Bora In?
Bora Bora is an island in French Polynesia that's located northwest of Tahiti in the South Pacific Ocean. It's known for its natural beauty, including its coral reefs, crystal-clear lagoons, and scenic mountains. Luxury resorts are also aplenty on Bora Bora, so if you're looking for a relaxing vacation away from home, this is definitely the place for you.
Which Is Better, Maldives or Bora Bora?
The answer to this question depends entirely on what you're looking for in a vacation destination. If you're interested in luxury resorts and clear blue waters, then either destination would be a great choice. However, if you're looking to get away from it all and enjoy some peace and quiet, then the Maldives might be a better option since there are very few cars on the islands.