Quintana Roo is best known for its beachside resorts and Mayan ruins, but it is also home to none other than the Maldives of Mexico.  Bacalar Lagoon, known locally as Laguna de Bacalar, was once a hidden gem and a getaway destination for locals who preferred its calming shores over the hustle and bustle of Cancun or Tulum. Bacalar has a long and rich history that spans centuries. You could easily tell that it was revered by the Mayans who called it the Place Surrounded by Reeds Where the Sky is Born or Siyan Ka'an Bakjalal in their native language.
Bacalar was constantly targeted by pirates who plundered its natural resources and was later colonized by the Spanish who built a fort to ward off future invaders. The Fort of San Felipe towers over the lagoon in all of its 17th-century glory – a testament to how special the area is. Nowadays, both Bacalar and its Lagoon of Seven Colors are frequented by tourists from all over the world.
Why is Bacalar Lagoon known as the Maldives of Mexico?
Bacalar Lagoon is known as the Mexican Maldives due to its ocean-esque vibe and tropical color palette. The long stretch of cerulean water looks like it was cut out of the Caribbean or even the Indian Ocean and stitched into the emerald-green landscape. What surprises people the most about the lagoon is its freshwater. The source of this water is none other than cenotes or sinkholes. Some of these cenotes can be found within the lagoon itself. Bacalar Beach, with its swaying palm trees and rustic cabins, rivals the shores of the Maldives in terms of scenery and of course, water activities.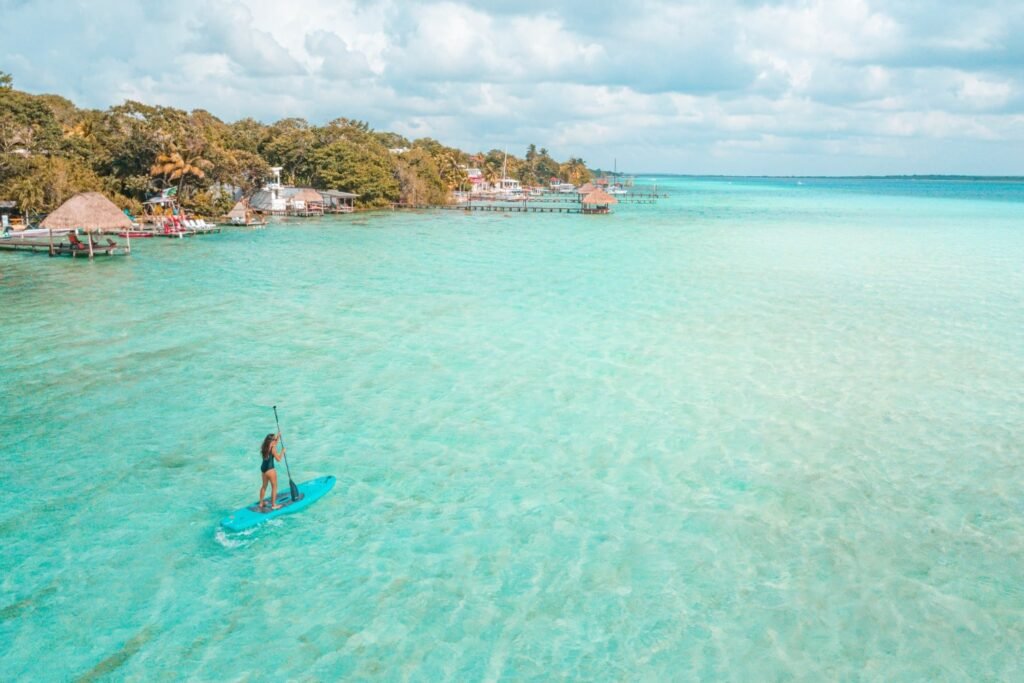 What makes the little Maldives of Mexico so special?
The dazzling shades of blue and the serene environment at Bacalar Lagoon paint a picture of the ideal getaway in the Yucatan Peninsula. The ecosystem in particular is what makes this place so special. Bacalar Lagoon is home to an ancient type of bacteria called stromatolites. These stromatolites are more than 3 billion years old and resemble large steppingstones made of limestones and blue-green algae. They are extremely rare, which is why people are not allowed to touch them or step on their precious surfaces. These living fossils have witnessed so much and yet they continue to thrive in the pristine freshwater ecosystem within the lagoon.
How to get to Bacalar Lake Mexico
The state of Quintana Roo has several airports but none of them is in Bacalar. Both Chetumal, the capital, and Cancun have airports that serve the city and its neighbors. Chetumal airport is only 45 minutes away which makes it the closest and the most convenient. Those spending their vacation in Cancun can also visit Bacalar either by car or by bus. The town is 4 hours away and is most definitely worth the trip. The local ADO buses are the go-to means of transportation. You can check the timetable and choose the best departure time as the buses make several trips to Bacalar Mexico per day.
Where to stay in Bacalar
Bacalar was once a quaint little fishing village that was off the beaten path for many. It was mostly a town that welcomed local tourists who were in desperate need to escape the city for the weekend. Nowadays, the lagoon is lined with many small hotels that welcome both local and international tourists all year round.
Luxury & All-Inclusive Resorts in Bacalar
Bacalar has so much to offer in terms of accommodation, but it has yet to step into the world of all-inclusive resorts. The good news is that many nearby towns and cities cater to visitors who prefer to stay in all-inclusive hotels while on holiday in Quintana Roo.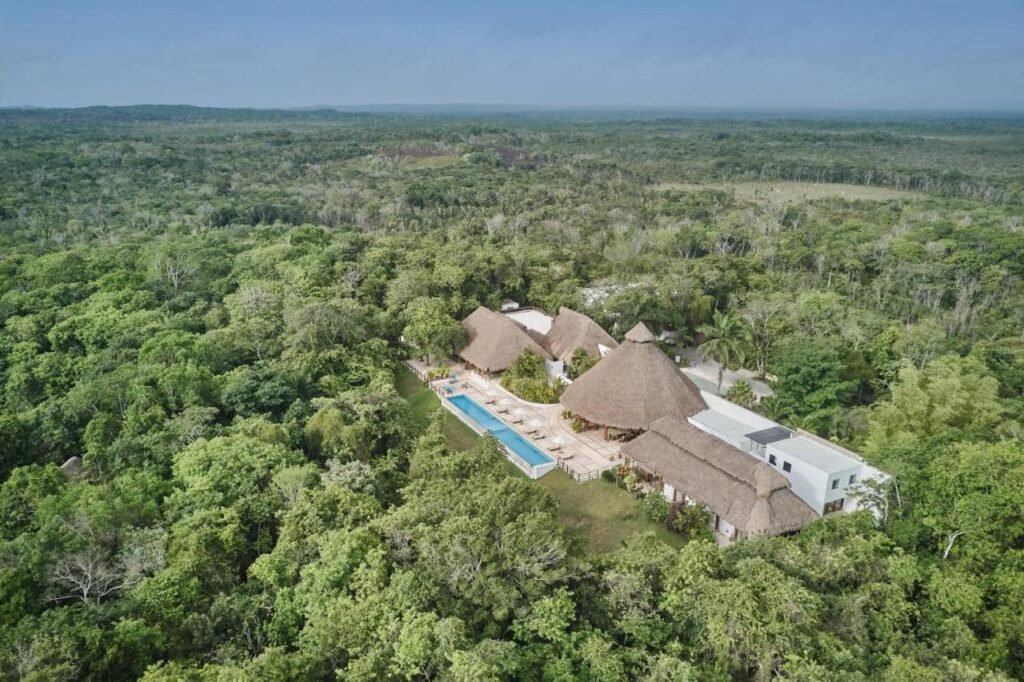 First on the list is The Explorean Kohunlich. This resort is located in Chetumal and is a 50-minute car ride from Bacalar. Its bungalows and cabanas are surrounded by an ocean of lush green jungle that stretches as far as the eye can see. The hotel has many amenities including a spa and swimming pool. The Explorean Kohunlich offers guests free airport transportation and complimentary bicycles as well.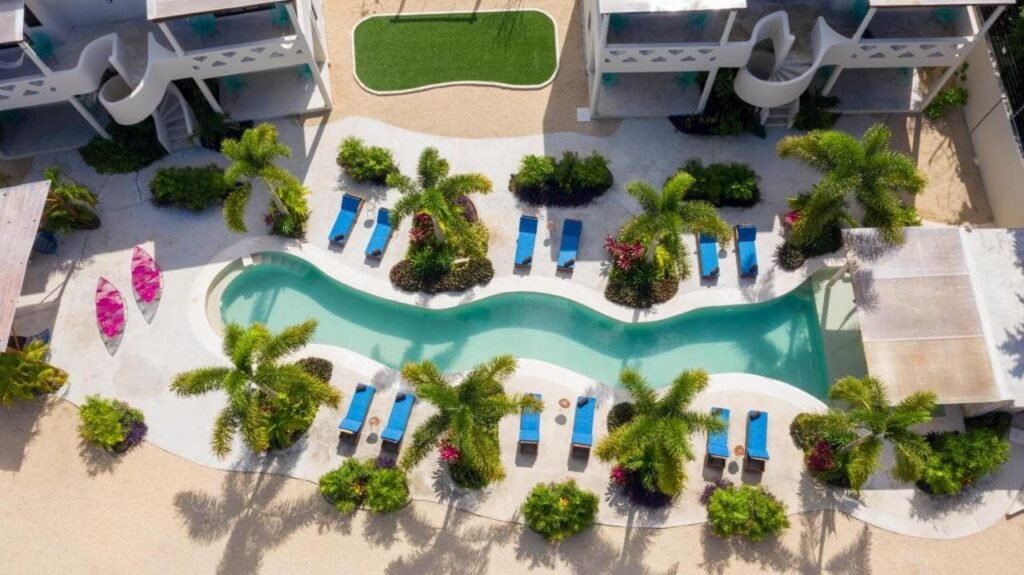 The Blue Palm is a luxurious hotel in downtown Bacalar with an intimate feel. The hotel offers its guests deluxe king and twin suites and a continental breakfast every morning. Visitors in search of wellness and relaxation can join a yoga session by the pool or choose the treatment of their choice at the open-air spa.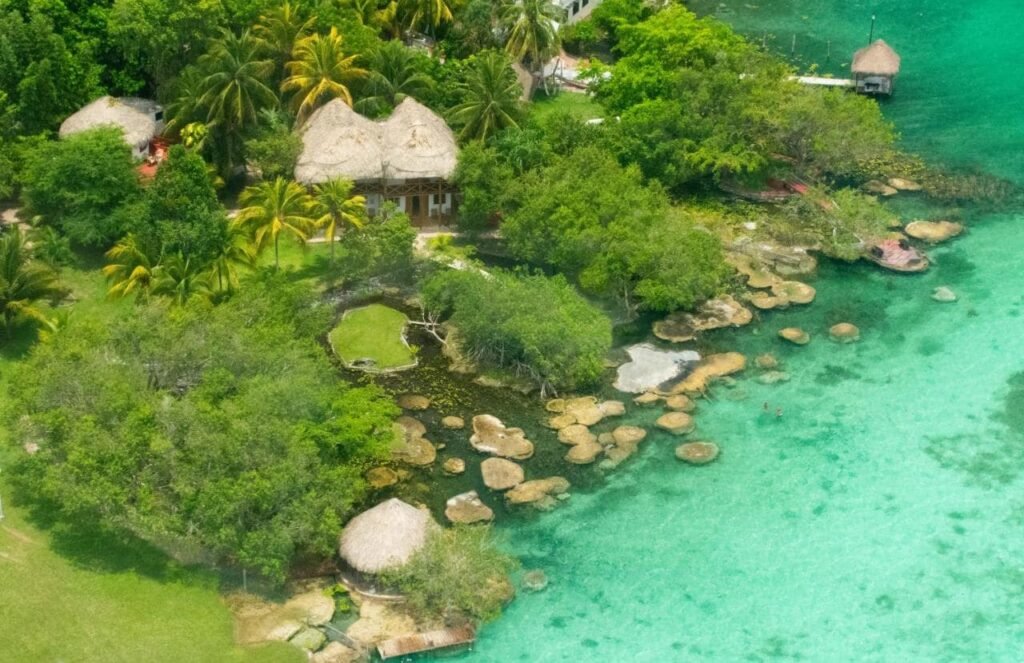 La Albarina is also a 5-star hotel located in Bacalar that offers lake view suites with an outdoor terrace overlooking the 7-color lagoon. The best thing about La Albarina is that it has its own private beach and sports equipment that guests can use to explore the lake. The hotel is also within walking distance to Cenote Azul.
Mid-Range Bacalar Hotels
Bacalar has two great mid-range accommodation options that are worth the money. Both hotels are highly rated in terms of location and amenities. They are also surrounded by many restaurants and family-owned establishments that guests can visit at their leisure.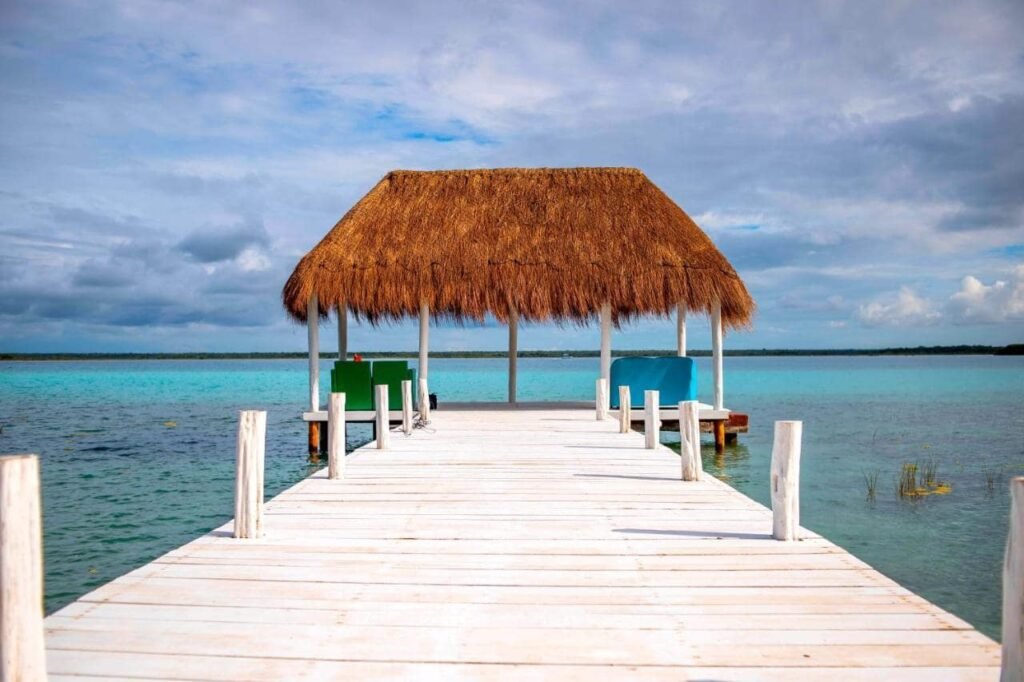 The hotel has all the hallmarks of a tropical retreat. Guests are spoiled for choice when it comes to accommodation with 5 different suite options available for booking. The King Size Suite for example is incredibly spacious and has its own private terrace. Royal Palm Bacalar is also within walking distance of the 7-color lagoon.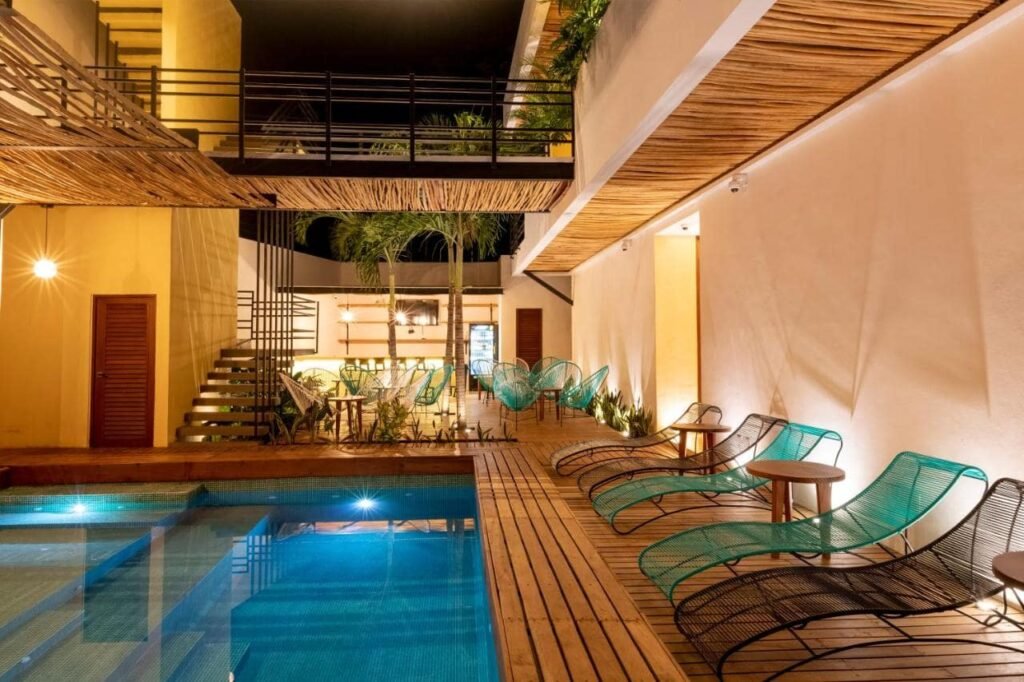 La Galuna is another trendy mid-range option with a great location in Bacalar. The hotel consists of 12 rooms including a luxurious suite with a hot tub. Guests can lounge by the pool, order a drink from the bar, or grab a free bike and use it to visit downtown Bacalar.
Budget Hotels & Hostels
Traveling in groups can be so much fun and even cost-effective if done right. Large families or groups of friends can easily save up by staying in hostels or spacious aparthotels. Luckily, Bacalar has two budget-friendly accommodation options that offer great value for money.
The family-owned guest house is incredibly cozy and offers triple and double rooms that were tailormade for an entourage or two. Guests can lounge in the outdoor pool or work up a sweat at the fitness center. Zayali has a barbecue area and a shared kitchen that guests can use to cook meals and prepare beachside snacks.
Villas Karalv offers spacious accommodation and plenty of privacy. The family-friendly hotel is located on the shores of Bacalar Lagoon and was designed for extended holidays. Each villa has a fully equipped kitchen and a living area where guests can watch television or plan their itinerary for the day.
Top things to do in Bacalar Mexico
Explore the Lagoon by Boat
Boat tours are a great way to begin your journey in Bacalar Lagoon. Several reputable agencies in town offer three-hour tours of the lake. You can spend the afternoon sailing past crystal-clear cenotes while learning about the history of the lagoon. There are plenty of sites to see including Bird Island and the famous Canal de Los Piratas or Pirates Channel.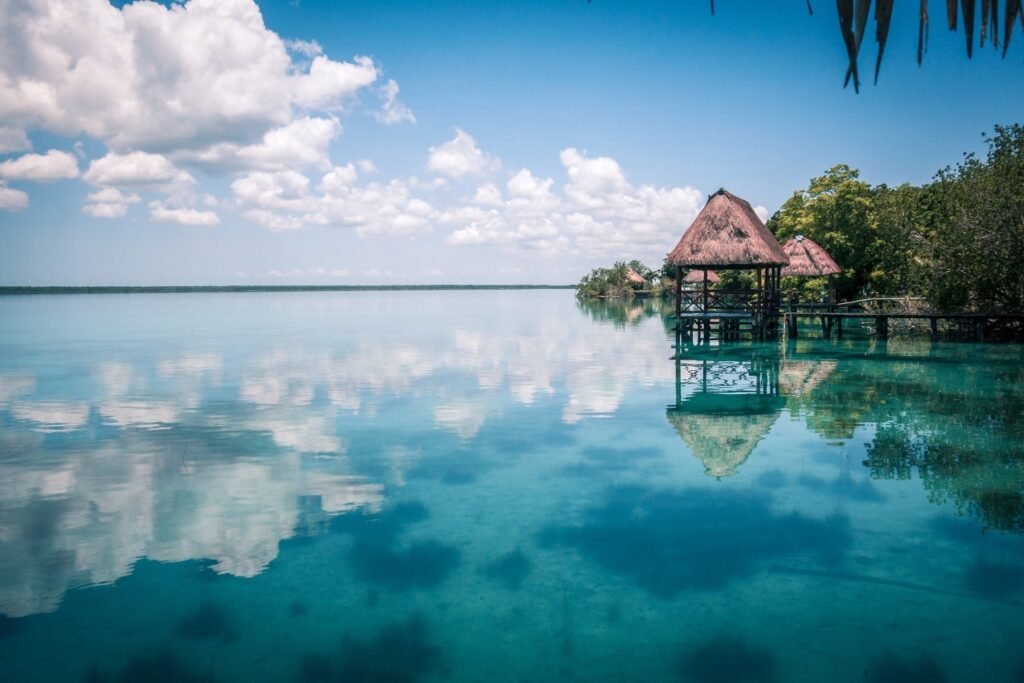 Row a Kayak Gently Down the Lake
Slide into your complimentary kayak and row your way into the dazzling blue depths of the lagoon. Kayaking and paddleboarding allow you to enjoy the serene waters of the lake, especially during the early hours of the morning. Many hotels offer their guests free sports equipment so make sure to inquire about your free kayak or paddleboard during check-in.
Dive into the Depths of Cenote Azul
No trip to Bacalar is complete without taking a cooling dip in Cenote Azul. Unlike cave cenotes, this natural pool is around 300 feet deep, which is ideal for diving and snorkeling. The jungle forms a vibrant green belt around the cenote with plenty of palm trees to shield you from the tropical sun. Speaking of sunlight, visitors are not allowed to wear sunscreen so make sure you visit the cenote early in the morning or late in the afternoon.
Learn Some Local History at Fuerte de San Felipe
Much like the Caribbean, Bacalar has its own story to tell when it comes to pirates. The area was once a magnet for pirates who would sail through the channel in search of wood and other resources. They pillaged their way through town until the Spanish built The San Felipe Fort in an effort to shield Bacalar from those treacherous thieves. The 17th-century fort offers panoramic views of the lagoon.
Study the Stromatolites at Cocalitos
Cocalitos is located right next to Cenote Azul and is a great place to study the stromatolites up close. The shoreline at this particular cenote is lined with these ancient living fossils. The crystal-clear water is not as deep as Cenote Azul but it still makes for quite the snorkeling experience. Cocalitos is sprinkled with hammocks and water swings that take chillaxing to a whole new level. It also has a restaurant and shower rooms in case you need to grab a bite to eat or shower before traveling to your next destination.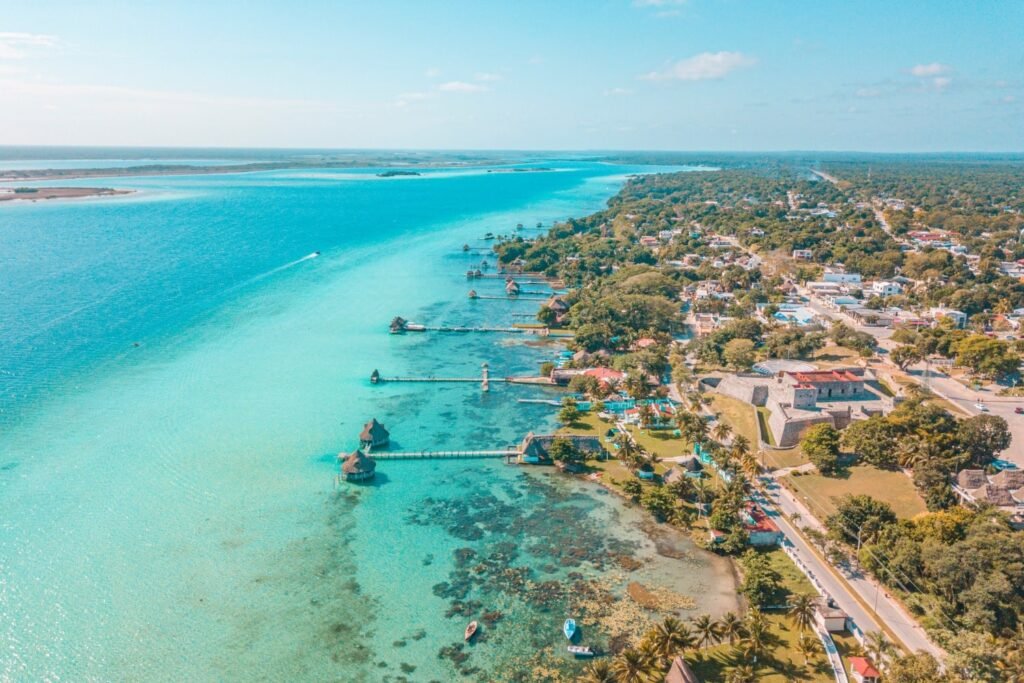 Ride a Bike Around Town
Bikes are a great way to explore Bacalar and its many murals. The town is filled with vibrant street art that showcases the beauty and diversity of the Yucatan Peninsula. You will come across several Instagrammable murals that reflect the talent and Mexican spirit of the local artists who painted them.
Attend a Film or Music Festival
Bacalar has earned its place among the other magical towns in the area like Tulum and Izamal thanks to its rich Mayan history and of course, its natural beauty. Its art and music scene are as impressive as its lagoon. The town has an upcoming International Film Festival in July and a music festival called Gunea Festival that takes place in January at the Bacalar Beach Club.
Best Restaurants in Bacalar
Many people flock to La Playita eager to sample its Latin fusion menu and end up staying for the wonderful ambiance. The beach club/ restaurant is popular amongst travelers and has won Trip Advisor's Traveller's Choice Award in 2021. The restaurant has an extensive menu complete with vegan options and serves both lunch and dinner.
Ixchel Bacalar is mainly a breakfast venue that serves fluffy pancakes and croissants. It's also a favorite among the Trip Advisor crowd. It has an overall cute vibe and features live music every morning. Diners recommend trying their chilaquiles yumkaax or hotcakes which happens to be their specialty.  
Los Hechizos serves breakfast, lunch, and dinner with a view. The restaurant is tastefully decorated and is located right on the edge of Bacalar Lagoon inside Hotel Rancho Encantado. It has an impressive breakfast menu and mouth-watering dishes that are incredibly hard to choose from. Their menu caters to both seafood and meat lovers. Vegan and gluten-free options are also available.
Selva is mainly a brunch place where customers can order burritos, ceviche, and other Mexican delights including their signature hotcakes. They also serve cocktails and coffee. Sundays at Selva are all about music. Diners can enjoy their breakfast to the sounds of soulful tunes in the background.
Downtown Bacalar is home to a very special restaurant called El Manati. The restaurant features an art gallery, souvenir shop, and a library all under the same roof. You can exchange books and donate money to stray animals while sampling dishes made from locally sourced ingredients. Mornings are usually reserved for live music. The restaurant has a lovely garden where diners can sit and enjoy their hearty breakfast.
FAQs
How do you get to Bacalar Mexico?
Bacalar can be reached either by bus or car via Chetumal or Cancun. Chetumal is the capital of Quintana Roo and has an airport that is approximately 40 minutes away by bus from Bacalar. Cancun is the second option. You can travel from Cancun to Bacalar by bus, but the journey is much longer. It takes around 5 hours and 40 minutes to reach Bacalar from downtown Cancun. The journey from Cancun to Bacalar is a straightforward one thanks to Highway 307. Tourists can easily rent a car from a reputable agency in Cancun and drive all the way to Bacalar.
How far is Bacalar from Cancun?
Bacalar is approximately 5 hours away from Cancun via Highway 307, that is if you take the ADO bus instead of a small shuttle or car. It will take you around 3 hours and 52 minutes to reach Bacalar by car without traffic.
Is Bacalar Mexico safe for tourists?
Yes. Bacalar is as chill as can be compared to the other touristy towns where the crowds never sleep. It is also one of the safest getaway destinations in Mexico. Having said that, it never hurts to exercise caution or use common sense when traveling to a new town or city. Unlike the packed promenades and beaches of resort cities like Cancun, Bacalar has a laid-back vibe and an overall safe atmosphere that will make you feel right at home.