Bali is a famously romantic destination and with good reason. From the breathtaking sunsets to the lush landscapes, there are plenty of places to stay in Bali that offer stunning views for couples looking to escape together. If you're looking for a relaxing getaway with your significant other, consider one of these romantic hotels in Bali. I've personally stayed in each one of these hotels myself and of them have the most stunning views to wake up to. So pack your bags and prepare to fall in love all over again!
Best Romantic Hotel in North Bali: Munduk Moding Plantation
View: Infinity pools and breathtaking sunsets
Room rates starting at: $200
One-Bedroom Pool Villa with Hot Tub starting at: $380
Munduk is the perfect area in Bali for a quiet escape away from the main tourist crowds. Munduk Moding Plantation is a magical hideaway nestled in a working coffee plantation surrounded by a jungle. It is without a doubt one of the most romantic hotels in Bali. The hotel provides affordable luxury accommodation with private pools overlooking spectacular views of North Bali and pink sunsets every day.
The hotel has a total of 9 villas each decorated in a traditional Balinese style with beautiful bathrooms and outdoor terraces. There are several room categories available, but I recommend booking one of the rooms with private pools to enjoy your very own private and romantic sunset time.
You can also enjoy massages at the spa or ask the staff to book one of the many tours they offer. I highly recommend taking a tour of the stunning waterfalls in the area.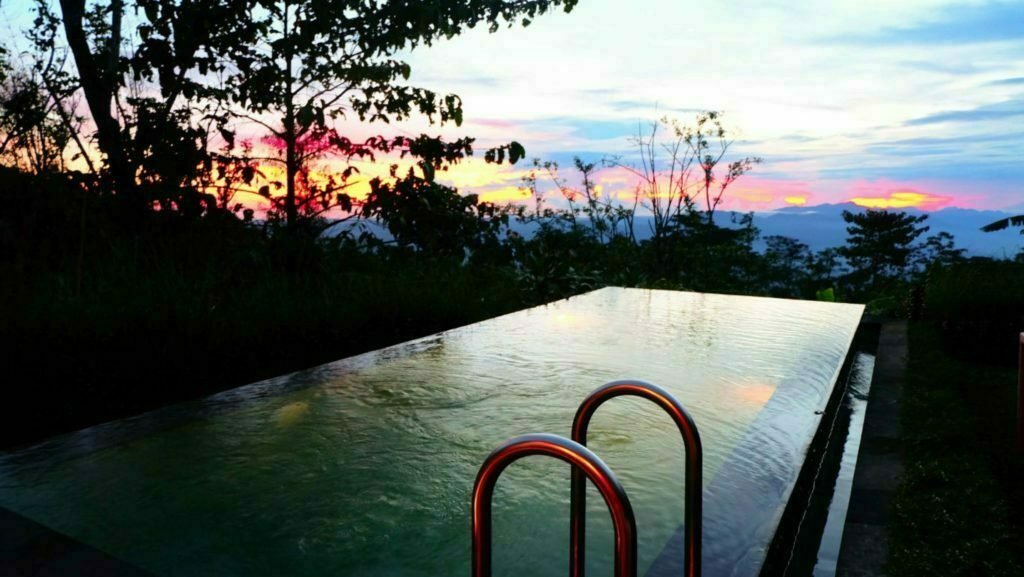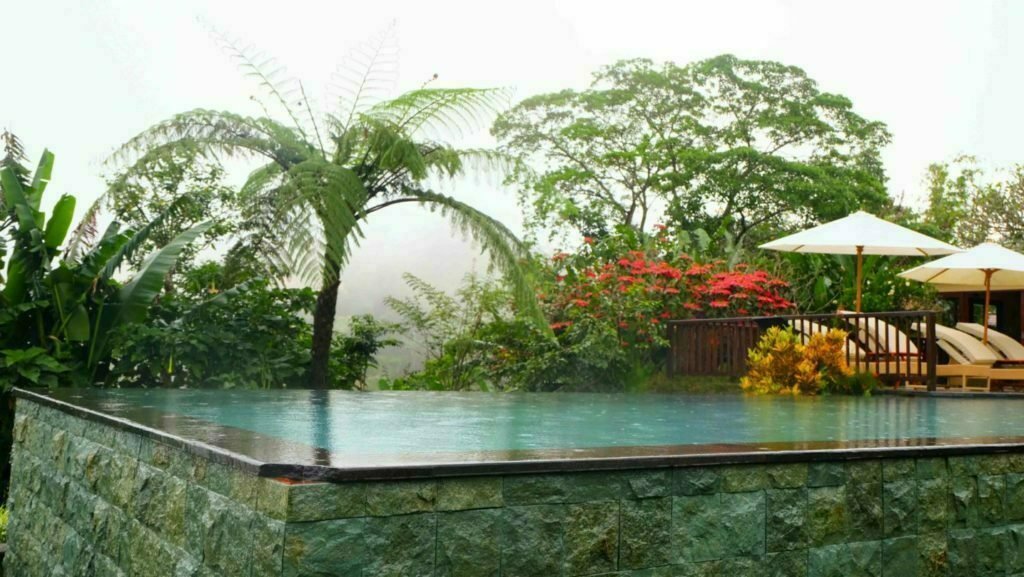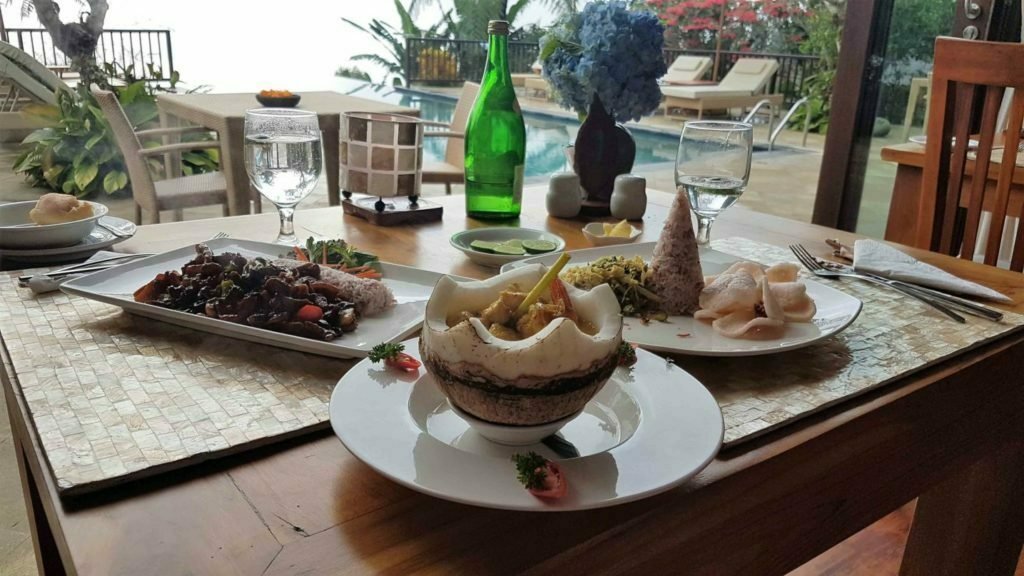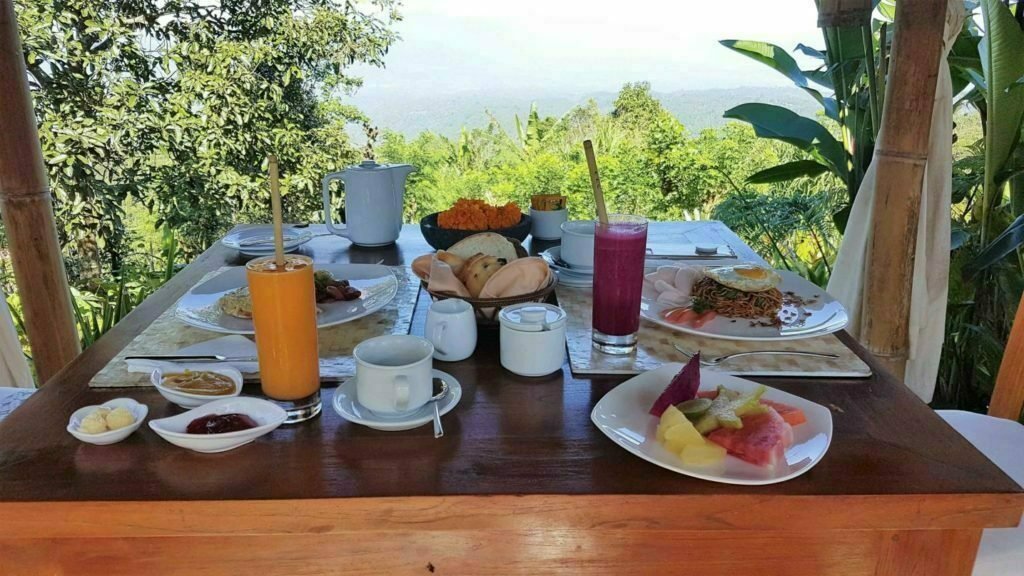 Jetsetter recommendation: Try the Balinese tasting menu for dinner. You have to pre-order it during breakfast time. If you're a coffee lover, take a walking tour around the hotel grounds to see the coffee plantation and taste the different coffee blends. 
 Book your hotel stay at Munduk Moding Plantation here
Romantic Jungle Hotel in Ubud: Nandini Jungle Resort
View: Jungle and pool views
Room rates starting at: $320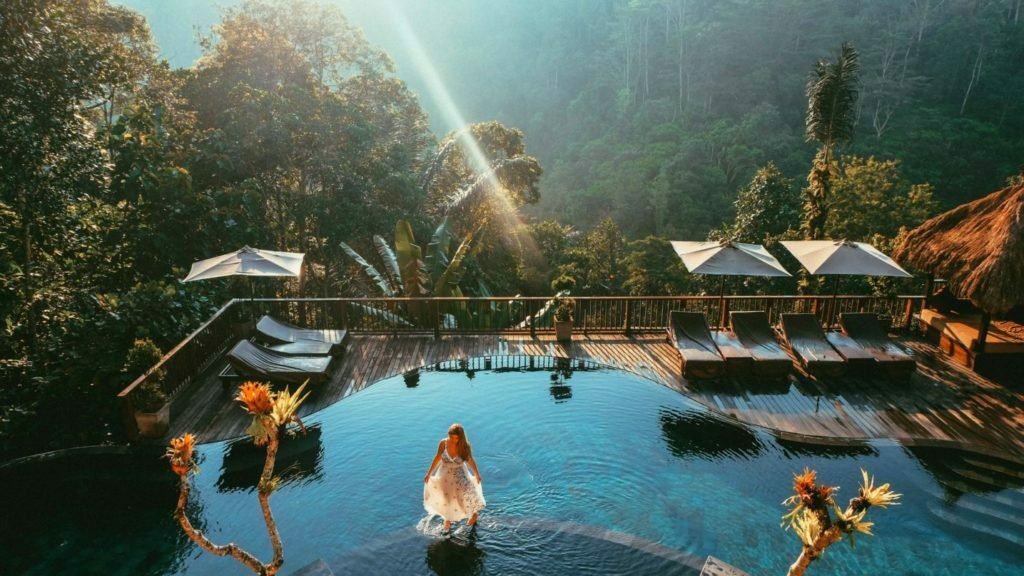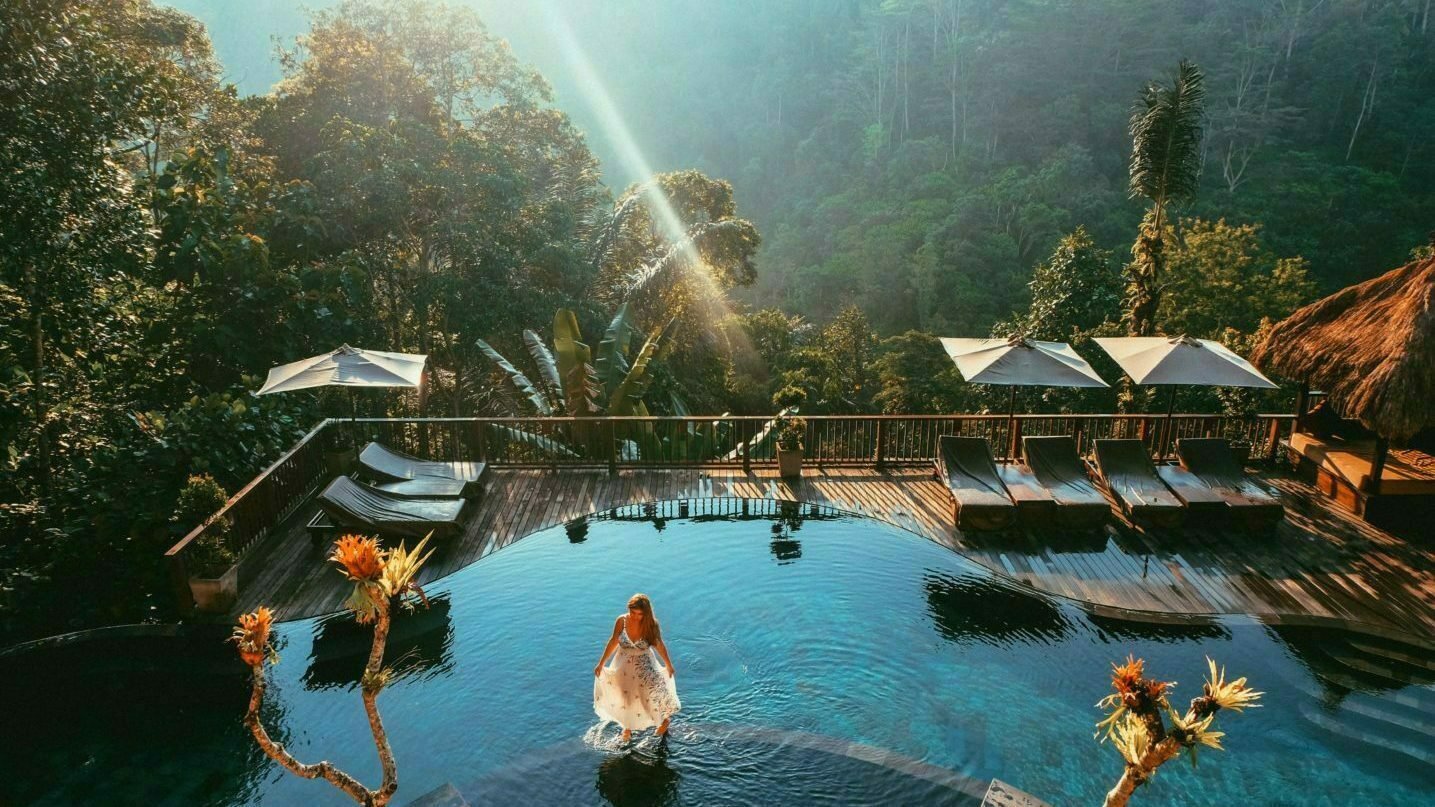 Nandini is a stunning hideaway located in the middle of a jungle on the Ayung River in Ubud. It's one of the best honeymoon hotels in Bali. You can wake up every day to the sounds of the rainforest and even spot some monkeys in the trees. It's a great place to reconnect with nature and enjoy daily yoga classes in the morning.
There's an amazing spa and the Balinese massage is one the best I've had. The resort grounds are huge and there are several restaurants and beautiful corners to enjoy some quiet time.
The pool area is beautiful during sunrise and the surrounding trees sometimes get covered with misty fog. It's definitely worth it to wake up early and enjoy the view and go for a swim.
For ultimate serenity and a good outdoor workout, take the stairs down all the way to the Ayung River. You will feel like you're totally surrounded by the jungle with the sounds of the river in the background.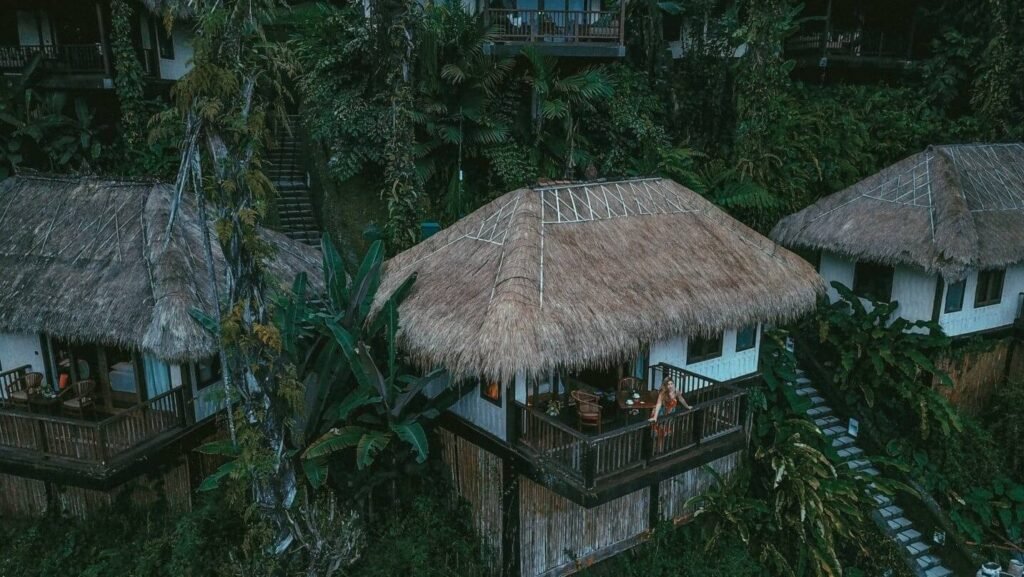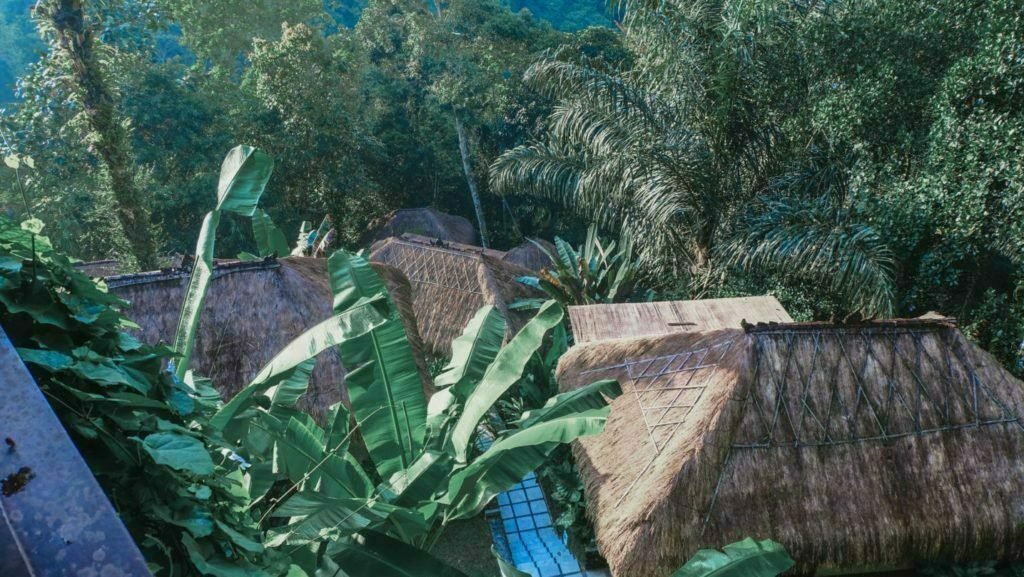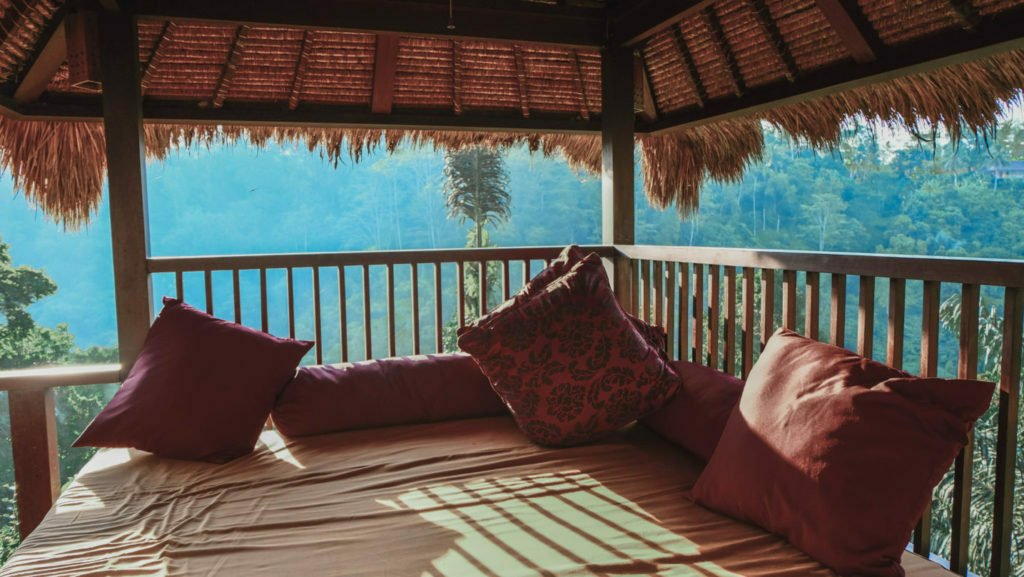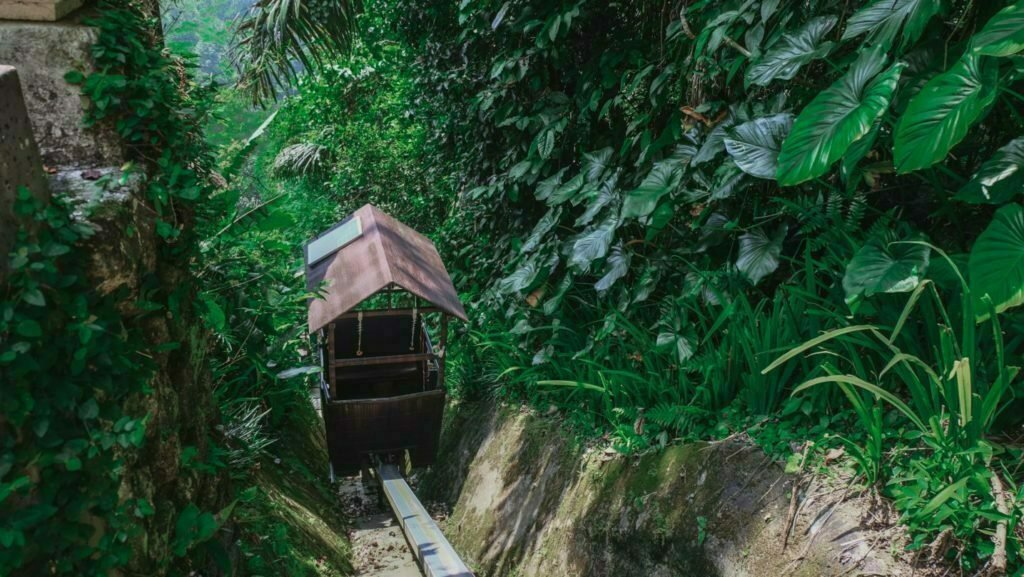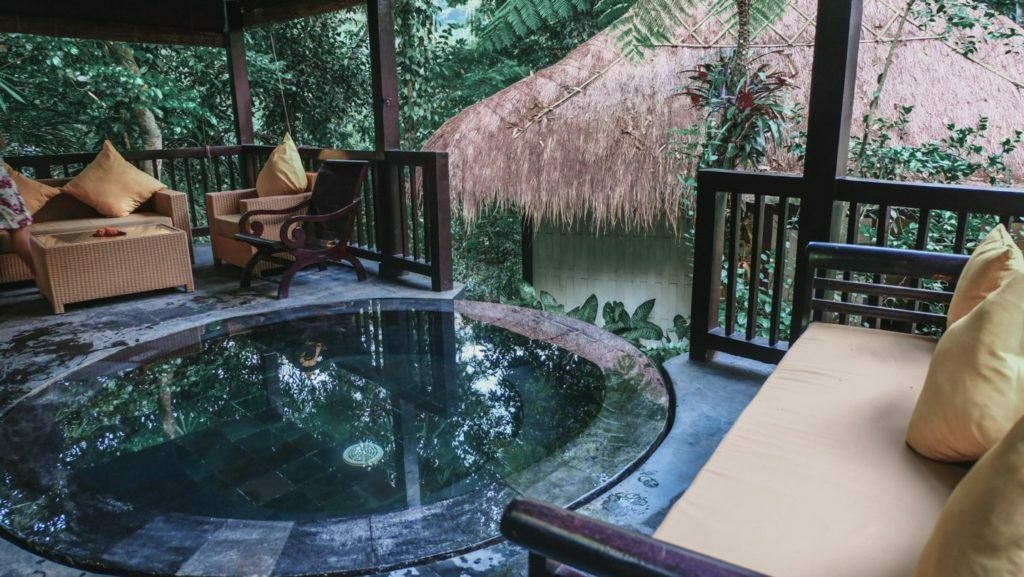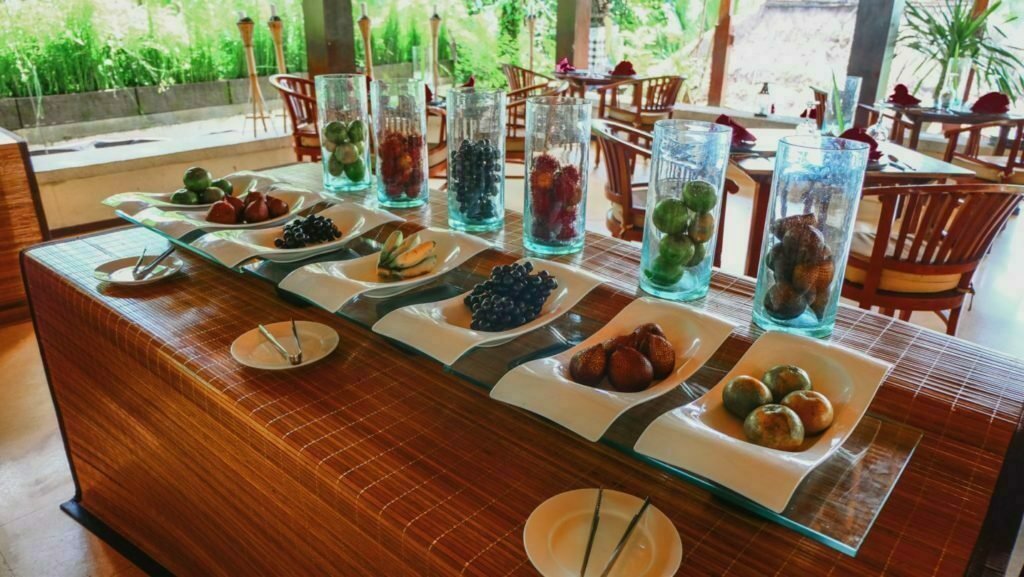 Jetsetter recommendation: Book one of the rooms that overlook the main pool. The large terraces are amazing to enjoy your morning coffee with the view of the pool and rainforest. 
Book your hotel stay at Nandini Jungle Resort here
Romantic Penthouse Suite in Uluwatu: Anantara
View: Indian Ocean
Room rates starting at: $245
Dedari Penthouse Suite rate starting at: $550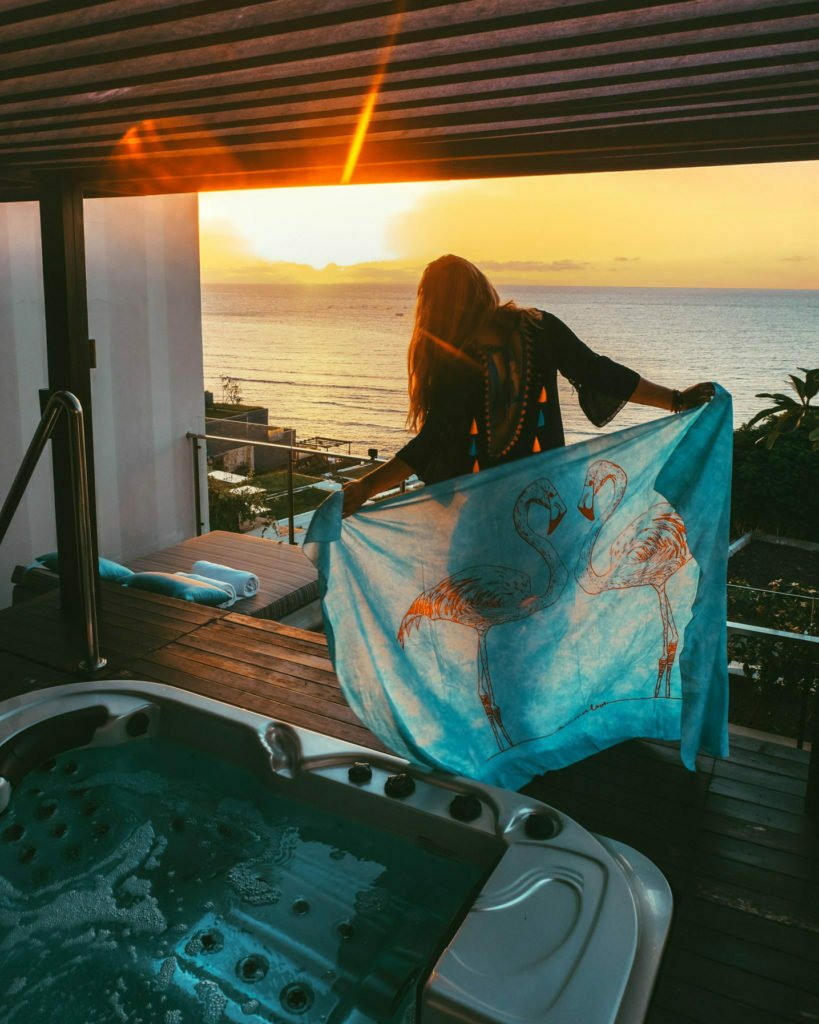 Anantara is a luxurious cliffside sanctuary and the perfect place for a romantic getaway. The rooms overlook the Indian Ocean and some have private outdoor Jacuzzis. There's an elevator that takes you to Impossible Beach, which is a surfer's paradise.
The hotel has amazing dining options. Breakfast is served at the 360 Rooftop restaurant with a gorgeous view of the ocean. The breakfast buffet has so much variety including international and local specialties and a delicious selection of pastries and coffee. The resort also has 4 other dining options: Anantara Uluwatu Dining.
I had the pleasure of staying in the gorgeous Dedari Penthouse Suite with a private jacuzzi overlooking the hotel and ocean. The large windows in the room let in lots of sunlight. The suite is massive and has a separate sitting room with a huge terrace and jacuzzi. Sunset time is absolutely magical from the terrace. You might even have some close encounters with the monkeys that run around in the area.
One of my favorite parts of the suite was the bathroom. It's beautifully decorated with colorful tiles, 2 separate sinks, a shower, and of course a giant bathtub fit for a queen. A warm bubble bath is highly recommended.
The massage experience was really special. The spa area is so pretty with a traditional Balinese design and lots of Koi fish swimming around. The staff and service were amazing. Upon arrival, you can choose which music to hear in your room and also sample several oils before choosing your preference for the massage.
Other amenities in the hotel also include an in-room Nespresso machine, luxury toiletries, and a daily shuttle service to Padang Padang Beach and Uluwatu Temple.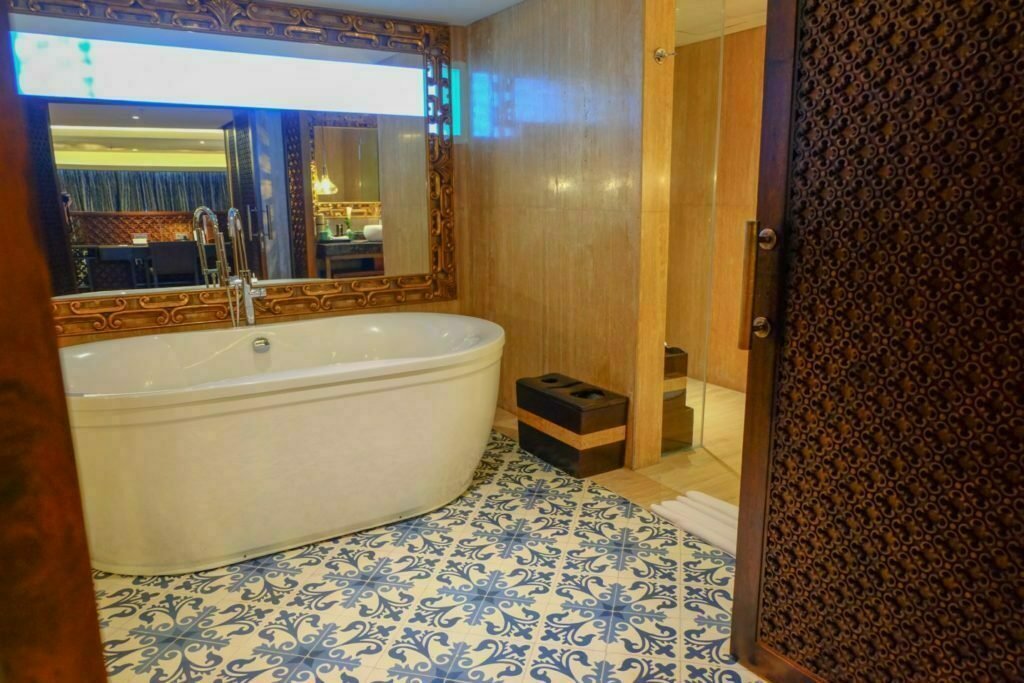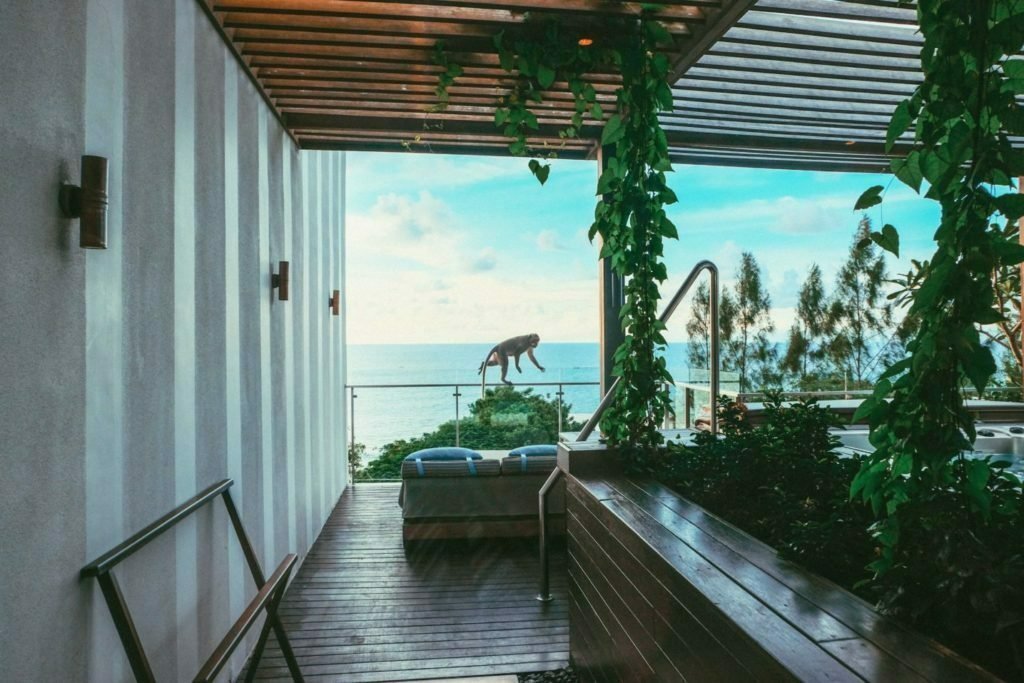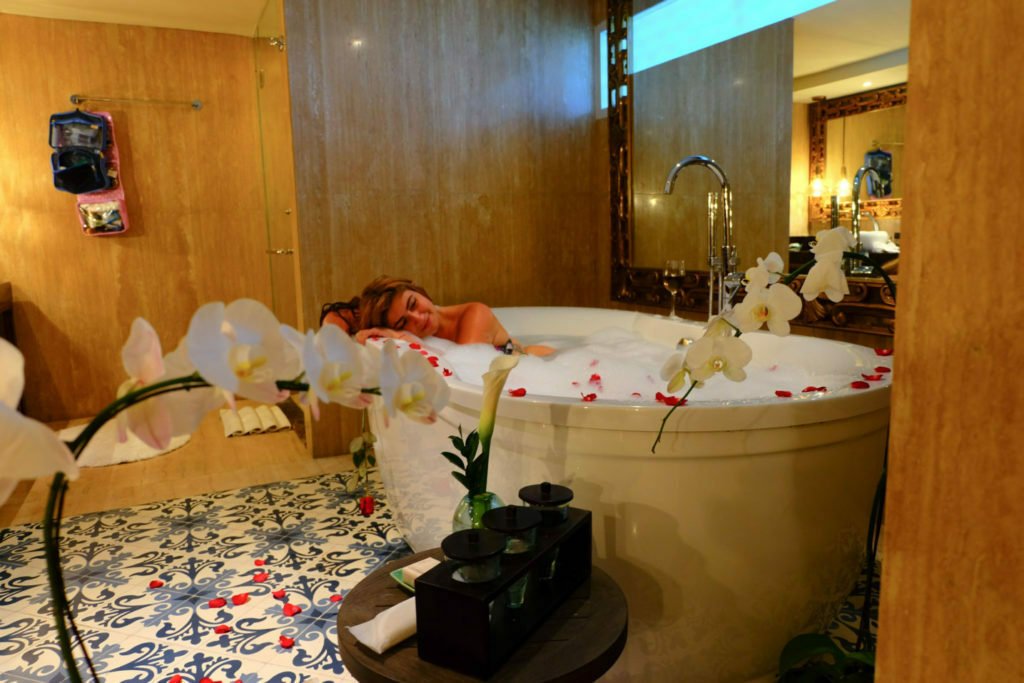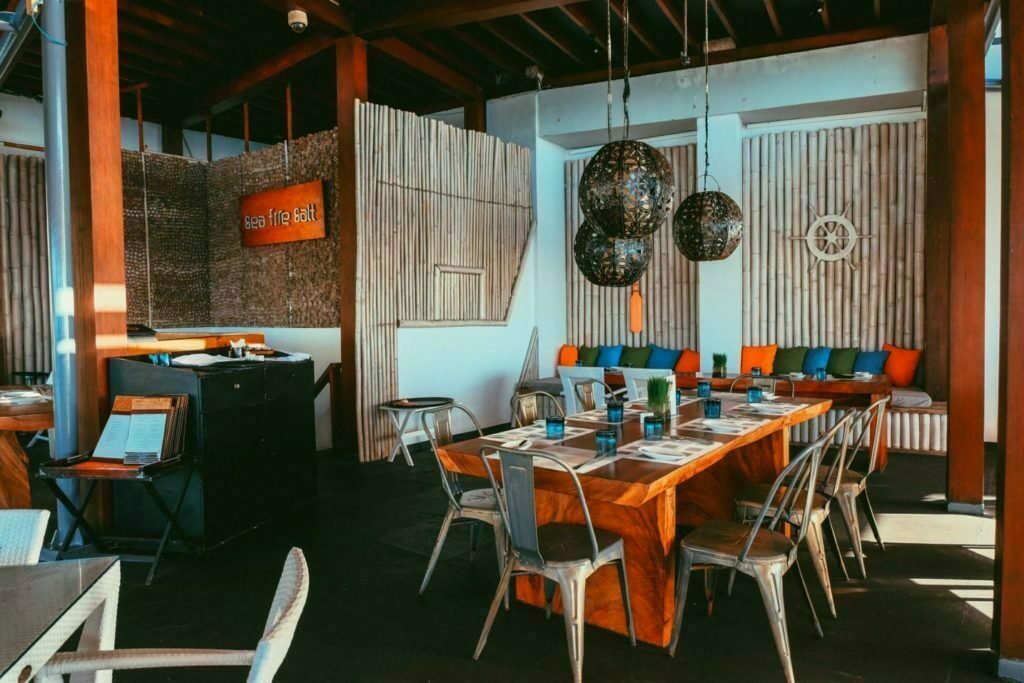 Jetsetter recommendations: Book a dinner at Sono Teppanyaki Restaurant for a live Japanese cooking experience. The best spot for lunch is ats  at Splash restaurant next to the beach and overlooking the main pool. 
More dining options with great views: Head over to their sister hotel Anantara Seminyak Bali Resort and enjoy cocktails with your feet in the sand during sunset at S.O.S. Restaurant followed by a delicious dinner at MoonLite Kitchen and Bar for Asia fusion. 
Book your hotel stay at Anantara Uluwatu here
Romantic Beach Hotel in Uluwatu: Karma Kandara
View: Indian Ocean & private beach
Room rates starting at: $450
Karma Kandara has spectacular private pool villas in Bali. The main restaurant, Di Mare, is very stylish and serves delicious Mediterranean cuisine. The view from Di Mare is absolutely beautiful and it's the best place to enjoy your morning coffee while enjoying an a-la-carte breakfast.
The highlight of the resort is the private Karma Beach. Actually, getting to the beach is the best part of the experience. Since the hotel is located on a cliff, there's a really cool cable car that takes you down to the shore. The view of the clear blue water from there is absolutely incredible.
The resort itself is huge and it's amazing to walk around and explore the beautiful hidden spots. You will see several signs warning guests about the cheeky monkeys around the area. You might even find some on your terrace.
Karma Kandara offers free yoga classes on some mornings with the sounds of the waves. The spa is located on a cliff and you can enjoy a dip in the pool overlooking the ocean.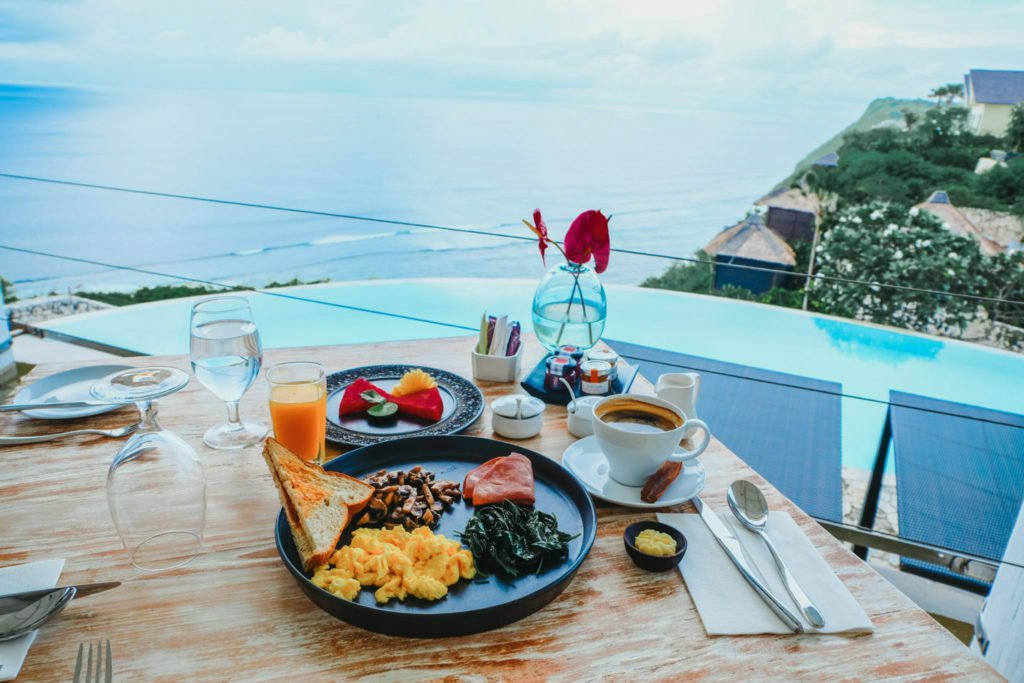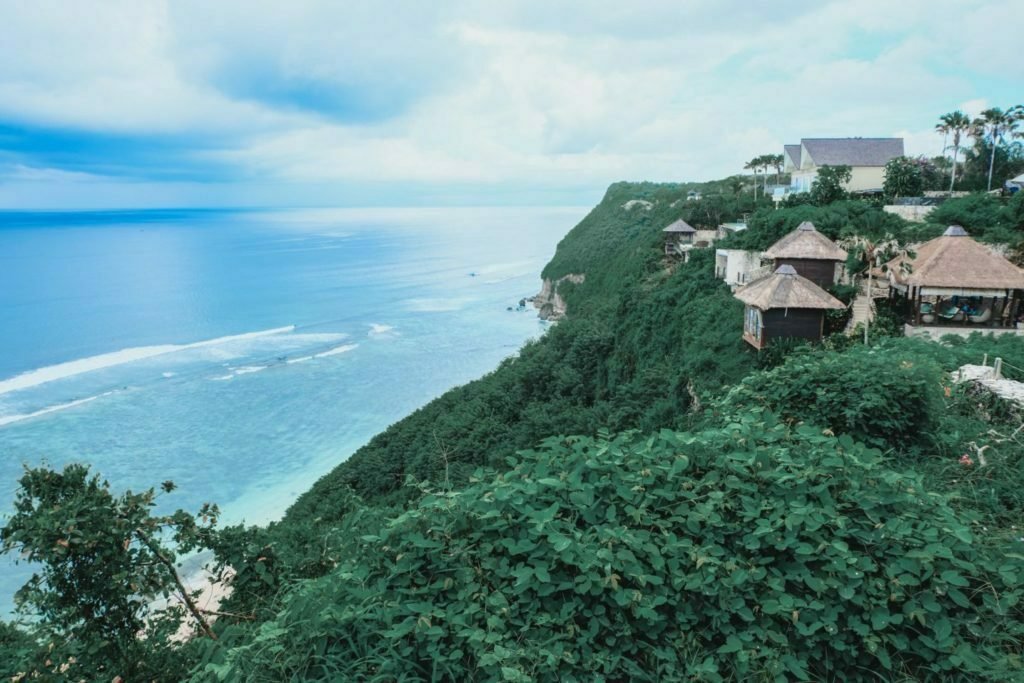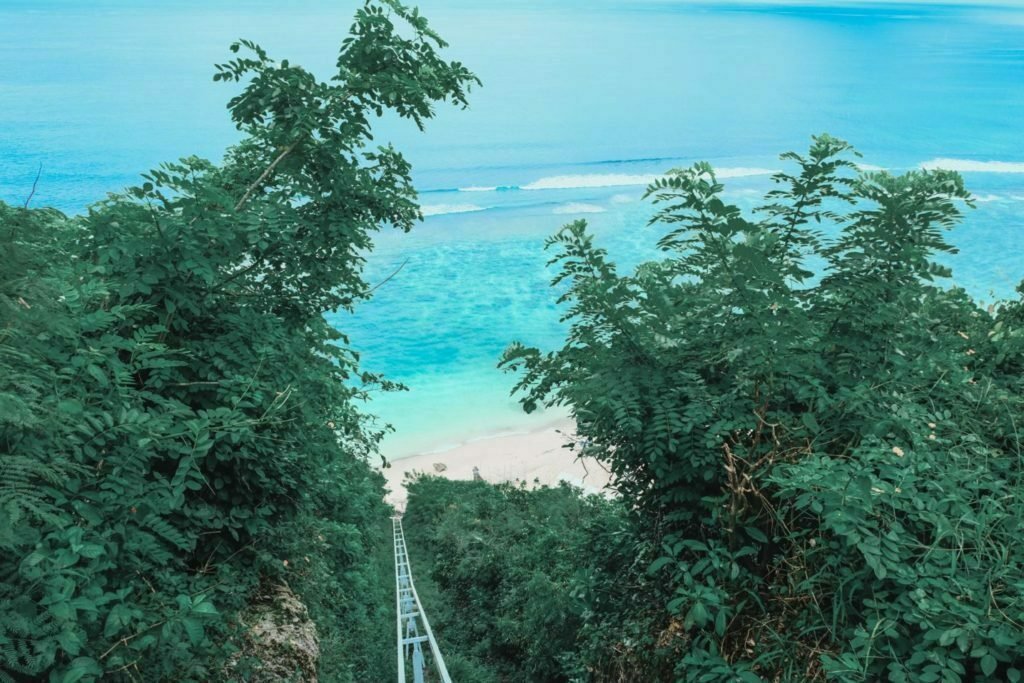 Jetsetter Recommendations: Reserve a full day on your calendar to enjoy Karma Beach. The beach bar serves amazing cocktails and ice cream.
Book your hotel stay at Karma Kandara here
Romantic Hotel with Volcano Views in Ubud: Seres Springs Resort
View: Mount Agung Volcano and rice fields
Room rates starting at: $100
Deluxe Premium Room with Outdoor Tub starting at: $200
Who doesn't want to wake up to panoramic views of Bali's largest volcano Mount Agung? Better yet, you can book a room with a bathtub on your balcony, so you can enjoy the views from your bubble bath.
This brand new resort is only a 15 min drive from Ubud center and there's a free shuttle that can take you to the main shopping area at any time. Facilities include a big pool in the main area and also a natural springs soaking-Pool.
All of the beautifully designed rooms offer ultimate comfort and generous amenities. What I loved most is how clean, neat and well-designed the rooms are. The beds are extremely comfortable and the bathroom is packed with lots of luxury amenities. There's also a coffee station with free and fresh Balinese coffee.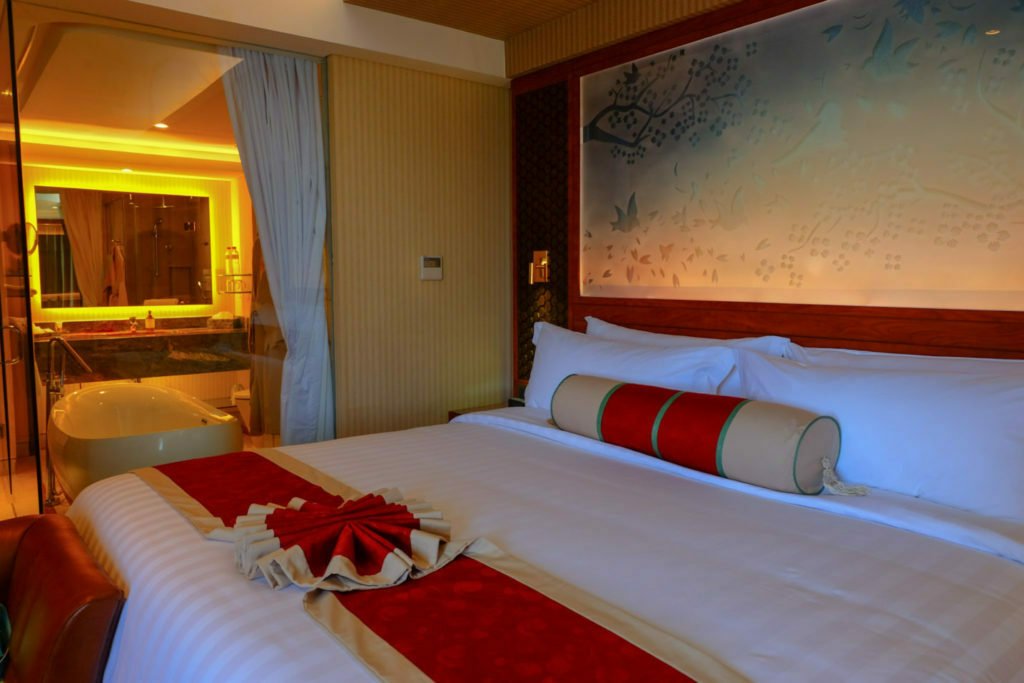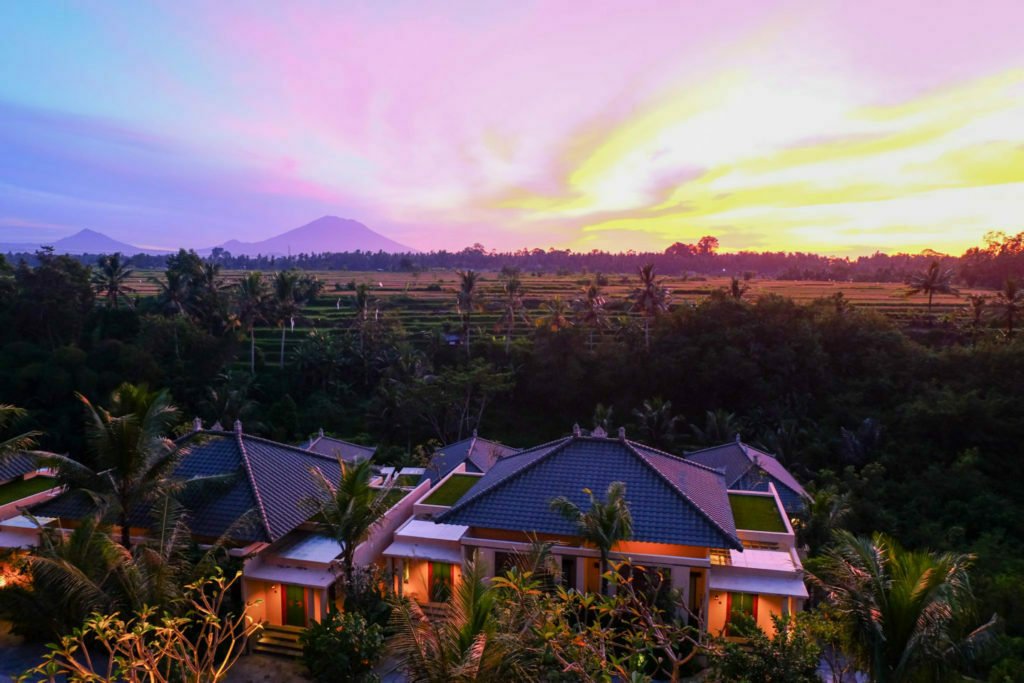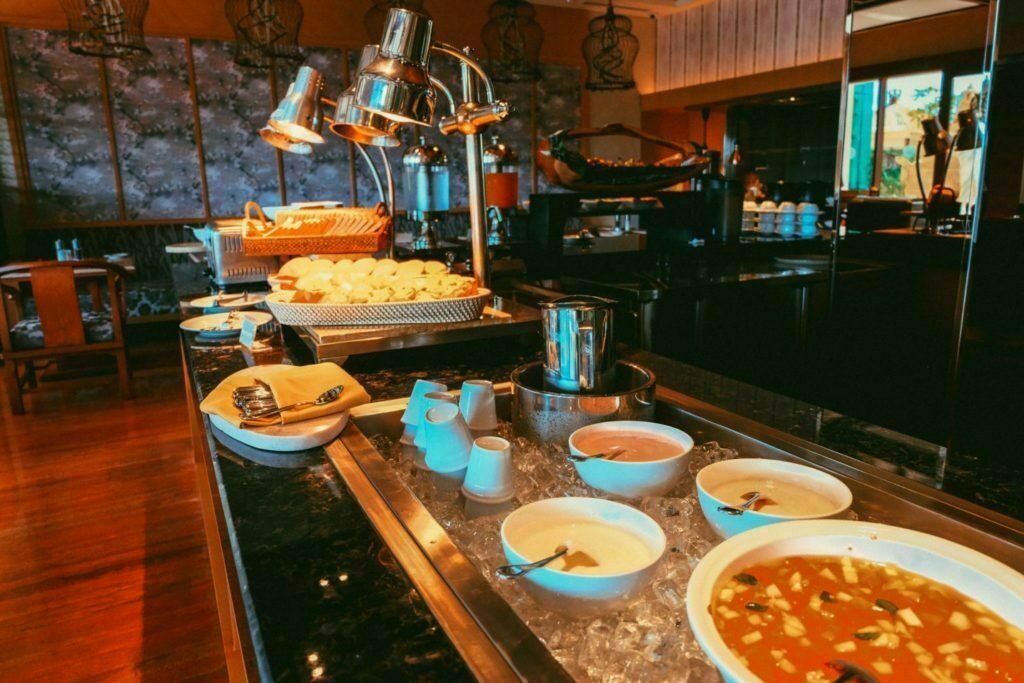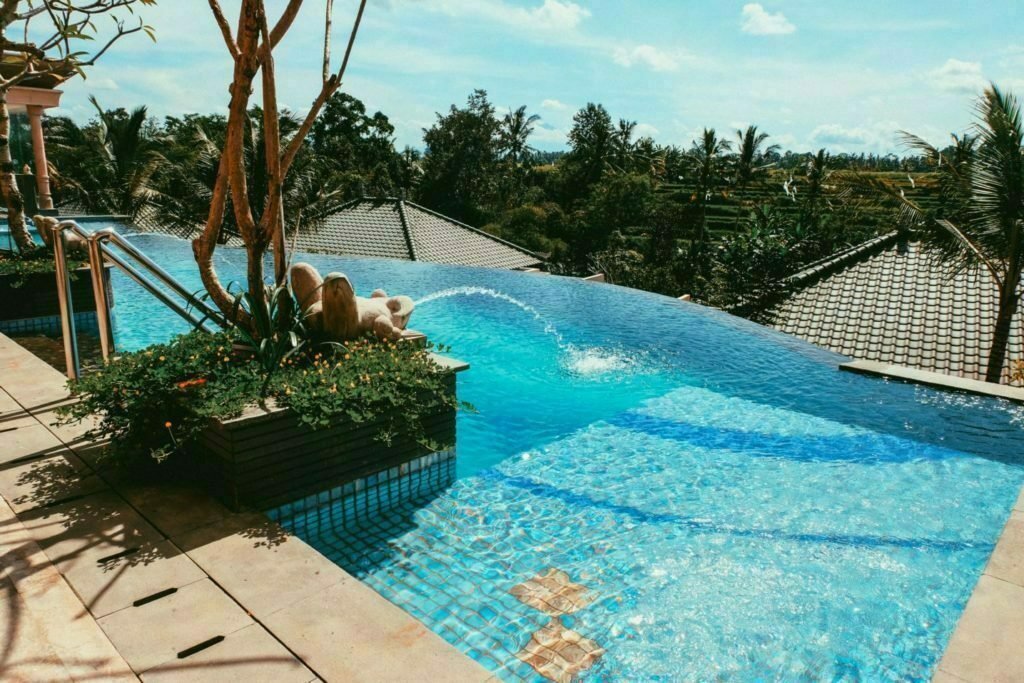 Jetsetter Recommendations: Book a room that has a bathtub on the balcony and prepare a bubble bath right before sunset time.
Book your hotel stay at Seres Springs Resort here
Romantic Budget Hotel in Ubud: Padi Echo Villas
View: 360-degree views of rice fields
Room rates starting at: $60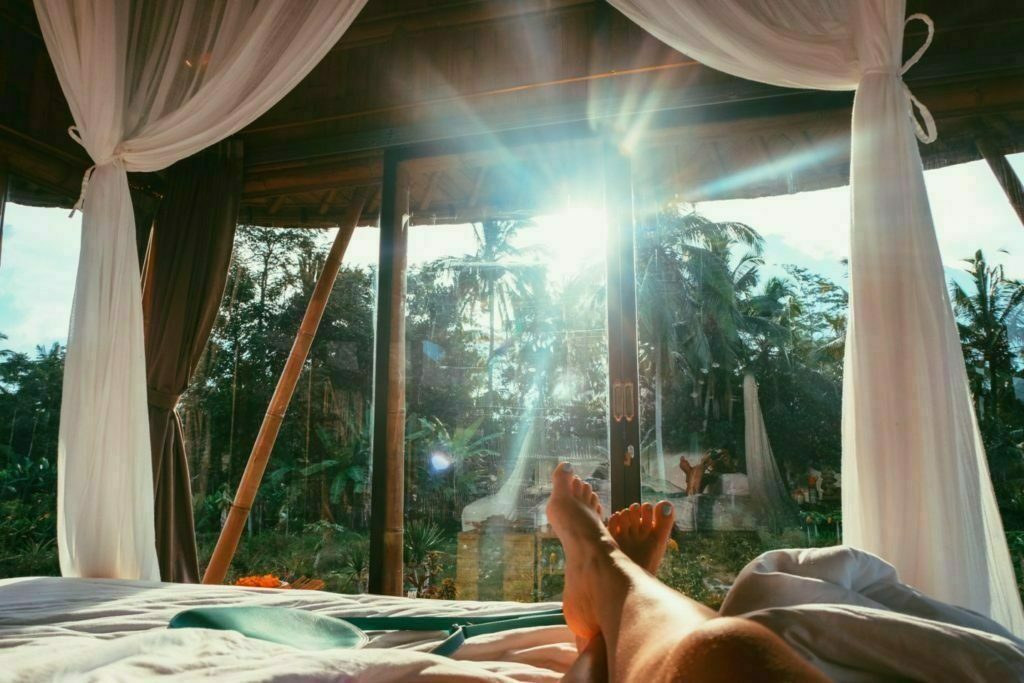 This property is not the usual luxury hotel that I normally write about. It's a 6-room property owned by a lovely Balinese family. If you're looking for uninterrupted views of rice fields and even a volcano, then this place is heaven.
The rooms are traditional Balinese style and 3 out of the 4 walls are glass windows. The panoramic view of the lush green rice fields from the room is priceless. There's a main pool that overlooks the surrounding areas and you can spot Mount Agung in the background as well.
The hotel is around a 20-minute drive from Ubud center and has a total village feel to it. The family that runs the place is so warm and welcoming. There's a menu with really affordable local food and refreshments. I can't even begin to explain how incredible both sunrise and sunset times are.
If you're visiting during the really hot season, it's important to mention that there is no air conditioning in the rooms. There's only a big ceiling fan, but the staff were so kind and brought me an extra fan.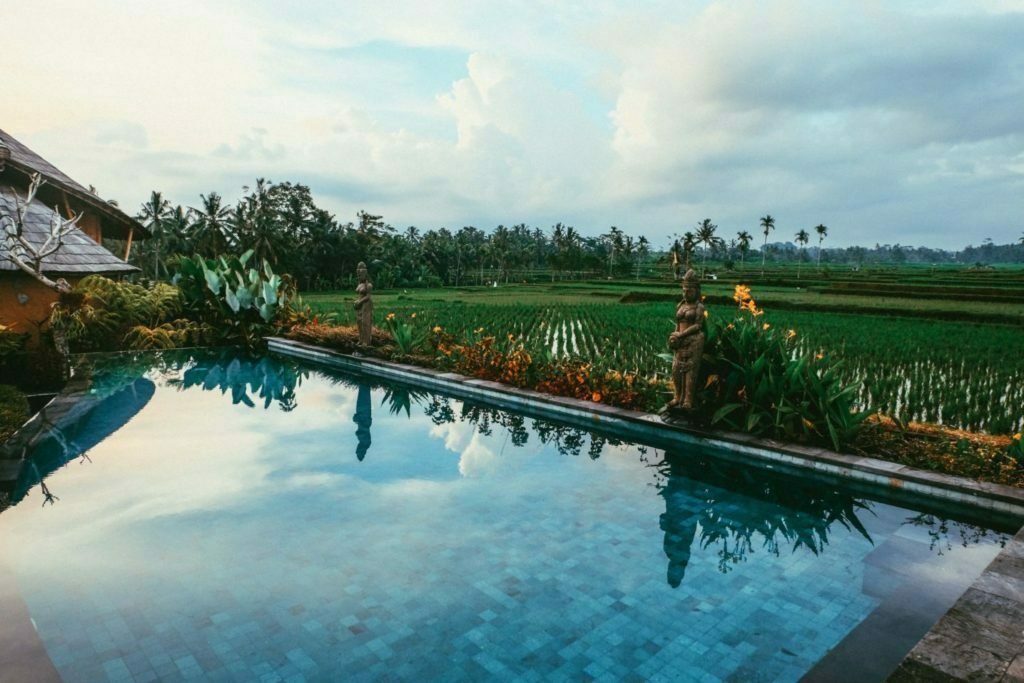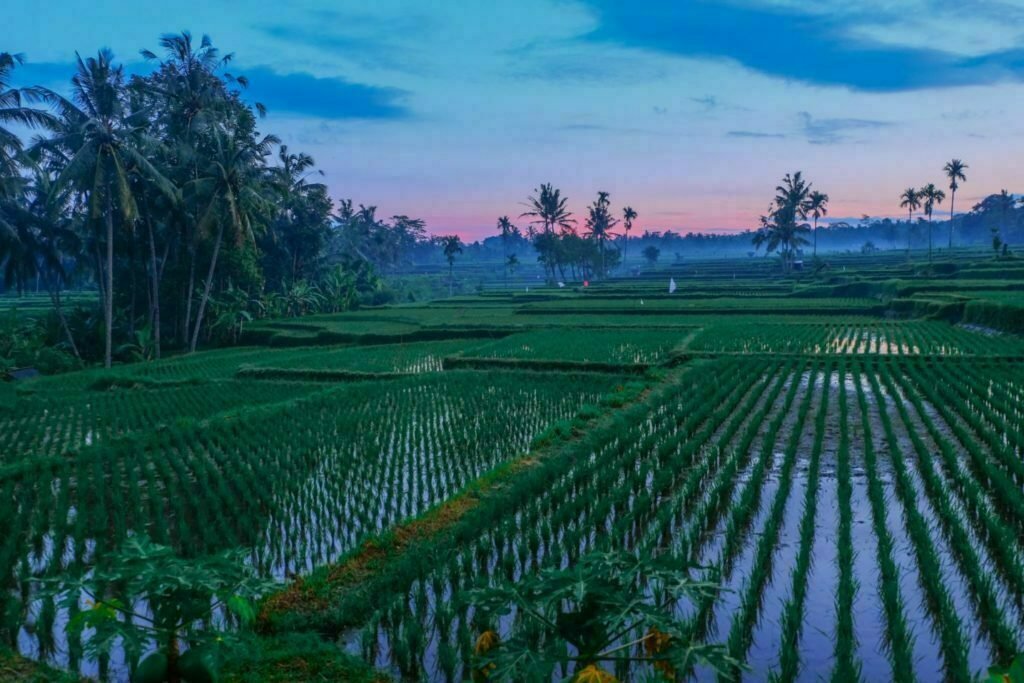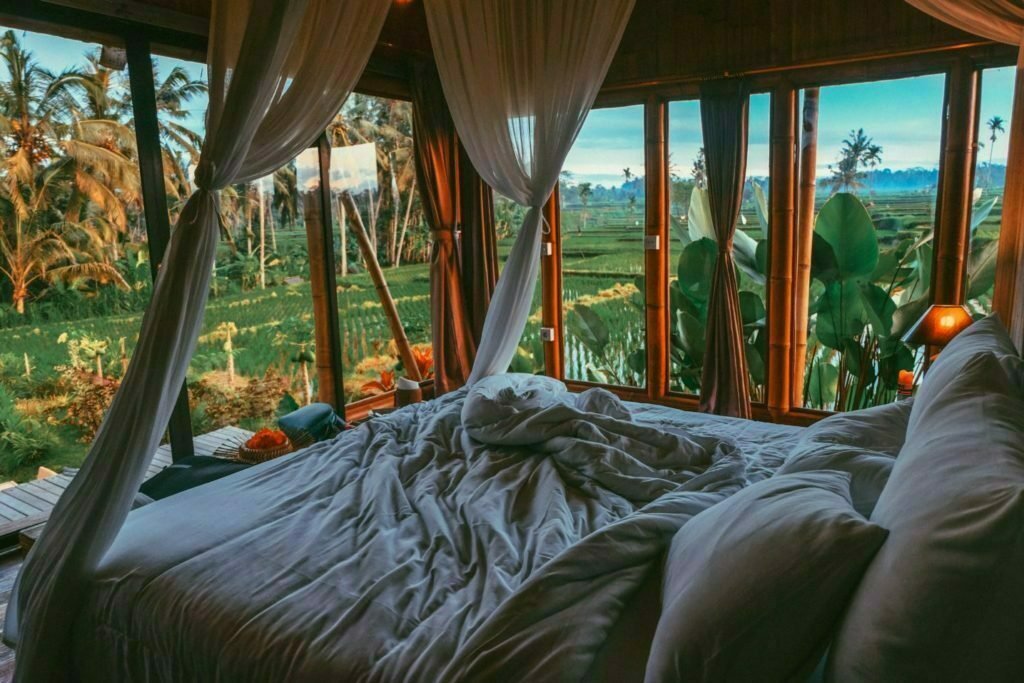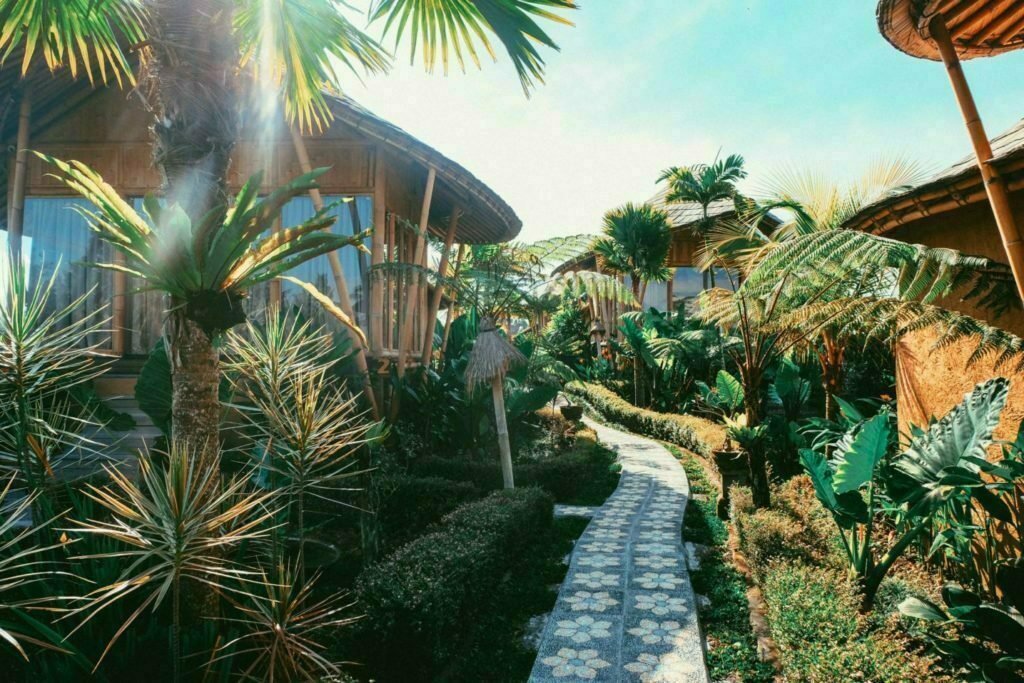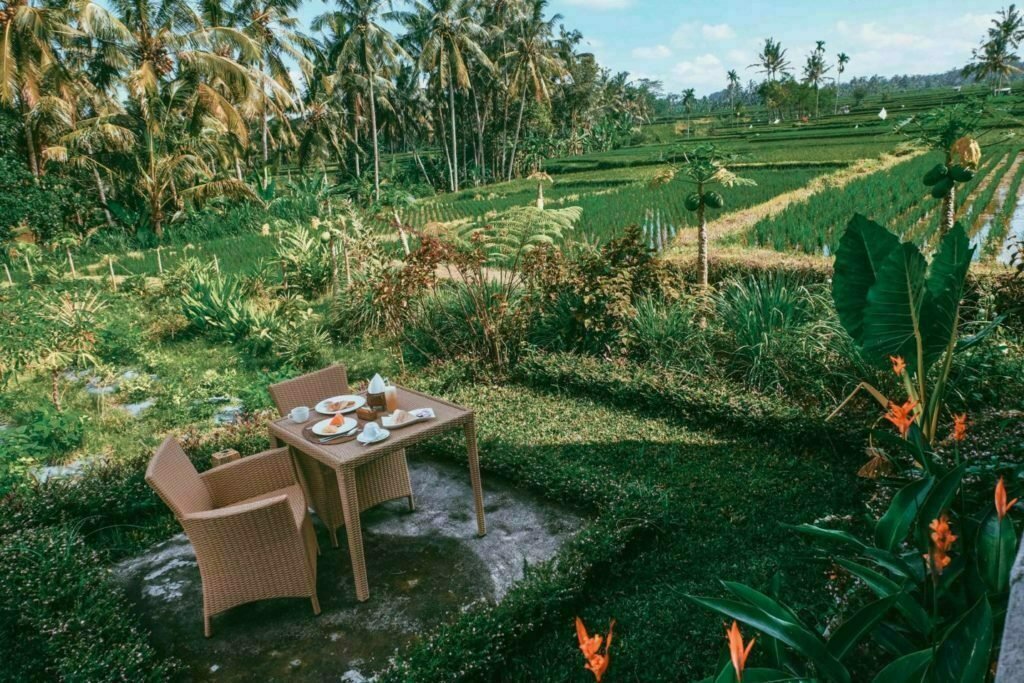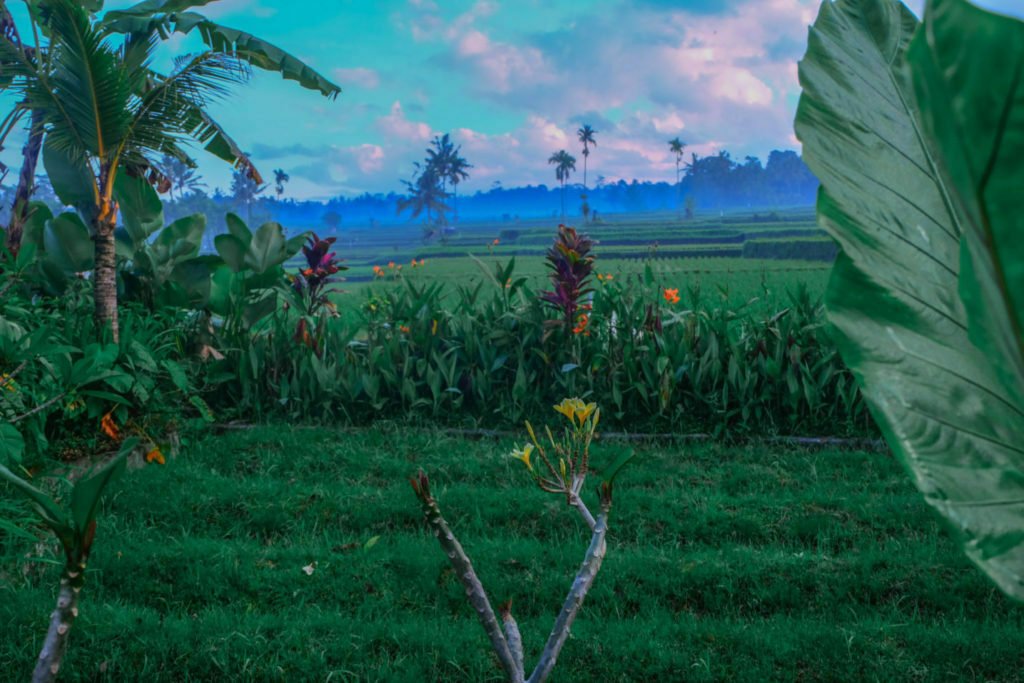 Jetsetter Recommendations: Wake up for sunrise and enjoy an early breakfast on your private terrace. The peacefulness will take your breath away. 
Book your hotel stay at Seres Springs Resort here