Are you looking for the safest Caribbean islands to visit for a worry-free beach getaway? If so, you may want to consider one of the islands on this list.
The Caribbean is a region of the world that is known for its stunning beaches, turquoise waters, and laid-back attitude. But in recent years, it has also become known for something else: crime. As violence and crime rates have increased in some parts of the Caribbean, many travelers have been hesitant to book a trip to the region.
But there are still plenty of safe places to visit in the Caribbean. In this blog post, we'll take a look at 10 of the safest Caribbean islands to visit. From Barbados to Jamaica, these islands offer plenty of sun, sand, and relaxation without any of the worries. So pack your bags and get ready to enjoy a stress-free vacation in paradise!
List of the Safest Caribbean Island Destinations to Visit
For anyone who is on a holiday, to fall prey to a crime is the last thing you would want to happen. So if you would like to have the best Caribbean vacation, you should choose an island with a low crime rate. It is also advised to check out the hurricane forecast before you choose the best Caribbean island for your stress-free vacation. So read the whole guide below to help answer some questions regarding the safest Caribbean destination for you and your loved ones to travel to.
Barbados
Barbados is an island nation in the eastern Caribbean Sea. It's well known for its beaches, resorts, and golf courses. Barbados is also considered to be one of the best and safest Caribbean islands to visit due to its low crime rate and infrastructure that can withstand strong hurricanes.
Tourism plays a huge chunk of the island's economy and Bajans (the locals) are famous as one of the friendliest in the Caribbean. The touristy areas are located on the west coast of the island. Beyond the white-sand beaches, Barbados also offers an array of other activities such as scuba diving, national parks for hiking, and mouth-watering cuisines to enjoy.
Violent crimes against tourists are rare in Barbados but you have to watch out for petty theft, especially within crowded areas. Avoid wearing camouflage also as it is illegal for civilians in Barbados to wear military type of clothing.
Related article: Best Colombia Islands to Visit
Curacao
For those looking for a Caribbean destination that offers an enticing blend of European and Latin American cultures, Curacao is the perfect place. Located just off the Venezuelan coast, this Dutch-Caribbean island boasts pristine beaches, colorful colonial architecture, vibrant culture, and stunning underwater scenery.
With its low crime rate, peaceful atmosphere, and friendly locals, it's one of the safest Caribbean islands for tourists. It's also known for its diverse gastronomy, with a variety of restaurants serving up unique dishes that mix African, Dutch, and Latin flavors. From its stunning reefs to its vibrant nightlife, Curacao offers something for everyone looking for an exciting yet safe Caribbean vacation.
Dominican Republic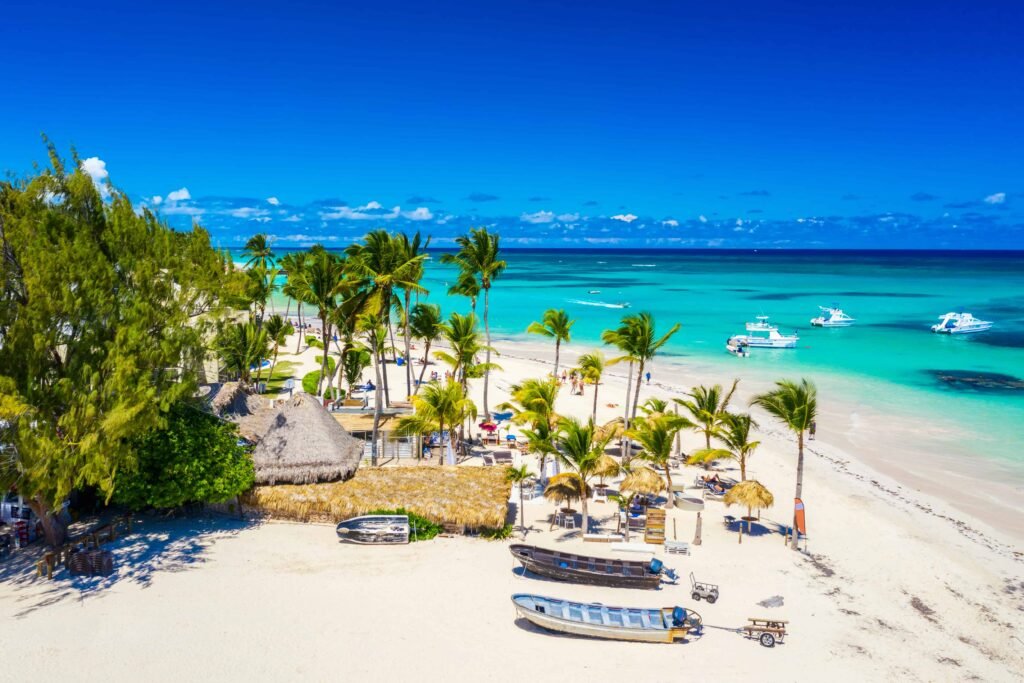 Famous for its picture-perfect beaches and merengue music, the Dominican Republic is one of the best Caribbean islands to visit. It occupies the eastern 2/3 of Hispaniola Island which it shares with Haiti in the Caribbean Sea. Situated just two hours away from Miami, Florida in USA, this is a destination famous for its lush nature, interesting history, rich culture, and hospitable people.
Enclosed by the Atlantic Ocean on the north and the Caribbean Sea by the south, this island paradise takes pride in its 1,609 km. coastline which is home to one of the world's top beaches, amazing hotels, and resorts with a diversity of sports and entertainment activities to choose from.
Santo Domingo, the capital city is considered the oldest city in the Americas being the first seat of Spanish rule since 1492 thus a visit to the Colonial Zone of this city is a must as it is a UNESCO World Heritage Site as well.
A water sports and nature lovers' mecca, the Dominican Republic is one of the safest Caribbean countries though petty crimes like pickpocketing occur in some tourist areas. Try to avoid public transport at night when you go out since this is where burglary usually takes place. And then like the rest of the Caribbeans, the Dominican Republic is prone to the hurricane season which runs from June to October so it's better to visit this country between April to May.
Montserrat
A member of the Lesser Antilles chain of islands in the Caribbean Sea, Montserrat is a British Overseas Territory but is governed by a locally elected Prime Minister. This is a relaxed and serene island where you can go for long walks and enjoy its natural parks which are tourist magnets aside from the regular Caribbean experience of beaches and resorts.
This quaint island of 40 sq. miles is home to many unspoiled beaches and hiking trails. It is also in Montserrat where you can find unusual animals like the "mountain chicken" which is actually a frog that weighs two pounds. Due to its shape, this island is often called the "Emerald Isle of the Caribbean" as it looks similar to that of Ireland.
Plymouth was once the capital but is now a ghost town as it was razed to ashes when the smoking Soufriere Hills volcano erupted in 1995. It now belongs to the Exclusion Zone together with the whole southern part of the island although you can view the buried city with a guide.
For your safety, you are not permitted to explore the Exclusion Zone in the southern part of Montserrat. Crime rates are very low on the island, but regular safety precautions are still advised. Hurricanes occur from May to November so during these months always be informed of the weather forecast.
Jamaica
The third largest and also the largest English-speaking island of the Caribbean Sea, Jamaica is a part of the Greater Antilles chain along with Cuba, Hispaniola, and Puerto Rico. Situated south of Cuba, it was once ruled by Spain and then claimed by the British until 1962 when Jamaica became independent and a member of the British Commonwealth of Nations.
Perched on top of a large underwater mountain, Jamaica is not only the place of natural parks like the world-famous Dunn's River Falls but the home of rare glowing lagoons that make it one of the best Caribbean islands to visit.
The birthplace of reggae is a well-known port of call for cruise ships. Kingston, the country's capital is located on the southeast coast and is a vibrant metropolis that takes pride in its alluring natural harbor protected by Palisadoes, a long sand spit that has been developed into a tourist spot.
While Jamaica is a beach lover's paradise, it has a dangerous side when it comes to crime. Kingston has a high level of violent crimes like mugging and gang-related offenses, but as long as you avoid tricky areas you will be fine. Another problem here is the Hurricane season which runs from September to November so it is better to avoid going to Jamaica at this time of the year.
Anguilla
Another British Overseas Territory and the northernmost of the Leeward Islands in the Lesser Antilles, Anguilla is situated in the eastern Caribbean Sea. Lying about 12 miles north of Saint Martin Island, it is well-known for its casual vibe and stunning beaches that make Anguilla one of the best Caribbean islands to visit.
Named after the Spanish word for eel because of its shape, Anguilla is small with a population of about 12,000 people. As soon as you arrive on the island, you might be astonished by the lack of malls, cruise ships, casinos, and high-rise hotels.
What the island offers to visitors are the many cafes and bars that overlook 12 miles of white sands and emerald waters. The Valley, which is the capital of Anguilla, boasts of a Heritage Trail where you can explore old Churches and other historic areas of the island.
When it comes to Caribbean islands ranked by crime rates, Anguilla is considered one of the safest. The months of May and August will give you a good chance to visit this island and avoid the threat of a hurricane period from June to November.
Also Read:
Sint Maarten/Saint Martin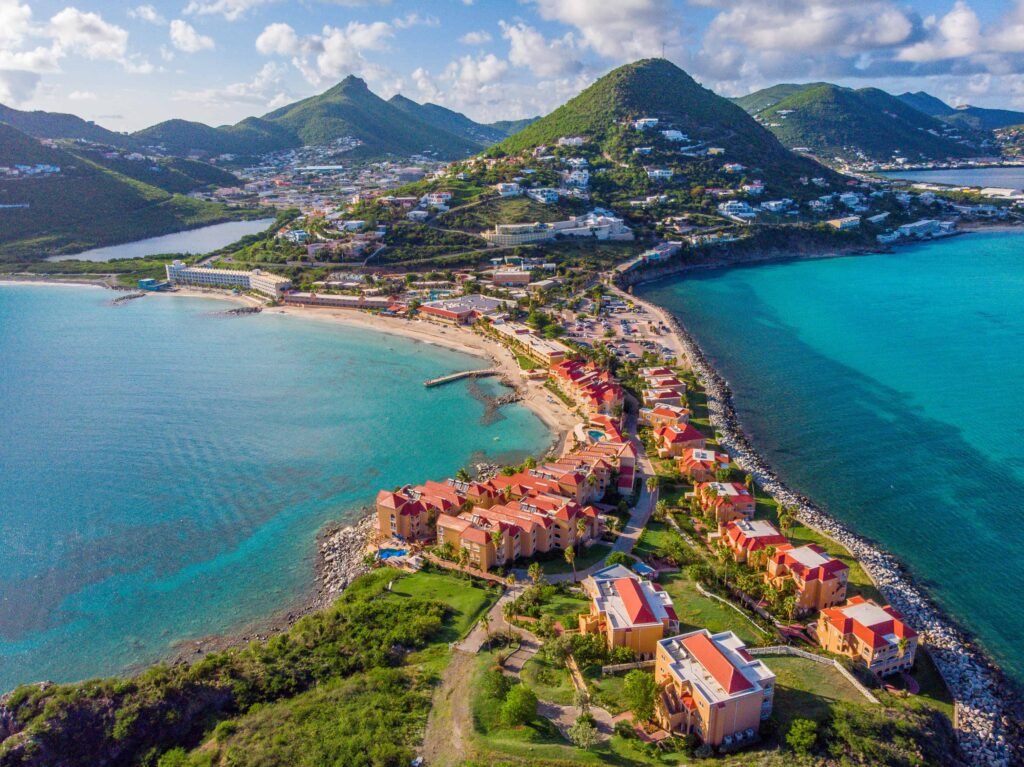 It is one of the four island nations in the Lesser Antilles of the northeast Caribbean Sea. Popular to sailing enthusiasts and divers, Sint Maarten/Saint Martin not only holds the most beaches per square mile but is also considered the culinary hub of the Caribbean. French side Saint Martin is a territory of France while the Kingdom of the Netherlands side is Sint Maarten. The Dutch side has a bustling nightlife and shopping malls while the French side of the island is a haven for nature seekers.
One amazing island, two unique and beautiful cultures – that's what you get when you visit Sint Maarten/Saint Martin. You can easily get through both sides, from spending your morning at Maho Beach on the Dutch side to an afternoon of guided ATV tour of Saint Martin on the French side. 
While this island is one of the safest Caribbean countries, tourists should exercise common sense when exploring the tourist areas. At Maho Beach in Sint Maarten, you must be aware of the jet blasts when watching planes take off and land as the area is near the airport. Between the months of January to June, the climate is dry and it is considered the best time of the year to visit this island in order to avoid hurricane season.
Antigua
Explored by Christopher Columbus in 1493 and named after Santa Maria de la Antigua Church in Seville, Spain, Antigua was colonized by the UK until 1985. Its shoreline is entirely washed by the Caribbean Sea, Antigua occupies the center and is about a thousand miles to the east of Jamaica. A part of the West Indies archipelago, this island may be small but Antigua (pronounced "An-ti-ga") is one of the best Caribbean destinations to visit for people who have money to splurge at casinos.
Aside from its pink-sand beaches and a mountain named in honor of former US President Barack Obama, Antigua is considered one of the richest countries in the Caribbean due to its offshore financial services. The Antigua Naval Dockyard and Related Archeological Sites built by African slaves in the 18th century is a UNESCO World Heritage Site.
Indeed, Antigua is one of the safest islands in the Caribbean but there are some parts of it that need extra care. Petty crimes such as pickpocketing at beaches and hotel lobbies can happen. This island nation enjoys a warm, tropical climate all throughout the year though there are chances of rain between May to August. The wettest months are September to November but the danger of hurricanes is so low thus this is the best Caribbean country ranked by safety.
Turks and Caicos
An archipelago of 40 islands and cays (or keys), Turks and Caicos is another British Overseas Territory located southeast of the Bahamas. They are divided into two groups: the larger Caicos Islands and the smaller Turks Islands, two of which are main islands namely Grand Turks and Providenciales. Although they are along the Atlantic Ocean, they are included in the Caribbean region.
A perfect destination for scuba diving activities and snorkeling, Turks and Caicos boast of Smith's Reef in Providenciales which is the 3rd largest coral system in the world. Cockburn Town, the capital which is located on the Turks Islands has a relaxed atmosphere and is full of colonial British architecture, including the National Museum, Her Majesty's Prison, and of course the white sand beaches are the major magnets.
When it comes to Caribbean islands ranked by safety, Turks and Caicos have a low level of criminality. But in Providenciales where it is the point of visitors' arrivals, petty crimes occur so you mind your personal belongings for your safety. As with the Hurricane season in Turks and Caicos, it usually starts in June through November but few ones hit the islands between August and September so you should refer to weather updates before traveling.
St. Lucia
St Lucia is one of the most beautiful places in the world, let alone The Caribbean. With Its lush rainforests, volcanic peaks, and stunning beaches, it's no wonder that this Island Is a popular tourist destination. However, it's important to note that while most of the island is perfectly safe for visitors, there are areas in Soufriere that should be avoided.
The second largest island of the Windward group in the Lesser Antilles, St. Lucia lies in the eastern area of the Caribbean Sea, northwest of Barbados. This is a volcanic island where you will find more mountains than the rest of the Caribbean Islands. The French and English fought at some point over St. Lucia but the British took full control of the island in 1814 until St. Lucia became an independent nation in 1979.
St. Lucia is home to the majestic Pitons mountain range, a UNESCO World Heritage Site that offers incredible activities to visitors. It also houses La Soufriere, the only volcano in the world where you can drive right up to its crater.
Like the rest of the Caribbean Islands, hurricane season happens between June to November so if you're heading there during these months, you have to listen to the local forecast and follow overseas advice.
Aruba
Aruba is considered to be one of the safest Caribbean islands for travelers. With its low crime rate, gorgeous beaches, and friendly locals, it's a great place to visit. Aruba is known for its year-round sunny weather and has a vibrant nightlife with plenty of restaurants, bars, nightclubs, and casinos.
Additionally, the island offers exciting activities like windsurfing, kayaking, parasailing, snorkeling, and horseback riding. It's also home to some amazing natural attractions such as Arikok National Park, a 16,000-acre protected area that encompasses the island's rugged interior. From its stunning beaches to its many attractions and activities, Aruba is a great destination for those looking for a safe Caribbean vacation.
Tips for staying safe while enjoying the Caribbean
Be aware of your environment: Pay attention to your surroundings and trust your instincts. If something doesn't feel right, leave the area immediately.
Stay in groups or with a local: Whenever possible, stay in groups or with a local. This will help you stay safe and can also help you learn more about the culture.
Be aware of the local customs: Respect the local customs and laws. This will help you stay safe and out of trouble.
Keep your valuables secure: Always keep your valuables secure and out of sight. This includes wallets, phones, and other items that could be easily stolen.
Know your limits: Know your alcohol limits and stick to them. It's easy to get carried away in the Caribbean, but too much alcohol can put you in a dangerous situation. Stay in contact: It's important to stay in contact with family and friends while traveling. Let them know where you are and when you'll be back.
Conclusion
The Caribbean is an amazing destination with stunning beaches, vibrant culture, and friendly locals. But it's important to know which islands are the safest for travelers.
By following the safety tips outlined in this blog post, you can ensure that your Caribbean adventure is a safe and secure one. From Aruba to Trinidad and Tobago, these are some of the safest Caribbean islands for tourists.
No matter which island you choose to visit, the most important thing is to stay alert, aware of your surroundings, and respect local customs. By doing so, you can ensure that your Caribbean getaway is a safe and enjoyable one.
FAQs About the Safest Caribbean Islands:
Do Caribbean Islands have high crime rates?
While a few Caribbean islands have a high-profile incidence of crime, you can enjoy a stress-free vacation to many of the safest countries on this list. Just like any tourist destination, petty crime happens. However, as long as you take the necessary precautions and stay in tourist-friendly areas, you don't need to worry about violent crime.
What is the safest Caribbean Island to Visit in 2022?
The British Territory of Montserrat is one of the most popular destinations in the Caribbean when it comes to safety. While this tiny, yet peaceful island is home to an active volcano, violent crimes are low on this side of the world.
Is Anguilla A Safe Island?
Crime is rare in Anguilla and is one of the safest Caribbean islands, but the same safety standard tips still apply to any visitor to the island. Keep your valuables safe at the hotel and don't bring them to the beach.
Is Antigua Safe to Visit?
When it comes to crime and safety in Antigua, most visits are trouble-free although there are certain areas that are less safe. It is highly suggested to do research about the area you will be staying to avoid becoming a victim of a petty crime. Pickpocketing can happen so don't carry a lot of cash and always go with a group when you go out at night.