This post is sponsored by Zappos.com.
When it comes to travel shoes, it's not always easy to find styles that are comfortable and stylish at the same time. I've purchased so many shoes in the past that I thought were comfortable at first, but after just an hour of walking, they started hurting my feet.
For summer, I always like to pack cute travel sandals that I can wear day and night on my adventures. As a frequent traveler, I love shopping online. It gives me the flexibility to shop various styles and get them delivered on time to pack for my trips.
My go-to shopping site for shoes is Zappos.com. They have a huge selection of shoes that are perfect for travel and their delivery time is super quick. I normally receive all my orders within 72 hours.  Another great service they have is free returns for up to 365 days after receiving an order. Zappos.com also has a loyalty program and you automatically collect points that you can redeem on future purchases.
I recently discovered a new brand that I tried and loved called Sanuk. They have sandals called the Sanuk Yoga Sling 2 Spectrum that are great for travel. There are 7 different fun and bright colors to choose from to match any summer outfit. What's great about the sandals is that they can also be worn at the beach. My 2 favorite colors are "tomato" which is bright red and "Opal" which is pastel green.
Sanuk sandals are extremely comfortable and I was able to walk in them for very long hours. The bottom part is actually made of yoga mat material, which adds an extra bit of comfort if you're standing and walking the whole day. They are also very light, so I can pack several colors without worrying about the extra weight in my luggage.
My summer travel wardrobe is made up primarily of dresses. The pastel green "Opal" sandal works great with so many summer styles and colors. I matched it with a black dress and dark green crossbag.
I matched the red "tomato" color with a dark navy blue dress and a bright bag.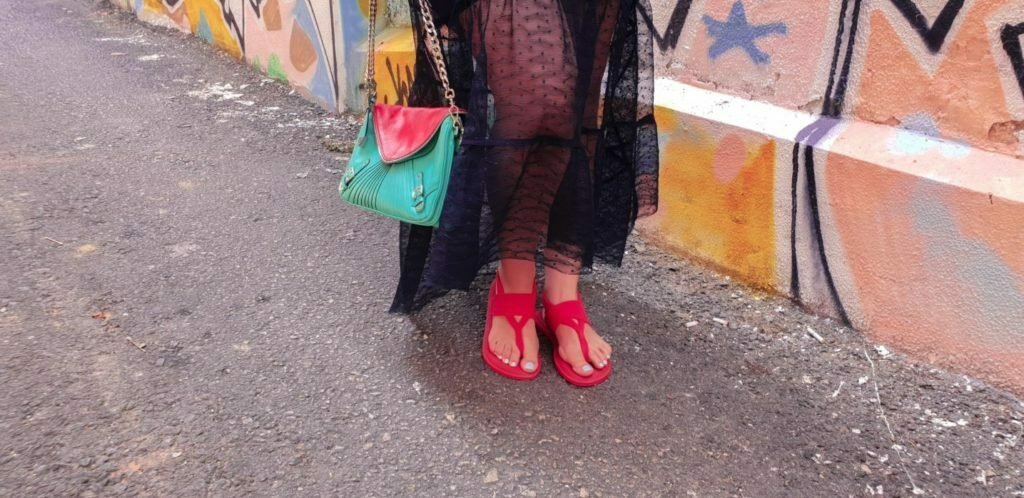 This post is sponsored by Zappos.com and as always all opinions are my own. I would never recommend a brand that I don't personally use and love.