Swimming with Whale Sharks in Cebu was on my bucket list for so many years. The first thing I wanted to do when I got to the Philippines was to get up close with these beautiful creatures.
The best place to go swimming with whale sharks in the Philippines year-round is in Oslob in the South of Cebu. You will have a 98% chance of swimming with them on any single day of the year.
Swimming with Whale Sharks Cebu
For those of you who don't know a lot about whale sharks, they are actually the largest in the fish species. Their size varies from 8 to 12 meters long (40 feet) and they can weigh up to 20 tons!
However, their massive size should not scare you at all, because they are best known as the gentle underwater giants. They feed mostly on plankton and are not known to pose any kind of threat to humans.
Swimming with these amazing giants was such a special experience and as scared as I was to jump into the water, it was so worth it.
We woke up extremely early during sunrise to make sure we reach the Whale Shark area and get on the first boats heading out to the open waters (6 AM). I was surprised to see that so many people were already there when we arrived. We listened to a 10-minute orientation about staying safe and being responsible.
It's very important not to be wearing any sunscreen and to stay at least 4 meters away from the sharks and 5 meters away from their tails.
As I was listening, my heart was beating so fast that I felt like it was going to fall out of my chest. I was nervous as much as I was excited, but I decided to let go of my fear and head to the boat. I soon realized that we had to get on tiny little wooden boats that look like they can flip over if you make one wrong move! This is where I got even more nervous but I hopped on anyway.
Related Article: Best Things to Do in Bohol, Philippines
After only a 5 minute ride, our guide told us to look down in the water to spot our first new friend. The Whale Shark was even bigger than our boat! At this point, I felt like I couldn't breathe. How was I going to gather the guts to jump in the water after seeing that massive shark?
The guide turned off the engine and jumped in the water. My friend quickly followed and they both started to encourage me to just let go of all the fear and jump in. I decided to do it without overthinking.
As soon as I got in the water a huge Cebu Whale Shark started swimming our way and it had its mouth open so wide. My first instinct was to panic and swim as fast as I can in the other direction, but I decided to give my new giant friend a chance.
I stayed exactly where I was and watched as this beautiful fish swam so slowly and peacefully past us as if we didn't exist. I immediately realized why they are called the gentle giants of the sea.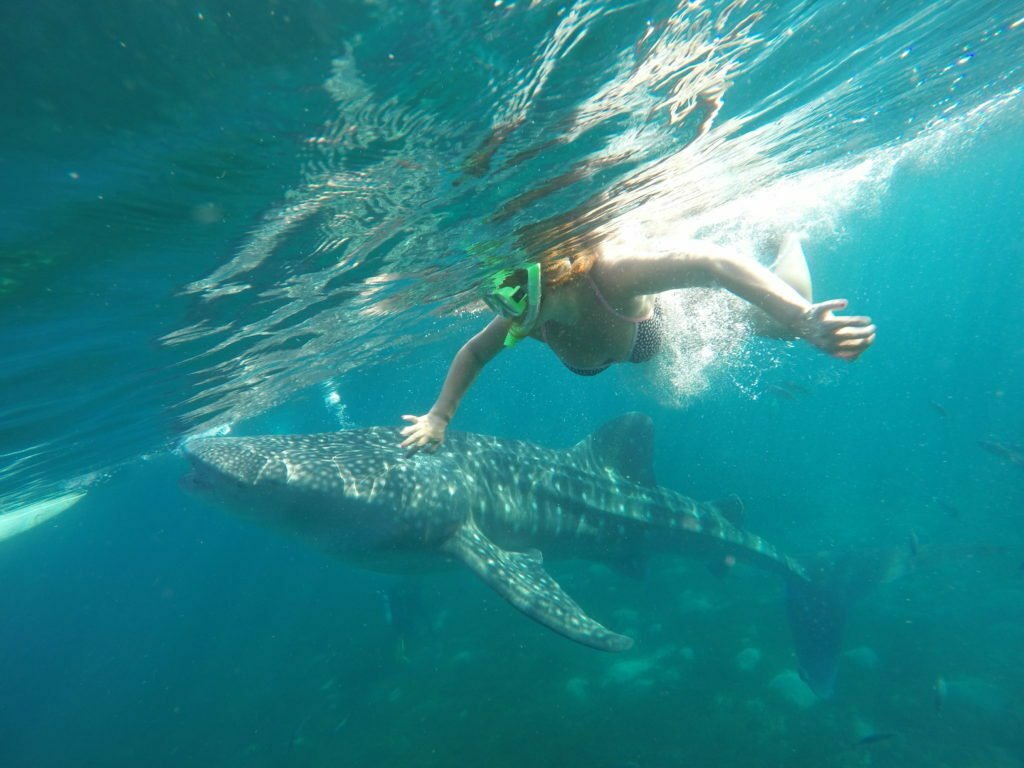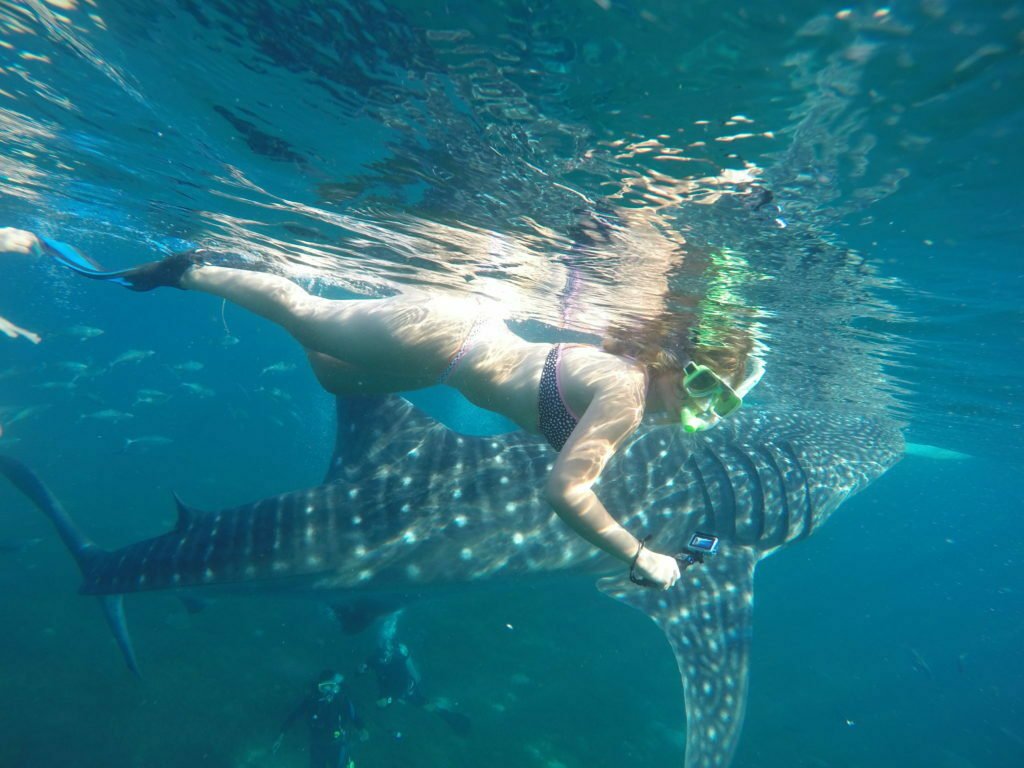 We spent 30 minutes in the water and spotted over 10 different Whale Sharks. Some of them got really close, but not intentionally! We had to swim away to make sure we didn't touch them by mistake. After just 5 minutes in the water, I felt so comfortable being surrounded by them. My fear before swimming with them completely disappeared.
Our guide from Granada Beach Resort was amazing at taking underwater photos. At some point, I would be looking towards him for a picture and then turn back to find two huge Whale Sharks right behind me. Sometimes they come out of nowhere, but they are so gentle that it's not scary at all and you can easily swim away from them before they get too close.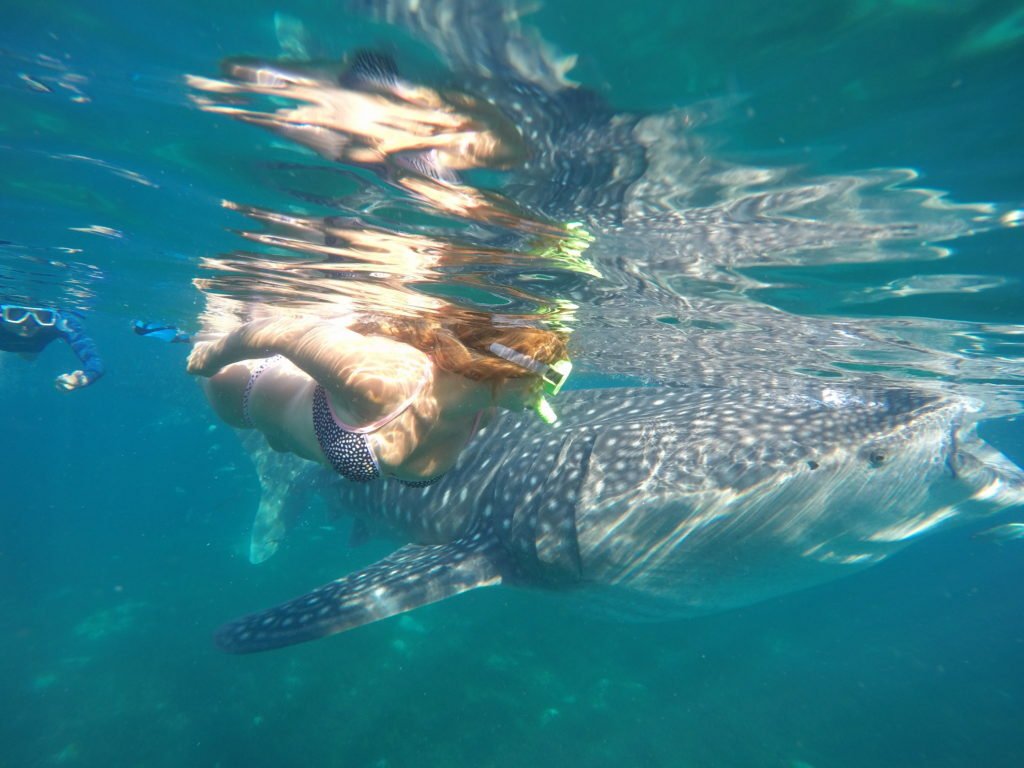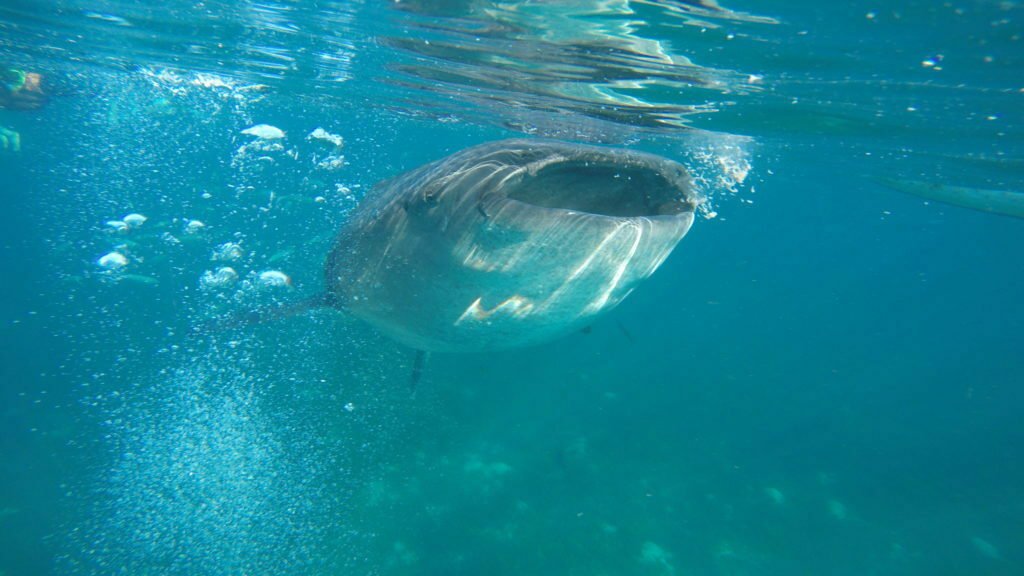 It was truly a unique experience to swim with Whale Sharks in Oslob and I hope I get the chance to swim with them again in a different part of the world. It's common to spot them in places like the Maldives, Mexico and some areas of Indonesia.
Where to stay in Oslob, Cebu
Granada Beach Resort is an adults-only property and is a great place to stay with a beautiful outdoor pool and stunning views overlooking a beach. It's only a 25-minute drive from the Whale Shark watching. They offer amazing swimming with Whale Sharks tours in Oslob for all the nearby activities including swimming with Whale Sharks in Oslob and chasing waterfalls.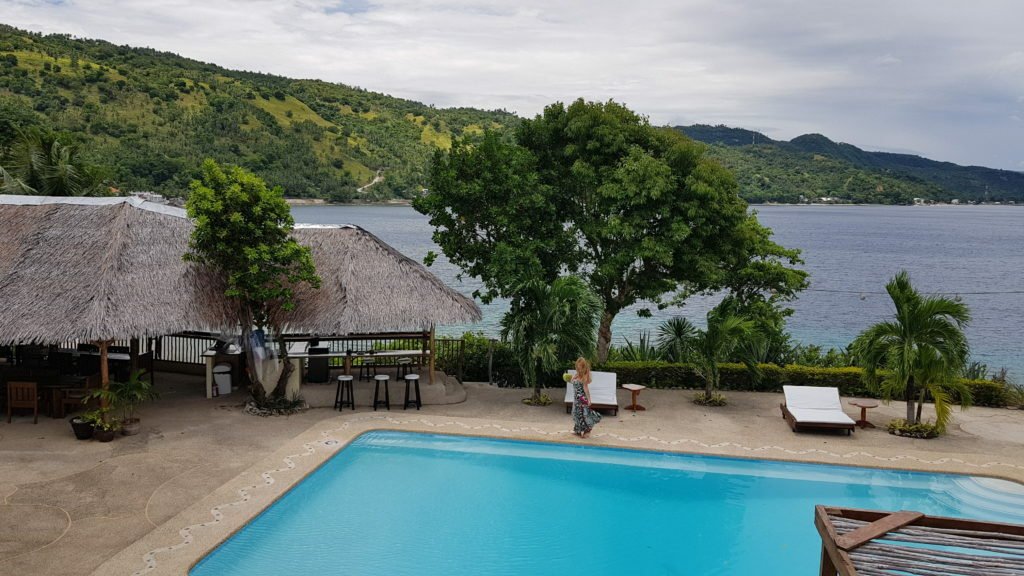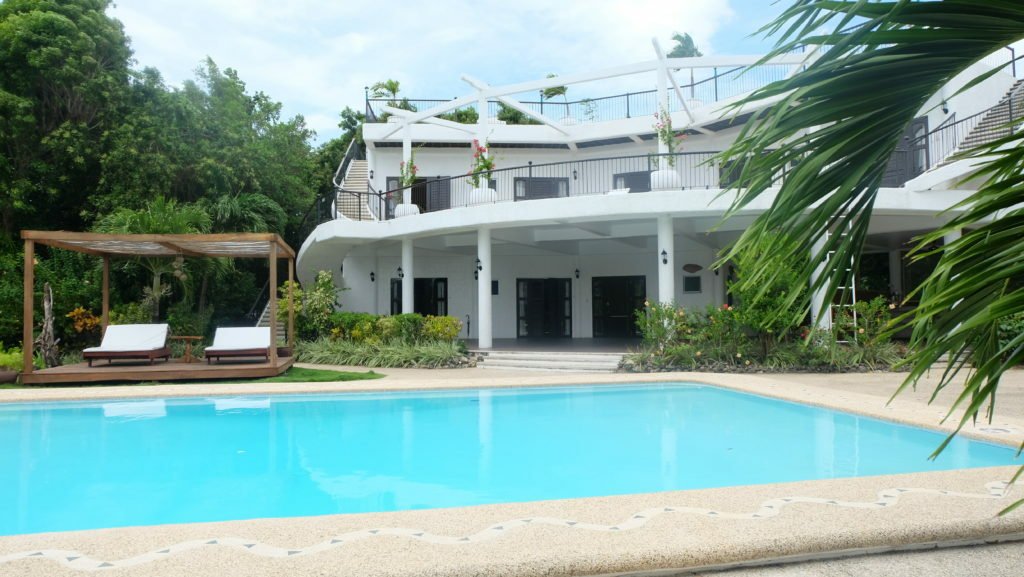 I highly recommend booking through them because our guide was amazing and he even took us to a secret waterfall after the Whale Shark experience. We had the whole waterfall all to ourselves and we were the only ones there for around 2 hours. They also have their own GoPro that the guide uses to take some great shots during the tours. I got over 200 photos from him in just 1 day.
The staff at Granada Beach Resort were very warm and friendly. They made us feel so welcome as soon as we stepped in. The rooms are bright and clean with cute little balconies.
Meals are served in the restaurant area that overlooks the beach. There's a delicious breakfast with several choices and some yummy cocktails to enjoy in the evening.
Jetsetter recommendations: Wake up early to watch the spectacular sunrise from the resort. Don't miss out on the semi-outdoor spa with the sound of the waves crashing during the massage.
Other activities around Oslob, Philippines
Oslob is a very quiet village but there are lots of cool adventures in the area. I highly recommend visiting the many waterfalls nearby: Tumalog, Aguinid, and the Secret Waterfall. You can book the Waterfall Trifecta Tour and visit all 3 through Granada Beach Resort. You also have the option of heading to the famous Kawasan Waterfall which is a 2-hour drive from Oslob.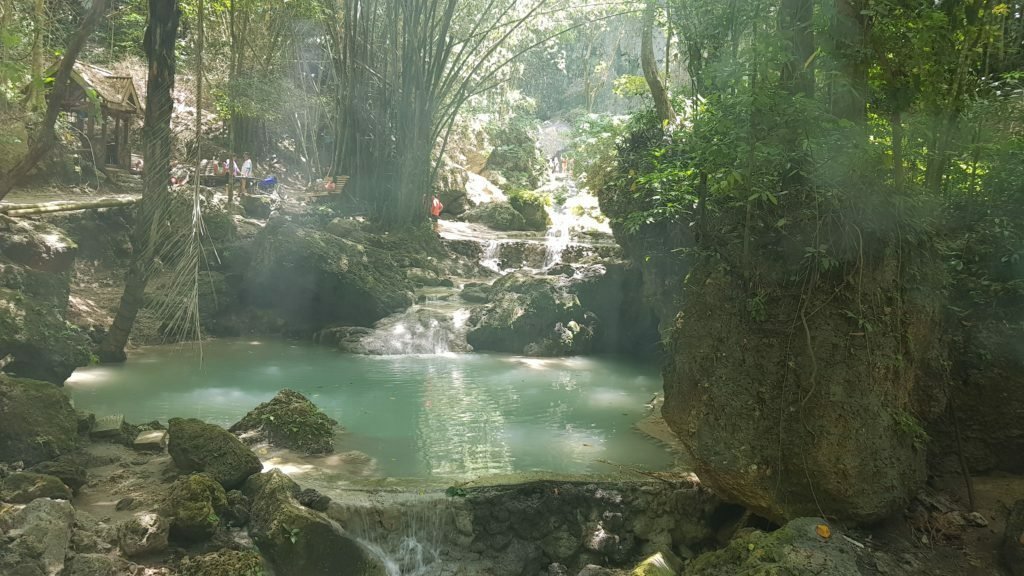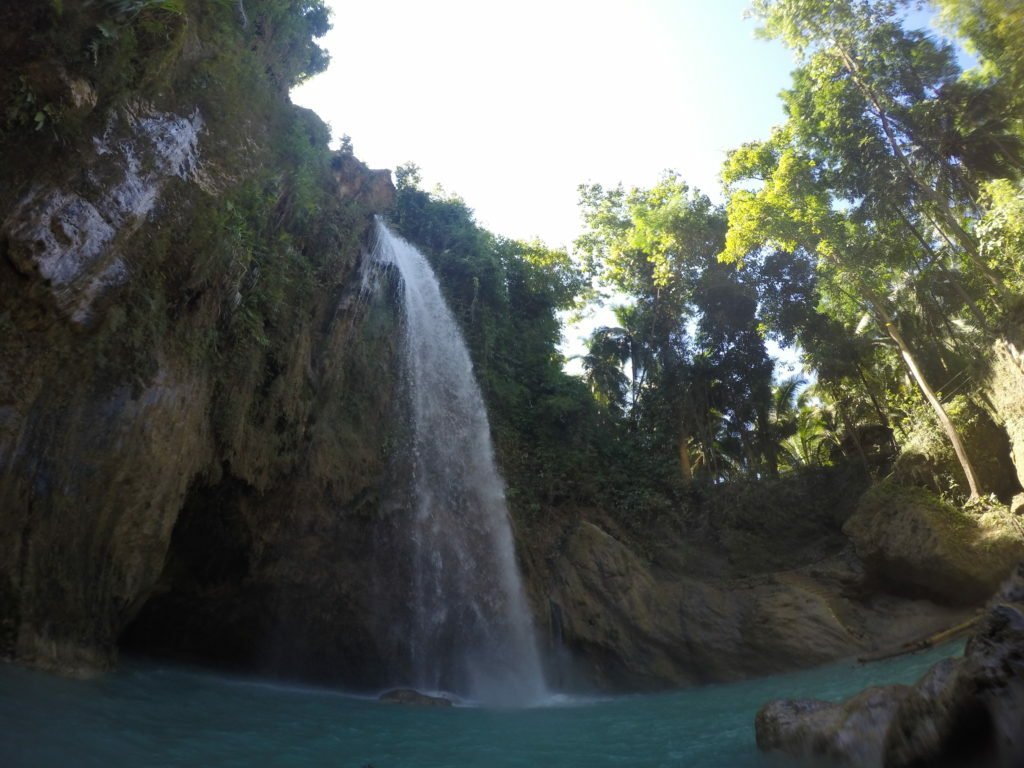 How to get to Oslob, Cebu
1) Fly into Cebu Airport and grab a bus from the Cebu South Bus Terminal next to Elizabeth Mall (Cost: 155 PHP)
2) Fly into Cebu Airport and arrange for a private pick up with your resort
3) Fly into Dumaguete. From Dumaguete airport, hire a tricycle to take you to Sibulan Port (cost: around 100 PHP). From there you can hop on a boat to Liloan port (cost: around 70 PHP). Then, ride the bus to Oslob, which is very easy to find from the port.
Disclaimer: I was hosted in Oslob by Granada Beach Resort, but as always all opinions are my own.