Bohol brings new meaning to the word eco-tourism thanks to its unique blend of sea, sand, and Chocolate Hills. Located at the beating heart of the Philippines, Bohol and its chain of smaller islands offer you a goodie bag filled with adventure, history, and a lush green tapestry made out of mangrove forests and coconut trees. After a week of exploring the island, I've compiled a list of the best Bohol tourist spots and attractions.
How to Get to Bohol Island
Getting from Manila to Bohol
If you are in the Philippines and Bohol happens to be on your itinerary, then the best way to get to the island is by plane. Both Philippine Airlines and Cebu Pacific Air operate multiple flights from Manila to Tagbilaran City, which is the capital of Bohol. Travel time is approximately 1 hour and 15 minutes.
Bohol Airport (TAG): There is a tiny airport in Tagbilaran, which is very overcrowded, but flights are super cheap. A new airport is being built called Panglao Island International airport, so depending on when you're flying, check if flights are operational there.
Getting from Cebu to Bohol
If you are unable to catch a direct flight, then you can fly from Manila to Cebu and then hop on board a fast boat that will take you directly to Tagbilaran.
There are several ways to book the boat trip: a) ask the locals in your hotel to get you a special deal on one of the boats (usually the cheapest options) b) Book your tickets online here: Klook.com
Cebu to Bohol prices: starting $12 USD per person to $29 for business class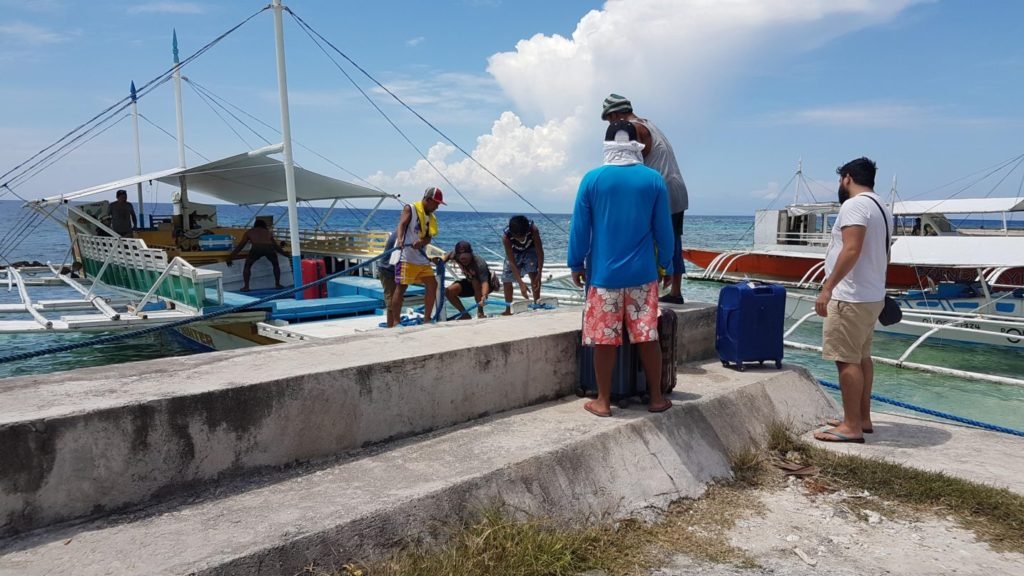 Jetsetter experience: We chose to take one of the local boats and the ride was very smooth. Once we arrived to Bohol, it was already low tide, so the boat could not get close to the shore. They transferred us into a tiny boat to drop us to shore (there were a lot of sharp rocks in the water so it would be quite difficult to swim or walk). Our luggage was placed close to the boat, so we had to walk back and forth in the shallow water to carry them one by one. If you have a lot of luggage, this will not be fun at all!
Read about my experience: Swimming with Whale Sharks in Cebu Phillippines
Is Bohol Safe?
Bohol is a small island compared to Luzon and is considered very safe, however, taking certain precautions while traveling via bus or jeepney is always a good idea. For example, do not carry large amounts of cash with you and avoid wearing flashy jewelry on your trips.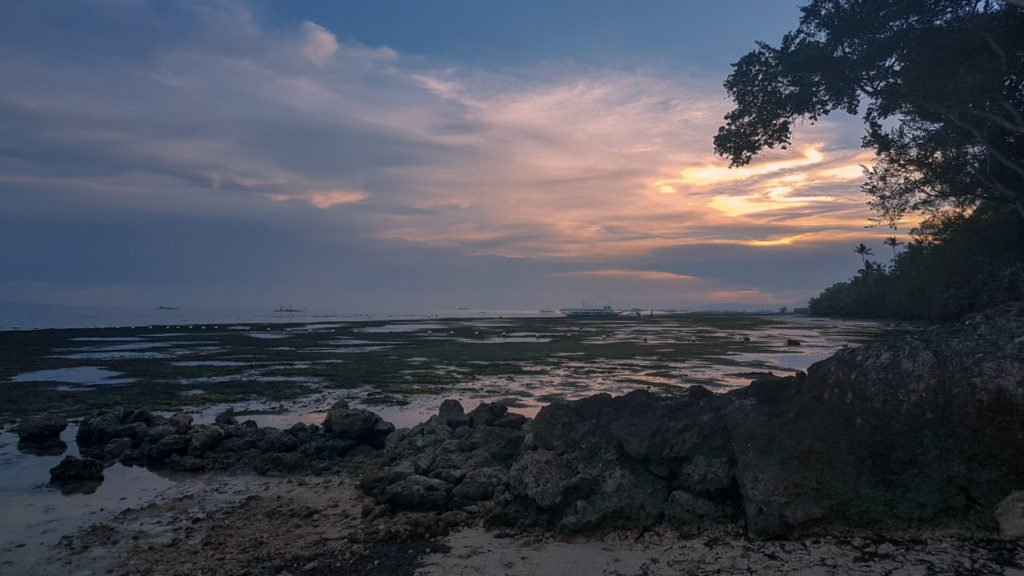 Currency in Bohol
Speaking of cash, it is recommended to change your money while you are still in Tagbilaran. You can get better rates than Panglao Island for instance. Local banks accept most currencies and you will find many exchange places around the city. Keep in mind that 1 US Dollar equals 53 Philippine Peso.
Last but not least, make sure to build up a good stock of coins and smaller bills for paying drivers in Bohol. After all, there is no such thing as too much change when you are constantly on the move.
Bohol Philippines Weather
Philippines weather is tropical, so temperatures are warm year-round. However, it's best to avoid the monsoon season, because the rainfall can ruin all your fun outdoor plans. The rainy season is between June to December.
The best time to visit Bohol is between January to June. The closer you come after the rainy season, the more chances you have of seeing greenery. If you come towards the end of the dry season, the Chocolate hills will have a brown color instead of green.
Bohol Tourist Spots Map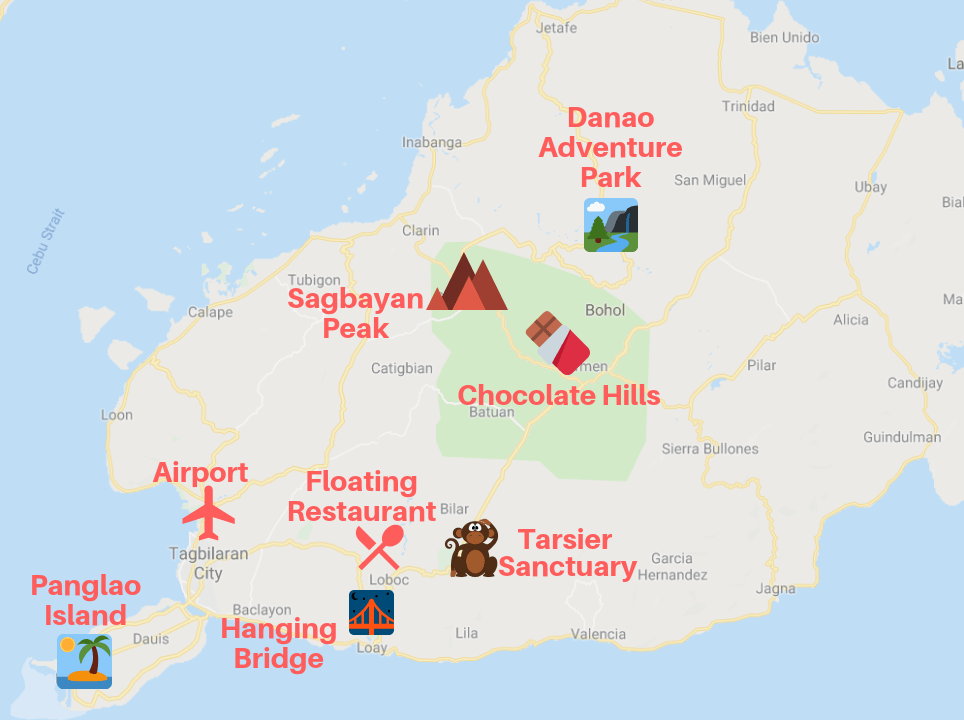 Top Bohol Tourist Spots
Bohol Chocolate Hills
Bohol is home to the Instagram-worthy Chocolate Hills that adorn the landscape of Carmen Town. The remarkable hills occupy the quaint town, forming an army of more than 1,268 peaks that turn into cocoa-colored mounds during the dry season. The hills are surrounded by rice and cornfields, and legend has it that two giants who battled each other for days using rocks and sand as ammo were the ones responsible for this creation.
The hills are best viewed from the observation deck at The Chocolate Hills Complex where you can capture a panoramic view of the hills with your camera and grab a souvenir at the same time. Make sure to wear comfortable shoes because you will need to climb 200 steps to reach the viewing deck. The complex can be reached by bus from The Dao Terminal in Tagbilaran City.
If you want to experience a different view of the hills, then head over to Sagbayan Park, which is around 18Km from the complex in Carmen Town. For-hire vans are available to take you to Sagbayan from the Dao Bus Terminal as well.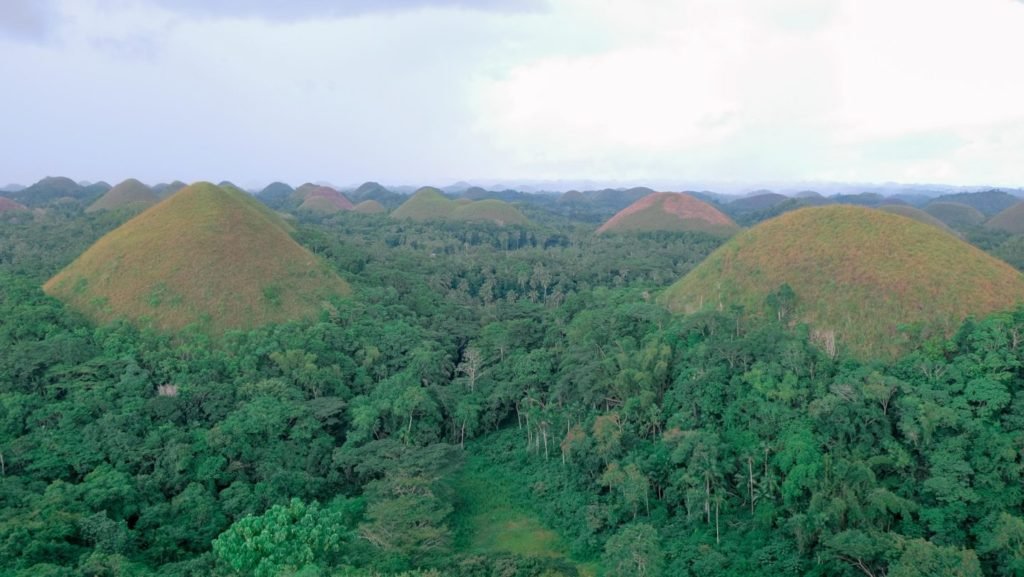 Chocolate Hills opening hours: 8 AM to 6 PM
Chocolate Hills entrance fee: 50 PHP (less than 1 USD)
Jetsetter recommendations: When we arrived to the Chocolate Hills area, we saw several places offering buggy rides through the hills. We decided to go for it, but we were not impressed. These are more like a tourist trap and they all overcharge for renting the buggies. The views were not impressive from the bottom. It's best to go to the viewing deck directly.
Philippine Tarsier and Wildlife Sanctuary
Cute, palm-sized, and endangered are four words used to describe the tarsier. This nocturnal animal can be found at The Philippine Tarsier Foundation Bohol, a sanctuary located in Corella town where you can watch them thrive in their natural habitat. The tarsiers are famous for their wide, saucer-like eyes and their ability to rotate their heads a full 180 degrees. The Bohol Tarsiers Sanctuary is one of the top attractions in Bohol.
If you are in Bohol, make sure you head over to the foundation where you can pay a fee of 500PHP to go on a tour around the tarsier inhabited rainforest. A local guide will accompany you on a tour around the lush green sanctuary where you can observe the tarsiers who are usually spotted clinging to low tree branches.
Touching the small creatures is not allowed and you will also be asked to keep your voice down in order not to disturb their peace. The Tarsiers are nocturnal animals, so most of them will be sleeping during the day.
Bohol Tarsier Sanctuary opening hours: 9 AM to 4 PM
Bohol Tarsier Sanctuary entrance fee: 60 PHP or $1 USD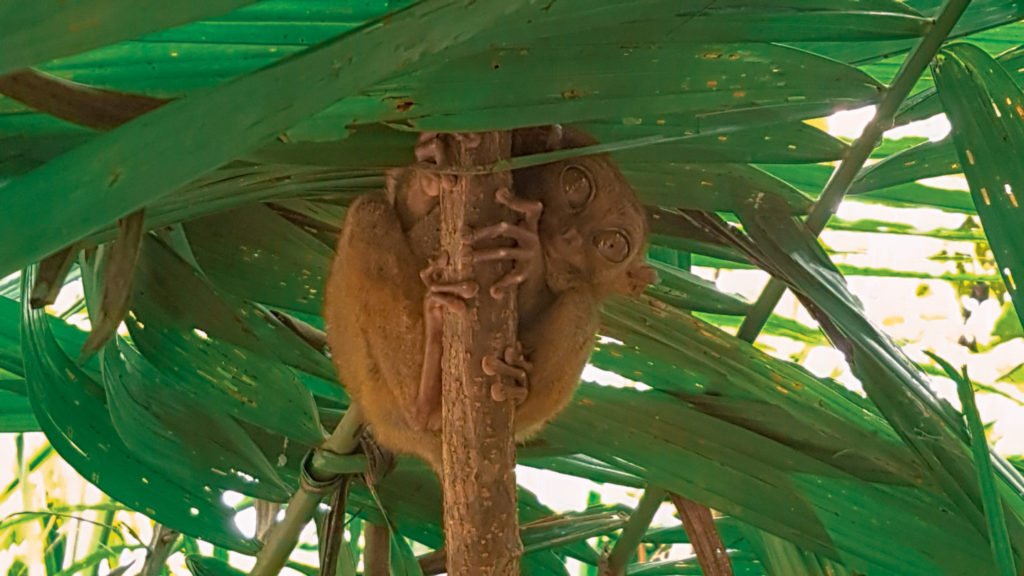 Transportation to the sanctuary is available from Tagbilaran City where you can pay 500 PHP for a roundtrip to and from Corella via tricycle, or you can contact the Tarsier Foundation who will arrange for a car to pick you up and drive you to the sanctuary. You can combine this stop with the Chocolate Hills.
Bohol Hanging Bridge
The bamboo bridge in Sevilla is a popular destination thanks to the thrill that comes from crossing the footbridge and the jungle vibes surrounding it. The olive green waters of the Loboc River below add an element of excitement while you walk down the woven bamboo planks. The 40-meter bridge is fortified with steel cables, so it is considered safe and sturdy to cross.
Souvenir shops selling items such as coconut shell bags and keychains are located on the other side of the bridge where peanut cookies in the shape of the famous Chocolate Hills are sold as well. Do not miss out on the chance to meet Mang Peping, also known as Buko or the Coconut King. The Filipino native is famous for shredding coconut husks using nothing but his bare teeth.
Crossing the bridge costs 10 PHP and you can easily get there by boarding a bus from the integrated bus terminal in Dao. The bus will take you on a 50-minute ride from Tagbilaran City to the small town of Sevilla.
Panglao Island
Grab a slice of island paradise from the pristine beaches of Panglao where the Bohol Sea kisses the shore and where palm trees and azure waters are aplenty. There is no shortage of diving spots or vibrant coral reefs here. Panglao Island needs no introductions thanks to its abundant supply of sun and sand. You can go beach-hopping from one corner of the island to the next, beginning with Alona Beach, which offers easy access to nearby snorkeling and diving spots.
A wide range of watersports is also available, including kayaking and kitesurfing. Next on the list is Bagobo Beach where a popular diving cove known as The Hole in the Wall awaits you. The cove is home to many sea creatures such as eels and sunshine yellow butterflyfish. Unlike Alona, Bagobo Beach is considered a rocky beach with small patches of sand throughout.
If you are in the mood for a dose of solitude, then Danao Beach is the place to be. You will find many resorts in this area such as the Bohol Sea Resort and the budget-friendly Kalipayan Resort. The island and its wealth of beaches can be easily accessed either by ferry from Cebu or by van from Tagbilaran City in Bohol.
Loboc River Floating Restaurant Bohol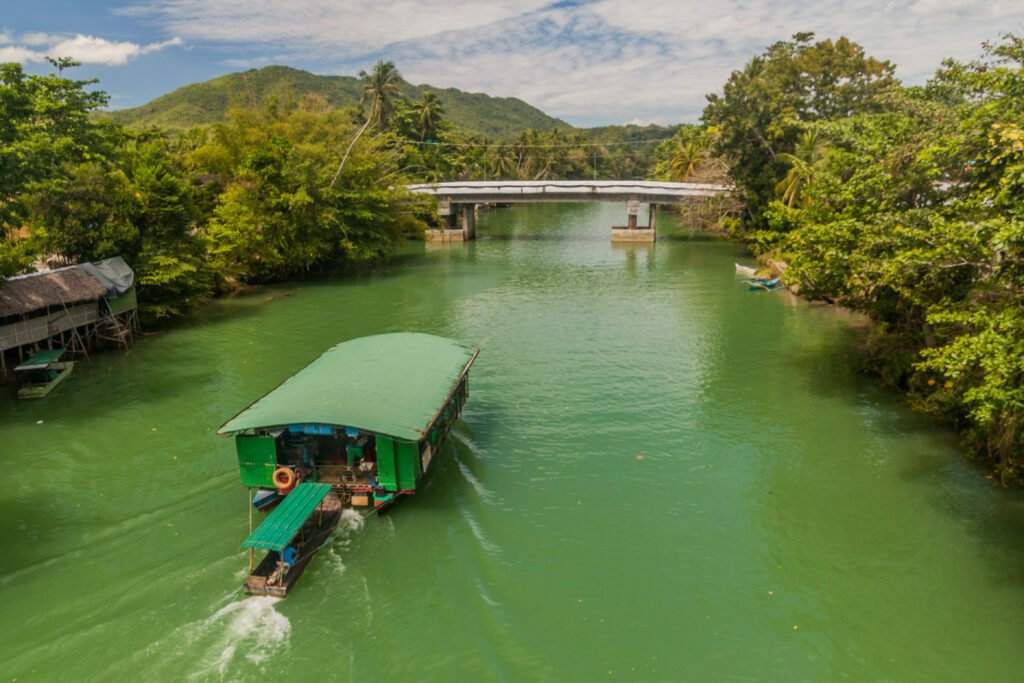 There is nothing like feasting on authentic Filipino food while onboard a floating restaurant in Loboc Town. Quaint huts and lush tropical vegetation offer a visual feast while you enjoy a buffet serving an array of local delights such as seafood, egg pies, and rice cakes. Fresh fruits including mangoes and freshly sliced pineapple are also on the menu for dessert.
The floating restaurant will take you on a 1-hour cruise down Loboc River where you can watch locals perform a short but entertaining dance show, and listen to Boholano songs performed by a live band on board the lively boat.
The floating restaurant cruise and buffet cost 450PHP per person and it takes around one hour to get there using public transportation. Both buses and jeepneys are available at the bus terminal in Tagbilaran City.
Danao Adventure Park
Adrenaline junkies will have a blast in Danao Adventure Park, a nature reserve that combines ecotourism with extreme sports such as cliff diving and spelunking. If you want to experience that rollercoaster sensation that makes your heart race, then you will love their famous attraction known as The Plunge. This is considered one of the world's highest canyon swings with a 75-meter free-fall, so it is most definitely not for the faint-hearted.
Fans of caving can go on a fun excursion to Kamira Cave, home to bats and glittering flowstones. The park also offers kayaking trips down Wahig River and ziplining that allows you to fly over the Loboc River and feast your eyes on the tropical terrain below. Hungry visitors can have breakfast, snacks or lunch at the park.
Danao Adventure Park opening hours: 6 AM to 5 PM
Danao Adventure Park prices range from: 75 to 300 PHP per person. You can book your choice of fun activities online via their website or when you arrive at the park.
Tricycles, jeepneys, and buses can give you a ride from Tagbilaran City to Danao bus terminal where you can take a motorcycle taxi straight to the adventure park.
Blood Compact Monument
This bronze monument pays tribute to  Chieftain Rajah Sikatuna who performed a local blood ritual known as the Sandugo with Miguel Lopez de Legazpi who was a Spanish explorer at the time. Sandugo means 'one blood' and was once used to symbolize friendship and recognize the peace treaty between the Spaniards and the Filipinos.
In order to complete the ritual, both men had to make a small cut in their arms, allowing their blood to flow into one cup. The cup was then filled with wine that both men had to drink in order to complete the ritual.  The monument was made by a Boholano artist named Napoleon Abuera and it features five life-sized men gathered around a table with Chief Sikatuna and Legazpi making a toast.
The monument is located in Tagbilaran City right across the road from Bool Elementary School.
National Bohol Museum
The newly opened museum is a must-visit for anyone interested in knowing more about the history of Bohol and its famed local sculptor,  Napoleon Abueva, whose private collection is on display at the museum. In addition to the wealth of prehistoric artifacts and ancient fossils, the museum also features a series of small, three-dimensional models that show you how the Chocolate Hills were formed.
The museum may be small but it provides a window into the past thanks to the zoological and archaeological treasures that were unearthed from different parts of the island.
Bohol Museum opening hours: 8 AM to 5 PM Tuesday to Sunday and you can enter for free.
Sagbayan Peak
Sagbayan Peak is a mountain resort located northwest of Tagbilaran City where you can capture a better view of the Chocolate Hills with your camera and get away from the flood of tourists back at the hills complex. The five-hectare resort has a theme park for children and a butterfly dome that is home to 18 species of butterflies, not to mention the spacious viewing deck that offers a 360-degree view of Bohol and the Cebu City skyline.
The high-powered telescope allows you to take a closer look at The Chocolate Hills and the rice fields surrounding it. There is also a café overlooking the butterfly dome where you can sit and order a drink or lunch for cheap.
Sagbayan Park entrance fee: 20 PHP and the butterfly dome tickets are sold separately for 10 PHP.
For-hire vans are available to take you to Sagbayan Peak from Tagbilaran City where you can enjoy a sunset view of the extraordinary landscape.
Our Lady of the Immaculate Conception in Baclayon
Your Bohol tour is not complete without a trip to Our Lady of the Immaculate Conception, which is considered one of the oldest stone churches in the Philippines. The church is located in the historical town of Baclayon, 6 kilometers east of Tagbilaran City. Construction on the church began in 1717 using coral blocks and millions of white eggs that were supposedly mixed with lime and used as cement.
Inside the church, you will find baroque-style gilded alters and an old pipe organ that dates back to 1824. The church complex includes an old convent that doubles as a small museum containing religious relics dating back to the 16th century. The colonial Spanish influences are evident in the design of both structures.
Baclayon is a short drive away from Tagbilaran so you can catch a bus or jeepney or ask a tricycle driver to take you there for a small fee.
Enjoy the Bohol Nightlife
Bohol after dark is a place where you can chillax and have a drink or two by the beach, or dance the night away in Pharella Bay. The best lively bars are found in Panglao Island down by Alona Beach where you can order reasonably priced cocktails and listen to live music. If you happen to be a fan of reggae, then head over to Aliahailey Bar where they have the longest happy hour on the island and serve tasty barbecue as well.
Pinarella Bay is another bar that serves cheap drinks with a side of good music. It also hosts theme parties that last until sunrise. If you fancy a chilled beer by the beach, then Aluna Beach Lounge is the place to be.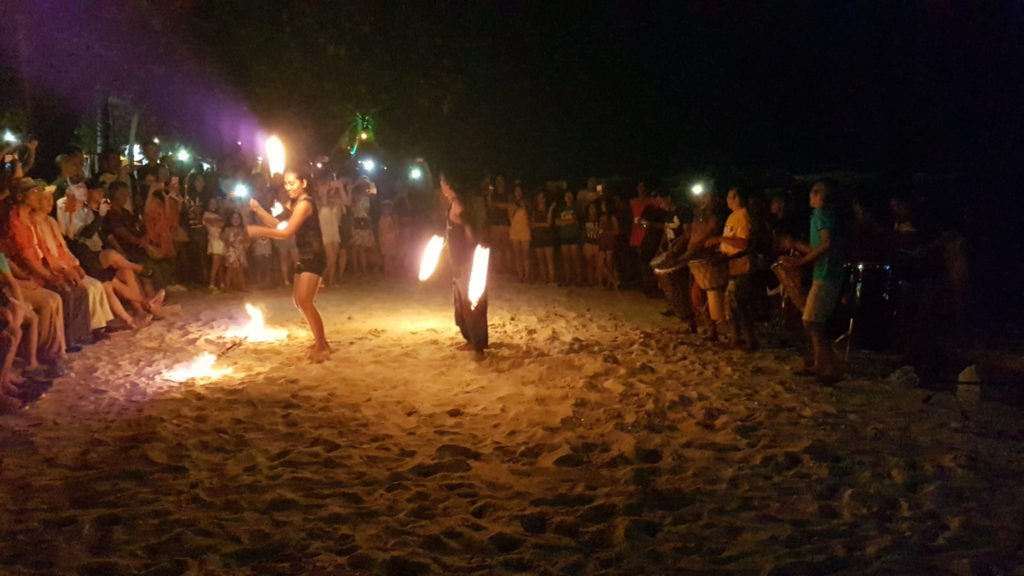 Where to Stay in Bohol
There are some great accommodation options along the beach in Bohol. I chose to stay at Bluewater Panglao Resort and really enjoyed it. The resort is a 4-star property with great facilities and services.
Bluewater Panglao Resort Review
Bluewater Panglao Resort has 2 outdoor pools and a big garden area with beautiful walkways leading right to their main restaurant right on the beach. The staff are extremely helpful and friendly. The resort grounds are a great place to relax and unwind after a long day of adventures.
The Rooms
I stayed in a one-bedroom villa with a private pool. The rooms are so spacious and have great views of the garden. The private pool area is amazing and I really enjoyed cooling off there after lots of outdoor activities. Our bathroom was massive with a great shower. The TV comes equipped with Netflix and there's a really comfortable couch to sit on and enjoy movie nights.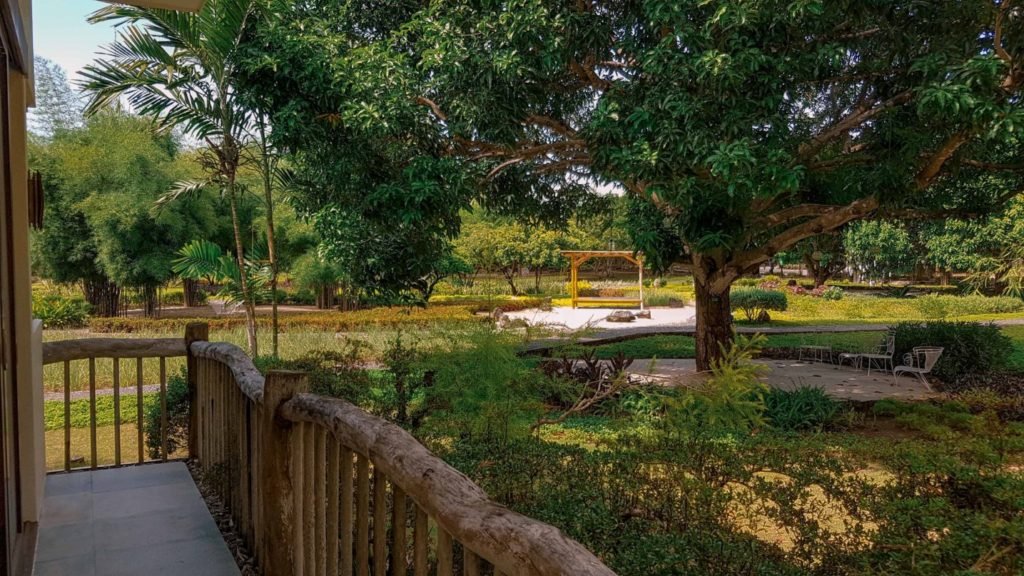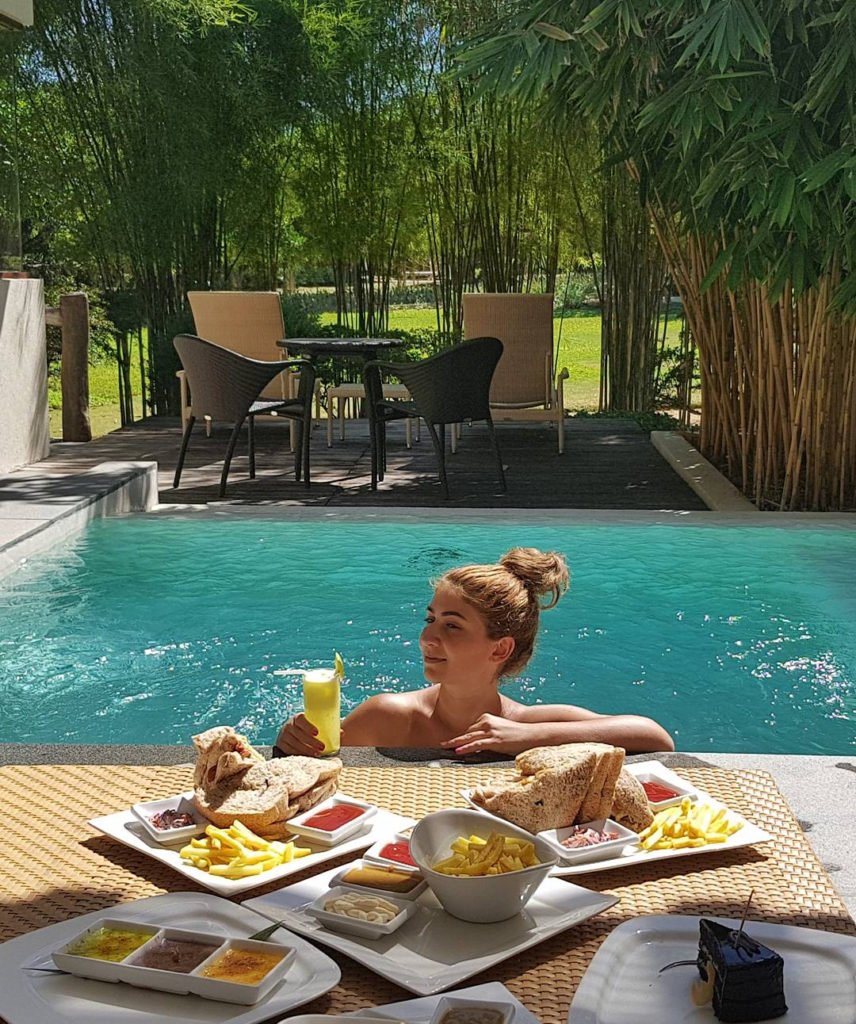 The Food
Breakfast is served in the main restaurant with great views of the beach. You can also enjoy the sunset and grab a few drinks at the bar. Room service is available 24/7 with a wide range of both Asian and Western dishes.
We enjoyed a lovely romantic dinner at the beach with private butler service. I highly recommend this, because the setup was so stunning and the food was super delicious.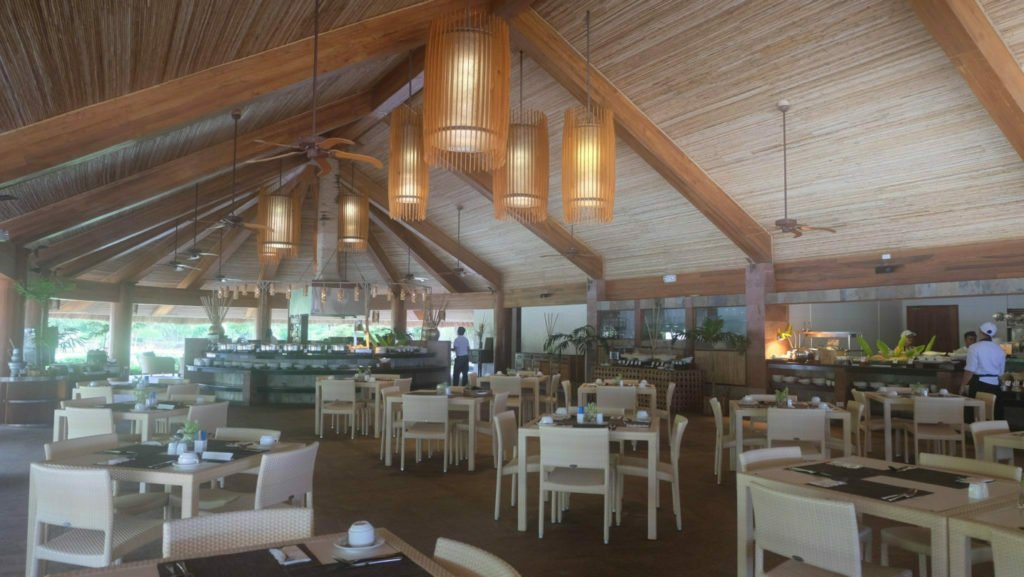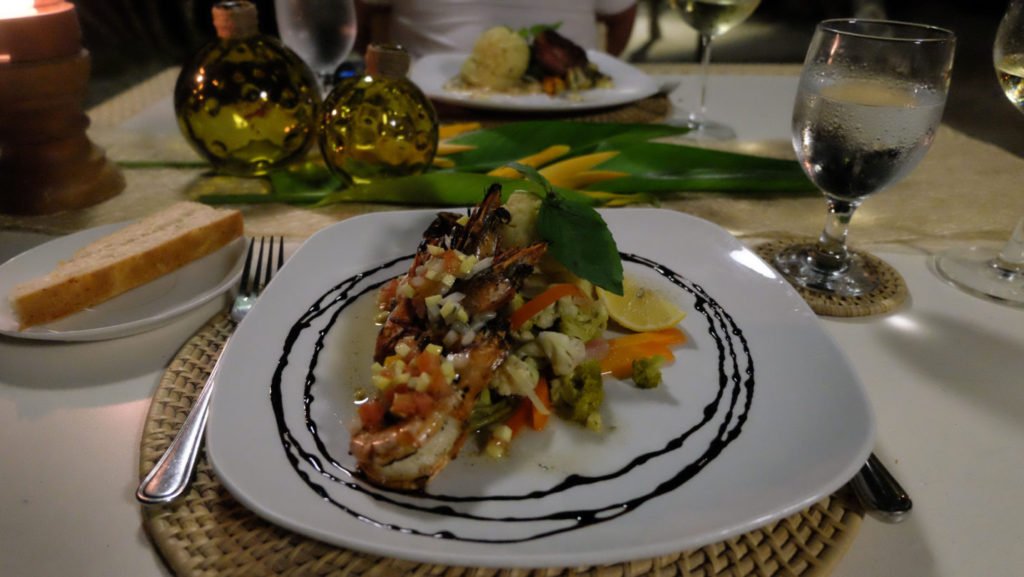 Disclaimer: I was hosted as a guest in Bluewater Panglao Resort, but as always all opinions are my own.