Are you looking for a fun and fabulous weekend getaway? Then look no further than Miami Beach! This vibrant city is teeming with activities and attractions for visitors of all ages. Whether you want to soak up some sun on the beach, explore the shops and restaurants of South Beach, or dance the night away at one of the many nightclubs, Miami has something for everyone.
Top 10 Things to do on a Miami Beach Weekend Getaway
Miami is a bustling metropolis with a lot to offer. From the pristine beaches to the vibrant nightlife, no matter what your interests are, you can find so many fun activities in Miami Beach. Not sure what to do on your weekend getaway? Here are some ideas!
Visit South Beach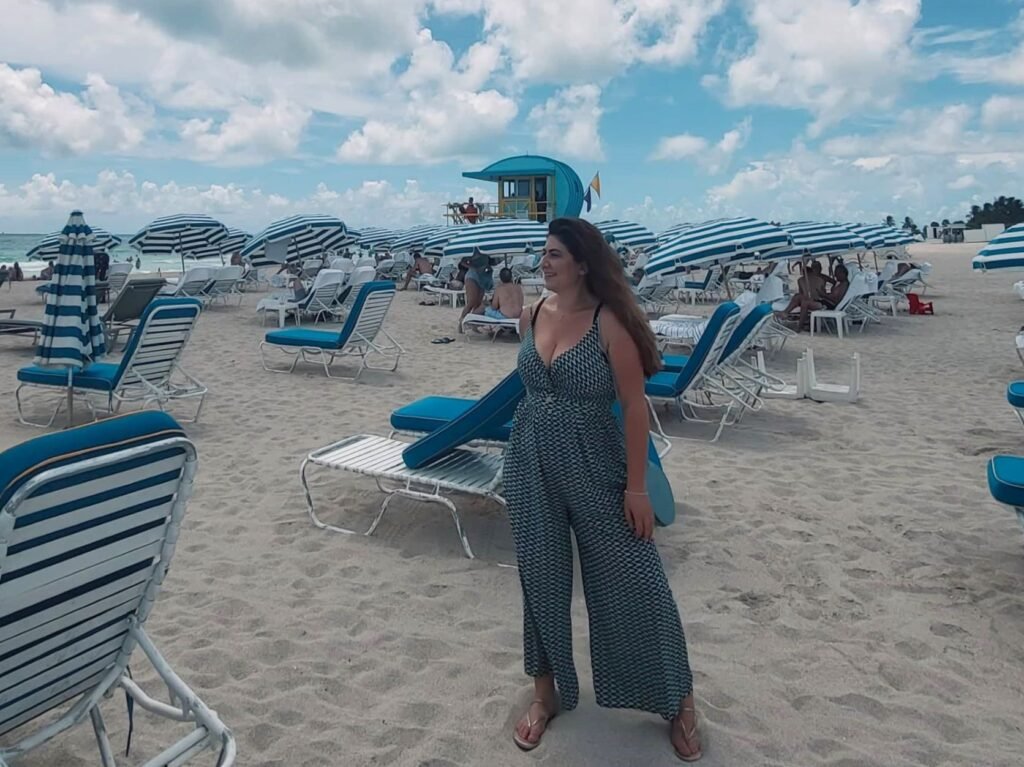 There's no shortage of things to do in South Beach. If you're looking to relax, you can spend your days lounging on the beach or swimming in the ocean. For those who want to be more active, there are plenty of options for watersports like surfing, paddleboarding, and kayaking.
The South Beach lifeguard towers are an iconic part of the Miami skyline. Even if you're not looking to take a dip in the ocean, the South Beach lifeguard towers are still worth a visit. From these towers, you'll get unparalleled views of the beach and the city. There are a total of 36 lifeguard towers on Miami Beach. To find them, simply start at any point along Ocean Drive and look for the tall, brightly-colored structures. The towers are impossible to miss!
When the sun goes down, the fun is just getting started. South Beach is home to some of the best nightlife in the world, so whether you're looking to hit the clubs or simply enjoy some cocktails with friends, you'll find what you're looking for.
Take a walk down Ocean Drive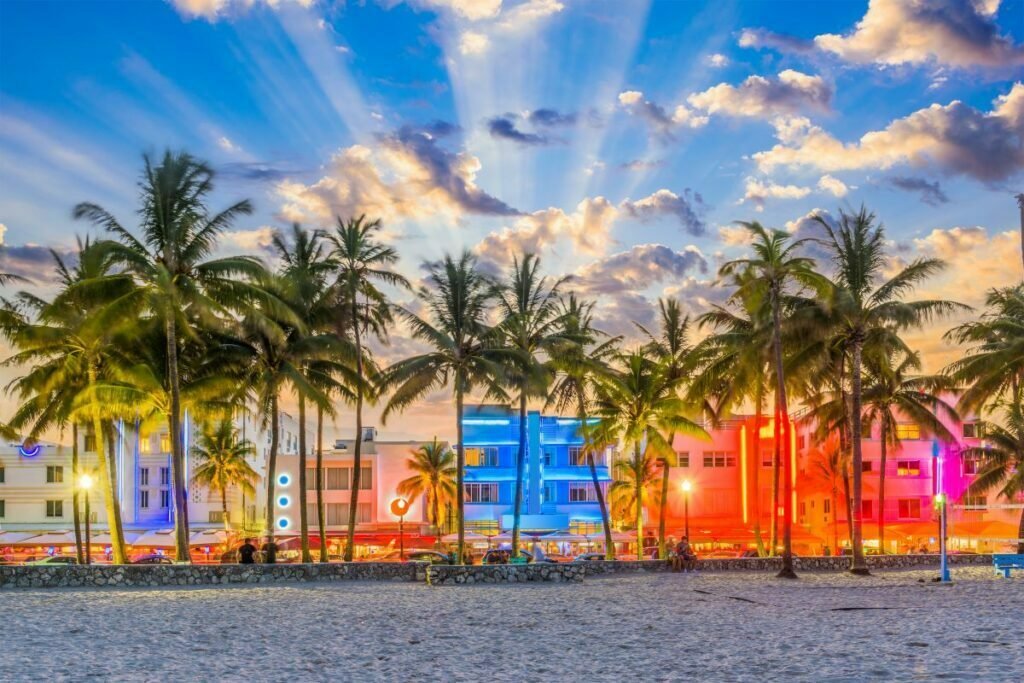 There's no place quite like Ocean Drive in Miami. The beautiful blue water, the white sand beaches, and the stunning Art Deco architecture make it a must-see for anyone visiting the area.
Take a stroll down the beach promenade. One of the best things about Ocean Drive is that it's right on the beach. So take advantage of it! Grab a cup of coffee and take a leisurely stroll down the promenade.
Visit one of the many Art Deco landmarks. Ocean Drive is home to some of the most beautiful Art Deco architecture in Miami. Take a walk down the street and admire all of the stunning buildings. You can even go on an Art Deco walking tour!
People watch from a roadside cafe. Another great thing about being on Ocean Drive is that there are plenty of cafes and restaurants with outdoor seating. So find a spot, grab a bite to eat, and people watch to your heart's content.
Enjoy a great meal
When it comes to food, Miami Beach knows how to deliver. No matter what you're in the mood for, you'll find it here. From fresh seafood to Cuban specialties and everything in between, there's something for everyone. Here are some restaurants to try in Miami Beach:
Drunken Dragon Korean BBQ
One of the best things about Korean BBQ is that it's meant to be enjoyed with friends or family. If you're looking for a delicious Korean BBQ restaurant in Miami Beach, then you need to check out Drunken Dragon. From the outside, it looks like an abandoned shop, but on the inside, it's a super hip bar & restaurant with delicious meat and cocktails. I recommend grabbing a table where you can cook the meat yourself to enjoy the full experience.
Macchialina Miami
If you're looking for a truly authentic Italian dining experience in Miami, look no further than Macchialina. This unassuming little restaurant is tucked away in a quiet corner of South Beach, but don't let its humble exterior fool you – inside, you'll find some of the best pasta this side of the Atlantic. The menu changes seasonally to make use of the freshest ingredients.
Lido Bayside Grill
This open-air eatery is located right on the water inside The Standard Hotel, so you can enjoy stunning views of the bay while savoring fresh, delicious seafood.
Time Out Market Miami
With 16 different vendors offering everything from sushi to tapas to gourmet sandwiches, Time Out Market is a great one-stop culinary destination. Grab a seat at one of the communal tables and sample your way through the variety of cuisines in the market!
Shopping at Lincoln Road
When it comes to shopping, few places can rival Lincoln Road in Miami. This open-air pedestrian mall is packed with high-end stores, popular restaurants, and lively street performers. Whether you're looking for the perfect souvenir or just want to people-watch, Lincoln Road is the place to be.
Lincoln Road runs east to west from 16th Street to 17th Street, parallel to Collins Avenue. The mall is home to a variety of stores, including many designer brands. If you're looking for something more unique, check out one of the many art galleries or specialty shops. And when you need a break from shopping, stop for a bite to eat at one of the delicious restaurants or take in a show at the Colony Theater.
No matter what your budget is, you're sure to find something to your liking on Lincoln Road. So whether you're in the market for a new outfit or just want to window shop, be sure to add this Miami landmark to your list of places to visit.
Visit Vizcaya Museum and Gardens
Vizcaya Museum and Gardens is a historic estate that was built in the early 20th century. It was originally the home of James Deering, an American businessman who made his fortune in the agricultural equipment industry. Today, the estate is open to the public as a museum and it's one of the most popular tourist attractions in Miami.
There's plenty to see and do at Vizcaya Museum and Gardens. The estate grounds are beautiful and they're perfect for exploring. You can also take a tour of the main house, which is full of art and furniture from around the world. And if you're interested in learning more about the history of Vizcaya, be sure to check out the on-site library which houses a collection of books about the estate.
Take a boat tour of Millionaire's Row
If you're looking for a taste of the high life, look no further than Millionaire's Row in Miami Beach. This world-famous stretch of sand is home to some of the most luxurious residences and yachts in all of Florida. And what better way to see it all than from the deck of a boat?
Millionaire's Row is a nickname for a section of Miami Beach that's home to some of the wealthiest people in the world. It got its name from the lavish lifestyle that its residents live. Although it's not an official designation, Millionaire's Row usually refers to the area between Indian Creek Drive and North Bay Road.
This part of town is renowned for its glitz and glamour. Residences here are some of the most expensive in Florida, if not the entire country. And when it comes to yachts, they don't get much bigger or better than those docked along Millionaire's Row.
There are plenty of companies that offer boat tours of Millionaire's Row, but they all tend to follow a similar format. The tour will start with a brief explanation of the area's history and how it got its nickname. Then, you'll set sail and get an up-close look at some of the most impressive homes and yachts in Miami Beach.
Many tours also include stops at celebrity hotspots like Star Island and Hibiscus Island. You might even spot a few celebrities if you're lucky! Of course, no visit to Millionaire's Row would be complete without seeing the famous Versace Mansion. This dazzling property was once owned by fashion mogul Gianni Versace.
Stroll through Wynwood Walls
Wynwood Walls was founded in 2009 by the late property developer Tony Goldman. Goldman had a vision for transforming the Wynwood Arts District into a hub for street art and graffiti. He commissioned some of the world's foremost street artists to create murals on the walls of buildings in the district. Since then, Wynwood Walls has become one of Miami's most popular tourist attractions.
Wynwood Walls is home to over 50 large-scale murals by world-renowned artists such as D*Face, Shepard Fairey, Futura, and Faith 47. The museum also features a rotating series of smaller murals by local artists. In addition to the murals, Wynwood Walls also has a gift shop and a cafe. Visitors can purchase prints of their favorite murals, as well as t-shirts, hats, and other merchandise with street art designs.
Related Post: Visit Clearwater Beach, Florida
Learn about Cuban culture at Little Havana
Nestled in the heart of Miami, Little Havana is a thriving Cuban community that is bursting with culture. From the vibrant colors of the murals to the tantalizing aromas of Cuban cuisine, a stroll through Little Havana is sure to delight all your senses.
One of the best things about Little Havana is the food. Whether you're in the mood for a Cuban sandwich or some traditional arroz con pollo, you're sure to find something to your liking. And don't forget to wash it all down with a cup of freshly-brewed Cuban coffee! Trust me, it's worth braving the lines at Versailles Restaurant.
Watch the pink Miami Beach sunset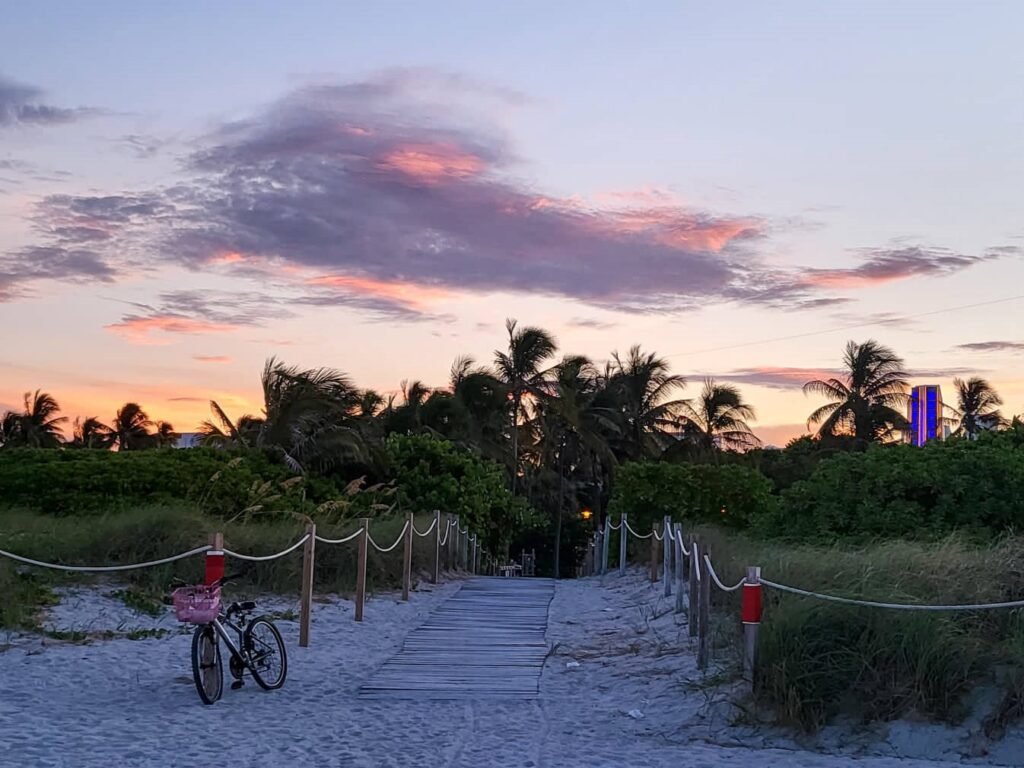 There's nothing quite like a Miami Beach sunset. The colors are always so vibrant, and there's something about the warm air and the sound of the waves crashing that just feels calming. If you're looking for a great spot to catch a Miami Beach sunset, then South Pointe Park is definitely one of the most popular sunset spots in Miami Beach. It's centrally located, so it's easy to get to from anywhere in the city. And it has an amazing view of the downtown skyline. If you want to be in the middle of the action, then this is definitely the spot for you.
Visit the Miami Beach Botanical Garden
The Miami Beach Botanical Garden is a 2.6-acre public park and garden located in the heart of Miami Beach. The garden features a variety of native plants, flowers, and trees, as well as a butterfly garden, a children's garden, and a water garden. Visitors can also enjoy the garden's picnic area and performance stage.
The Miami Beach Botanical Garden is open daily from 9:00 am to 5:00 pm. Admission is free for everyone. The best time to visit the garden is in the morning or evening when the temperatures are cooler. Remember to wear sunscreen and hats, and to bring plenty of water.
The butterfly garden is one of the most popular attractions at the Miami Beach Botanical Garden, which is home to more than 50 different species of butterflies.
The water garden is also worth a visit while you're at the Miami Beach Botanical Garden. It features a variety of native wetland plants and animals, as well as a walking trail that takes you through different habitats.
Where to stay in Miami Beach: The Standard Hotel
The Standard Miami Beach is a popular hotel among tourists and locals alike. It's a 4-star hotel located in the heart of Miami Beach known for its trendy atmosphere and beautiful views. But The Standard Hotel isn't just a place to stay; it's also a place to relax and forget about all your worries! The hotel has a spa with treatments like massages, facials, and body scrubs. There's also an outdoor pool area with cabanas, chaise lounges, and day beds. If you're looking to spend some time in the sun, this is the perfect spot.
The hotel has several room types including some that feature gorgeous outdoor areas with a bathtub. The facilities are the best part of the hotel. They have everything you need to ensure the perfect stay. Make sure to try the food at Lido Bayside Grill, the delicious coffee at Cafe Standard, the state-of-the-art gym, the relaxing massages, and the poolside cocktails.
Whether you're looking for relaxation or excitement, you'll find it all during a weekend getaway to Miami! With its sandy beaches, vibrant nightlife, diverse neighborhoods, and endless activities, this city has something for everyone. So what are you waiting for? Book your tickets today for a sunny escape you won't soon forget!