Jordan is a country with so much diversity that it feels like your visiting a different planet each day. After having such an amazing time, I compiled the ultimate list of the best places to visit in Jordan. I recommend spending at least 7 to 10 days in Jordan to be able to enjoy all these amazing sites.
1. Spend 24 Hours in Amman
I was positively surprised at how much there is to do in Amman. The busy capital has so much to offer from amazing food and restaurants, a mix of modern and old architecture, historic sites and welcoming locals.
Here's how to spend 24 hours in Amman: Breakfast at Shams El Balad, visit the historic Amman Citadel and enjoy amazing views of the city, take a stroll along Rainbow Street and pay a visit to Jordan River Designs for some shopping, stop by Al Quds Falafel and taste the best falafel in Amman, head over to Najla's Kitchen for a cooking class followed by an amazing meal, visit the Roman Amphitheater during sunset, finish off the day at Levant Restaurant for a superb dinner.
2. The Dead Sea Jordan
Located at the lowest point on Earth and unlike any other sea you will ever experience in your life, the Dead Sea has a very high density of salt which lets you float effortlessly. The salt and minerals in the sea have so many benefits and are used in several beauty products around the world. The Dead Sea is definitely one of the best places to visit in Jordan.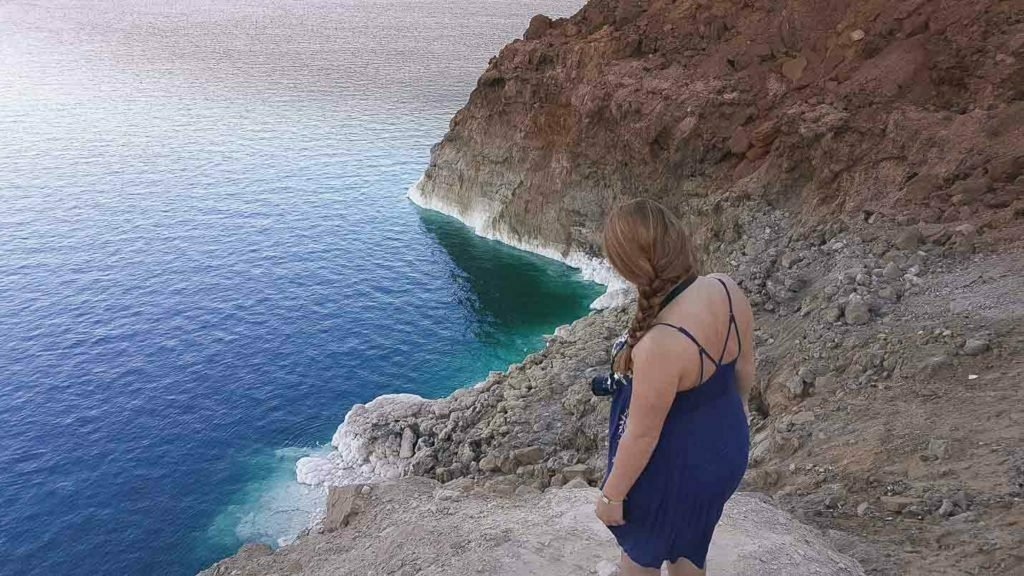 There's a special mud that is extracted from the area and you can find it on every beach. You must try it, because it transforms your skin completely into baby skin which last for up to a week! Cover yourself in the mud from head to toe and stand under the sun for 15 to 20 minutes and wash it off in the sea. You will feel like you were reborn.
The high salt level in the Dead Sea will force you to discover any cuts and bruises you might have the minute you step into the water (and yes it really burns!), so try not to shave right before or get any water in your eyes. Do not try to swim or go underwater either.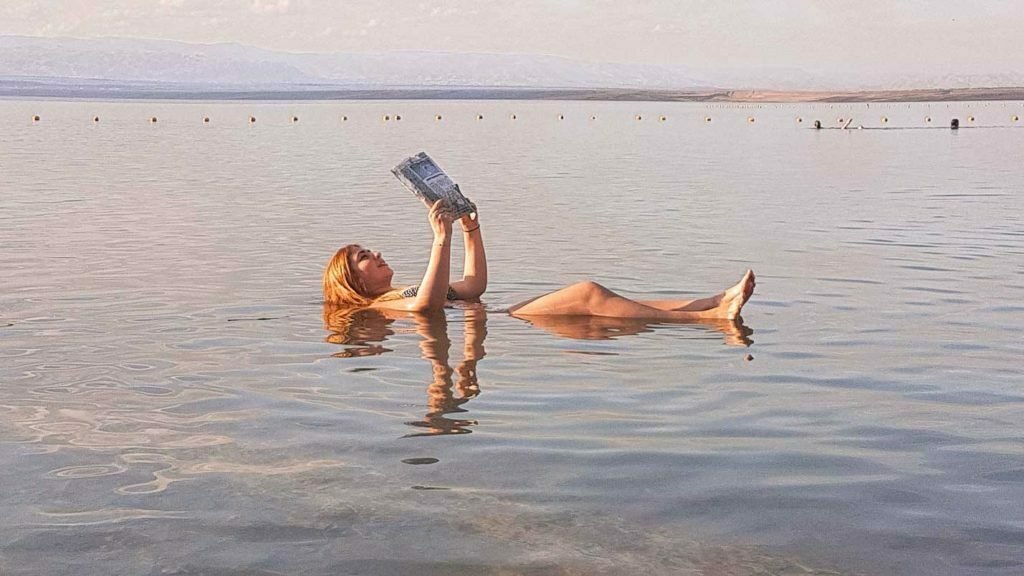 Most of the accommodation at the Dead Sea is luxury. I stayed at the Kempinski Hotel Ishtar Dead Sea and I loved it. The view from the rooms is outstanding and there are several pools, restaurants and entertainment.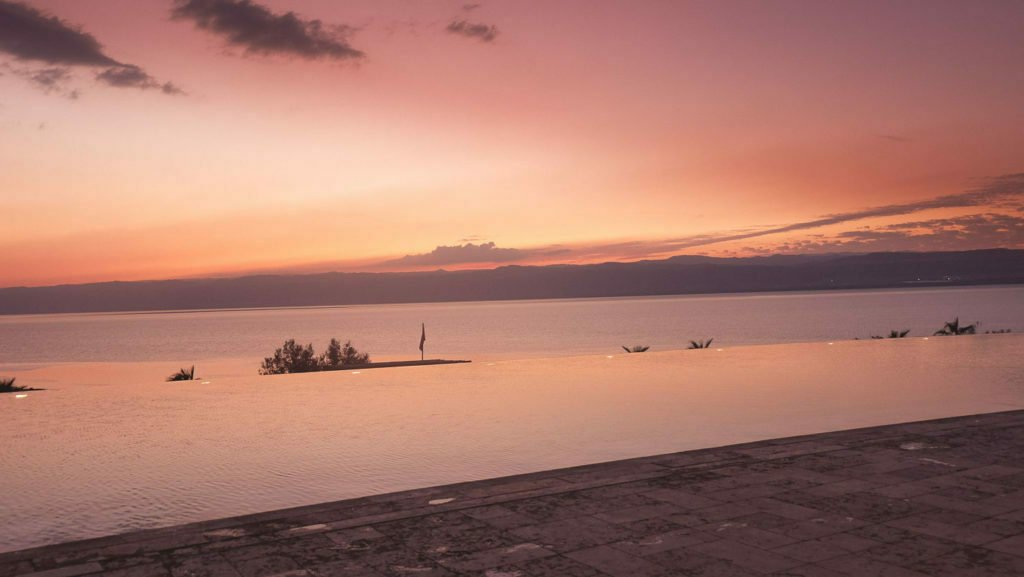 Here's are the top Dead Sea hotels in Jordan: Hotel List.
Related article: The Easiest Jordan 7-day Itinerary
3. Historical Places in Jordan: Petra – The Rose City
Petra is the most famous Jordan tourist spot and should be on everyone's bucket list. After seeing Petra up close, I immediately knew why it was listed as one of the 7 wonders of the world. I had high expectations before I visited, but I was still blown away by this stunning historical site. In my opinion, Petra is the most beautiful site out of all the Jordan landmarks.
Petra dates back to around 300 B.C. and was the capital of the Nabatean Kingdom. The carvings in the pink sandstone hills and cliffs are actually tombs and temples, which is why it's nicknamed the "Rose City."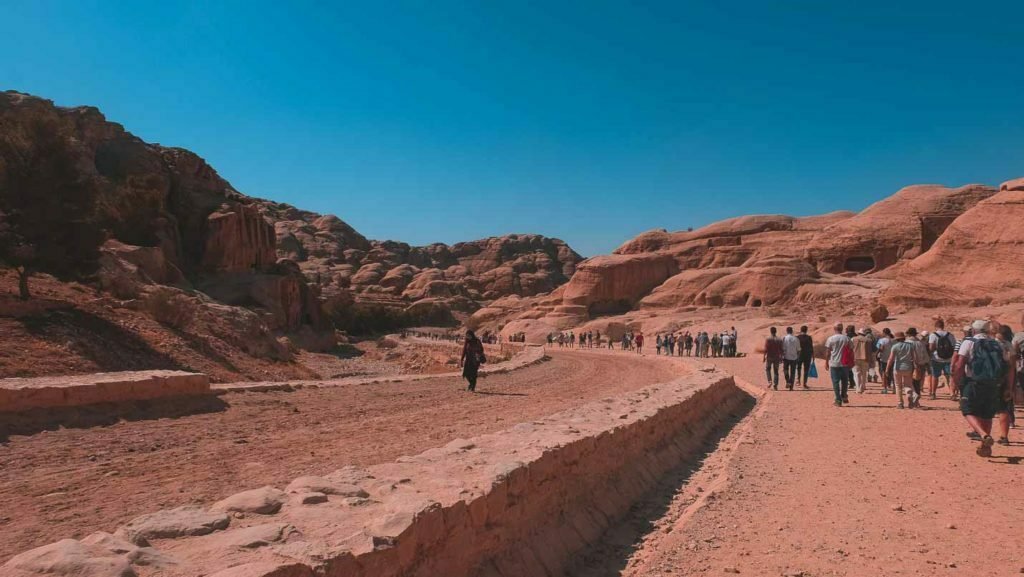 Petra is a huge area and it needs at least 4-5 hours to walk around inside. I would recommend dedicating at least 1 full day to Petra, because it's definitely worth it to walk to every single hidden corner. This famous landmark gets so overcrowded with tourists, so get there early (6 AM) to skip the crowds.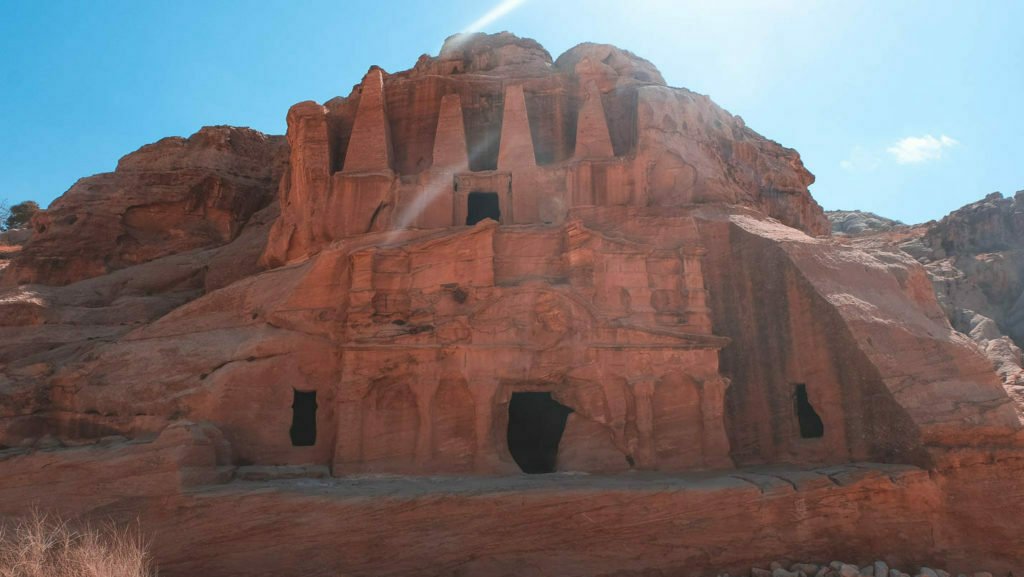 The most popular site in Petra is The Treasury and there are some hidden ways to get there and view it from the top instead of the bottom like all the tourists. We decided to pay one of the locals inside (around $25) to take us hiking through the hidden hills. If you decide to do this option, wear hiking shoes and get ready for an adventure, because the hike is not easy. I do guarantee however that the view from the top will take your breath away. If you have a fear of heights it's better to see it from below (the regular route), because the viewing point from the top is on a high and steep cliff. Our hike up took around 2 hours and the hike down took around 1 hour. I would highly recommend it if you are up for the challenge.
Related posts: The Ultimate Guide to Lebanon
4. Camping in Wadi Rum Desert
Are you prepared to feel like you landed on Mars? Because that's exactly what Wadi Rum looks like. It's such a stunning landscape that you can't stop staring at the endless views of the desert. Wadi Rum is one of my favorite places to visit in Jordan.
There are several camps where you can spend the night, which I highly recommend. The best time to arrive is right before sunset and take a 4×4 from your camp to a nice viewing point. The sunset makes the sand look like a mix of gold and pink and the endless view of the desert will give you an extreme sense of serenity. Our Bedouin guide from the camp lit a small fire and served us delicious tea while we enjoyed the view.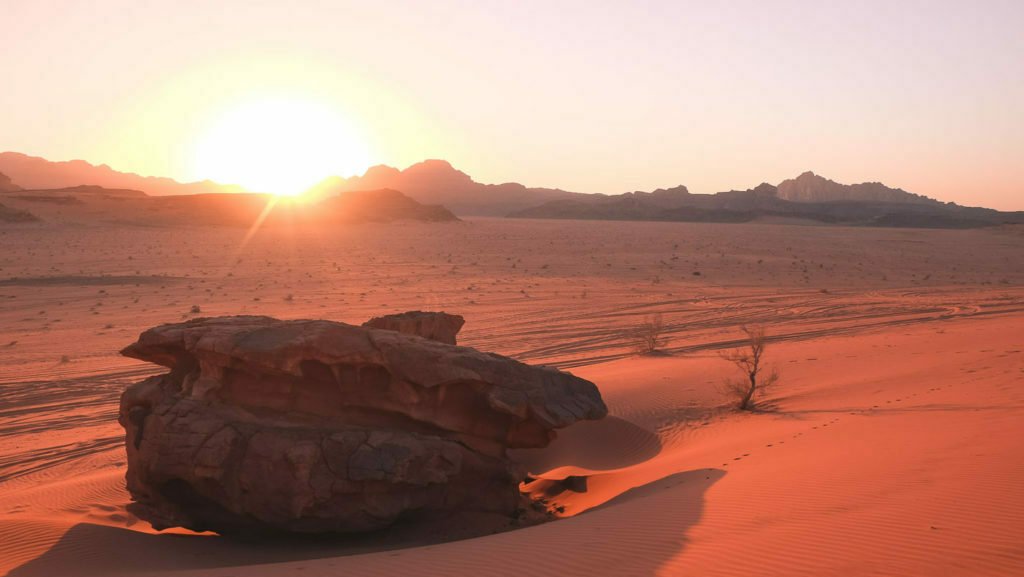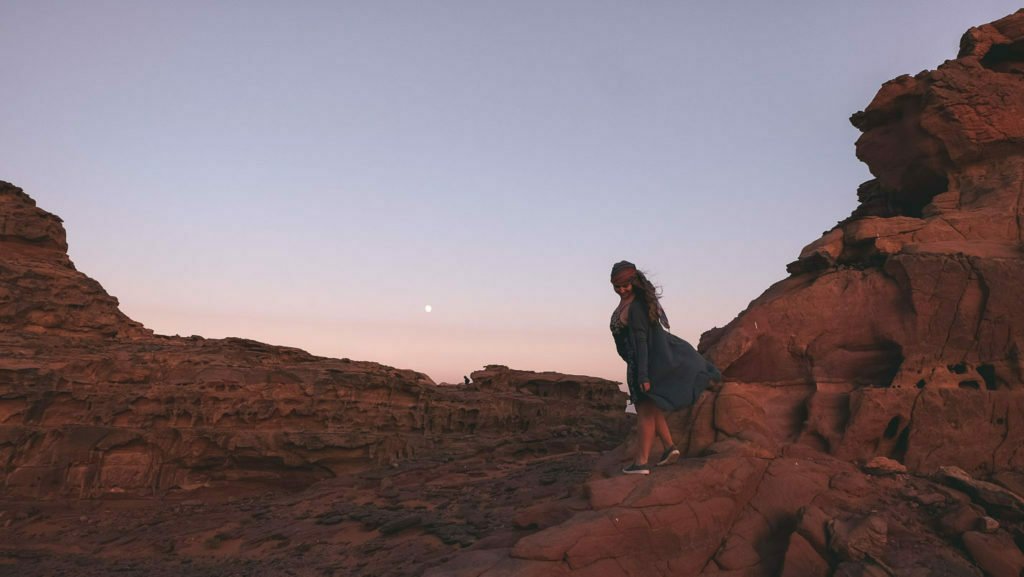 The nighttime is also incredible in the Wadi Rum Desert for several reasons. First, the Bedouins prepare dinner in a very special way. They dig a hole in the sand and light some charcoal, then they put a huge plate of different meats and vegetables in the hole and cover it with sand. Hours later right before dinner you can see how they dig the hole to get the delicious dinner out. The meat is cooked so slowly that it's very juicy and tender. After dinner, they light a fire and it gets really chilly, so the best thing to do is sit and enjoy some hot drinks.
If you love watching the stars, then you must wake up in the middle of the night around 1 AM for the best viewing time. Wadi Rum is famous for its spectacular view of the stars at night. When I was there it was a full moon, which meant the stars were not clearly visible, so if you want to make sure you catch a good view, make sure to avoid the full moon period.
Sunrise is also stunning in Wadi Rum and you can book a really nice camel ride from the camp and go on an adventure in the desert.
I stayed at Hasan Zawaideh Camp, where each room has its own toilet, shower, comfortable bed, and 24-hour electricity. Not all camps offer those facilities in the room and most have shared toilets and showers, so watch out for that information when you're booking.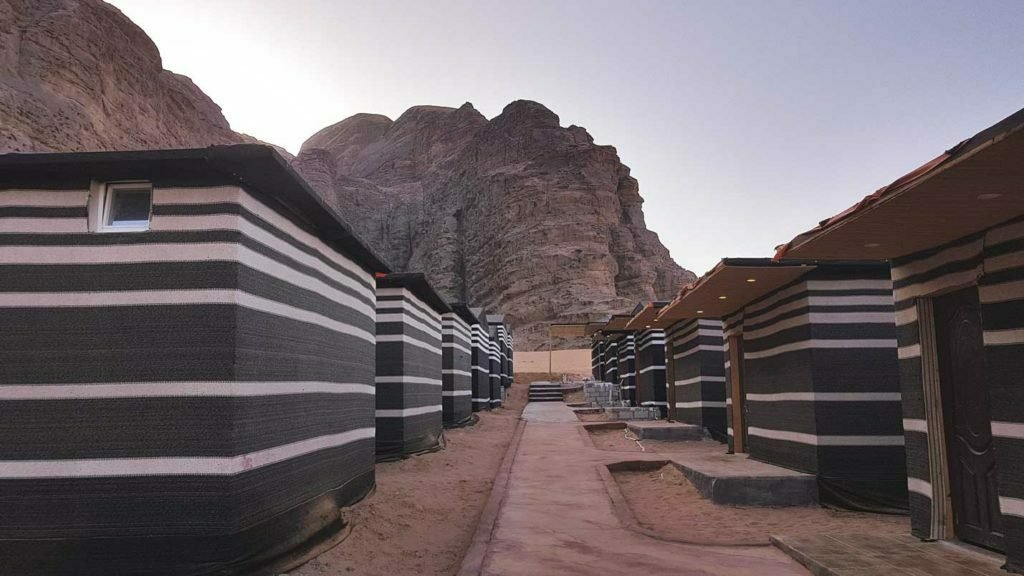 5. Ma'in Hot Springs and Waterfalls Jordan
Not only are these waterfalls beautiful to look at, but they also have therapeutic benefits. The area is famous for medical tourism where people go to cure chronic physical illnesses. Swimming under the warm waterfalls is an amazing experience. There are several springs and waterfalls, but only one resort to stay at overnight is called the Ma'in Hot Springs Resort & Spa. The resort has an award-winning spa and a beautiful waterfall visible from the restaurant. The best part is the thermal outdoor pool with the sounds of the waterfall right behind it. Ma'in is around a one-hour drive from Amman and is a great place to spend a night on the way to the Dead Sea.
A great stop between Amman and Ma'in is Mount Nebo located on a hill with stunning panoramic views and beautiful church.
The best time to visit Jordan:
The best season is between March to May with warm days and cool nights. September & October can also be good months to visit because the weather is cooler. The summer season (June – August) can get scorching hot. Amman is rainy between Nov to Feb and can get quite cold. The desert temperatures drop significantly at night, so make sure to be prepared if you're going camping.
Is Jordan safe to travel to?
Jordan is very safe even if you are traveling alone without a group or tour company. A lot of warnings were issued due to the unrest in neighboring countries, but there is nothing to worry about in Jordan itself.  The locals are very friendly and warm as well, which is a big plus.
I was hosted in Jordan by Visit Jordan, but as always all opinions are my own.