My first visit to Malaysia started in the exciting city of Kuala Lumpur. With so much to do and see in a short amount of time, I wanted to make sure I pick the ideal hotel to stay in. Hotel Stripes Kuala Lumpur is a brand new property with an amazing location, super comfortable rooms, delicious food, and very stylish decor. This made it the perfect hotel to stay in for my city escape.
The neighborhood around the hotel has a unique mix of old and new buildings, with so many cute restaurants, cafes, bars, and art galleries.
As I walked in through the main entrance, I was greeted with big smiles and immediately noticed the very charming restaurant called Brasserie 25, which I knew I had to try later.
The Rooms at Hotel Stripes
My room couldn't have been more stylish and comfortable. As soon as I checked in, I wished I had booked a few extra nights to enjoy the beautiful space. The decor, lighting, and whole vibe of the room at Hotel Stripes Kuala Lumpur is so modern and chic.
The first thing I noticed was the large black and white wall art hanging behind my bed, which is a gorgeous old photo of the neighborhood. The colors of the room blend so perfectly together and give it a warm and cozy feel.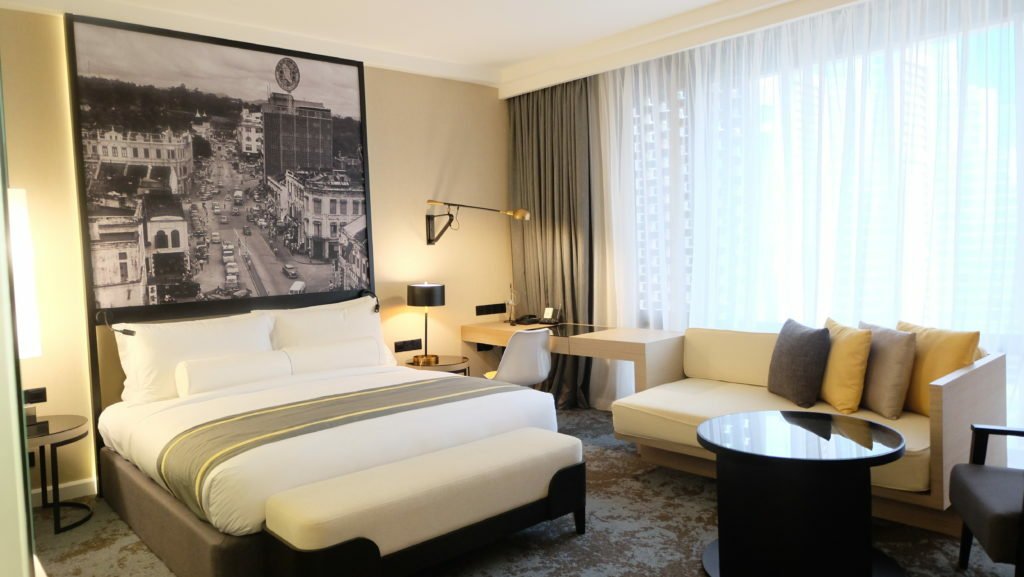 The bathroom has a huge tub, a separate shower, and premium toiletries. The sink and a beautifully lit mirror are actually outside the bathroom, which adds an extra bit of flair to the room.
I loved that there's a free minibar with lots of refreshments, a coffee machine, and free WiFi.
Jetsetter recommendation: don't miss out on soaking in an amazing bubble bath in the big tub.
Hotel Stripes Kuala Lumpur Review: The Facilities
My favorite spot in Hotel Stripes Kuala Lumpur is the rooftop pool bar called "Man Tao Bar". The large pool has stunning views of the city including the famous KL Tower and the bar serves some yummy cocktails. There's also a huge gym on the same floor for a proper workout.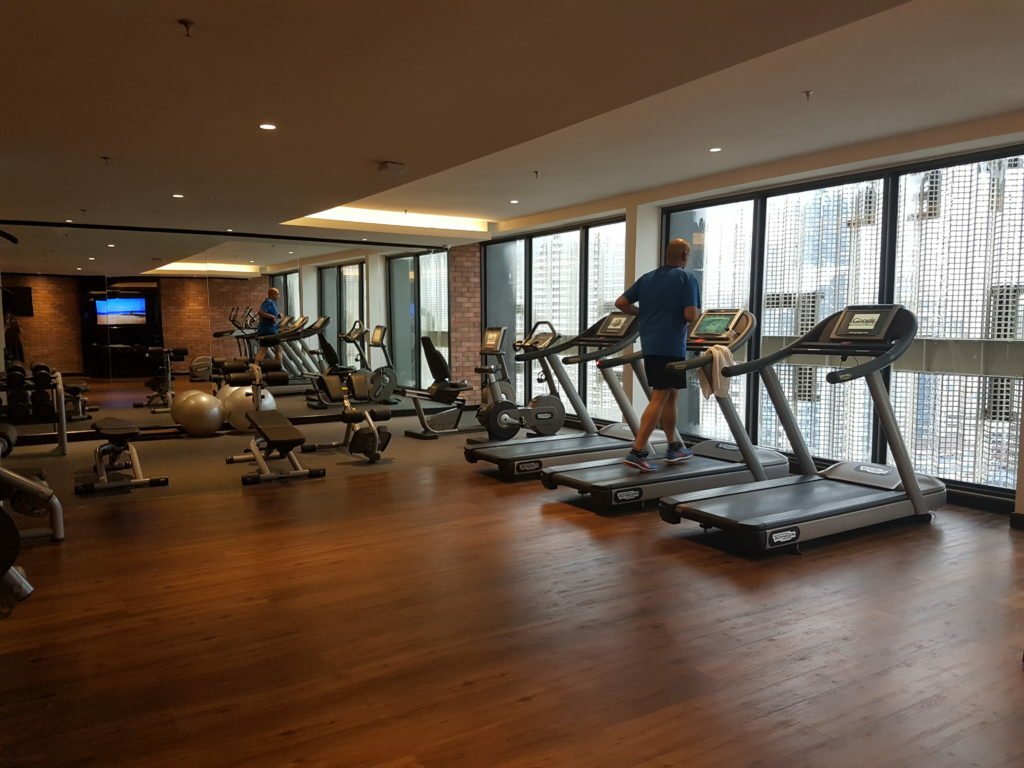 Jetsetter recommendation: head up for a drink to the rooftop bar during sunset to enjoy the best views.
Read reviews of other beautiful boutique hotels in Malaysia: Cameron Highlands Resort, Cheong Fatt Tze The Blue Mansion Penang
The Food at Hotel Stripes Kuala Lumpur
There are 3 dining options in Hotel Stripes Kuala Lumpur: Brasserie 25, The Snug and the Man Tao Bar.
On my first night, I couldn't wait to try Brasserie 25, a very charming French restaurant with rustic decor. I enjoyed a 3-course meal and couldn't decide which one was my favorite.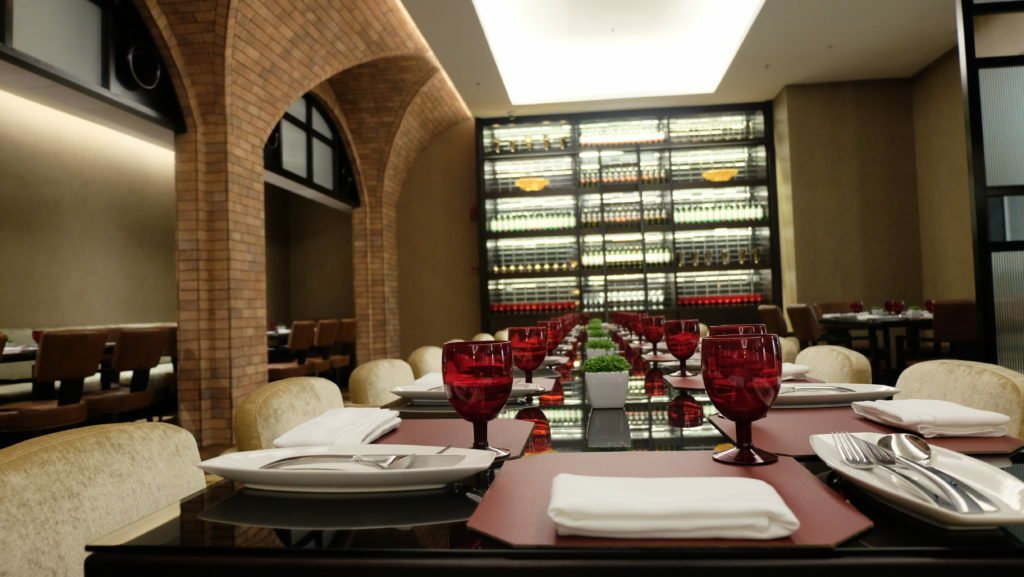 Jetsetter food recommendations for Brasserie 25: Camembert baked with black truffle, the Entrecote as a main course and the Creme Brule for a sweet finish.
After having such a great meal at Brasserie 25, I just had to try the afternoon tea time. Warm pastries were served as a start and then the waiter approached my with a huge tray of colorful desserts to choose from. They tasted even better than they looked.
Breakfast is served at The Snug on level 2, with so many delicious choices to suit any palate.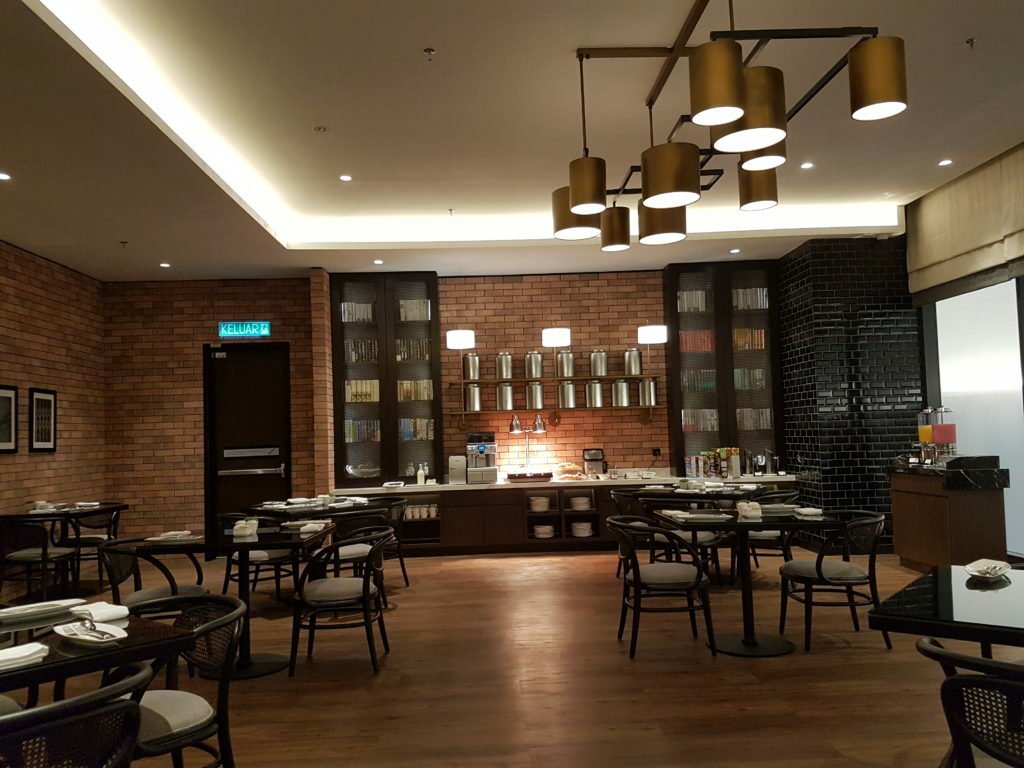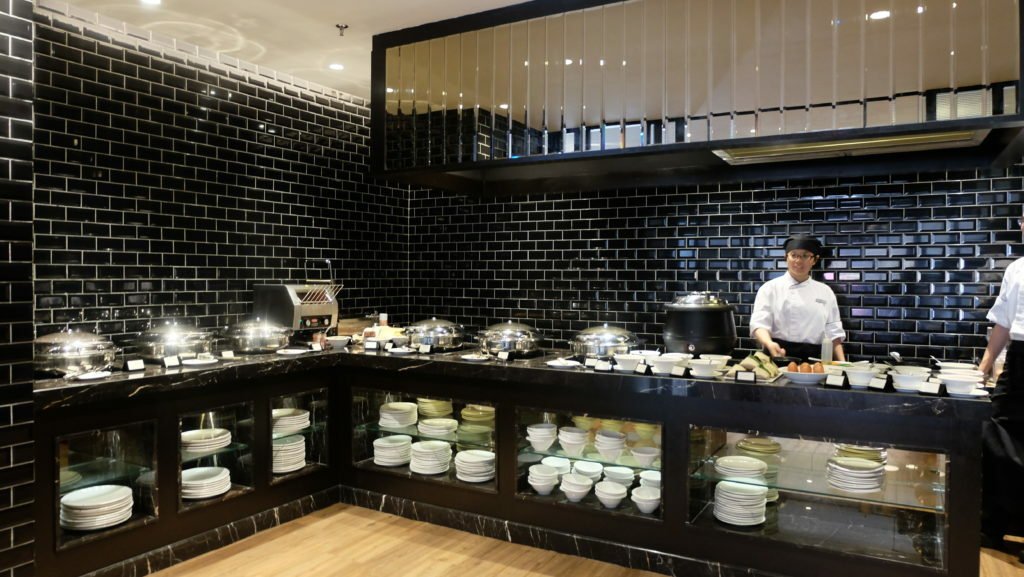 Jetsetter breakfast recommendations: fresh waffles with maple syrup paired with fresh juice. If you're in a hurry you can grab one of the many sandwiches and juices from the fridge.
I loved my stay at Hotel Stripes Kuala Lumpur and I would definitely choose it again the next time I visit the city.
[su_box title="Hotel Information" box_color="#60cbb4″ title_color="#292121″ radius="4″]Hotel: Hotel Stripes Kuala Lumpur, Autograph Collection
Location: 25, Jalan Kamunting, 50300 Kuala Lumpur, Malaysia
Star rating: 5*
Price Range: $$ [/su_box]
A big thanks to Hotel Stripes Kuala Lumpur, Autograph Collection for hosting my stay. As always, all opinions are my own.