Lebanon is very well-known for its beautiful beaches on the Meditteranean. There are several amazing beach resorts and public beaches along the whole coast of Lebanon. What most visitors don't know is that there's a stunning island called Rabbit Island (also known as Palm Islands Lebanon) off the coast of Tripoli which is only a 2-hour day trip from Beirut.
A Perfect Day Trip from Beirut To Rabbit Island Lebanon
Why is it called Rabbit Island?
The first thing that everyone asks is: are there rabbits on the island!? Unfortunately, the answer is not anymore. You'll be lucky to see one when you're there. Palm Island is more commonly called Rabbit Island simply because it used to be a breeding place for Rabbits during the French mandate in the early 20th century.
There are, however, other animals you can spot: green turtles, monk seals and several species of birds.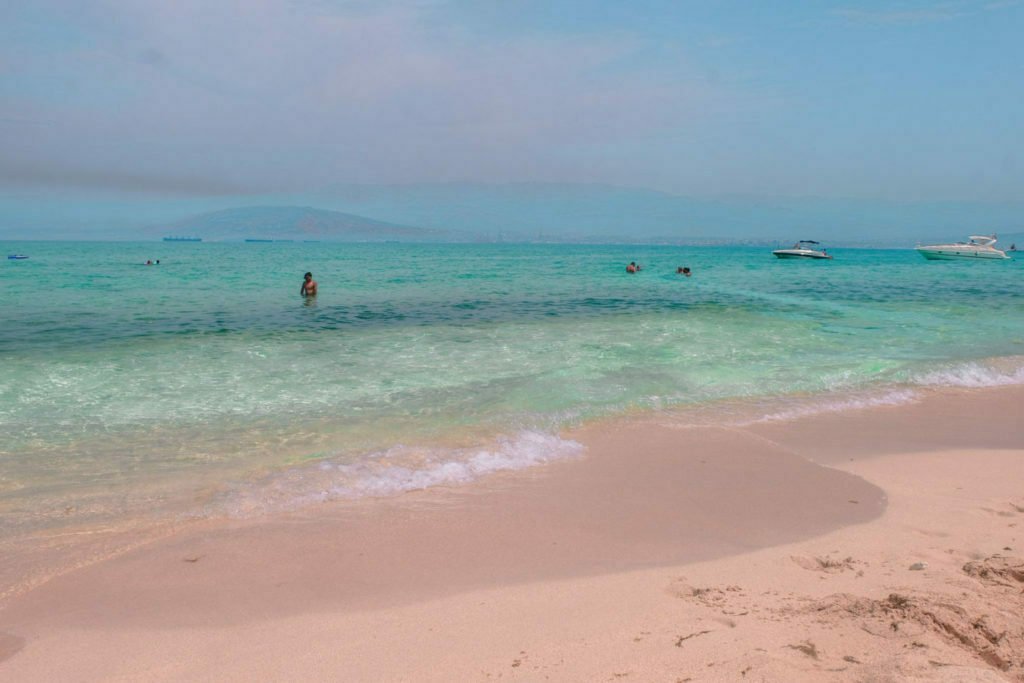 Is Rabbit or Palm Island Lebanon worth a visit?
The short answer is: definitely yes! The water is crystal clear and turquoise along the coast of the island. The temperature is just perfect for swimming in the summer.
The island is quite secluded, so if you visit during the week, you won't see many other people around. It's like having a mini island almost all to yourself! There are also several activities you can enjoy such as snorkeling, jet skiing and even diving.
How to get to Rabbit Island
The day trip from Beirut to Rabbit Island will take a total of around 2 to 2.5 hours each way depending on traffic and boat schedules.
Step 1: How to get from Beirut to Tripoli
There are 2 ways to get there: Car and Bus. The drive will take around 1.5 hours (sometimes more if you don't make an early start). Head to Tripoli Mina (here's the location on Google Maps).
My preferred way to go to Rabbit Island is by car, because it's easier to make stops on the way. Once you get to Tripoli Al Mina, there's a big free parking at the port. Private taxis from Beirut to Tripoli will cost around $55 each way.
If you decide to take the bus from Beirut to Tripoli, head to Beirut's Charles Helou bus station (it's a huge bus station really close to Downtown and Dora) and take the Connextion bus that runs an express route to Tripoli every 15 minutes for 5,000 LBP (around $3). The bus will drop you off either at the Abdul Hamid Karami Square or Bechara El Khoury Street. Both of these locations are around a 12-minute drive to Tripoli Mina.
Step 2: How to take a boat from Tripoli Mina to Rabbit Island
There are countless boat companies at the Mina port that have boat charters every 30 minutes to Palm Island. The boat ride is usually 30 minutes long and costs 5,000 LBP (around $3) each way.
The most famous company is Nour Group. You can call them and book your spot 1 day ahead, but don't worry if you haven't, because there are so many boats that can take you at any time. The boats are required to have life jackets onboard, so make sure your boat has them before hopping on. The boats are quite slow and not very shaky, so you can enjoy the view on the way. You might even spot Sea Turtles and flying fish depending on the season.
The last boat that leaves Rabbit Island back to the port is at 5PM, but in case you want to return before that, you can just inform them to pick you up at the time that you want (every 30min).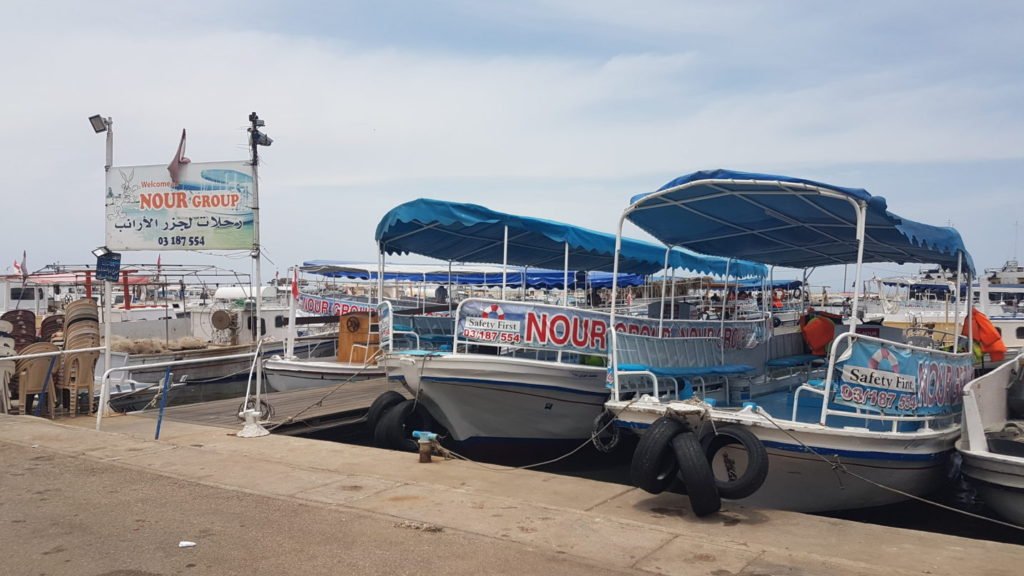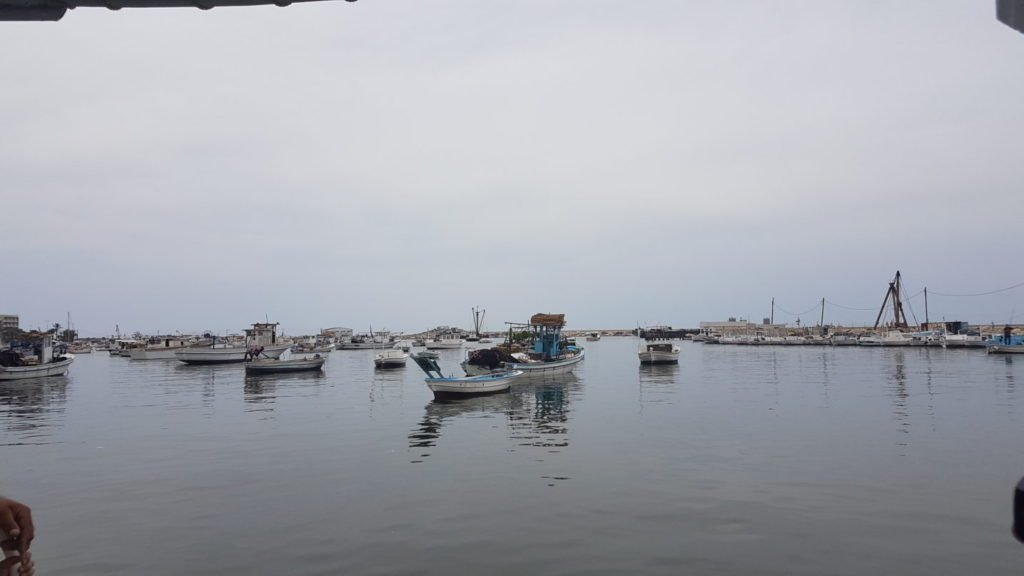 Tips for Rabbit Island
1. There are absolutely no food or drinks to purchase on the island, so you have to bring all the refreshments with you. The port doesn't have any decent shops or supermarkets, so it's best to stop by one of the many big supermarkets in on the Jounieh Highway on your way to Tripoli. You can find some affordable cafes and restaurants next to the port if you want to grab a quick bite.
2. Make sure to bring an official ID or passport, because there's an army checkpoint on the way to the island and they will ask to see your ID.
3. There are no bathrooms or showers on the island or on the boat, so you can you the restrooms around the port before you take the boat.
4. Things to bring with you: food & drink, umbrella, towels, sunscreen, snorkeling gear, garbage bags to throw your trash in and return with you to keep the island clean (there are no trash cans), swimming shoes (some parts of the shore are slippery).
5. Advice for women visiting the island: Tripoli is a conservative area, so if you're wearing a bikini, some of the men will stare but they are harmless. You can still find a quiet corner to enjoy the island. There's also a lifeguard/security that constantly walks around, so there's nothing to worry about.
Bonus Stop on the way to Rabbit Island Lebanon
There's a gorgeous deserted train station really close to Tripoli Mina. It's over 100 years old and used to be the last stop for the Orient Express train back in the golden years. Here's the location.