Do you find yourself daydreaming about white sand beaches and crystal clear turquoise waters? Do you like going on island hopping adventures or discovering beautiful temples? How about staying in luxury villas with private pools and getting amazing massages? Or swimming in the best beaches in the world?
If you answered yes to most of these questions, then it's time for you to pack your bags and go to Thailand!
Thailand is one of the top travel destinations in the world and is famous for stunning islands, the best beaches, beautiful temples, delicious cuisine, friendly and welcoming locals, breathtaking natural beauty and of course Thai massages.
This will be the second group trip with The Jetsetter Diaries where a group of 12 people from around the world will come together for an epic week in paradise. The first one was in Bali last July and it was so much fun that as soon as I got back, I started planning the second trip to Thailand.
Here are the top places we will be visiting in Thailand:
1. Bangkok – a vibrant and busy city that will make your head spin (in a good way!)
2. Phuket – the most famous beach destination in Thailand
3. Phi Phi Islands – island hopping to the most stunning beaches in the world (including "The Beach" filming location)
4. James Bond Island – featured in the James Bond movie "The Man with the Golden Gun"
Accommodation:
We will be staying in a 5* hotel in Bangkok city center for 2 nights, followed by a luxurious villa with 2 private pools for 4 nights in Phuket. Here's a sneak peak at the villa:
Trip Details: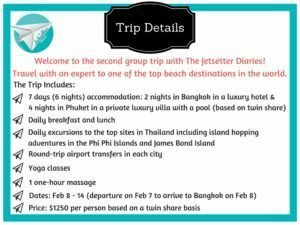 Spots are extremely limited and will be booked on a first come first serve basis. A down-payment of $450 USD will be required to secure your spot.
Interested in joining the trip? Fill the contact form below: