Bangkok is one of the most vibrant cities in the world. Visiting Bangkok for the first time can be overwhelming and exhilarating at the same time. There are so many fun and exciting places to visit in Bangkok for first-timers from visiting stunning temples, experiencing the bustling street life, riding tuk-tuks, shopping at night markets, and eating delicious street food.
Top Things to Do in Bangkok for History Buffs
a) Visit the Grand Palace – Wat Phra Kaew or Temple of the Emerald Buddha
This is by far one of the most beautiful temples in the world and also the most visited tourist site in Bangkok. Wat Phra Kaew is located on the grounds of the Grand Palace, which itself is already impressive. The whole complex has beautiful corners with colorful tiles and gold-covered statues. The most iconic part is of course the Emerald Buddha, which is carved into a 66cm block of Jade.
Get ready to be stepped on by hundreds and thousands of tourists. The temple gets so crowded, especially during the high season. The best time to visit is early in the morning. The closing time is 3 pm, so make sure to be there by 2 pm to have enough time to see everything.
Entrance fee: 400 baht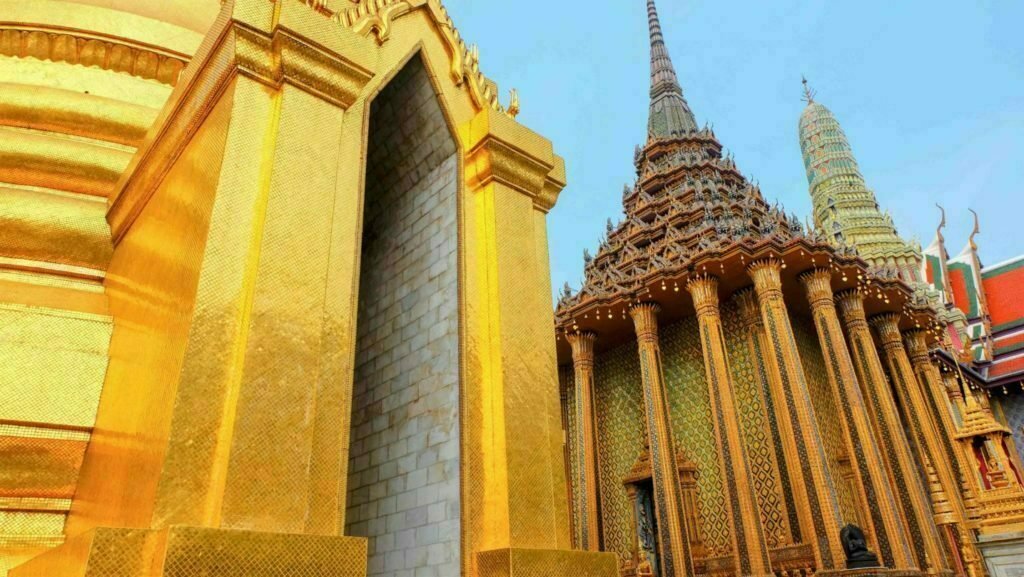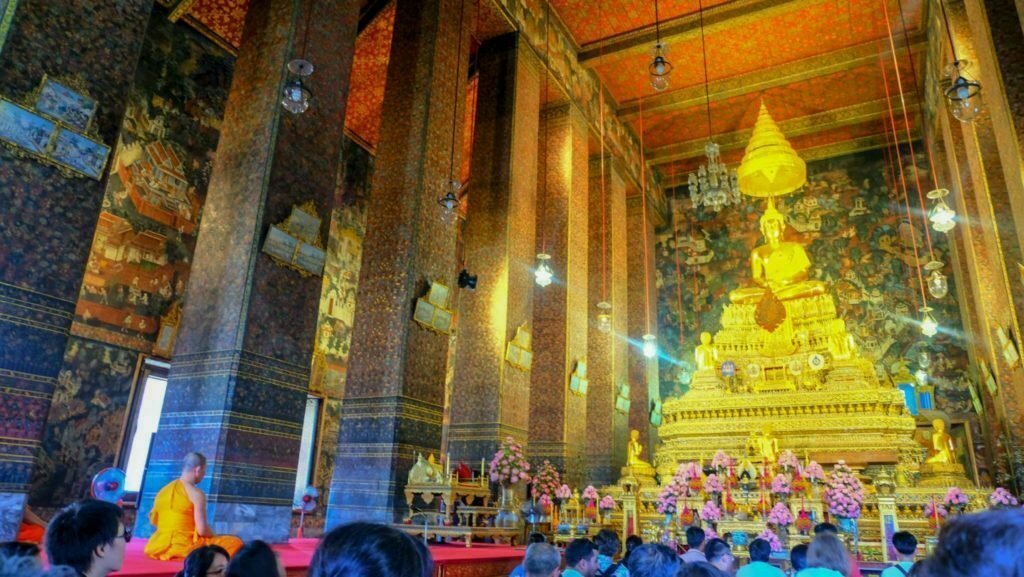 b) Visit Wat Pho – Temple of the Reclining Buddha
The second most popular temple is the Temple of the Reclining Buddha. You can choose to walk here, because it is actually very close to the Grand Palace. The temple has a stunning and massive (5 meters high & 43 meters long) reclining Buddha statue all covered in gold leaf. That's not the only impressive part, because the temple also has 1000 Buddha images and 91 Stupas (a dome-shaped Buddhist shrine).
Entrance fee: 100 baht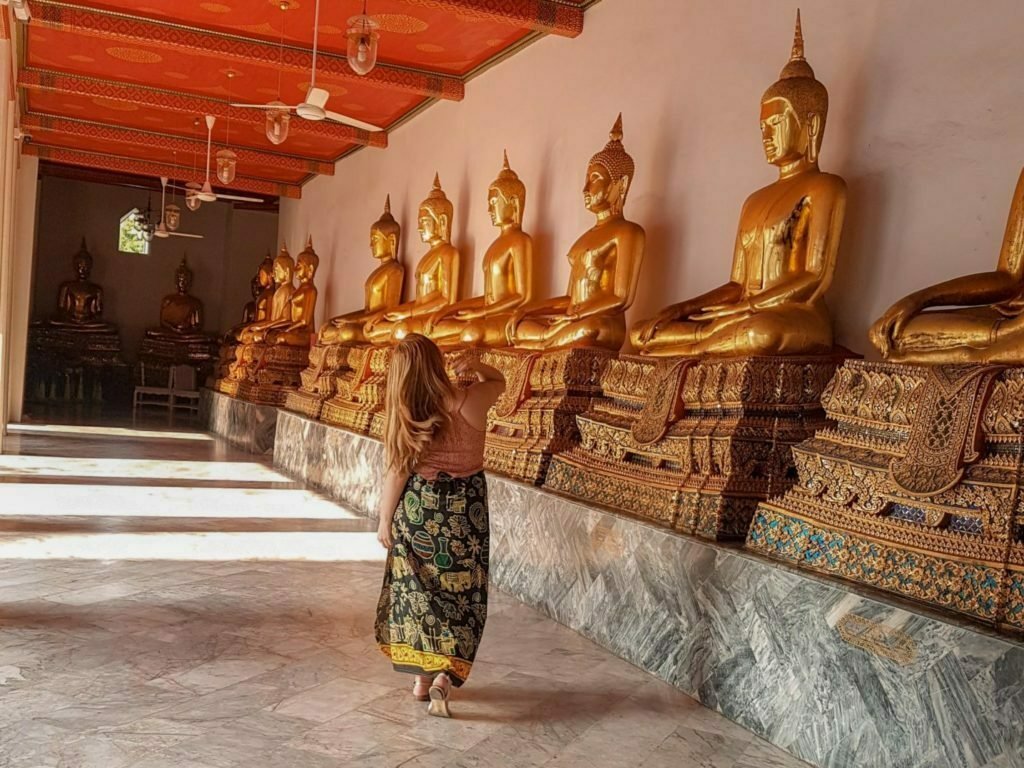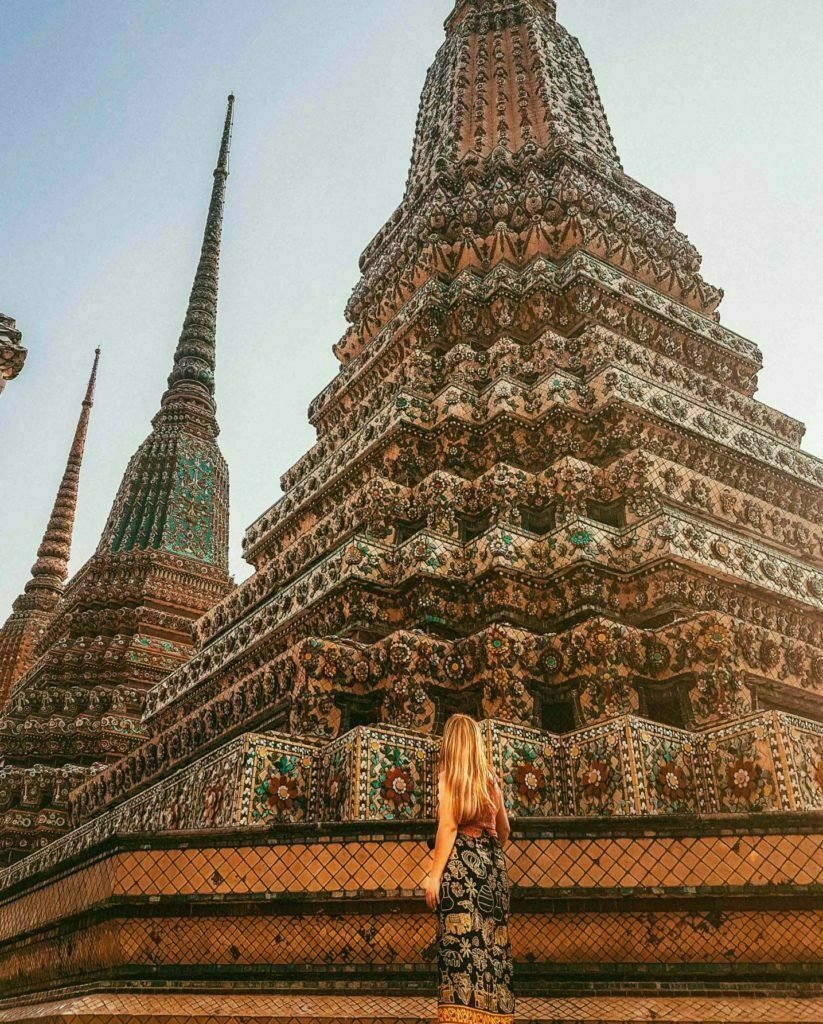 c) Take a boat ride to Wat Arun
Not only is this temple incredibly beautiful, but it's also a very fun ferry ride away from the center. It was under construction for a while, but it is now open for visitors. Wat Arun is a 17th-century temple built along the Chao Phraya River. You can view the temple during your ferry ride and it's best to go during sunset time to get some amazing photos. The beautifully decorated temple has one large tower and is surrounded by four smaller ones. You can climb the stairs and walk around all the towers to enjoy great views of the river.
Entrance fee: 50 baht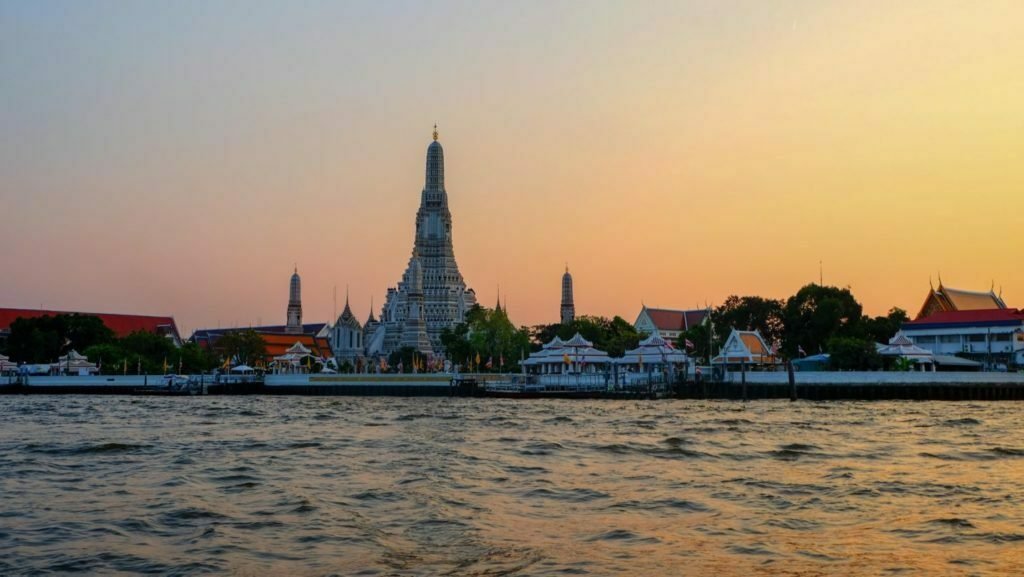 Before you visit any temples in Thailand, there are a few essential tips you need to know:
– The word "Wat" means "Temple" in the Thai language
– Temples are holy places and you need to be respectful of Thai and Buddhist traditions. These are places of prayer, so stay quiet inside the temples and don't use flash photography.
– There is a very strict dress code and you will be stopped at the entrance if you don't comply. No shorts or short dresses are allowed. You also need to cover your shoulders. You can bring a sarong to wear over your clothes or rent one from the many shops at the entrances of temples.
– You will need to remove your shoes when entering the temples. Don't wear fancy shoes, because there are so many people that your shoes can get lost in the crowd. I would advise taking small socks in your bag if you don't want to be completely barefoot.
Related article: 25 Amazing Places to Visit in Thailand
Unusual Places to Visit in Bangkok for First-Timers
Tour the Floating Market – Damnoen Saduak
There are several floating markets around Bangkok, but Damnoen Saduak is the most famous one. It is around one hour from the city and I recommend booking one of the Thailand packages that include a boat ride and entrance fees to avoid the long queues.
The tour starts with a colorful long-tail boat that takes you on a ride through the river and to the main area of the floating market. Once you arrive, there are countless stands selling delicious local specialties (I highly recommend mangoes with sticky rice), clothes, Thai silk, souvenirs, and refreshments.
Tip: The best place to take a photo of all the action is from the bridge right above the floating market.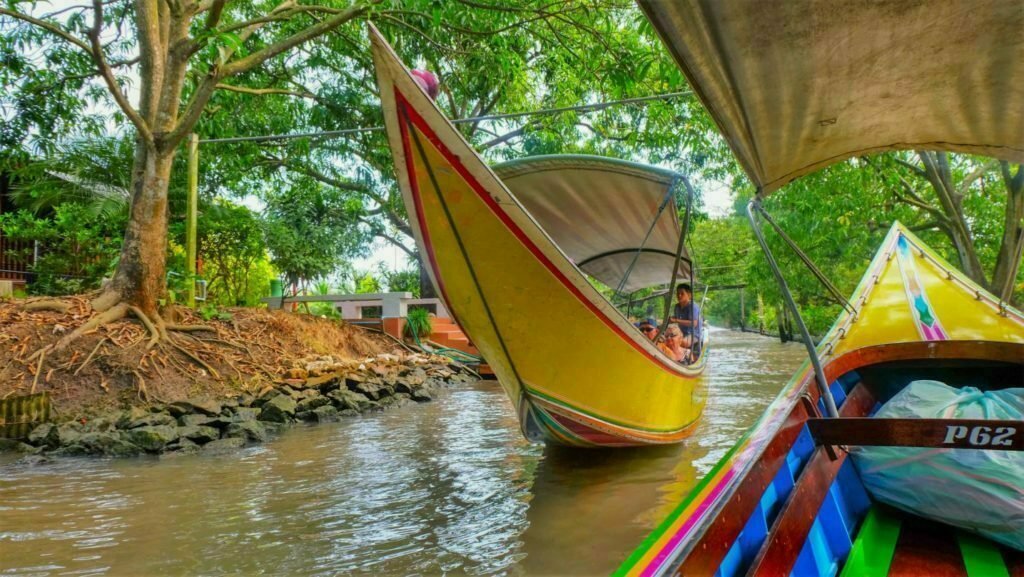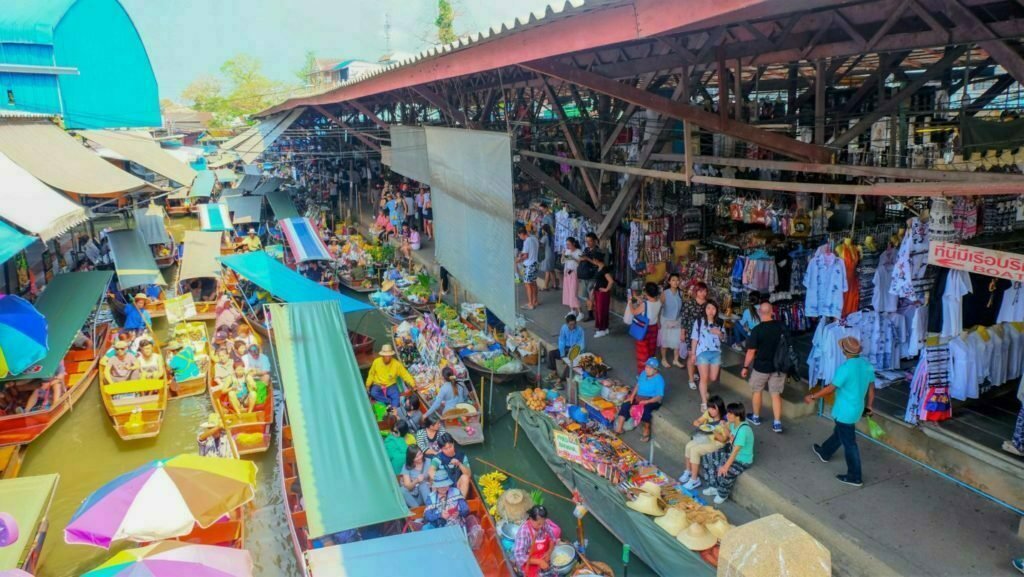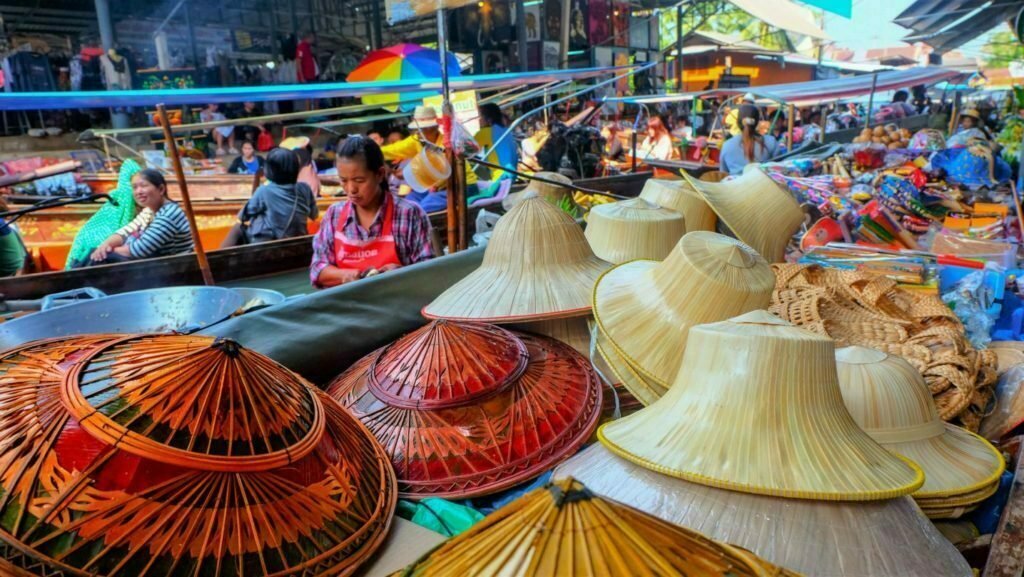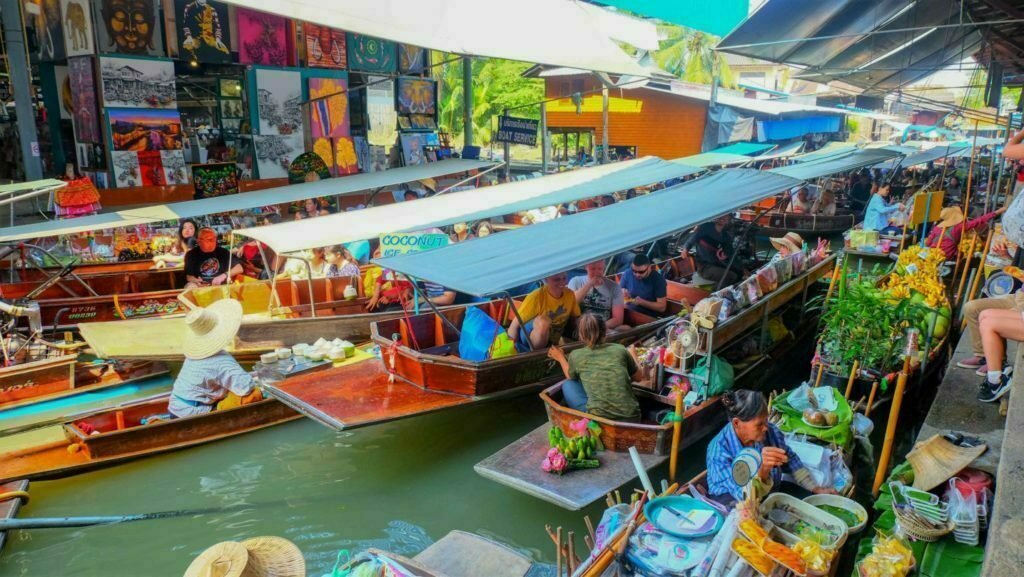 Explore the Best Street Markets in Bangkok
After visiting several countries around Asia, I can safely say that Thailand has some of the best street markets ever. There are so many options that it can get confusing to choose which one to visit. There are some street markets that are open during the day, but even more that open in the afternoon and close after midnight. If you're looking to avoid the heat, then definitely go after 8 pm.
Street markets in Bangkok are especially fun because you get to see and experience a lot of weird stuff. You can even get your nails and hair done!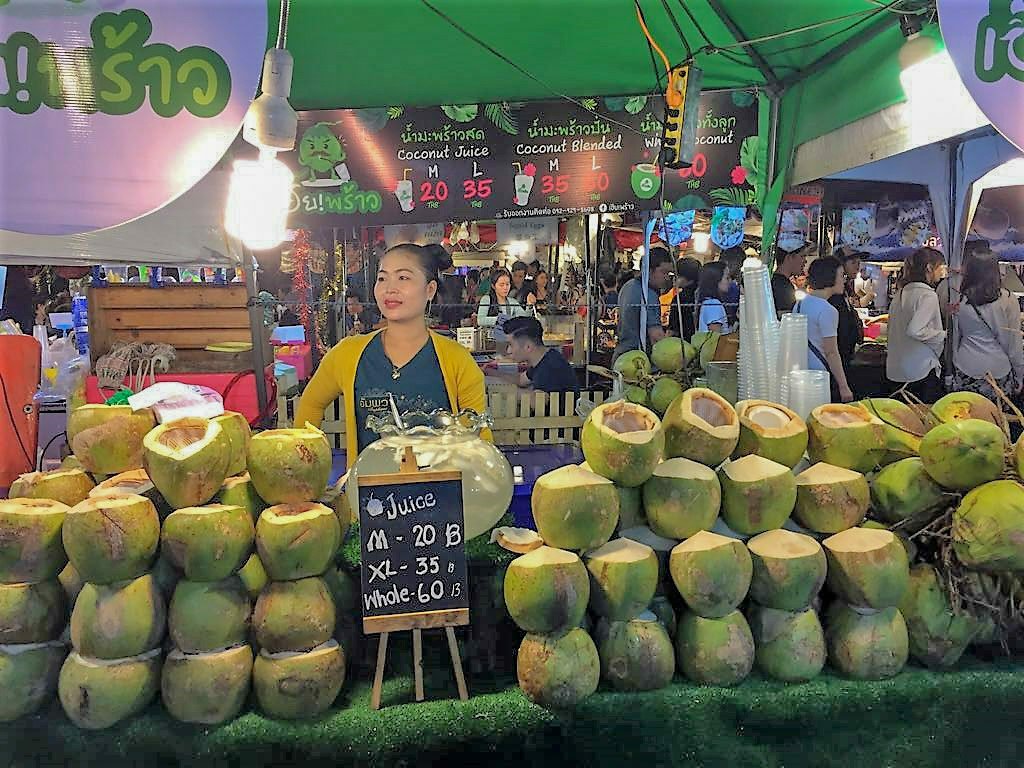 a) Chatuchak Weekend Market
The market where you can literally find anything and everything with over 10,000 shops. It's so massive that when you walk in, you will get lost inside like a maze. You can find anything from food, clothes, home decor, souvenirs, coffee shops, beauty products, art, antiques, and flowers. This is also a wholesale market, so you can negotiate to get great bargains.
Opening hours: 18:00 – midnight (Friday) & 09:00 – 18:00 (Saturday – Sunday)
b) Train Night Market Ratchada – Rod Fai
This market is easily reachable by the MRT/train and is more of a touristy market. There are hundreds of colored tents/stands and a whole section dedicated to street food. There's even a stand that sells insect delicacies like crickets and worms if you want to try that weird experience! There are really cute bars around the market to enjoy a cold drink.
Opening hours: 17:00 – midnight (Thursday -Sunday)
c) JJ Green
This is a big market with more affordable prices than others. Most shoppers were locals and I was surprised not to find a lot of tourists here. The shops, however, mostly sell the same things, so despite their size, there isn't much variety. There is a great restaurant area in the middle with lots of yummy Thai food. The food stands here are much cleaner than in other markets.
Opening hours: 17:00 – 02:00 (Thursday – Sunday)
d) Talad Neon
If you're looking for a smaller market with fewer people stepping on your feet, then Talad Neon is a great option. The market itself is small, but there's a little mall right next to it with lots of fashion items and really affordable massage treatments.
Opening hours: 17:00 – midnight (Thursday – Sunday)
e) Pratunam Market
A great place to find wholesale prices on clothes, textiles, and fashion accessories. It can get very overcrowded during peak hours.
Opening hours: 10:00 – 21:00 (Daily)
f) Patpong Night Market
Patpong mainly has fake brand name items and is surrounded by strip clubs all around. It's not my personal preference, but it's definitely an experience if you want to check it out.
Opening hours: 18:00 – midnight (Daily)
Related: How to Survive Street Markets in Southeast Asia Like a Pro
Famous Attractions in Bangkok: Maeklong Railway Market
A truly unique and unusual attraction, the Maeklong Market is not famous for shopping. The stands are actually set up on a railway and a train that passes right through the market every few hours with only centimeters apart! Vendors actually close their stands seconds before the train comes and re-open them right after.
I have to say that I didn't go here with high expectations, but it turned out to be very fun. Make sure you go during the correct hours. The train passes around 8:30 am and 11 am, but check the times when you visit Bangkok because they might change frequently.
Tip: You can stop by here on your way to the floating market in the morning.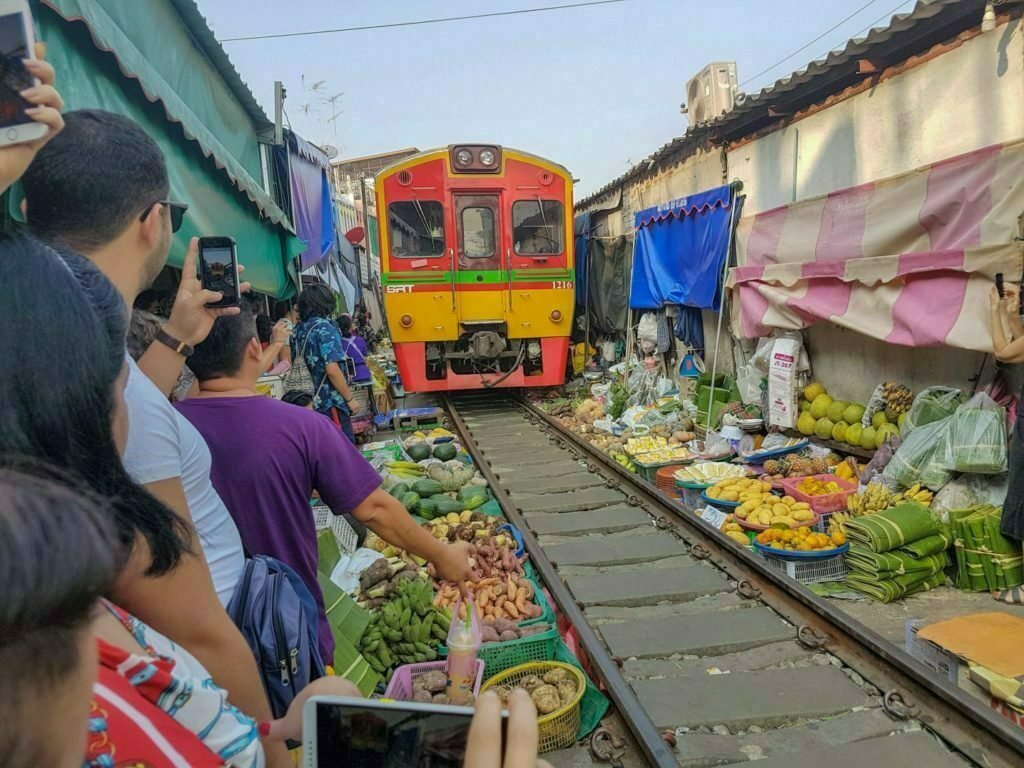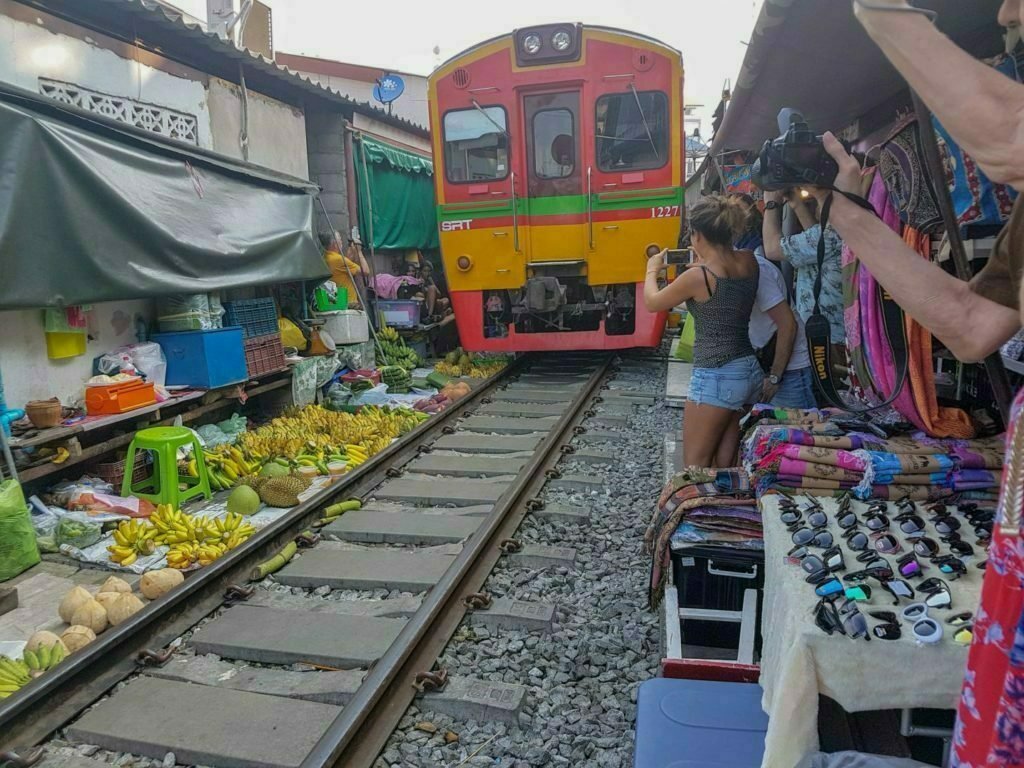 Other Cool Things to Do and Places to Visit in Bangkok
Get a Traditional Thai Massage
If you've never had a Thai massage in Thailand, then you are missing out on so much! A one-hour massage starts from as little as $8 in some spas. There are several spas spread across every single street in Bangkok. Avoid getting massages in your hotel, because they are usually over-priced. The best massages I ever get were the $10 ones in random spas in the city.
Explore the Cool Cafes in Bangkok
There are some really cute "themed" cafes in the city that are so Instagram-worthy. Some recommendations are: The Unicorn Cafe and Perhaps Rabits' (inspired by Alice in Wonderland).
Related article: The Best Cities in Thailand for Culture Lovers
Take Incredible Day Trips from Bangkok
A really interesting day trip is a visit to Ayutthaya Temples, which is about 1.5 hours from Bangkok by car. These temples are a completely different style than the ones you see in the city center and are considered the ancient capital of Siam. You will need a half-day at least to visit all of them and you can also use a train or bus to get there.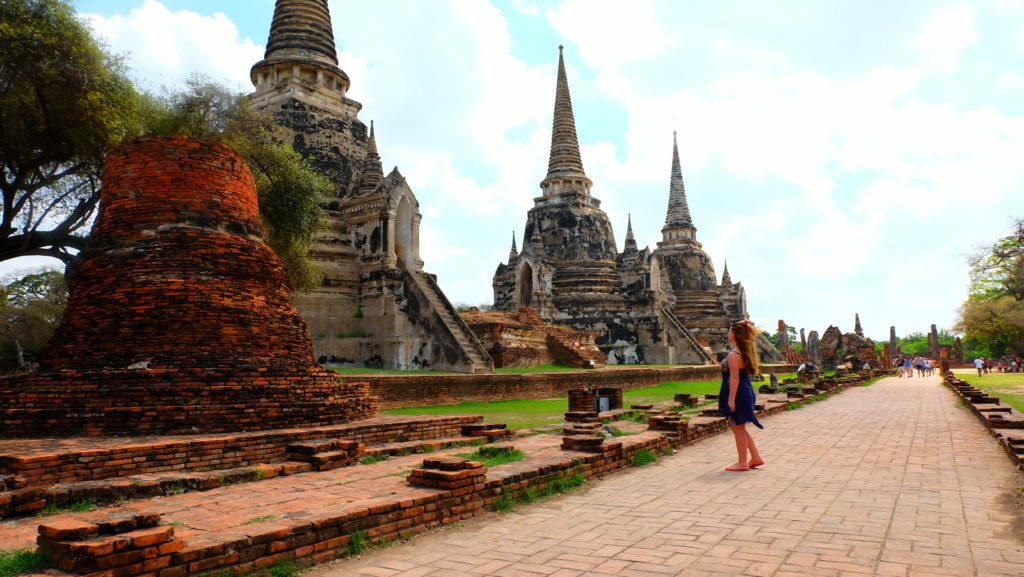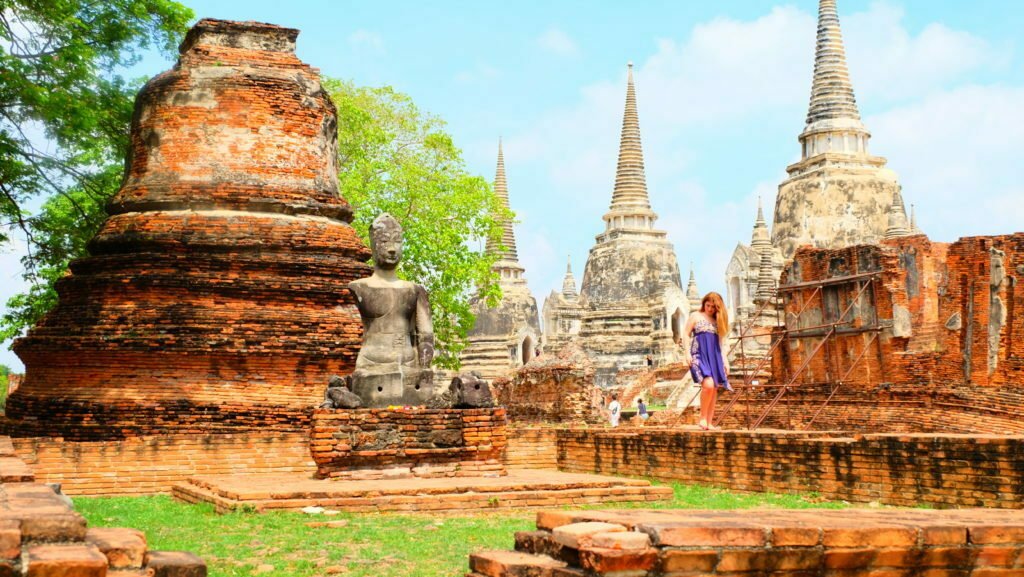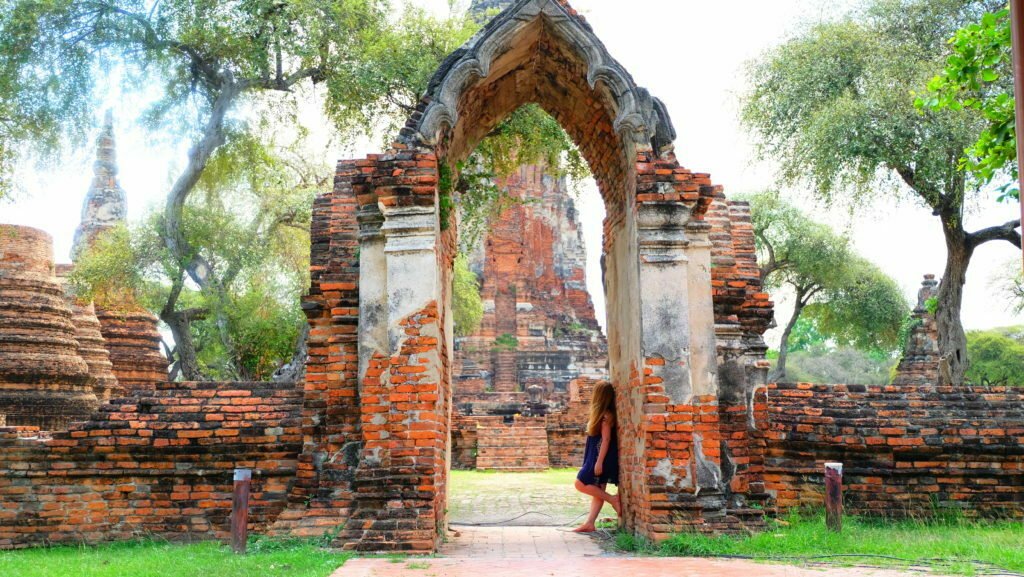 Travel Tips for Visiting Thailand for the First Time
1. Tours: Don't book any tours online. You have several tour companies spread all over the city or even the airport and you can book tours when you get there. Online prices are much more expensive and you can negotiate with tour companies on the spot, especially if you have a big group.
2. Safety: Take care of your belongings when walking on the streets or at night markets. There are so many pickpockets around. Don't carry large amounts of cash or your passport.
3. Transportation: Tuk-tuks are a super fun way of getting around. You can grab them on the street or ask your hotel to call one for you. Negotiate the prices, because the drivers tend to overprice rides for tourists. Hold on to your phone and your bag closely to avoid snatchers on the street.
Tuk-tuks are sometimes more expensive than taking regular taxis. Another great option is Uber or Grab (like Uber but for Asian countries). The MRT/train system in Bangkok is also easy and very convenient to use.
4. Great finds in the market: silk scarves, dried fruits (especially mangoes), textiles, coconut oil
5. Sim cards: you can get one at the airport for around $10 with unlimited 4G. There are several companies that sell them after baggage claim and all with similar prices.
6. Currency exchange: don't exchange in the airport, because there are countless exchanges in every corner of the city with better rates. Only exchange at authorized places that give you a receipt to avoid money scams.
7. Language: it isn't difficult to communicate with locals in most major Thai cities, but it's best to carry a card with your hotel address written in Thai to show to taxi drivers.
Where to Stay in Bangkok
My preferred hotel in Bangkok is Mövenpick Hotel Sukhumvit 15 Bangkok for many reasons: 1) It's a 5-star hotel with affordable prices 2) It's very centrally located and within walking distance to shopping malls, spas and the train station c) The service and food are exceptional d) There's a great pool on the rooftop e) The bedrooms are very comfortable and packed with amazing amenities f) The hotel grounds are beautiful
Book your stay at Movenpick Bangkok here.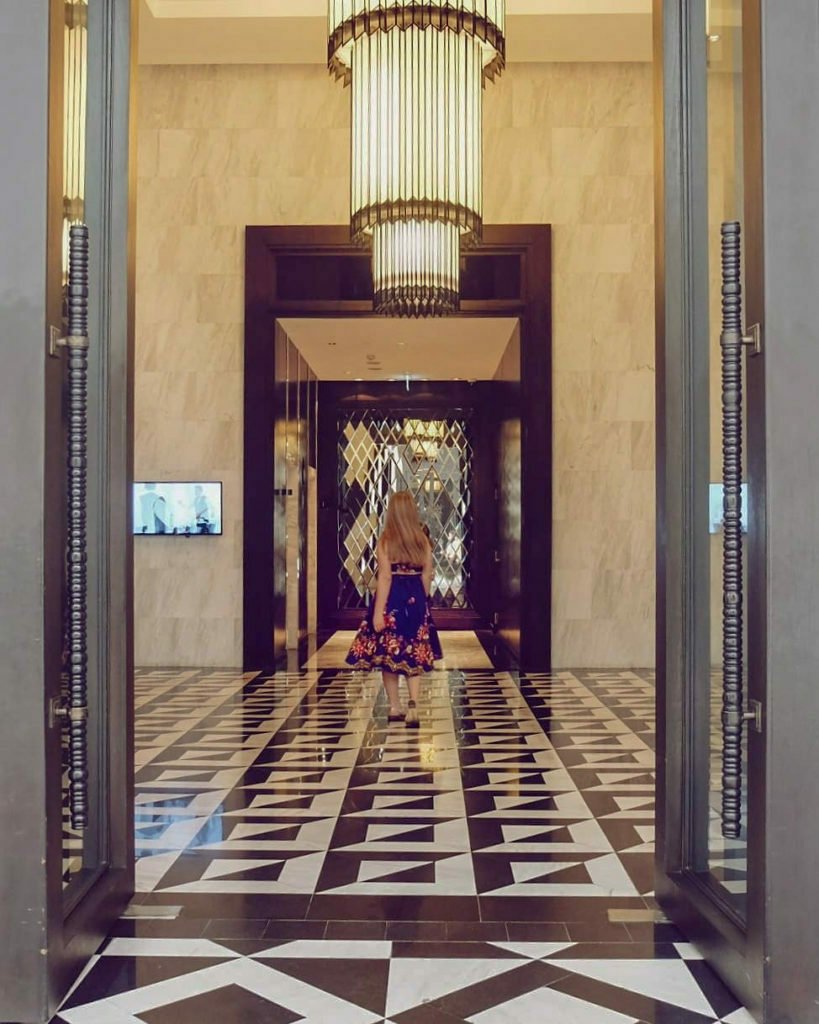 Disclaimer: Some of the links in this post contain affiliate links and I make a small commission from purchases with absolutely no extra cost to you.