San Luis Potosi in Mexico is not exactly a destination that comes to mind when thinking about the birthplace of mezcal and chocolate. The coastal part of the country attracts millions of tourists every year. Cities like Tulum and Cancun are synonymous with spring break and Mayan ruins, but the central part of the country is just as magical.
San Luis Potosi and its capital city are a great addition to any Mexico itinerary. There are so many breathtaking attractions and a long list of unique destinations to choose from. The state itself is divided into four regions: Altiplano, Central, Middle, and La Huasteca Potosina. Each region offers visitors a window into the precolonial history of the country and the memorable traditions kept alive by its people.
How to get to San Luis Potosi
Planning a trip to central Mexico is not complete without ironing out all the details including traveling and accommodation. If you prefer to fly into the city of San Luis Potosi instead of taking the bus, then you will be pleased to know that the state has its very own airport. San Luis Potosi airport is approximately 20 minutes away from Centro Historico by car.
San Luis Potosi Mexico Map
San Luis Potosi occupies a large area in north-central Mexico and is surrounded by seven other states. If you look at the map, then you will notice that the eastern part is painted with a tropical green brush compared to the eastern region. If you zoom in, you will notice many attractions highlighted on the map such as the Cave of Swallows and Tamul Waterfall.
Flights to San Luis Potosi from Mexico City
Aeromexico offers several nonstop flights from Mexico City to San Luis Potosi (SLP) every day. The schedule includes morning, afternoon, and evening flights making it possible to arrive early and catch a guided tour before dinner. Flight time from Mexico to San Luis Potosi is around 1 hour and 22 minutes.
Flights to San Luis Potosi from the US
You can fly to San Luis Potosi from two major cities in the United States: Houston and Dallas via American Airlines or United.  American Airlines offers direct flights to SLP from Dallas/Fort Worth Airport while United offers direct flights to SLP from George Bush Intercontinental Airport (IAH).
Flights from Chicago to San Luis Potosi
There are no direct flights from Chicago to SLP but there are several airlines that offer indirect flights to San Luis Potosi International Airport. Aeromexico operates several flights to SLP but with a layover in Mexico City. American Airlines has a layover in Dallas while United offers indirect flights with a layover in Houston.
San Luis Potosi Weather & Best Time to Visit
The weather in San Luis Potosi is pleasant, especially during the spring. If you plan on visiting La Huasteca Potosina region then it is best to travel during winter or anytime between March and June. Rainfall during the summer floods the rivers and strengthens the water current making it impossible to go rafting or kayaking.
Best Things to Do in San Luis Potosi
There is so much to do and experience in San Luis Potosi. Visitors are spoiled for choice when it comes to attractions and local flavors. There is a little something for everyone here.
Explore the San Luis Potosi Waterfalls
The coastal plains of Mexico are known for their tropical beaches and mellow vibes but San Luis Potosi takes escapism to a whole new level. The waterfalls in the La Huasteca Potosina region will make your troubles melt away.
La Huasteca Potosina Region
The region, named after the indigenous Huastec people, is a popular ecotourism hub and a magnet for hikers, bird watchers, and adventure seekers. The landscape in this nature reserve is incredibly diverse and features an array of caves, lagoons, rivers, canyons, and waterfalls that were beautifully crafted by mother nature.
Tamasopo Waterfalls
The limestone blue waters at Tamasopo waterfall encourage you to relax and soak up the tropical atmosphere around you. The waterfalls are fed by a river with the same name and are a great starting point for your San Luis Potosi adventure. Swimming, cliff jumping, and spending quality time with family and friends are a common theme in this area.
Cascada El Meco
This turquoise-blue paradise consists of a group of waterfalls that feed an equally stunning pool where visitors can go on boat rides or take Instagram-worthy pictures from a terrace overlooking the cascading waters. The area is incredibly tranquil and ideal for picnics.
Tamul Waterfall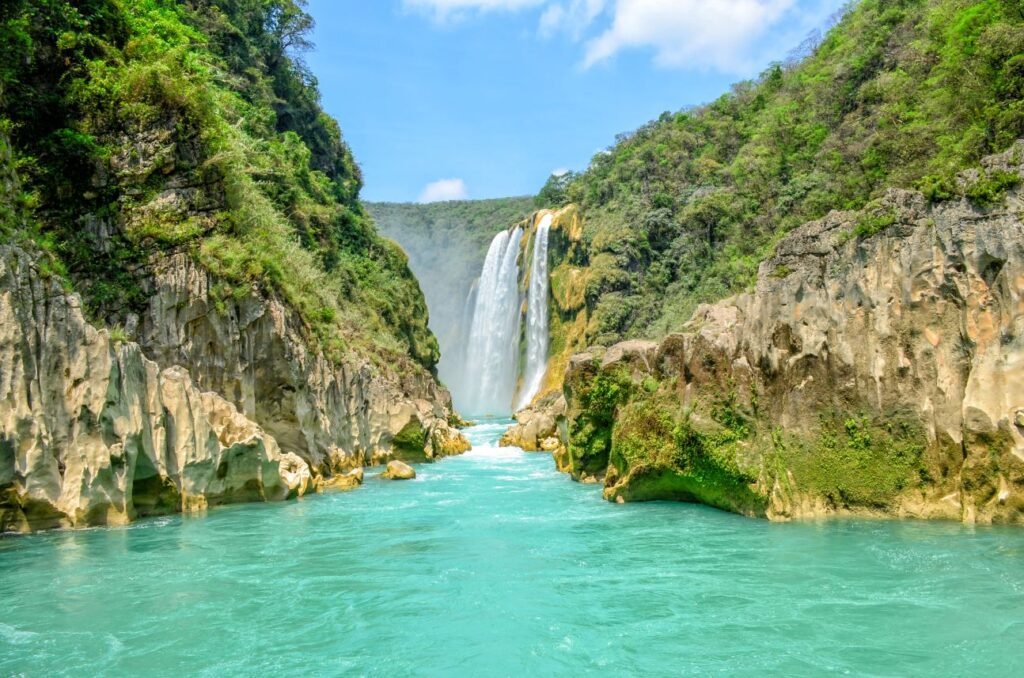 Tamul waterfall is the tallest in the area and is considered the jewel of the Potosina waterfalls. Tamul originates from the Gallinas River and thunders down into the Tampaon River. Legend has it that the gods once used pitchers to pour water over the rivers, creating this magnificent waterfall in the process. Rafting and rappelling are two of the most popular activities in the area.
Visit the Real de Catorce Ghost Town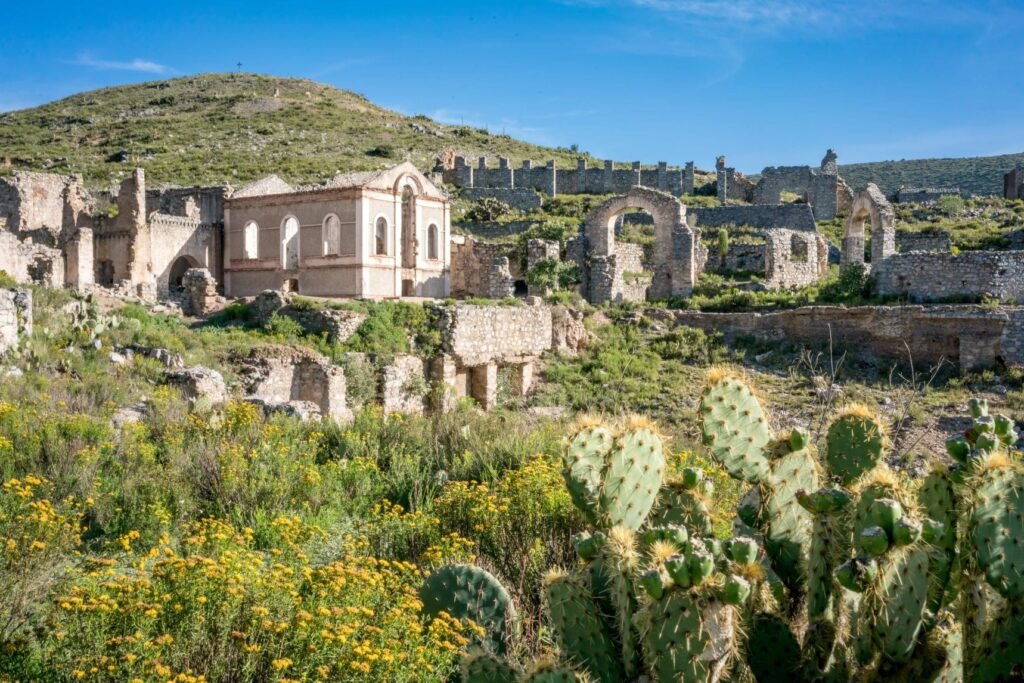 No visit to San Luis Potosi is complete without exploring the mystical ghost town of Real de Catorce. The town was built in 1772, back when silver mining was a lucrative industry. Nowadays, visitors can explore the town on horseback -Wild West style, or walk in the ancient footsteps of the miners who once lived in this remote corner of the Sierra Catorce Mountain range.
Roam the gardens at Las Pozas Xilitla
The Edward James Sculpture Garden offers a unique window into the imagination of the Irish American businessman and poet who created it. Nestled deep in the jungle, the Las Posas Xilitla garden features surrealist sculptures and spiral staircases that invite you to wander through its mazelike landscape. A guided tour of the garden takes around one hour and thirty minutes to complete.
Discover the Cave of Swallows & Nearby Ciudad Valles
The Cave of Swallows is one of the deepest caves in the world and looks incredibly mysterious and foreboding from above. Many bird watchers travel all the way to the cave to witness a flock of white-collared swifts emerging from its mouth every morning. The cave is 1220 feet deep which makes it a popular spelunking and base-jumping destination. Ciudad Valles, which is an hour away, is a great place to learn more about the Teenek and Nahua natives and buy their handmade souvenirs.
Visit Rio Verde
Rio Verde is a small town east of San Luis Potosi famous for its thermal spring. Media Luna Lagoon attracts many visitors especially during the weekends due to its refreshingly warm water and surrounding camping grounds. The lagoon is sprinkled with lotus flowers and is home to many species of fish and turtles that can be easily spotted while snorkeling or scuba diving.
Take a day trip to Matehuala
The Guachichiles tribe once used the word 'Matehuala' as their signature war cry but the city that exists today is known for its charming main square and tasty tortas. The town is located in the Altiplano region and is known for its beautiful gothic cathedral and its annual Desert Festival that takes place in May.
Go Mezcal Tasting
Mezcal would not exist without the agave plant that grows exclusively in Mexico. The best way to enjoy mezcal is by going on a tour to learn more about its history and different types. San Luis Potosi has some of the best factories where you can sample this traditional drink and try other local delicacies such as wine, honey, and agave syrup.
Shop Handmade Arts & Crafts at The Craftsman House
The Craftsman House in San Luis Potosi is where visitors can purchase handmade souvenirs to support the local communities. The shop is filled with all kinds of goods such as handwoven baskets, shoes, silverware, scarves, and furniture too. The house is located on Jardin Colon Street right across from the garden with the same name.
Buy Hand Woven Rebozos (traditional Mexican scarves) at Santa María del Río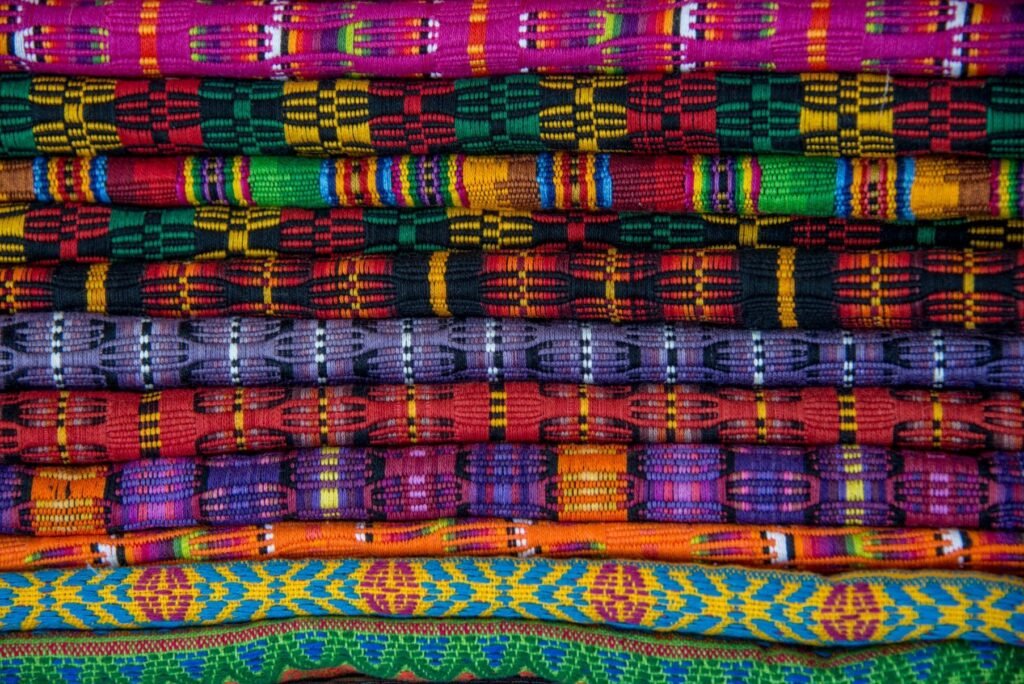 Santa Maria del Rio is one of Mexico's Magical Towns and the birthplace of the Rebozo. This scarf carries so much symbolism and history within its dyed fabric. In Santa Maria del Rio, the rebozo is made using a technique called the Ikat. Both practical and fashionable, the rebozo is sold all over the city.  
Plan Road Trips to Beautiful Nearby Cities
The convenient location of San Luis Potosi and its capital makes it the ideal starting point for many fun day trips. Below are some of the most beautiful cities that are within driving distance of The City of Gardens.
Tamazunchale
First on the list is Tamazunchale which is 5 hours away from San Luis Potosi by car. The city is home to the Nahua native people and is surrounded by the Sierra Madre Oriental mountain range. Quaint and slow-paced, Tamazunchale is the ideal destination for those interested in learning about the culture and history of the La Huasteca Potosina region.
Cerritos
Cerritos is approximately an hour away from San Luis Potosi by car. The town has a small population and is known for its annual festival which is held in honor of San Juan Bautista. Cerritos has an old railway station and a beautiful sunflower field where visitors can take memorable pictures before returning to the capital.
San Ciro de Acosta
San Ciro de Acosta is approximately 3 hours away by car from the capital. The small charming town hosts an annual regional fair that lasts for 10 days. Many visitors flock to the town during this event to dance and take part in the festivities. Much like its neighbors, San Ciro de Acosta is lined with picturesque colonial houses and has a kid-friendly main square. It also has a panoramic lookout point guarded by the statue of Christ the Redeemer.  
Soledad de Graciano Sánchez
The final town on the list is also the closest to San Luis Potosi. Soledad de Graciano Sanchez is only 11 minutes away by car. Many tourists pass by the town on their way to La Joya Honda Crater.
Best San Luis Potosi Tours
This tour is all about exploring the turquoise Tamul waterfall and nearby Cueva del Agua. Booking this tour allows you to paddle down the Tampaon river and take breathtaking pictures on top of the rocks sprinkled across the waterfall basin. You will also get the chance to swim inside a spectacular limestone cave.
Treat your tastebuds to this mezcal-flavored tour where you'll get the chance to learn all about mezcal and sample some of the best locally crafted beverages in the San Luis Potosi region. You'll visit family-owned businesses that take pride in making their ancestral mezcal and pulque from scratch.
This tour invites you to bask in the serene atmosphere of Cascada el Salto and Meco Waterfall. Cascada el Salto is a cozy swimming spot that does not attract large crowds, unlike the other waterfalls in the area. You will also get to visit neighboring Cascada el Meco where you can paddle or swim through the limestone blue waters.
This tour combines several themes into one soothing package. The first theme is surrealism which can be explored at the Edward James Garden. Next on the tour is the Castle of Health where you will learn about the medicinal plants that grow in this region. The tour includes a visit to a Huasteca shaman who is an expert when it comes to spiritual cleansing. The final stop will be at a spring called El Nacimiento.
Where to Stay: Hotels in San Luis Potosi
There is no shortage of affordable places to stay in San Luis Potosi. If you look at the city map then you will notice an abundance of hotels to choose from. There is no need to waste time comparing prices or reading reviews. Below are the three best hotels in the city.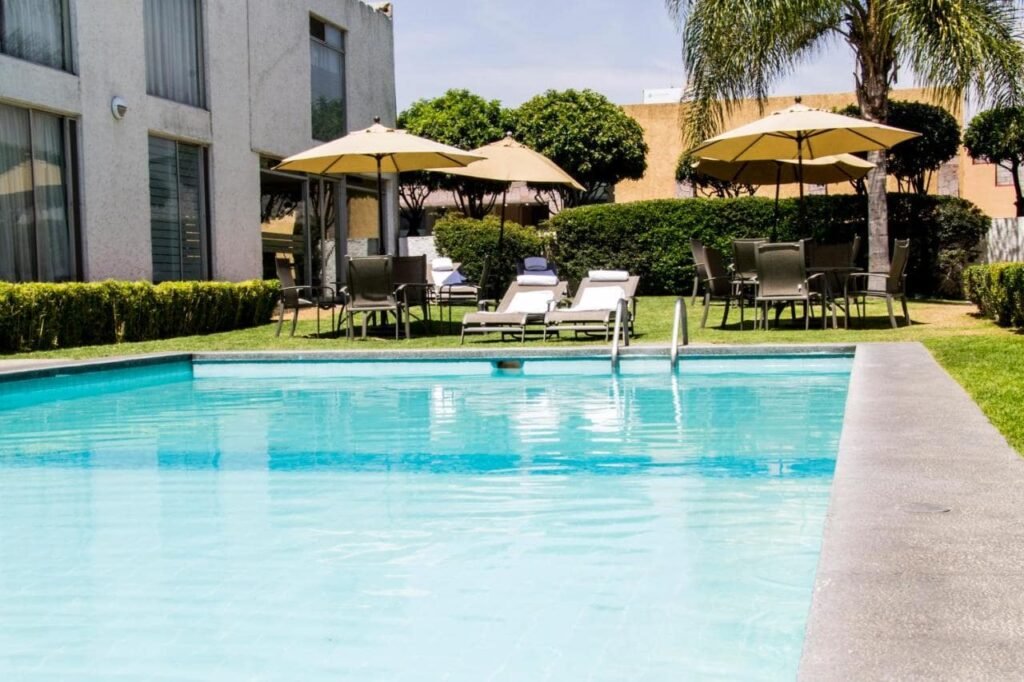 This 4-star hotel is located on Valle Dorado Street and is approximately 9 minutes away from Centro Historico by car. It's also close to the central bus station and offers free parking to its guests.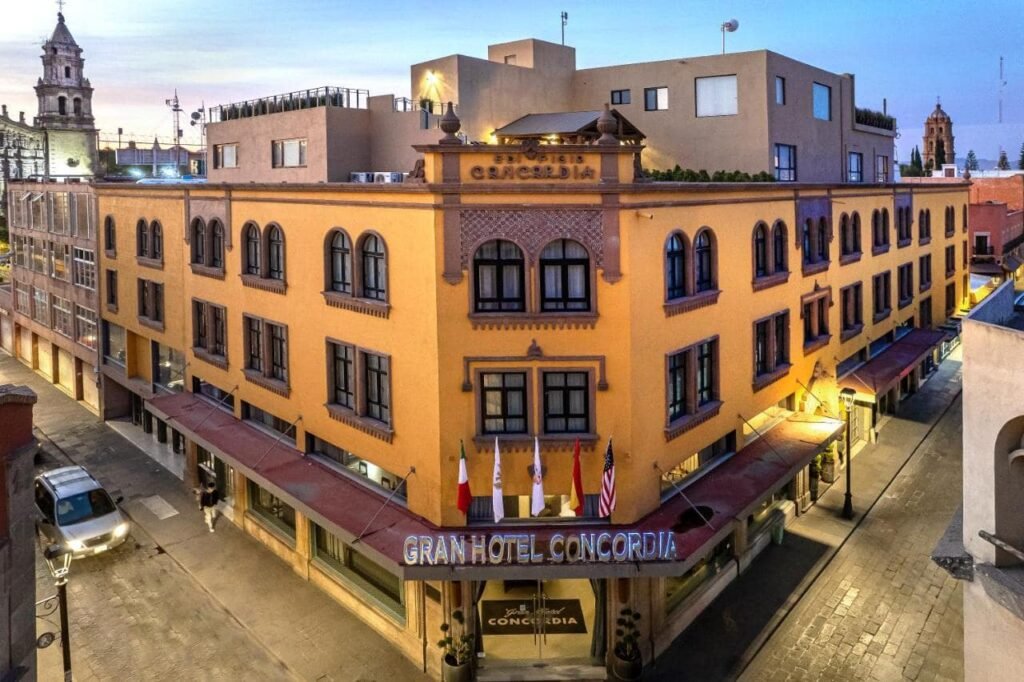 This is also a 4-star hotel, but it is conveniently located in downtown San Luis Potosi. Amenities include free Wi-Fi, air conditioning, and a fitness center.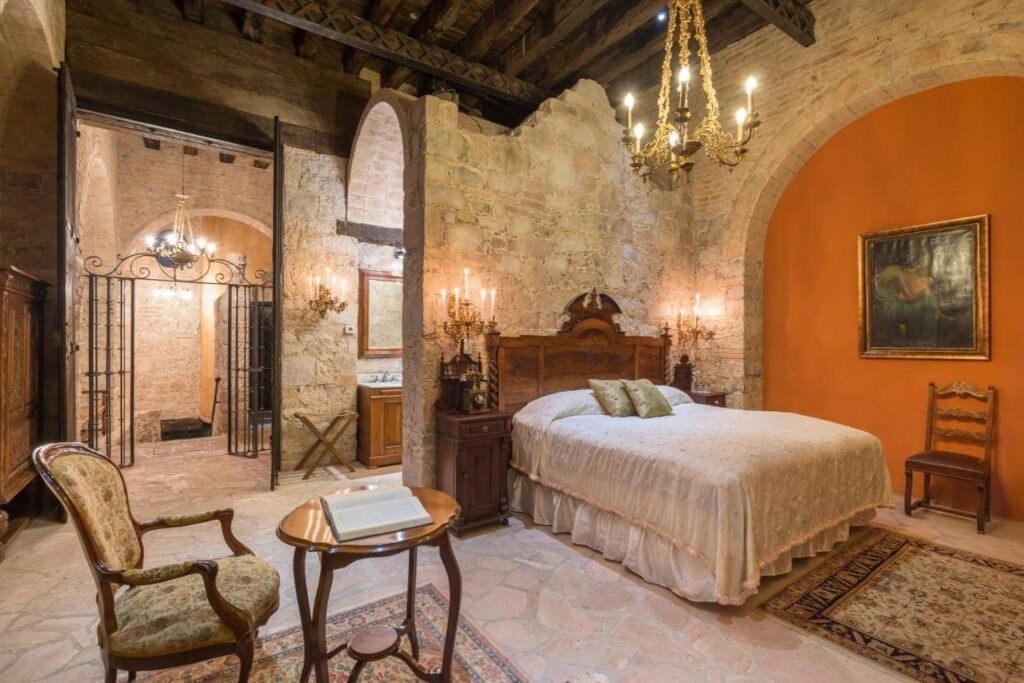 This excellent 4-star hotel is an actual 17th-century mansion with an on-site museum that offers horse-drawn carriage tours of the city. It is also located in the city center and is within walking distance of many restaurants and attractions.
San Luis Potosi FAQs
Is San Luis Potosi safe?
San Luis Potosi is safe for travelers and overall a very welcoming place. That being said, exercise basic travel precautions when visiting and keep your valuables stored in a secure location.  
What is San Luis Potosí famous for?
It is hard to sum up all the things San Luis Potosi is famous for. It has a rich and diverse landscape that includes tropical jungles, canyons, and waterfalls. It is the birthplace of the Rebozo and Enchiladas Potosinas and its historic center is on the UNESCO World Heritage list.
Is San Luis Potosí worth visiting?
Absolutely. San Luis Potosi is located in the heart of Mexico where you'll get to see a different side of the country. One that does not exist in the coastal, more touristy areas. You can explore each of the four regions separately or plan an epic road trip across the state.