Lush green foliage and ancient flowing rivers are part of what makes Laos a visual feast for tourists who are in dire need of a real vacation. The town of Luang Prabang in Laos to be exact is the very definition of a perfect getaway where you can disconnect from the outside world and immerse yourself in a wonderful kaleidoscope of cascading waterfalls, Buddhist temples, and memorable boat rides.
Luang Prabang Laos Weather
The best time to visit Laos is between October to April (dry season). The wet season runs from May till September with heavy rainfall in August & September. The hottest time of the year is between March and June when temperatures can reach 35°C.
Getting Around in Luang Prabang
The best way to get around is by using one of the many tuk-tuks in town. The rides are quite cheap (around $2 USD), so make sure to negotiate and agree on the price before getting in.
Transport from Luang Prabang airport: There's a taxi desk at the arrivals hall at a fixed rate. The shared minivan ride costs 50,000 kip (around $6.5) and drops you in front of your hotel.
Scooter scams in Luang Prabang: There have been several reports of scams when renting a scooter in the city. The scam is very common: the scooter rental company will keep your passport with them until you return the scooter. They also have information about where you're staying, so once you rent it, they come and steal it themselves and ask for a hefty payment. If you decide to rent one, make sure to park it in a secure place.
Currency in Laos
Laos is a cash economy, so you will not be able to use your credit card everywhere. 1 US Dollar equals 8115 Laotian Kip ( the currency unit of Laos) and you can exchange your money in banks and currency exchange offices in Luang Prabang. Always count your money carefully when exchanging money. It's easy to get confused with new currencies and some money exchanges can take advantage of that.
Is Laos Safe?
Laos is generally a safe country to visit. Luang Prabang is charming and budget-friendly at the same time, not to mention safe. However, it is always a good idea to leave your prized possessions and extra cash somewhere secure inside your hotel room.
Related article: Laos Backpacking Itinerary Guide
Luang Prabang Attractions
Kuang Si Falls: The Most Famous Luang Prabang Waterfall
Escapism comes in the form of this magnificently layered waterfall that is burrowed deep within the Laos jungle. Limestone pools of pale turquoise are temptingly cool and refreshing amidst the emerald green backdrop of tropical trees. The Luang Prabang waterfalls are far from your stereotypical tourist trap.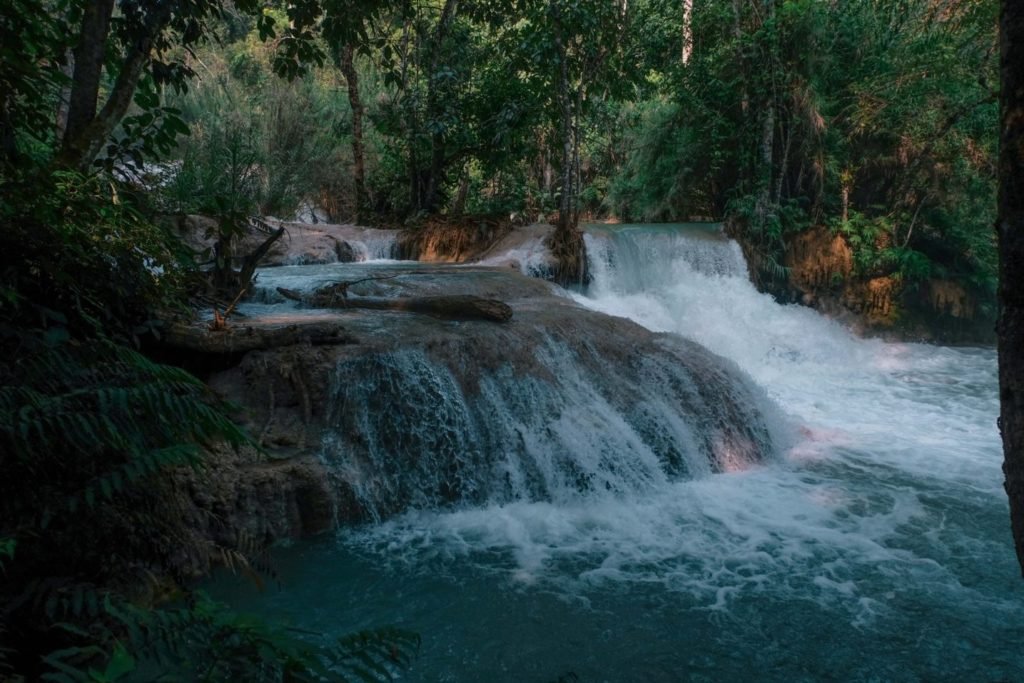 Kuang Si falls are definitely worth the hype, especially if you love swimming or hiking up the forest trail where you will find the nearby butterfly park and Tat Kuang Si Bear Rescue Centre.
Allow at least 2 to 3 hours to enjoy the waterfalls. The walk up to the main fall is very easy and you will start seeing the smaller falls from the very beginning of the trail. Make sure to make your way to the very top; it is definitely worth it.
The fastest way to reach the waterfalls is by car, especially if you happen to be traveling with a large group of friends or family. It costs around 250,000 Laotian Kip to hire a private vehicle with a driver. Tuk-tuks are a more budget-friendly option and they will cost you around 50,000 kip per person. The journey to the falls gives you a chance to visit quaint villages along the way where you can stop and visit the rice fields and buy handcrafted souvenirs from the locals.
Jetsetter recommendations: Instead of booking an expensive tour, go out to the center of town the day before your Kuang Si waterfall trip and negotiate a deal with one of the tuk-tuk drivers parked on the street (there are loads of them). We hired a private driver for about $30 and he picked us up in a great air-conditioned car the next morning. Try to get to the falls by maximum 8 AM to enjoy the falls without any tourists around. The tourist buses started coming in around 9:30 AM.
Kuang Si waterfalls opening times: 8 AM to 5:30 PM. Although the official opening time is 8 AM, you can still enter the park earlier than that.
Kuang Si falls entrance fee: $2.4 USD, which is the equivalent of 20,000 Laotian Kip.
Butterfly Park
Are you craving a slice of butterfly heaven? If the answer is yes, then make sure you stop by the butterfly park on your way to Kuang Si Falls. The park, which is the first of its kind in Luang Prabang, is run by Dutch couple Ineska and Olef. The park is approximately 300 meters away from the entrance of the waterfall and is home to more than 100 species of butterflies.
It also doubles as a research center that focuses on conservation and education. The staff are very friendly and ready to answer any questions you may have about butterflies and their lifespan. Once you finish touring the park and its lovely botanical garden, you can stop by for lunch at the small restaurant, but make sure to order the Dutch apple cake for dessert.
Butterfly Park opening hours: 10 AM – 4:30 PM
Butterfly Park entrance fee: $5 USD or 40,000 kip.
Tad Sae Waterfall
If you need another dose of picturesque waterfalls and limestone cliffs then why not add Tad Sae to your itinerary? Zipline enthusiasts can go on a 40-minute ziplining adventure while elephant lovers can take a swim with the elephants near the waterfall entrance. Tad Sae is worth the visit during the wet season where boats are available to transport you across the Nam Khan river and straight to the falls.
Jetsetter recommendations: We combined Tad Sae Waterfalls with Kuang Si Falls in the same day because we had a private driver. It will take around 1.5 hours to drive from one waterfall to the other. Unfortunately, we did see some tourists riding elephants at Tad Sae, but I highly discourage this. Elephant riding facilities mistreat the animals and they are normally overworked to support mass tourism.
Tad Sae opening hours: 8 AM an5 PM
Tad Sae waterfalls entrance fee: around $2.4 or 20,000 kip. Children under the age of 8 are allowed to enter for free.
Visit the Luang Prabang Night Market
Grabbing a bite to eat while shopping for souvenirs is a great way to end the day at Luang Prabang. Just before sunset, you will notice street vendors setting up their stalls along Sisavangvong Road, which is also home to hotels, temples and old colonial buildings.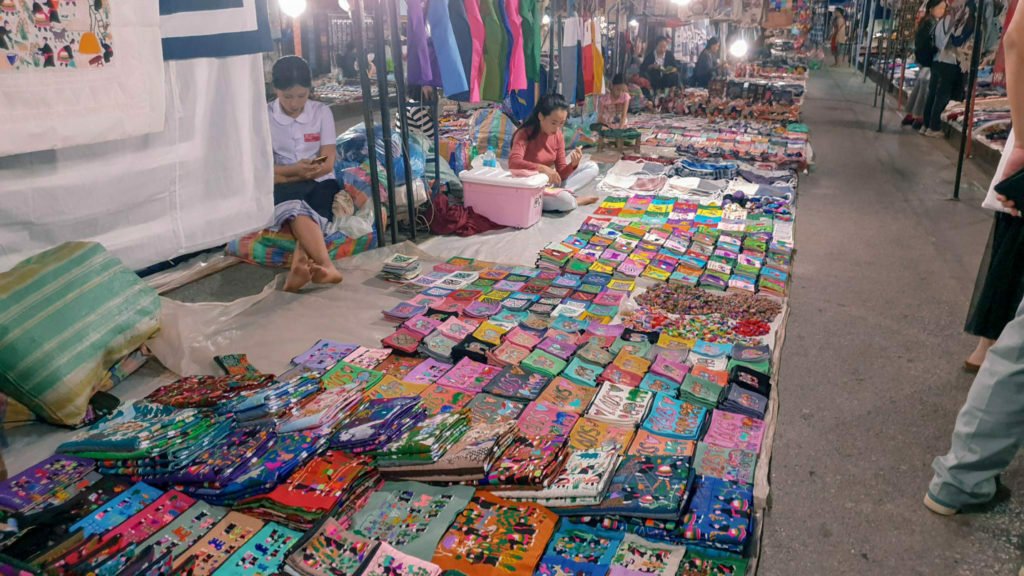 The market officially opens at 5 PM and showcases an array of locally handmade products such as Lao whiskey, Sa paper, quilts and cutlery made out of recycled bombs. Some vendors will try and sell you items for a higher price so do not be afraid to use your polite haggling powers. Feeling hungry? Then make sure you sample the popular street food available in the market.
They have everything under the sun from steamed fish served inside banana leaves to baguette sandwiches and noodle soup. Coconut rice pancakes, also known as kanom krok, are exactly what the doctor ordered after a long day of swimming and hiking.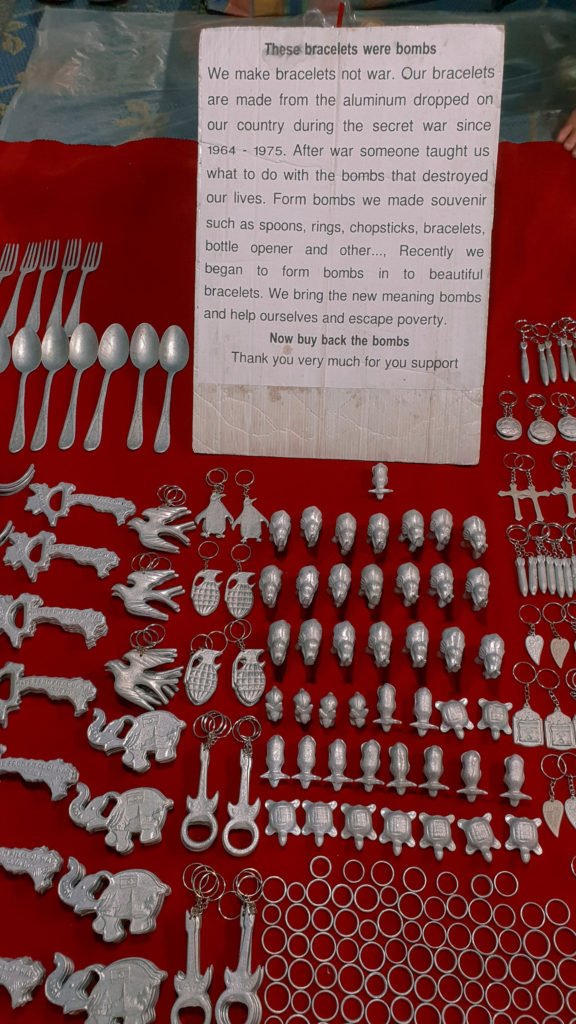 River Cruise on the Mekong
The Mekong River, also known as the mother of water in Laos and Thailand, flows through six countries and is a quintessential part of everyday life for the locals. The river also offers visitors a chance to explore Luang Prabang and its neighboring villages by boat.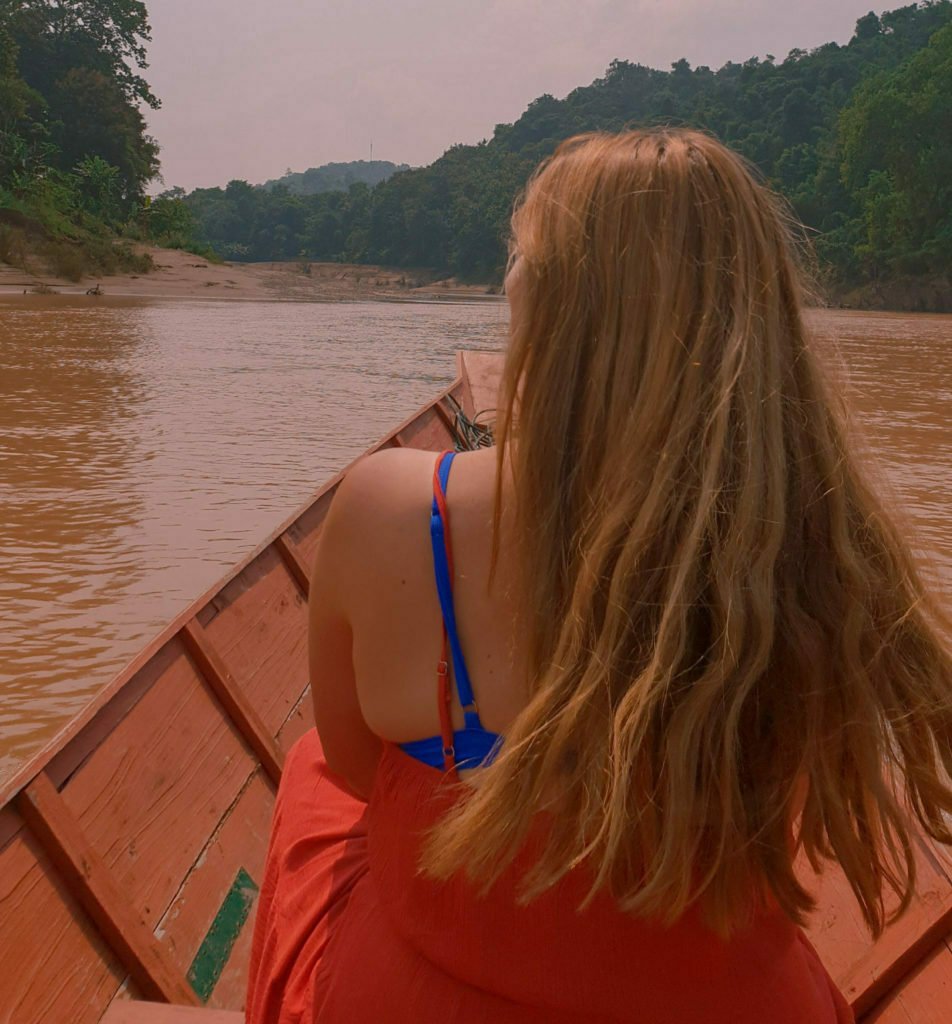 Seasons change but river cruises are available all year round to take you on full day tours or three-day excursions where you get to experience other towns and take part in fun activities such as bamboo weaving and pottery making.
2-day cruises cost around 120 US Dollars and include overnight accommodation in traditional Tai Leu houses. If you are in the mood for a leisurely half-day cruise, then booking a banana boat is highly recommended and costs $40 USD per person. You can book the river cruise of your choice online or via any of the tour operators located along the main road in Luang Prabang.
Explore the Royal Palace Museum & Luang Prabang Temples
The Luang Prabang Royal Palace sits facing the sacred Mount Phou Si and is home to an array of Buddha statues, wall murals and of course, the golden throne that once belonged to King Sisavang Vong. The palace is a marriage between French beaux art and traditional Lao architecture. The reception halls of the palace are now exhibition halls adorned with cinnamon-red walls and glass mosaics.
Artifacts dating back to the 15th and 16th centuries offer a window into the history of Laos and Luang Prabang. The royal bedrooms, dining room and library still exist in mint condition along with their original furniture. The palace grounds are also home to the former Royal theatre and a collection of vintage cars that once belonged to the king.
Shoes and photography are not allowed inside the walls of the palace, so you will be asked to store your belongings inside a locker before entering.
Royal Palace Opening Hours: 8 AM – 11:30 AM and 1 PM – 3:30 PM. The palace is closed on Sunday.
Royal Palace entrance fee: around $3.5 USD or 30,000 kip
Once you have crossed the palace museum off your list,  you can dedicate part of your journey to visiting the many beautiful temples scattered around Luang Prabang.
Wat Pa Phon Phao is within walking distance of the town center and its name means 'The Peacefulness Temple' in English. Sitting on top of a hill, the temple functions as a meditation retreat for monks.
Wat Pa Phon Phao opening hours: 8 AM to 5 PM
Wat Pa Phon Phao entrance fee: $2.4 USD or 20,000 kip
Wat Manorom is home to a 13th-century bronze Buddha that is considered the oldest and tallest statue in the country. The temple is also famous for its intricately carved walls and its monastery, which is home to the largest population of monks in Luang Prabang. Head over to Manomi Road where you will find Wat Manorom waiting for you next to Ban Lao Hotel.
Wat Manorom opening hours: 8 AM to 5 PM (free entrance).
Other temples worth adding to your list: Wat Sene, Wat Aham, and Wat That Luang.
Experience Tak Bat
The morning alms, also known as Tak Bat, is woven into the fabric of Lao Buddhist tradition. The ritual takes place every morning at around 6am, so you need to wake up early if you want to witness it. Tak Bat is held on the main street of Luang Prabang where devoted locals offer food to the monks.
If you choose to participate in the ceremony, then make sure you know the proper etiquette to follow when offering food to the monks. You can ask the hotel staff to show you how it is done. Making a private donation is another great option if you wish to feed the monks and you can easily do it by delivering packaged snacks to Wat Xieng Thong later in the morning.
Tak Bat takes place from 5:30 AM to 6:30 AM between the months of March and October. If you visit Luang Prabang between November and February, then you can experience the ceremony between the hours of 6 AM and 7 AM.
Try an Authentic Laotian Massage
There is nothing more relaxing than a massage after a long day of swimming, hiking, and boat riding. Luckily, Luang Prabang is brimming with massage places that offer a wide selection of massages.
Depending on your budget, you can go for a simple yet rejuvenating full body massage at a reasonably priced place, or you can treat yourself to a high-end hotel spa like the luxurious Angsana Spa. Foot massages are also available to cater to your tired feet and so are facials in case you need to hydrate and cleanse your skin.
If you're on a budget, the center of town has several spas for as low as $8 for a 1-hour massage.
Learn to Cook Laotian Food
Foodies and tourists eager to learn more about Laotian cuisine will be pleasantly surprised by Luang Prabang. Once upon a time, the best cooks were hired by the king to create appetizing dishes at the royal palace.
The traditional Lao meal is all about balance, relying heavily on fresh vegetables, herbs, and spices, not to mention sticky rice, which is a staple food in Laos. The rice is often crushed into a ball and used to soak up an array of sauces served with the meal. French influences are also present in the form of baguettes and tossed salads.
Take a Cooking Class
If you are eager to learn how to make sticky rice and would like to know more about local food and produce, then there are plenty of cooking schools available in Luang Prabang to choose from. Indigo Farm, which is run by a boutique hotel carrying the same name, offers traditional Lao cuisine courses and allows you to make tasty meals.
The course allows you to visit the organic farm where you get to handpick your ingredients while learning more about crops and farming. The cooking class menu includes mango sticky rice, bamboo soup, and marinated pork.
They have lunch classes that start at 10:30 am and end at 1:00 PM, and dinner classes that commence at 1:30 PM and end at 4:30 PM. Prices are 35 US Dollars for adults and 20 USD for children. Tamarind Restaurant and Cooking school is another great place to try and so is the cooking school at Sofitel Luang Prabang.
Climb Mount Phousi
This sacred hill lies at the heart of Luang Prabang and offers a breathtakingly panoramic view of the sparkling Nam Khan River and the lush green forests surrounding it. Wat Chom Si is the main attraction at the top of Mount Phousi and you can reach it via two stairways.
On the way up, you will run into locals selling blessings in the form of flowers and incense. Sunset is the perfect time to capture the landscape on camera but the hill tends to become crowded during this time of day.
Jetsetter recommendations: there are over 350 uneven stairs to climb Mount Phousi, so it is quite challenging especially in the humidity. If you are going for sunrise or sunset (which are both highly recommended), make sure to allow 1 hour to climb up. There is a small kiosk at the top that sells water and refreshments.
Mount Phousi opening hours: 5:30 AM – 7 PM.
Mount Phousi entrance fee: $2.4 USD or 20,000 kip (the entrance fee is paid halfway up to the mountain at a small desk).
Visit the Pak Ou Caves
Home to more than 4,000 Buddha statues, the Pak Ou Caves are nestled deep inside the limestone cliffs where the Mekong River meets the Nam Ou River. The lower cave is called Tham Ting and it houses a vast Buddha collection of different shapes and sizes.
The royal family used to visit the cave during Lao New Year to pour water over the sacred Buddhas. You can travel to the Pak Ou caves either by boat or tuk-tuk.
Jetsetter recommendations: combine a river cruise on the Mekong with Pak Ou Caves. The river cruise takes around 2 hours each way.
Pak Ou Caves opening hours: 8 AM to 5 PM
Pak Ou Caves entrance fee: $2.4 USD or 20,000 kip
Where to Stay in Luang Prabang
Luang Prabang hotels are quite affordable, so it's a good chance to splurge on a nice hotel during your stay. No matter where you decide to stay, it's easy to get around the city by foot or tuk-tuk. The town itself is tiny and tuk-tuks cost around $2 or $3 USD.
I chose to stay at the charming Mekong Riverview Hotel and I absolutely loved my stay. Prices per night start at $150 USD.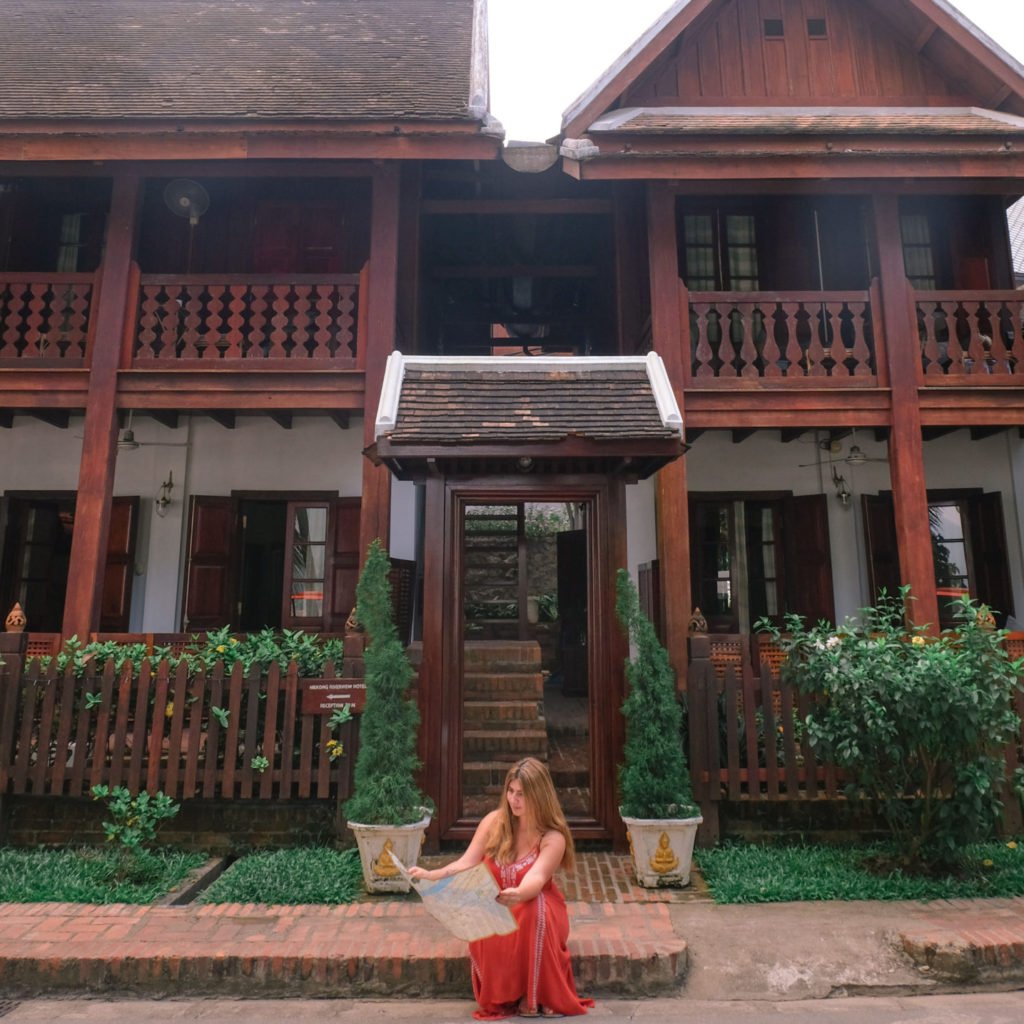 Mekong Riverview Hotel Review
The Hotel & Facilities
This lovely boutique hotel is situated along the Mekong River. As the name suggests, the view you have from the rooms and restaurant is the meeting of the great Mekong River and Nam Khan River.
The staff is extremely friendly and helpful. There is a free tuk-tuk shuttle that can take you to the center of town in under 5 minutes. We enjoyed an amazing Lao massage at the spa. The massages are quite affordable starting at only $20 for a 1-hour massage.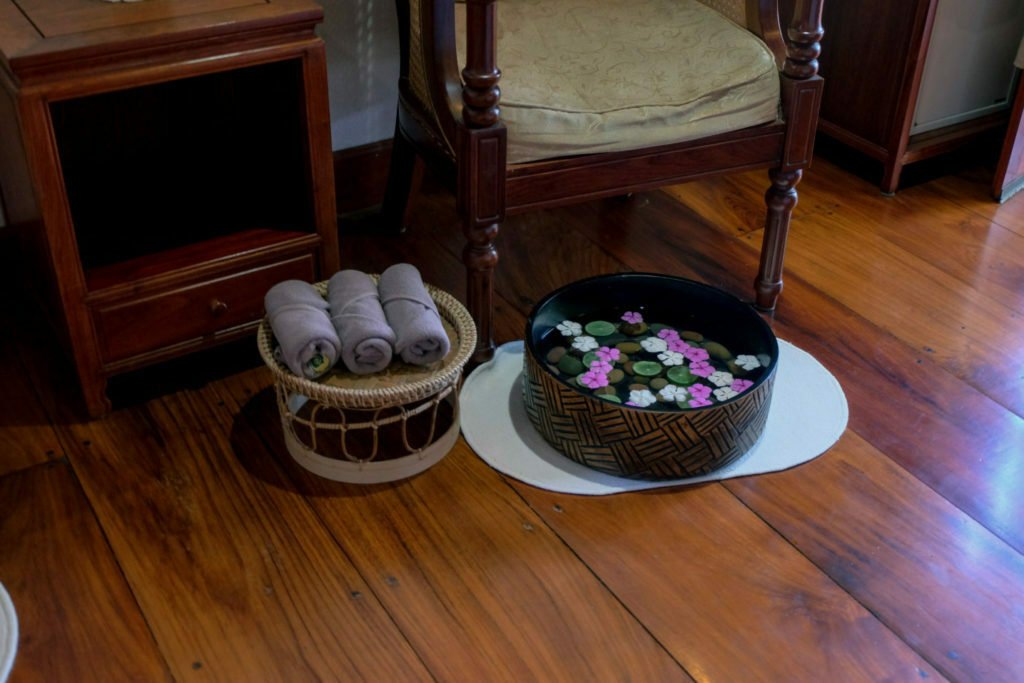 The Rooms
The hotel preserves the classical Luang Prabang architecture, yet offers all the modern-day needs such as air conditioning, WIFI, coffee/tea making facilities, a mini-fridge with free refreshments and a great bathroom and shower. All the rooms have a very cozy balcony with comfortable seats and great views of the river.
The Restaurant
Mekong Riverview has a beautiful restaurant right on the edge of the Mekong. The peacefulness of the place will surely add years to your life. Breakfast is served here every morning. There's a cold buffet with bread, cheese, pastries, and refreshments. You can order your hot meals such as eggs or pancakes from the waiter.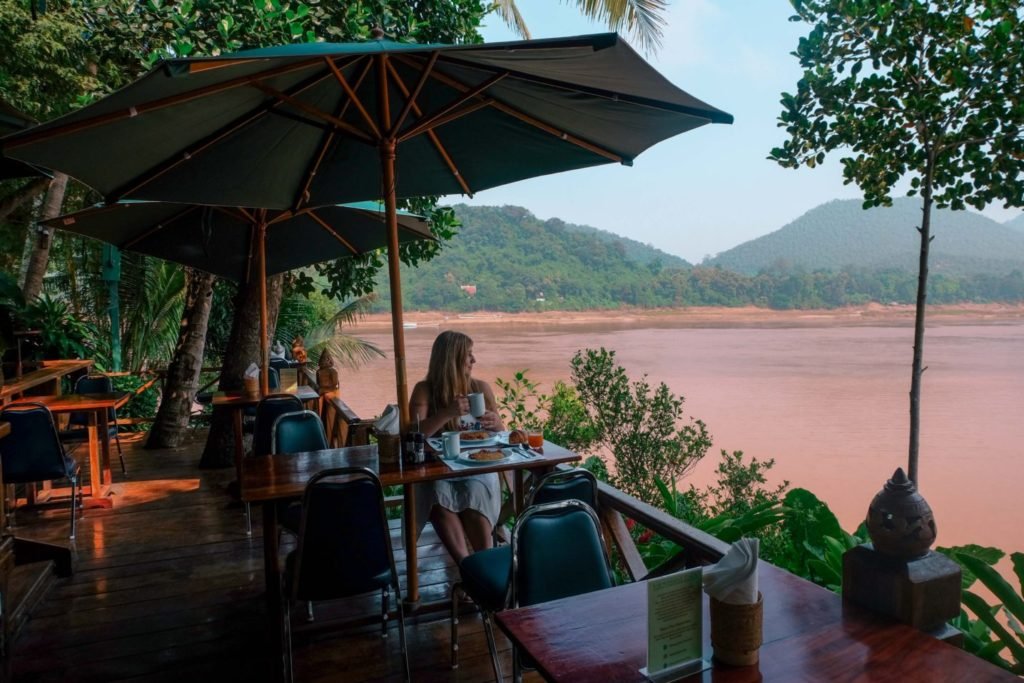 Book your stay at the Mekong Riverview Hotel here.