Every traveler has a dream that he would like to tick off his bucket list. One of my ultimate dreams was to see the cherry blossom season in Japan. Finally this year in April I was lucky enough to experience it in the beautiful city of Kyoto.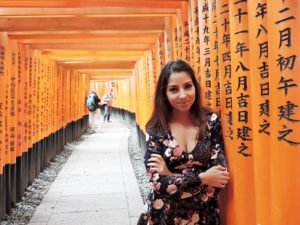 This former Japanese capital located on the island of Honshu, not far away from Osaka, is said to be the most beautiful city in Japan and once you see it on your own, you can't else but agree. Kyoto is also knows as "the city of a thousand temples" and I had the possibility to visit at least some of them during my short stay. First temple on my list was Kiyomizu Dera which is also one of the most celebrated temples in Japan and its particularly beautiful during the cherry blossom season thanks to numerous sakuras in its surroundings. It has a large wooden veranda that gives you very nice views of the hills and the city. I stopped at the veranda and I imagined how peaceful it must have been a hundred years ago without all the tourists around, all of them trying to get the best selfie and myself in the middle trying to take a picture of girls and couples wearing beautiful traditional kimonos with some cherry blossoms in the background. Most likely they weren't even Japanese, because everyone can actually rent a kimono and even get the make-up and hair done there, but it was still nice to see and especially the couples were just adorable.
I was more thrilled to see a real geisha and therefore I headed to Gion, the famous Geisha district, which is not far away from Kiyomizu Dera. This area is filled with shops, restaurants and tea houses where geishas entertain. Unfortunately I didn't see any real geisha around, only a bunch of fake ones dressed up like them and I have been told that they don't go out often because of tourists who behave like ruthless paparazzi in the recent years. So, if you spot a geisha, please act respectfully.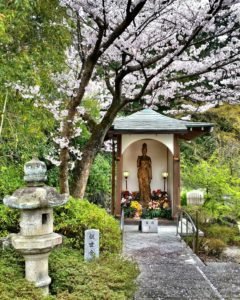 Japanese culture is all about respect and everything you hear about their etiquette is true. So yes, they greet each other by bowing and the deeper the bow is the more respect you pay to the person. In restaurants they always serve your plate and everything with two hands and don't even dare to leave a tip as it is not customary in Japan.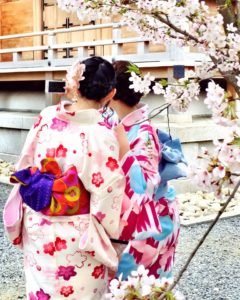 Not only are they respectful, but also very organized so they stand in line at public transport stations to get into the train or bus, which was really refreshing and I would apply this everywhere in the world, lol. Talking about trains, it is really easy to get around in Japan as the trains run often and are punctual. I took it a couple of times to get from one temple to another in Kyoto and one of them took me to Fushimi Inari Shrine which is famous for its thousands of orange torii gates that cover the hiking trail behind the shrine's main building and lead to the sacred Mount Inari. Every torii gate is a donation by individuals and companies and their names and the date of donation is written on the back of each gate. If you would like to become a donator of a large gate, prepare yourself to pay one million yen. If it seems too much to you, you can also purchase a miniature of a torii gate and write a wish on it and than hang it on the stack in the shrine or leave it somewhere along the trail. The hiking trail is really interesting and relaxing. I got there in early morning hours so there were not many tourists around and I could enjoy a peaceful walk through the orange forest of torii gates and then enjoy some nature along the trail and beautiful views from the top of Mount Inari. You can also notice many statues of foxes in the shrine grounds and that's because foxes are thought to be messengers of Inari, the Shinto god of rice and the patron of the shrine.
Leaving with a little fox souvenir and macha tea ice-cream in my hand I was just thinking how beautiful this experience in Kyoto was and that I definitely need to come back to see more.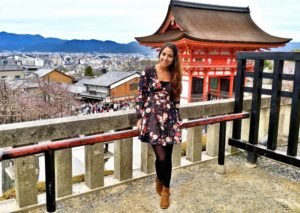 To read more about Bee On Cloud 9's travel adventures, check out her blog or follow her on Instagram @beeoncloud9.