Ibiza is one of those places that's perceived as one big crazy party island that never sleeps… but it's so much more than that! It's a charming island with beautiful beaches, delicious food, and yes, lots and lots of parties!
Ibiza Party Island Guide
If you want to enjoy Ibiza properly and get to soak in all the fun, here are a few survival tips:
1. When to go to Ibiza
The months of July and August are the busiest times and the island is super packed. Everything becomes expensive, especially accommodation. It also gets harder to get around because of the limited number of taxis. A better time to go to Ibiza is either June or September for the closing parties.
2. Plan your party calendar
If you want to see your favorite DJs playing, make sure to check the party calendar before you go, so that you pick the best days. You can find a great calendar here: Ibiza Party Calendar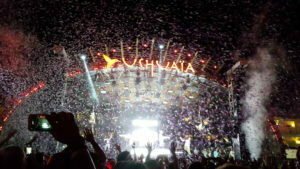 3. Where to Stay in Ibiza
Picking the right accommodation depends on what kind of stay you're really looking for. The area of Playa Den Bossa is the main party area and there's always something happening there. It's also noisy and overcrowded, so for the people who want some downtime after partying, I would recommend a different area, like Old Town.
During my last visit, I stayed in Urban Spaces Ibiza in Old Town, which is a really hip and funky hotel, with delicious food, amazing staff and each room is designed by a different graffiti artist. Something that I really liked is that they offer you breakfast whenever you wake up, because they understand that you're there to party and will probably not be awake before noon! Check it out here: Urban Spaces Hotel
Related Post: The Most Beautiful Towns On The French Countryside
4. Get Some Sleep
One of the biggest mistakes first-timers do, is not get enough sleep. Most parties end at 8am and there's so much going on that you might think it's ok if you only sleep 2 hours a day. My advice is to have some downtime towards the middle of your stay, so that you can recharge and enjoy the rest of your time properly. If you're there for 4-5 days, take a 1-day break from partying and you will feel super fresh to continue the madness.
5. Surviving Big Crowds Inside Ibiza Clubs
Ibiza's top clubs are always extremely packed, especially if one of the big DJs is playing. Prepare to get stepped on, pushed and have drinks spilled all over you and embrace it with a smile! This is Ibiza and you're there for the madness, so you have to learn to let go of those things and not let them affect you.
I recommend finding a corner or a spot next to the stairs, so that you get pushed around a bit less and use it as your base and meeting point for your group of friends. In case anyone loses their way or needs to move away from the group for any reason, they know where they can find you later on. Also,
Be extremely careful of pickpockets. Take just the right amount of cash that you need and keep your phone somewhere safe, because pickpockets are everywhere and that's the first thing they will try to snatch.
6. Enjoy the Delicious Food
It's tempting to just eat breakfast and continue partying all day and night, but your body will crash at some point! Plus you will be missing out on some delicious food… My favorite restaurants are: Las Dos Lunas Restaurant or El Chiringuito.
7. Watch the Incredible Ibiza Sunsets
Yes, Ibiza sunsets are legendary! Especially if you're sipping on sangrias and listening to amazing music. The top place to watch the sunset from is the San Antonio strip. Try Cafe Mambo or Cafe del Mar, but make sure to book in advance!
8. Visit Formentera
If you think the beaches on Ibiza island are amazing, then wait till you get to Formentera! It's a short 1-hour ferry ride to this gorgeous neighboring island with white sand and clear blue waters. Check the schedules and prices here: Formentera Ferries
9. Enjoy the hippie market
For some amazing and unique handmade items, make sure to visit the hippie market, which happens in different parts of the islands every week. Even if you don't plan on buying anything, it's still interesting just to walk around.
10. Enjoy the amazing Ibiza beaches
Don't miss out on spending some amazing days on the beach even if you've partied till sunrise! After all, you can always take a quick nap on your sunbed! Here are some of my favorites: Blue Marlin Beach Club, Cotton beach Club or Es Cavallet (warning: this is a nude beach!).