Seattle has been on my bucket list ever since I saw the movie, 10 Things I Hate About You. Yup, Seattle was one of those cities I loved and had never even been to. You can imagine my excitement when my girlfriend and I decided to pack our bags and head to a weekend in Seattle for the ultimate girls trip.
Now, before I dive into all the must see's and do's, let me say that most of what is on this list is purely based on local word of mouth; in my opinion, the only way to truly experience a city. With that, I give you the Ultimate Girlfriends Getaway Guide to Seattle!
Weekend In Seattle: How To Get There
Located in the Pacific Northwest, Seattle is easily accessible from all over the world. If you're flying international, check out Skyscanner to find the cheapest fare dates. If you're flying domestic, check out Southwest Airlines. They offer great deals on non-stop flights to Seattle from a ton of cities, plus bags fly free.
Read also: The Largest Resort Casino in North America – Foxwoods Resort Casino, Connecticut
Where To Stay For A Seattle Girls Trip
We stayed Downtown at the newly renovated Motif. This hotel has a new modern look and the best rooftop bar in the city. Dine at Frolik, then head out to the rooftop for some table tennis, bag toss, and more. Just when you thought this hotel couldn't get more perfect, they offer complimentary umbrellas in every room and daily wine tasting from 4-6 pm.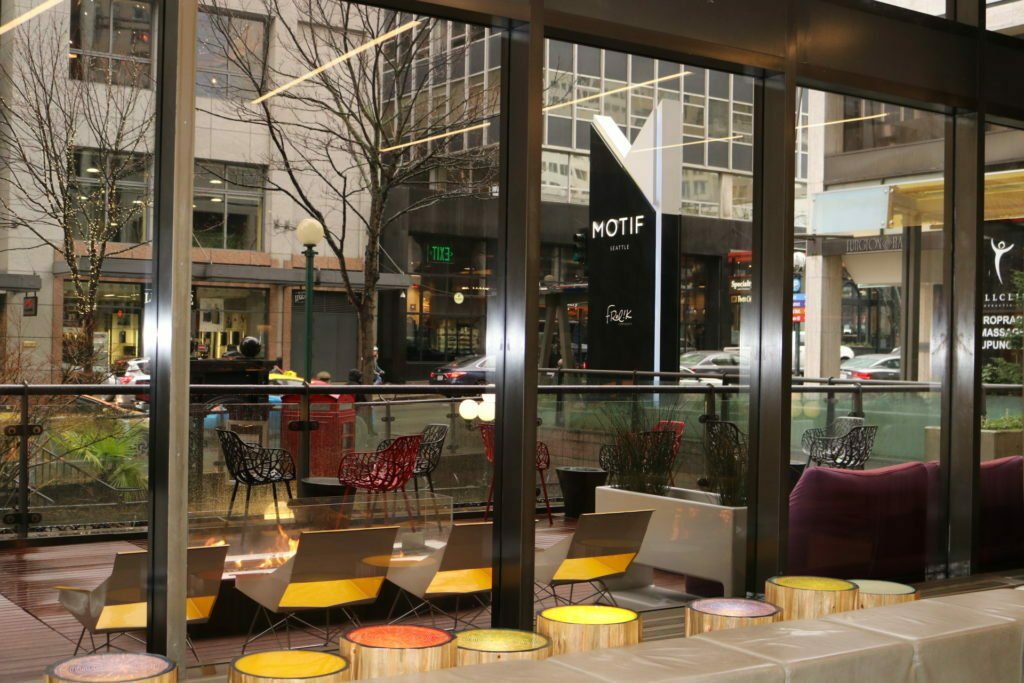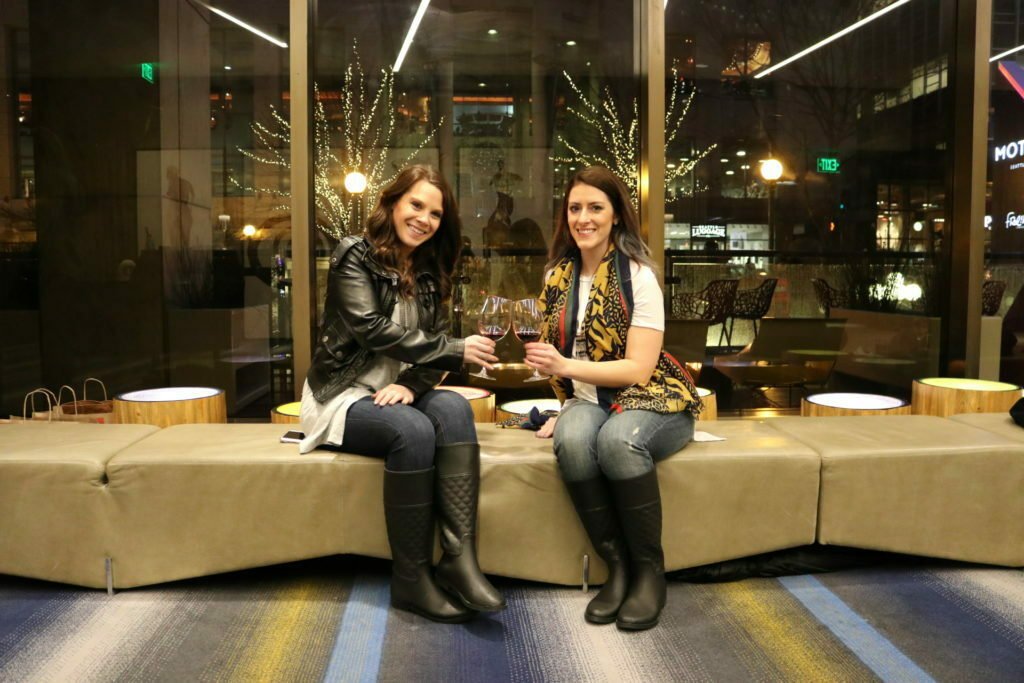 What To Do During A Weekend In Seattle
Like most major cities, Seattle is comprised of many neighborhoods. Here are the must-do's in Seattle's most popular neighborhoods.
Learn the History in Pioneer Square
Pioneer Square is known as Seattle's first neighborhood. As you walk the sidewalks, pay attention to the purple glass windows at your feet. You would be walking almost 3-stories above what used to be the original streets of Seattle.
Seattle Underground Tour: The Underground tour is a great 75-minute tour offering comical lessons on Seattle's history. Here you will learn about Seattle's founding father, or shall I say the seamstresses that put Seattle on the map.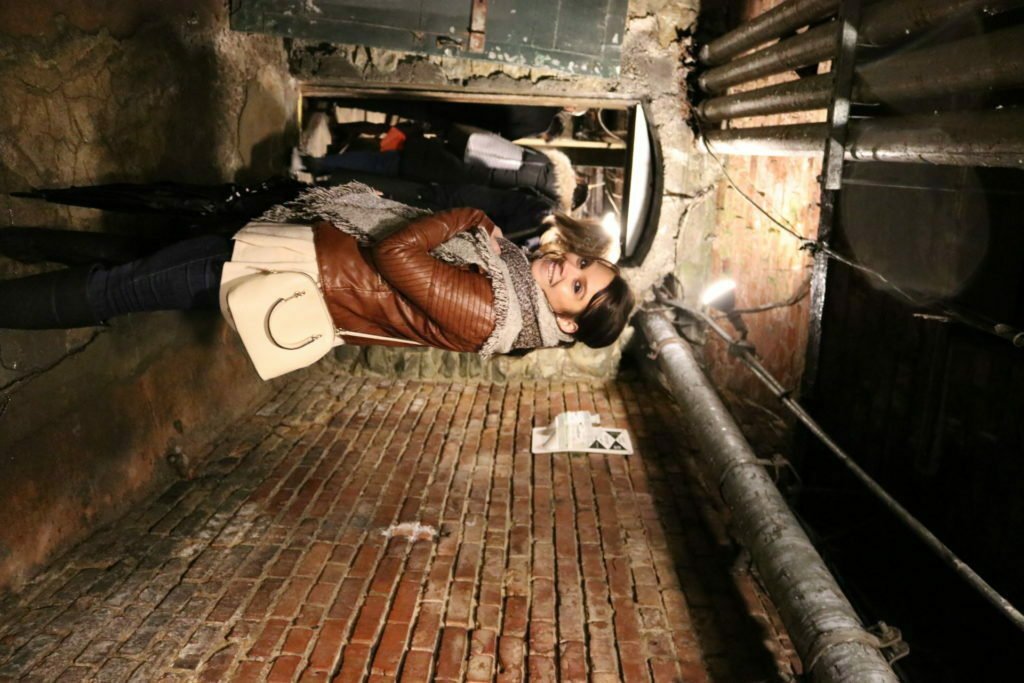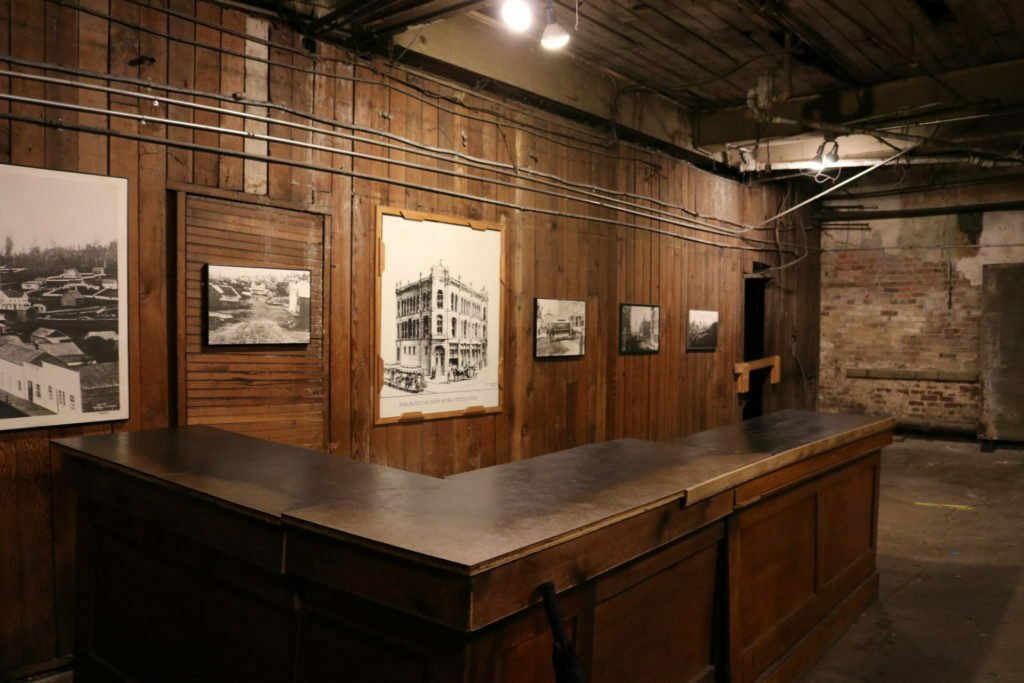 Comedy Undergound: This place is great to come and listen to live bands (did I mention Seattle is the grunge music capital of the world). They also have a bar and Comedy of course. Call or stop by to inquire about ticket prices.
Sovereign Bar: Located down below on Seattle's original street level with original flooring and light fixtures from the early 1900's. Walk downstairs and enter the roaring 20's.
E Smith Mercantile: From the window is looks like a charming retail store, but walk in and towards the back to a small 12 person bar offering amazing handcrafted cocktails. Make sure to sign the book on your way out!
Party in Capital Hill
Capital is all about the party scene. Don't forget to look down as you cross the street, for many crosswalks are rainbow-colored to demonstrate the cities gay pride.
Lark: Enjoy a nice dinner out and amazing food. Talk about fresh oysters and risotto. Yum!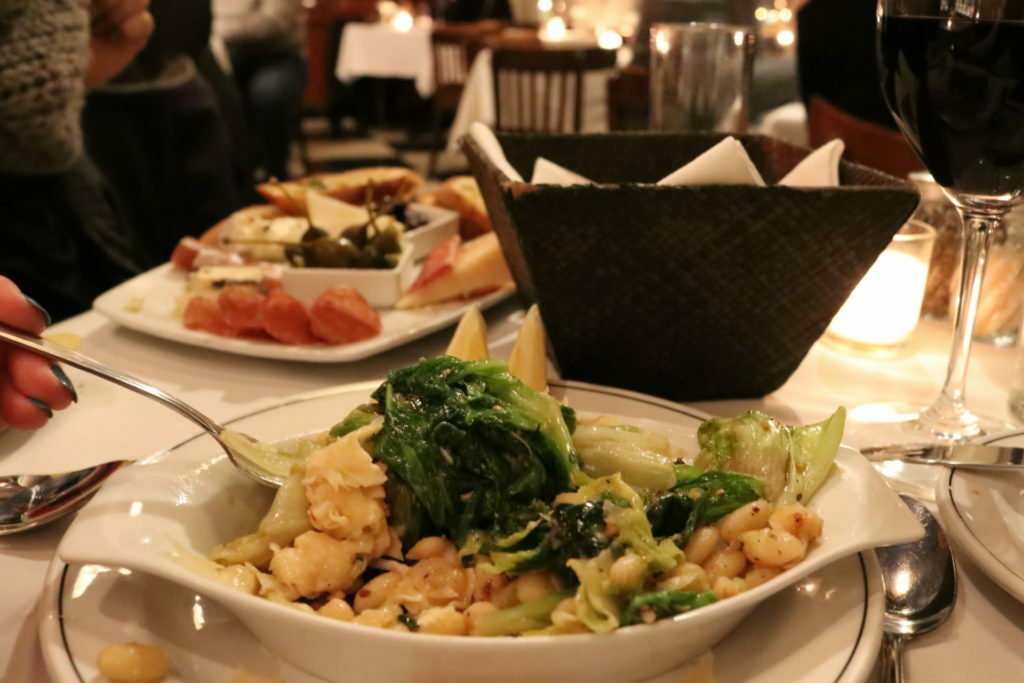 Related Article: How to Take Great Instagram Photos of Yourself
Knee High Stocking Co.: A true speakeasy located in a historic apartment building. So much in fact, a doorbell sounds throughout the bar every time someone from the outside arrives. This place makes for a great pre-game spot. Make sure to book reservations in advance.
Unicorn Bar: A carnival themed atmosphere with an interesting twist on brunch. Be sure to check out the Mimosa Cabaret.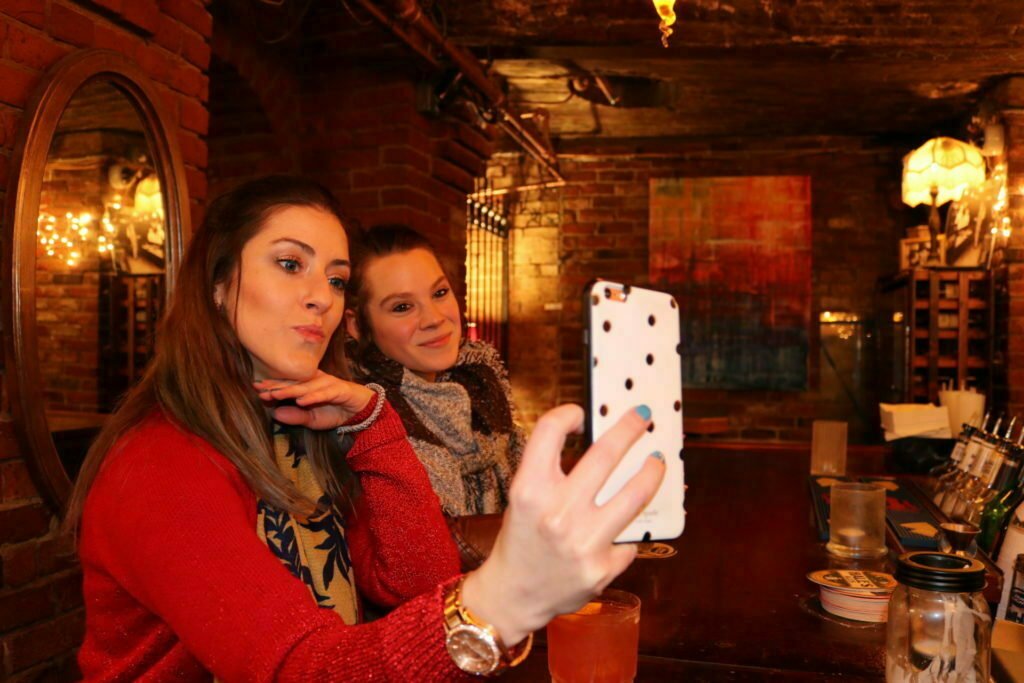 Take a Walk Around Fremont
Fremont is smaller and quieter compared to the other neighborhoods on this list. You can say more residential. Great for an afternoon walk along the river, or house hunting. I saw at least a dozen houses I wouldn't mind calling home.
Fremont Troll: Another photo worthy spot. This giant sculpture attracts the masses. Climb up the troll and show off your meanest troll face. Can you find the VW bug?
Fremont Brewing Company: A quick walk from the Fremont Troll. Come here to sample some local brews and look out at the river. Perfect afternoon lunch spot.
Meet the Locals in Ballard
If you have ever been to Camden Town in London then you will appreciate Ballard. The bar scene here is similar to that of Camden Town. Small quirky bars lined closely to each other with the spillover of people chatting it up in the streets.
Percy & Co.: The "it" bar on the street. Large and small groups alike come here to mingle and drink the night away. Locals really are the nicest people.
Hazlewood: The quirkiest bar of them all. Mix matched art on the walls with creaky wooden stairs leading up to a small loft with couches and a DJ booth.
Ocho: Great dinner spot offering a wide array of tapas dishes and tasty drinks.
Stroll Around Downtown Seattle
The Downtown area is a must-visit during your weekend in Seattle. It has a ton of things to do that will keep you entertained for days to come. Best if experienced on foot so strap on your comfy shoes.
Pike Place Market: Easily one of the most photographed spots in Seattle. Walk this multi-level market to enjoy fresh seafood and shop locally made goods.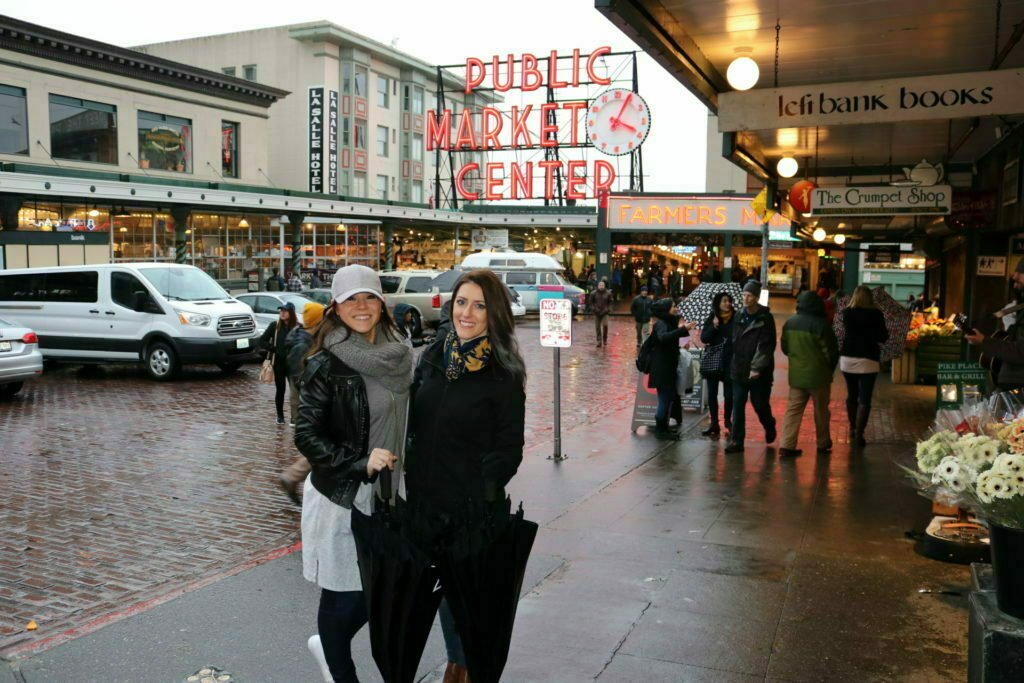 Local 360: A great breakfast and brunch eatery with the cutest table setting. Make sure to try the apple waffles!
Gum wall at Post Alley: Whoever thought gum on a wall would be such an artistic masterpiece. Don't miss this during your weekend in Seattle. You will be amazed!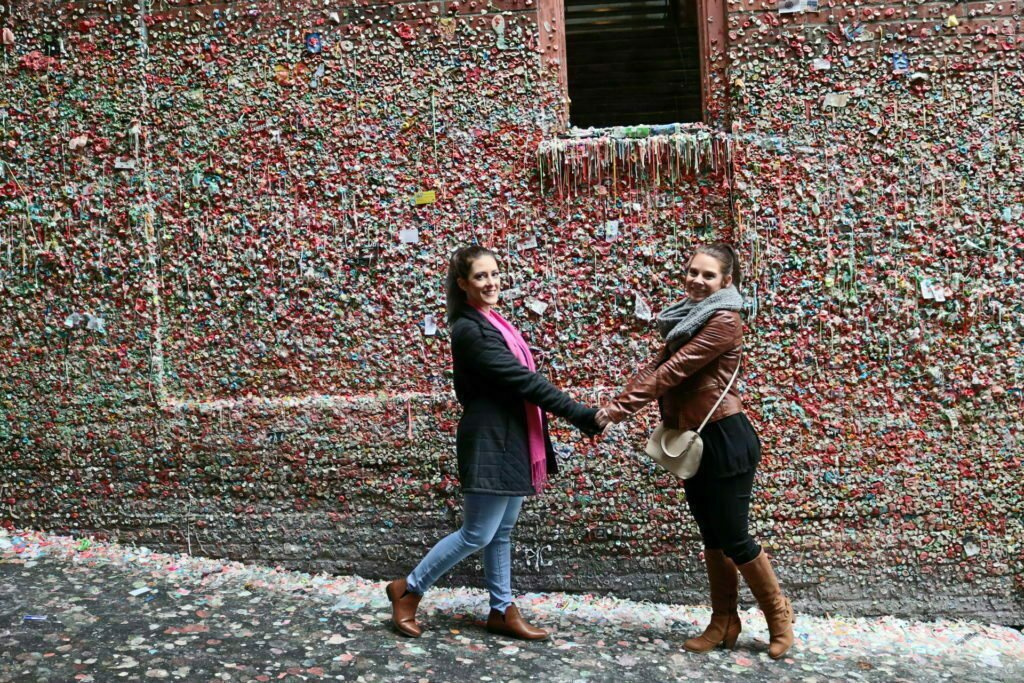 Great Wheel: Walk down the boardwalk to the great wheel for a relaxing ride as you admire the water on one side and the skyscraper on the other.
Admire the Views in Queen Anne
I'll let the views do the talking from here. You simply have to see it for yourself during your Seattle girls trip.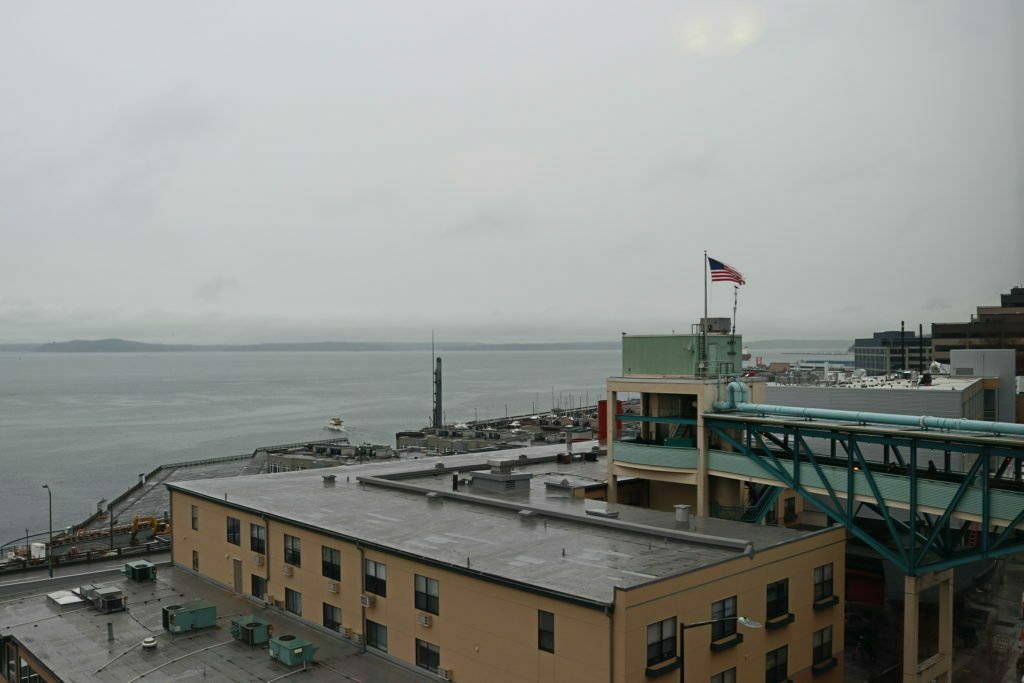 Kerry Park: Enjoy the best view of the Seattle Skyline at this popular park.
Space Needle: The tallest building in Seattle and iconic to the cities skyline. Travel to the top and see the city from high above.
Chihuly Garden and Glass: Fill your day or night (recommended) at this breathtaking museum of glass sculptures.
About the guest writer:
Allison from Seeking Neverland is a born and raised Vegas girl on the endless pursuit of traveling the world. Now, most of her days are spent wandering around foreign streets, collecting memories, and sharing all her findings!
Make sure to check out her blog and follow her adventures on social media:
Blog: www.SeekingNeverland.com
Pinterest: SeekNeverland Instagram: @SeekingNeverland Twitter: @SeekNeverland