For my recent trip to the Maldives, I booked a flydubai business class flight and I loved the experience. First thing's first: when going on vacation, it's not only about the destination, it's about the journey it takes to get there.
flydubai made sure to make my journey a memorable one, from which I arrived so fresh and relaxed to the beautiful Maldives. If you live in the Middle East then you are surely familiar with the airline. I had flown quite a few times on flydubai around the region but didn't realize the amazing services and benefits of booking a business class flight with them for my long-haul trips.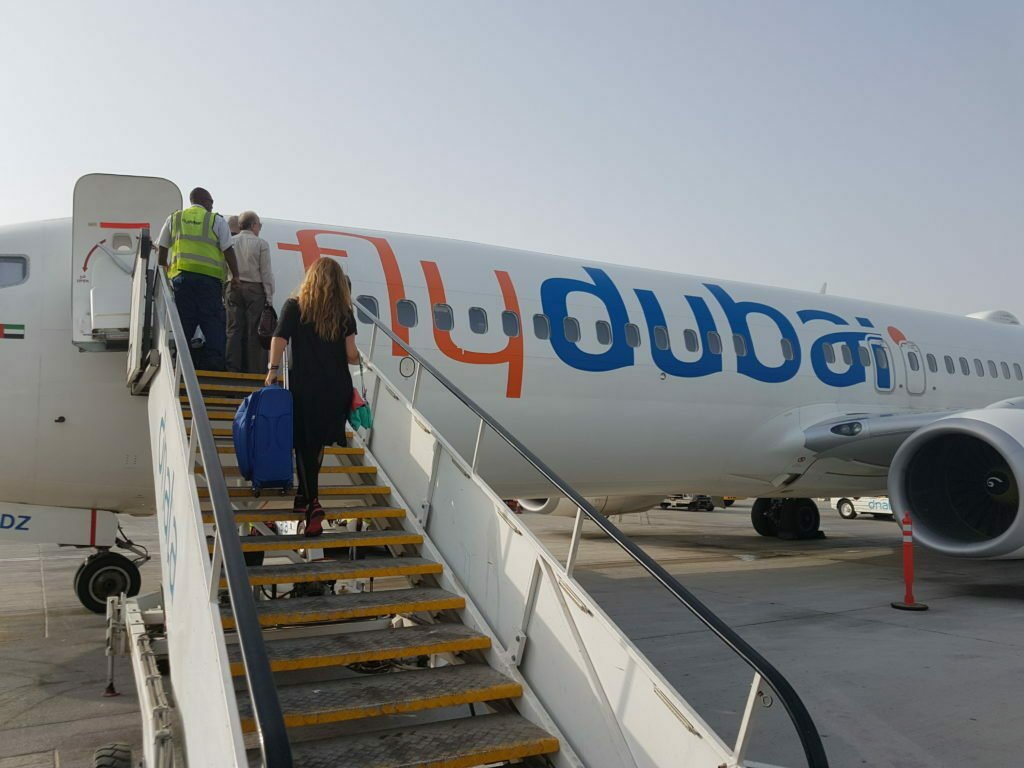 I just returned from such a heavenly getaway in the Maldives and it was one of the most incredible places I have ever visited in my life. My trip started from Beirut, Lebanon and flew all the way to Male (the capital city in the Maldives) with a short stop in Dubai where I enjoyed the special business class lounge at the airport.
flydubai flies to all major cities in the Middle East, so no matter where you are based you can hop on one of their many flights and head to your favorite destination.
8 Reasons to Book a flydubai Business Class Flight
1. flydubai's tropical destinations
flydubai flies to some extraordinary tropical destinations all over the world, including the Maldives, Sri Lanka, and Zanzibar! They also plan to launch flights to Thailand as of November 2016. If you're dreaming of white sand beaches, coconut trees, and swimming in some of the clearest waters in the world, then they have you covered. With around 100 cities around the globe, flydubai has the perfect destination for your next travel adventure.
Jetsetter recommendation: the Maldives should be added to the top of your bucket list because those breathtaking pictures that you see on postcards don't do it justice. Here's a guide to the cheapest over water villas in Maldives.
2. flydubai business class makes luxuries affordable
Something I love about the business class on flydubai is that it won't break the bank. Compared to other airlines, they offer very reasonable prices with all the comforts that you need. I love affordable luxuries, especially with flights.
There's nothing better than arriving super energized to enjoy every minute of your vacation without spending most of your travel budget before even landing.
3. Amazing service
The service is absolutely perfect from the check-in counter all the way until you reach your destination. The in-flight service is personalized and flight attendants are always wearing a big smile on their face from the moment you step into your flight. They are also very attentive to your needs and make sure you are really enjoying every minute of the trip.
4. Impressive entertainment
The entertainment system onboard is so great that I actually wouldn't have minded a longer flight. I loved the large noise-canceling headphones and the huge selection of movies, series, games in different languages.
Basically, there is something entertaining for everyone no matter what background they come from. Jetsetter recommendation: one of the great features is the onboard high-speed Wifi which you can purchase for a very nominal fee. I quickly turned my seat into my temporary office while enjoying the endless view of the clouds.
5. Great food
I know what you're thinking… how can airplane food be good? Upon boarding, flydubai offers a rich menu suitable for all dietary preferences. In each of my four flights, I tried different meals, and surprisingly enjoyed every single one.
With every meal, fresh warm bread is served along with a long list of drinks and a selection of some delicious desserts. Jetsetter recommendation: make sure you leave lots of room for dessert (I couldn't have enough of the profiterole!).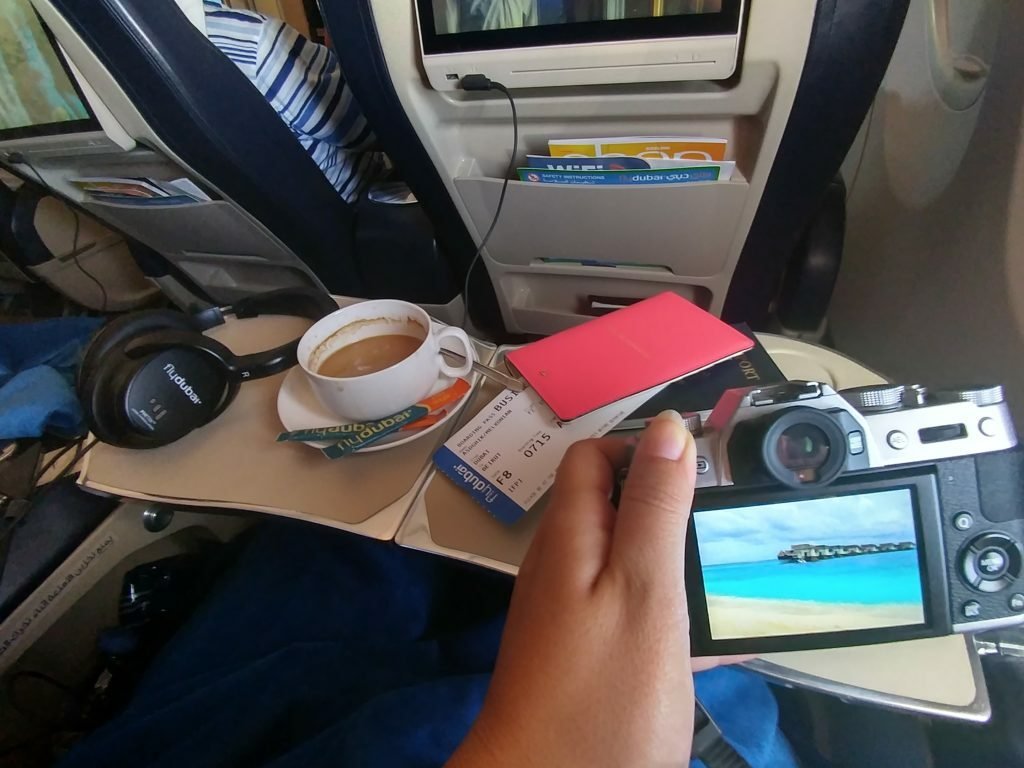 6. Flight options
The flight options on flydubai are endless. The timings are great and you can find flights that can suit any busy schedule. They also have so many great offers that are updated regularly, so make sure to keep an eye on their page to find some amazing deals: flydubai.
7. Dedicated flydubai business class lounge & gate
The great thing about flydubai's business class lounge in Dubai International Airport is its exclusivity. It offers a large selection of snacks, drinks and fresh coffee with great service. It's also important to note that the lounge is not overcrowded, so if you are looking to relax or even take a quick nap, you can definitely find a quiet corner all to yourself. There's also a special business class gate and separate bus that takes you to the plane after everyone else has boarded, which reduces the in-flight waiting time before take-off. Jetsetter recommendation: go up to the second floor of the lounge to find some cozy couches and several TVs to keep you entertained while you wait.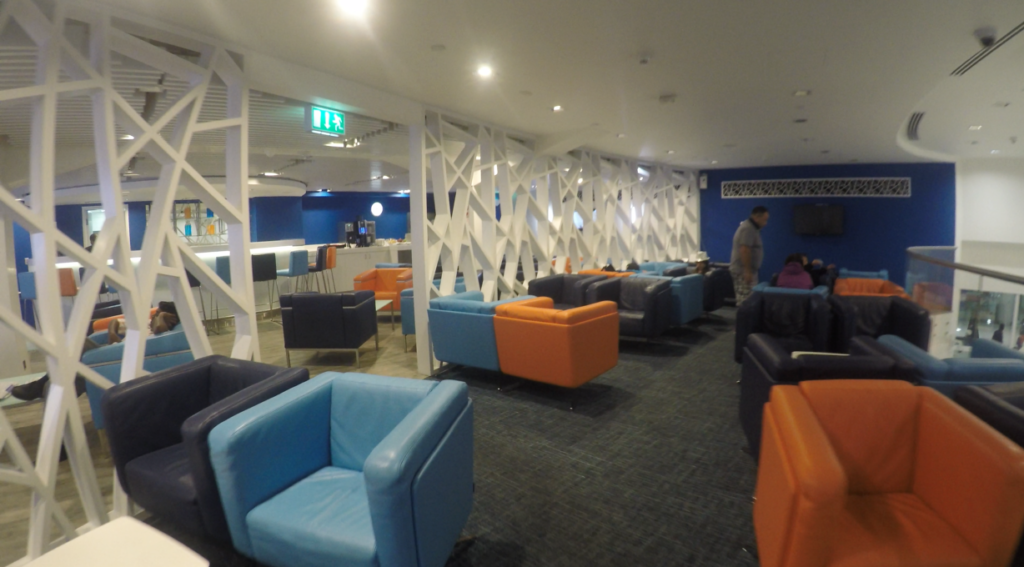 8. Comfortable seats
Last but not least is, of course, the comfortable seats, which is a huge reason why people decide to fly business. The seats recline to the perfect position to relax, eat or sleep. The leg rest can be extended so you can stretch your legs and turn your seat into a mini-bed for the duration of your flight.
I had such a great experience flying with flydubai that I starting looking up my next trip on my return flight back home!