I'm a total travel addict and one of the best gifts I would love to receive is the gift of travel experiences. Imagine gifting friends, family, or even that special someone in your life experiences like hot air balloon rides, luxury sailing trips, or gourmet food tours.
As the famous saying goes: collect experiences, not things!
I know what you're thinking. How can you figure out where someone will be traveling this year in order to gift them a specific experience in that destination? Well, you don't have to! This is where Tinggly comes in.
Tinggly offers perfect gifts for travelers with so much flexibility. They are totally different from typical travel companies that offer specific tours to certain locations. Actually, the way it works is that you can purchase an experience gift box online that can be used for hundreds of amazing experiences in over 100 countries.
It's simple: you purchase a themed gift box as a gift and the traveler can use the Tinggly website to book their experiences with total flexibility.
5 reasons why Tinggly is the perfect experience gift idea for travelers:
1. Over 30 different themed experience boxes to choose from
Are you looking to gift someone for their wedding? Birthday? or even Valentine's day? You can choose from over 30 different themes that come in beautifully designed boxes.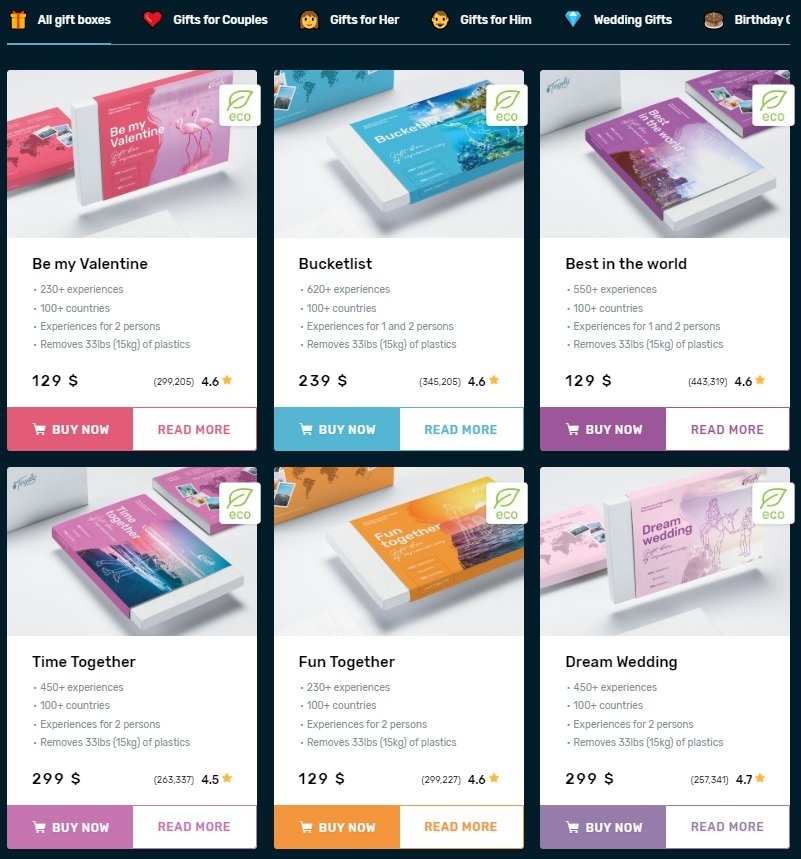 Tinggly can also be an amazing gift for Valentine's day:
2. You pay one price but you get to choose from hundreds of experience gift ideas
Instead of searching through hundreds of tours to find the perfect gift for someone, you simply pay one price and they get to decide which experience they want to book with Tinggly.
For example: if you choose to buy "The Ultimate Collection" at $299, you can choose from over 790+ epic experiences for 1 or 2 people.
3. Travel experiences in over 100 countries
The choices are endless with Tinggly experiences. They are available in most major cities and over 100 countries! Something I absolutely loved about Tinggly is that I discovered experiences that I never knew even existed in some destinations.
Here are some of the experiences you can find in France:
We all think of the typical things to do in France, but did you ever consider these: staying in a bubble hotel and watching the stars at night, learning how to make Parisian pastries, bungee jumping from a bridge, learning how to stomp grapes for wine or even a helicopter view with stunning views.
Related article: Best Flight Search Engines To Book Affordable Trips
4. No expiration date
Tinggly gifts never expire, which makes them even more perfect. You don't have to use them on a specific date and you can save them to use for a special experience on future trips.
5. Every Tinggly gift cleans the planet
As a traveler, giving back to the planet is essential. Each Tinggly gift not only removes 33lbs (15kg) of plastics but also offsets 200% of CO2 emissions produced during the chosen experience. Not only that, all Tinggly gift boxes are made of 100% recycled materials.
Disclaimer: This post was sponsored by Tinggly, but as always all opinions are my own. I would never recommend anything that I don't love and use myself.