There is a treasure trove of honeymoon destinations in Africa that cater to adventurous couples who wish to embark on the journey of a lifetime. There are so many hidden gems and underrated locations that cater to newlyweds who are about to start a brand-new chapter in their lives.
Africa as a whole offers a feast for the senses and a chance to witness unforgettable wildlife moments worthy of a National Geographic documentary. There is a reason why this continent is lovingly called the Motherland and the Garden of Eden. The word Africa conjures an image of sundrenched savannahs, roaring lions, and adrenaline-fueled expeditions through tropical jungles, but this wonderful imagery is merely a drop in a vast ocean of wonders.
Safari & Beach Honeymoon Places in Africa
Couples bound for Africa are spoiled for choice when it comes to African honeymoon destinations. Each country offers something for everyone especially when it comes to accommodation. For example, eco-conscious couples who value privacy can book an oceanside cottage in Zanzibar where they can fall asleep to the calming waves of the Indian Ocean. The possibilities are endless when you are planning a romantic getaway in Mama Africa.
South Africa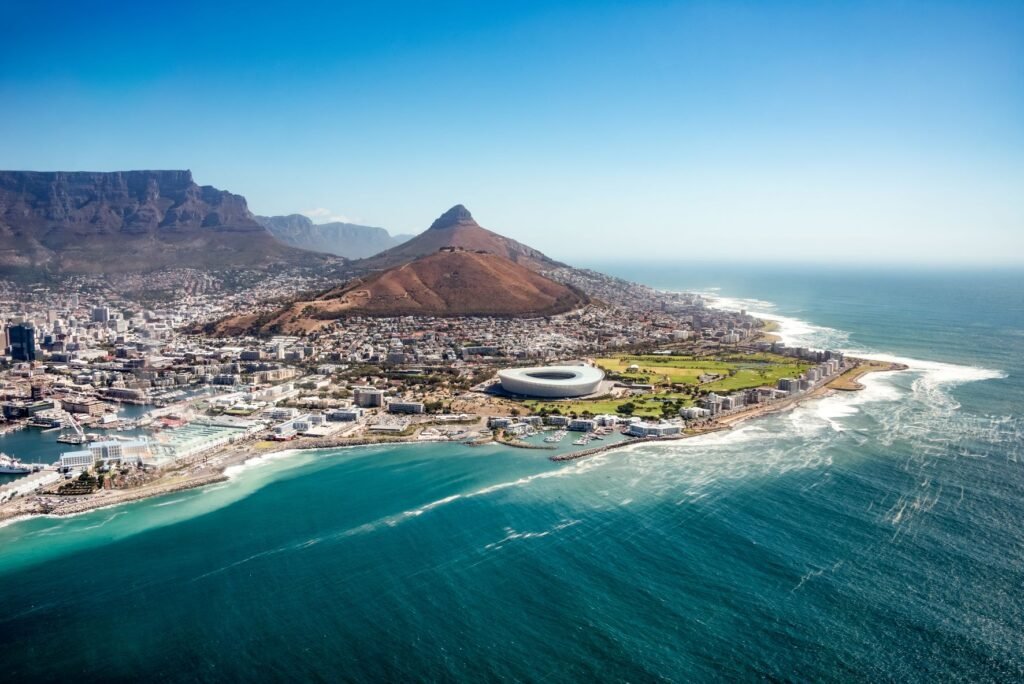 We begin our journey down south in a country known for its stunning vistas and three capital cities. Spending a honeymoon in South Africa is a dream come true for many. There is no shortage of South Africa honeymoon packages that cater to all tastes. Cape Town for example has its fair share of national reserves and wineries. The Kalahari Desert is another must-visit destination due to its orange sand dunes and black-maned lions. Creating an itinerary for a South Africa honeymoon is
Best Time to Visit: May to September
Popular Attractions: Kruger National Park, Cape Game Reserves, Boulders Beach Penguin Sanctuary, Cango Caves, The Garden Route, Robben Island, Kraga Kamma Game Park.
Top Things to Do: Healing Safari, Winelands Tours, hike Lion's Head, visit the Apartheid Museum, and explore Durban Botanic Gardens.
Tanzania
Thousands of seasoned climbers travel to Tanzania every year in the hopes of conquering Mount Kilimanjaro. The country is not only home to the tallest mountain on the continent, but it is also a terrific place to spend a honeymoon in Africa. Zanzibar for instance is the ultimate ocean getaway where couples can live on island time, explore the local culture and listen to Swahili music. Tanzania is also home to Tingatinga paintings that can be found all over the country.
Best Time to Visit: June to October
Popular Attractions: Serengeti National Park, Lake Manyara National Park, Lake Natron, Selous Game Reserve, Mt Kilimanjaro, Ngorongoro Crater.
Top Things to Do: Tour Mercury House, hot air ballooning over the Serengeti, sail to Kilwa Kisiwani, hike Mt Kilimanjaro, explore the Olduvai Gorge, and snorkeling at Mafia Island.
Kenya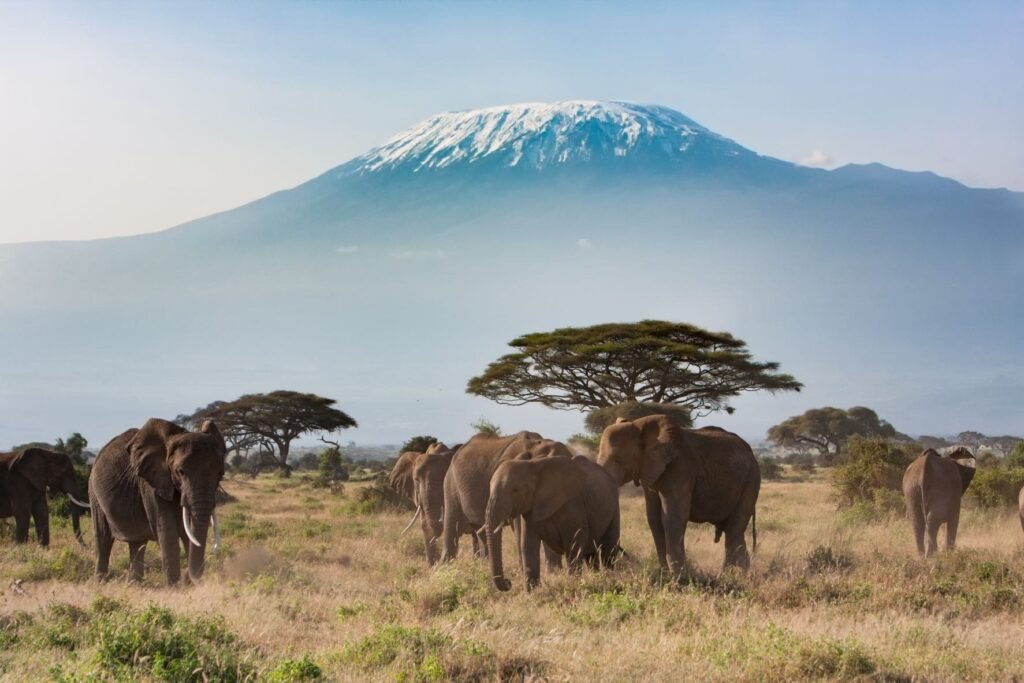 The birthplace of African safari has so much to offer in terms of honeymoon places. Kenya has a wealth of national parks and reserves where newlyweds can create romantic memories that rival the movie Out of Africa. In Kenya, it is possible to have the best of both worlds. Couples can embark on a safari and beach honeymoon that combines top-notch game viewing with unforgettable sunset dhow rides in the Indian ocean. Both Nairobi and Mombasa offer their fair share of attractions and restaurants that serve the signature nyama choma or roasted meat.  
Best Time to Visit: June to October
Popular Attractions: Maasai Mara National Park, Lake Nakuru, Lamu Island, Nairobi National Museum, Amboseli Natural Reserve, Lake Naivasha.
Top Things to Do: Dolphin watching in Mombasa, ride Lamu Island Donkeys, climb Mount Kenya, watch the Great Migration in Maasai Mara, and visit the African Heritage House.
Mozambique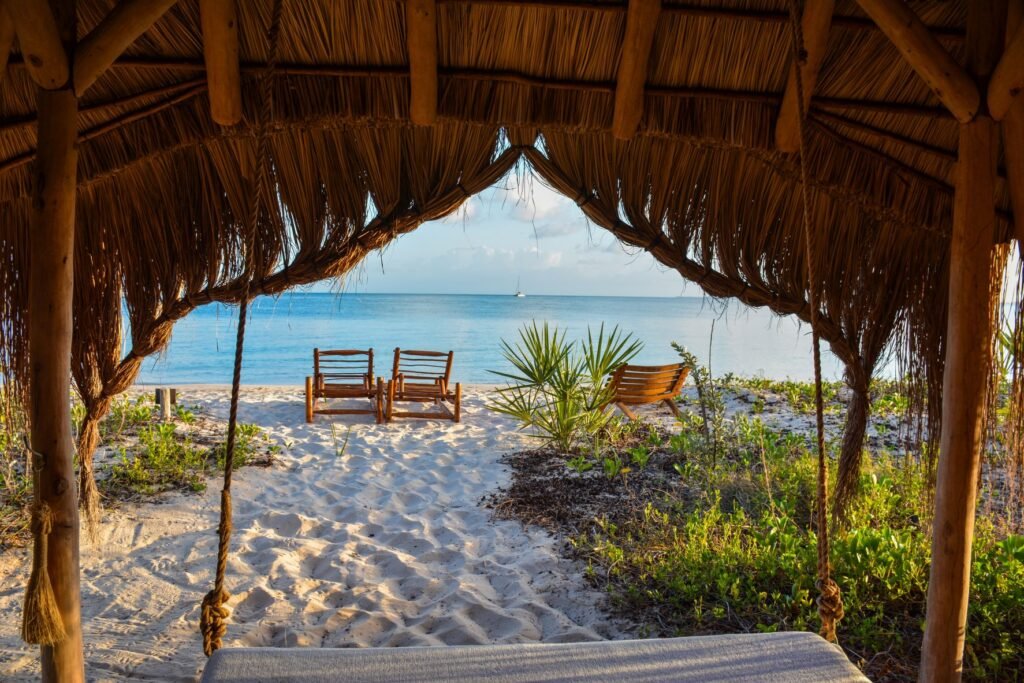 Mozambique is famous for its pristine beaches, colonial architecture, and intimate honeymoon spots. The eastern region has a coastline that harbors secluded beaches and oceanside hotels including the lavish White Pearl Resorts. Charming villages like Ponta do Ouro are great for mingling with the locals and soaking up the bohemian vibes.
There are four main islands off the coast of Mozambique that form one of two archipelagos. The Quirimbas archipelago is famous for its stunning coral reefs and diverse ecosystem where sharks and humpback whales are free to roam.  
Best Time to Visit: May to November
Popular Attractions: Bazaruto National Park, Pomene Reserve, Goa Island, Gorongosa National Park, Goa Island, Tunduru Botanical Gardens.
Top Things to Do: Safari at Niassa Reserve, relax in Ilha de Mozambique, tour Maputo National History Museum, scuba diving in the Quirimbas Archipelago, and explore Beira City.
Discover other honeymoon destinations:
Romantic Honeymoon Spots in Africa
There is no doubt that Africa has many underrated places that deserve to be on the map. Places that allow couples to bond over their love for animals and mother nature. Traveling with a loved one to a brand-new destination and partaking in all kinds of fun activities allows you to learn more about your significant other. Luckily, there are so many exhilarating excursions that are a must-try while in Africa, from floating above the Kenyan savannah in a hot air balloon to riding a cable car at sunset in Cape Town.
Namibia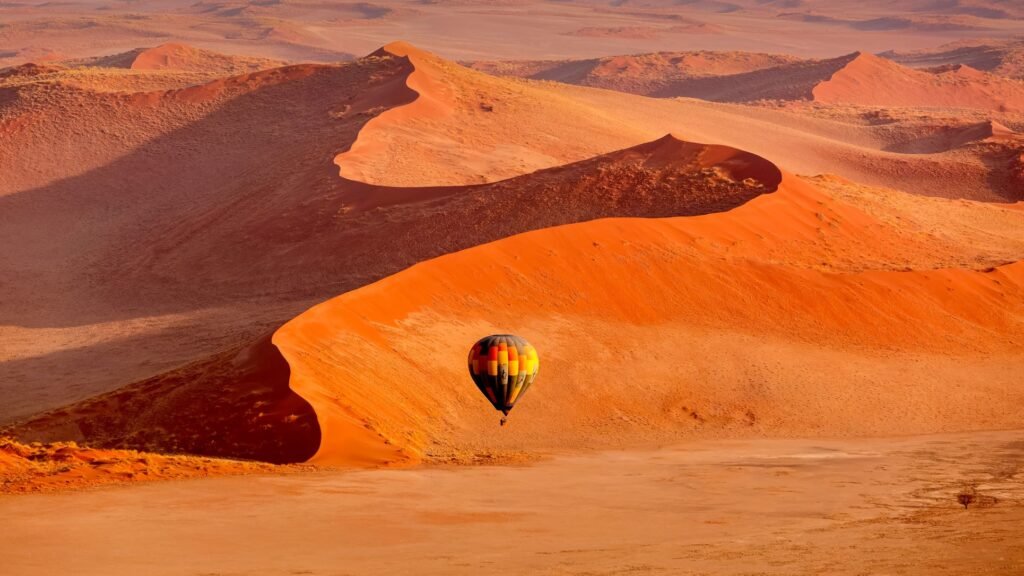 South Africa has a very special neighbor called Namibia where the desert stretches as far as the eye can see. Driving down the empty highway surrounded by nothing but desert and quiver trees can be quite the treat for couples in search of privacy and solitude.
Namibia is home to many intriguing ghost towns that are blanketed by the sands of the Namib Desert – the oldest desert in the world. Many tourists flock to this region to watch the waves of the Atlantic Ocean crash against the sand dunes. Sandwich Bay is a great place to start your Namibian adventure.
Best Time to Visit: June to Mid-September
Popular Attractions: Skeleton Coast National Park, Walvis Bay, Kolmanskop, Etosha National Park, Swakopmund.
Top Things to Do: Hiking in Fish River Canyon, boat cruise down the Kavango River, Stargazing in Dark Sky Reserve, kayaking at Pelican Point, hot air ballooning over the Sossusvlei Dunes.
Zambia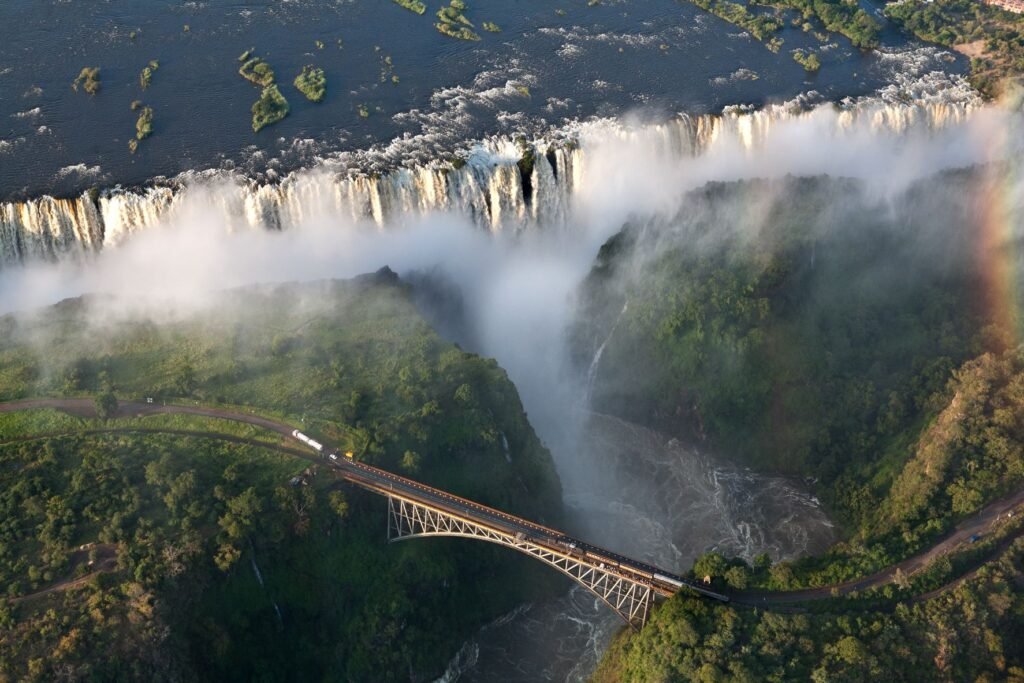 Zambia shares more than just a border with Zimbabwe. The two countries are linked via the Zambezi bridge which offers breathtaking views of Victoria Falls. The cascading waterfall is not the only attraction in town. There are so many protected areas and forest reserves where couples can enjoy a honeymoon safari or two.  
The capital Lusaka is home to the Kabwata Cultural Village where visitors can purchase souvenirs in the form of animal statues, paintings, and wooden dishes handcrafted by the city's talented woodcarvers and artisans. Adrenaline junkies can partake in all kinds of blood-pumping water activities in Victoria Falls and the Zambezi River as well.
Best Time to Visit: July to October
Popular Attractions: Lusaka National Park, South Luangwa National Park, Livingstone Museum, Devil's Pool, Victoria Falls, Bangweulu Floodplains, Lower Zambezi National Park.
Top Things to Do: Private helicopter ride, Rhino walk, bungee jumping, game drives, sunset river cruise, fishing, white water rafting, steam train tours.
Botswana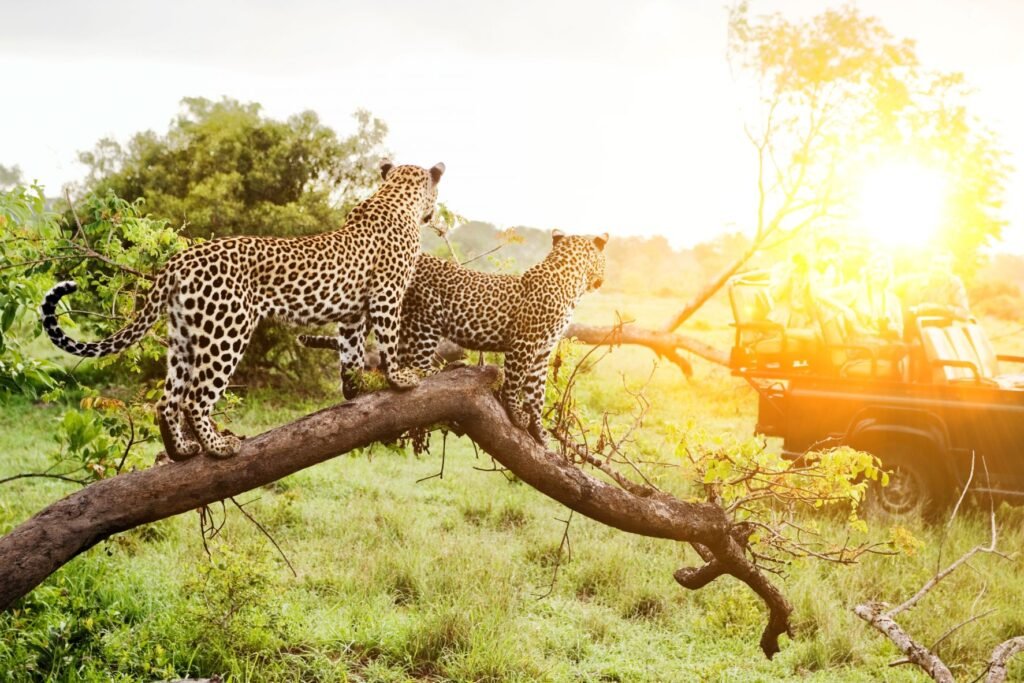 Botswana, the Gem of Africa, is the ideal road trip destination. Driving down the unpaved roads near the Chobe River allows visitors to witness elephants, zebras, and pelicans drinking and cooling off in the water. Much like its neighbors, Botswana is a land of many contrasts with the Kalahari Desert dominating most of the land.
The extensive 4×4 trail system that cuts through Moremi Game Reserve allows visitors to venture deep into the wilderness. Here, visitors can easily admire all kinds of animals from the comfort of their own passenger seats.  
Best Time to Visit: May to October
Popular Attractions: Chobe National Park, Mokolodi Game Reserve, The Tuli Block, Okavango Delta, Khama Rhino Sanctuary, Mboma Island, Dombo Hippo Pools.
Top Things to Do: Boat ride down the Chobe River, sample Pounded Botswana Beef, tour Mabel Village, camping in Chobe National Park, No.1 Ladies Detective Agency Literary tour.
Zimbabwe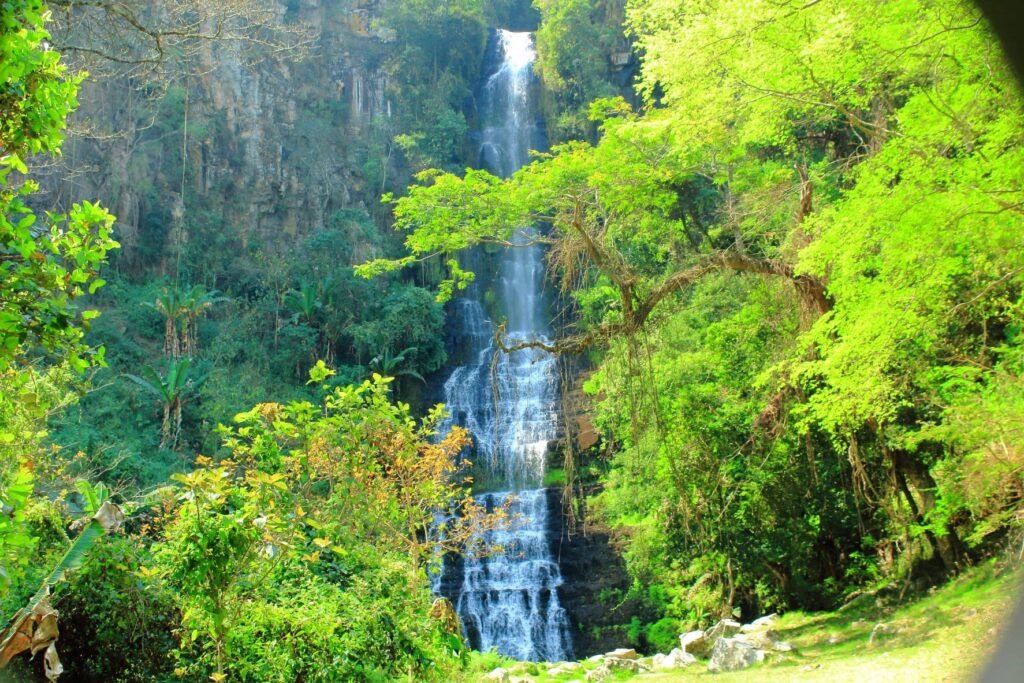 Zimbabwe shares a long border with Botswana in the west and forest-covered mountains with Mozambique in the east. The Eastern Highlands region is the ideal destination for couples who love to hike and fish while on holiday. Up north is none other than the Zambezi Valley and Victoria Falls. Couples eager to see a lunar rainbow during their stay can book a guided tour during the full moon to watch this special phenomenon unfold right before their eyes.  
Best Time to Visit: June to October
Popular Attractions: Great Zimbabwe Ruins, Victoria Falls National Park, Matobo Hills National Park, Natural History Museum, Nyanga National Park, National Botanic Gardens.
Top Things to Do: Hike the Eastern Highlands, zip-lining, Zambezi canoeing, horseback safari, Victoria Falls bike tour, birding safari.
Tropical Honeymoon Destinations in Africa
Nothing beats being whisked off on a seaplane to a remote island where privacy and powdered sugar beaches are in abundance. The emerald-green waters of the Indian Ocean are peppered with thousands of islands that cater to couples who are eager to go on their first official holiday as husband and wife. Two of these islands are located off the coast of East Africa and are tropical as can be.
Seychelles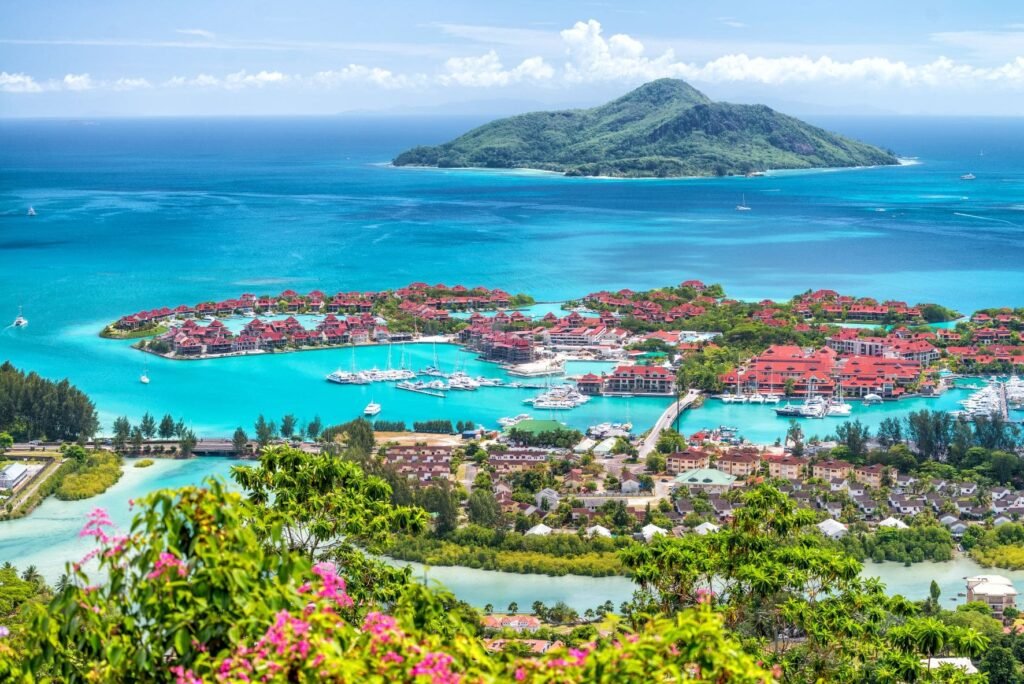 The Seychelles archipelago is made up of 115 islands divided into two groups. The outer islands are bordered by well-preserved coral reefs or atolls while the inner islands including the capital, Mahé, are known for their ocean-sculpted granite rocks. The archipelago is home to many endemic species such as tiger chameleons and bulbuls, but it is best known for its giant tortoise population and of course for the forbidden fruit known as Coco de Mer.
Best Time to Visit: April, May, and October to November
Popular Attractions: La Digue Veuve Reserve, Ramos National Park, Alphonse Island, Anse Lazio, Morne Seychellois National Park, Baie Lazare Village, Vallée de Mai National Park, Bird Island, Cousin Island.
Top Things to Do: Island hopping, hiking, scuba diving, snorkeling, wreck diving, cycling, horseback riding, sunset boat rides.
Mauritius
The stunning volcanic island was once visited by Mark Twain who fell in love with its laid-back atmosphere and postcard-perfect beaches. Mauritius is without a doubt one of the best tropical honeymoon destinations in the Indian Ocean. The island nation is home to lush green forests and undulating hills and valleys where the extinct Dodo once lived.  Sugarcane and tea plantation can be found throughout the island. Both crops were introduced by the Dutch and the French respectively during their reign over Mauritius.
Best Time to Visit: May to December
Popular Attractions: Black River Gorges National Park, Chamarel Village, Flic en Flac Beach, Blue Bay Marine Park, The Sugar Museum, Le Morne Brabant, Port Louis, Gabriel Island.
Top Things to Do: Kitesurfing in Le Morne, hiking the Le Pouce Trail, snorkeling near Tamarin, birding in Black River Gorges, sampling rum in Chamarel Rum Distillery, whale and dolphin watching.
North African Honeymoon Destinations
Couples in search of a honeymoon destination with a Mediterranean flavor can choose one of the following North African countries to celebrate their love in. Each country is unique in terms of culture, history, and even dialect. First, we have Egypt- the land of the Pharaohs where the Nile River reigns supreme. Next, we have bohemian Morocco and its majestic Atlas Mountains, and last but not least we have Tunisia and its ancient Carthage Ruins.
Egypt
Egypt is synonymous with the Pyramids of Giza, the Sphinx, and of course the famous Tutankhamun. Couples who share a passion for all things Ancient Egyptian must visit this country at least once. Cairo, the capital, is home to the Egyptian Museum, a magnet for tourists who are eager to see all the treasures belonging to the boy king. The Museums offer a glimpse into an ancient world that attracts millions of tourists every year.
Best Time to Visit: October to April
Popular Attractions: Giza Plateau, The Egyptian Museum, Valley of the Kings, White Desert National Park, Bahariya Oasis, Dahab, Temple of Karnak, Khan el Khalili, Cairo Citadel, Abu Simbel, Old Cairo, Sharm El Sheikh, St. Catherine's Monastery.
Top Things to Do: Dive in the Red Sea, ride a felucca, explore Old Cairo, swim in Siwa Oasis, hot air ballooning over Luxor, camp in Bahariya Oasis, try koshary, pyramid camel rides.
Morocco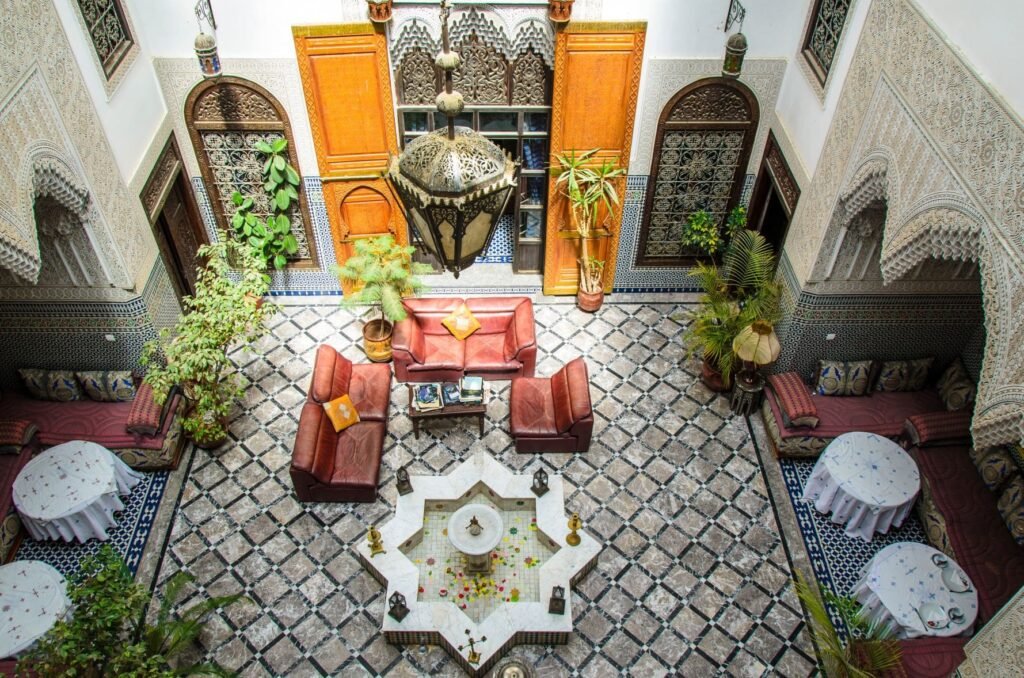 Morocco especially Marrakech has an overall bohemian vibe that invites visitors to sip on the country's signature tea and enjoy the hustle and bustle of its open-air souks. This sprawling African country is filled to the brim with so many hidden gems and unique places such as Tangier and Fes in the north and quaint seaside towns like Essaouira in the west. During winter, the rugged Atlas Mountains transform into a winter wonderland tailormade for hot cocoa and skiing.
Best Time to Visit: September to November – March to April
Popular Attractions: Bahia Palace, Koutoubia Mosque, Majorelle Garden, Badi Palace, Erg Chigaga, Ait Benhaddou Village, Dades Valley, Rif Mountains, Casablanca, Tangier, Agadir, Fes.
Top Things to Do: Surfing in Agadir, trekking in the Atlas Mountains, camping in the desert, bathing in the hammam, souvenir shopping in the souks, camel riding in Erg Chigaga, admire Chefchaouen's blue alleys.
Tunisia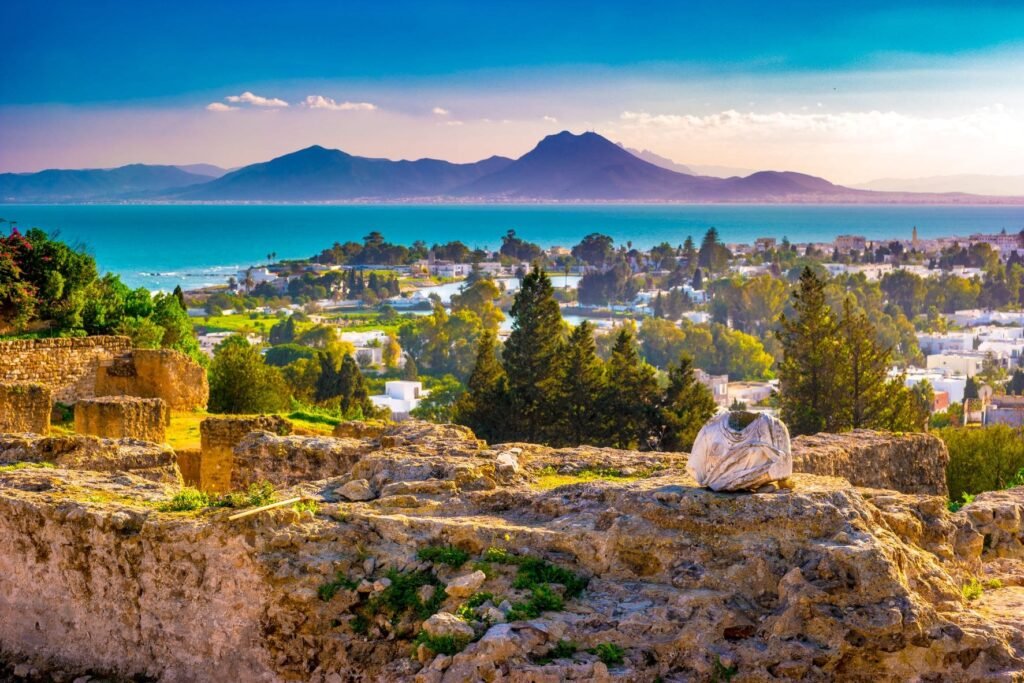 Tunisia might be a small country, but it is home to one of the most important archeological sites in Northern Africa: Carthage. This budget-friendly beach destination is a great honeymoon option, especially for longtime Star Wars fans. It is also the ideal Mediterranean getaway where couples can spend a lazy day at the beach before going on a road trip that spans the coast, the Sahara, and the Atlas Mountains.
Best Time to Visit: June to September.
Popular Attractions: Carthage Ruins, Tozuer, Djebel Dahar Mountain Range, Chott El Jerid Salt Flats, El Djem Amphitheater, Djerba Island, Sidi Bou Said Village, The National Bardo Museum, Kairouan, Sousse, Hammamet Village.
Top Things to Do: Bike tour of Carthage, desert camel ride in the Sahara, Tunis culinary tours, explore the Medina, visit Guellala Museum, Star Wars tour, wander through Tamerza Canyon Oasis, camping in Tataouine.
FAQs About Honeymoon Destinations in Africa:
Is South Africa good for a honeymoon?
Yes, South Africa is great for a honeymoon. Adventurous couples are in for a treat especially if they have an extensive bucket list that includes seeing the Big 5. Newlyweds who prefer to be pampered can book a room at a honeymoon resort in Cape Town or Johannesburg for a much-needed dose of rest and relaxation.
Is Tanzania a good honeymoon destination?
Yes, Tanzania offers the best of both worlds, meaning that couples can divide their time between quaint Zanzibar and the mainland. Tanzania is also a great place to witness the Great Migration in the Serengeti while connecting with the Maasai people.