Overlooking the Baltic Sea is a beacon of culture and architecture known as Riga. The beating heart of Latvia was the European Capital of Culture in 2014 and remains one of the most vibrant and travel-worthy destinations in Northern Europe.
Visiting Riga for 3 days is perfect to explore the city's top sights. This travel guide includes the top things to do in Riga in 72 hours.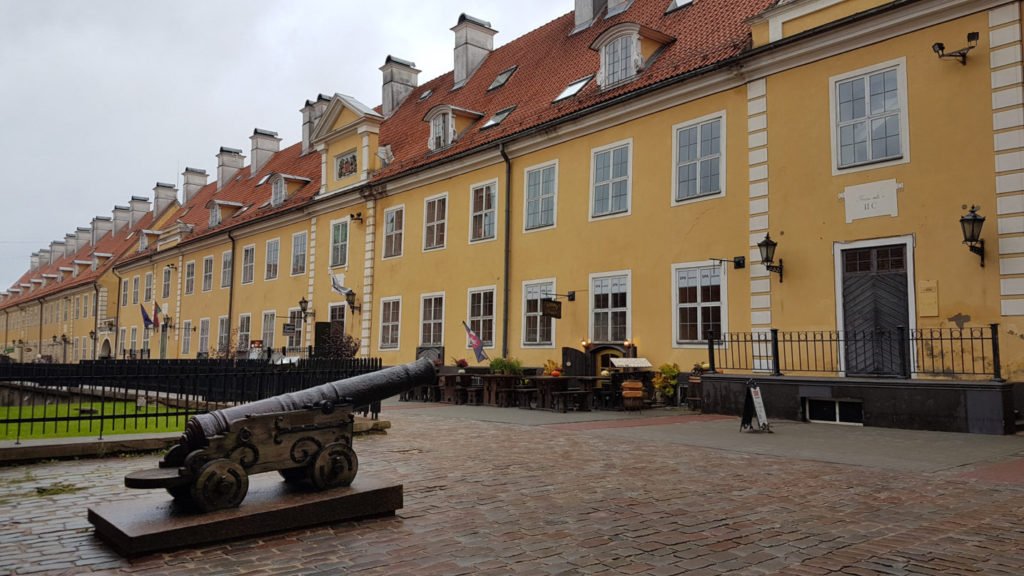 Things to Know Before Visiting Riga
Safety Tips for Visiting Riga
Large, crowded areas like the Riga Central Market are usually a dwelling for pickpockets, so keep a watchful eye on your wallet and belongings at all times. Avoid going to Little Moscow at night because the area is known to be a little sketchy. Streetside money exchanges are also meant to trick tourists into trading their Euros for the old and expired Latvian currency. As for taxis, it is always better to ask your hotel for recommendations and a price list if possible.
Currency in Riga
The official currency used in Latvia is the Euro (€). Both banks and currency exchange offices are available in Riga and they offer different rates, so make sure you compare prices and ask about hidden costs, especially in banks. Beware of credit card scams in places like pubs and nightclubs. Some establishments take advantage of drunken or clueless tourists and use their cards to make online purchases and charge them for extra food and drinks that they never ordered.
Public Transportation in Riga
Public transportation in Riga is possible thanks to trams, buses, and trolleybuses that operate from 5:30 am till 11:30 pm. You can purchase your ticket straight from the driver for 2 Euros or you can buy an e-ticket from street stalls and other select shops. The e-ticket is cheaper and much more convenient. Routes and bus schedules are available online in English. If you would like to explore Riga by bike, then you can rent a bike for as little as 7 Euros and use the Riga bike route map for guidance.
Top Things to See While Visiting Riga in 3 days
Vecriga
Cobblestone streets and charming old houses adorn the historical center of the city, allowing it to earn its UNESCO World Heritage badge in 1997. Vecriga is home to more than 500 colorful buildings that will take you on a journey through time, back to the days of Baroque, Gothic and Art Nouveau architecture.
The city is an open museum showcasing a variety of architectural styles that have withstood the test of time. Keep an eye out for the Riga Cathedral and St. Peter's Church that both dominate the skyline of the old city.
Town Hall Square
Founded in 1201, the square is as old as Riga itself, and once fell victim to the bombings that occurred during World War II. Fortunately, it was rebuilt and now serves as a great starting point for walking tours around the old city. The square is also a tourist attraction thanks to the diverse collection of buildings surrounding it and the statue of St. Roland who towers over the square carrying his sword and shield like a medieval knight in shining armor.
Related article: Must See Places in Europe in Winter
House of the Blackheads
Riga was once a haven for ships and merchants who traveled from the Baltic to the Black Sea. These merchants held their meetings and elaborate banquets in their Baroque-style headquarters, also known as the House of the Blackheads. The building was erected in 1334 but it was sadly destroyed in World War II, and so Riga decided to rebuild it and make replicas of the original furniture and portraits that once graced its hallways.
The house now features a museum exhibition that showcases a silver collection that was once the envy of the Baltics. It also doubles as a concert venue and a tourist information center with a 14th-century cellar that managed to survive the horrors of the war.
Opening Hours: 11 AM to 6 PM – Sunday to Tuesday.
Guided tours are available for 15 Euros.
Alberta Street
Nothing says Art Nouveau like New Town Riga where many famous 19th century architects left their mark in the shape of extravagant buildings dressed in geometric ornaments and mythical creatures such as dragons and gargoyles. Alberta Street alone is home to a large collection of beautifully designed buildings with unique facades that are sprinkled down the street,  offering a visual feast for your eyes and camera. Alberta is a 20-minute walk from Riga City Hall.
Three Brothers Riga
They say good things come in threes and this is the case when it comes to a trio of stone buildings located on Small Castle Street in Riga. Legend has it that the 3 houses were built by people who belong to the same family tree. The eldest house was built around 1490 when Riga was a magnet for Dutch traders. The other two were later constructed in the 17th century and they also represent the evolution of architecture in Riga through the ages. Let your curiosity take you inside where you can check out the Latvian Museum of Architecture where you will find original blueprints and archives belonging to other historical buildings in the city.
Opening Hours: 9 AM to 5 PM Monday to Wednesday, 9 AM to 5 PM on Thursday, 9 AM to 4 PM on Friday
Admission: free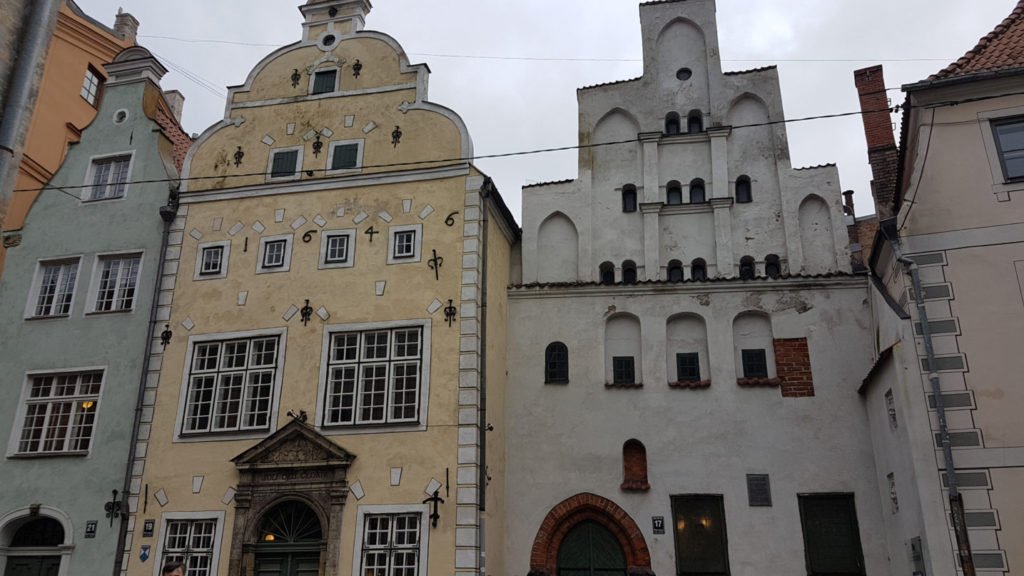 Freedom Monument
This tall granite and copper monument is more than just a work of art, it is also a symbol of freedom and independence for the Latvian people. You will find it standing at a height of 42 meters right at the end of Brivibas Street. The monument pays tribute to the brave soldiers who died in the war and the main focal point is lady liberty who towers over all the other statues carrying 3 golden stars in her hands. The Freedom Monument, also known as Milda, is a short 7-minute walk from Riga City Hall.
Bastejkalna Park
Right across from the Freedom Monument you will find ducks and canal boats wrapped in a lush green ribbon of trees and flower beds. Perfect for picnics and bird spotting, Bastejkalna Park is one of the oldest green spaces in Riga. There is no shortage of picturesque bridges and benches where you can relax and have a small picnic before going sightseeing via the Daugava River. The one-hour river cruise is available all week and gives you the chance to explore Riga by boat.
Tickets are sold at the park and the prices are 15 Euros for adults and 9 Euros for children.
Riga Central Market
This market is hard to miss for a number of reasons, and the wide array of fresh food is one of them. Overlooking Daugava River, Riga Central Market is housed under four massive hangars divided into five different areas where you can treat your taste buds to marinated herring, smoked cheese or blueberry juice. The possibilities are endless, especially with the presence of eateries that serve Latvian dishes and a dessert shop that sells pancakes topped with berry jam and other baked goods as well.
Opening Hours: Every day from 7 AM to 6 PM
Riga Cathedral
Medieval and grandiose, the Riga Cathedral is one of the oldest churches in the Baltic Region. The cathedral survived wars, fires and also experienced a series of makeovers that are evident in its walls and baroque tower. Inside the cathedral, you will encounter one of the biggest organs in Europe.
The organ is illuminated by a collection of stained glass windows that provide a visual history of the city. This harmonious masterpiece has turned the cathedral into a popular music venue where organ music concerts are held every month.
Opening hours: 10 AM to 7 PM every day
Admission Fee: 3 Euros
St. Peter's Church
Less than one kilometer away from the cathedral is none other than St. Peter's Church, where you can climb up the clock tower for an exclusive panoramic view of Riga. The church is older than its neighbor and harbors the Blue Guard Chapel and Gothic style basilicas. Nowadays, the church hosts art exhibits as well as choir concerts. The entrance fee is 9 Euro for adults and students receive a special discount.
Opening hours: vary according to the season. Normally, Tuesday – Sunday 10 AM to 6 PM during the busy months of spring and summer.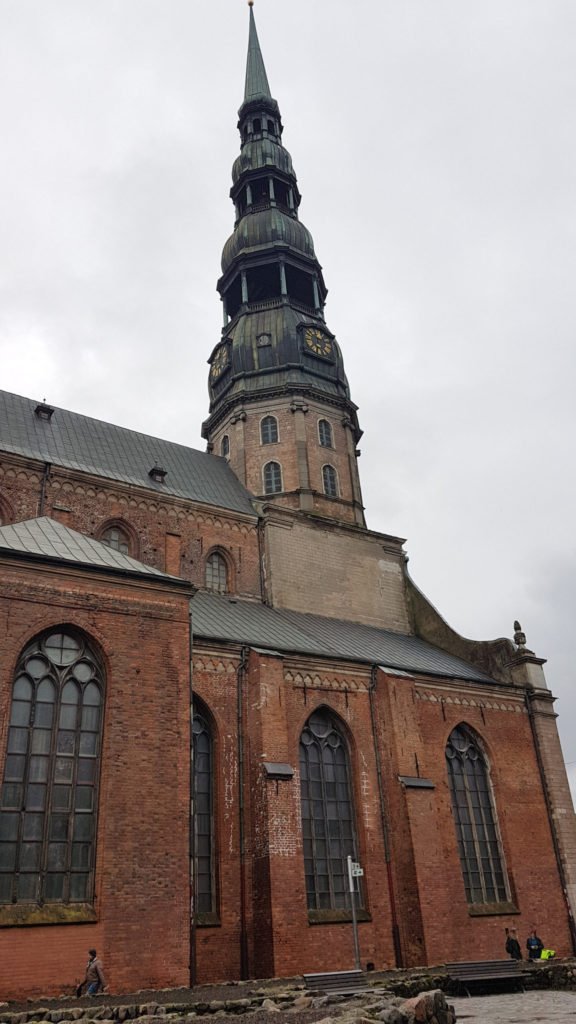 Latvian National Opera and Ballet
If you feel like spending a glamorous night at the opera, then head over to the white Neoclassical building overlooking the canal. The opera house in Riga was established in 1863 and was once home to the first electric power station in the region. The interior of the building is more extravagant with red velvet curtains and golden accents lining the walls, and flower chandeliers adorning the ceilings.
Public tours are available for anyone interested in exploring the backstage world of the opera and they cost 8 Euros per person, however, you need to book your tickets in advance.
Art Nouveau Museum
The museum is located in Alberta Street and was once the residence of a famous Latvian architect who designed the entire building from top to bottom. The spiral staircase is one of many Art Nouveau masterpieces found within the vintage walls of the apartment.
Every single room has been renovated and preserved, showcasing a unique collection of furniture and kitchen appliances that date back to the 1900s. The museum offers guided tours for 14.50 Euro, and you can pay an extra €1.50 to have your picture taken with an art nouveau hat.
Opening hours: 10 AM to 6 PM – Tuesday to Sunday
Swedish Gate Riga
As you're walking around the old town between the cities medieval walls, you can't miss the Swedish Gate. It was built in 1698 as a part of the Riga Wall to provide access to barracks outside the city wall.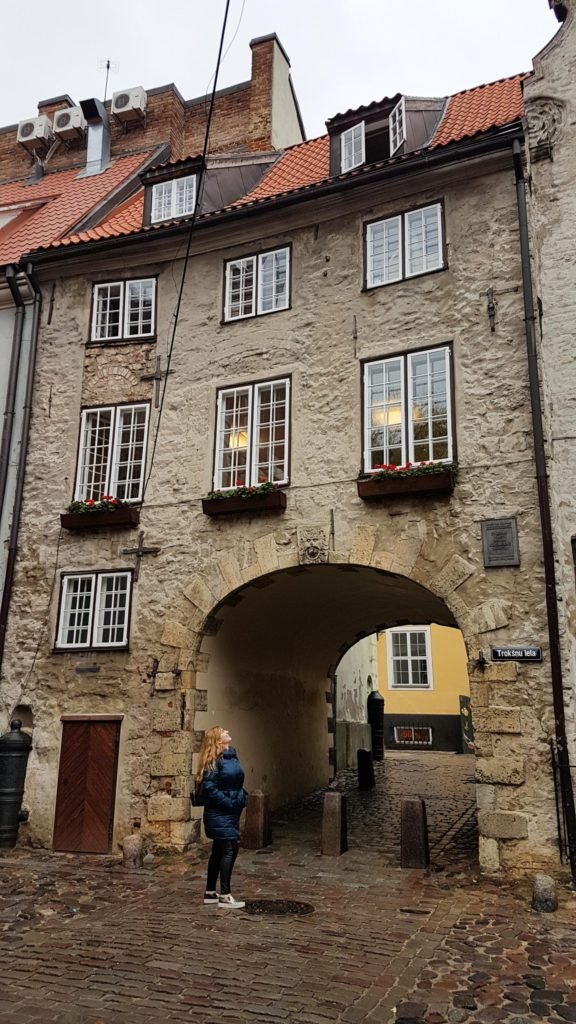 Vermanes Garden
The five-hectare garden is easily one of the most serene places in downtown Riga. If you go on a stroll down the lush green landscape, you will find people enjoying an outdoor game of chess and boats floating down the canal. The garden is also surrounded by an assortment of cafes, including Biblioteka No.1 where they have a large wine selection and a seasonal menu offering local Latvian Dishes.
Opening Hours: The garden is open all week and is a 6-minute walk from the Freedom Monument.
Nativity of Christ Cathedral
Vermanes Garden is right across the road from this remarkable cathedral and its shiny domes that tower over the trees of neighboring Esplanade Park. Nativity of Christ is the biggest Orthodox church in the city and the lucky survivor of both wars. The church is famous for its vibrant iconostases and Byzantine-style frescoes.
Opening hours: 7 AM to 6:30 PM
Museum of the Occupation
Visiting the Museum of the Occupation teaches you more about Latvia during Nazi and Soviet rule. Photographic evidence and recorded testimonies from war survivors are kept in the museum in an effort to preserve the national memory of the once war-torn country. The museum is currently next to the House of the Blackheads inside a modern building that is hard to miss. You will need to book an appointment to view this private collection. Ask for a discount if you are a student. Many museums in Riga offer discounts for both students and children. Guided tours are available starting at 2.5 Euro.
Opening hours: 11 AM to 5 PM
Latvian National Museum of Art
The recently renovated building is home to classic paintings that are displayed in chronological order. There's a special wing dedicated to ancient Greek and Roman art. You will also find an Ancient Egyptian mummy inside its very own sarcophagus in the oriental section of the museum. There are two guided tours on offer. If you're traveling with kids, there's a special family bag for children to keep them entertained.
Admission Fee: 6 Euros. Guided tours cost 15 Euros.
Opening hours: Sunday to Tuesday from 10 AM to 6 PM
Ethnographic Open Air Museum
This outdoor museum is one of the oldest and largest in Europe. Countryside vibes stay with you while you take a tour of the pine forest and its farmhouses and windmills. A crafts festival is held every year from May to September. You can catch folk artisans in action and buy handmade products from them. The museum also offers pottery lessons and horseback riding for large and small groups.
Opening Hours: Every day from 10 AM to 6 PM – May to September. Their winter hours are different, so make sure that you check their website for more information.
This museum calls Riga Dome Cathedral its home and contains 16 exhibit halls displaying a collection of 500,000 historical treasures. These include a 13th-century ship and a coin collection that was minted when Riga was a free and imperial city. A large section of the museum is devoted to the naval history of the region. You'll have the chance to explore the sea charts and tools that were used during this era.
Opening Hours: Every day from 10 AM to 5 PM (May 25 – September 30). Their winter hours are different, so make sure that you check the museum's website for more information.
Other interesting places to see while visiting Riga: Black Magic Balsam Shop and 1221 Restorans.