Sfouf is a traditional Lebanese turmeric cake that is perfect to have with a nice cup of coffee. It's very light and significantly less sweet than other cakes.
What do you need to make Turmeric Cake (Lebanese Sfouf)?
Some of the ingredients in this turmeric cake recipe are not very commonly used in cakes, so I'll explain each one briefly:
Turmeric powder: has powerful antioxidants, aids with digestion, and gives the cake that beautiful yellow color.
Semolina: made of durum wheat which is also used to make pasta. This gives the cake a nice nutty texture.
Tahini: a thick paste made of sesame seeds. This will only be used to coat the pan, but if you don't have it, you can still use oil or butter.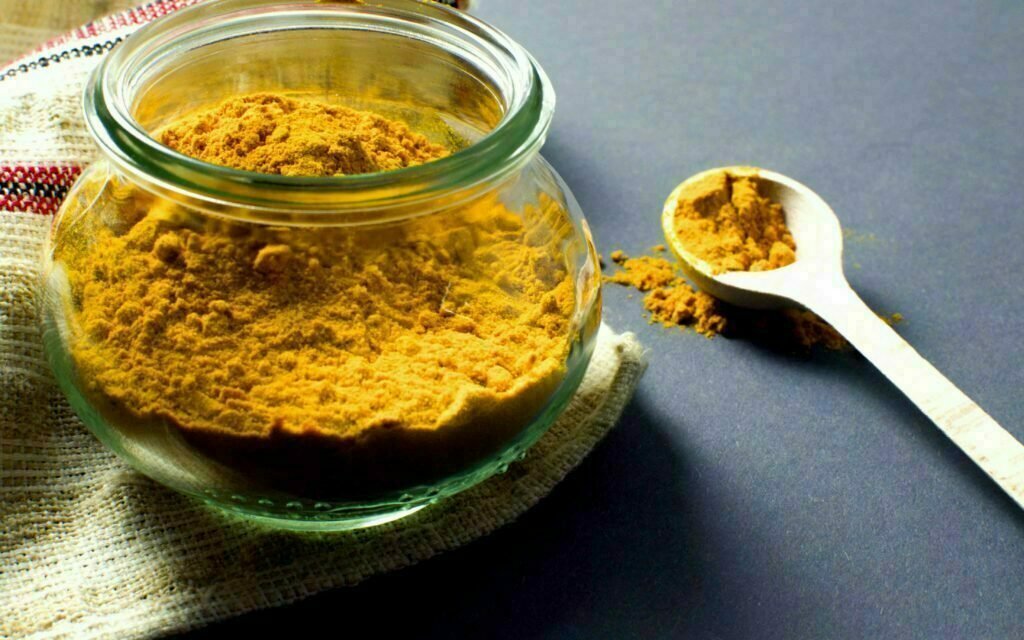 The great thing about this Lebanese Sfouf recipe is that it's very easy to make plus it's vegan-friendly. Because there are no eggs or butter, you can store the cake in an air-tight container for 7 to 9 days.
How to Make Vegan Turmeric Cake
Preheat your oven to 350ºF (175ºC) and grease your pan generously with tahini. A 9-inch pan is recommended and you can use any shape. I used a square pan to make it easier to cut the cake into square or diamond pieces. If you don't have tahini, replace it with oil or butter to grease the pan.
Prepare 2 separate bowls (medium-sized is fine). Use 1 of the bowls to combine dry ingredients (semolina, flour, turmeric, and baking powder) and the other bowl to combine wet ingredients with a whisk (canola oil, almond milk, and cane sugar). Make sure you mix well until the sugar is dissolved.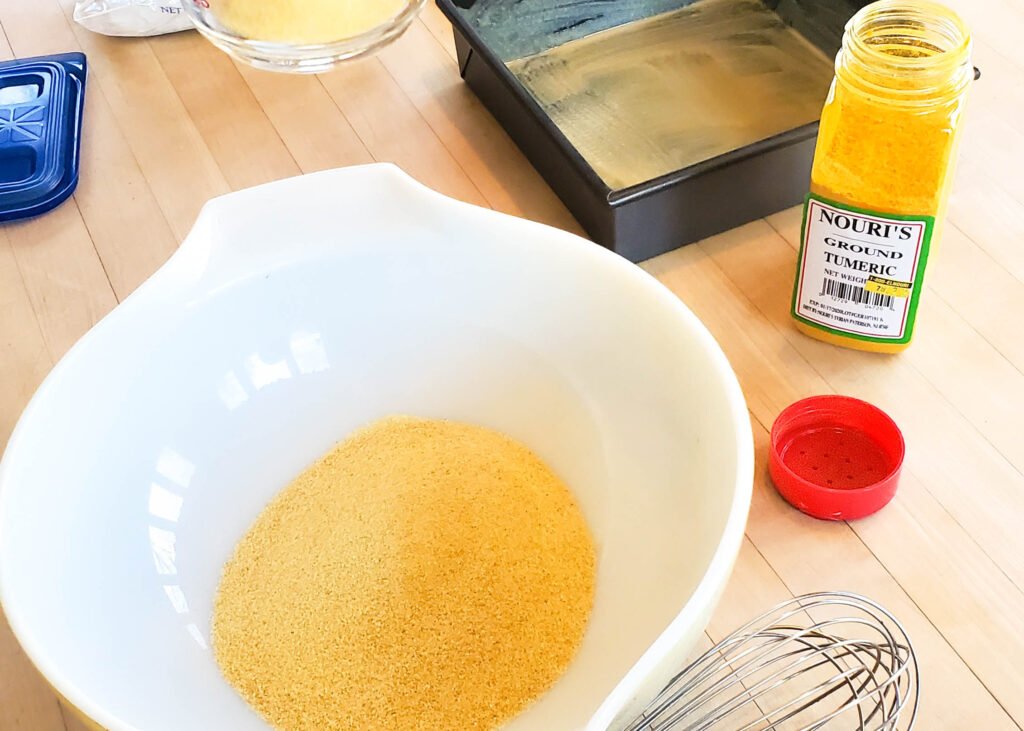 Pour the batter in your greased pan. Sprinkle pine nuts or almonds on the top.
Bake the sfouf in the oven for about 35 minutes. To check if the cake is baked, you can stick a toothpick inside and make sure it comes out dry. Another indication is when the pine nuts start turning golden.
Let the turmeric cake cool completely on a wire rack before you start cutting into smaller pieces. If you don't let it cool, the cake will crumble as you're cutting it.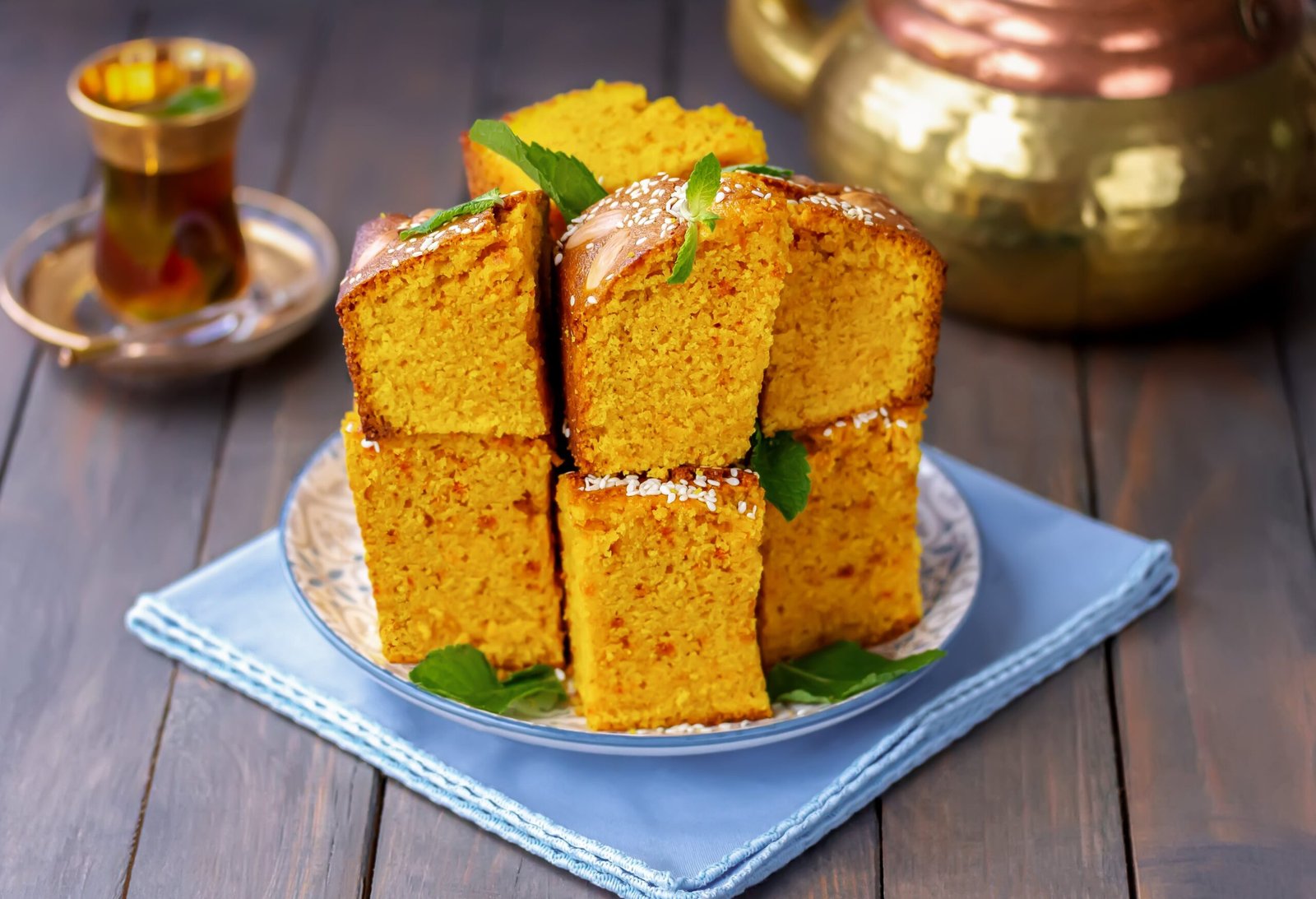 Sfouf Recipe: Lebanese Turmeric Cake
Turmeric Cake, also known as Sfouf, is a famous Lebanese dessert that's vegan, light and very easy to make. This recipe has no butter or eggs and I've replaced the milk from the traditional recipe with unsweetened almond milk.
Ingredients
1/2

cup

flour

1

tablespoon

turmeric

1 1/2

cup

semolina

course or fine

1 1/2

teaspoons

baking powder

1

cup

almond milk

unsweetened

1/2

cup

canola oil

1

cup

sugar

1/2

cup

pine nuts

for decoration

2

tablespoons

tahini or oil

to grease the pan
Instructions
Preheat oven to 350ºF (175ºC). Grease a 9 inch baking pan with the tahini or oil.

In a small bowl, mix all the dry ingredients: semolina, flour, turmeric and baking powder.

In a large bowl, mix all the wet ingredients: canola oil, almond milk and cane sugar. Make sure the sugar is completely dissolved in the mixture.

Combine the dry and wet ingredients until batter is smooth.

Pour the batter in greased pan and sprinkle the pine nuts as a topping.

Bake in the preheated oven for 35 minutes. You can check if it's finished baking by inserting a toothpick that comes out dry or until pine nuts are golden.

Let it cool on wire rack before cutting it into small pieces.
Notes
Ingredients and replacements:
Semolina: you can find this in all Middle Eastern stores or buy it online here. 
Pine nuts: make sure to use raw pine nuts found in all major supermarkets or buy them online. You can also use raw almonds instead of the pine nuts. 
Almond milk: if you want to make the non-vegan version, you can still use regular milk instead of almond milk. 
Tahini: this is only used to grease the pan and can be replaced by oil if you don't have it. You can buy it at Middle Eastern stores or online here. 
Frequently Asked Questions About Lebanese Sfouf
How many calories are in Turmeric Cake?
Turmeric Cake is around 200 calories per serving for a 2×2 inch square piece.
Can turmeric be used in baking?
Yes, turmeric can absolutely be used in baking. In fact, it's a powerful antioxidant and a great coloring agent that can be used in several recipes.